If you love the scent of freshly cut grass but are not so keen on the smell of a petrol lawn mower, opting for the best electric lawnmower is an excellent investment. Whether you're buying your first lawn mower or a replacement, we have picked the best corded and cordless electric lawnmowers to fit every budget and garden size to ensure you have made the right choice.
Electric lawnmowers are best suited for small to medium-sized gardens, so if you're lucky enough to have a luscious garden and are in need of a convenient and cost-effective grass-cutting option, then an electric lawn mower will be great for you. We've selected the best electric lawn mowers to buy in the UK and an easy guide on what you should look out for when investing in this gardening essential.
Last chance Black Friday deals on electric lawn mowers
We interrupt the regularly scheduled content to let you know that although Black Friday is over, there's still time to grab some last chance Black Friday deals on lawn mowers. These are the retailers that still have deals available, or keep scrolling to continue reading our buyer's guide.
Shop the best electric lawn mower deals: Amazon UK | B&Q | Appliances Direct | Just Lawn Mowers
Best deal: Bosch Cordless Lawnmower CityMower, WAS £319, NOW £247.13
£37 off: Flymo SimpliStore 300, WAS £250, NOW £212.50
26% off: Flymo EasiStore 300R Li Cordless Rotary Lawn Mower, WAS £284.99, NOW £211.51
Big savings: Yard Force 40V 32cm Cordless Lawnmower, WAS £199.99, NOW £159.99
Cordless lawn mowers are also known as battery-powered lawn mowers. Rechargeable battery-powered lawn mowers, which use lithium-ion batteries, offer the best of all worlds. They're light and easy to manoeuvre, you don't have the drawback of the trailing cable, and their motors don't need any maintenance nor produce any emissions. And, as we all get more used to recharging our battery-powered cars, battery lawn mowers will become the easy choice. Their batteries can usually be shared among other products in the manufacturer's range for added versatility.
There are two types of electric lawn mowers - corded and cordless.
Corded lawn mowers are best for smaller gardens and require to be connected to an electrical outlet, and it is likely that you will need an extension cord, too. If you are looking for a cheaper option, corded electric lawn mowers are your best bet. However, the electric cable can be a nuisance, limiting how and where you can use the mower and dangerous if you accidentally damage or cut through it.
Best electric lawn mowers at a glance:
• Best cordless electric lawn mower for larger gardens: Yard Force 40V 37cm Cordless Lawnmower – view on Amazon
• Best lightweight cordless electric lawn mower: WORX WG779E.2 36V Cordless 34cm Lawn Mower – view on Amazon
• Best overall corded electric lawn mower: Bosch Rotak 34R Electric Lawnmower – view on Amazon
Best electric lawn mowers
Best cordless electric lawn mower for larger gardens
Description
This cordless electric lawn mower is lightweight and manoeuvrable and designed with comfort and
Pros
Quick to charge
Comes with a 40-litre collection bag
Cons
Not a super powerful motor
Best lightweight cordless electric lawn mower
Description
This WORX WG779E.2 36V is a light, easy-to-use mower, with a three-year warranty at a fantastic
Pros
Charge both batteries at the same time
Variety of features
Cons
Small collection bags for bigger gardens
Best overall corded electric lawn mower
Description
This Bosch Rotak 34R Electric Lawnmower is ideal for small and medium-sized gardens and will
Pros
 It is comfortable and easy to manoeuvre
40-litre collection bag
Cons
Corded, so can be harder for larger gardens
Best value corded electric lawn mower
Description
The Webb Classic WEER33 Electric Rotary Lawnmower has excellent features and will ensure a superb
Pros
Foam handle
Adjustable
Very lightweight
Cons
Some reviewers found adjusting the cutting height a little tricky
Best small cordless electric lawn mower
Description
This agile, cordless, and high-performance electric lawn mower will keep your lawn in perfect
Pros
Compact and small
Good for getting into tight spots
Cons
Not so good for large gardens
Best lightweight corded electric lawn mower
Description
Recommended for a lawn area up to around 300m², this lightweight and easy to use Gardena Powermax
Pros
Lightweight
Foldable for storage
Our pick for the best electric lawn mower
In terms of cordless electric lawn mowers, our top pick is the Yard Force 40V 37cm Cordless Lawnmower. Not only does it cover a lot of space in one session, but it is manoeuvrable, lightweight, and compact, great for transporting and storage solutions.
If it is a corded electric lawn mower you're after then the Bosch Rotak 34R Electric Lawnmower wins. It is lightweight, compact and has cutting-edge precision, and has a large capacity and cutting range.
Electric lawn mower FAQs
What to consider when choosing an electric lawn mower
When considering battery power there are two things to consider: the battery's voltage (V) and its amp hours (Ah).
Voltage Choosing battery voltage size is a bit like choosing a car's engine size: a higher voltage will generally mean higher power and performance. But, as with cars, a larger voltage doesn't always translate to better performance, as this can be affected by the size and weight of the mower. Those with a higher voltage are better equipped at tackling long and wet grass.
Amp hour This is analogous to the size of a car's fuel tank; the larger the amp hours, the longer the battery will last between charges. Higher Ah batteries can tackle larger lawns before becoming flat. For instance, a 2.5Ah battery should cut up to 400sq m (480sq yd) on a single charge. However, more amp hours do not equate to greater power output.
Battery charge Lithium-ion batteries charge relatively quickly – in as little as 30-40 minutes. Depending on Ah size, they'll run long enough on one charge to complete mowing. They don't suffer from 'battery memory' issues, so can be recharged before they're flat, don't need to be fully charged before use, and won't lose charge in the shed over winter.
If you have a large lawn and want to complete your mowing in one session, it may be worth buying a second battery; some mowers come with two, while others offer super-fast chargers. Mowers with the latest sensory technology can sense the load on the motor and operate at the optimum level for each task, for instance, boosting power for long/damp grass and extending battery run time during lighter cutting tasks.
Cutting width Look for a cutting width to suit your lawn size. A larger mower, with wider cutting width, will reduce the number of passes needed to mow the lawn, but may be heavier to carry and awkward to manoeuvre. As a guide:
Small lawn (up to 250sq m/300sq yd): 30-35cm (12-14in) cut.
Medium lawn (250-580sq m/300-700sq yd): 35-43cm (14-17in) cut.
Large lawn (more than 580sq m/700sq yd): 43-55cm (17-22in) cut.
Push or power? One very recent development in the world of battery-powered lawn mowers is the availability of self-propelled mowers – previously only available with top-of-the-range petrol models. Self-propulsion makes mowing easier and more manageable, as it removes the hard work and fatigue by pulling itself along. They're perfect for larger lawns and slopes; you simply walk behind the mower to control its direction. Obviously, as power is needed for this, batteries don't last as long from a single charge as those used with an equivalent push mower.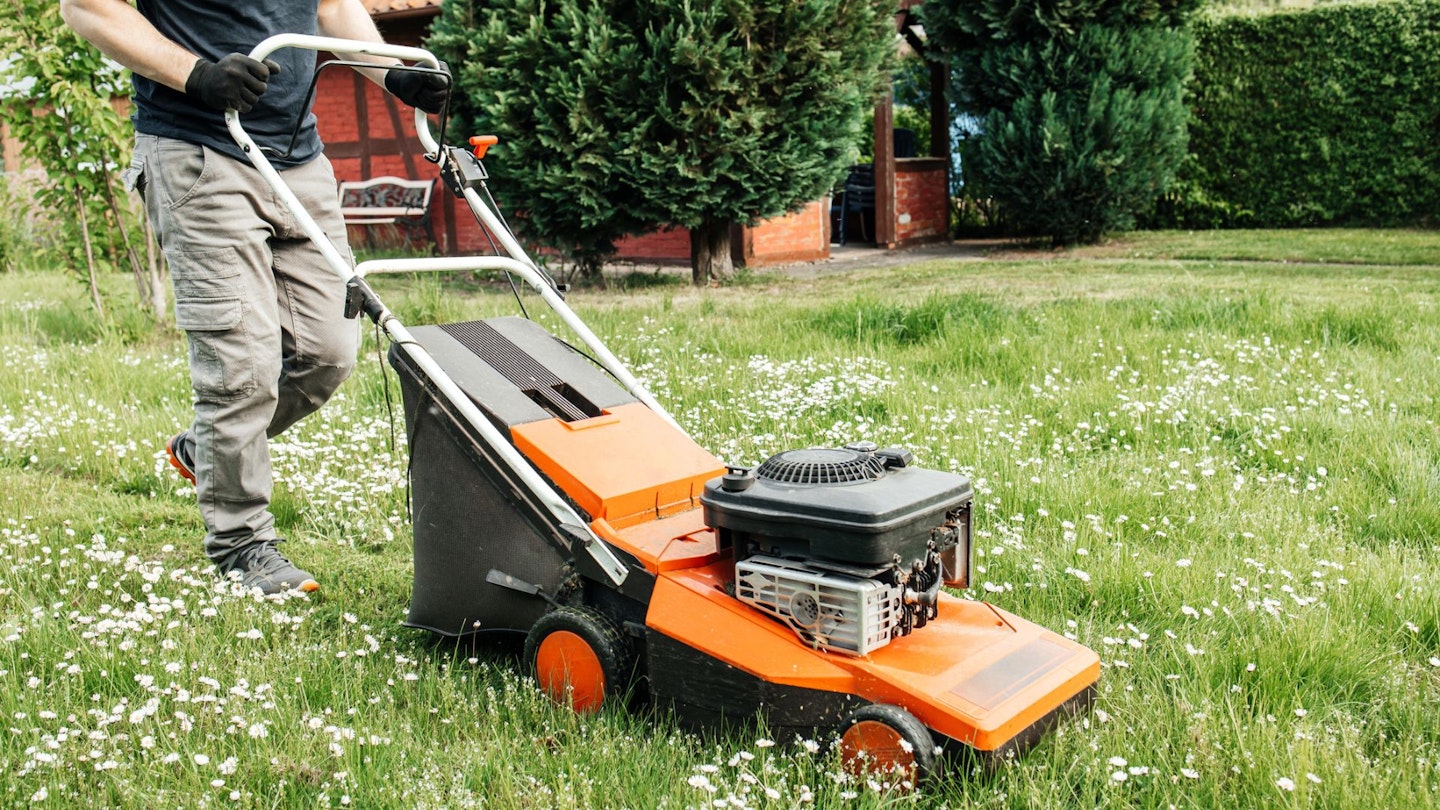 What to look for in a lawn mower?
Deck Material - Strong, robust metal decks add to the overall weight. Non-metal decks, usually made from polypropylene, are lightweight, damage resistant and resilient.
Comfort Handles - Soft, comfortable and height-adjustable handles make mowing easier on your back and hands, especially when cutting for a long time.
Carry Handles - Well-spaced carry handles make the machine balanced, lighter and easier to carry.
Blade Height Adjuster - This needs to be easy to adjust and offer a choice of cutting heights. Most lawns should be cut 2.5-4cm (1-1½in) high for much of the year.
Clippings Collection - Grass collectors cut down the time needed to look after the lawn. Larger collectors need emptying less regularly.
Grass Combs - Side grass combs help ensure neat results along edges, fences, and walls.
Rear Roller –This is needed if you want traditional lawn stripes. The heavier the machine and roller, the better the stripes.
Mulching Function - Some mowers cut the grass so finely, that you can leave the clippings where they fall.
Are electric lawn mowers better than petrol lawn mowers?
Electric mowers are cheaper than gas mowers and are usually powerful enough to tackle most lawns. However, if you have long, thick grass or try to cut it when it's wet, this can overtax a low-power electric mower. Petrol lawn mowers tend to be better for large lawns.
With a corded electric mower, you won't run out of power, but you're restricted by the length of the extension cord, so electric mowers are better for small yards under 300m².
What to read next:
Robot lawn mowers worth investing in to make grass cutting easy
Description
Discover everything you need to know to make your outside space look fantastic quickly and easily,
Ellen Kinsey is a senior health and wellness product writer for Modern Gardens, specialising in sustainable living and health. She lives and breathes all things natural health, cooking and nature.