Your mission to find the best robot lawnmower under £1000 stops here. Finding you a mid-range mower is much easier than looking for a budget option. They can be an ideal choice for those of us with medium to large gardens. With a mid-range option, you're getting many of the features and capabilities of a higher-end model. But, not at the eye-watering price point. For those of us with less time on our hands, an automatic lawn mower solution is more than ideal, it's essential.
Garden technologies and innovation seem to be growing year by year. In recent years, cordless lawn mowers have been propelled into the spotlight, providing fuss-free manual cutting. On the other hand, ride-on mowers are perfect for larger lawns or if you measure your outdoor space in acres. The robot lawn mower brings unparalleled convenience to many of us. With this in mind, we've ensured that you have plenty of options and information before you add to your shopping cart.
Best robot lawn mower under £1000 at a glance:
• Best overall robot lawn mower under £1000: McCulloch ROB S400 - View Offer on Amazon UK
• Voice control capabilities: Honda Miimo 40 Live - View Offer at Just Lawnmowers
• Budget model under £500: LawnMaster L10 – View Offer on Amazon UK
For many of us, the look of our lawn is important. However, traditional mowing can be physically demanding and you're often fighting with long cables. Whereas, robot lawn mowers work autonomously, tailoring their technique to your lawn's needs. Despite your requirements and the overall price, a robot mower is still an investment. And – it's not just for all high-tech and premium. There are plenty of budget options out there, even robot lawn mowers under £500.
Providing cutting-edge results at a mid-range price, robot mowers are the future of lawn maintenance. To help get you up to speed with these electric lawn mowers, we've enlisted the expertise of our contributors Geoff Hodge and Jill Morgan. With their help, we have curated a list of the best robot mowers for under £1000 available. Not only that, but we've debunked a few mower myths along the way.
Best robot lawn mower under £1000
Best overall robot lawn mower under £1000
Description
The McCulloch ROB S400 Robotic Lawn Mower offers performance and quality with this model. As for
Pros
Results in a perfectly mown lawn
Flexible charging station
Intuitive keypad controls
Cons
Unsure about winter storage
Simply push and go
Description
Designed to cut lawns up to 500m2, this compact Flymo EasiLife 500 GO mower has a push pad with
Pros
Flexible charging station position
Simplified Push and Go Interface

Compatible with a smartphone app
Cons
Takes some time to cut the entire lawn
A cumbersome setup process for some
Budget mower for larger gardens
Description
Easy to install, the LawnMaster L12 makes a great piece of kit for your garden's needs. The L12 is
Pros
Simple keypad to programme mower
Tough, durable and waterproof
Auto charging when the battery is slow
Cons
No smartphone connectivity
Budget options have their limitations
Voice control capability
Description
This top-tech Honda Miimo 40 Live mower is Bluetooth compatible, operates off a Smart Timer that
Pros
Security features for protection
Smartphone compatible with Alexa and Bluetooth
High level of traction and grip for slopes
Cons
Smaller cutting area
No customer reviews
Covers up to 1200 sq.m
Description
The Cobra Mowbot 1200 mower is actually capable of covering a larger area than even the Worx unit.
Pros
App control ensures reliable performance
Keep the neighbours happy with a quiet run
Easy to monitor and control with controls
Cutting-edge mower
Description
The Worx Landroid M500 Plus is a beast. There is a big range of Worx Landroid models, but this is
Pros
Accessible and frees up a lot of time
Auto-schedule with the app
Detects obstacles with a collision sensor
Cons
Takes a while to install and fine-tune
Weatherproof model
Description
Learn how easy it is to take care of your lawn… With its SensorCut system, the Gardena SILENO City
Pros
Easily-controlled by Bluetooth
Can work well in the rain
Great for complex or simple lawns
Cons
May not come with enough hooks
Budget model under £500
Description
Next, we recommend the LawnMaster L10. According to Amazon reviews, it's pretty solid and
Pros
PIN-code protected for use
Tough, durable and waterproof
Complete with two sensors
Cons
Some customers found set-up tricky
Budget models have their limitations
Verdict: Which mid-range robot lawn mower is best?
Hitting the top spot, we have the McCulloch ROB S400. It offers a great performance and is of great quality. There is a load of programmable options, allowing it to cut grass any time of day or night or weather. It's very quiet and is all programmable via the app. Easy to use and intuitive, we couldn't ask for more. It's a budget-friendly mower, also.
What do I consider when picking a robot lawn mower?
When selecting a robot lawn mower, it's essential to carefully evaluate your options and assess your specific requirements. Fortunately, Geoff and Jill have provided valuable insights to guide you through the process of choosing an ideal mid-range robot lawn mower tailored to your lawn's needs:
Lawn dimensions
Robot mowers have a "maximum lawn size that they can cut without having to continually recharge," says Geoff and Jill. So, our advice is simple: measure your lawn and ensure you select the appropriate mower with sufficient supplied perimeter wire.
Lawn finish
Various blades will produce differing outcomes. On the one hand, a high-speed blade will cut finely, whereas a double-bladed mower will deliver a finer, refined cut, similar to mulch. As for our experts, they suggest checking "to see what grass-cutting height options are available." Typically, most models offer heights ranging from 3 to 6 cm.
Lawn shape and style
The outcome of your robot mower's handwork will likely vary depending on which model you choose. Certain mowers can handle "sharp angels and oddly shaped nooks and crannies", while others may not be as capable. To gain some insight into this aspect, read customers' reviews. With a  mid-range option, you should be getting your money's worth.
Inclines
According to our experts, the majority of models can handle a gentle incline, with no bother. They add that even some steeper gardens with "angles of up to 45°" can even have success with a robot mower. To help you out, we've included slope and incline capabilities in the specifications of our suggestions.
Hindrances
When introducing a robot lawn mower into your lawn care routine, you may need to rearrange some aspects of your garden to facilitate a smooth operation. This is an essential element of owning a robot mower. If you can't move a statue, opt for a model with a virtual boundary sensor – which is an alternative to perimeter wire. This could enhance the efficiency of your new piece of kit.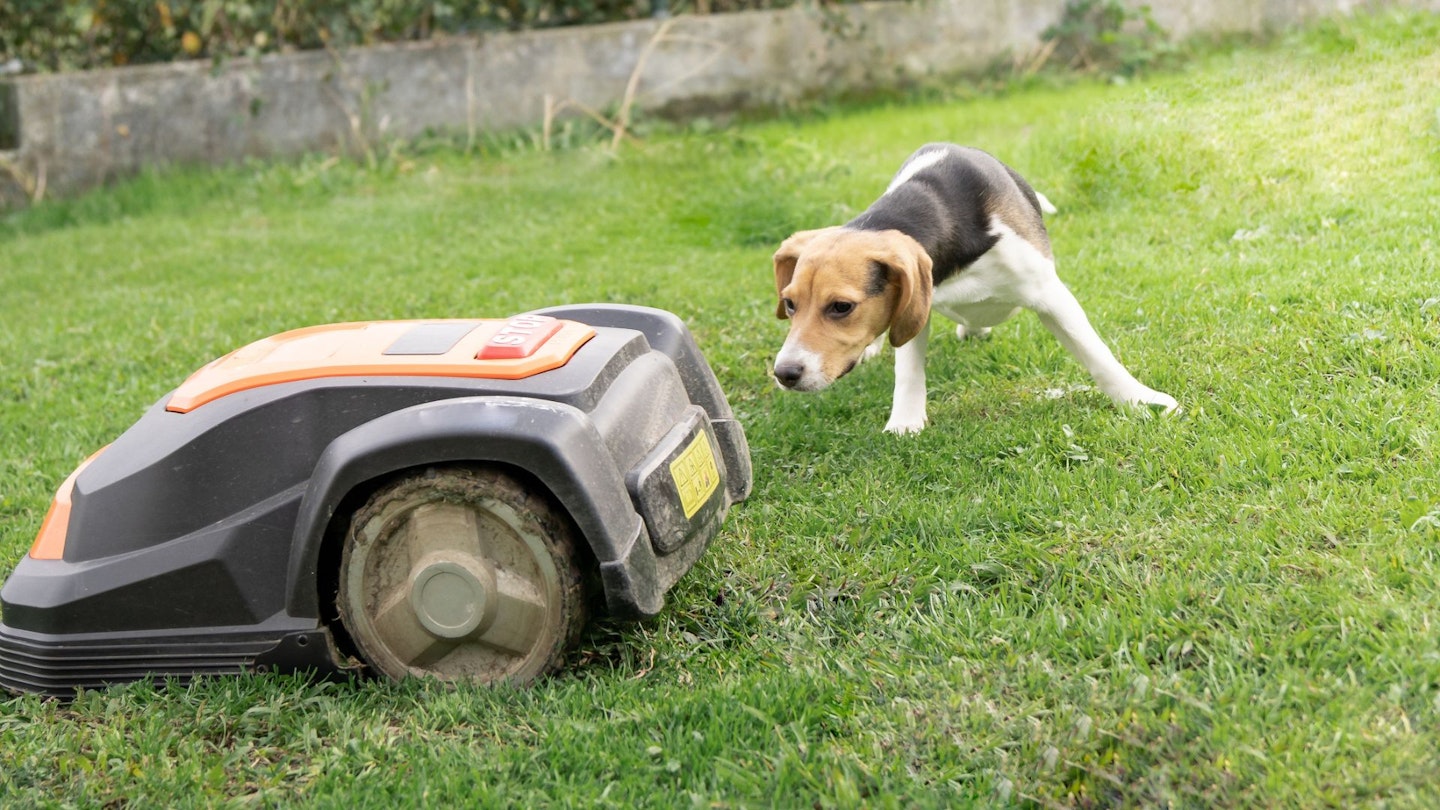 Run-time
In general, lithium-ion battery-powered models can provide "45-60 mins of cutting time from each full charge, in as little as 30 mins", which is quite convenient. Remember: the run-time of a mower can be influenced by the battery's power and output. Smart, certain robot mowers can remember their last position before charging, allowing them to resume mowing seamlessly. Cool, right?
Drizzle and beyond
Though a spot of rain can evoke feelings for many and plays an essential role in the natural cycle, some robot mowers may not be so keen. The ability to keep going during the rain will vary between mid-range models. As highlighted by Geoff and Jill, many models have a protective and innovative rain sensor, returning "to their dock when the rain starts falling, and resume when it stops."
Lawn use
Prioritising safety measures is crucial to maintaining a harmonious and secure environment. So, keeping your precious pets away from the garden when the mower is in use is essential. Alternatively, if your pets are free to roam, opt for a model equipped with an "obstacle sensor", says Jill and Geoff. As mentioned above, sensors are ideal for making sure the operation is smooth.
Sound level
Arguably most important, maintaining good relations is crucial and causing any disturbance should be avoided. Luckily, there is good news: some of the newer models are designed to be "incredibly quiet", say our experts, "emitting nothing more than a satisfying hum." Choosing a quiet model ensures that you can take care of your lawn, without breaching the peace.
Safety
Indeed, the days of mower theft are behind us. Certain models offer anti-theft measures, as highlighted by Geoff and Jill, which will provide added security to your investment: "These include alarms if the mower is moved outside of its perimeter boundary, security sensors, PIN codes and GPS tracking to monitor its location." With these measures, you have peace of mind…
FAQs
How do they work?
Thanks to Jill and Geoff, we have a detailed answer to this question:
As our experts explain, robot lawn mowers are powered by rechargeable batteries, usually lithium-ion and "use a charging station, dock or home that it returns to once it's finished cutting or the battery is depleted and needs recharging." However, it's essential to note that the charging port requires access to mains power and set-up requires placement near a "weatherproof power outlet".
Still, both Geoff and Jill agree that a robot lawn mower could be a valuable piece of kit and set-up is often seen as difficult. The above is determined by "the size and shape of your lawn and whether there are any obstacles to manoeuvre around". Most mowers operate within an electronic perimeter wire, which is "laid around the lawn edge just under the surface of the turf", which serves to orientate and guide the mower during its operation. Some models have sensors.
You may be greeted with a user-friendly interface and some models even offer smartphone connectivity capabilities, working with an app or voice assistant such as Alexa. Such features can be quite handy providing "status updates, such as whether the mower is charging or cutting, even when you're away from home". These features appear frequently in mid-to-premium models.
Are robot lawn mowers worth it?
To provide a comprehensive understanding of robot lawn mowers, My Robot Mower has given us insight as we pull together the pros and cons of these high-tech garden maintenance devices:
Advantages:
Time-saving: Robot mowers eliminate the need for manual lawn cutting. This saves you valuable time and effort, especially today when our lives are ever-so-consuming. More time in the garden…
Improved lawn appearance: Regular mowing and mulching capabilities of some models contribute to a healthier lawn in the long run by providing essential "nutrients to the growing grass".
Enhanced safety: Robot lawn mowers are equipped with advanced safety features, "surpassing conventional mowers," says My Robot Mower. After all, there is no user interaction and sensors.
Cost-effective in the long run: Despite the initial investment, robot mowers can prove cost-effective over time due to "decreased maintenance requirements and lower operating costs".
Enjoyment and satisfaction: Using a robot mower frees up your time and becomes a gripping conversation topic. My Robot Mower says they provide: "a continued sense of satisfaction".
Disadvantages:
Perimeter wire installation: Setting up the perimeter wire to mark the lawn's edge is a necessary but manual task. For many, such an undertaking can be time-consuming during the initial setup.
Imperfect lawn edges: Some robot mowers may leave some grass uncut at the lawn's edges, says My Robot Mower, requiring additional tidying up with an electric strimmer for a polished look.
High upfront cost: Robot mowers are initially expensive, with prices ranging from £300 to as high as £3000, depending on the model and features. However, there is long-term cost-effectiveness.
Limited battery life: As battery-powered devices, robot lawn mowers need charging every so often. Covering a larger lawn might take longer than expected if the battery life is limited.
How do I care for my robot mower?
Though many models are made to withstand various outdoor conditions, there are some recommendations for your new piece of kit, thanks to Geoff and Jill. During the winter months, when mowing isn't necessary and temperatures drop, it is recommended to "store the robot lawnmower and the charging station in the garage," says our experts, for protection.
As for cleaning, that's a straightforward process, says Geoff and Jill. They suggest using a garden hose "on low pressure, not high pressure", as the latter may damage delicate components. Our experts add that using a "brush on the body and underside around the blade disc" is best.
When it comes to the placement of the charging station, most brands recommend positioning this at the edge of the lawn, "somewhere as sheltered as possible." This allows for easy access for the mower to return for recharging smoothly. You can find a garage for your robot mower.
What to read next:
Description
Discover everything you need to know to make your outside space look fantastic, quickly and
Piper Huxley is a Homes, Garden and Wellness Product Writer for Modern Gardens Magazine, an all-rounder. When she's not writing about houseplants, she's tending to her own growing collection…