The best budget lawn mowers are an excellent option for those who want to maintain a neat and tidy lawn without breaking the bank. There are so many affordable and high-performing models available on the market - each with unique features and benefits - however, with so many options, it can take time to figure out which is the best lawn mower to buy.
Don't miss these Black Friday deals on budget lawn mowers
We interrupt the regularly scheduled content to let you know that although Black Friday is over, there's still time to grab some last chance Black Friday deals on budget lawn mowers. These are the retailers that still have deals available, or keep scrolling to continue reading our buyer's guide.
Shop the best budget lawn mower deals: Amazon UK | B&Q | Appliances Direct | Just Lawn Mowers
23% off: Bosch Rotak 32R Electric Rotary Lawnmower WAS £108 NOW £82.79
18% off: Bosch Manual Garden Lawn Mower, WAS £60, NOW £52.21
Top seller: Flymo EasiMow 300R Electric Lawn mower WAS £140, NOW £89
When considering a budget lawn mower, there are several factors to consider. These include the size of your lawn, the terrain you'll be mowing, the cutting width and height, and whether you want a corded or cordless model. The best electric lawn mowers, around £100, are mains-powered. Unfortunately, anything battery-powered pushes the price tag up significantly, so consider whether this is a dealbreaker for you. In this case, it's important to look for a decent power cable, ideally 10 - 12 metres long. Most cordless lawn mowers will be around the £200 mark.
Additionally, it's also important to consider the maintenance requirements of each mower, such as blade sharpening and grass box emptying.
To help you make an informed decision, we've compiled a guide to the best budget lawn mowers available to buy in the UK. So whether you're out in your garden every day or need to keep your lawn from getting unruly - here is everything you need to know about the best budget lawn mower for your needs.
Best budget lawn mowers at a glance:
• Best for overall performance: Bosch Rotak 34R Electric Lawnmower - view on Amazon UK
• Best for lightweight build: Flymo EasiMow 300R Electric Rotary Lawn Mower - view on Amazon UK
• Best for small gardens: Webb Classic WEER33 Electric Rotary Lawnmower - view on Amazon UK 
• Best for medium gardens: Flymo Speedi-Mo 360C Electric Wheeled Lawn Mower - view on Amazon UK
The best budget lawn mowers
Best budget lawn mower for overall performance (Editor's choice)
Description
The Bosch Rotak 34R Electric Lawn Mower delivers power and performance beyond its budget price.
Pros
A high performing 1300 W Powerdrive motor suitable for long and damp grass
Five adjustable cutting heights ranging from 20 – 70 mm and height-adjustable handlebar
Folds down to a compact size
Cons
The grass collection box is not the easiest to empty
The carry handle is in a slightly awkward position, so can be tricky to transport at times
Best budget lawn mower for comfort
Description
One thing we love about the Einhell Expert GE-EM 1233 Electric Lawn Mower is its very versatile
Pros
Easy to assemble
It is suitable for medium-sized lawns
The large wheels make it easier to push
Easy to manoeuvre, carry and set up.
Cons
The grass box produces a slight spray of grass cuttings whilst mowing
The handlebar may be too low for some users, and only the top handle folds away.
Best budget lawn mower for lightweight build
Description
Small but mighty - the Flymo EasiMow 300R Electric Lawn Mower is powered by a 1000 W engine and
Pros
Great edge-cutting abilities
Lightweight and compact design
Easy to use for both left and right-handed users
Cons
Only three cutting heights with no easy way to adjust the height
Best budget push lawn mower for non-electric use
Description
Consider this push-along model if you're looking for a no-fuss, budget-friendly manual lawn mower
Pros
Very lightweight
Easy to manoeuvre
Quiet and easy to operate without the need for electricity
Environmentally-friendly option
Can use on wet grass
Cons
Only suitable for small lawns
There may be difficulties with tougher or thicker grasses without electricity
Best budget lawn mower for small gardens
Description
The Webb Classic WEER33 Electric Lawn Mower is an excellent choice for small gardens. Its
Pros
Powerful motor
The compact design and narrow cutting width make it comfortable to use and manoeuvre
Capable of cutting tall grass
Cons
Best suited for smaller flat gardens
The mesh grass collector is more difficult to brush clean than plastic boxes
Best budget lawn mower for medium gardens
Description
The Flymo Speedi-Mo 360C Electric Lawn Mower is an excellent choice for medium to large gardens
Pros
Dual-sided controls can be used by left or right-handed users
The high-powered engine can cut long and thick grass
Large grass box capacity
Performs well around edges
Cons
Not as manoeuvrable as others on this list due to the size
Reviews say that the base of the mower can have the tendency to get stuck on the grass while pushing it
Best budget lawn mower for fertilising your garden
Description
The Challenge 900W hover mower is a lightweight, manoeuvrable choice for small gardens, with a
Pros
The mulching feature helps fertilise your garden
Lightweight and manoeuvrable design
Compact and easy to pack away
Cons
Plastic blades may not be as strong as metal blades
Best budget lawn for versatility
Description
The compact McGregor 32cm lawn mower provides effortless cutting for small to medium-sized lawns,
Pros
Powerful motor with Torque Drive
Five adjustable cutting heights
Collapsible grass box with indicator
Comes with a rear roller for a striped finish
2-year guarantee
Cons
Charger not included
The metal blade may require more maintenance than plastic blades
Best budget lawn mower for cordless use
Description
This LawnMaster model is an excellent choice if you're on the market for a low value cordless lawn
Pros
Comes with a spare battery
Cordless with powerful batteries
2-in-1 mowing
Rear roller for stripes
Fast charger included
Cons
Only one charger provided for two batteries
There is no battery charge indicator while mowing
Best budget lawn mowers FAQs
What to consider when buying a cheap lawn mower
If you're on a tight budget but still want a lawn mower that can keep your garden looking fresh, you should consider some key factors before making a purchase.
Cutting width: A lawn mower's cutting width refers to the blade's width and the area it can cover in one pass. Budget electric lawn mowers typically have cutting widths ranging from 30 – 36 cm. This is usually suitable for small to medium-sized gardens. If you have a more extensive garden, you may want to opt for a wider cutting width to make the job quicker, but you can still achieve good results with a smaller mower. If you have a garden with narrow areas, consider a narrow cutting width to ensure you can manoeuvre around obstacles.
Cutting heights: Look for a mower with a range of cutting heights, typically between 3 and 5cm. If your grass is overgrown, you may need a taller maximum cutting height (around 70 mm) to avoid overpowering the mower. If you tend to let your grass grow long, choose a mower that can accommodate longer grass. It's also essential to select the cutting height based on the grass's condition and avoid cutting too short too quickly, which can damage the lawn.
Ease of use: You should still prioritise an easy and comfortable mower, no matter the price. Look for a lightweight mower that is easy to push. Electric mowers are typically lighter than petrol mowers, easier to push, and more commonly sold today. Most lawn mowers should have adjustable handlebars to accommodate users of different heights too.
Grass collection bag: Consider the size and type of grass collection box/bag on the mower. A larger capacity will require less emptying but add to the mower's weight. Look for a size of around 30-40L for small to medium-sized lawns for best results. Some mowers have plastic grass boxes that are easy to clean but can feel bulky, while others have mesh bags that are more compact but harder to clean and may allow grass clippings to fall out.
So with that in mind, let's take a look at the best lawn mowers priced around £100 and below to help you keep your garden in fantastic condition time and again.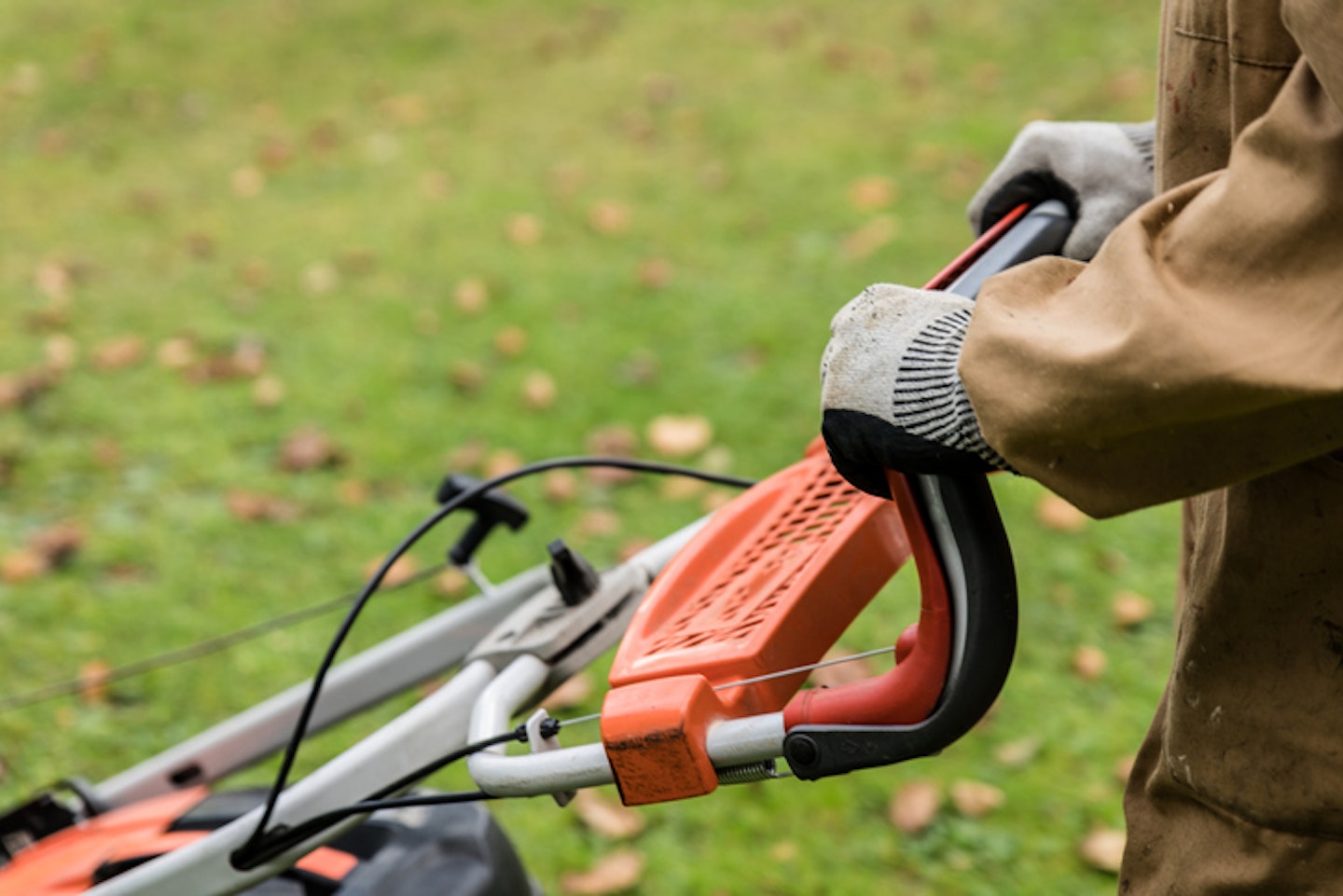 How long do cheap lawn mowers last?
Taking care of your lawn mower is essential to ensure that it lasts longer and offers good value for money. Unlike petrol mowers, electric mowers require much less maintenance, but you still need to take care of them properly.
It's good to remember that cheaper mowers are likely to have less durable parts, so you'll need to be extra careful with maintenance. However, don't let that deter you from purchasing a budget-friendly mower - with proper care, it can last just as long as a more expensive model.
Therefore regularly cleaning the blades and oiling the moving parts are two key maintenance tasks that you should perform. Ensure to store your mower according to the manufacturer's instructions, taking into account the material of its parts. For instance, plastic parts may become brittle in freezing temperatures, while metal parts can rust if left damp. Following these tips will help you keep your budget mower in top condition and allow it to stand the test of time.
What features are important to consider when buying a budget lawn mower
Comfort handles: Soft, comfortable handles that can be adjusted to your height can make mowing less strenuous on your back and hands, especially when mowing for long periods.
Carry handles: Look for well-spaced carry handles that make the machine more balanced, lighter, and easier to carry.
Blade height adjuster: A good blade height adjuster should be easy to adjust and offer a range of cutting heights. For most lawns, a cutting height of 2.5-4cm (1-1½in) is recommended for much of the year.
Clippings collection: Grass collectors can significantly reduce the time needed to maintain your lawn. Larger collectors will require less frequent emptying.
Grass combs: Side grass combs can help ensure a neater result along edges, fences, and walls.
Rear roller: If you want those traditional lawn stripes, look for a mower with a rear roller. The heavier the machine and roller, the better the stripes will be.
Mulching function: Some mowers cut the grass so finely that you can leave the clippings where they fall. This mulching function can save you time and effort while returning valuable nutrients to your lawn.
Are electric mowers less powerful than petrol mowers?
Electric mowers have come a long way in terms of power and performance, and for small to medium-sized lawns, they are a great option. They are also the most accessible option too.
Are cordless electric mowers as powerful as corded electric mowers?
Corded electric mowers generally offer more power, but cordless mowers offer greater flexibility and convenience.
Can I use an electric mower on wet grass?
It's generally not recommended to use any mower on wet grass, but some models are better equipped to handle it than others.
What to read next:
Robot lawn mowers worth investing in to make grass cutting easy
Cordless strimmers to neaten up your lawn and garden borders
Description
Discover everything you need to know to make your outside space look fantastic, quickly and
Ellen Kinsey is a senior health and wellness product writer for Modern Gardens, specialising in sustainable living and health. She lives and breathes all things natural health, cooking and nature.