If you're lucky enough to have a large, luscious garden in the UK and you need a petrol lawn mower to tackle the lawn, we have to admit we're a little bit envious of all the space. When the British weather is behaving and the longer daylight hours give us the chance to spend more time in our outdoor spaces, having a large garden or lawn provides plenty of opportunities for fun and gardening, whether you're a novice or a gardening expert.
Last chance Black Friday deals on petrol lawn mowers
We interrupt the regularly scheduled content to let you know that although Black Friday is over, there's still time to grab some last chance Black Friday deals on lawn mowers. These are the retailers that still have deals available, or keep scrolling to continue reading our buyer's guide.
Shop the best petrol lawn mower for large gardens deals: Amazon UK | B&Q | Appliances Direct | Just Lawn Mowers
Save £27: Hyundai 17''/43cm 139cc Self-Propelled Petrol Roller Lawnmower HYM430SPR, WAS £406.99, NOW £379.99
Save £99: Hawksmoor 166cc 53cm Honda Self Propelled Petrol Lawnmower was £498.98, NOW £399.98
Save £186: Honda HRS 536 VK Petrol Mulching Lawn Mower RRP £785, NOW £599
However, something we don't envy quite so much is the maintenance that comes with having a bigger outdoor space. Not only do you run the risk of having more unmanageable grass and dozens of weeds, but your regular electric lawn mower might not cut the mustard when it comes to having enough power. This is where we'd recommend investing in a quality petrol-powered lawn mower that'll provide you with the runtime needed to tackle the whole lawn.
Petrol lawn mowers vary, just like our gardens, so you'll need to pick one that ultimately best suits your outdoor space. If you have a large open garden, choosing a petrol lawn mower, such as a ride-on mower, with a larger cutting width will help make light work of your grass cutting, but a garden with more intricate spaces or obstacles would be better suited to a more compact, manoeuvrable mower. To help find the best mower suited to your lawn, we've picked out the best lawn mowers for medium-sized gardens (up to around 500 square metres) and larger gardens beyond this too.
Despite their differences in power source, there are similar benefits to cordless lawn mowers and their petrol-powered counterparts. They both use a rotary cutting mechanism, have adjustable cutting heights, and have an optional grass collector bag or box. Crucially, petrol and cordless lawn mowers are designed with manoeuvrability in mind. If you're a little more environmentally conscious or have a small garden, a cordless lawn mower is the best option. In contrast, if you're looking for a powerful mower, petrol will make short work of tough grass and large lawns. If you're looking for the mower with the largest catch bag, most powerful engine, or a lightweight model, read on. We've listed the best petrol lawn mowers to buy in the UK for medium-sized and large gardens, as well as giving you an easy guide to what you should look out for, answering some questions you might have had on your mind.
Best petrol lawn mowers at a glance:
• Best petrol lawn mower for lawns up to 500sqm: Hyundai 19"/48cm 139cc Self-propelled Petrol Roller Lawnmower - View offer on Amazon
• Best self-propelled lawn mower for value: Webb WER410SP Classic Petrol Rotary Lawnmower - View offer on Wicks
• Best for large gardens: Mac Allister MLMP550SP46-M&S 140cc Petrol Rotary - View offer on B&Q
• Best ride-on petrol lawn mower: Mountfield MTF 66 MQ Petrol Lawn rider 224cc - View offer on B&Q
Best petrol lawn mowers for medium-sized gardens
Best petrol lawn mower for lawns up to 500sqm
Description
The Hyundai 19"/48cm 139cc Self-propelled Petrol Roller Lawnmower is a high-quality, low
Pros
Achieve perfect lawn stripes

Easy to start up

Ideal for small to medium size gardens
Cons
Instruction booklet could be better
Best self propelled petrol lawn mower
Description
For the Formula One of garden lawn mowers go for the P1 Hyundai Powered 18" 46cm Self Propelled
Pros
Self propelled
Easy to use
Great results
Cons
Reviews advise you read the manual first as the safety cut out switch needs adjusting for first use
Best self-propelled lawn mower for value
Description
The Webb WER410SP Classic Petrol Rotary Lawnmower self-propelled mower will help take the effort
Pros
Many settings
Easy to use
Best petrol lawn mowers for large gardens and lawns
Best suited to make quick, comfortable work for gardens more than 500 square metres.
Best self-propelled petrol lawn mower for performance
Description
The Murray EQ700X self-propelled lawn mower is packed with features (not gimmicks) that help to
Pros
Powerful whilst being energy efficient
Easy to assemble
Smooth drive
Cons
Shortest cutting setting is very severe
Best for large gardens
Description
Designed for lawns up to 1,000 square metres, the Mac Allister MLMP550SP46-M&S 140cc Petrol Rotary
Pros
Easy assembly
Great value for what you get
Cons
Some reviews say sourcing spare parts is tricky
Best ride-on petrol lawn mower
Description
If you have a particularly large lawn, garden, or semi-rural block, this ride-on mower will make
Pros
Great for larger gardens
No pushing or pulling needed
Cons
One customer said the assembly was tedious
Best for collecting grass
Description
Garden like a pro with the Honda HF 2317 HME Lawn Tractor. Its hydrostatic transmission makes it
Pros
Easy manoeuvrability
Huge grass collection capacity
Professional gardening
Cons
Might be too high-tech for some
Best ride-on lawn mower with mulching and side discharge
Description
The Mountfield MTF 98M-SD Side-Discharge Lawn Tractor is designed for cutting longer grass and
Pros
Easy to manoeuvre
Compact so you can get close to borders
Mulching and side discharge
Cons
Limited reviews on this specific product
Our pick for the best petrol lawn mower
Serving average and larger-sized lawns, the Murray EQ700X wins – it's versatile and has a range of useful features which will help to make cutting the grass a breeze. We also really like the large Murray and Briggs & Stratton service network and its initiative to help reduce exhaust emissions.
Petrol lawn mower FAQs
Are petrol lawn mowers better than electric ones?
This is really down to preference, and there are pros and cons to each - here are just some of the reasons why petrol lawn mowers make for a better choice:
• Petrol lawn mowers are more powerful and will help cut long wet grass.
• Good for mowing the lawn where it may otherwise be difficult due to slopes or uneven surfaces.
• In larger gardens, you'll use fuel more efficiently and save money in the long run.
• No power cable means you can move this easily throughout your garden without needing extension leads.
Unlike an electric lawn mower, you'll need to service the engine, They're typically heavier and noisier, but it'll make cutting your large lawn much quicker and easier.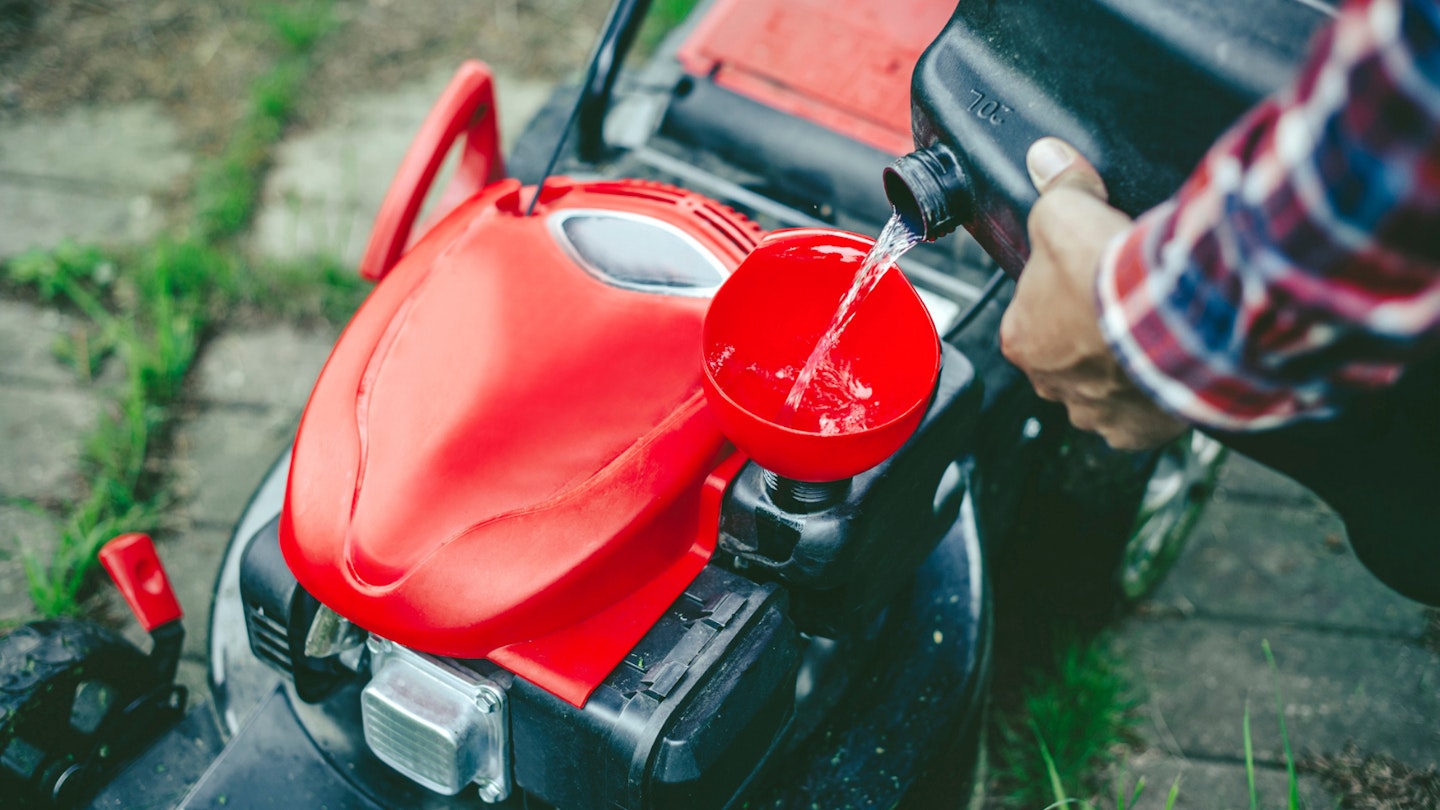 How do I choose a petrol lawn mower?
You're ready to kit out your shed with quality gardening equipment, but you might be unsure where to begin searching for the best petrol lawn mower for your garden.
Here are some handy tips on what to look for when choosing a petrol lawn mower:
Self-propelled or push mowers
Push mowers are just what you'd expect from a regular lawn mower - push them as you mow to propel them forward.
Self-propelled mowers will move forward on their own. Simply pull the safety bar to engage the drive, and then let go of it to disengage the drive - don't worry, there's no chance they'll run away from you!
Self-propelled mowers are great for making quick and easy work of large open areas, even if you have a hilly garden. However, because of the extra drive components, they are heavier and less manoeuvrable than push mowers which are lighter but require more physical effort in the action of mowing.
Engines and specs
The engine size and specs of your mower will depend on your budget, but this is what you're paying for. A well-engineered mower will be more powerful and robust and yet have a quieter and more efficient motor. You should consider how important certain features are to you as they may be worth paying that little extra for if it makes your life easier.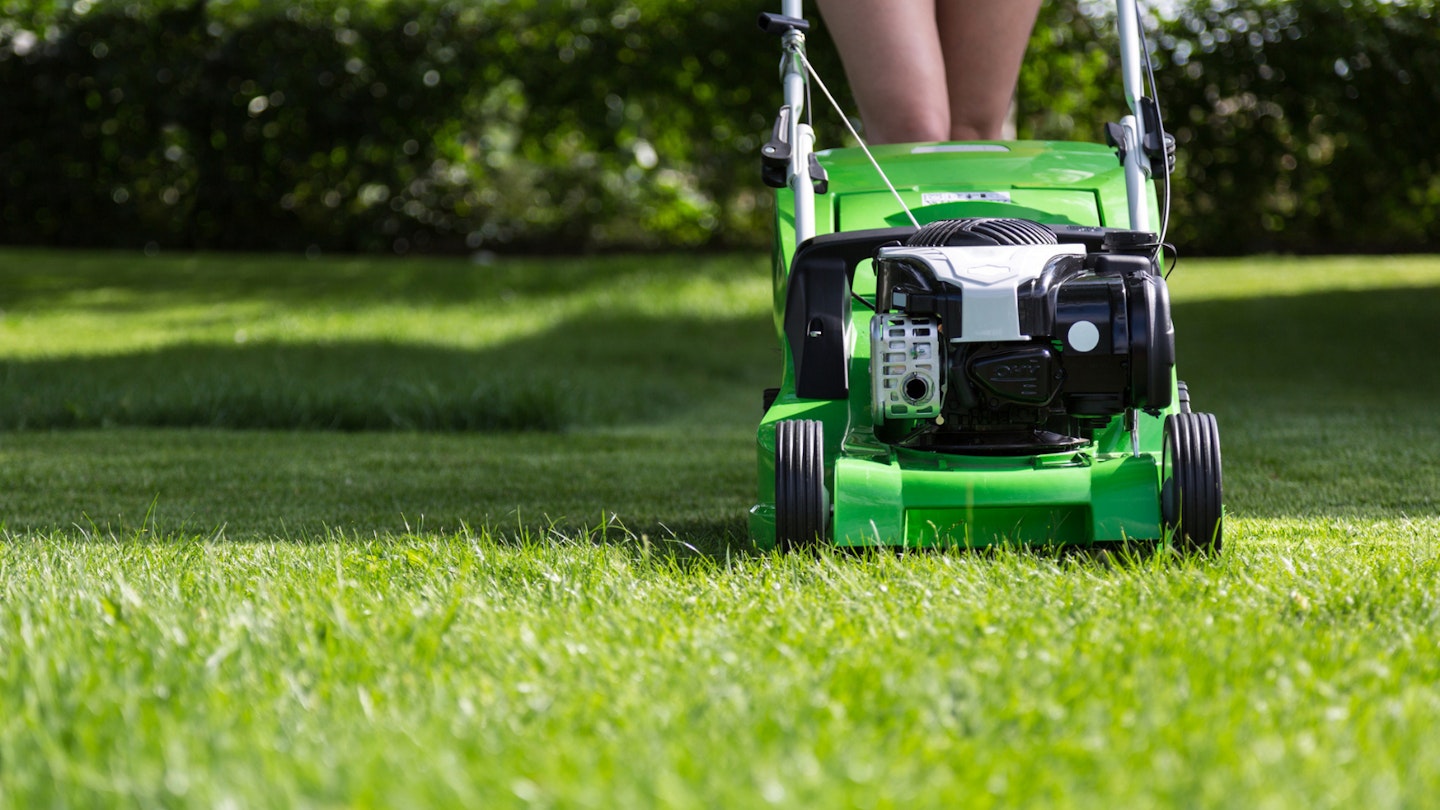 What petrol do you use for lawn mowers?
According to garden designer and enthusiast, Lawnmower Larry, "The petrol for your lawn mower must be unleaded, the octane must be a minimum of 87, and if it contains ethanol, this should be no more than 10 per cent. Very important: the petrol must be fresh. Most people don't know that fuel can become stale."
Are petrol lawn mowers safe?
Petrol lawn mowers are safe to use, but just like any other heavy-duty equipment, there are safety risks. Extra precautions need to be taken, and the use of petrol adds an extra hazard that you'll need to be cautious of. Here are some top safety tips to follow when cutting the grass to keep you and others safe.
• Always read the safety instructions outlined with the lawn mower and follow the guidelines exactly.
• Remember to inspect the petrol lawn mower before use. If there are any damages, get this repaired before use.
• Check there is sufficient petrol in the machine before use. Failure to do so may damage your lawn mower's engine and leave you with a costly repair bill.
• Does your lawn mower need re-filling with petrol? Make sure that you fill this up when it is cool and turned off, as it could cause a fire when hot or running.
• At all times, keep children and pets away at a safe distance.
• Clear debris and any obstructions before mowing, including stones, twigs and toys.
• Never leave the lawn mower on when unattended.
• Shut the engine off immediately if you hit a stone or other object to ensure there has been no damage.
Why should I keep my garden well-maintained?
According to LoveTheGarden," Recent findings from the British Journal of Sports Medicine state that gardening is linked to longer life and can provide the perfect replacement for a lack of exercise, avoiding a sedentary lifestyle."
It also claims, "Gardening is also said to increase happiness too, with the activity bringing about a sense of peace and wellbeing. Due to the ever-increasing strain on life, gardening is known to be a great stress reliever, which can only point to gardening being a positive influence."
We'd have to agree, especially as the aroma of freshly cut grass in the summer and the neat sight of aligned lawn stripes is hard to top!
What to read next:
Robot lawn mowers worth investing in to make grass cutting easy
Description
Discover everything you need to know to make your outside space look fantastic quickly and easily,
Eleanor Weaver is the Deputy Homes & Garden Product Editor for Modern Gardens, specialising in outdoor furniture, décor, and tools. She's always looking out for inspiration online for stylish and affordable designs, and enjoys spending time in nature.