If you plan to host guests outside but are fretting over the weather app, praying for sunshine, then take the stress out of planning and invest in garden gazebos. Thank you, garden furniture. Come rain or shine - now you can spend more time outside under a protective cover but still reap the benefits of being in your garden.
Gazebos also work perfectly for covering hot tubs or providing protection from wasps or bugs when you are out having a BBQ. You can also turn it into your outdoor sanctuary with some lovely outdoor furniture. Whether you are on the hunt for a budget gazebo for camping or some shade, or if you are browsing for a luxury gazebo with curtains and bug nets, we have researched the best garden gazebos for your outdoor haven. If not, consider a sail shade.
Black Friday deals on garden gazebos
We interrupt the regularly scheduled content to let you know that although Black Friday is over, there's still time to grab some last chance Black Friday deals on garden gazebos. These are the retailers that still have deals available or keep scrolling to continue reading our buyer's guide.
Shop Black Friday garden gazebos on: The Range | B&Q | Aosom | Amazon UK | Argos | Very
Save £147: Glendale Seville Gazebo 3m x 3m WAS £489.99, NOW £342.99
Save £180: Canopia by Palram Gazebo Milano 3000 WAS £1,199, NOW £1,019
£61 off: Outsunny Outdoor Gazebo, 2-tier Roof W/Netting WAS £196.99, NOW £135.99
35% off: MasterCanopy Durable Ez Pop-up Gazebo Tent, WAS £189.99, NOW £123.19
Perhaps, you're thinking: what are the different styles of garden gazebos? Firstly, there is a pop-up gazebo, which has been designed to be set up in minutes. These gazebos are budget-friendly and great for setting up at summer gatherings, BBQs and parties. On the other hand, there is a patio gazebo, which is made typically from wood or metal, these freestanding gazebos require zero support and can be set up permanently on your patio.
Next, there is a gazebo tent, designed with fabric walls with windows, these are another great pick for gatherings and private parties on campsites. Lastly, did you know that there are grill gazebos? These are made to be placed over your BBQ or grill to protect it from impromptu rain or provide shade cover to the cook hard at work. With a gazebo, you can gather with your friends and family, park yourselves on beautiful wicker furniture and sip botanical gins... Bliss.
Take a peek at our favourites below...
Garden gazebos at a glance
• Best cheap garden gazebo: Kingfisher Gazebo – View on Amazon UK
• Best garden gazebo with side panels: Argos Home 4m Hexagonal Garden Gazebo – View on Argos
• Best metal patio gazebo: Dakota Fields 3m x 3m Metal Patio Gazebo – View on Wayfair
Best garden gazebos
Best garden gazebo with curtains
Description
This Horwood Metal Frame Gazebo is perfect for gardens with overlooking houses and for all kinds
Pros
Effortless to put up
Good value for money
Will add some glamour to your outdoor space
Cons
Not suitable for wind speeds exceeding 25mph
Best garden gazebo with nets and canopy
Description
This trendy SunTime Polenza 2.5m Outdoor Garden Gazebo with a geometric design is a great
Pros
Easy to store
Beautiful net curtain
Good for shade
Cons
Not the sturdiest option on this list
Best cheap garden gazebo
On Sale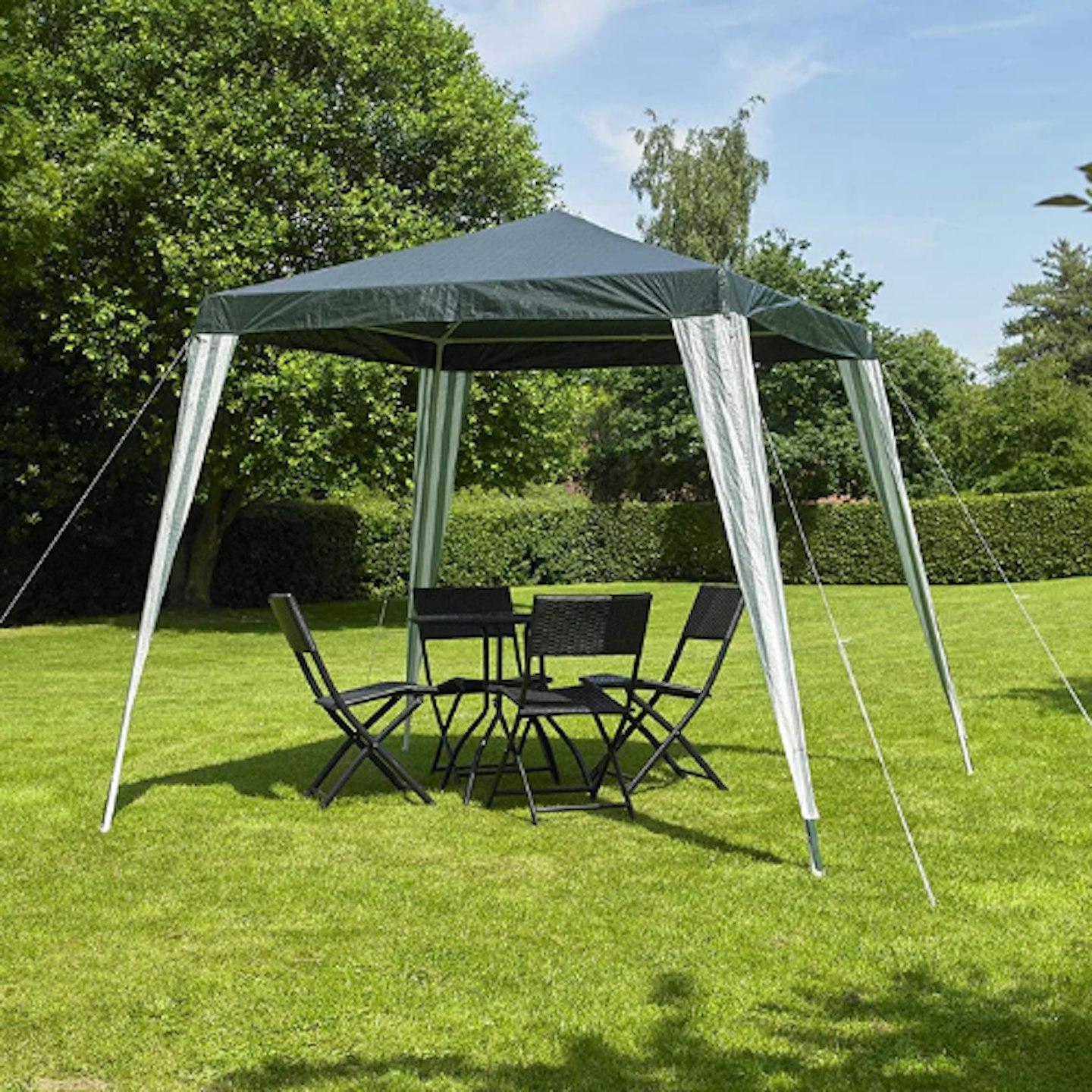 Amazon
Description
If you are on the hunt for a gazebo on a budget for camping trips or general use, then this basic
Pros
Affordable
Portable
Ideal for camping
Cons
Needs to be weighted down to prevent damage in the wind
Best garden gazebo with side panels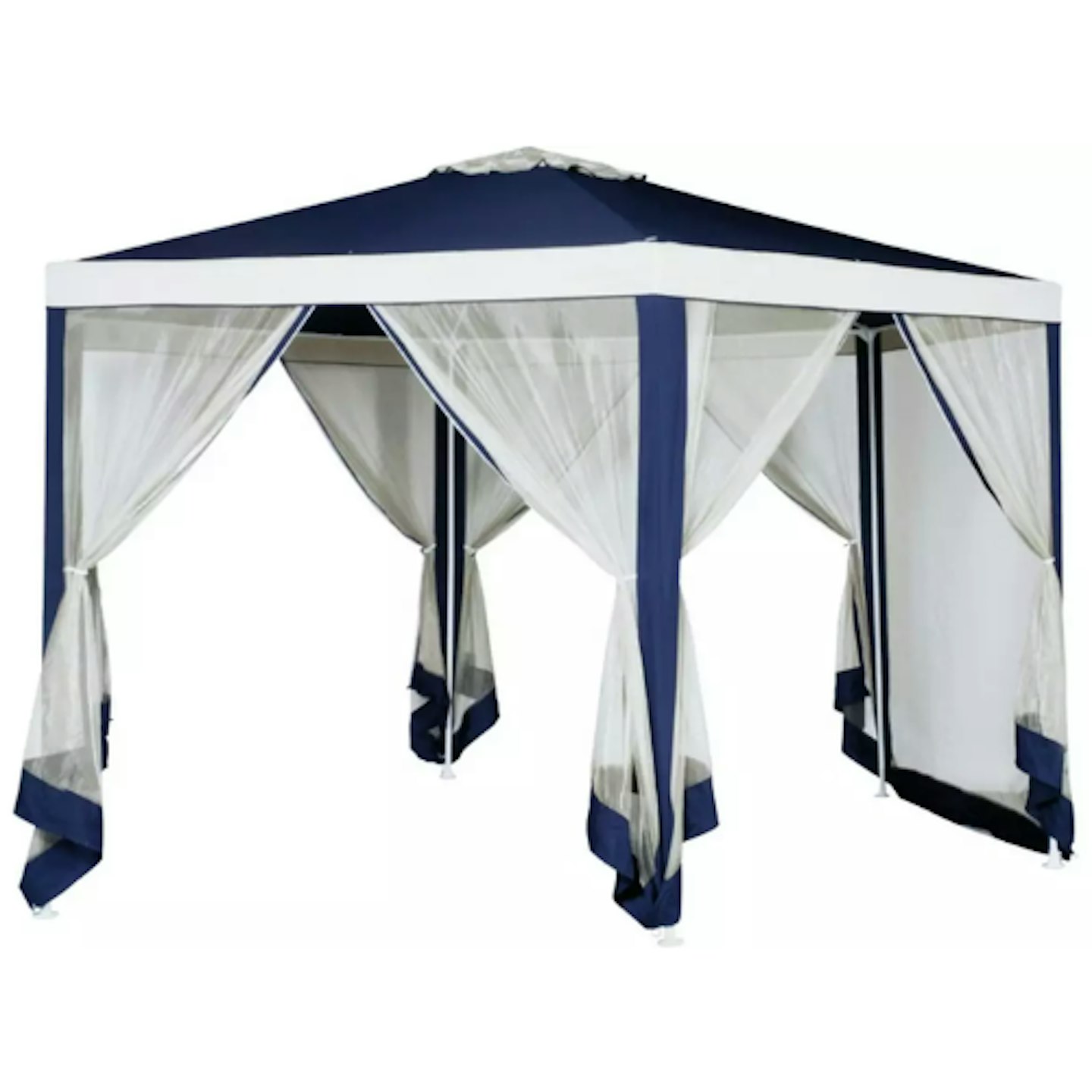 Argos
Description
If total protection is what you are after, then this Argos Home 4m Hexagonal Garden Gazebo has
Pros
Amazing value for money
Set up in 15 minutes
Roomy
Cons
Not the sturdiest option on this list
Best metal patio gazebo
Description
With the intricate, metal construction, we've been transported to a Bridgerton garden! The Dakota
Cons
Thin metal construction makes it less sturdy than some other freestanding gazebos
Best gazebo for privacy
Description
Perfect for popping up on a campsite for some privacy, using at a car boot sale, or in your own
Pros
Excellent shelter
Lightweight
Cons
Not to be used in high winds
Top pick
Description
We love this attractive gazebo that looks like a pergola but has the shelter needed to keep the
Pros
Stylish gazebo
A great statement piece
Best gazebo for sturdiness
Description
For protection from sunshine and showers, the KETTLER Panalsol Pagoda Gazebo is a sturdy and
Pros
Sturdy and easy to store away
2-in-1 parasol and gazebo
Shower-resistant
Best statement garden gazebo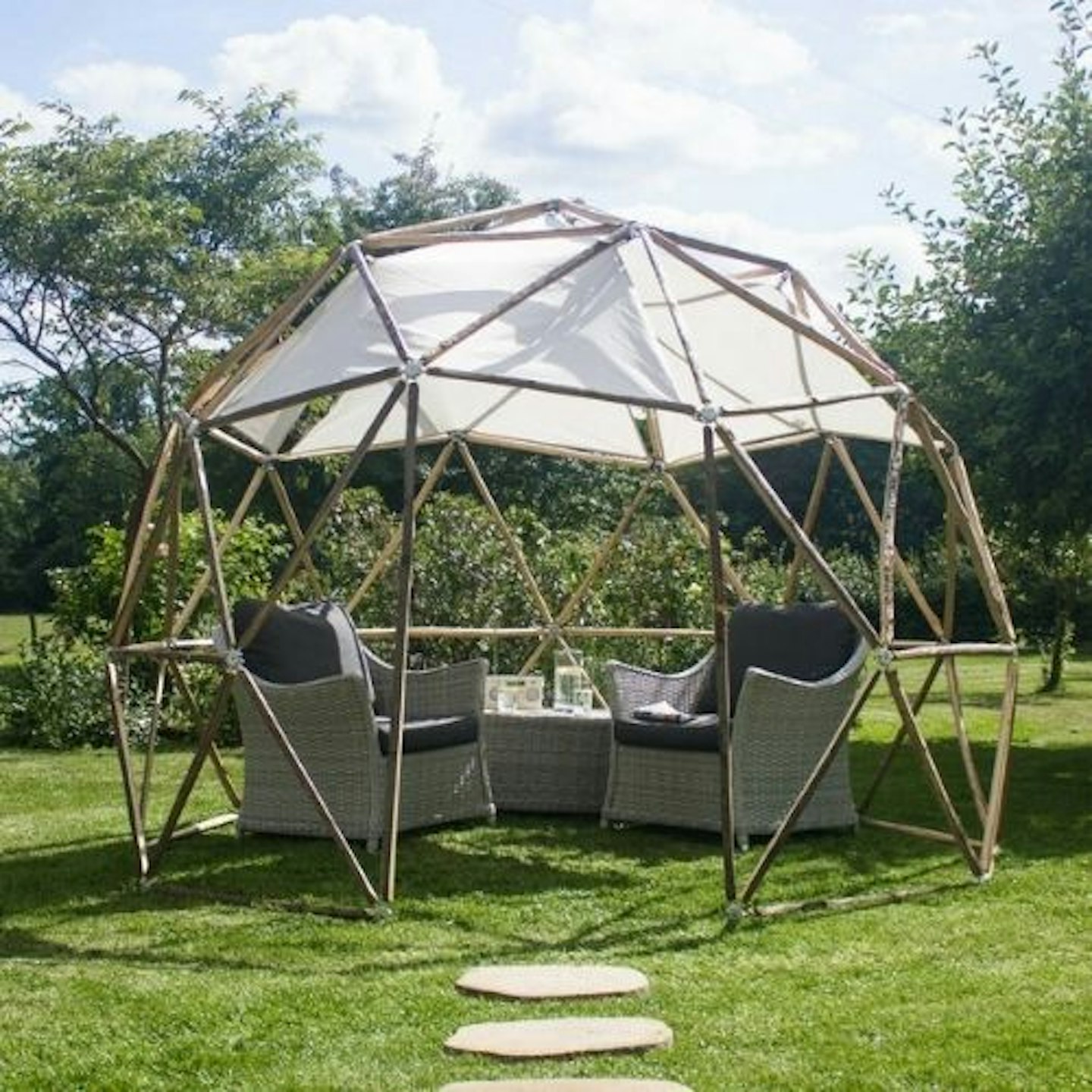 Not On The High Street
Description
Looking to impress? This Wooden Geodesic Outdoor Garden Pod will definitely grab some attention.
Pros
The aesthetic is on point
Choose three or five shade sails
Shade sails available in light blue or light grey
Gazebo lighting ideas
Description
Really take your gazebo to the next level with these 50 LED, 7m curtain lights with eight light
Need some more outdoor lighting inspiration? Check out our buyer's guide on summer house lighting.
Description
If you prefer warmer-toned lights, then these waterproof Globe String Lights will make your gazebo
FAQs
Which is better: Gazebo or pergola?
The difference between pergolas and gazebos is that structurally, pergolas are much less cluttered and more elegantly built than gazebos. A pergola's main purpose is a statement piece that provides optimal space for plant growth. It will provide some shade, but the light is still likely to get through the roof slats.
On the other hand, gazebos can come in all sorts of shapes, from square to rectangular, hexagonal to octagonal, but are typically smaller in size than pergolas. Their sides may be entirely open or provide a half or full wall, with curtains or nets making them more practical.
The main purpose of a gazebo is to provide a seating area protected from the elements, come rain or shine.
What to read next:
Comfy and affordable sun loungers for you to recline in peace
Description
Discover everything you need to know to make your outside space look fantastic, quickly and
Ellen Kinsey is a Senior Health and Wellness Product Writer for Modern Gardens, specialising in sustainable living and health. She lives and breathes all things natural health, cooking and nature.