Nothing says summer quite like grilling your favourite meat on the barbie, and to get that irresistible flavour, you need the best BBQ or outdoor grill for the job. To make sure you've got the right piece of equipment, whether you need something compact for the patio or big enough to cater to large family gatherings, we've put together a handy guide. We've selected the best BBQs available to buy right now that will help take your cooking skills to the next level.
With all sorts of designs and cooking options available from hybrid models, Kamados, egg grills, tabletop BBQs and more, there's something out there to suit everyone. The best outdoor grills will be easy to clean, not too difficult to assemble, and, of course, deliver on those big flavours.
Best outdoor grill shortlist:
• Best hybrid BBQ for cooking area: John Lewis Grillstream 6 Burner Hybrid Gas & Charcoal BBQ
• Best overall charcoal grill: Weber Compact 47cm Charcoal BBQ
• Best overall gas grill: Fire Mountain Everest 4
• Best small Kamado Egg grill BBQ: Fresh Grills Kamado Charcoal BBQ Grill
• Best smoker grill: ProQ Frontier BBQ Smoker
• Best grill for pizza: Ooni Fyra 12 Wood Pellet Pizza Oven
Whether you choose to use gas or charcoal BBQ, they both should give you the same results as long as you cook with a lid down. That's where and how the flavours are created. Gas can be more convenient as you just use an ignition switch, and away you go. Charcoal may give you a smokier flavour for your hearty BBQ food. You can read more on this and more below in the FAQs.
As you can't test out a BBQ or outdoor grill prior to buying, we've done the hard work for you. Whether you're looking for something premium or budget-friendly, we've got a BBQ to suit your needs so you can get sizzling in no time.
The best BBQ grills for the summer
Hybrid BBQs
Best hybrid BBQ for cooking area
Description
The John Lewis Grillstream 6 Burner Hybrid Gas & Charcoal BBQ is perfect for catering to large
Pros
Great for large families and cooking lots of food
Loads of storage space
Easy to clean
The best hybrid grill for quick convertibility
Description
Love the taste of charcoal but are enticed by the efficiency of gas? Choose a hybrid BBQ and enjoy
Pros
Plenty of cooking space
Side burner for cooking smaller items/sauces
Cons
Takes a while to put together
Best hybrid BBQ under £500
Description
Looking for a BBQ to go the distance and be able to withstand year after year of outdoor cooking?
Pros
Attractive
Good size for medium-sized gardens
Cons
Takes a long time to assemble
Best charcoal grill
Best overall charcoal grill
Description
The Weber Compact Charcoal BBQ takes our top spot and is a favourite on Amazon too. The chrome
Pros
Brilliant budget-buy
Comes with a very long 10-year warranty
Durable and weather-proof
Best charcoal grill for size
Description
If you consider yourself King of the BBQ and enjoy cooking a lot of food (or have plenty of mouths
Pros
Easy to clean
Bottle opener is a nice touch
Best gas BBQs
Best overall gas grill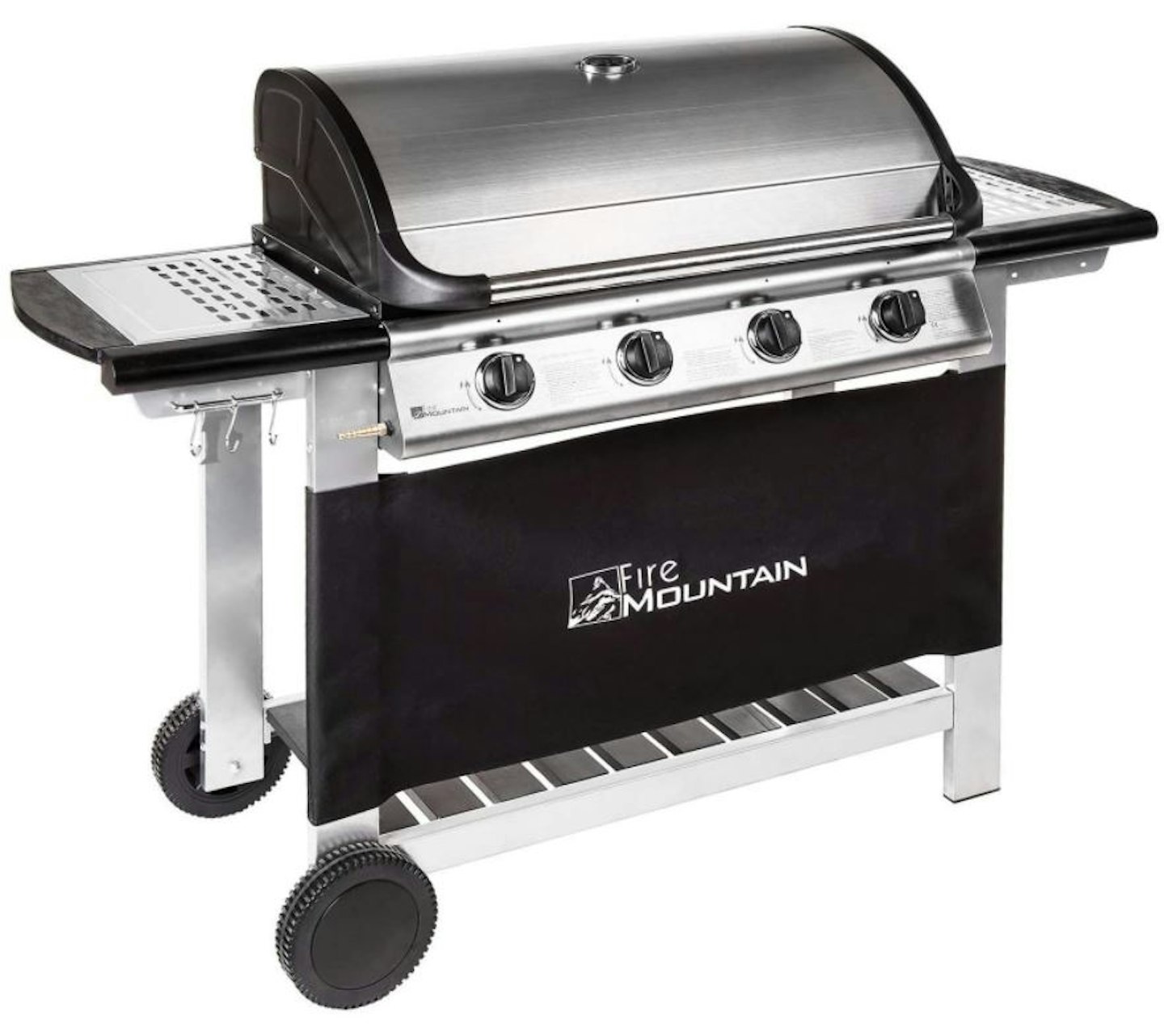 Amazon
Description
Are you after a BBQ that you can use in your garden and the park? With this Grill2Go, you can take
Pros
Lightweight and portable
Practical with easy cleaning
Premium quality components
Most versatile gas grill
Description
Weber products are known for their excellent build quality, and this Weber Q 2000 Gas Barbecue is
Pros
Easy to use and clean
Rust-resistant for year-round dining
Stylish and practical design
Best Kamado Egg grills
Best small Kamado Egg grill BBQ
Description
Fresh Grills Kamados are designed so that anyone can become an expert in their garden. The BBQ's
Pros
Stylish design
Easy to assemble
Best portable Kamado Egg grill BBQ
Description
This versatile ceramic grill is well-built and portable. With the ability to sear, roast, grill,
Pros
Handle frames make it very portable
Large grill area, despite small size
Cons
Premium price, but from a reputable BBQ brand
Best alternative BBQ and grills
Best smoker grill
Description
For many, the best part of barbecuing is tucking into food with that delicious smoky flavour and
Pros
Cool design
Lots of cooking space
Cons
Using the vents to control the temperature can take a bit of practice
Best pizza oven
Description
Ooni is a big hit with pizza lovers and kickstarted the trend of making pizzas in your garden. The
Pros
Quick to cook
Portable

Easy to assemble
What are the different types of BBQ grills?
Charcoal BBQ: Using charcoal as the source of fuel, charcoal BBQs are affordable and deliver deliciously smokey food with authentic char. Charcoal grills are the most affordable option.
Gas BBQ: Gas BBQs tend to be more expensive initially but give you the convenience of quick and evenly cooked food. Running on a gas canister rather than a fresh supply of charcoal each time, they're quick to ignite, offer better temperature control and tend to be easier to clean up.
Hybrid BBQ: A hybrid BBQ brings together the best of both worlds. You can use the one BBQ to cook with charcoal, gas or both at the same time. Switch between the two for the perfect pairing for quick food delivery that's got the authentic taste of a BBQ. It's worth noting that these are typically the most expensive form of BBQ.
Electric Grills: Electric grills are predominantly used indoors, but we've seen more coming onto the market. Offering an easy clean, and convenient cooking experience, they're safe to use indoors, outdoors, and on balconies. Some have the option to add wood chips to a canister for a more heightened BBQ flavour, but keep in mind that you'll need an electricity supply.
Smoker Grills: A smoker grill cooks at a low heat and is designed to expose your BBQ food to the smoke in the cabinet for the greatest amount of time, using charcoal and wood chips for an amazingly rich and smokey flavour.
Kamado Egg Grills: These hooded grills are made from ceramic and provide constant heat on minimal fuel. Unlike steel smokers, Egg grills can hold temperatures for more than 18 hours without adding more coals, and the temperature heat can reach more than 300°C to sear steaks, just like in high-end restaurants.
Outdoor Pizza Ovens: Available to be run on wood, charcoal or gas, outdoor pizza ovens are made to cook a handmade pizza - surprise surprise! Different fuels can alter the flavour and cooking speed, with wood-fired pizzas being a favourite for taste.
BBQ grill FAQs
How do I start a BBQ?
There are a couple of options when starting a BBQ, and which option you choose depends on which BBQ you have. If you have a hybrid BBQ, then the choice is all yours.
How to start a gas BBQ: For beginners selecting the right gas, like butane gas or methane gas, is the best starting point, advises Robert Dyas. After following the manufacturer's instructions to connect it correctly, keep the lid open and light it. Gas canisters can last for up to four hours on low heat, but it's wise to have a backup just in case. Never leave your gas BBQ unattended, and set it up away from flammable products.
How to start a charcoal BBQ: To make things easier when lighting a charcoal BBQ, you'll also need firelighters. This can be liquid lighter fluid, natural eco-friendly firelighters, or firelighter blocks. Pack them in between your charcoal and light them to get your fire going using lump charcoal or briquettes. Robert Dyas recommends using the 1:1 ratio for your coal – for every kilogram of meat, add a kilogram of charcoal.
Take your barbecuing up a notch with the latest grilling gizmos and best BBQ tools.
Can you use any cooking charcoal or gas on a hybrid BBQ?
Yes, though it's worth checking the manufacturer's instruction manual in case they have any requirements or recommendations.
The BBQ brand Outback, for example, recommends that you use their Hybrid Charcoal Briquettes for their charcoal, and John Lewis recommends propane or patio gas cylinder bottles ranging in sizes from 3kg to 13kg for their gas.
Are egg grills or Kamados worth it?
Kamado grills, including the Big Green Egg BBQs, are designed to maintain low temperatures for long, slow cooking and create a roaring fire for searing steaks or grilling pizzas.
If you are looking for an efficient outdoor grill that is also a very versatile cooker to roast, bake, and smoke all in one — egg grills are an excellent investment. These ceramic cookers use lump charcoal, not briquettes, and can smoke and grill any kind of meat. Many brands come with extra accessories, such as a pizza stone, tiered grill grates, and a heat deflector which really make this a versatile product. If you are looking for just outdoor grilling, there are other budget options with no frills.
What to read next:
Description
Discover everything you need to know to make your outside space look fantastic quickly and easily,