Finding the best hot tub to suit your needs, your family, and your garden can seem to be a daunting task, especially as they are a huge investment. Hot tubs have become an accessible luxury and are more readily available than ever before, but you don't want to spend hundreds or even thousands of pounds on a hot tub that doesn't suit your needs or budget.
Gone are the days when the hot tub can only be used at fancy spas or on holiday. Yep, you can now have your own in your own outdoor space, and there's nothing like a good hot tub for unwinding in the evening. They can massage and relieve stress, and because they're heated, you can keep using them when night falls and temperatures start to drop. Hot tub party on Christmas Day? Don't mind if we do.
Black Friday deals on hot tubs 2023
Black Friday has finished, but some sales remain… throughout the month of November, we're expecting to see a whole host of last-minute Black Friday deals on hot tubs. Want to grab a bargain? These are the best hot tub deals still available or keep scrolling to continue reading our buyer's guide.
Shop the best hot tub post-Black Friday deals: Very | Currys | Appliances Direct | Wayfair | The Range | Robert Dyas | Boots | Debenhams | Amazon | Outdoor Living
£450 off: Lay-Z-Spa Maldives HydroJet Pro Hot Tub, WAS £1,299, NOW £849
£270 off: Lay-Z-Spa Barbados Inflatable Hot Tub, WAS £699, NOW £429
44% off: Wave Sorrento Drop Stitch Spa, WAS £899.99, NOW £499.99
33% off: Outsunny Round Inflatable Hot Tub Spa with Pump, WAS £743.99, NOW £509.99
There is so much to consider when shopping around for a hot tub, including price, space, longevity, energy consumption, and how many people you can squeeze in for a dip. There are so many different tubs to choose from, from inflatable models and large hard shell tubs for family gatherings to old-school woodfired versions. Not forgetting the big names in the hot tub market, we've included the best hot tubs from Lay-Z-Spa, Canadian Spa, Intex and more.
Best hot tubs at a glance:
• Best plug-in and go hot tub: Canadian Spa Company Calgary 4 Person Plug & Play Hot Tub - View on Argos
• Best value hot tub: Lay-Z Spa AirJet Miami 4 Person Inflatable Hot Tub in Black - View on Appliances Direct
• Best luxury hot tub: Canadian Spa Gander 4 Person Hot Tub - View on Robert Dyas
• Best hot tub for families: Lay-Z-Spa Helsinki 7 Person AirJet Hot Tub - View at Very
In this guide, we've researched the best hot tubs on the market right now and answered all your hot tub-related questions.
Best hot tubs
Best plug-in and go hot tub
Description
This Canadian Spa Company Calgary Plug & Play spa fits in almost any location. It is roomy but
Pros
Energy efficient
Loads of features despite being compact
Simple to set up
Cons
Have to remember to change filters every 4 to 6 months
Best value hot tub
Description
For a fab price, you can experience ultimate relaxation with the Lay-Z-Spa Miami Airjet, perfect
Pros
Straight forward to assemble
Heats up fast
Loads of features
Cons
Could supply starter chemicals, especially chlorine granules and tablets
A little cramped with four people
Best luxury hot tub
Description
This Canadian Spa Gander 4 Person Hot Tub will blow you away with everything it has to offer,
Pros
Great quality
No electrician required
LED lights make the hot tub really stand out
Best hot tub for families
Description
Inspired by traditional Nordic hot tubs, this Lay-Z-Spa Helsinki is perfect for large families as
Pros
Robust
Big and spacious
Economical to run
Best hot tub for couples
Description
If you're planning a future of hot tub date nights, the Lay-Z-Spa Aruba not only looks amazing but
Pros
Great for small gardens or patios
Freeze Shield technology
Massage power is strong
Cons
Need a UK adapter for the plug
Best hot tub for hard water areas
Description
Many areas of the UK have to deal with hard water, which can be harsh on skin and clothes. As well
Pros
Heated bubble jets
Built-in water treatment system
Simple maintenance with an easy-to-replace filter system
Cons
Cleaning filters is harder than expected
Best square-shaped hot tub
Description
Square hot tubs can fit into some of those more awkward spaces and limit any dead space in
Pros
Square shape ideal for a corner of the garden or patio
Easy to setup

Sturdy build
Best hot tub for small gardens
Description
Not everyone is blessed to have a large or medium-sized outdoor space, but that doesn't mean you
Pros
Easy setup
Great for small families
Comes with a chemical start-up pack
Best woodfired hot tub
Description
Woodfired hot tubs are a different option from ones that require electricity and are much more
Pros
Heats up fast
Jets are powerful
High-quality and robust
Cons
Need to keep on top of cleaning and changing logs
Best hot tub FAQs
What are the different types of hot tubs?
Hard-shell hot tubs
Also known as acrylic hot tubs, hard-shell hot tubs sit on a hard shell base and have hard side panels. They have an internal heating system and an array of jets and lights to make your hot tub experience extra special.
Hard-shell tubs can also come with fancy features such as Wi-Fi, in-built sound systems and full foam insulation that seals the heat in your tub, making it more energy efficient.
They're an investment as they are permanent fixtures in your garden and will need to be set up on solid, level ground.
Inflatable hot tubs
Cheaper and more convenient for smaller gardens, inflatable hot tubs can be put anywhere, they just need to be set up on a solid, level base. As you fill them up with air, they are also called blow-up hot tubs and are heated by an external heater that warms the water, and an air blower will inflate the walls and power the jets.
Inflatable hot tubs now come in all shapes and sizes, so there is bound to be one that suits you. They are less fancy than hard shell tubs, but you can still get seats, lights, and even drink holders on some models.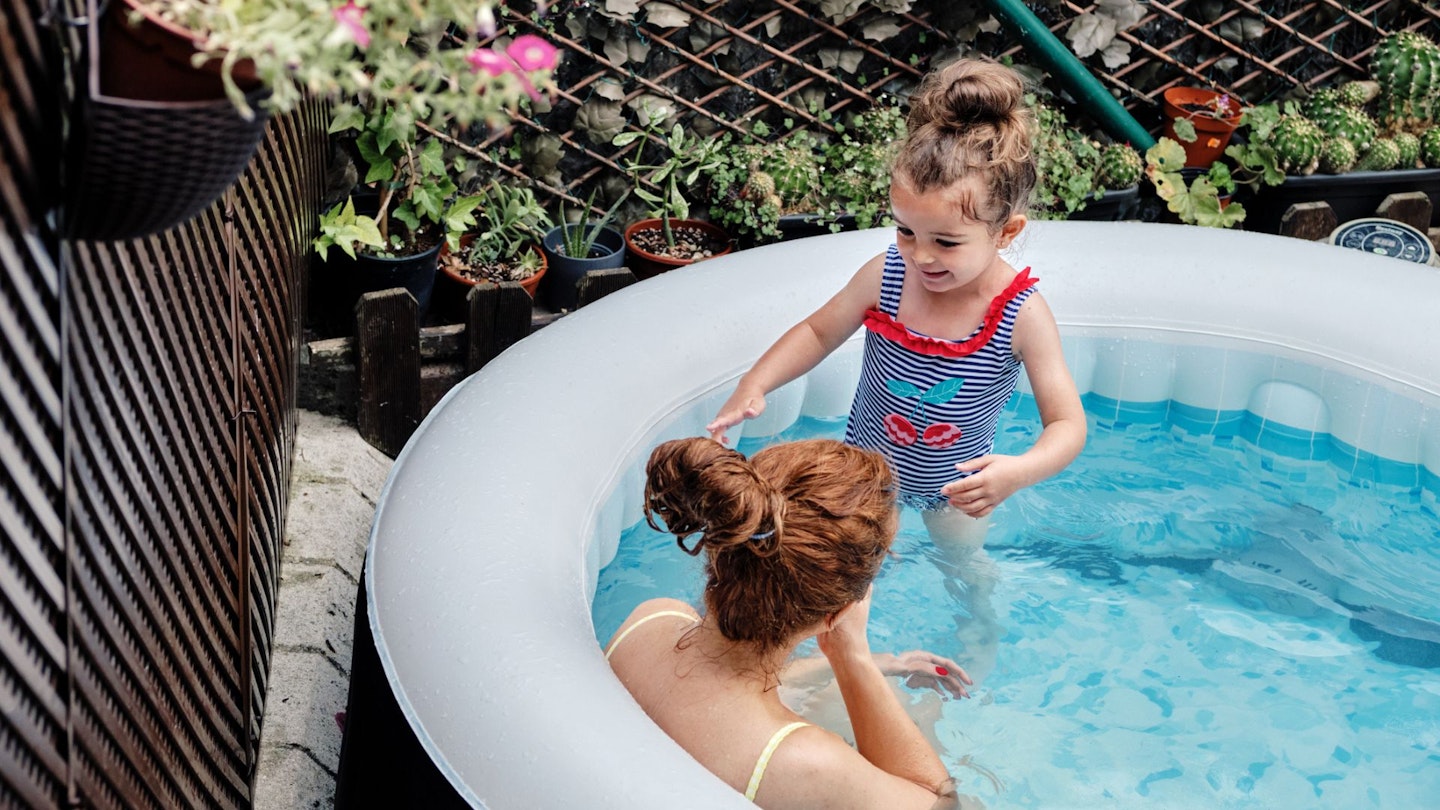 Plug in and go hot tubs
'Plug-in and play' hot tubs are similar to hard shell hot tubs, but they can simply be powered by a standard 3-pin UK Plug Socket. Most hot tubs run on 240v power, which means you'll need to hire an electrician to set up the appropriate electrical source (a dedicated 240v 50 circuit) and wire your hot tub before it can be used. This makes installation easy as no dedicated power supply or feed is needed to be fitted. They still come with lots of lovely luxuries, but they are just not as powerful.
Integrated hot tubs
Integrated or in-ground are typically more known as spas. They are either set into the ground, attached to a swimming pool, or custom-built in some way. They do come under the same family as hot tubs (they are filled with warm water and have jets) but have a more bespoke, built-in element.
Woodfired hot tubs
Woodfired hot tubs are a different option from ones that require electricity and are much more traditional and environmentally friendly. A lower-running-cost option, a woodfired hot tub will really stand out in your garden and is powered by logs and features Thermowood cladding to keep the heat in. Woodfired hot tubs generally take less time to heat up but require a little more maintenance.
How expensive is it to run a hot tub?
This all depends on how much you intend to use your hot tub and which model you choose. Overall, hot tubs can be quite expensive to run; however, some models have high-tech energy-saving systems which can maintain the temperature. The running price of a hot tub is also dependent on how high your temperature is set and how warm it is outside.
If you're looking to save money on your hot tub, we'd recommend keeping an eye out for hot tub deals. You'll often find that some retailers like Aldi have affordable options, and sale events such as Prime Day and Black Friday have fab hot tub deals available.
What temperature is best for a hot tub?
The majority of hot tub users like their water temperature to range between 36°C and 38°C. However, the ideal temperature will depend on a variety of factors, including body temperature, weather conditions, and a number of health and safety risks.
Some hot tubs can be set at a temperature of 26°C, but this would only be appropriate if it's a hot summer's day and you want to use your tub to cool off. It is important to remember that a hot tub is meant to warm you up, not cool you down, so may not be appropriate in extremely warm temperatures.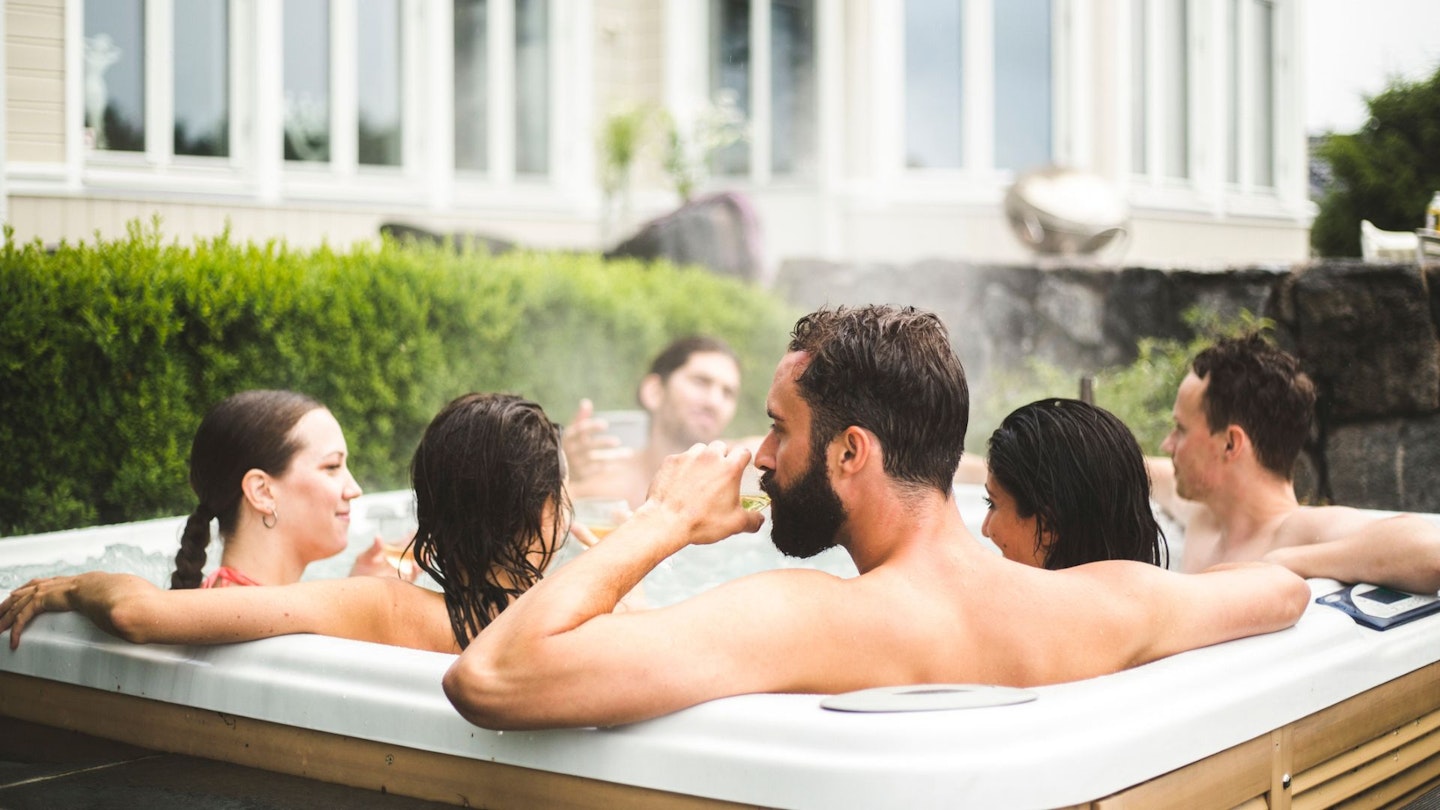 How do you clean a hot tub?
Draining and flushing your hot tub should be done around three to four times a year. However, despite some hot tubs coming with cleaning kits, they should be cleaned weekly and routinely treated with chemicals. You should always refer to the manual when it comes to chemicals. Depending on the brand of hot tub, the hot tub filters should also be cleaned on a monthly basis. Here are a few steps to follow:
Flush out the pipes. You can cleanse your hot tub of any internal build-up of grime or dirt by flushing the pipelines. You can buy cleaning solutions, like this Jacuzzi® Hot Tub Pipe Cleaner, but make sure to follow the instructions.
Drain the hot tub. After flushing out the pipes, you will need to drain your tub. Make sure you have turned off all the power to the hot tub, and don't turn it on again until the hot tub has been refilled.
Clean surfaces. Whether you have a hard shell or an inflatable hot tub, you can use a hot tub surface cleaner to keep it sparkling.
Clean the filters. The filters on your hot tub are meant to catch dirt, so they require extra cleaning and attention. If you start to notice that your water is not looking as clear and clean as usual, it is a huge sign that the filters need a good clean.
What to read next:
Indulge the family in a swimming pool to beat the heat this summer
The best paddling pools with fast delivery to keep cool this summer
Description
Discover everything you need to know to make your outside space look fantastic quickly and easily,
Hannah Mellinis a Homes & Garden Product Writer for Modern Gardens, A Modern Kitchen, Yours and Take A Break. She has been working in the Journalism industry for over a decade and has written for an array of brands. When she's not writing, researching or testing products, she's renovating her Victorian terrace and chilling in the garden with her sausage dog Waffle.