A robot lawn mower under £500 may be hard to come by, but they're out there. They're perfect for preserving small to medium gardens, providing adequate cutting and shaping of your lawn. After all, there are plenty of lawn mowers designed for smaller budgets, bringing all the advantages of this clever robot tech to us part-time outdoor enthusiasts. We've found the best that £500 has to offer.
Last chance Black Friday deals on robot lawn mowers under £500
We interrupt the regularly scheduled content to let you know that although Black Friday is over, there's still time to grab some last chance Black Friday deals on lawn mowers. These are the retailers that still have deals available, or keep scrolling to continue reading our buyer's guide.
Shop the best robot lawn mowers deals: Amazon UK | B&Q | Appliances Direct | Just Lawn Mowers
Up to £100 off: LawnMaster L12 Robotic Lawnmower WAS £599.99, NOW £499.99
Save £50: LawnMaster VBRM16 OcuMow™ Robotic Lawnmower WAS £349.99, NOW £299.99
Though still a major purchase, it's worth considering all the options when buying a robot lawnmower. After all, how your lawn looks is an important aspect of garden maintenance. However, many of us dread pushing a heavy mower around the garden and struggling with a cable. Fortunately, mower tech has propelled both robot and cordless lawn mowers into the spotlight.
Of all the technological advances of the modern age, this is undoubtedly our favourite – aside from the ride-on lawn mower. Revolutionary, this hassle-free device will free you from cutting grass and for those of us who are greeted with hay fever in the high-pollen months, we are surely thankful that we have to chance to avoid any more sniffles and sore eyes. Like many high-tech devices, the robot mower tends to be quite pricey, so finding budget mowers – specifically under £500 – was a big task.
At Modern Gardens Magazine, we've recruited the help of contributors Geoff Hodge and Jill Morgan to help us find you the most cutting-edge models at a bargain price, of course. Plus, their expertise has helped us debunk some robot mower myths, which are all in the FAQs below. If you don't fancy an electric lawn mower, below, is an extensive guide to the best robot lawn mower under £500.
Best robot lawn mower under £500 at a glance:
• Best overall: LawnMaster L10 – view on Amazon UK
• Affordable robot mower: Yard Force EasyMow 260B – view on Amazon UK
• Best for large lawns: LawnMaster L12 – view on Amazon UK
Best robot lawn mower under £500
Best overall
Description
First, we recommend the LawnMaster L10. According to Amazon reviews, it's pretty solid and
Pros
PIN-code protected for use
Tough, durable and waterproof
Complete with two sensors
Cons
Some customers found set-up tricky
Best for smaller gardens
Description
Packed with additional features to make your life easy, we love the Flymo EasiLife 150 GO.
Pros
Quiet lawn mower at 58dB
Can tackle a second lawn
Easy to programme and use
Cons
Some customers found instructions tricky
The app lacks a few user-friendly features
Affordable robot mower
Description
Ideal for small to medium gardens, this affordable model is another great option. The Yard Force
Pros
Affordable robot mower
Smartphone compatible
Equipped with multiple sensors
Cons
Mows in random patterns
May need to manually trim the edges
Best cutting height range
Description
An all-rounder, the Orbex S700G is fully automated support in the garden. Self-propelled, this
Pros
Suitable for an area of up to 700 m²
Has collision, safety and rain sensors
Can be protected with a password
Cons
Instructions can only be accessed online via QR code
Time-consuming to install the boundary wire
Great for complex gardens
Description
Perfect for complex and irregularly shaped gardens, this multi-area mowing Einhell Power X-Change
Pros
The control app is user-friendly
Multi-area mowing, complex gardens
Automatic return to charging unit
Cons
Some customers mentioned issues with the wire
Best for large lawns
Description
Easy to install, the LawnMaster L12 makes a great piece of kit for your garden's needs. The L12 is
Pros
Simple keypad to programme mower
Tough, durable and waterproof
Auto charging when the battery is slow
Great for lawn edges
Description
Next, we recommend the Feider FTDER22V1B for an attractive lawn. Whether Random, Spiral or Edge
Pros
Three modes: Spiral, Random and Edge
Good run time of an hour when charged
Complete with a rain sensor and mulch feature
Cons
No tilt or lift sensors for obstacles
Complete with handy sensors
Description
Maintaining a healthy, well-groomed lawn has become very easy with the Yard Force Compact 300RBS.
Pros
Packed with six different sensors for safety
Powerful, long-lasting and fast-charging
Super-sharp blades produce a fine mulch
Cons
Suitable for smaller gardens
Verdict: Which budget robot lawn mower is best?
Our top pick is the LawnMaster L10. It's solid, reliable and has plenty of additional features that'll help your garden look fabulously lush and trim. It's waterproof, PIN-code protected and will mulch your grass, meaning a healthy lawn – and an envious neighbour. What's not to love? If you love the L10 but have a larger lawn to mow, grab the LawnMaster L12, instead.
FAQs
What do I look for when choosing a robot lawn mower?
When you're making a purchase of this size, it's great to weigh up your options and reflect on your needs. Luckily, Geoff and Jill have thought this through and given us some help on what you need to consider when choosing a budget robot lawn mower to care for your lawn.
Lawn size
As you may have realised, robot mowers have a "maximum lawn size that they can cut without having to continually recharge," says Geoff and Jill. What is our advice? Well, that's easy: measure your lawn and ensure that you order the correct mower with enough supplied perimeter wire.
Lawn finish
Different blades will garner different results. A speedy blade with cut finely, whereas a double-bladed model will chop the grass into a finer, mulch-like cut. Our experts recommend checking "to see what grass-cutting height options are available." Most models will offer heights of 3 to 6 cm.
Lawn shape and style
This may differ depending on which budget robot lawn mower you finally opt for. After all, some mowers can handle "sharp angels and oddly shaped nooks and crannies," and others will not. For this, read customer reviews and expect a near-perfect result with a budget buy.
Slopes
Luckily, most models will be able to cope with a gentle incline, says Jill and Geoff. However, if your lawn "steeply slopes, some models will happily tackle angles of up to 45°." To ensure you're picking the correct robot lawnmower for the incline of your space, we've included slope capabilities.
Obstacles
You'll be required to move things around for your new piece of kit. After all, you don't want your precious new mower to face any problems along the way. For hard-to-move obstacles like statues, we recommend a model that uses a virtual boundary or sensors instead of a perimeter wire.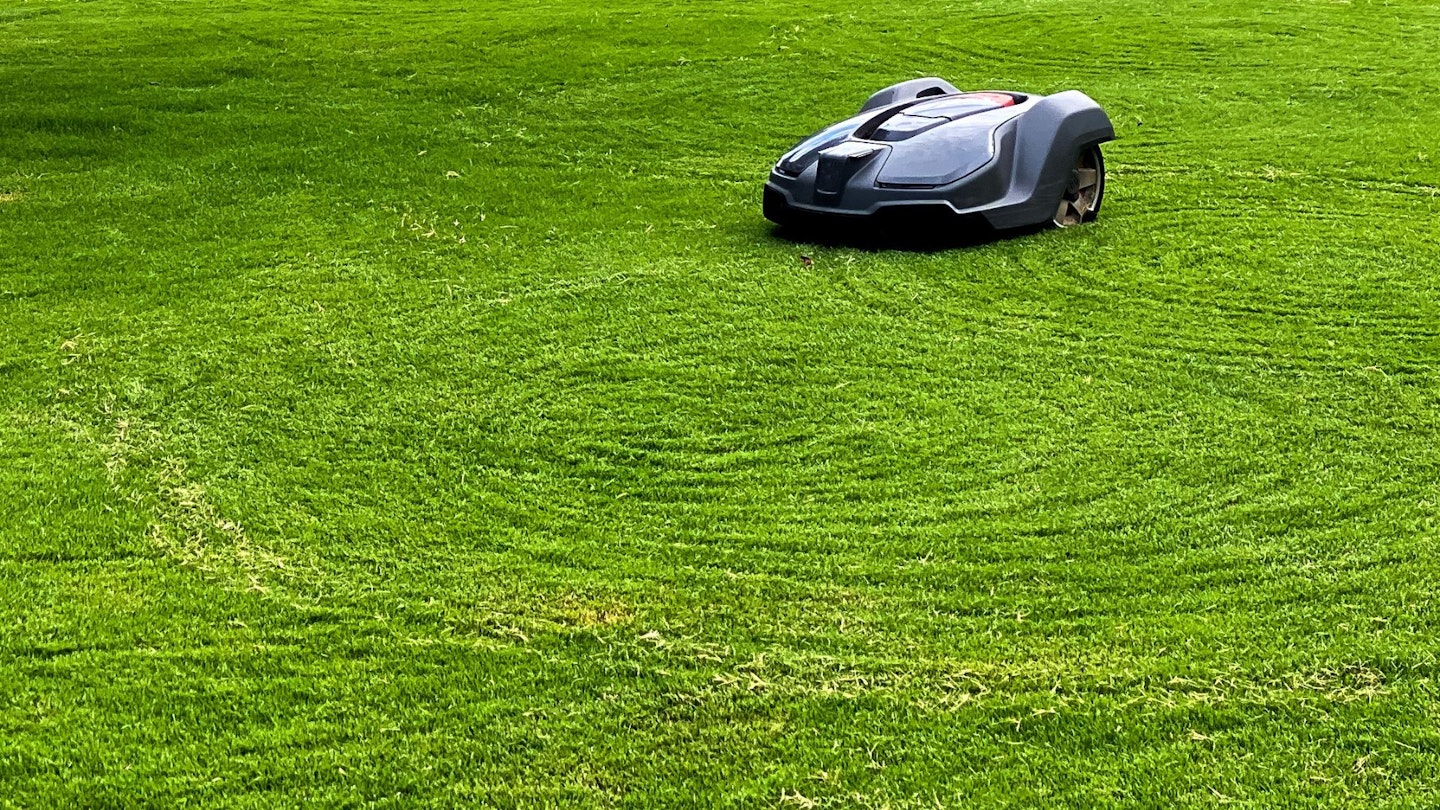 Run time
Generally, most lithium-ion battery-powered models will "give 45-60 mins of cutting time from each full charge, in as little as 30 mins." Handy, right? Run-time can be determined by the output and power of the battery, also. Some robot mowers even remember where they left off before charging.
Rainy days
Budget options tend not to be able to cut grass in wet conditions. On the other hand, the higher-grade models are more likely to have this capability. Plus, some models have "a rain sensor and return to their dock when the rain starts falling, and resume when it stops," says Geoff and Jill.
Lawn use
This goes without saying: keep your pets away from the garden when in use. Or, on the other hand, consider a model with an "obstacle sensor" if the pets and wildlife are free to roam your space.
Noise level
Importantly, we don't want to annoy the neighbours. There's nothing worse than waking up early on a Sunday morning to a lawn mower blaring outside your window. Luckily, some of the newer models "are incredibly quiet, emitting nothing more than a satisfying hum," says Geoff and Jill.
Security
Gone are the days of mower theft. Some higher-tech models come with built-in anti-theft measures, says Geoff and Jill. Handy, right? They add: "These include alarms if the mower is moved outside of its perimeter boundary, security sensors, PIN codes and GPS tracking to monitor its location."
How do robot lawn mowers work?
Thanks to Jill and Geoff, we can answer this question in detail:
According to the pair, robot lawn mowers are powered by rechargeable batteries, usually lithium-ion), and "use a charging station, dock or home that it returns to once it's finished cutting or the battery is depleted and needs recharging." However, the charging port requires mains power. They add that you need to set up this mower "within reach of a weatherproof power outlet."
Despite this, Geoff and Jill agree that the robot lawn mower is an easy piece of kit to set up. This will be influenced by "the size and shape of your lawn and whether there are any obstacles to manoeuvre around", though. Luckily, most mowers work within an electronic perimeter wire, which will orientate and guide the mower, laid "around the lawn edge just under the surface of the turf."
Often, when approaching set-up, you may be greeted with something user-friendly – and some models have smartphone connectivity capabilities, working with an app or Alexa. These features may come in handy, coming in the form of "status updates, such as whether the mower is charging or cutting, even when you're away from home". These features are less likely with budget models.
Are robot lawn mowers any good?
Well, for a fantastic piece of technology, we can't deny that there are a few drawbacks. Nothing is perfect, after all. So, to give you a better insight into robot lawn mowers, we've enlisted the help of My Robot Mower to speak about the pros and cons of these high-tech garden maintenance devices.
Pros:
You'll never have to cut your lawn again. Just imagine your free time. When we have busy lifestyles, it's hard to fit in tasks that'll take a decent chunk of your afternoon. Well, no more.
Your lawn will look better. With a robot mower, you can regularly cut the grass and some models mulch the clippings, returning them to the lawn, which provides "nutrients to the growing grass."
They are much safer. My Robot Mower claims: "Safety features of robot lawn mowers far surpass conventional mowers." After all, there is no user interaction and sensors will prevent any accidents.
They can work out cheaper. Though a teeth-gritting investment, robot mowers can work out cheaper in the long run, due to "decreased maintenance requirements and lower operating costs."
They're great fun. Though not a practical element to consider, My Robot Mower explains that it provides a great conversation topic and the free time provides "a continued sense of satisfaction."
Cons:
You need to install a perimeter wire. Most models use these to mark the edge of your lawn. Unfortunately, this is an unavoidable, manual task. So, installation can take a little while.
The edges of your lawn won't be perfect. Yes- it's true. Most models may leave some grass at the edge of your lawn, says My Robot Mower. So, we recommend tidying up with an electric strimmer.
The upfront cost is higher. As mentioned above, the robot mower is an investment. They can range from £300 and climb all the way up to an eye-watering £3000. However, it can work out cheaper.
Limited battery life. This is another gripe we have with these mowers. As they are powered by batteries, they need charging, so a sweep of a larger lawn may take a little longer than expected.
What to read next:
Description
Discover everything you need to know to make your outside space look fantastic, quickly and
Piper Huxley is a Homes, Garden and Wellness Product Writer for Modern Gardens Magazine, an all-rounder. When she's not writing about houseplants, she's tending to her own growing collection…