Robot lawn mowers used to be the preserve of affluent gardeners with acres of grass – but not any more! There are now models tailormade for smaller lawns and tighter budgets, bringing all the advantages of these clever little machines into the reaches of us modern gardeners.
Last chance Black Friday deals on robot lawn mowers
We interrupt the regularly scheduled content to let you know that although Black Friday is over, there's still time to grab some last chance Black Friday deals on lawn mowers. These are the retailers that still have deals available, or keep scrolling to continue reading our buyer's guide.
Shop the best robot lawn mowers Black Friday deals: Amazon UK | B&Q | Appliances Direct | Just Lawn Mowers
Save £161: Einhell Power X-Change FREELEXO 1200 WAS £750, NOW £589
Up to £100 off: LawnMaster L12 Robotic Lawnmower WAS £599.99, NOW £499.99
Save £50: LawnMaster VBRM16 OcuMow™ 24V Robotic Lawnmower WAS £349.99, NOW £299.99
17% off: Worx Landroid M500+ WR165E, WAS £949.99, NOW £803.99
While it's still a major purchase, a robo-mower will pay back the investment in units of time – but that's not the only reason to buy. Regular mowing is the single most important aspect of lawn care to achieve the lushest swathe. And while you won't want to be pushing a lawn mower around that often yourself, a robot lawn mower embraces this little-and-often approach, leaving your lawn looking its very best.
The benefits of a robot lawn mower are fairly obvious. They free you from cutting grass yourself and this may be worth its weight in gold if lawn mowing is a task you loathe even more than cleaning the bathroom. You don't have to collect the clippings with a robot lawn mower either because the robot lawn mowers discard them finely as mulch.
However, if you have done any previous research into robot lawn mowers, you will no doubt have noticed that they are quite pricey. Good models kick off at about £500, and go a long way from there - you can spend thousands. Meanwhile, electric hand-propelled lawnmowers (one of the best of is the Murray EC320) begin at under £120.
At Modern Gardens, we've taken a look at robot lawn mowers, how they work, if they are worth your investment, and which models are best.
Best robot lawn mowers at a glance:
• Best robot lawn mower: McCulloch ROB S400 Robotic Lawn Mower
• Best for complex gardens: Gardena SILENO Minimo 250
• Best robot lawnmower for app compatibility: Worx Landroid M500+ WR165E
Modern Gardens' favourite robot lawnmower models:
Best robot lawn mower
Description
The McCulloch robot lawnmower offers performance and quality with its S400 model. As the name
Pros
Results in a perfectly mown lawn
Flexible charging station
Cons
Unsure about winter storage
Best for complex gardens
Description
For complex or feature gardens, we recommend the Gardena Sileno Minimo 250. What we like about the
Pros
Straightforward controls
Works in wet weather
Best robot lawnmower for app compatibility
Description
The Worx Landroid M500+ WR165E is a beast, weighing in at 16 kilos and being about 40cm in length
Pros
Accessible and frees up a lot of time
Auto-schedule
Detects obstacles with a collision sensor
Cons
Takes a while to install and fine-tune
Best for small gardens
Description
The Flymo EasiLife 350 is a solid competitor to the Gardena Silena. The EasiLife 350 has a
Pros
Super quiet and can be scheduled
Cons
You have to install a wire around the perimeter of the area
Best charge time
Description
The Cobra Mowbot mower is actually capable of covering a larger area than even the Worx unit. In
Pros
App control, with obstacle detection and a reliable performance
Quiet
Easy to monitor and control
Best for virtual boundaries  
Description
Handling lawns up to 1,500m2, this smart cookie from Segway uses GPS technology to set its cutting
Pros
Quiet
Choice of seven cutting heights
Blade safety system
Best for simple programming 
Description
Designed to cut lawns up to 500m2, this compact mower has a push pad with simple LED indicators
Pros
Suitable for lawns up to 500m2
5 cutting heights (20-50mm)
Compatible with smartphone app
Best looking design 
Description
This streamlined mower from Cobra is a winner with design lovers and is available in a choice of
Pros
Built-in rain sensors
Can be controlled by an app
Best for sloped terrain 
Description
The Al-ko Robolinho 500 E is relatively light at 7.6kg and fitted with chunky wheels, this model
Pros
Light and easy to carry
Small but mighty
Best for speedy set-up 
Description
Sophisticated sensors including front, rear and lawn-edge drop means that this mower has no need
Pros
Connect to the Ambrogio app through Bluetooth for even more convenience
Simple to use
Front and rear sensors
Cons
Cutting area not as large as some on this list
Best for voice control capability 
Description
This top-tech design from Honda is Bluetooth compatible, operates off a Smart Timer that receives
Pros
Security features
Bluetooth compatible
Cons
Suggests using a lawnmower for the first cut of the season and then let Miimo take over
FAQs
How do robot mowers work?
Robotic lawnmowers are powered by rechargeable batteries (usually lithium-ion) and use a charging station, dock or home that it returns to once it's finished cutting or the battery is depleted and needs recharging. The charging station uses a mains electricity supply, so needs setting up within reach of a weatherproof power outlet.
It's relatively quick and simple to get started, depending on the size and shape of your lawn and whether there are any obstacles to manoeuvre around. Most mowers are kept from straying by an electronic perimeter wire, unobtrusively laid around the lawn edge just under the surface of the turf. This also helps orientate the mower, and guide it back to the charging station. A few of the latest models, such as the Segway H1500E above, use a virtual boundary that's set up using an app.
To set up the mowing programme, most models have simple push-button controls and some can be customised remotely via a smartphone app or virtual assistant such as Alexa. You can then also get status updates, such as whether the mower is charging or cutting, even when you're away from home.
You don't need to worry about the clippings either. Because robot mowers cut the grass so regularly, the clippings can be left on the lawn as a mulch to return nutrients to the soil. Some mowers have fast or double blades that chop the clippings finely and, like a mulching mower, blow them down into the grass.
Most robotic lawnmowers come with all you need to install the mower and set it up, but do check what's included, especially if your lawn isn't a standard patch as you may need to purchase different accessories.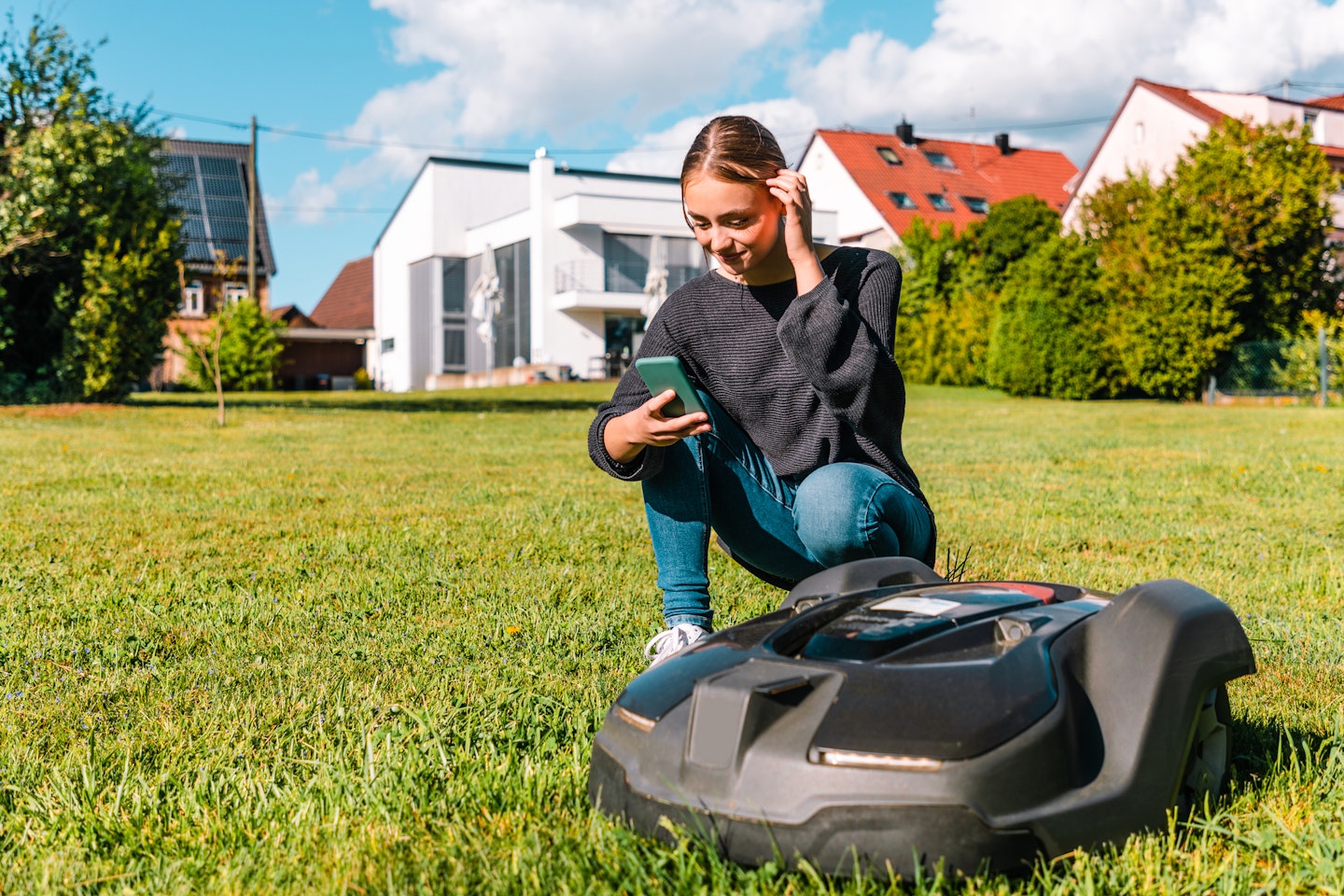 What to consider when buying a robot lawn mower:
• Lawn size. Robotic mowers have a maximum lawn size that they can easily cut without having to continually recharge. Don't choose a small mower for a lawn larger than the maximum quoted; for a start it may not come supplied with enough perimeter wire.
• Lawn finish. Faster blades give a finer cut, while double blades will chop the cut grass into a finer mulch that won't be noticeable. Check to see what grass cutting height options are available: most will offer heights from 3cm to 6cm in 1cm increments, but some offer a wider range of lengths or 5mm increments.
• Lawn shape and style. Some mowers are better than others at coping with sharp angles and oddly shaped nooks and crannies, likewise any bumps and hollows in the lawn.
• Slopes. Most can easily handle a gentle incline but if your lawn steeply slopes, some models will happily tackle angles of up to 45°.
• Obstacles. Depending on the model, you may need to mark off any in-lawn permanent obstacles such as trees, sculptures and beds. If you've got lots of obstacles then it's quicker to use a mower that uses a virtual boundary than one using a perimeter wire, or one that relies on sensors to detect obstacles and automatically manoeuvre around them.
• Run time. Most lithium-ion batteries give 45-60 mins of cutting time from each full charge, in as little as 30 mins. The output, measured in volts (V), is an indication of how powerful the battery is. The amp hour (Ah) rating refers to the amount of charge it holds, which affects how long it runs before it needs recharging. Some mowers remember where they left off before recharging and return to this position afterwards, which saves on power.
• Rainy days. Some higher-grade models can cut grass in wet conditions but if your lawn is small, there's no need for this option. Some have a rain sensor and return to their dock when the rain starts falling, and resume when it stops.
• Lawn use. If you've got pets who use your lawn then an obstacle sensor is a must.
• Noise level. Some of the newer models are incredibly quiet, emitting nothing more than a satisfying hum.
• Security. If you're worried about the mower being stolen, choose a model with built-in  
anti-theft devices. These include alarms if the mower is moved outside of its perimeter boundary, security sensors, PIN codes and GPS tracking to monitor its location.
How to care for a robot lawnmower
Being designed specifically for outdoor use, robot lawnmowers are hardy and able to deal with adverse weather. However, in winter, when temperatures drop low, and lawn mowing is not required, it is best to store the robot lawnmower and the charging station in the garage or similar in order to protect it from harsh winter weather.
All the robot lawnmowers above can be cleaned easily with a hose on low pressure, not high pressure. You can also use a brush on the body and underside around the blade disc.
In terms of placement of the charging station, it needs to be on the edge of the lawn, somewhere as sheltered as possible.
What to read next:
Best electric lawnmower to make cutting grass straightforward
Cordless strimmers to neaten up your lawn and garden borders
Description
Discover everything you need to know to make your outside space look fantastic, quickly and