At this time of the year, as summer draws to a close in the garden, there's no better time than to do a final upgrade by tidying your lawn with the best edging tools. After you've selected the best lawn mower to achieve a great-looking lawn, Garden News and Garden Answers editor Geoff Hodge has the best tips when it comes to keeping edges looking sharp.
Of course, regular mowing using an electric or petrol lawnmower is the key to a lovely lawn, but nothing lets down that perfectly manicured, verdant look faster than scruffy edges.
Black Friday deals on edging tools
We interrupt the regularly scheduled content to let you know that although Black Friday is over, there's still time to grab some last chance Black Friday deals on edging tools. These are the retailers that still have deals available or keep scrolling to continue reading our buyer's guide.
Shop Black Friday edging tool deals on: B&Q | Argos | Thompson & Morgan | FFX | The Range | Amazon UK | Machine Mart
24% off: Carbon Steel Lawn Edging Tool WAS £16.46, NOW £12.49
20% off: Hawksmoor 18V 25cm Cordless Grass Trimmer WAS £29.73, NOW £23.78
Save £20: Einhell Power X-Change Cordless Strimmer WAS £65, NOW £45
16% off: Flymo Contour 100E Electric Grass Trimmer and Edger, WAS £69.99, NOW £59
Geoff explains why using edging tools will achieve that perfect finish, "This helps prevent grasses growing into surrounding borders. And edging tools like long-handled shears allow you to get the job done quickly and easily – without having to get down on your hands and knees – providing they are long enough to stop you stooping."
With that in mind, we take a look at what to consider when buying the best edging tools to keep your lawn looking crisp and fresh, as well as some helpful tips on different styles of edging to transform your garden quickly with relatively little effort, taking your plot from so-so to sensational.
Best edging tools at a glance
• Best value: Amtech Long Handled Lawn Edging Shears - Buy now on Amazon UK
• Best Overall: Darlac Telescopic Edging Shear - Buy now on Amazon UK
• Best long-handled edging shears: Fiskars LifeStyle 113310 Long-Handled Edging Shear - Buy now on Amazon UK
Best edging tools
Best value edging shears
Description
Geoff says: "One of the cheapest shears I tested, but they still performed brilliantly,
Editor's Pick
Description
Geoff says: "The telescopic handles are infinitely adjustable from 67-108cm (26½-42½in) to
Cons
Curve blade makes it harder to sharpen
Best long-handled edging shears
Description
Geoff says: "These have a cutting height of 99cm (39in), the coated handles have comfy
Pros
Plastic bumpers absorb vibration
Longer length blade
Left and right handed
Cons
Some customers report the blade pivot nut loosening may not include the washer to fix the nut
Best easy glide edging shears
Description
Geoff says: "The tubular steel handles provide good strength, give a working height of 94cm
Pros
Sturdy handles
Razor-sharp
Best half-moon edging irons
Best half-moon edging iron for strength
Description
The carbon steel used makes the blade heavier and stronger, which is better for heavy soil so keep
Pros
Robust
Will last a lifetime
Solid varnished handle
Cons
Thick blade may need sharpening
Best bespoke edging tool
Description
A bespoke edging tool makes trimming your lawn edges easier and the mirror-polished
Pros
Serrated edge makes cutting easy
Thick stainless steel neck
Best battery-powered edge trimmers
Best budget corded strimmer
Description
This corded electric grass trimmer and edger from Flymo is best for smaller gardens as it needs to
Best cordless strimmer with adjustable cutting width
Description
This high-performance cordless motor strimmer has an adjustable cutting width of 25 or 30cm,
Pros
EasyEdge precision trimming
Light and easy to manage
Quiet
Cons
Not ideal for overgrown grass
Best cordless strimmer for ergonomics
Description
The Kärcher 18V cordless grass trimmer also comes with a telescoping boom like the Ryobi, but has
Pros
Auto feeder
Battery power display
Best cordless trimmer for battery power
Description
Another cordless strimmer option from Bosch, the UniversalGrassCut has a long-lasting battery that
Pros
Easy to use
Foot pedal switch
Long battery life
Folds down for easy carry
Cons
Not great for thick, tall grass
FAQs: Best edging tools
What features to consider when buying lawn edging tools:
Handles: Aluminium handles are lighter than steel, making them easier to use for a prolonged time
Blade length: Longer blades make it easier and quicker to create an even edge
Soft grips: Soft, contoured rubber hand grips make for more comfortable use
Wavy-edge blade: These help trap grass leaves, preventing them from sliding along the blade. This ensures a more uniform finish
Tensioner: Allows you to adjust the gap between the blades, so they don't start getting clogged up, bending the grass instead of cutting it
What are the best edging tools for my lawn?
Geoff Hodge explains, that maintaining your lawn's lovely clean edges can be time-consuming, so choose an option that's quick and easy.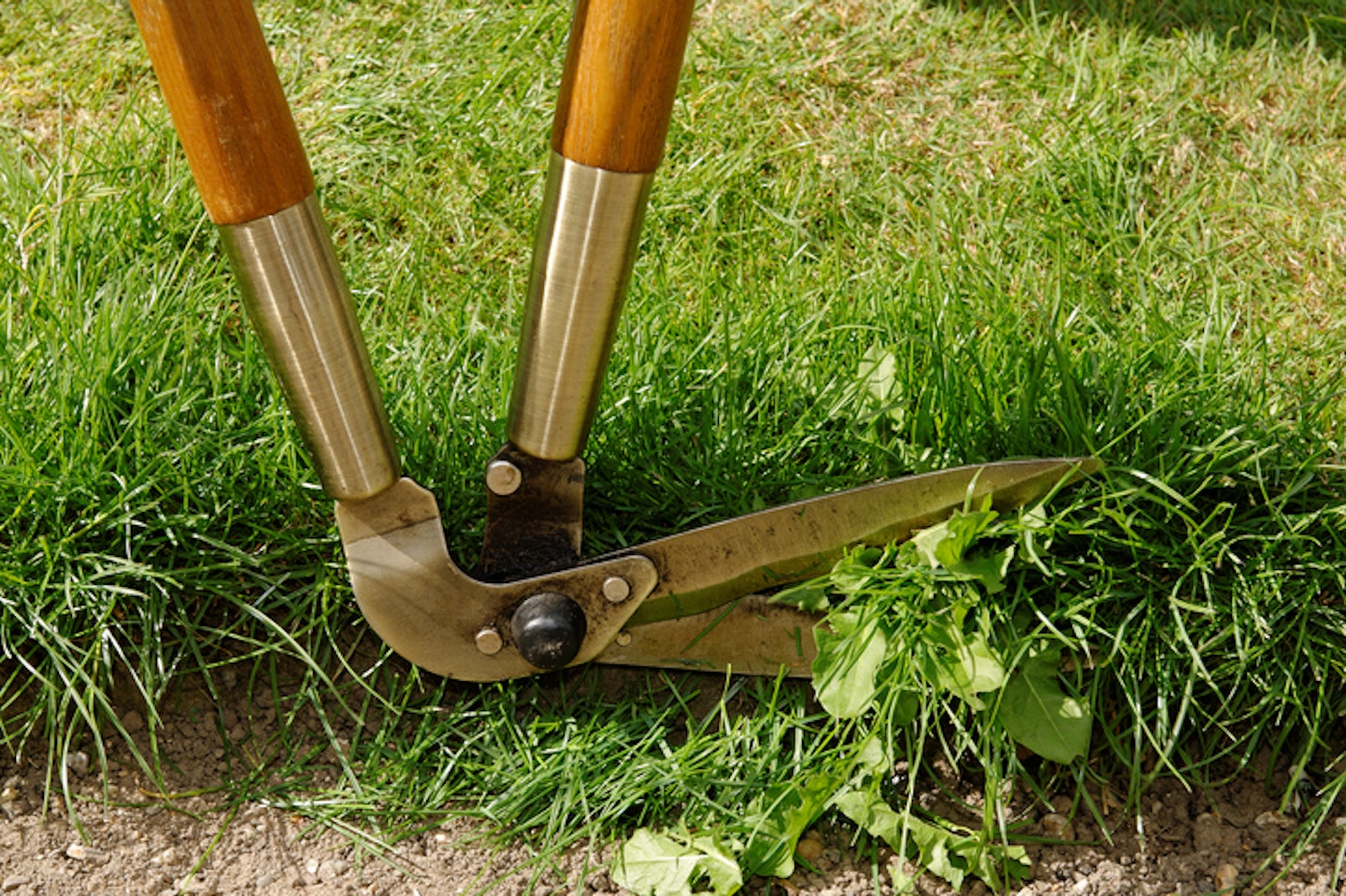 Edging shears
While you could scrabble around on your hands and knees with a pair of hand shears, save yourself all that agony by using long-handled edging shears. As with edging irons, handle height is important to prevent bending and stooping. Those with telescopic handles allow you to adjust the length of the handles to match the height, allowing you to share the job.
Or, try long-handled, trigger-operated 'multi' shears. These have an integral mechanism that operates the blades with a simple pull on the trigger. With their rotating head, you can use them to edge the lawn, as well as cut the grass in other areas, especially around or under obstacles.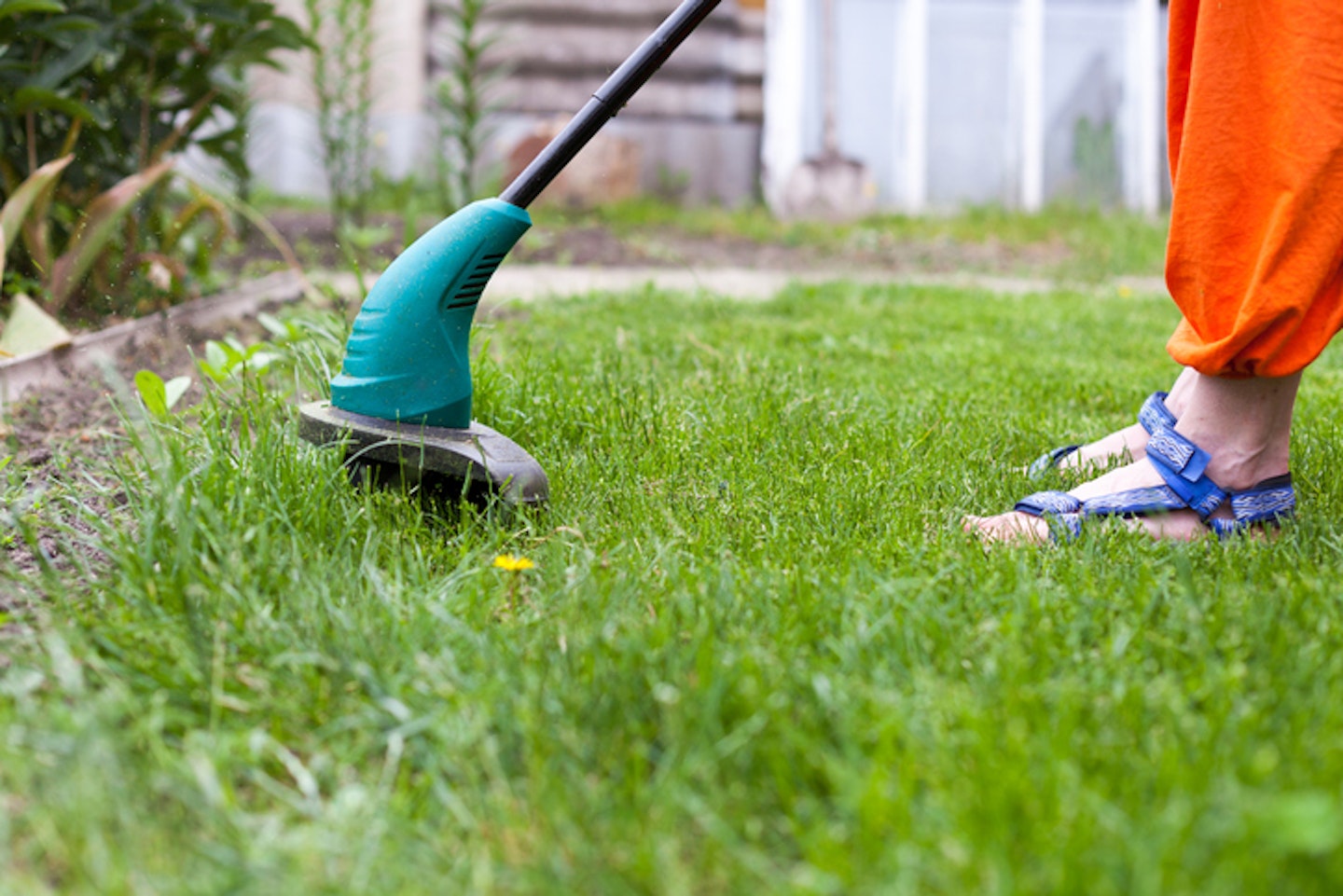 Powered trimmer
For optimum speed and ease, go for a powered line trimmer. Most have an edging facility, usually engaged by rotating the cutting head through 90 degrees. Some also include an edging guide or even detachable wheels to ensure you keep the cutter head close to and along the line of the lawn's edge.
While mains electricity-powered trimmers are absolutely perfect, if the lawn is miles away from the mains supply, or you're worried about cutting or damaging the cable, lithium-ion battery trimmers are a handy option. Most batteries give 30-45 minutes of continuous use before you need to recharge them and can be fully recharged in as little as an hour. You don't need to fully recharge Lithium-ion batteries before use.
The output of the motor, measured in volts (V), is an indication of how powerful it is; higher outputs cut more easily, especially on long and/or wet grass. The amp hour (Ah) rating refers to the amount of charge the battery holds and affects how long it will run before it needs recharging.
While you can buy most battery-powered trimmers complete with a battery and charger, many are also sold on their own, so keep this in mind when ordering online. This can be a great way to save money by sharing the battery and charger with other battery-powered tools within the company's range.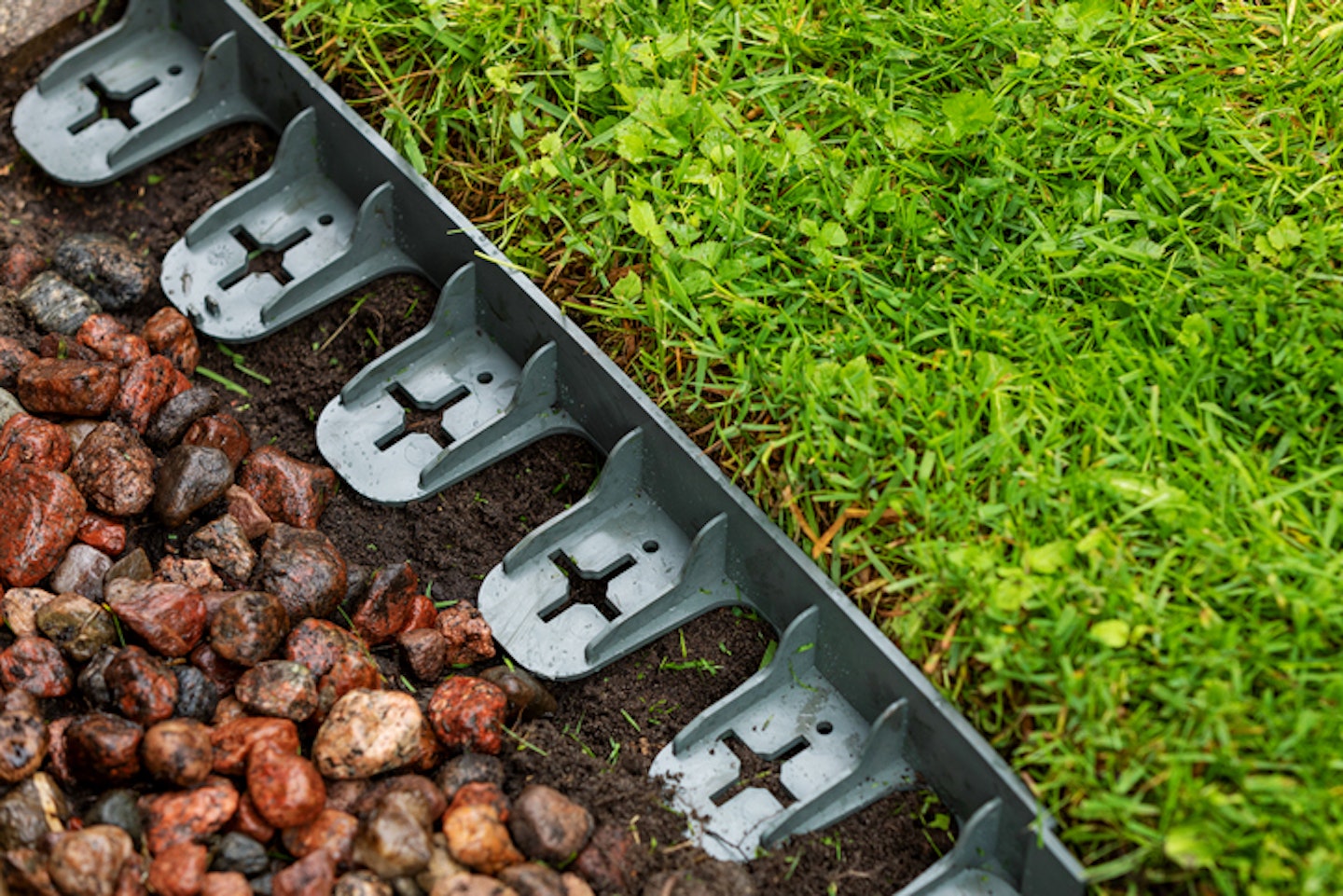 Install lawn edging
Do away with having to use edging tools at all, by using lawn edging. This needs to be a type that sits at the same height of the lawn or lies flat on it, and doesn't stand proud above it. A flat edge also allows you to run your lawnmower right up to and along the edge. Various designs are available including those made from heavy-duty plastic or metal. Plastic is the cheaper option, but metals tend to be more robust and longer lasting
Modern Gardens writer Jules Barton-Beck shares the best tips on lawn edging using paving or gravel. The trick is to match the edging to the style and/or colour of your existing garden theme, patio, or paving slab tones, so the end result appears seamless.
Best flexible lawn edging
Description
22.5m Flexible Garden Edging allows you to cut grass right up to your borders for a neat finish.
Pros
Strong and Flexible
Easy to install
Best budget lawn edging
Description
In addition to edging grass, Bosmere Garden Care Lawn Edging can be used to contain mulch, gravel
Pros
Low cost solution
Versatile
Cons
Difficult to use on curves
Best high-end lawn edging
Description
This Swift Edge Garden Edging Brown is made from extruded aircraft-grade aluminium so it's a
Pros
Easy to install, even on corners
Long-lasting
How to edge your lawn with pavers
1 Use bamboo canes and twine stretched taut between them to mark a border around your lawn. You may be surprised to find how wobbly the edges of your lawn have become.
2 Create a shallow trench by digging out the turf with a spade, the same width as the pavers, down to the same depth as the paver plus a centimetre.
3 Add a 1cm layer of sand to the trench and firm it down so it's solid and level.
4 Lay the edging pavers snugly next to each other. If the pavers need to be cut to fit at any joins, do this in the least noticeable place.
5 Using a wooden or rubber mallet and a spirit level, tap all over each paver to position it in place, making sure it's level with the next one.
6 If needed, fill any gaps left between the pavers and lawn with soil – the grass will soon grow back.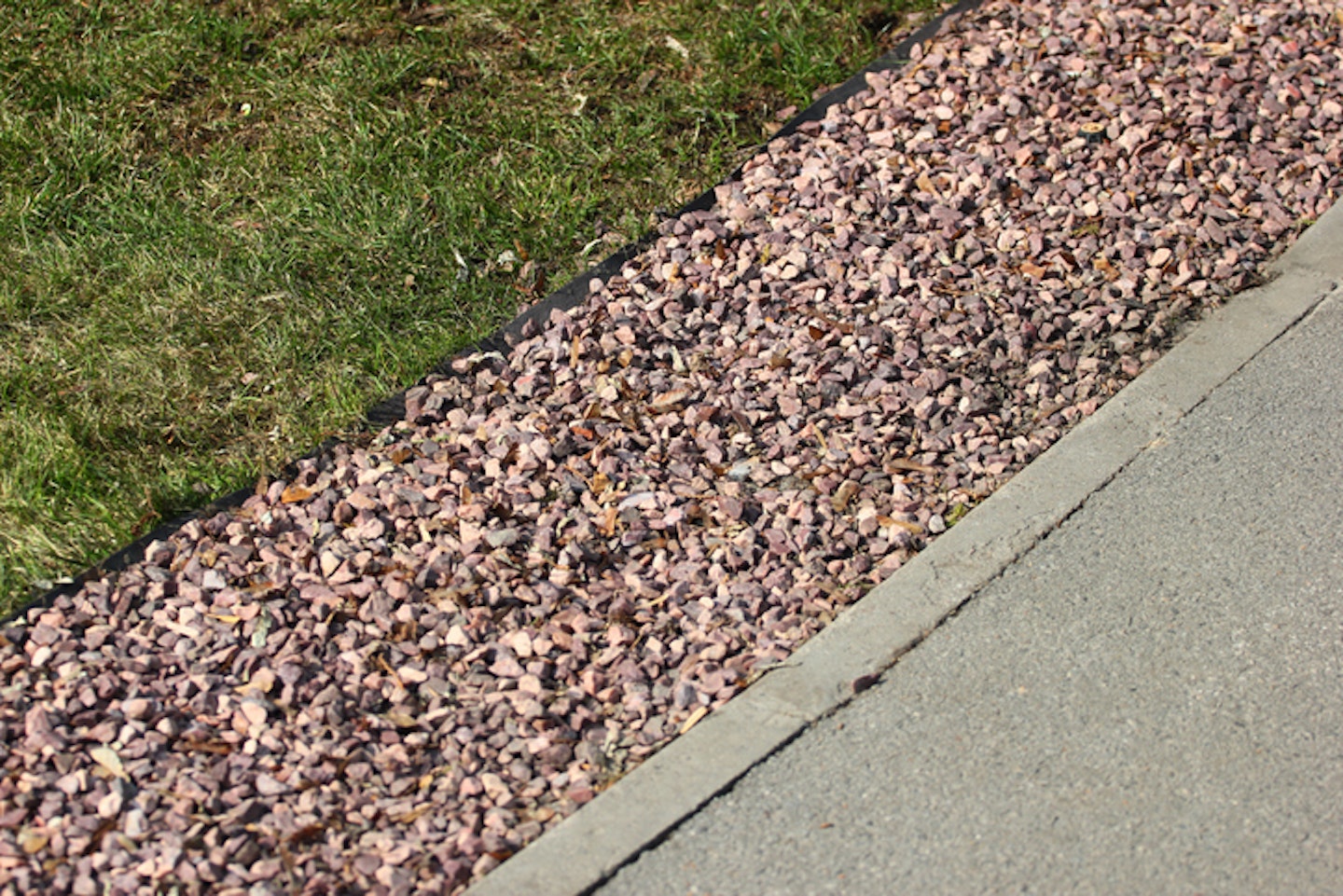 Do you edge before or after mowing the lawn?
GardeningExpress expert Chris Bonnet, explains, "Edging should be the final step of your mowing routine, giving your lawn a tidy and trimmed finish. For smaller lawns, a simple pair of long-handled edging shears will do the job - just cut away any grass that is starting to grow over the edge."
What is the best way to trim the edges of my lawn?
When it comes to getting the edges crisp Chris shares, "If you have a large amount of land then using shears may be too time-consuming, so it's more practical to opt for an electric grass trimmer that will make maintaining the land much easier. It's also advised to re-cut the edges every spring and that can easily be done with a half-moon edging tool or a sharp, straight spade.
"Start edging by following the curve of the lawn or use rope, wooden plank or a garden hose as a cutting guide. Create a groove in the land by pushing the edging tool down into the soil, pulling the blade back and forth slightly and removing the excess turf once the groove is complete.
"If you want a more defined edge, then you may consider adding paving stones or metal edging - the installation process can be timely and relatively expensive, but it provides a stronger, cleaner finish and can reduce maintenance time. However you choose to edge your lawn, the most important things to keep in mind are ease of mowing and trimming the grass edge, and safety for all garden users."
How to edge your lawn with gravel
This technique is a bit different as you'll need to create a trench, install vertical lawn edging and then fill it with gravel. Flexible lawn edging is ideal for creating curves as it comes in a reel but, if left out in the sun, it becomes much more malleable and can work just as well to create straight lines, you just need a bit of patience and some persistence.
At the edge of the lawn, dig a trench to the same height as the edging and to the width you want. Fix the edging to both sides of the trench using the pins provided. Leave overnight to let the edging settle into place, and adjust the height if necessary the following morning. Line with garden membrane to help prevent weeds, then pour in gravel up to the rim of the edging.
What to read next:
Best electric lawnmower to make cutting grass straightforward
Description
Discover everything you need to know to make your outside space look fantastic, quickly and
Natalie Corner is the Commercial Content Editor across the Specialist Portfolio for Bauer Media and is slowly learning how to care for her plant babies. When she's not soaking up the three days of sunshine in the great British outdoors, she's testing out the latest BBQ products.