Perfect for displaying colourful plants and flowers and beautifying the wall of your house, hanging baskets are a great way to make the most of your outdoor space, especially if you're limited on what you can do in your garden.
But gone are the days of just simple, traditional metal or plastic hanging baskets. Now, there's an abundance of modern designs and styles to choose from, from rattan to self-watering baskets and intricately designed metalwork to cone-shaped designs.
Whether you're looking for ways to zhuzh up your existing hanging baskets or want some new, trendy options for your front garden, we've looked far and wide and found the best options to buy.
Best hanging baskets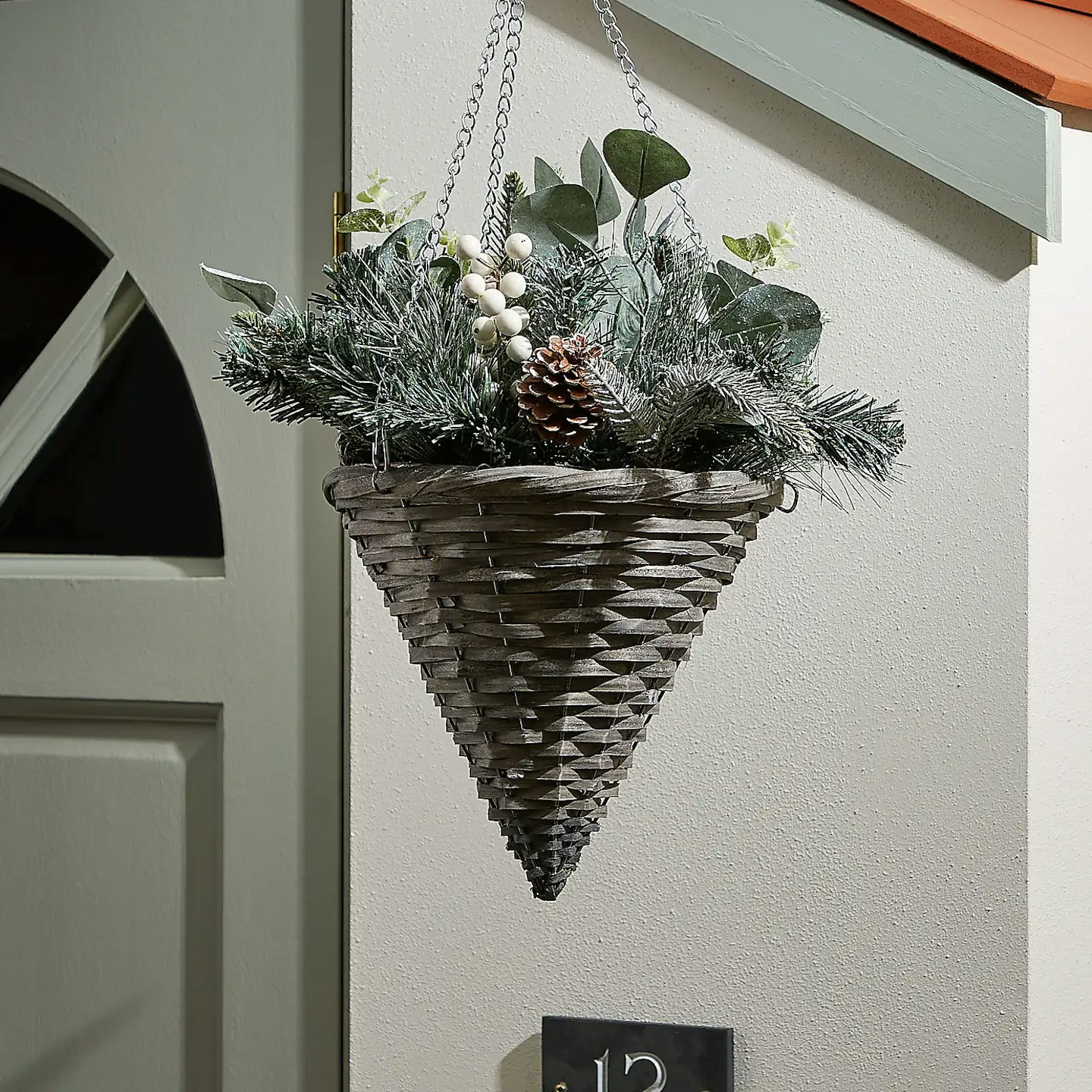 Dunelm
Description
To add to your stunning foliage, pick this hanging basket with its green hues that can be used
Description
Made from 100% recycled plastic, this sleek Elho green hanging basket comes with an integrated
Description
Made from zinc with a charming, aged rust finish, this hanging planter would fit in perfectly in
Description
Rattan is all the trend this year and we love the two-tone look on this pair of faux rattan
Description
Suitable for both modern and traditional gardens, this galvanised steel ribbed hanging planter has
Description
Give your garden wall a classic makeover with this magnificent cast-iron combination. Supplied
Description
Switch up your rounded patio hanging baskets and choose this coned planter instead. Made from a
Description
For a truly eye-catching hanging basket display, pick this glamorous globe hanging basket with
Description
Add a little sunny Andalusian flavour to your garden with this Spanish style hanging basket. Made
Description
For a cheap and cheerful hanging basket, pick this hanging basket from Wilko. It comes with a
Description
Available in brown or black poly rattan, we adore the sleek cane appearance on this pair of
Description
Looking to transform your garden this summer? Add a little Mediterranean flavour to your garden or
Hanging basket brackets and liners
These baskets won't hang themselves! You'll need to pick out brackets so you can affix your hanging basket to the wall - we'd recommend choosing one that matches the aesthetic of your baskets for a seamless, stylish look.
If your hanging basket doesn't have an enclosed base, you may also want to buy a hanging basket liner which will help to contain your plants, promote air circulation, and retain water, releasing it slowly into the soil.
Description
Ornate and a good fit for any garden, this stainless steel bracket measures 22 x 26cm and can
Description
A perfect pairing to the Cast Iron Hanging Basket, this distressed cast-iron bracket is suitable
Description
Available in two sizes, 35cm and 40cm diameter, this innovative coco fibre liner includes a
Best hanging basket plants
Now you've got your hanging basket, you'll need to adorn it with some gorgeous plants that'll waft floral scents and bring a pop of colour to your wall. Here are some great varieties to add to your shopping basket, but for more check out our pick of the best plants for hanging baskets.
Description
For a burst of vibrant colour, you can't beat a two-tone fuchsia. This trailing includes the
Description
With flowers in an intense shade of magenta-purple, lobelia is a wonderful choice for jazzing up
Hanging basket ideas
Looking for inspiration on how to upcycle your existing hanging baskets or ways to make your hanging basket more enticing and dynamic? We've found some fab ideas to give your hanging baskets that 'wow' factor that'll be the envy of nosy neighbours.
Pimp up plain chains
Add a chic and artistic touch to your hanging planters by replacing the chains with lengths of strong ribbon. You can also turn a normal pot into a hanging one with ribbon.
Brighten a cheap pot
Upgrade a plain plastic hanging planter by decorating it with foam stickers in similar colours to the flowers.
Light up blooms
Enjoy your fab hanging baskets after dark by lighting them up with a solar-powered spotlight. It attaches easily to the chains and the sensor lights your blooms for up to six hours a night, all year round.
Revamp a plastic planter
Washi tape transforms a lacklustre planter into something lovely in a matter of minutes. This tape is super durable and flexible and available in a variety of widths, textures, patterns and colours. Check out misopaper.co.uk for a huge range of designs.
String it up
Repurpose an old string bag, with a pot of bright blooms popped inside, to create a unique hanging basket.
Use a pulley to make maintenance easy
How clever is this? The Hi-Lo Pulley lets you lower your hanging basket by up to 1m to a more manageable height for watering or trimming (or picking strawberries!) and raise it up again when you're done. It supports a weight of up to 9kg.
What to read next: