Keep your treasured tools and cushions secure with garden storage benches. Just like our indoor spaces, our gardens are prone to getting a little messy, especially when they get so much use in the spring and summer months. Luckily, there are plenty of storage options, from storage chests to sheds, or you could even use your summer house. These can help you to organise your outdoor space and keep your treasured tools and garden decor secure and protected off-season. But if you're after a multifunctional storage solution, we'd recommend a garden storage bench.
Best garden storage benches at a glance
• Best wooden garden storage bench: Wooden storage bench box 120cm - View on Etsy
• Best small garden storage bench: Blue Outdoor Storage Bench - View on CountryAndHome
• Best large garden storage bench: Habitat Henrietta 3 Seater Wooden Bench with Storage - View on Argos
Garden storage benches are a great option if you don't have much room for a garden shed or an outbuilding, and serve a dual purpose - they can be used as a seat and a discreet storage unit in one. Combining comfortable seating with hidden storage makes for a great space-saving solution for small gardens. They often fit two or more people with plenty of room underneath the seat to keep cushions or tools hidden out of sight.
Here at Modern Gardens, we understand how important storage is in a garden, especially as we transition between seasons, so we've rounded up the best garden storage benches out there.
Best garden storage benches
Best wooden garden storage bench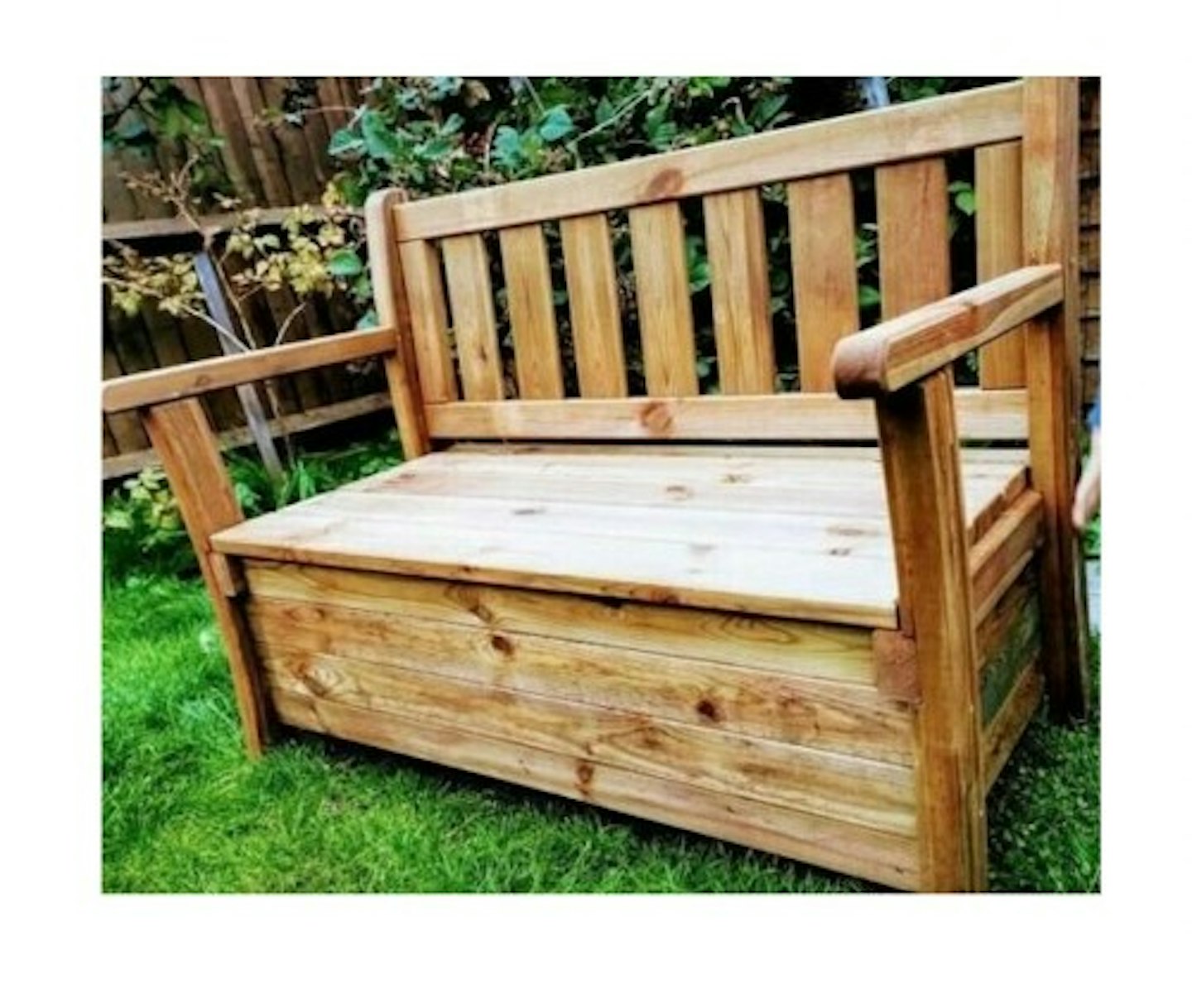 Etsy
Description
This classic wooden storage bench made from treated impregnated pine wood will be a show-stopper
Pros
Made from treated pine wood
Hardwearing
Great value
Cons
Heavy if you plan to move it around
Best small garden storage bench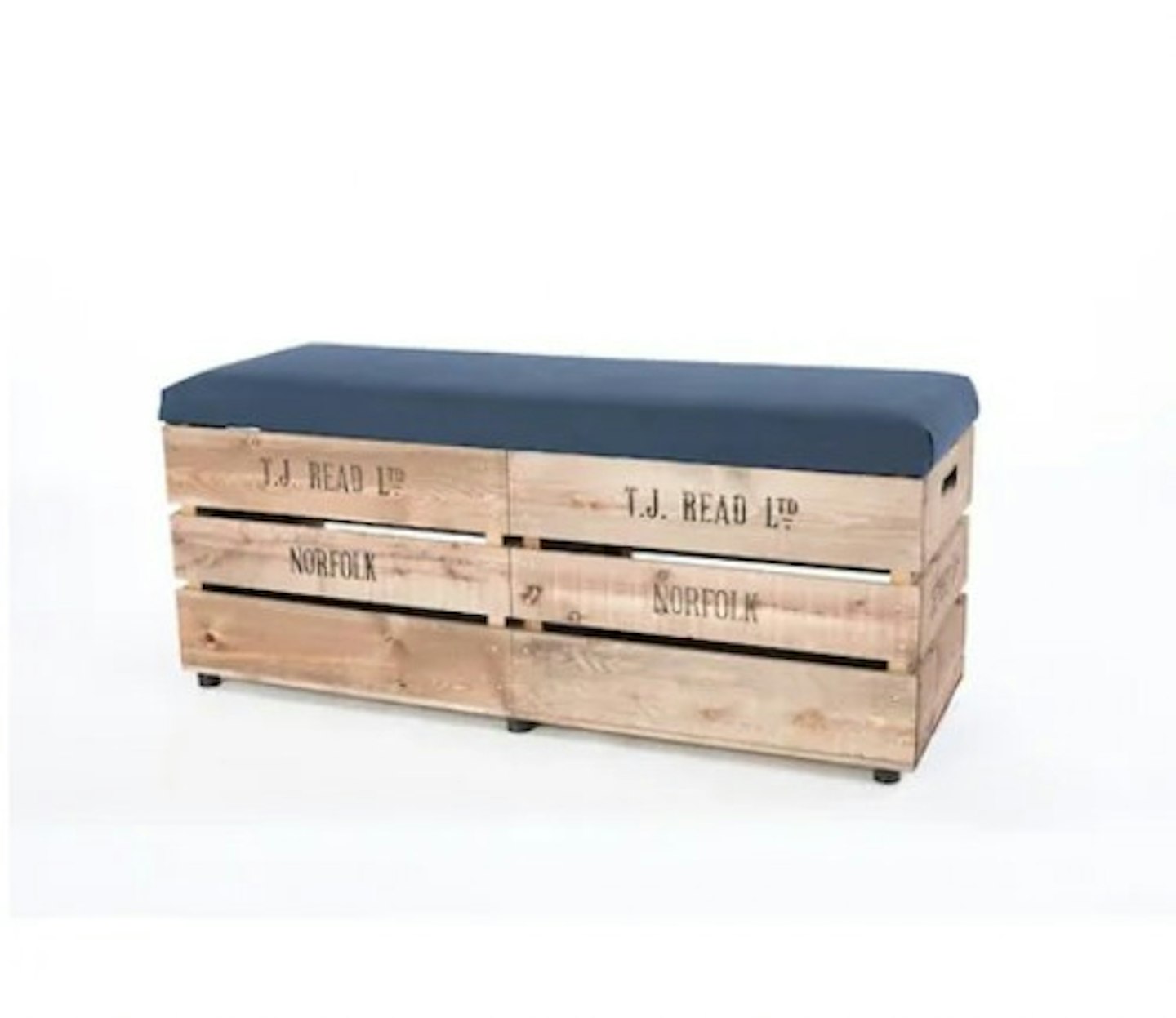 Country & Home
Description
If you're lacking in space, a couple of small storage benches will be your best friend when it
Pros
Vintage style
Ample space
Best large garden storage bench
Description
If you've got ample room for a larger garden storage bench, this three-seater from Habitat will
Pros
Large, can fit three people
White finish will match any garden decor
Cons
Not suitable for wet weather, will have to be covered or brought indoors in winter
Best rattan garden storage bench
Description
Pros
150 litres of storage
Popular rattan design
Made from FSC (Forest Stewardship Council) approved hardwood timber
Best Keter garden storage bench
Description
Keter garden furniture is a popular choice for garden storage benches as they are made from
Pros
Made from recycled materials
Durable and weather-resistant
Straight forward instructions
Cons
Some reviews say water can get in in extreme weather like snow
Best looking garden storage bench
Description
If you're after a bold statement, this Aada wooden garden storage bench, painted in light green,
Pros
Looks great
Frame is mildew resistant
What can you store in a garden storage bench?
You can store all sorts, including (but not limited to):
• Cushions and throws in the summer months
• Tools and gardening equipment
• Smaller BBQs and BBQ accessories
• Bikes, children's toys and paddling pools
Are garden storage benches weather-resistant?
Many garden storage benches are designed to be weather-resistant, but the level of weather resistance can vary depending on the materials used and the specific design of the bench. Here's a few common examples:
Cedar Wood: Cedar is naturally resistant to decay and insects, making it a good choice for outdoor furniture. Cedar garden storage benches can withstand the elements but may benefit from periodic sealing or staining to maintain their appearance.
Plastic or Resin: Storage benches made from plastic or resin materials are often very weather-resistant. They are usually designed to be UV-resistant and can handle rain, snow, and sun without much maintenance.
Resin Wicker: Garden storage benches made from resin wicker are generally highly weather-resistant. They can withstand rain, sun, and humidity without deteriorating. However, you should cover them in harsh winter weather.
What to read next:
Shed organisation: How to get the most out of your outdoor storage
Description
Discover everything you need to know to make your outside space look fantastic, quickly and
Hannah Mellin is a Homes & Garden Product Writer for Modern Gardens. When she's not writing, researching or testing products, she's renovating her Victorian terrace and chilling in the garden with her sausage dog Waffle.