Whether you're working on an allotment yourself or know someone who is, we've popped together our favourite allotment gifts for birthdays, Christmas and beyond. There's nothing quite like growing your own vegetables, and having an allotment is perfect for producing abundant crops all year round – especially when you don't have space for a veggie patch at home. It becomes your sanctuary. So treat your green-thumbedloved one to a gift.
Black Friday deals on allotment gifts
We interrupt the regularly scheduled content to let you know that although Black Friday is over, there are still plenty of discounts to take advantage of throughout the Cyber weekend, including a whole host of Black Friday deals on allotment gifts. Want to grab a bargain? These are the best deals still available or keep scrolling to continue reading our buyer's guide.
Shop Black Friday garden gifts: Amazon | Argos | B&Q | Homebase | Very | Not on the High Street | Etsy
Save 20%: Black Ipata Firepit, WAS £59.99, NOW £24
22% off: Folding Knee Stool for the Garden, WAS £45.99, NOW £35.99
Get 1/4 off: Head Gardener Personalised Apron, WAS £25, NOW £20
Save 17%: Garden Pack Seed Collection, WAS £34.99, NOW £28.99
Buying gifts for someone who spends their spare time at the allotment can be tricky. After all, they might have all they need. Gift-giving is a challenge - and we're up to help you out. We've selected tools, starter seeds, decorations and more to help their allotment come alive. This round-up will help you conquer birthdays and plan for Christmas.
The magic of allotment gardening is in the detail and personal touch that each gardener brings to their plot. When it comes to gift-giving, remember that it's not just about providing a practical solution. It's also about enhancing the joy and satisfaction they derive from their gardening endeavours.
So whether you're picking out sturdy gloves for those chilly early mornings or a vibrant set of plant markers to bring a smile to their face, keep in mind their love for the art of growing. Our guide will help you make every occasion, whether it's a birthday or Christmas, even more, special for your favourite gardener.
Best allotment gifts at a glance
• Best for personalised gift:  Personalised Allotment Sign - View now on Etsy
• Best practical gift:  Fitprobo Garden Folding Kneeler Seat - View now on Amazon
• Best useful gift: Garden Boot Jack With Scraper And Brush - View now on Not on the Highstreet
• Best tool gift: Personalised Stainless Steel Trowel & Fork Set - View now on Getting Personal
The best allotment gifts
Best seed markers
Description
We love these handmade plant markers - made using reclaimed wood. Each of these markers is made to
Best for harvest
Description
Perfect for harvesting, this garden trug is made from reclaimed wood: plywood, pallet, birch or
Best for tea lovers
Description
Best personalised
Description
We love this personalised allotment sign from Etsy, decked out with an attractive, vintage-looking
Best mug
Description
Why not pair your new herbal tea with this enamel mug? From Etsy, this mug looks very special.
Best for knee support
Description
This garden kneeling stool is an excellent way to help us relax and comfortably garden - without
Best garden foot brush
On sale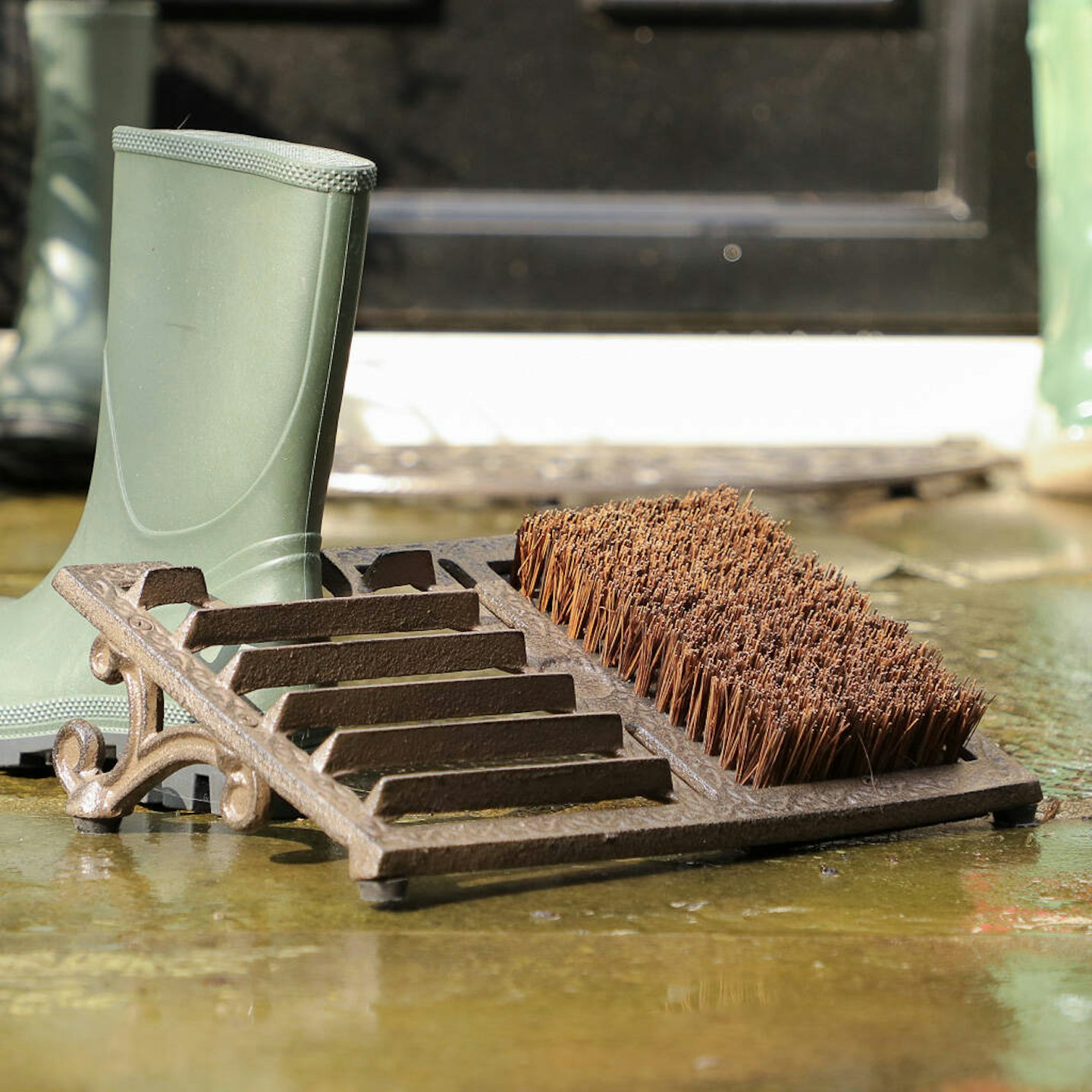 Not On The High Street
Description
A thoughtful gift idea for a keen allotment owner, this weatherproof boot scraper has an
Best wooden planter
Description
With this charming planter, your loved one can show off succulents, herbs and blooms. Uber
Best allotment tool
Description
This personalised pinewood and stainless steel gardening kit would make a fantastic gift. Perfect
Best seed kit for allotment
Description
If your loved one is just getting started and needs some seeds, why not get this large set?
Recommended
Description
Ideal for any allotment owner, this beautiful wooden planting ruler takes the guesswork out of
Pros
Great for measuring seed depth
Cons
Holes may not be big enough for a dibber to poke through
Description
Why not get inspired each month with Modern Gardens magazine. In every issue, you will find the
Best bee hotel
Description
A beautiful gift, these bee houses are lovingly handmade and personalised. Let's protect our busy
Cons
Will have to find a place to put it up
What to read next:
Description
Discover everything you need to know to make your outside space look fantastic, quickly and
Piper Huxley is a Homes, Garden and Wellness Product Writer for Modern Gardens Magazine, an all-rounder. When she's not writing about houseplants, she's tending to her own growing collection…