BBQ sales have boomed over the past couple of years as we flocked to the great outdoors to enjoy socialising safely, and searches for the best hybrid BBQ are top of the list. The backyards of Britain have seen a revolution of smoke and fire using outdoor grills, and the hybrid BBQ offers that perfect mix between gas and charcoal cooking, reaping the benefits of both.
Modern Gardens writer Jill Morgan says, "You can use the gas burners to quickly get charcoal, or briquettes lit and up to temperature before cutting the gas to savour the delicious aroma and smoky flavours only given by traditional coals. Having these two fuel types within one unit also enables you to be really flexible with your outdoor cooking and adapt your methods depending on how much time you have available.
Black Friday deals on hybrid BBQs
We interrupt the regularly scheduled content to let you know that Black Friday is currently in full swing, and with it, a whole host of Black Friday deals on BBQs. Want a bargain? Below, are the best retailers with BBQ deals – plus, our favourite bundle picks. Or, keep scrolling to continue reading our buyer's guide.
Shop Black Friday BBQ deals on: B&Q | Appliances Direct | Robert Dyas | Landmann | Currys | Mano Mano
Save £50: Boss Grill Georgia Dual Fuel 3 Burner Gas & Charcoal BBQ Grill, WAS £319.97, NOW £269.97
Save £111: Outback Jupiter - 4 Burner Hybrid BBQ Grill with Side Burner, WAS £665.97, NOW £554.97
Save £135.70: CosmoGrill Duo Dual Fuel Black Gas and Charcoal Barbecue with Weatherproof Cover, WAS £438.99, NOW £303.29
10% off: Char-Broil Gas2Coal Hybrid Grill, WAS £529.99, NOW £477.90
41% off: Ninja Woodfire Electric BBQ Grill and Smoker, WAS £399.99, NOW £235
"Short on time on a weekday evening? Then cook with fast and easy-to-control gas. Want to impress guests with
a more authentic grilled flavour at the weekend? Opt for slower-burning charcoal, safe in the knowledge that you can boost the heat with the gas burners if needed or if your hungry younger guests just can't wait any longer."
So if you're after that beautiful blend of smokey flavours from a charcoal BBQ with the ease and efficiency of gas or electric, we've rounded up the best hybrid BBQs to buy to give you the best of both worlds. Now, the family can dine al fresco, and you can rule the garden with your BBQ tools - no matter the occasion.
Best hybrid BBQs at a glance
• Best hybrid BBQ for cooking area: John Lewis Grillstream 6 Burner Hybrid Gas & Charcoal BBQ - view on John Lewis
• Best mid-range hybrid BBQ: Outback Jupiter - 4 Burner Gas BBQ Grill - view on Appliances Direct
• Best hybrid BBQ for large cookouts: Boss Grill Georgia Dual Fuel - view on Appliances Direct
• Best hybrid BBQ under £500: John Lewis 4-Burner Hybrid Gas BBQ - view on John Lewis
Best hybrid BBQs to buy
Best hybrid BBQ for cooking area
Description
The John Lewis Grillstream 6 Burner Hybrid Gas & Charcoal BBQ is perfect for catering to large
Pros
Ample storage
Large cooking area
Easy to clean
Best hybrid BBQ under £500
Description
The John Lewis 4-burner hybrid gas or charcoal barbecue is the ultimate garden must-have for
Pros
Best-seller (frequently sells out)
Easy to clean
Stylish look
Best hybrid BBQ for budget and design
Description
The Argos Home 2 Burner Gas and Charcoal BBQ is a dual-fuel BBQ that lets you to cook with either
Pros
Warming rack
Side shelf for utensils and condiments
Two burners
Best mid-range hybrid BBQ
Description
An ideal option for those who have fewer people to cook for but still want to have a hybrid, the
Pros
Different colours available
A lot to offer, considering its size
Pizza stone is a fab addition
Cons
Takes a while to put it together
Best hybrid BBQ premium option
Description
Slightly more than John Lewis' 6-burner hybrid BBQ, thanks to its dual hood, the Grillstream Dual
Pros
Great for large families who BBQ a lot
Stylish design
Ample storage space
Dual hood
Best hybrid grill for quick convertibility
Description
A firm favourite out of the limited options available in the UK, this combination Char-Broil
Pros
Easy to use and clean
Great value for the quality
Cons
Some reviews say cleaning isn't easy
Best hybrid BBQ for large cookouts
Description
This hybrid BBQ is one for the serious BBQ-er. Combining a gas and charcoal grill, this versatile
Pros
Grill is very light and easy to wash
Large enough for huge cookouts
Great value for everything it can do
Option to build your BBQ for a fee
Cons
Some reviews noted that the design was flimsy in places
Best tabletop 'hybrid' BBQ
Description
With a whole load of five-star reviews and a celebrity chef endorsement from none other than Gino
Pros
Easy to clean
Cheap to run
Spacious enough to cook whole cuts of meat
Cons
It's very popular, so frequently sells out
Best hybrid BBQ grill FAQs
Jill Morgan answers those burning hybrid BBQ questions...
What features should you look for?
There are combo barbecues on the market to suit every size, plot and budget, from compact two-burner designs that are easily wheeled around a small garden to majestic six-burner numbers that will be the gourmet hub for any outdoor kitchen gathering.
Cooking features
Individually controlled gas burners, grill plates at adjustable heights and hoods with built-in thermometers all help to eliminate the guesswork needed when cooking on charcoal, as well as saving on time, stress and fuel. Side burners are worthwhile extras and super-useful for heating sauces and simmering veggies.
Usually gas-powered, you can also find models with ceramic infrared plates that are quick to heat and energy efficient. Removable charcoal collection trays make for an easy and quick clean-up. Whilst grills with built-in work and prep areas save on journeys to and from the kitchen.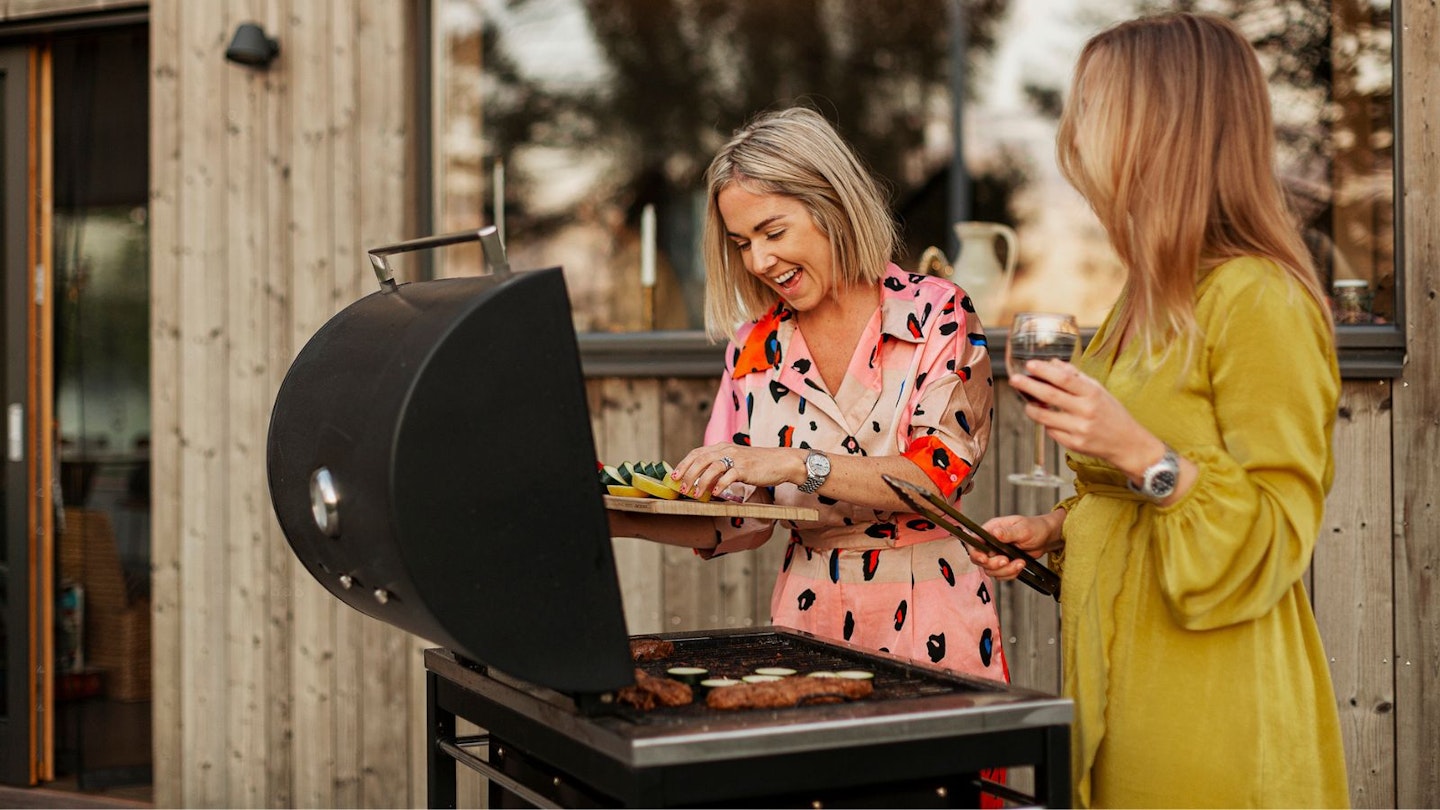 Shelving features
Look out for single or twin-side ledges, which are great for chopping. Warming racks are also handy for keeping food that is fully cooked warm.
Other useful features to look for include open shelving that can be loaded up with plates and serving boards and rows of hooks to keep utensils close to hand. Some designs even have spice racks and narrow shelves for sauce bottles and seasonings. And double door cabinets are great for not only concealing the gas canister but hiding cooking clutter too.
Swift conversion
How easy is it to swap from one fuel type to another really depends on the model, so do pay attention to this factor when choosing which to buy. There are a few grills with dedicated sides for charcoal and gas, but the majority have gas
burners that can be adapted to be used with coals by simply adding a tray of charcoal above the gas burners.
What material should a hybrid BBQ be made of?
If you barbecue regularly, being choosy about your cooking grates can really pay off. There are three main options:
Stainless steel looks uber-smart and is easy to keep clean, but it doesn't give quite the same cooking results as cast iron.
Cast iron plates are fantastic at conducting heat and will leave impressive sear marks on food, but their slightly pitted surface makes them tricky to keep scrupulously clean.
Porcelain-enamelled cast iron (or PECI) combines fast-to-heat qualities with an easy-clean surface, and while it's more expensive, it is exceptionally durable. You'll need to resist the temptation to scrape the plates, as this can damage the surface and lead to rusting. Instead, use a stainless-steel brush to remove any dirt, then soak in warm water with a mild non-citrus washing-up liquid and dry thoroughly with absorbent paper towels.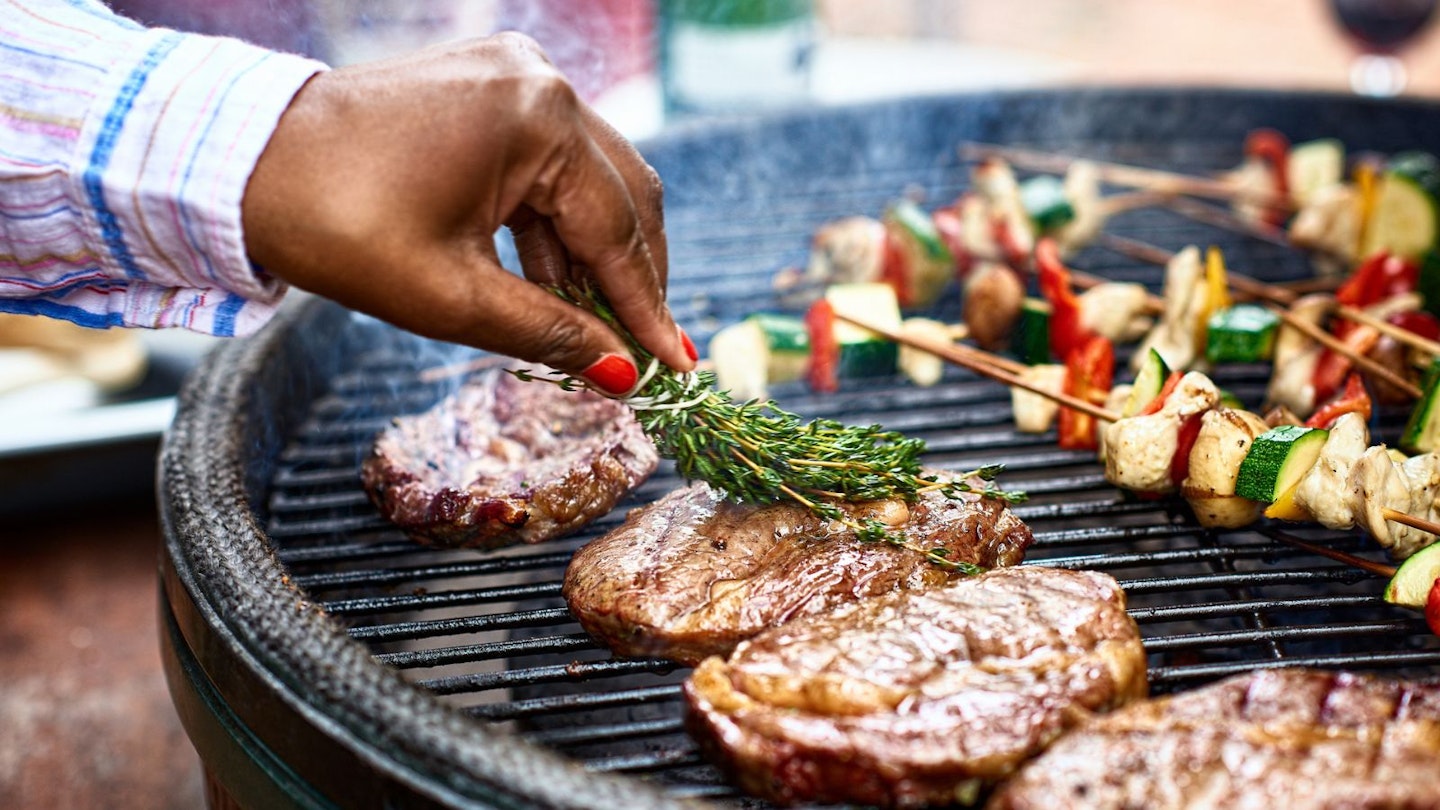 Can you use any cooking charcoal or gas on a hybrid BBQ?
Yes, though it's worth checking the manufacturer's instruction manual in case they have any requirements or recommendations.
The BBQ brand Outback, for example, recommends that you use their Hybrid Charcoal Briquettes for their charcoal, and John Lewis recommends propane or patio gas cylinder bottles ranging in sizes from 3kg to 13kg for their gas.
For more advice on the best BBQ fuel for your grill, read our in-depth guide.
What to read next:
Description
Discover everything you need to know to make your outside space look fantastic, quickly and
Eleanor Weaver is the Deputy Homes & Garden Product Editor for Modern Gardens, specialising in outdoor furniture, décor, and tools. She's always looking out for inspiration online for stylish and affordable designs, and enjoys spending time in nature.