No matter how big your outdoor space is, buying the best patio cleaners will ensure it stays nice and clean. It can feel like a massive chore, especially if your patio has succumbed to dirt, algae, mould, stains, and moss, but giving it that little extra care, whether you're using a pressure washer or scrubbing brush, will bring it back to its former glory.
The patio is our go-to space to catch up with friends, play with the kids, relax, and even work during the warmer months. And for that reason, we want to keep it looking its best. The good news is that you can tackle the grime with easy-to-apply patio cleaners — most of which you just spray on and leave, simple as that! It takes minimal effort, a big yes in our books, and your patio will be looking good as new in no time.
Black Friday deals on patio cleaner solutions
We interrupt the regularly scheduled content to let you know that although Black Friday is over, there's still time to grab some last chance Black Friday deals on patio cleaner solutions. These are the retailers that still have deals available or keep scrolling to continue reading our buyer's guide.
Shop the best Black Friday patio cleaner solutions: FFX | Amazon UK | B&Q | Homebase
11% off: Patio Magic! Concentrate WAS £13.99, NOW £12.41
10% off: Defenders Concentrated Path and Patio Cleaner WAS £9.45, NOW £8.49
36% off: Jeyes Fluid Outdoor Cleaner WAS £10.99, NOW £7
However, it's worth keeping in mind that the results won't be instant, so don't be too surprised if, at first, it looks the same. Typically, you'll have to wait for a few hours before you can notice any difference. We would recommend waiting a couple of days to truly see the full effects of your patio cleaner. Many patio cleaner solutions are concentrated, and you'll need to dilute them with water before being applied by hand from a bucket or watering can.
Alternatively, some patio cleaners are detergents that you can use with a sprayer or pressure washer - those with patio cleaner attachments are ideal for targeting patio grime. There are a number of different wire brush tools you can try too to remove weeds and grass from creeping in between the bricks or slabs. Each is designed to give you a beautiful-looking patio; you can find the best of each down below.
Best patio cleaners at a glance
• Best patio cleaner overall: Jarder Spray and Leave 4 x 5 Litre Concentrate Cleaner – View on Amazon UK
• Best heavy-duty patio cleaner: JCB Heavy Duty Patio Cleaner - View on B&Q
• Best organic patio cleaner: Algon Organic Path and Patio Cleaner Concentrate - View on Amazon UK
Best patio cleaners
Best patio cleaner concentrates
Best patio cleaner for weeds
Description
Got a weed problem? We know that weeds growing through the cracks of your patio slabs in one of
Pros
Bestselling weed-killing
It doesn't contain any bleach or acids
Cons
Not as concentrated as some
Best patio cleaner overall
Description
For use on patios, decking, fencing, brick, and more, Jarder Spray and Leave patio cleaner will
Pros
Pack of four
No need to scrub or pressure wash
Cons
It may be too much for small patios
Best heavy-duty patio cleaner
Description
Speaking of heavy-duty, this patio cleaner from JCB is a powerful lichen, algae, and mould remover
Pros
Long-lasting
Good for eliminating stubborn stains
Best organic patio cleaner
Description
Another great option if you're looking for a cleaner that's extra safe for children, pets, and
Pros
Organic and environmentally friendly 
Easy to use and great results
Cons
Very vinegary and acidic, so follow the safety instructions
Best pet-friendly patio cleaner
Description
This biodegradable, non-acidic cleaner is child, pet, and wildlife-friendly when dry and will
Pros
Biodegradable
Safe to use around pets and children
Cons
Not as long-lasting as other products
Best patio cleaner for black spots
Description
SmartSeal Patio Clean Xtreme is highly effective in helping to remove and kill black spot lichens
Pros
Highly effective in helping to remove black spots
Powerful formula
Cons
Might need some scrubbing in stubborn areas
Best patio and driveway cleaner
Description
If you're looking to hit two birds with one stone, the extremely powerful formula in Pro-Kleen
Pros
Good to use on block paving, concrete flags and more
Good value
Cons
It is a  powerful product that requires a vapour face mask and eye protection
Best patio cleaning solution for mould and algae
Description
This best-selling mould remover from Wet and Forget patio cleaner requires little to no elbow
Pros
Excellent mould remover 
Just dilute it in water and throw it over the area 
Cons
Be careful spraying around plants
Best patio cleaner detergents and ready-to-use cleaners
Best universal patio cleaner
Description
Designed to be used with your pressure washer, this Karcher universal cleaner is tough on dirt and
Pros
Good all-rounder
Can be used with a bucket and water or a pressure washer
Cons
Need to rinse after application
Best patio cleaner for wooden decking
Description
Restore the appearance of your patio, decking, fencing, and paving with the Roxil 100 that'll kill
Pros
Good for wood decking
Biodegradable
Cons
Needs jet washing afterwards
Best patio cleaner pressure washer
Description
If you're looking for truly effortless cleaning performance, it would be worth investing in a
Pros
Lightweight
Reviewers say excellent value for money
Cons
The wand isn't secured into the handle for storage
Best patio tool for removing weeds
Description
Electric wire brush tools aren't a new invention, but the Ryobi Patio Cleaner is cordless, giving
Pros
Can clean your patio standing up
Clears weeds and moss
Easy to store
Reusable
Cons
For softer surfaces (i.e. sandstone and tile), you'll need to buy the nylon brush wheel (sold separately)
Different patio cleaners in detail:
Patio cleaner solution
Available as a ready-to-go formula or a concentrate that needs diluting, patio cleaner solutions are designed to target algae, mould, moss and more.
You can also clean your patio using soap or vinegar mix solution, though this will require much more effort to scrub the areas clean and bleach - not an eco-friendly option.
Pressure washer
With a pressure washer, you'll get more immediate results, as the water pressure will blast the dirt to oblivion, but if you don't already own a pressure washer, it makes for a more expensive upfront cost. Pressure washers are superb for delivering a quick (and satisfying) clean, and you can even find some more affordable models.
Wire brush tool
These tools are designed to remove various types of lichen, fungi, weeds and more from your patio. Designed much like a household vacuum, these electric tools sweep over your patio with a tough wire, steel or nylon brush rolling at high-speed to remove debris and dirt from the surface and crevices without the need for chemicals.
Patio Cleaner Buyers Guide
Ingredients: If you have a pet, you'll want to be particularly wary of the ingredients in your patio cleaner, so they're non-toxic to your furry friend. Many contain ammonia which is toxic, whilst others contain bleach, which you'll need to keep pets away from until it's completely dry. If you can keep your pet away from the patio whilst you wait for it to dry, those labelled as pet-safe or organic are a good choice. Alternatively, consider a pressure washer or wire brush tool that doesn't require chemicals.
Budget: Fortunately, most patio cleaner solutions are reasonably budget-friendly, but they are single-use and won't work instantly. If you have the budget, investing in a pressure washer or wire brush tool could save you money in the long run. Plus, a pressure washer can be used on all sorts, not just the patio, making it a versatile and eco-friendly option.
Required equipment: Consider what else you'll need to get the job done. Some patio cleaners are super easy to apply - you can simply spray on and leave, whilst others may require you to do some scrubbing or require the aid of a pressure washer. Make sure you've got all the equipment you need to get your patio cleaned efficiently.
Type of dirt: There are three main types of dirt that need ousting; algae, moss, and dirt. For dirt or oil, consider a more powerful patio cleaner solution. Moss can be removed using a moss killer, whilst algae requires an algae remover. Most patio cleaner solutions will identify what they're best for cleaning, but for those more embedded areas of lichen and dirt, you'll likely need to use extra elbow grease.
Quantity: How big is your patio? Most patio cleaner solutions will come with a guide as to how big an area the solution will cover. Make sure you've got enough for the job.
Patio cleaner FAQs
Does biodegradable patio cleaner mean eco-friendly?
While the majority of patio cleaners are biodegradable, this doesn't necessarily mean they are eco-friendly, so you should avoid contact with live plants during the cleaning process.
Biodegradable just means that you don't need to apply anything extra to make the solution safe once dry.
How to clean your patio through the seasons?
If you're looking to keep your patio spick and span, but aren't sure how to keep it looking its best during the passing seasons, here's a short guide to staying on top of any mould or dirt throughout the year:
Winter: During the cold and slippery months, it is common to use salt to de-ice the patio, however, de-icing salt can cause discolouration on your patio. Look for brands that are non-staining and less corrosive than standard brown rock salt or grit.
Spring: After the wear and tear over the winter months, you should give your patio a thorough clean from all the dirt and grime. A literal spring clean! This is the prime time to check the joints between the slabs, as they might need repointing.
Summer: This is most likely the time you will be on the patio, so make sure to clean up any spillages or mess as they happen to minimise any long-term staining.
Autumn: Crunchy autumn leaves can stain your patio if left over the months, so it is good to keep up regular maintenance and sweep your patio frequently.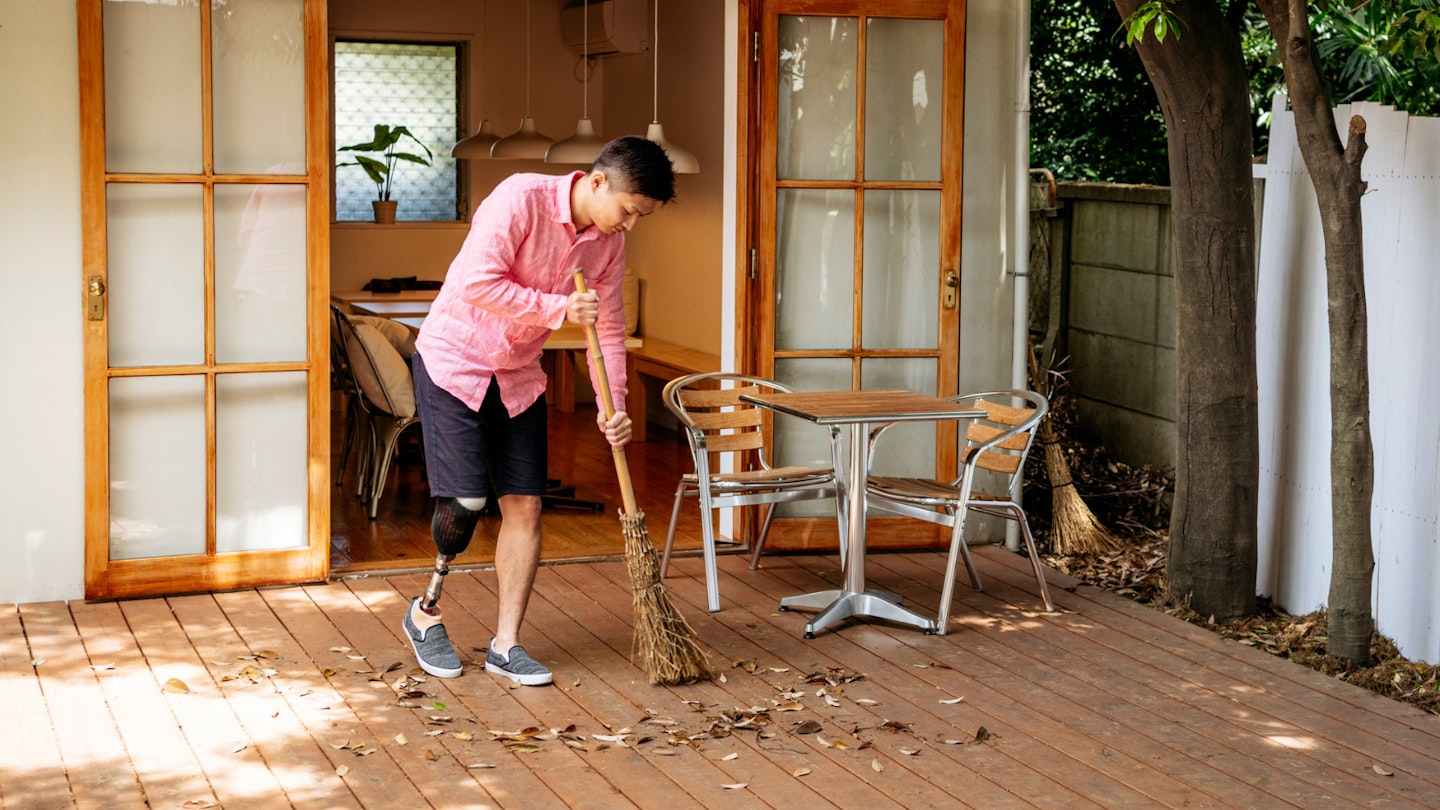 Alternative patio cleaning methods
Pressure washing and using a patio cleaner are the easiest ways to clean your patio, but if you'd prefer to use what you already have in the cupboards and don't mind getting on your hands and knees and putting in that extra effort, you can try using the soap, vinegar, or bleach method.
The soap method
Step 1: Get a bucket with hot water and mix in some soap or washing-up liquid
Step 2: Pour the soapy water over the area you want to clean
Step 3: Use a hard-bristled brush to scrub the area
Step 4: Rinse off the area with new clean water
Step 5: Leave it for 24 hours and repeat the process if necessary.
The vinegar method
Step 1: Clear the area from furniture, sweep the area, and remove any weeds
Step 2: Get a bucket and add a solution of half water and half vinegar
Step 3: Pour the bucket of solution over the patio and wait 20 minutes
Step 4: Use a hard-bristled brush to scrub the area
Step 5: Mop up the area with clean water.
The bleach method
Step 1: In either a bucket or a watering can (a watering-can works best as it gives you more control), mix the water with bleach. The best ratio is five parts water to one part bleach
Step 2: Pour the solution over the area you want to clean, and try to avoid pouring it over any plants and flowers
Step 3: Use a hard-bristled brush to scrub the area, white foam should start to build up
Step 4: Leave it for 15 minutes
Step 5: Rinse off the area with new clean water.
What to read next:
Description
Discover everything you need to know to make your outside space look fantastic quickly and easily,
Eleanor Weaver is the Deputy Homes & Garden Product Editor for Modern Gardens, specialising in outdoor furniture, décor, and tools. She's always looking out for inspiration online for stylish and affordable designs, and enjoys spending time in nature.