Next to vacuuming, mowing the lawn is probably the most repetitive and physical regular task you have to do around the home – and it's also one that you may struggle with if recovering from injury or disability. You can get lighter, easier-to-use vacuum cleaners, but the next step up for lawnmowers is usually a ride-on.
Robot vacuum cleaners exist, however, and recently, robot lawn mowers have joined the market. The Cobra Mowbot is not cheap as a lawn mower, but it's very competitive for the technology and within reach of anyone considering a smaller ride-on mower or higher-end, propelled mower.
Verdict: The Cobra Mowbot is a 'fit and forget' solution. For users with injuries, it's absolutely brilliant. However, while effective, it costs almost as much as a small ride-on mower or the very best conventional lawn mower. That being said, if you pay for someone to mow your lawn, the Mowbot could pay for itself in a couple of seasons.
Score: 4/5
Pros
Great for those who can't mow their lawn
High-end
Well made
Virtually no tools required
Cons
Costs as much as a small ride-on mower
The quick version
The Cobra Mowbot 800 can cover 800 square metres, and there's a 1,200 square metre version as well. Technically they are similar apart from the battery, as the 1,200 has a 3.0Ah battery instead of a 2.5Ah pack. That's a lot of lawn to mow; in British terms the larger model can handle a quarter acre of lawn. You can get a variety of custom finished shells for it too.
Where the Mowbot shines, and indeed most robotic lawnmowers, is on reasonably flat ground. For any lawn that is steep or overly complex, the Mowbot does struggle. In terms of performance, it's a slow plodder that marches to its own, seemingly random method of covering ground. But the Mowbot does a wonderful job of keeping a lawn trimmed to a consistent length.
Setting up the Mowbot does take some time but it isn't difficult. It's mostly about laying out the boundary wire correctly. Once the Mowbot is set to go, you can direct and monitor it via an app. For convenience, the Mowbot is an excellent piece of kit, used in the right environment.
Jump to
Setting up the Cobra Mowbot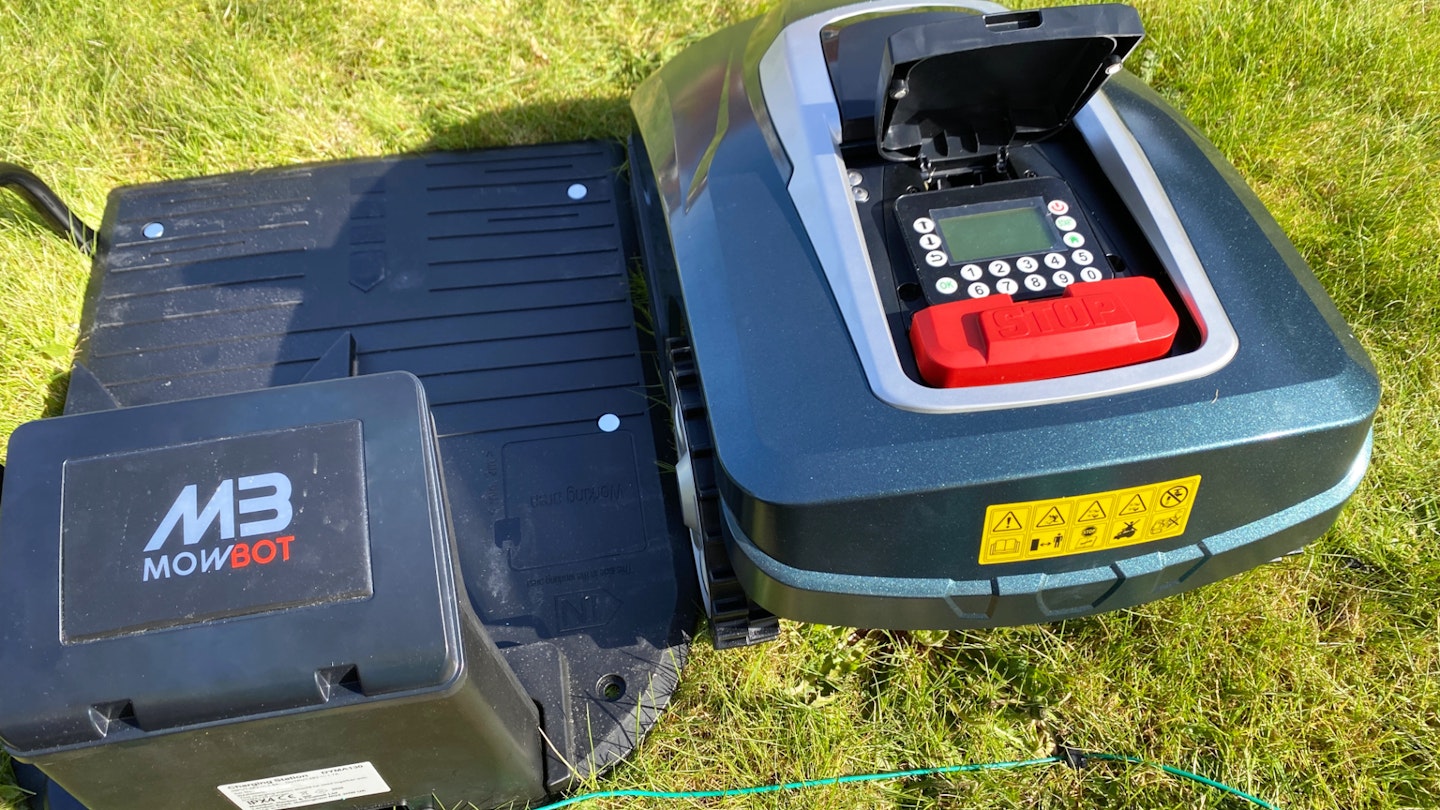 To install the Mowbot you need a flat area near your power source – the cable is very long, covering 200m of boundary, and it's all appropriately waterproof. The mower's base station is secured with pins into the ground that are easy to use, and you need a metre or so straight run to give it space to line up to charge and reverse out. The cable is simple, just a coil of single-core in reasonably thick green insulation, and it connects with the push-fit terminals you've seen on countless stereo systems.
Do not, under any circumstances, let the wire get tangled up. It's coiled rather than on a spool; it takes a very, very long time to untangle if it falls off something and the loops get mixed up…
Edges, where the mower will encounter a raised edge or drop, need 30cm clearance; two push-out cardboard rulers are included in the box lid. Simply peg the boundary wire down securely (if it's loose, the mower can grab it with its wheels) or even bury it in a channel and you're good to go. The instructions explain how to use the single cable to work around two lawns with a path. In that case, you can also specify the zones and relative sizes so the mower knows how likely it is to have completed an area, or found a new space on the boundary wire.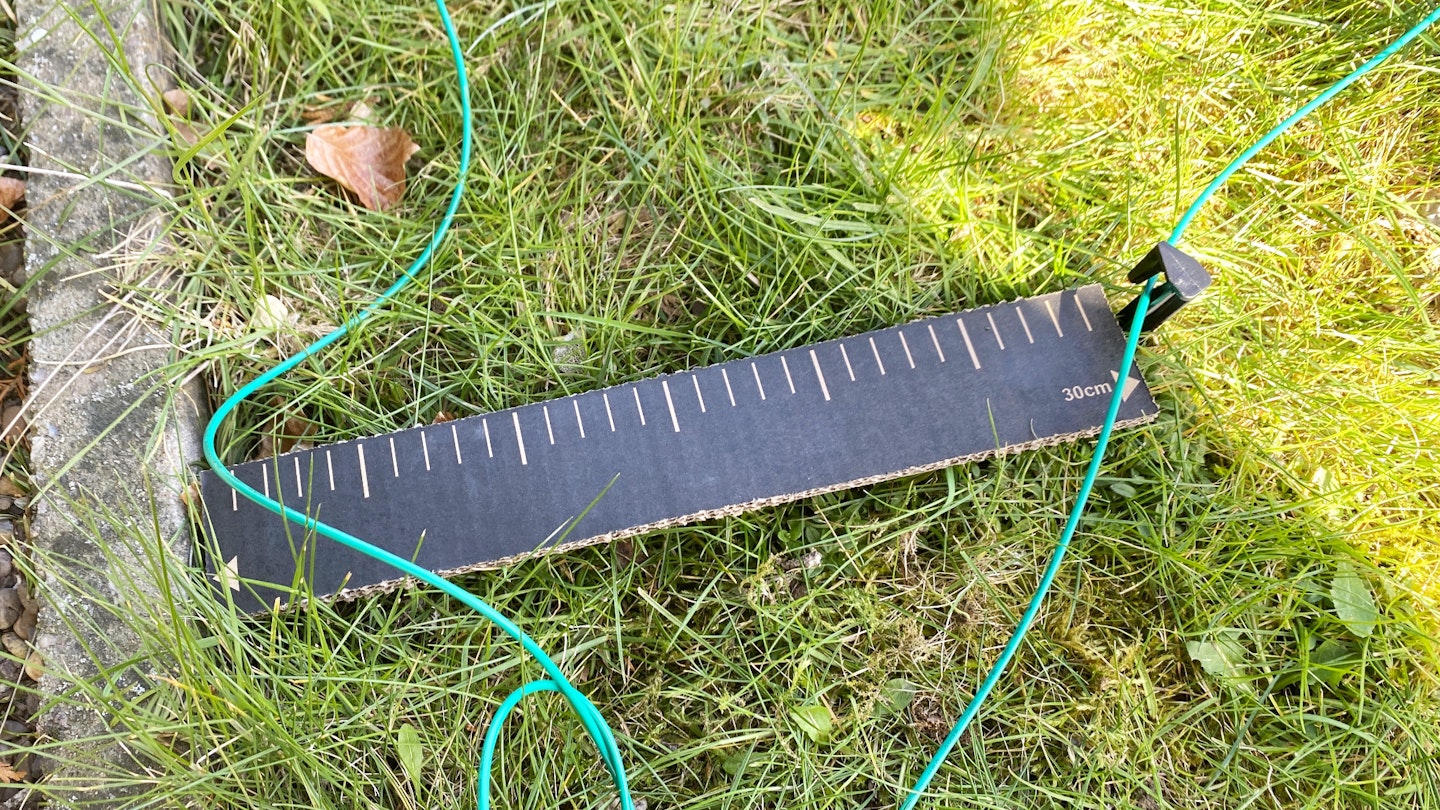 Setting up a complex garden area is best achieved by surrounding the obvious first zone and pinning the cable corners, then moving the loop around to see how much extra cable you have (or extra lawn you can cover) before cutting.
The wire can be placed over a flat path and pinned down (or fed between gaps between slabs) as well as going under slabs that aren't too thick. It works very well pinned flat, as the Mowbot has plenty of clearance. The cutting deck can be set to a distance between 20 and 60mm with a rotary control on top, making it very easy to adjust the cut.
Related: Robot lawnmowers worth investing in to make grass cutting easy
You can program the Mowbot with an Android or iOS app over Bluetooth, which makes it easier to set up schedules, but if you don't want to use a smartphone it's all accessible on the top panel. A PIN code protects the mower from unauthorised access, and also acts as a simple anti-theft device. Chances are if someone's going to steal the mower they're not going to realise it needs the base station and boundary wire, and it's useless without them; we'd recommend disguising the base station if the mower is visible from the road.
Using the Cobra Mowbot: Set the schedule and forget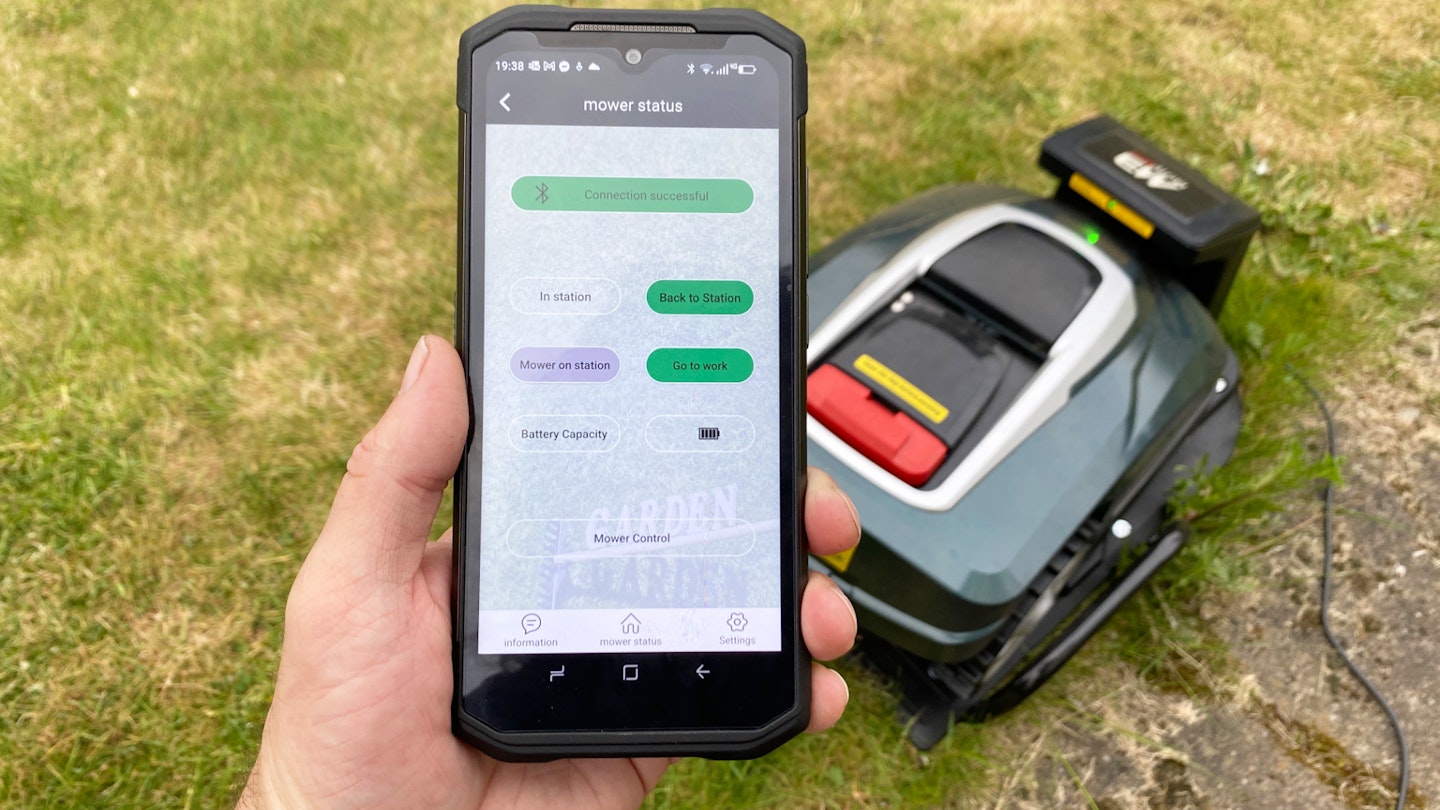 Once you have your boundary wire in place and the Mowbot is fully charged, it really is just a case of 'tell it to go and walk away'. It begins by tracing the boundary wire, which gives you an opportunity to make sure there are no obstructions and then works out the best pattern to cut the lawn, working in diagonals or spirals.
It'll mow until it's decided the lawn is cut, or it runs low on charge, or it rains (unless you override the rain sensor). Depending on your mowing schedule it'll then start again the next session or resume cutting if the lawn area isn't covered.
Once configured you just let it get on with it. It happily performed a daily mow during testing, which is excessive, and will comfortably perform an effective weekly mow at any time of day (or night, but remember condensation will make it more likely to build up grass cuttings underneath).
An occasional check underneath is worthwhile, the blades are inexpensive and easily replaced. If you have a lot of weeds you may find they get stained, but they can be cleaned in an inexpensive ultrasonic cleaner (watch your fingers) and replaced if you want to make them last and avoid build-up of dirt making them less effective.
Performance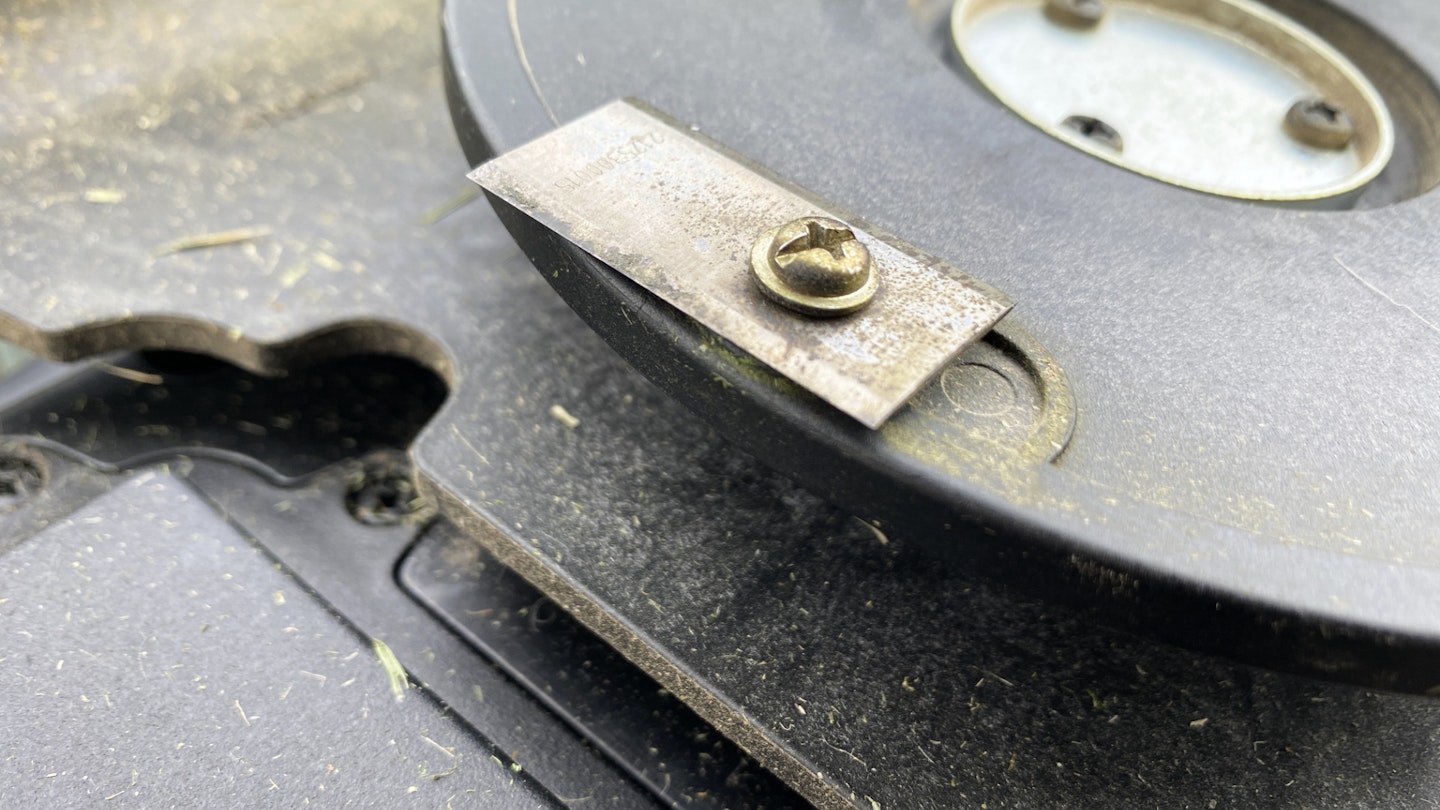 How does the Cobra Mowbot cut the grass?
You're probably used to lawnmowers that either cut the lawn by whirling a big metal blade, small plastic ones, or a cylinder of cutting blades which act like scissors. The typical low-cost petrol mower needs a big metal blade to act as a flywheel, where Flymo types often have thin plastic blades that allow the hovering action to work.
Mowbot has razorblades. Three very sharp and precise ones that spin fast, cut very precisely and are easily replaced. The resulting lawn is very neatly cut, and you can see how tidy the cutting action is when Mowbot encounters a weed or long grass, it's as if someone's been at your lawn with scissors and a tape measure. Except the Mowbot doesn't get bored, it doesn't tire, it's relentless, it will not give up and it will not stop.
At least, until it rains, or the charge drops, in which case it will happily trundle back to the charging station.
Because the lawn can be cut frequently with small amounts of growth, the trimmings are tiny, they just mulch down and you rarely need to clean underneath the mower; after a month of use the underside was still fairly clear of grass and the blades could be removed and cleaned in an ultrasonic cleaner, showing no damage at all and still very sharp.
What is the Cobra Mowbot good for?
If you've got a large, relatively flat and cultivated lawn, the Mowbot is in its element. It repetitively, precisely cuts the grass and keeps it trimmed to a neat length without a lot of weight or footprints, and can happily cross flat paths and negotiate flowerbeds or trees – within reason. Because it can be set to mow frequently but with a relatively low impact, it keeps weeds from taking hold. For showhomes, corporate properties, and larger home lawns it's a great solution, ensuring consistent lawn length year-round with minimal outlay.
What does the Cobra Mowbot struggle with?
Uncultivated lawns, steep or raised paths, hidden rocks and raised paths blocking sections of the lawn. Essentially the area to be mowed is defined by a single wire, which can be buried in the lawn or fed under paths but must enclose an area the mower can drive around. It'll bump and turn like an old electronic toy car when it encounters obstacles but if it can't find the wire and follow it home, it won't return to the charging base.
And it won't mow without the boundary wire, so you can't pop it in a boxed-in area and let it go. That's arguably the biggest limitation of the Mowbot, it can't handle a front lawn and a rear lawn that aren't connected without reinstalling the boundary wire and base station. If there's a path then you can usually set it up for both though.
Price
The Mowbot is far from alone in the robotic lawn mower arena. There is a lot of competition, particularly around the £700 mark. For example, we tested the Worx Landroid M500, and while that is also an equally impressive model, the Mowbot can cover more ground for the same price. In the robotic lawn mower iteration of Top Trumps, the Mowbot is a winner.
In addition to Cobra and Worx, other brands that produce robotic lawnmowers are Gardena, McCulloch, Hyundai, Husqvarna, Flymo, and Bosch, to name a few. Each brand has a robotic lawnmower line-up consisting of similar-looking models that differ primarily in the lawn size they can cover and are priced accordingly. The Mowbot 800's range of 800 square metres sits in about the middle, as the roaming territory of robotic lawnmowers begins at around 250 square metres up to well over 1,000.
Verdict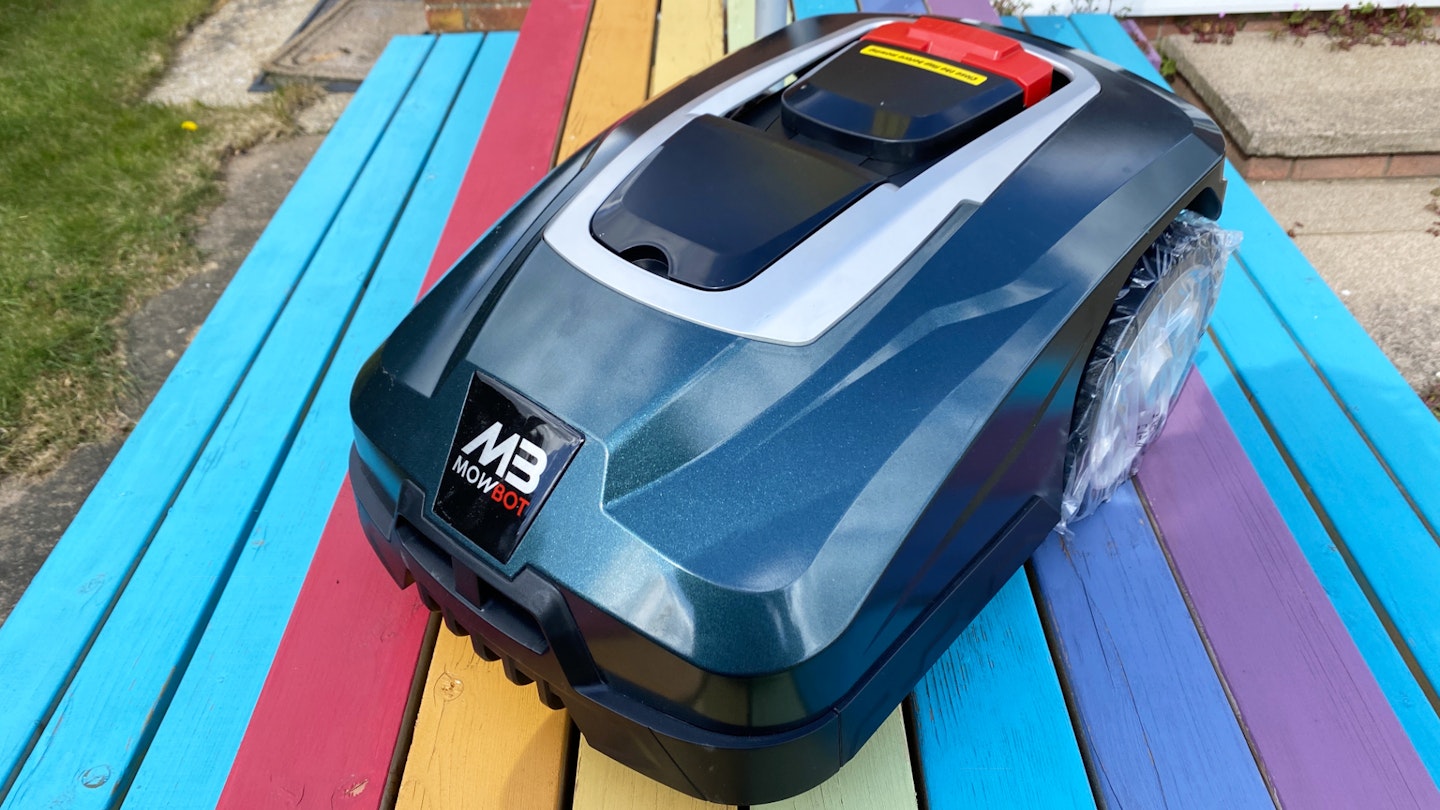 If the Mowbot cost as much as an electric lawn mower generally, it wouldn't need a second thought – it's genuinely a 'fit and forget' solution that for the right gardens needs no thought at all, just an occasional blade cleaning or replacement. But it's not, it costs almost as much as a small ride-on mower or the very best conventional mower. What's your time worth?
What is pleasing is the finish of the lawn. A healthy lawn will look great maintained with this, as it diligently razor cuts every blade rather than bludgeoning the grass into submission. It also tends to head weeds off before they've had a chance to flower, though it's not much defence against moss.
For users like myself, with injuries or disabilities that can make gardening uncomfortable or painful, it's absolutely brilliant. Not only does it spare the two hours of pushing a mower about, the frequent, small trimmings mulch down and I don't need to haul a heavy grass box full of clippings to a compost bin. If you pay for someone to mow your lawn this could pay for itself in a couple of seasons.
Specifications
Working area
800m2, can climb a 20° slope
Cutting width
18cm
Cutting height
20-60mm
Run time
60min (approx)
Boundary wire length included
200m
Weight
9kg
Warranty
2 years
| Pros | Cons |
| --- | --- |
| • Determined and effective | • Not cheap |
| • Quiet | • Needs flat ground |
| • Easy to monitor and control | • Needs boundary wire |
More items to consider
How we tested it
The Cobra Mowbot was subject to weeks of use on a large lawn during spring, when the grass grows fastest and the weather is unpredictable. This provided the best real-world testing environment for not only the Mowbot's performance, but also its durability, and all its tech.
Richard Kilpatrick is Consumer Editor for Parkers.co.uk and is a gadget fanatic with a large lawn. He has worked in tech journalism for many years.
What to read next:
Best electric lawnmower to make cutting grass straightforward
Description
Discover everything you need to know to make your outside space look fantastic, quickly and