Whether you're moving on from indoor houseplants or are a seasoned pro when it comes to gardening, you will soon come across the benefits of using mulch in your soil. There are so many variations to mulch and you may be wondering what type of mulch for gardening is the best choice for you.
Mulches help the soil retain moisture in spring and summer and then help prevent weeds from growing and protect the roots of plants in winter. They will keep your garden soil healthy all year round, as well as help to keep things looking neat and tidy in your flower and plant beds.
To help you find out just how useful mulching can be, we answer some frequently asked questions, as well as discuss the different types of mulch and which might be the best for your garden. So, if you're a beginner in this area or just need a gentle reminder, take a look at our guide to mulching so that you can get started on your new garden project.
Best mulch at a glance:
• Best bark chipping mulch: Wickes Bark Chippings 100L - Buy now on Wickes
• Best compost mulch: Miracle-Gro All Purpose Compost 50L - Buy now on Amazon UK
• Best straw mulch: Strulch Mineralised Straw Mulch 100L - Buy now on Amazon UK
• Best stone mulch: Tarmac 10mm Gravel Pea Shingle Major Bag - Buy now on Wickes
What is mulch?
Mulch refers to the material used to cover the top of the soil when gardening. They can be applied to bare soil or to cover the surface of compost in containers. This material is often organic in nature and can range from wood chip mulch or tree bark, straw, compost, leaves, grass, and more. However, inorganic materials such as gravel, rubber, and plastic are also commonly used.
Why do you use mulch in gardening?
Mulching your garden means less maintenance and time saved in the long run. There are many benefits which include improving soil quality with nutrients for your plants, regulating soil temperature, retaining soil moisture, and suppressing the growth of weeds. It can also be used for aesthetic purposes, like decorating your garden borders and flower beds and keeping your garden looking tidy.
When should I mulch the garden?
You should think about mulching your garden twice a year, especially whilst spring gardening and in the autumn season. During spring, annual weeds will not have started to grow yet and in autumn, plants will begin to die back. It's worth noting that mulch should be applied after any seedlings are properly established, rather than on top of newly planted seeds.
How do you start using mulch in your garden?
When it comes to applying the mulch, it's a fairly simple task. However, you'll also want to prepare your soil beforehand in order to ensure a healthy base to apply your mulch. Here's a guide on how to apply mulch to your garden.
1) First, you'll want to remove any weeds from the site beforehand. The last thing you want is unsightly weeds from competing with your plants. Using your hands or a garden trowel, remove any weeds from the root.
2) Then, make sure that you loosen any hardened areas of soil. Turning the soil or breaking it down will mean that your soil is more receptive to moisture.
3) After this, you'll want to dampen the soil with a bit of water. Not only will this allow the mulch to stay in place, but it'll also provide the nutrients that your plants will need to thrive.
4) Spread the mulch out evenly, taking care to apply a layer that's around two to three inches thick. Around the base of each plant, leave about an inch for every plant or tree to breathe.
5) If your mulch of choice is organic, it isn't necessary to completely strip the mulch each time as it will break down on its own. While you should keep an eye on levels, it should only really need replenishing once or twice a year.
6) If your mulch of choice is inorganic, it should last much longer than organic mulch. It will not need stripping or replenishing as it doesn't decompose, or decomposes at a slower rate than organic choices.
What is the best mulch to use in the garden?
There are lots to consider when you're choosing the best mulch to use in your garden, as there are so many types available. The main thing to consider is whether you're wanting to go for organic or inorganic, and there are advantages and disadvantages for each.
Organic types of mulch
This type of mulch refers to anything that was once living matter, so this type is often naturally biodegradable within the soil. It will retain water well, providing your soil beds with so many nutrients that are then absorbed by your plants.
It's fairly easy to make your own organic mulch from shredded materials around your garden such as leaves or grass. Also, it can actually improve the quality of your soil, so a good option for those looking for a natural alternative.
However, due to the fact it comes from a natural source, this means it decomposes making it a shorter-term option. It may also attract insects, some of which are good for the ecosystem of your garden, but others that aren't. This is something to keep an eye on regularly. For this reason, it will need to be replaced much more often than its inorganic alternative, which may cost more in the long run.
Wood
Whether it's bark chippings or wood chip mulch, this type of mulch is completely organic. It breaks down easily providing your plants with nutrients retained within the bark. It's a generally inexpensive and popular option, as it can be found in most stores readily prepared and looks attractive in your garden.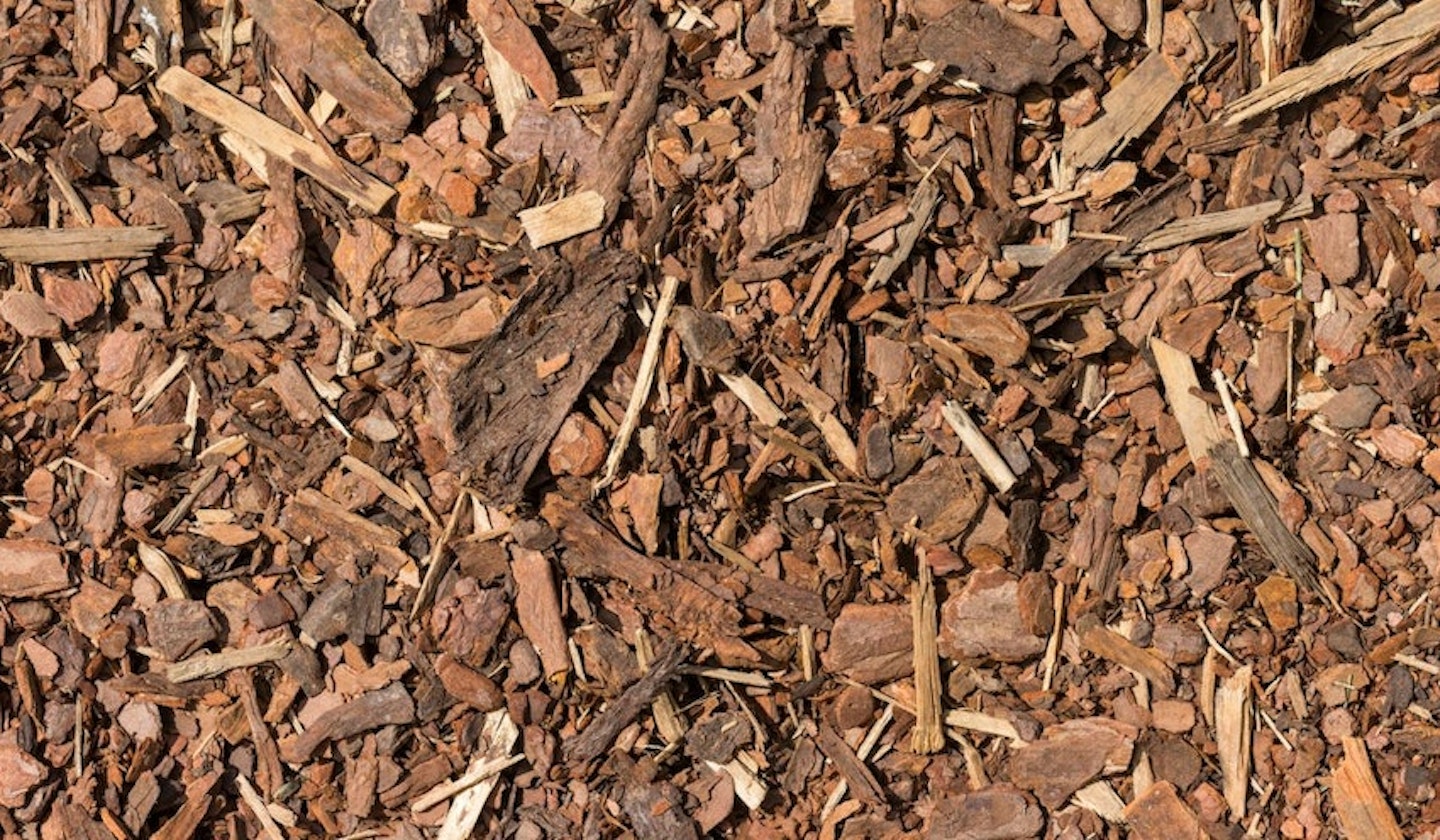 Straw
It must be clarified that straw, and not hay, should be used for mulching. This is because hay can sometimes contain seeds that can cause weeds to grow in your garden as well as harmful pesticides. Straw is the leftover stalk from the grain after it's been harvested, therefore you should always look for a pesticide-free straw to add to your beds.
Compost
Whether it's homemade compost or store-bought, this type of mulch is high in nutrients. Particularly if you're opting for homemade, it's an environmentally friendly and cost-effective way of renewing any waste to fertilise your soil. Fruit and vegetable waste, as well as leaves and grass, are a fantastic source of mulch. If you're opting for store-bought compost the likes of aged animal manure may be the best.
Leaf
This option is great for those who have trees in their garden, as fallen leaves or 'leaf mould' can be shredded up to form a layer over the soil. These do decompose a lot quicker than the likes of other sturdier materials such as wood, and you may need a lot of leaves to create a thick layer. However, they provide good insulation for your soil, despite also attracting snails.
Pine needles are a particularly common choice when it comes to leaf mulch and these can also be store-bought. It's said that they have an acidic pH balance, but this has also been disputed as their levels are said to become more neutral as they decompose.
Grass
The benefit of mulching grass is that you're able to make this mulch with a lawn mower very easily. Using the shredded grass you've collected, you can layer this on top of your soil. However, treated grass shouldn't be used for this purpose as the chemicals can interfere with your soil.
Inorganic types of mulch
This type of mulch refers to any other type of material or fabric used to cover your soil. As it's not living matter, it takes much longer to decompose so it's a good choice for low-maintenance gardeners. This method of mulching doesn't need to be replenished, is less likely to attract insects, and is often used decoratively within gardens.
On the other hand, this type of mulch is much more long-term meaning it could become more of a permanent feature in your garden. As it doesn't biodegrade into the soil, if you're wanting to change the look it will take a lot more effort, as you'll have to remove it yourself.
Stone
This can also include gravel, pebbles, and rocks used to cover the soil. It is a low-maintenance option that also looks fantastic on garden borders and flower beds. It adds a neat and tidy appearance to your garden and is generally fairly inexpensive.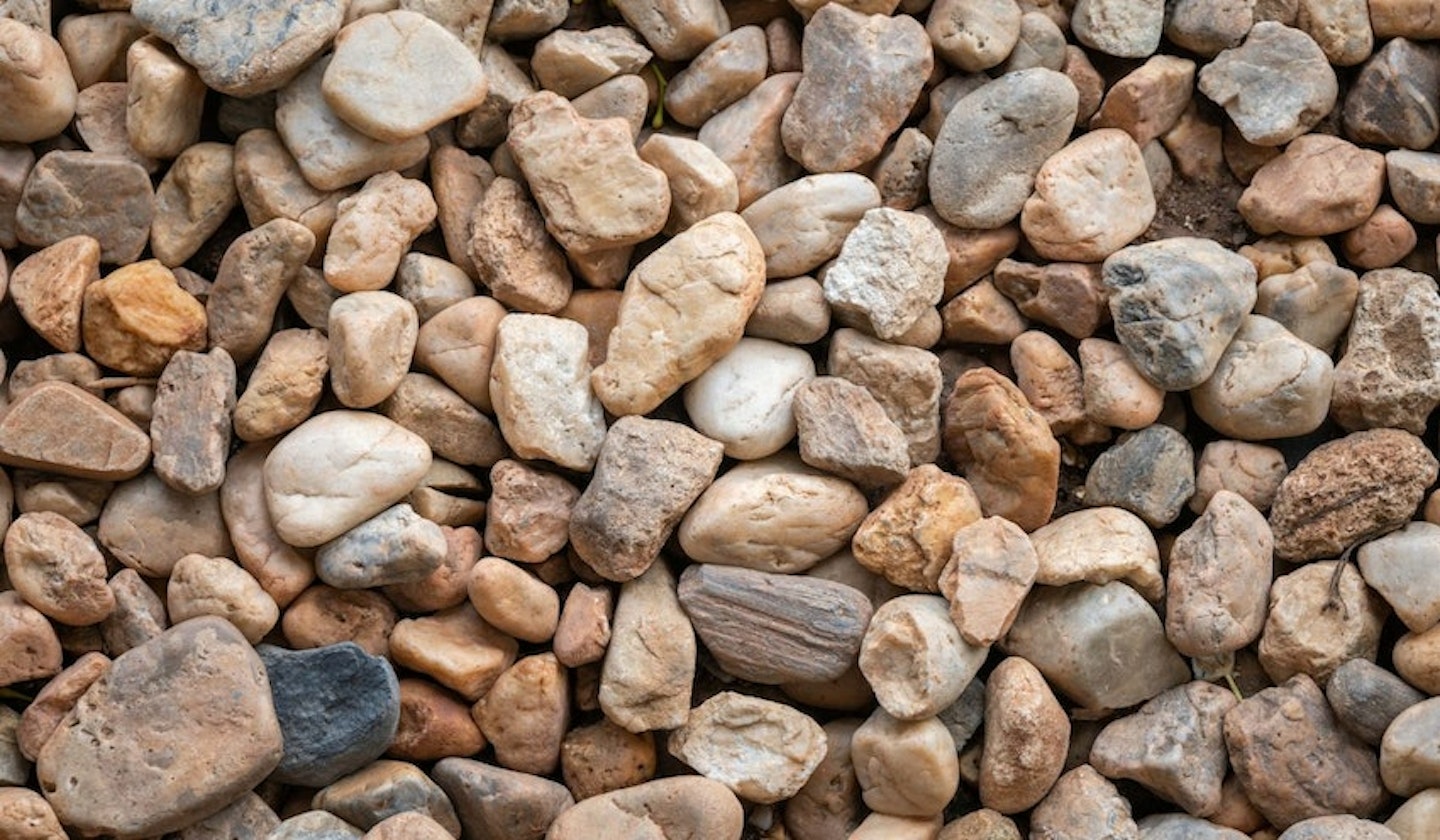 Rubber
This comes in the form of rubber chips and can also take a variety of colours. It would be particularly good for areas where grandchildren may play in your garden, as the rubber is soft and can cushion any falls. However, it is quite a costly option and may also contaminate soils with chemicals.
Plastic
Slightly different application to other mulch, this needs to be installed over the top of your soil before you plant your seeds. After installation, simply cut holes into the fabric and plant the seeds. Would be particularly good during colder seasons and for vegetable gardens as plastic allows the retention of heat.
The best mulch for gardening
From our research, we've put together a list of the best mulch for your garden including organic and inorganic options for you to choose from. Here are the best mulches that we could find.
Wood mulch
Best bark chipping mulch for gardening
Description
For a decorative, attractive finish for beds and borders, Wickes Bark Chippings are an ideal
Pros
Reduce the spread of fungal diseases on leaves 
Good value
Cons
Some pieces can be bigger than expected
Bulk bark chipping mulch for gardening
Description
A mid-dark brown, multi-purpose grade bark. A natural product that will enhance the appearance of
Pros
Good quality
Colour looks great
Cons
Not decorative due to pieces being large
Best wood chipping mulch for gardening
Description
Verve's chipped bark locks in vital moisture and keeps weeds at bay, creating the perfect backdrop
Pros
Keeps colour even in bad weather
Smells fresh
Bulk wood chipping mulch for gardening
Description
These untreated wood chippings are attractive, long-lasting, and eco-friendly. An attractive
Pros
Consistent sizing
Eco-friendly
Compost mulch
Best compost mulch for gardening
Description
Ideal for beds, borders, and baskets too, use Miracle-Gro wherever you need a nutritious home for
Pros
Fab for plants
Good quality
Recommended compost mulch for gardening
Description
Westland Gardener's Multi Purpose Compost is produced from premium-grade Irish blended peat which
Pros
Plants love it
Thick and sturdy
Bulk compost mulch for gardening
Description
Hallstone Compost is a natural, peat-free, multi-purpose compost, suitable for use in containers,
Cons
Hard to store if you have a smaller space
Straw mulch
Best straw mulch for gardening
Description
Strulch mulch is a light and easy-to-use garden mulch made from wheat straw for organic gardening.
Pros
Thick
Cuts down on weeds but allows other plants to grow
Cons
Not 100 per cent bug effective
Stone mulch
Best stone mulch for gardening
Description
Acting as a weed suppressant, this gravel is ideal for layering on top of borders to keep them
Pros
Don't need much, lasts a while
Good quality
Recommended stone mulch for gardening
Description
Decorative UK-sourced blue slate chippings are ideal for gardens and borders. This beautiful stone
Pros
Beautiful colour
Good coverage
Cons
Some reviews say chippings are smaller than expected
Recommended stone mulch for gardening
Description
This multicolour decorative stone can be used for decorative pot toppers, rockeries, borders, and
Pros
Great price
A blend of colours brightens up any pot or garden
Cons
Stones are a bit dull or soiled when they come out of the bag, but can be washed
Recommended stone mulch for gardening
Description
In beautiful pastel pink, this decorative stone can be used for paths, patios, and driveways. Not
Pros
Good quality
Colour changes shade when wet
Cons
Can appear chalky but washing them gets rid of that
Bulk stone mulch for gardening
Description
A mixed bag of gravel and shingle, these stones are ideal for landscaping around your garden. Best
Pros
Bulk bag
Good for large areas
Plastic mulch
Best plastic mulch for gardening
Description
Apollo heavy-duty weed control fabric is ideal for use on rough ground and under patios, pathways,
Pros
Heavy-duty, thick and strong
Easy to cut
Cons
Some reviews say it is a little thin
Recommended plastic mulch for gardening
Description
Effectively suppresses and controls weed growth. A heavy-duty weed control fabric makes it
Pros
Effective
Hard-wearing and durable
Bulk plastic mulch for gardening
Description
Agfabric weed control fabric helps with drainage and can be used when landscaping your garden.
Pros
They last for a long time
Heavy duty
Our verdict: The best mulch for gardening
So, which is better? Organic or inorganic? Well, that all depends on your own individual needs and what suits your garden best. Here's our verdict on the best mulch for gardening.
The best organic mulch
In our opinion, the best organic mulch would have to be the Wickes Bark Chippings. This is due to the fact that it's a highly affordable product with thousands of positive reviews, and it also looks fantastic in your garden.
The best inorganic mulch
While the best inorganic mulch for gardening would have to be the Tarmac 10mm Gravel Pea Shingle Major Bag from Wickes. Another highly affordable product with the best ratings of all of the inorganic mulch that we could find.
How to tutorials: Mulch for gardening
Description
Get inspired each month with Modern Gardens magazine. In every issue you will find the latest