Achieving an immaculate lawn in a sprawling garden is no easy feat, but the best lawn mowers for a large garden can make all the difference. Whether you are a dedicated gardener with an expansive lawn to maintain or have a large property and want to get the job done efficiently - having the right tool is crucial for the task at hand. In this article, we will explore the best lawn mowers designed for larger gardens, which will not only help you achieve a lush green lawn but will also save you your precious time and effort.
Last chance Black Friday deals on lawn mowers for large gardens
We interrupt the regularly scheduled content to let you know that although Black Friday is over, there's still time to grab some last chance Black Friday deals on lawn mowers. These are the retailers that still have deals available, or keep scrolling to continue reading our buyer's guide.
Shop the best lawn mower for large gardens deals: Amazon UK | B&Q | Appliances Direct | Just Lawn Mowers
Top deal: Einhell Power X-Change 36/47 Cordless Lawnmower, WAS £679.95, NOW £499
£37 off: Flymo SimpliStore 300, WAS £250, NOW £212.50
45% off: Flymo EasiStore 340R Li Cordless Rotary Lawn Mower, WAS £339.99, NOW £211.51
Up to £36 off: Metabo RM36-18LTXBL46 - 601606850 Brushless Lawn Mower, WAS £335.95, NOW £299.95
With a wide variety of lawn mowers available today, there is something for everyone, but identifying the ideal one for your specific needs can be overwhelming. That's where we come in. From the best petrol mowers to innovative cordless electric models, we've covered the best to narrow your search.
Large gardens are an amazing place to relax and retreat, but keeping it in a healthy condition can take lots of time and energy. If you are looking for a mower to make light work of your space, perhaps the best ride-on lawn mower will do the trick, or if you don't mind walking laps, a petrol option could be a good choice too.
Before settling on your lawn mower, delve into the world of garden maintenance with our quick guide to the most important factors to consider when selecting a mower. From cutting width to power options - you can find this information and more down below.
Best lawn mowers for large gardens at a glance:
• Best cordless electric lawn mower for large gardens (Editor's choice): Einhell Power X-Change 36/47 Cordless Lawnmower - View on Amazon UK
• Best petrol lawn mower for large gardens: Hyundai 196cc Petrol Lawnmower - View on Amazon UK
• Best value lawn mower for large gardens: Webb WER460SP Self-Propelled Rotary Petrol Lawnmower - View on Amazon UK
• Best lawn mower for performance for large gardens: Fox 18"/46cm Petrol Turbo Lawn Mower - View on eBay
The best lawn mowers for large garden
Best cordless electric lawn mower for large gardens (Editor's choice)
Description
This robust model from Einhell is a powerful electric mower designed for large lawns, offering a
Pros
Wide 47 cm cutting width for efficiency
75 L grass collection box
Contains 2 x 18 V batteries
Cons
Wheels stick out, so additional edge trimming may be needed
Best manoeuvrable lawn mower for large gardens
Description
Self-propelled and cordless, this lightweight lawn mower is easy to move and designed for lawns up
Pros
46 cm cutting width
Good for lawns up to 480m²
Seven cutting heights and various clipping disposal options
Foldable handle for compact storage
Cons
27.5 kg weight, despite being a cordless model
Battery life is reduced when cutting long grass
Best petrol lawn mower for large gardens
Description
**Pre-order now: Expected release date is 24th Aug 2023
**
The Hyundai 196cc Self Propelled
Pros
Powerful 4-stroke engine
Large 51 cm cutting width
Six cutting heights and mulching capability
Cons
Bulky size can hinder manoeuvrability in tight spaces
Heavier than electric models, making storage more challenging
Best ride-on lawn mower for large gardens
Description
If it is a ride-on mower you are on the hunt for, then this Honda model could be for you. The HF
Pros
Easy to manoeuvre
Collects grass clippings
Large capacity
Cons
It might be too high-tech for some
Best self-propelled petrol lawn mower for large gardens
Description
The Murray EQ700X self-propelled lawn mower is loaded with features that help to make your grass
Pros
Starts easily
Powerful whilst being energy efficient
Great for big lawns
Cons
The shortest cutting setting is very harsh
Best compact lawn mower for large gardens
Description
The compact Honda HRG466SKEH Self-Propelled Petrol Lawnmower is dependable and easy to operate,
Pros
Reliable and easy to operate
Self-drive feature for added convenience
Intelligent blade design for durability and reduced maintenance
Best lawn mower for performance for large gardens
Description
The Fox Self-Propelled Petrol Lawn Mower offers a powerful 4045 W motor and a 173 cc engine,
Pros
Powerful 4045 W motor at an affordable price
Eight cutting height settings for versatility
Comfortable to use with vibration-reducing cushioning
Cons
Heavier than some other models due to its powerful motor
What to consider when buying the best lawn mower for a large garden:
Power: Larger gardens require more power for efficient mowing. It would be good to consider the trade-offs between energy, runtime, and maintenance between petrol, corded electric, or battery-powered options.
Cutting width: A wider cutting width reduces the number of passes needed to cover the entire area, saving you time and effort. It would be ideal to look for mowers with adjustable cutting heights to tackle different grass conditions.
Self-propelled vs push: Self-propelled mowers are more suitable for extensive gardens as they move independently, reducing the physical effort needed. Push mowers may be more budget-friendly but require more exertion.
Mulching and bagging options: Some mowers offer built-in mulching and bagging capabilities - which can save time and keep your lawn looking tidy. Consider these features when making your decision.
Terrain: If your garden has uneven terrain or slopes, look for a mower with large rear wheels and good traction to make manoeuvring easier.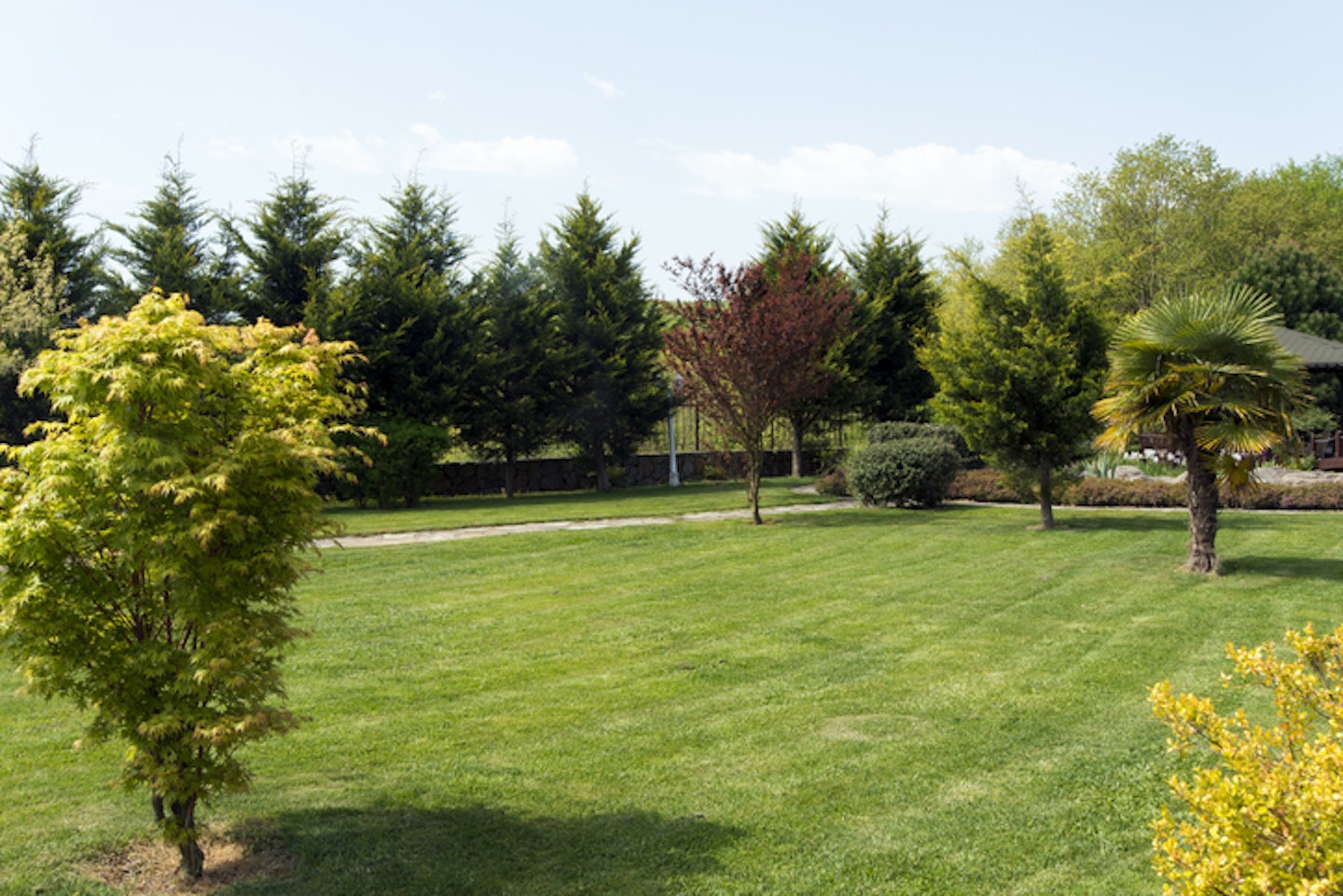 Lawn mowers for large gardens FAQs:
How do I mow a large area?
Mowing in rows is the fastest and most efficient method for large lawns. For rectangular properties, it is a good idea to mow in horizontal rows to minimise turns. For square lawns, either direction works.
You will need to mow around obstacles like flower beds, trees, or furniture first. Also, keep going parallel to driveways or patios, and ensure your mower blades are sharp for a clean cut for the best results.
Is it better to mow fast or slow?
Although it's tempting to mow quickly to save time, slower mowing produces better results and is safer. Mowing steadily allows you to inspect the ground for obstacles like stones. Additionally, a safe operating speed for mowers is typically between 3 and 5 mph. Of course, it is always best to refer to the manual for the best usage. If your mower isn't as accurate as you like - then cordless trimmers will be able to prune your garden nicely.
How often should you mow a garden?
The frequency of mowing depends on the growth rate and type of grass. Typically, it's best to mow your lawn when it reaches 1.5 times its optimal height, usually every 7-10 days during the growing season.
Is a petrol, electric, or battery-powered lawn mower best for a large garden?
Each type of mower will have its pros and cons. Petrol mowers are powerful and suitable for larger gardens but require more maintenance. Corded electric mowers offer consistent power but have limited mobility due to the cord. Battery-powered mowers are more portable and environmentally friendly but may require battery swaps for extensive lawns. Be sure to check out our guide to the best cordless lawn mower if this sounds like something you may be in the market for. All-in-all, your personal preference is most important as there are excellent models for each of these that will work for large lawns.
Can I use a ride-on mower for my large garden?
Ride-on mowers or garden tractors are an excellent option for extensive gardens or those with many obstructions, as they provide faster and more comfortable mowing. However, they can be far more expensive than push models and require more storage space, so consider this before buying.
What to read next:
Best electric lawnmower to make cutting grass straightforward
Robot lawnmowers worth investing in to make grass cutting easy
Description
Discover everything you need to know to make your outside space look fantastic quickly and easily,
Ellen Kinsey is a senior health and wellness product writer for A Modern Gardens, specialising in sustainable living and health. She lives and breathes all things natural health, cooking and nature.