Begonia bedding plants are a fantastic choice for beginner gardeners, and bedding plants allow you to get creative and test out new designs each year. It's one of many plants you can plant indoors and outdoors. Bedding plants are particularly versatile and can be planted in beds, hanging baskets, containers and window boxes. Begonia bedding plants come in all shapes, sizes and colours and will quickly fill your containers and hanging baskets with beautiful splashes of colours. They are also very affordable and will transform your outdoor space at very little expense.
What are begonia plants? Begonias grow into big, bushy plants covered in large, frilly flowers that bloom through summer and autumn until the first frost of winter comes in. Many varieties have cascading effects as they spill over the edges of pots and planters, while others are highly scented and bring an abundance of fragrance to a seating area.
Best begonia bedding plants at a glance
• Sweet apricot: Begonia 'Fragrant Falls - Apricot Delight' - View Offer at Dobie's
• Rose pink planters: Begonia 'Nonstop Rose Petticoat' - View Offer at Dobie's
• Immaculate blooms: Begonia Organdy 'Mixed' - View Offer at Suttons
Begonias are striking perennial plants that live for more than two years. Although they do have a reputation for being a little old-fashioned - cottagecore to a tee, there are now new bold varieties that differ from the delicate plants traditionally used. So, at Modern Gardens Magazine, we'd love you to plant some of these flowers yourself: as blooming bedding plants or neatly potted on the patio. We've written a care guide to begonia bedding plants.
Begonia Bedding Plants
Sweet apricot
Description
Fragrant Falls have stunning colours and a lovely fragrance. With double blooms and fabulous
Pros
Each colour has a different perfume
Scents develop throughout the day
Very distinctive fragrance
Cons
Height and spread may not suit all planters
Pretty in pink
Description
Ideal for containers, hanging baskets, or in the ground in partial shade, these Begonia 'Non-Stop
Pros
Weather resistant blooms
Flowers well into autumn
Non-stop flowering
Cons
Some customers found them a little small
Vibrant orange
Description
Perfect for a stunning display in containers, window boxes and hanging baskets, the Begonia
Pros
Amazing fiery red, gold and bronze shades
Abundance of enormous blooms
Perfect for a stunning display
Cons
Some customers said their flowers were small
Rose pink planters
Description
These eye-catching Begonia 'Nonstop Rose Petticoat' flowers have a tuberous form and produce a
Pros
Most eye-catching variety of begonia
Deep-frilled cottagecore blooms
Come in various pack sizes for every space
Cons
Customers report that some were a little small for the garden
Blazing flame
Description
You can choose to deliver the Begonia 'Nonstop Fire' flowers in 24 or 72 plug plants or 15 to 30
Pros
Resemble roses with glowing petals
Constant cheerful notes of summer
Bushy, upright with large blooms
Cons
Some customers reported poor delivery
Immaculate blooms
Description
This Begonia Organdy 'Mixed' blooms from July until October and produces bundles of blooms in
Pros
Ideal for low-maintenance bedding
Grow in a shaded yet sunny spot
Neat, compact growing habit
Snow white blooms
Description
These gorgeous Begonia 'Nonstop Joy Mocca White' blooms will continuously flower all summer long
Pros
Stunning white flowers
Flower all summer long
With attractive dark foliage
Begonias Care Buys
Here are all the begonia care items we have mentioned throughout the article.
Best compost for begonias
Description
With loam, peat, grit and fertiliser, this unique combination of 14 vital minerals in this
Pros
Contains vital minerals for growth
Balanced nutrient levels for six weeks
Perfect for re-potting, pots and tubs
Best plant food for begonias
Description
This Gro-Sure 6-Month Slow Release Plant Food is ideal for pots, containers, beds, borders and
Pros
Provides six months of feed
Additional nutrients for the season
Ideal for pots, beds and baskets
Cons
Some customers report broken boxes
High-potassium feed for begonias
Description
Encouraging strong and healthy growth, the Doff Tomato High Potash Fertiliser will keep your
Pros
Well-reviewed and good value
Keeps flowers thriving
With seaweed for healthy growth
Cons
Some customers have received the wrong size
Best peat-free compost for begonias
Description
The Miracle-Gro Peat-Free Premium All Purpose Compost feeds plants for three months so itu2019s
Pros
Feeds for up to three months

Ideal for growing fruit and vegetables

For stronger and healthier plants
Cons
Some customers report a split in the bag
FAQs
How to plant begonias
In March or April, you can purchase begonia tubers in a garden centre or from online stores.
According to Gardeners' World, the best way to plant begonias is to 'plant the tubers into individual pots or the hollow side in a seed tray. Plant 2.5cm deep and keep in a warm spot at least 18 degrees centigrade. Once the leaves begin to show, pot on into larger pots filled with John Innes No. 2 compost or peat-free, multi-purpose compost.'
Most of the begonias we have selected are pot-grown plants or plugs. This is a more straightforward method to grow in a greenhouse or sunny windowsill and harden off before planting them out in the garden in May when all the risk of frost has passed before planting outdoors.
In autumn, you can dig up tuberous begonias and keep the tubers in a cool, frost-free spot to preserve them over the winter.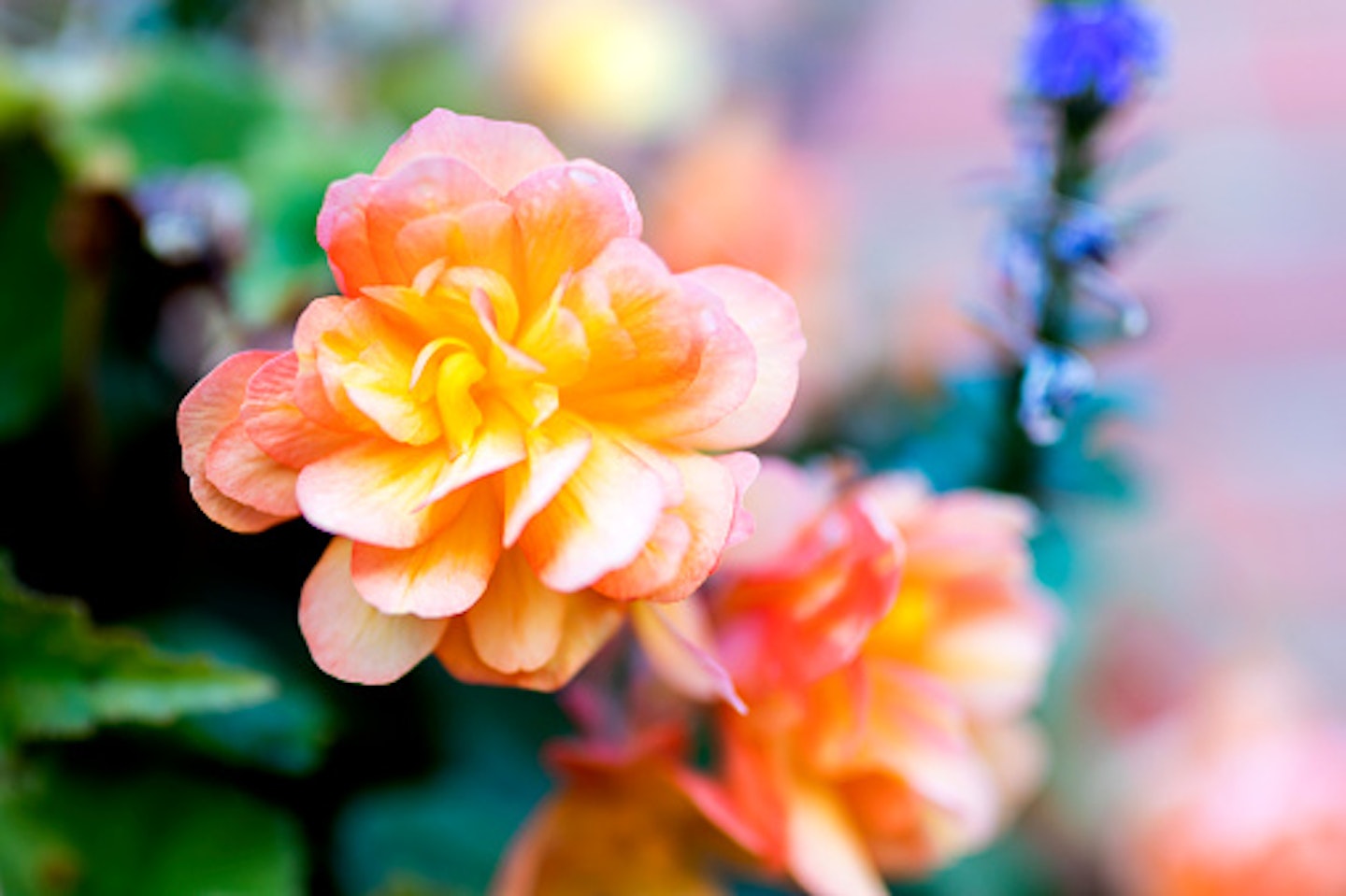 How to take care of begonia bedding plants
Most bedding plants prefer a place in the sun, but a few will thrive in the shade. Grow begonias in peat-free, multi-purpose compost in spotted sunshine or a partially shaded area. Avoid south-facing areas as the foliage can burn in direct sunlight. If you're growing begonias in a greenhouse, some shade may be required to help them thrive.
Tuberous begonias are excellent for growing in pots and hanging baskets. They have relatively brittle stems and heavy blooms, so grow them in a sheltered spot. On the other hand, foliage begonias are best grown as houseplants in the shade.
Plant tubers of tuberous begonias in the springtime. Only plant begonias outside in May, when there is no more chance of frost.
You should water the plants regularly and feed them weekly with a high potash fertiliser like tomato feed. Keep plants well-watered but allow the soil to dry out between waterings – this is especially important for tuberous begonias, which can rot in waterlogged soil. Alternatively, add a slow-release fertiliser pellet to the compost when planting. Do not feed tuberous begonias in September, as the plants should be encouraged to slow down for the year.
What to read next:
Best large outdoor plant pots to give your plants space to thrive
Description
Discover everything you need to know to make your outside space look fantastic, quickly and
Ellen Kinsey is a Senior Health & Wellness Product Writer for Modern Gardens, specialising in sustainable living and health. She lives and breathes all things natural health, cooking and nature.