For tight spots that need some colour, this project is an easy way to make a statement. An old ladder adds height without taking up much floor space, while still packing in lots of pots.
You could position it to screen an unsightly gas or electric box on a wall, or make it practical as well as pretty as a place to hang your hand tools.
We've embraced cottagecore style with a rustic wooden ladder and terracotta pots, but you could use an aluminium stepladder and place silver-sprayed pots on each tread for a more modern look – do still secure the pots with wire though, so they won't fall when autumn winds pick up.
An old wooden stepladder will work too: dismantle it into front and back sections and just use one side for this project, sawing off any unsightly bolts or hinges at the top.
If you don't have an old ladder then online local marketplaces such as Gumtree, eBay and Facebook are good places to find one, sometimes for free. Planted with tumbling flowers such as petunias and million bells, the swaying pots will soon be spilling over with blooms and will make a colourful wall of flowers.
You will need:
✽ Wooden ladder, £10 Facebook Marketplace
✽ Strong garden wire
✽ 4 x 15cm terracotta pots, £1.99 each therange.co.uk
✽ Peat-free compost, Wickes Multi-Purpose, £6/50L wickes.co.uk
✽ Tumbling/hanging basket plug plants, £9.99/12 dobies.co.uk
Total: £33.95
What to do:
1 Sand the wood lightly to tone down any old paint stains, if needed.
2 Cut the wire into 60cm lengths and wind in a loop around the neck of each pot. Twist to secure, leaving one end hanging long.
3 Plant up each pot with the compost and one or two plug plants, making sure there's a 2cm gap between the top of the compost and the rim to make watering easier. But don't water yet!
4 Hold a pot under a rung with one hand and using your other hand, bend the long, loose piece of wire over the rung then under the wire on the other side of the pot neck, winding it tightly into place to secure.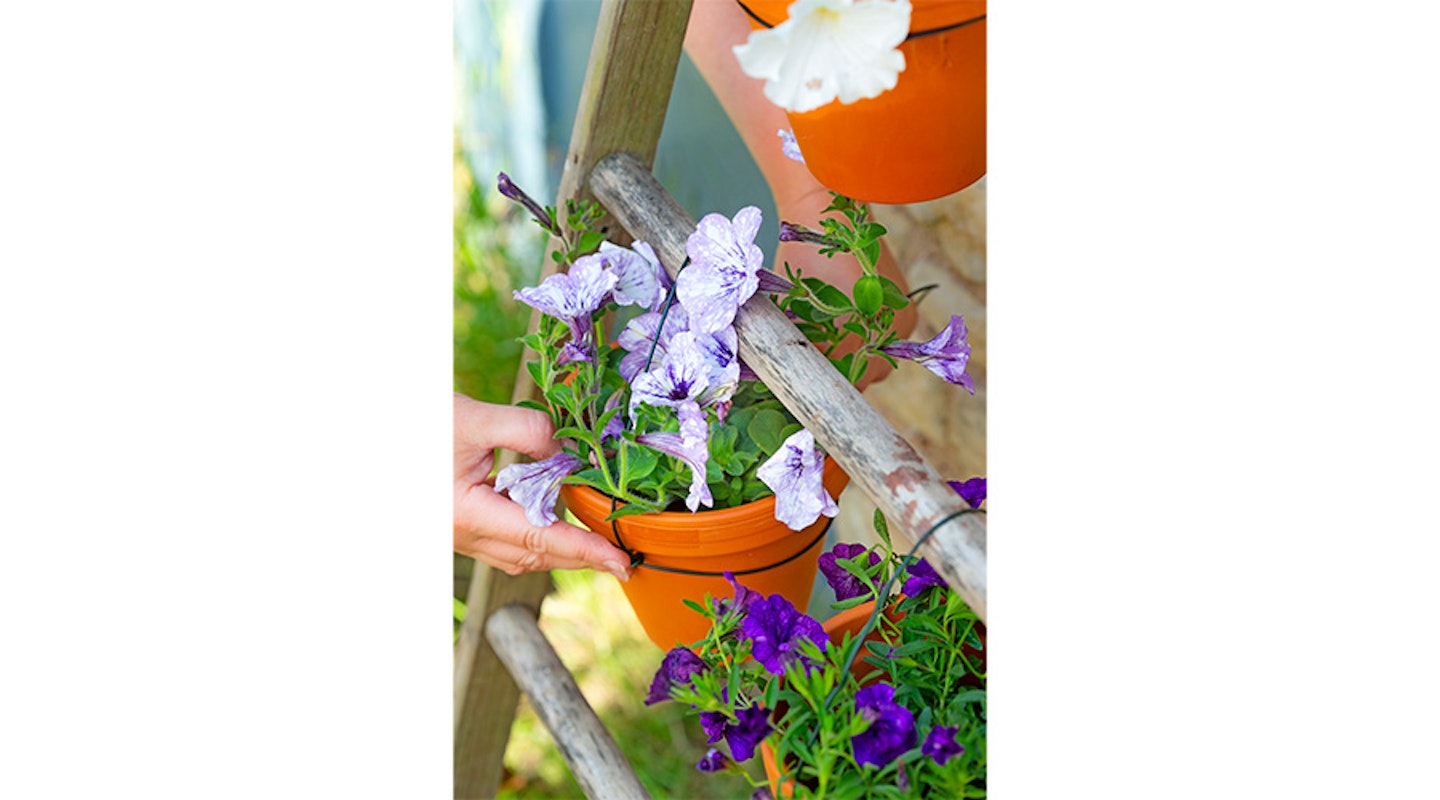 Photos: Neil Hepworth
5 Water each pot to settle in the plants and give them a drink daily while it's summer, especially in sunny weather.
MODERN GARDENS TIP

If you want your ladder to last for years outdoors, rub in teak oil all over using a soft rag
Share your fave garden DIY and upcycles with us...
…you can email us at moderngardens@bauermedia.co.uk and find us on Facebook Modern Gardens Magazine or Instagram @ModernGardens
What to read next
Description
Discover everything you need to know to make your outside space look fantastic, quickly and