Want to transform your overgrown garden into a flower-filled cottage garden? Let Karen Burgess' garden makeover inspire you, and steal some of her ideas too!
Karen Burgess credits her bountiful cottage garden with healing her from illness, consoling her in hard times and inspiring her floral art. "I'd die without this garden," she smiles. "I had cancer during the Covid pandemic, and that's when I truly learned the benefit of this wonderful outdoor space.
"Back then I was locked down completely on my own and hadn't picked up a paintbrush in 20 years. But looking at the beautiful dahlias one day, something made me dig out my watercolour set and paint them. I found I could still do it, and it was a revelation. Tending to the garden and losing myself in my flower art took me away from the horrors of that time in my life. It really is my special healing place."
Flower painting
It's fair to say that Karen's come a long way since then. Having overcome her illness, she's launched a thriving career as a watercolourist and textile artist, working and teaching in her Dartmoor garden-side studio. And central to that career change is the lush rambling country garden she shares with her five cats and thriving wildlife. From intricate petal appliqué bags and edible flower biscuits to floral wreaths and framed pressed flowers, every one of Karen's creations has been directly inspired by her homegrown blooms.
She's even combined her two greatest loves – art and flowers – in her now-locally-famous annual open gardens, where she opens the door to her studio to sell her art, and the gate to her garden to showcase her horticulture. Not to mention the regular workshops she runs teaching budding artists her watercolour skills using hand-picked blooms.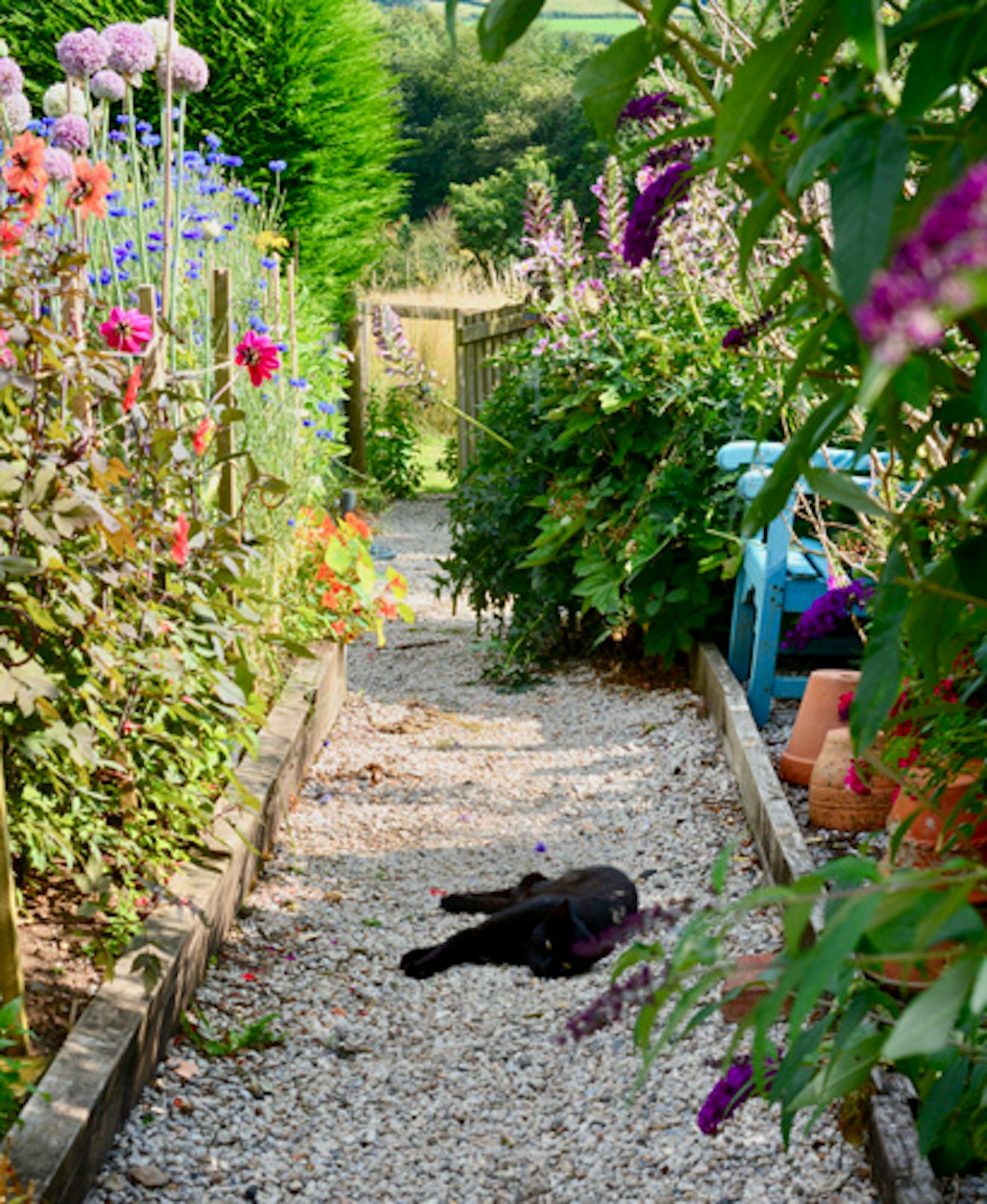 A blissfully content Bertie the cat rolling around in the sunshine in the kitchen garden.
Karen's cottage garden makeover plan
Location Dartmoor
The look Cottage-garden plus!
Site Size 1 acre Faces North east Soil Thin, acid-to-neutral, built up in raised beds and enriched with compost
My budget
Raised beds £3,000
Shack £3,000
Plants £1,500
Total: £7,500
How long it took
Continuous improvements over 40 years
How do I make my garden look like a cottage garden?
It doesn't happen overnight that's for sure! All this has been 40 years in the making and a labour of love for Karen, who moved to a completely different space with her then-husband (now ex) back in the 1980s. "The garden was completely overgrown," she recalls. "Hundreds of old bottles and tins were buried there, and there was so much overgrowth I could hardly make out the borders. Despite all that, I totally fell in love with it! I knew exactly what it could become one day."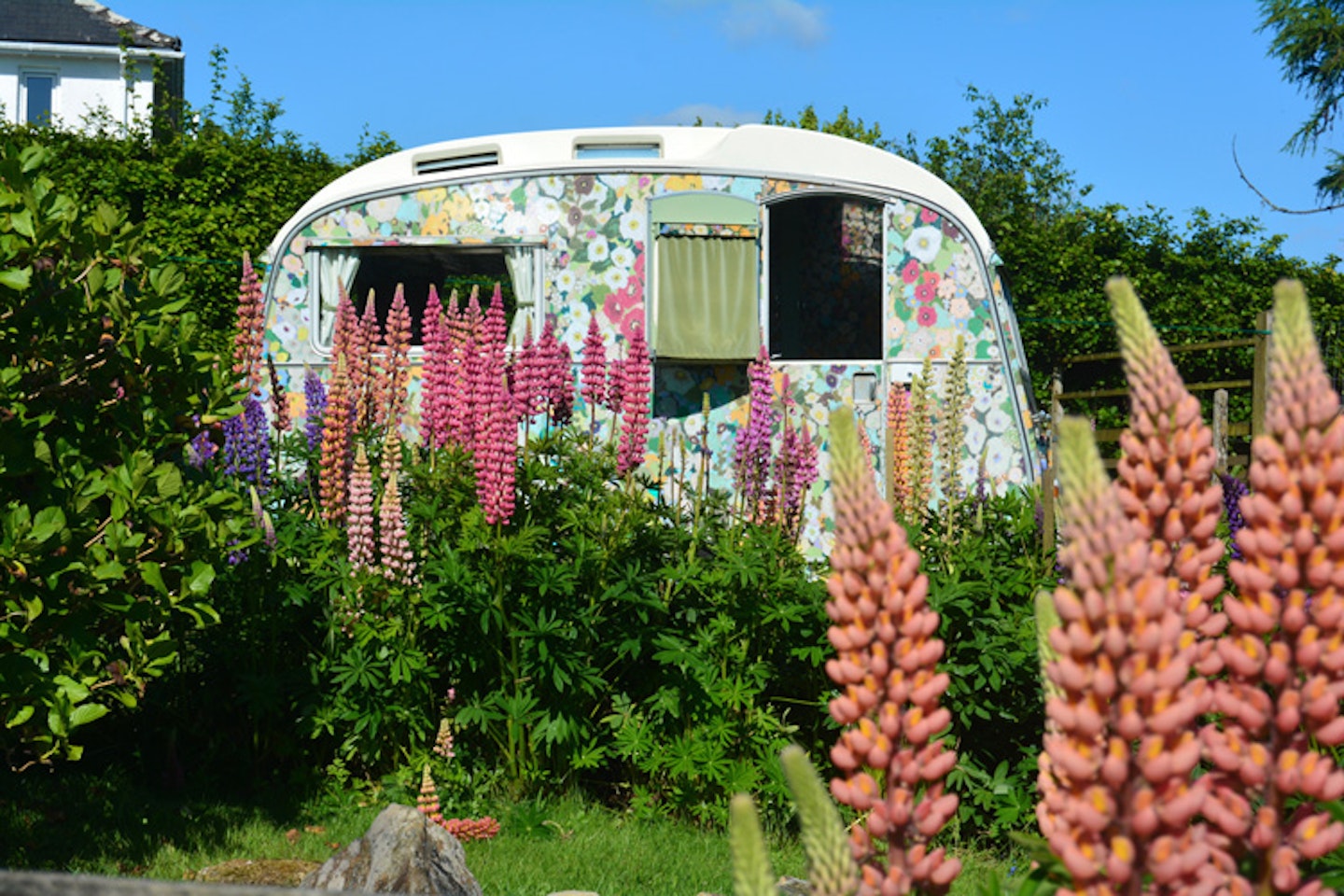 Be still our flower-loving hearts! The 1972 Carlight Casalette caravan has been wrapped in House of Hackney's iconic Hollyhocks design.
Back then, Karen's garden space comprised just a quarter of the approximate acre she owns today before she bought adjoining land. Now, numerous interconnected zones make up the rambling plot, including a cottage garden facing Karen's studio, kitchen garden to the right, as well as a meadow garden at the end.
How do I set up a cottage garden on a budget?
Working with a tight budget in such a vast space, Karen got creative when it came to garden materials. "I started off making raised beds with hay bales but, unsurprisingly, they fell apart before long! I now use lightweight concrete blocks which are really cost-effective at just £2 each. And I bulk-buy rebar and metal mesh for structural support for the plants. It's cheap and acts as effective screening."
Quirky structures include a vintage shack constructed from salvaged fretwork panels and corrugated iron, a floral-wrapped caravan and a shabby-chic summerhouse. And beyond the beautifully evolved layout and spectacular blooms is a borrowed view of moors and paddocks that provide the perfect backdrop for inspired painting sessions.
Getting to this point has involved more overgrowth cutting than Karen cares to remember, and many hours spent lovingly nurturing her beloved blooms from seed.
Which cottage garden plants?
"I adore old-fashioned flowers and that pretty cottagey look," she says. "I'm not particularly knowledgeable but I'm willing to have a go! My favourites are anything fragrant and colourful, including sweet peas, Michaelmas daisies which are bulletproof in the hot months, equally hardy chrysanthemums, plus dahlias and lupins."
With increasing success growing flowers from seed in the greenhouse in her original plot, Karen expanded the space to include the adjoining kitchen garden. Back then, she owned a thriving gastro pub and ambitiously planned to grow salad crops for the kitchen. "I don't know how I did it all, but I did!" she smiles.
"The act of growing and serving food for the diners was joyous. I dug the raised beds deep enough to nurture lots of crops including all kinds of salad, baby beetroot, squash and cauliflower."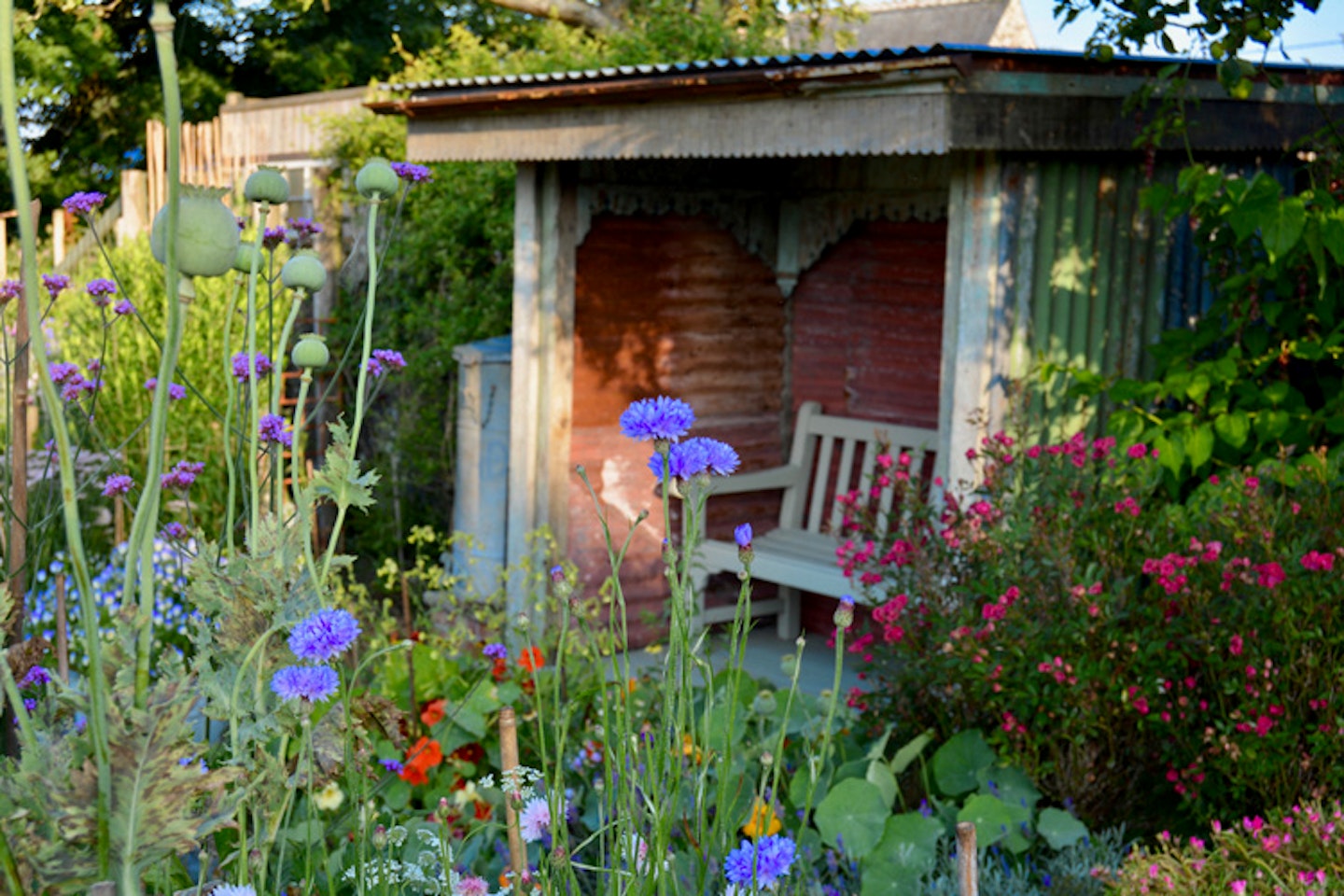 Many a mellow moment is enjoyed in the shack in the meadow garden.
What animals might I see in my cottage garden?
Karen's favourite zone of them all is what she calls the meadow garden at the end of the plot, a spot sheltered enough from the moor winds to act as a suntrap. Here, she enjoys sitting in her garden shack, taking in views of the rolling fields beyond. "I get to see incredible wildlife from that vantage point," she says.
"We have bats, buzzards, hedgehogs, bees and rabbits, and I encourage insects in my bug hotel. The other day I spotted what I thought was a fluffy kitten beneath the hedge and, amazingly, it turned out to be a polecat!"
How do you paint flowers easy?
She's often to be found painting stunning watercolours for greetings cards and wall prints, all created without any initial sketching. "I never draw first, just load the paper with water and drop colour in," she says. "With a bit of swirling with the paintbrush, the flower starts to take shape. I love recreating all my flowers but my favourites to paint have to be my dahlias. It's so rewarding getting people into the studio and showing them how to paint them too."
When it comes to other floral creations, it's not hard to see the influences of Karen's previous career as a pastry chef with delicate and delicious-looking flower biscuits. And then there are intricate air-dried clay flowers and Easter eggs painted with floral designs. "I'm always creating!" she smiles.
"I have a new project on the go, recreating the painted flowers on vintage cigarette cards, and I'm planning to start painting miniature floral still-life scenes.
"None of this would have been possible without my wonderful garden and flowers, which have saved my life these past few years. I've put my heart and soul into this garden, and it's repaid me with all these opportunities to lose myself in my art. This really is my special place."
Karen's top tips for cottage garden creativity
- Leave seedheads to self-seed and let Mother Nature help design your plot!
- Take sandpaper to painted wood to create a vintage-look finish.
- Add flower power with floral cushions.
What can I create with homegrown flowers?
- Flower pressing is so easy and cheap. Pansies and violas press well between the pages of an old book, weighted down with more heavy books, then stuck onto card with PVA glue.
- Grow a few strawflowers (Helichrysum) to dry and add to wreaths and garlands in your home.
- Make daisy cakes by topping individual cupcakes with icing and then placing petals from calen-dula or daisies to make the shape of a flower.
- To make edible flower cookies, use a shortbread recipe and roll blooms into the dough with a rolling pin. Always place the tray of cookies in the freezer before baking – this helps to protect the delicate petals and prevents them from burning in the oven.
- Have a go at painting flowers, starting with ones with simple shapes. Concentrate on the over-all shape first and then tackle one petal at a time.
The abundant blooms growing in this vibrant garden inspire a multitude of oh-so-creative projects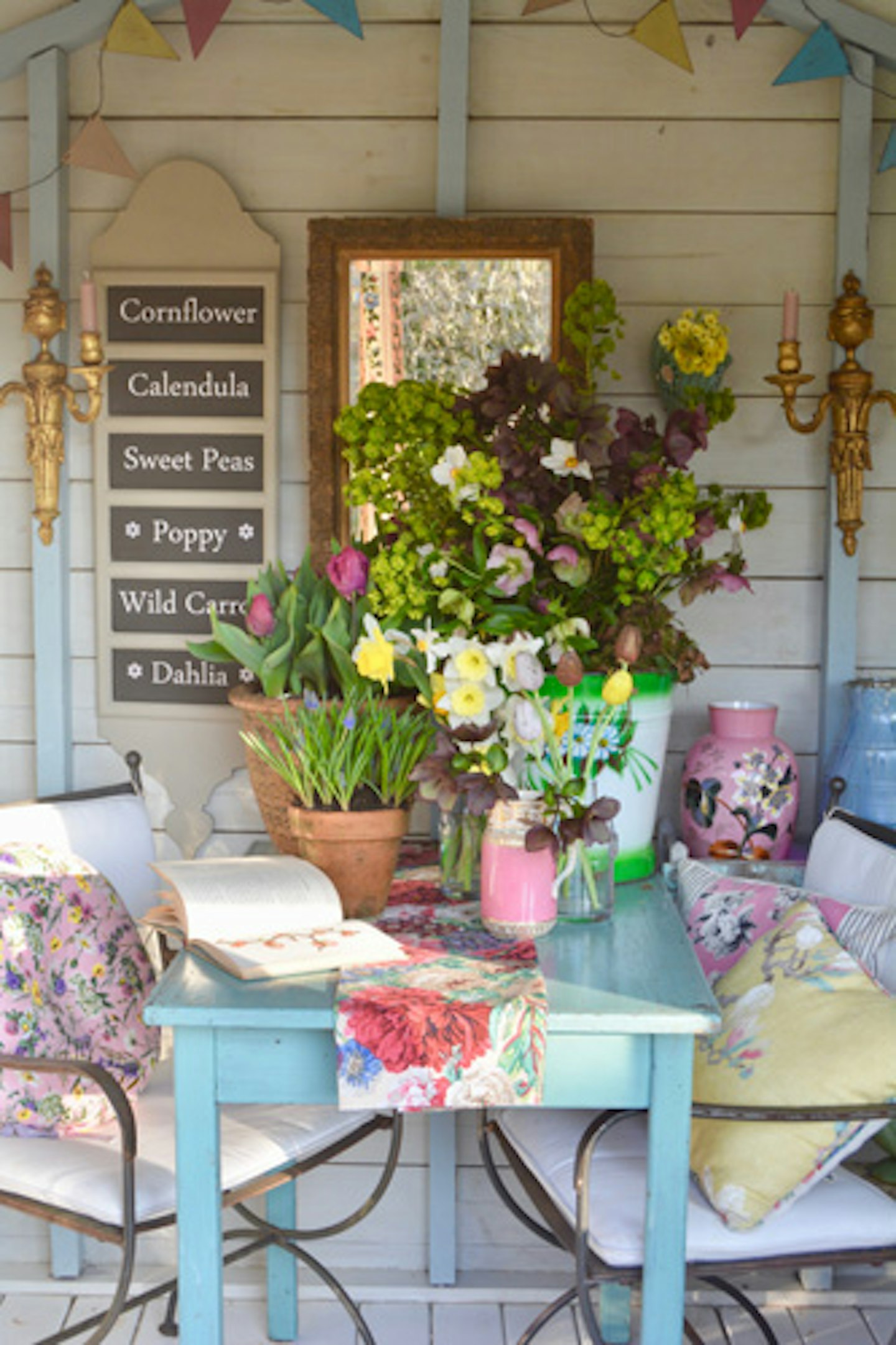 1 of 10
Candy colours sing out from the summerhouse.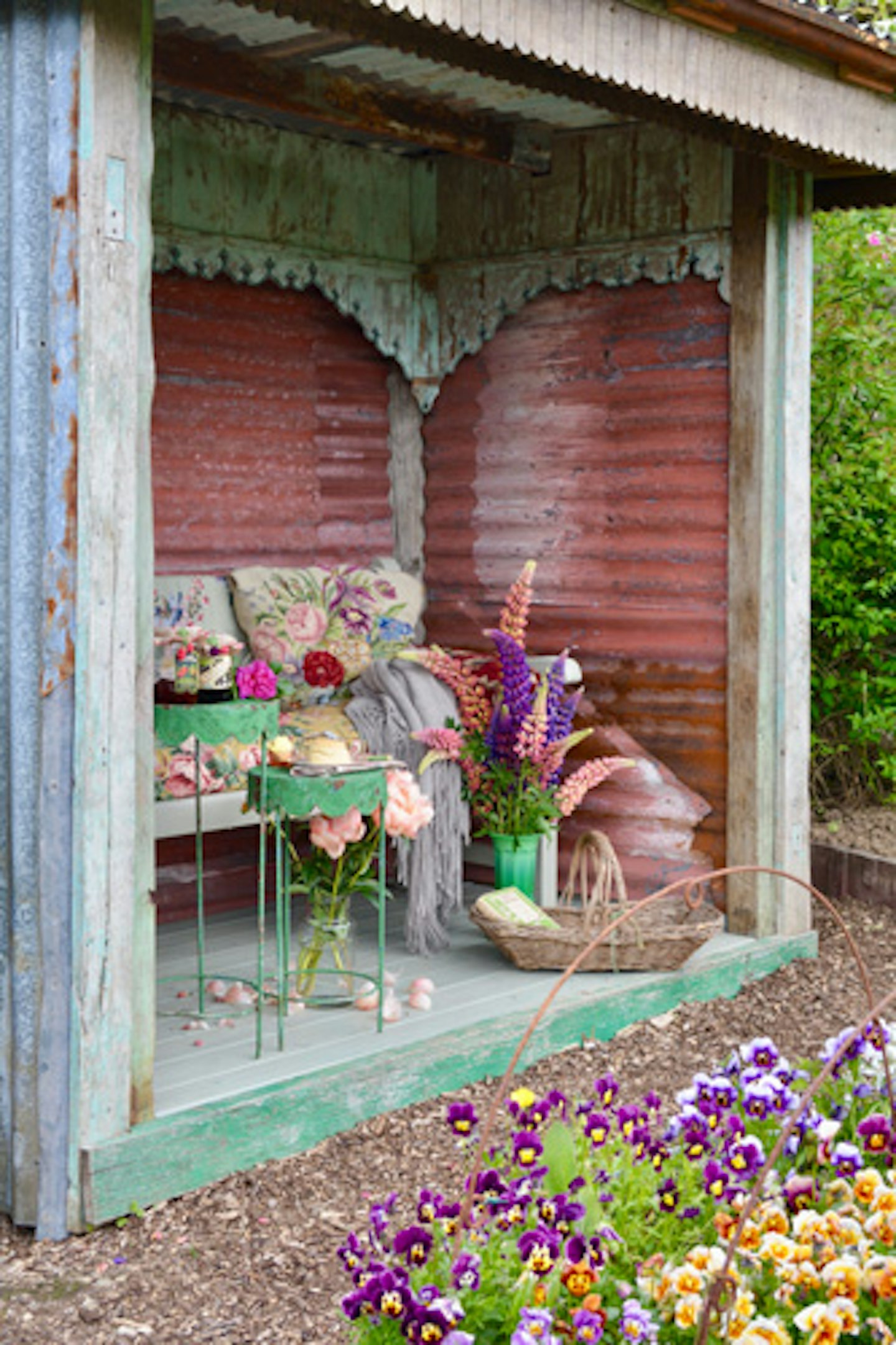 2 of 10
A calm cocoon with corrugated metal salvaged from an Indonesian house.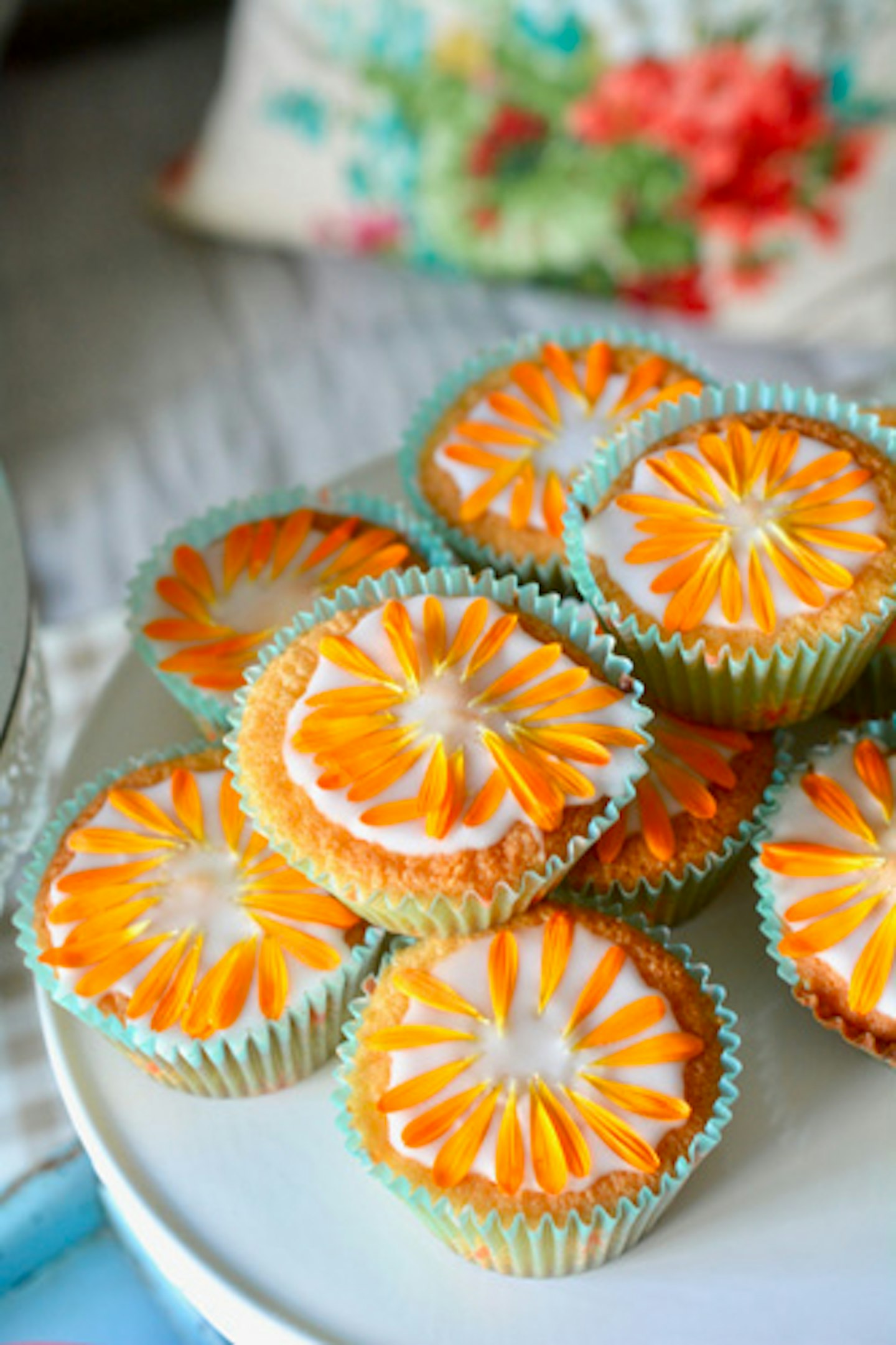 3 of 10
Too pretty to eat? Almost! These calendula petal-topped sponge cakes are irresistible.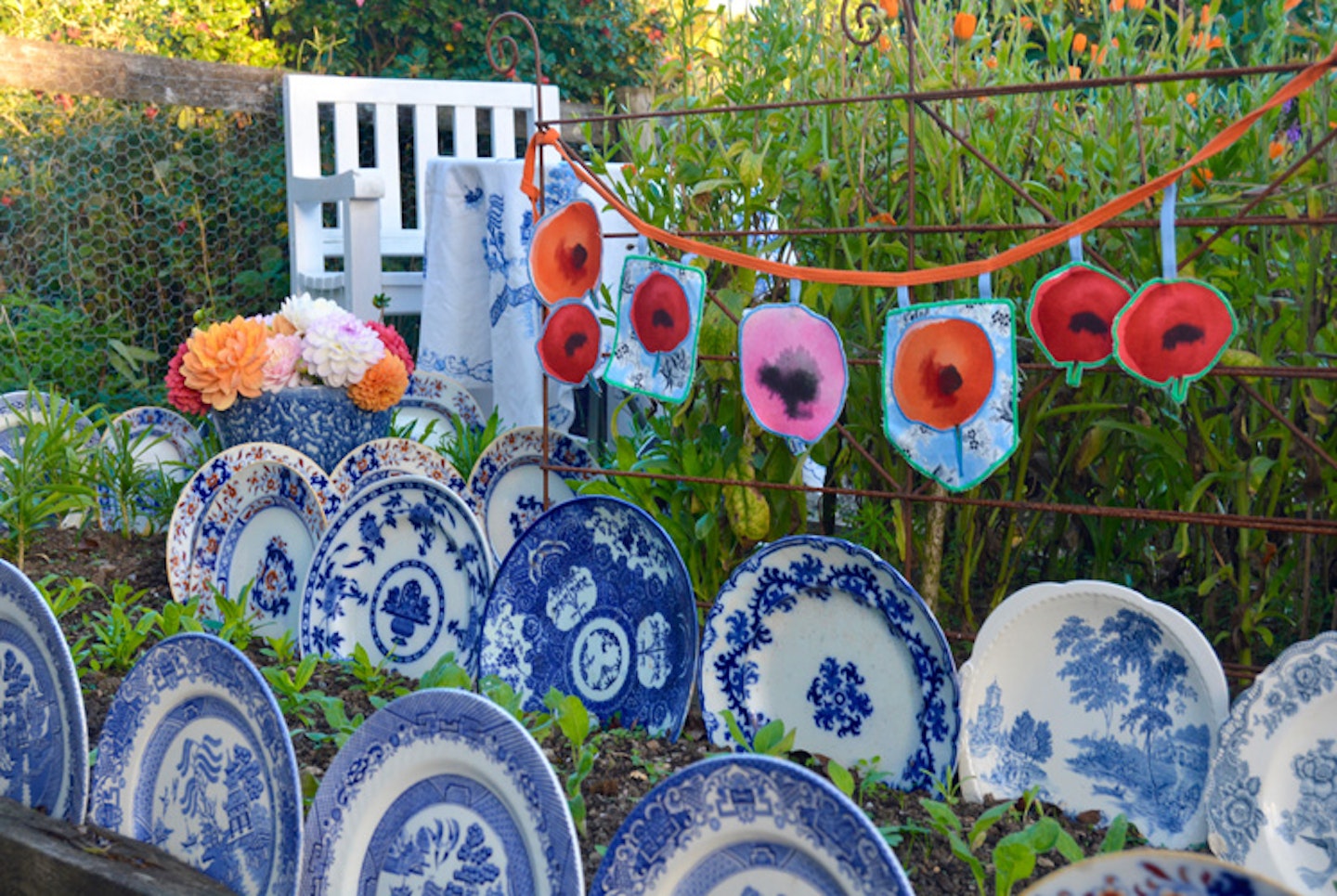 4 of 10
China plates and poppy bunting give this garden the edge!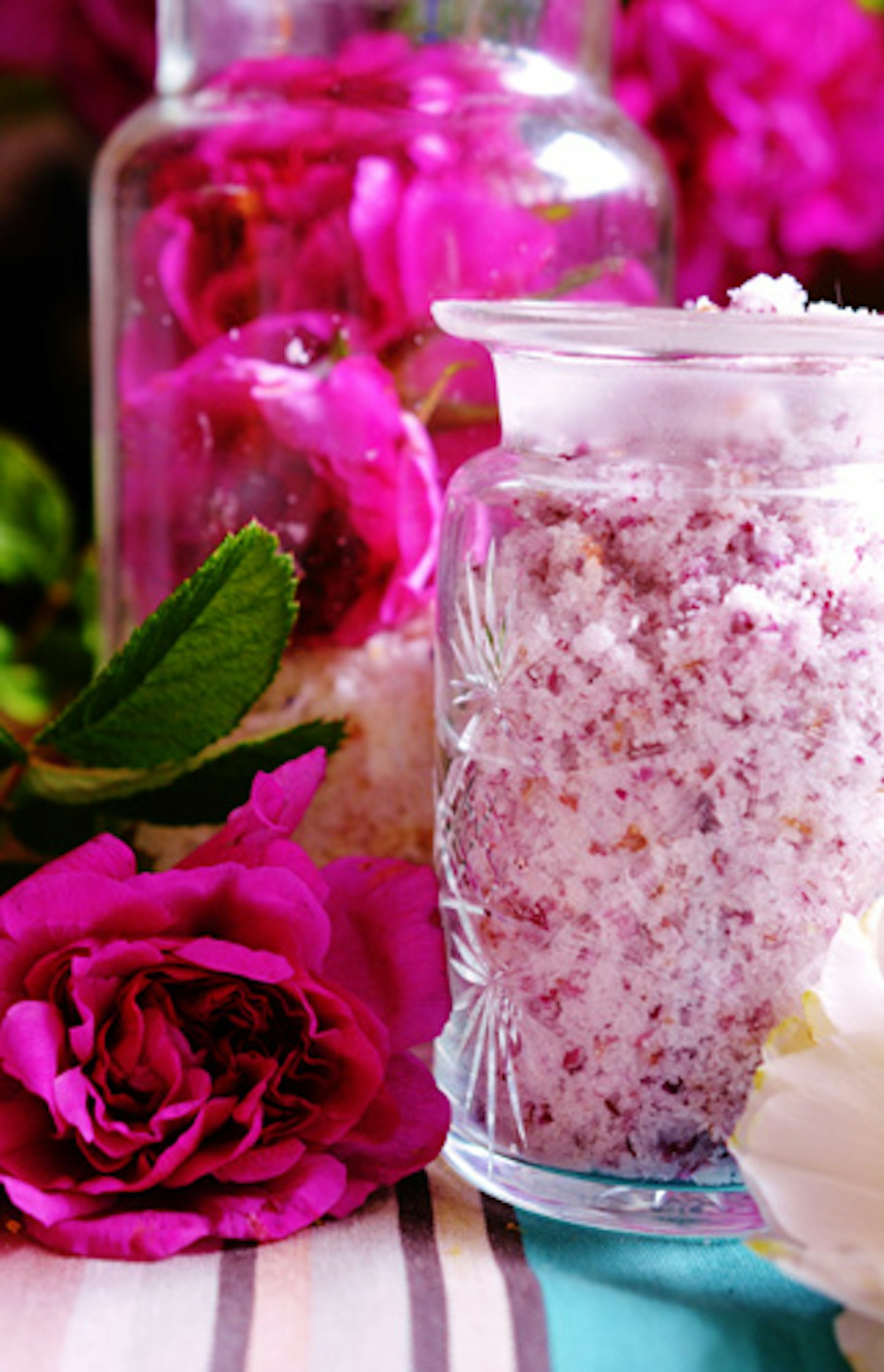 5 of 10
Joy in a jar… homemade rose-petal sugar for fragrant bakes.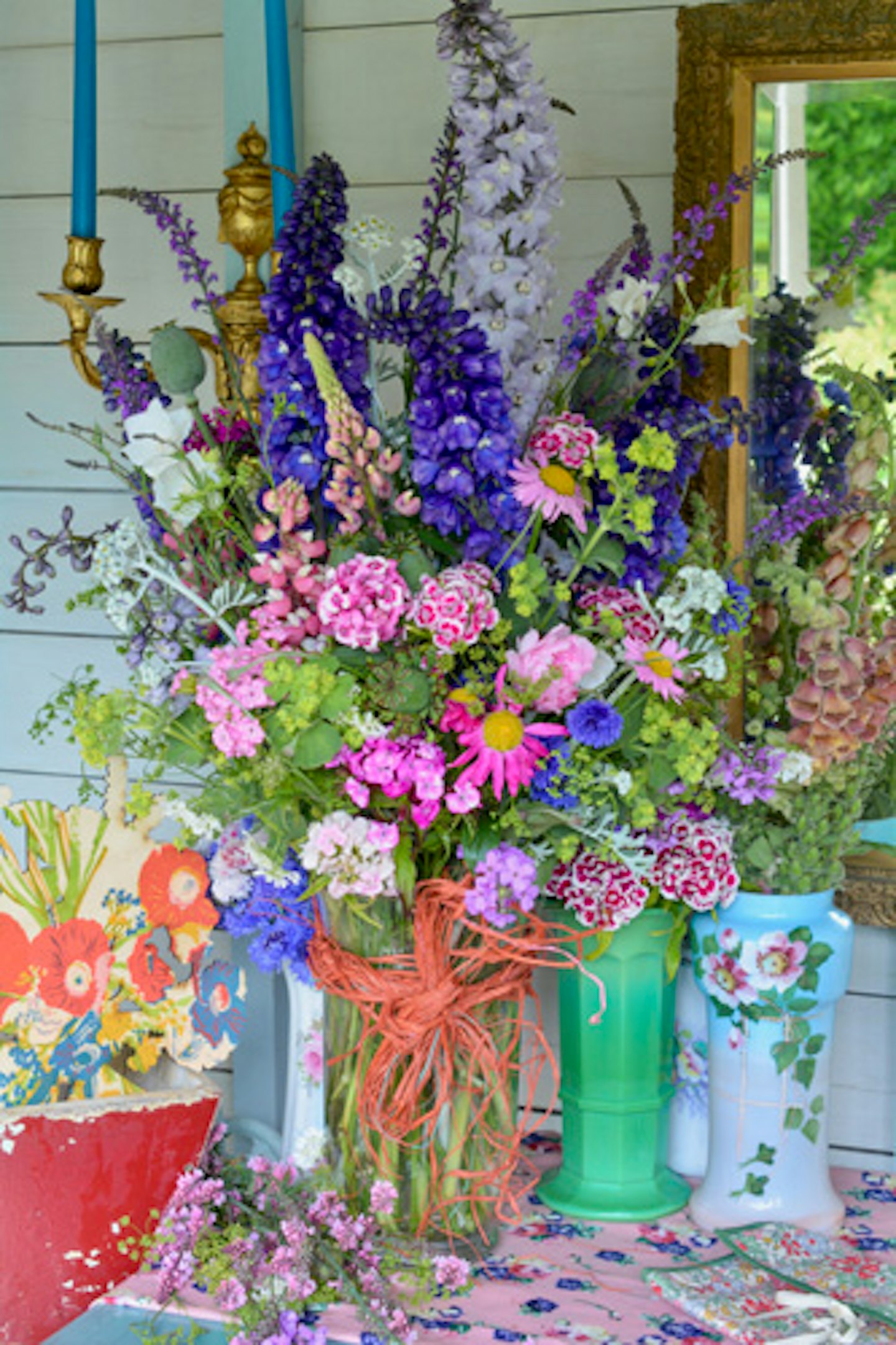 6 of 10
Fresh bouquets handpicked from the cottage garden + vintage vases = a match made in heaven.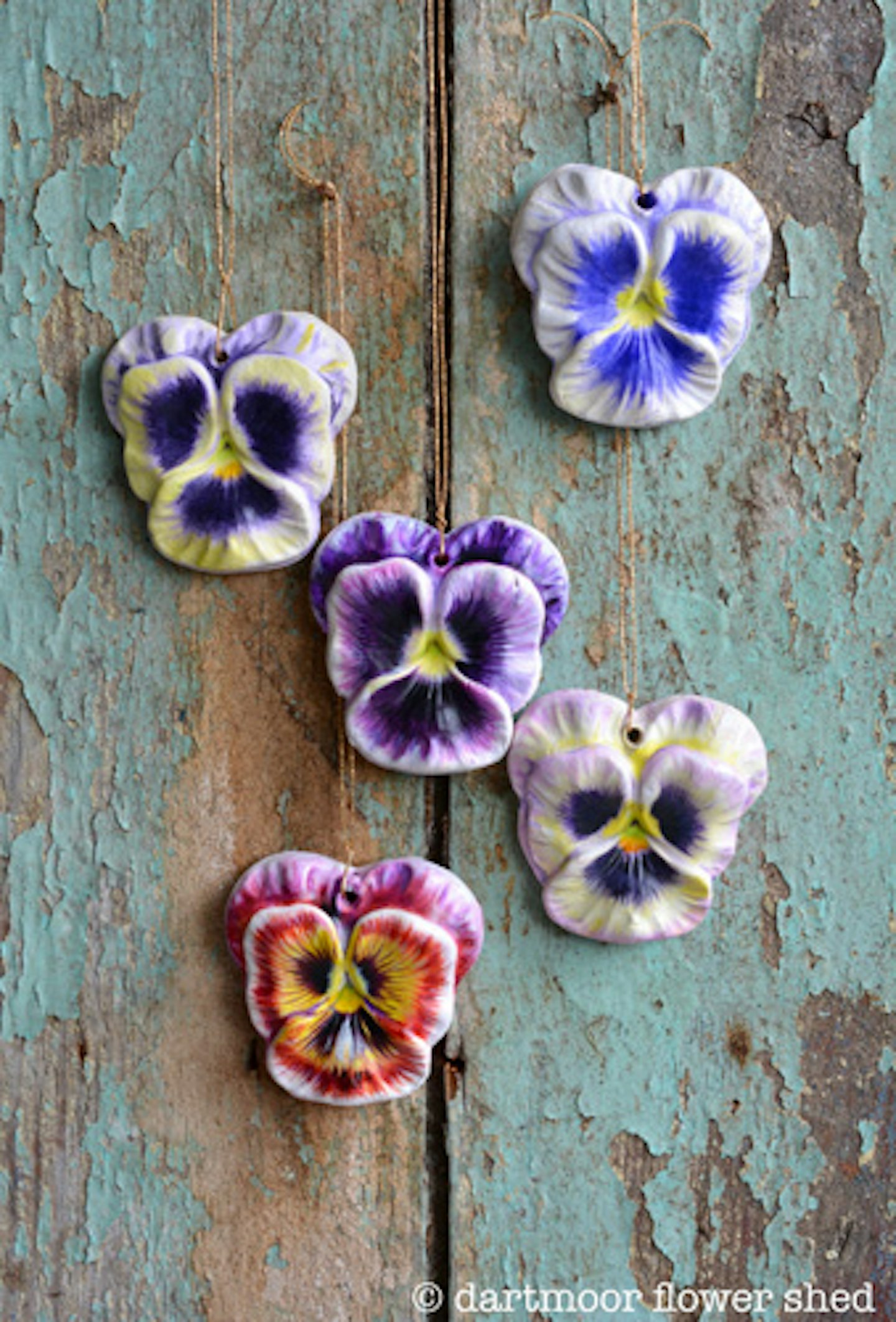 7 of 10
Hand-painted pansies made with air-dried clay.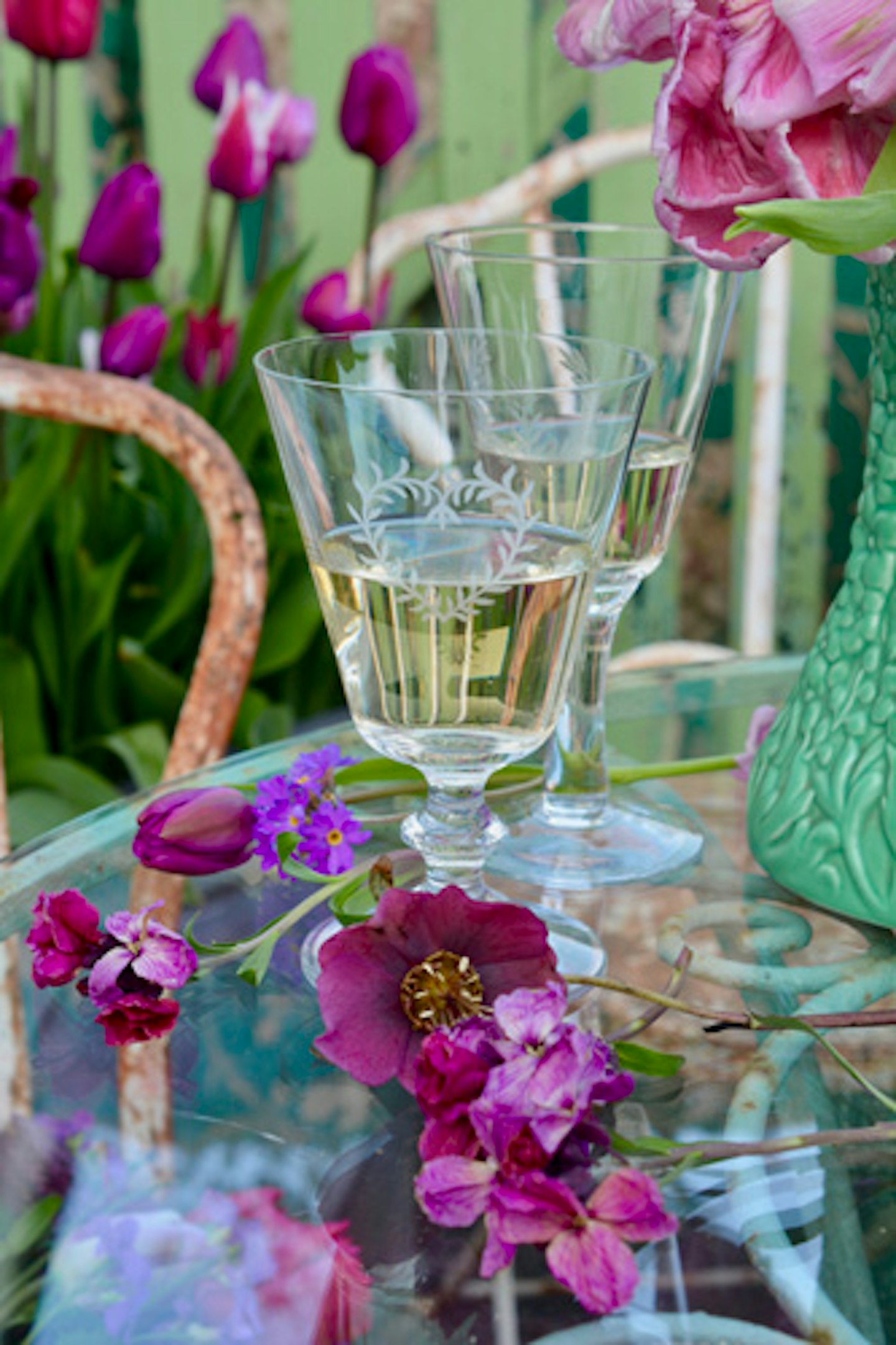 8 of 10
Fine wining among the tulips and hellebores.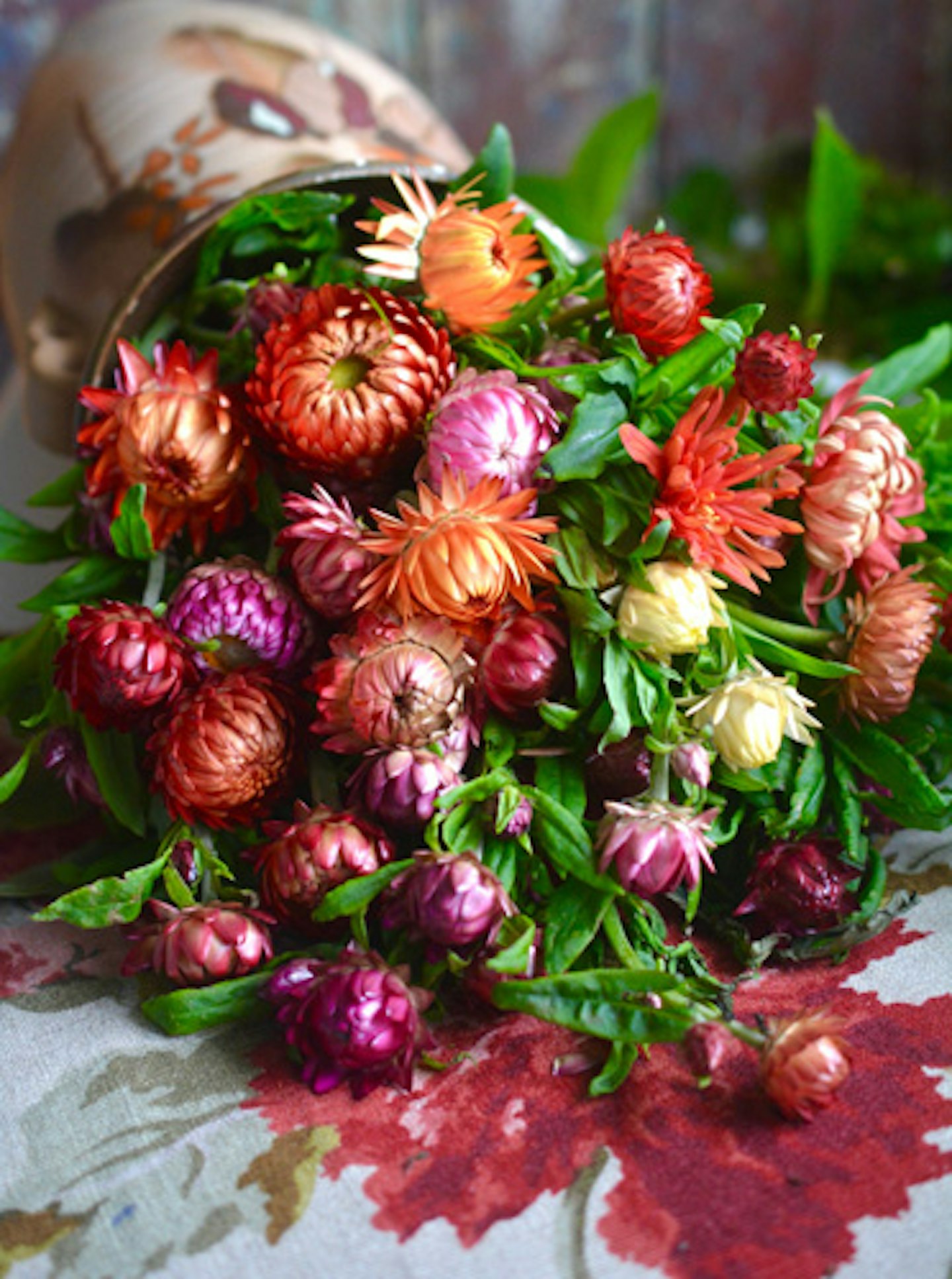 9 of 10
Everlasting strawflowers dried to perfection.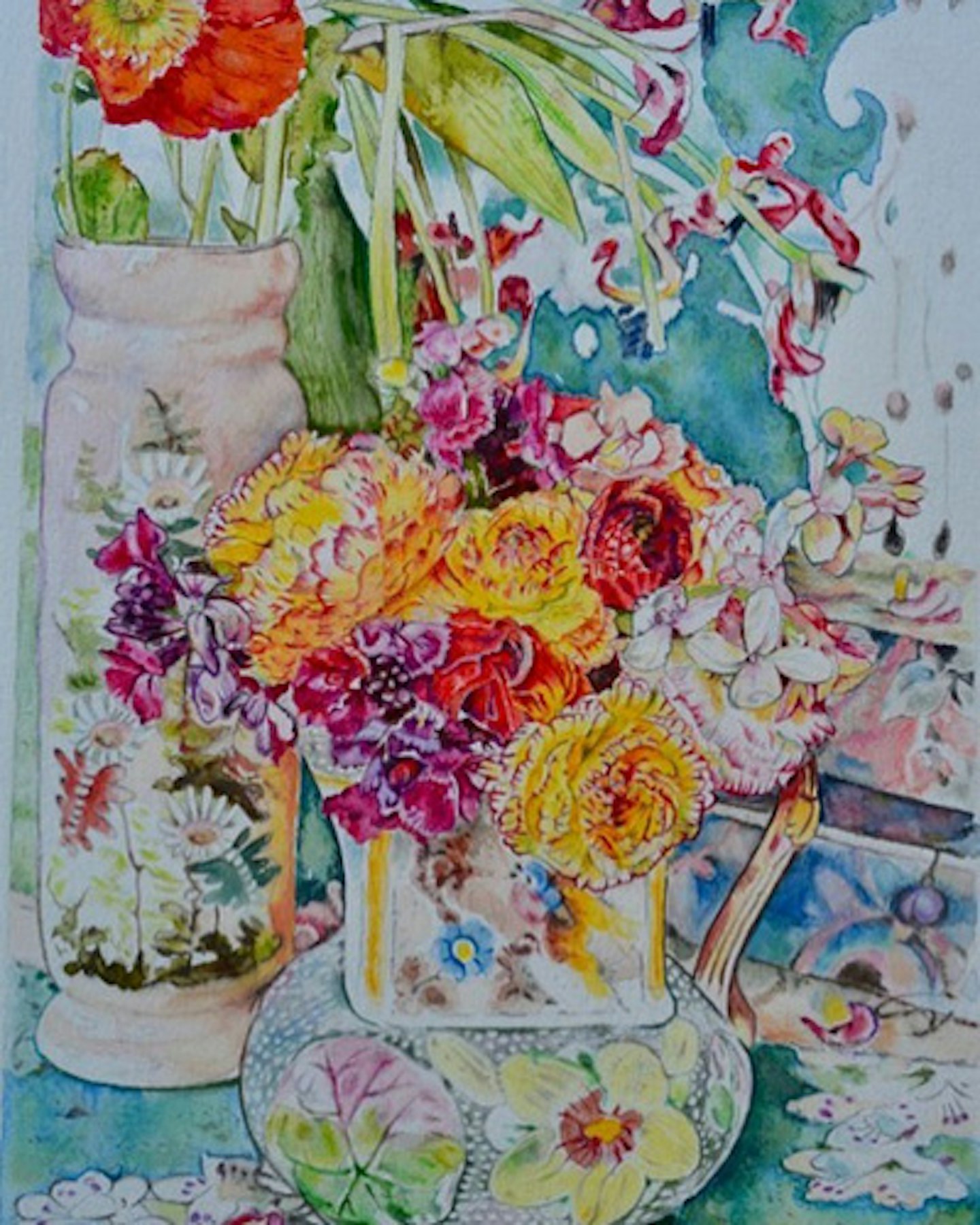 10 of 10
Wall-flowers and ranunculus in wow watercolours.
For more cottage garden loveliness, follow Karen @dartmoorflowershed
What to read next
Cottagecore garden ideas for a self-sufficient outdoor space
Discover everything you need to know to make your outside space look fantastic, quickly and easily, with hundreds of simple ideas, designer tricks, affordable products and expert advice with a Modern Gardens Subscription. Find out more about the benefits of being a Member now.