Charity shop shelves are always crowded with vintage china. Search for old teapots and turn them (literally!) into these brilliantly simple and quick plant holders. By hanging the teapots at an angle from their handles, the spouts instantly become drainage holes for excess water.
Teapots aren't designed to withstand the frosty and windy conditions of winter so, in October, you'll need to take your display down till next summer. We've planted three of our pots with hardy succulents – houseleeks (sempervivums) and sedums are ideal as they'll slowly creep over the edges in a pretty mound. In winter these will be kept out of the rain in a sheltered spot such as an unheated porch or shed with a window, where they won't need much water, just enough to keep the compost damp. We filled the fourth teapot with pretty pansies – if you're using a similar seasonal bedding plant, slot the pot into the teapot and, at the end of the summer, bin the plant.
You will need:
- Drill
- Rawlplugs and screws or hooks
- Teapots
- 60cm-length thick, strong cord, for each teapot
- Compost
- Plants
What to do:
1 Decide on the location for your teapots, somewhere sheltered from strong winds. Drill holes in the wall, push in Rawlplugs and screw in screws or hooks. If using screws, leave at least 1cm sticking out proud from the wall.
2 Loop a length of cord through each teapot handle and tie with a firm knot.
3 Half-fill each teapot with compost, add the plants, then top with compost. The opening at the top of the pot, where the lid would go, is perfect for giving plants enough support to stay put even when turned at a vertical angle.
4 Hang up the teapot planters. Water weekly, or every other day if using a small bedding plant.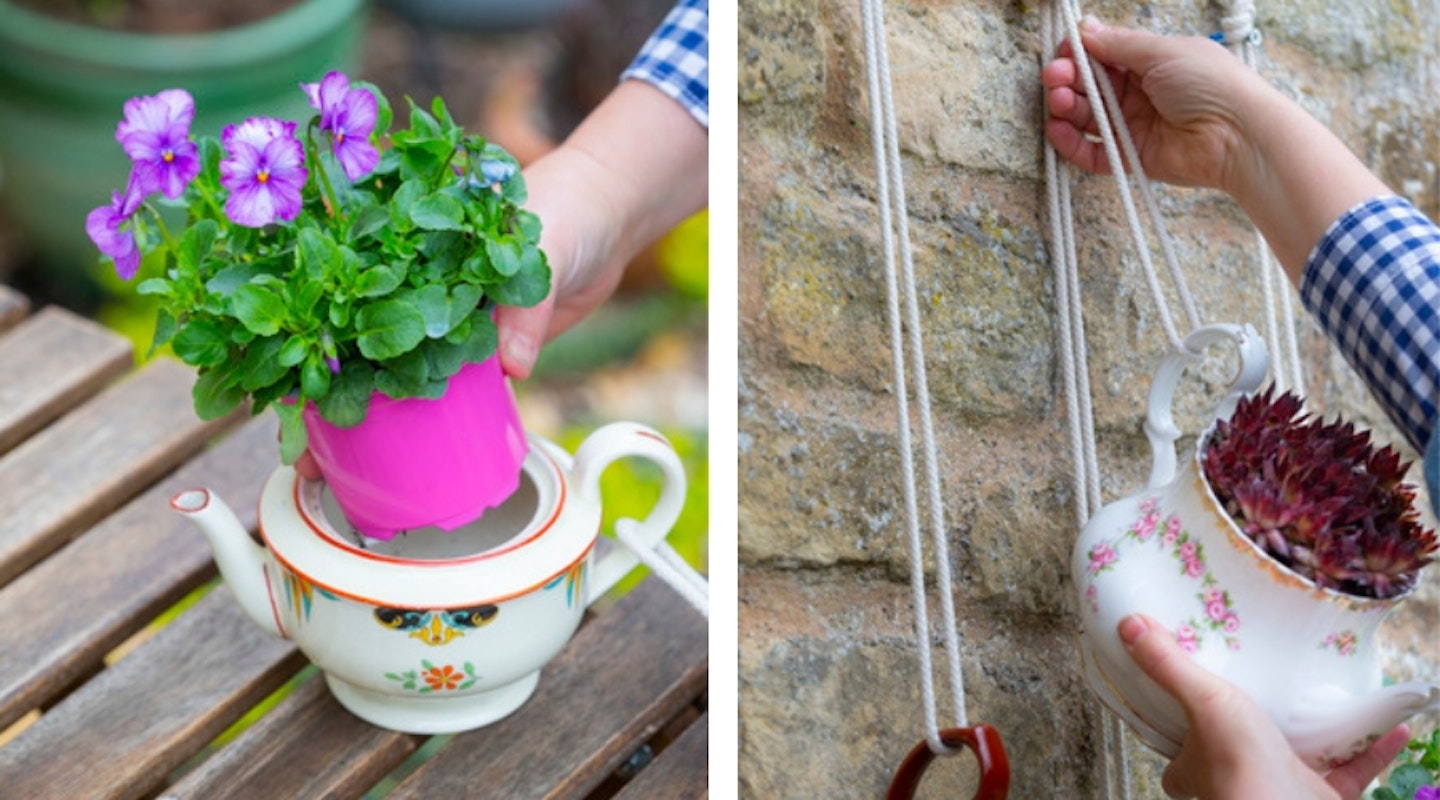 Our budget:
- Teapots, from £3 each charity shops
- 3m waterproof rope, 39p/m buyrope.co.uk
- Compost: Westland Cacti & Succulent Potting Mix, £5.50/4L; John Innes No.3, £5/10L both diy.com
- Plants: Pansy 'Lavender Shades', 90p local nursery; Sedum acre x2, £3 each and Sempervivum 'Bronco', £3 simplysucculents.co.uk
Total: £33.57
TIP

Wider teapots are best for this project as they sit against the wall more securely
Share your upcycles with us
You can email us at moderngardens@bauermedia.co.uk and find us on Facebook Modern Gardens Magazine or Instagram @ModernGardens
What to read next
Description
Discover everything you need to know to make your outside space look fantastic, quickly and