Soothing on the eyes and ears, the best garden water features are an unbeatable garden accessory. Nothing beats the gentle sound of a babbling brook. Simply pop in position, fill up and plug it in, then sit back, admire and relax. The sight and sound of moving water are enchanting. Not only that, but a water feature can be de-stressing because it can mask the sound of passing traffic or noisy neighbours. Blissful.
Black Friday deals on water features
We interrupt the regularly scheduled content to let you know that although Black Friday is over, there are still plenty of discounts to take advantage of throughout the Cyber weekend, including a whole host of Black Friday deals on garden water features. Want to grab a bargain? These are the best deals still available or keep scrolling to continue reading our buyer's guide.
Shop Black Friday garden decor: Amazon | Argos | B&Q | Homebase | Very | Debenhams | Robert Dyas
78% off: Faux Rock Garden Water Fountain with Lights WAS £316.99, NOW £70
25% off: Wooden Effect Plastic Barrel Water Feature, WAS £39.99, NOW £29.99
35% off: Seman Water Feature with Light, WAS £519.99, NOW £429.99
Save £20: Teamson Home 2 Tier Basin Water Fountain, WAS £199.99, NOW £130.99
Save £80: Solis Large Water Feature with Light in Charcoal & Aged Copper, WAS £399.99, NOW £319.99
If you're new to the world of garden water features or unsure about which type to choose, our garden water bowl buying guide is here to help. It offers insights into the different types, materials, and designs available, ensuring you make an informed decision that complements your garden's aesthetics. For those on a budget, there are plenty of affordable water feature options that don't compromise on style or quality.
Coming in all shapes, sizes, and finishes, there's a design certain to fit your garden style and budget. With plenty of models in modern materials from cement and slate water features to galvanised steel, it'll look good too. From water fountains to sphere water features, there is something for everyone.
Here, at Modern Gardens, we've rounded up the best garden water features for your outdoor sanctuary. So, without further ado, let's take a look at the best garden water features.
Best garden water features at a glance
• Best water feature with metalwork: Grand Zinc Flower Mains Powered Water Feature – View on Crocus
• Best Zen garden water feature: Light Up Buddha Water Feature – View on Wayfair
• Best small and stylish water feature: Lights4fun Stone Sphere Water Feature – View on Amazon UK
Best garden water feature in the UK
Best water feature with metalwork
Description
This beautifully crafted cascade is simply mesmerising. This Grand Zinc Flower Water Feature has a
Pros
Self-contained pump: needs no mains wiring or plumbing in,
Plug in and go
Delicate metal flower
Best Zen garden water feature
Description
Nestled against a wall or as an end-of-path focal point, this sculpted Buddha radiates peace and
Pros
Ideal for small gardens
Sculpted Buddha design for tranquil feel
Features a steady curtain of water lit from below by LEDs.
Cons
Specific placement might be required (against a wall or end-of-path focal point)
Best slate feature
Description
This tranquil natural stone water feature from The Range is self-contained water feature that
Pros
Integrated LED Lighting
Made from natural stone
Best sphere water feature
Best small and stylish water feature
Description
Made from durable material, this stone-like centrepiece from Lights4fun will make a gorgeous
Pros
Can be displayed outdoors all year round
Made from durable material with a stone-like appearance.
Water flows from the top of the fountain into its own basin.
Cons
Reviews say the pump doesn't send water up very high
Best waterfall feature
Best cascading water feature
Description
Standing at 82cm tall, this sweeping design from Crocus makes a striking feature wherever you
Pros
Low maintenance
Plug in and go
A striking design that stands at 82cm tall.
Cons
If you live in a hard water area, fill the feature with rainwater or previously boiled water to protect material
Best planter water feature
Description
This cascading blade and planter is crafted from grade 304 stainless steel - a feature that is
Pros
A planter as well as a water feature
Crafted from grade 304 stainless steel, it ensures durability.
The cascading blade and planter design add a contemporary feel to gardens.
Cons
May be too contemporary for some gardens
Best solar-powered water feature
Description
Tiered geometric shapes and a pitted stone effect finish give this tumbling feature plenty of
Pros
Solar-powered
Features tiered geometric shapes with a pitted stone effect finish.
Solar-powered and recirculating design.
Cons
Not suitable for winter use
Best decorative water feature
Description
The Teamson Home Basin Water Fountain features two tiers and a classic geometric design with
Pros
No mains water connection required
Natural effect
Features two tiers and a classic geometric design.
Cons
A review says parts of the coating was very thin
FAQs
What does a water feature require to work?
Most water features work the same way, no matter the material they're made from. If the feature has moving water, unless it's solar-powered, you will probably need an electricity supply to drive the pump.
As for the water, the constant supply should come from a reservoir; the same water is used over and over. So, for this reason, most features do not require a constant water supply. Most features are self-contained, so they just need topping up occasionally.
What is a flow rate?
Before you shop, decide whether you want a noise-masking gush or a quietly soothing trickle. Taller features with multiple levels are always going to be louder than a low bubbling pool, so it's worth investing in a taller feature if you want to detract from noisy surroundings.
By looking at the water flow rate of a garden water feature, you will find out just how much water is pushed through it. Plus, you'll know how much noise it will make.
Luckily, water features typically come with a pump that is appropriate for the size and volume of their design. Usually measured in gallons per minute (GPM), this measurement defines the rate at which the pump can push water through the system; the higher the rate, the noisier it will be.
Where do I put my outdoor water feature?
First and foremost, position your water feature where it can be appreciated most and don't be afraid to move it depending on the season or how you wish to use your garden.
As formats and designs, they vary: from back-to-wall features to tall and stately spirals or curvy bowl and sphere pairings that go centre-stage on the patio. If a room is tight, there are multitasking designs with planting pockets that'll fit into the smallest of outside spaces.
A water feature is a great way to introduce light and movement (to an otherwise dull area) to create a focal point to tempt you into an underused section. When you're deciding on its position, consider how you could tailor the surrounding areas to enhance it.
For example, you could paint the wall behind a tall and airy cascade a dark shade. Why? Well, it would showcase the water flow and make It stand out. Perhaps, you could nestle a bubbling, stone basin into a dry, river of pebbles - and use grass to decorate.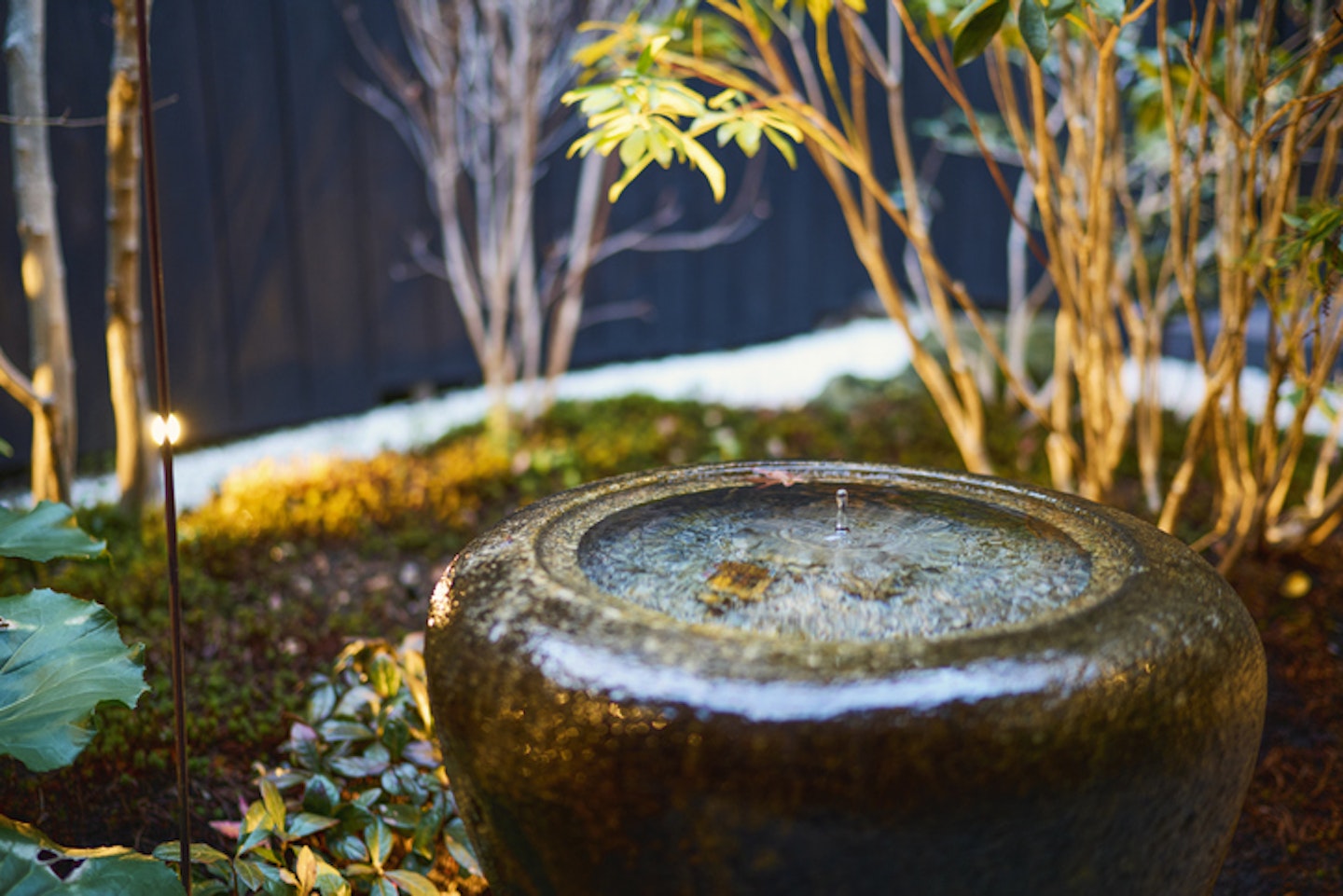 What do I need to be aware of when fitting my water feature?
Honestly, the beauty of these products is that they are portable, need minimal setup and have very few components that can go wrong.
Many are mains powered and need to be plugged into an outdoor socket – installing one is a job for your local electrician, and you can expect to pay around £150 to have an IP66 rated outdoor socket with a residual current device (RCD) fitted.
But then all you need to do is plug it in and add water!
There are also solar-powered designs on the market, many featuring an internal battery that can store excess energy to power the pump during cloudy weather or dark evenings. Cable lengths vary with mains-powered products usually around 10m long and solar versions having a total cable reach of around 7m.
What maintenance does my outdoors water feature need?
With so few components, self-contained water features are pretty reliable but a few tricks will ensure they perform well for longer.
Water will evaporate, and surprisingly quickly during hot, dry weather, so keep an eye on water levels and top up when needed. This will ensure the pump doesn't overwork, shortening its active life.
Cold weather can also take its toll as, when temperatures drop, water can freeze and expand increasing the chance of pipes cracking and reservoirs fracturing. Moving the water feature closer to the house or into a more sheltered position can help, but if your garden is very exposed, consider fully draining the feature until warmer weather returns.
Keeping the water circulating as much as possible is the best way to prevent a build-up of algae. If it's still an issue then using a suitable water treatment at the recommended rate and timing will also help to keep it clear. We recommend this one from Blagdon:
Best cleaning product
Description
Feature Algae Control will reduce the occurrence of unsightly green water, slime and blanket weeds
Pros
Suitable for use in resin, stone, metal and concrete water features
Effective algae cleaning product
Cons
Do not use in water features that contain fish or are intended to attract wildlife
What to read next:
Description
Discover everything you need to know to make your outside space look fantastic, quickly and
Jill Morgan writes regularly for Modern Gardens, and loves everything to do with gardens, plants and outdoor living. Her long thin, town garden is the setting for many family and creative projects from bird feeding and veggie growing to den building and mini-pond dipping.