With their simple curves and mirror-perfect surface, garden water bowls are the garden water feature of choice this summer. These curving containers, filled to the brim with still water, have long been spotted in show gardens but it seems that our collective wish for calm amid the chaos means they're now quietly transforming our very own outside spaces. And we don't know why it's taken so long for us to cotton on to their loveliness!
These small water features can be installed in seconds, take up little space, are mesmerising and, because they mirror their surroundings, they fit in effortlessly with the style of any modern garden, big or small. These shallow, pared-back bowls can be used pretty much anywhere outside. Position one so it mirrors the blue sky and scudding clouds overhead or surrounds it with spilling stems for up-close reflections.
Black Friday deals on garden water bowls
We interrupt the regularly scheduled content to let you know that although Black Friday is over, there are still plenty of discounts to take advantage of throughout the Cyber weekend, including a whole host of Black Friday deals on garden water bowls. Want to grab a bargain? These are the best deals still available or keep scrolling to continue reading our buyer's guide.
Shop Black Friday garden water bowl deals on: Amazon UK | Etsy | Ebay | Wayfair
12% off: Latonia Natural Stone Fountain with LED Light WAS £414.49, NOW £364.99
14% off: Drome Resin Cascading Wall & Bowl Water Feature with Light WAS £227.99, NOW £194.99
Place one next to your favourite cocoon chair so you can absorb its calming charm whenever you have a cuppa outside – watching the reflections. Or position a serene pool of still water mid-border where garden birds will quickly make it a favourite drinking spot. A garden water bowl feature can also be useful for injecting light and life into dull and shaded areas, where the surface will bounce light around and illuminate foliage.
Even on an overcast day, grey skies and racing clouds will create a fascinating reflection and, when viewed by moonlight, the garden water bowl can take on a truly magical charm. Any watertight container can make a reflective feature when filled to the brim but on-trend designs are wide and low with gently curving sides. It's refreshing to see affordable water features. Available in different finishes, choosing a product is a matter of personal choice.
Garden water bowl features at a glance
• Best shallow steel water bowl: Reflective Water Pool in Corten Steel
• Best budget water bowl: Adezz Corten Steel Water Bowl
• Best powder-coated steel water bowl: Fountain Waterbowl Outdoor Coated Steel Bowl
• Best water bowls set: Set Of Two Old Copper Finish Geometric Bowls
Best garden water bowls
Corton steel garden water bowls
The hottest look right now though is Corten Steel. With its rusted look and industrial feel, it makes a bold statement that works beautifully alongside smooth, pale paving, gravel, and loose, airy planting (think grasses and tall meadow-style flowers).
Arriving with a dull, grey finish, the beauty of this material is that the surface weathers and changes over a period of four to nine months, developing a rich palette of red and brown tones peppered with unique marks and lines.
After this time, the metal will self-seal and preserve its textured surface without weakening the steel. Do be careful where you position a Corten steel bowl as it can stain pale and porous surfaces during the first nine months.
Best shallow steel water bowl
Description
Shallow in shape and made from 3mm thick steel, the Reflective Water Pool in Corten Steel has a
Pros
Made from thick steel that will last a lifetime
High-quality build
Cons
Expensive for large bowls
Best extra large steel water bowl
Description
This large Corten steel water bowl sits on a circular foot welded to the base to make it perfectly
Pros
Develops its own protective rust
Has a base that makes it even more sturdy
Best steel water bowl
Description
While some genuine Corten Steel water bowls are pricey, this Adezz version from River Hill Garden
Pros
Various sizes

Comes with a small hole in the base and a bung which allows you to install a small pump if you are looking to turn it into a water fountain.
Cons
Run-off can cause stain on other features
Best medium size steel water bowl
Description
Bring life to your flower bed by framing your water bowl naturally with floating water lettuce and
Pros
Different sizes available
Great for small spaces
Powder-coated steel garden water bowls
Powder-coated steel bowls are an eye-catching alternative and their durable, sealed surface promises clear reflections. Many companies will coat water bowls in a RAL colour of your choice, giving you the option to tailor a container to suit your space.
RAL is a colour-matching system used in Europe to define colours for paint, coatings and plastics – have a look at the colour range at Ral Colours. The darker the hue, the better the reflection, so if you're after a mirror surface, opt for a deep shade for maximum effect.
Best powder-coated steel water bowl
Description
Ranging in sizes from 60cm to 200cm this matt dark grey powder-coated steel water bowl is very
Pros
The finish is weather-resistant
Different sizes available
Glass-reinforced garden water bowls
Glass-reinforced concrete adds solidity and weight to bowls with sturdy forms and wide rims. They come in a variety of finishes from bare concrete and natural stone to verdigris, the interiors coated with a sealant to ensure they're watertight.
Raising up a water bowl can change the reflection and look of the feature. Some designs that double as fire bowls and planters have tripod legs, and this added height makes them perfect for bloom-filled borders. It's easy to raise a standard water bowl too – a sawn log, timber sleeper, or stone block all make stylish plinths.
Best glass-reinforced garden water bowl
Description
The effortless outline of the wide granite look bowl will appeal in both contemporary and
Pros
Contemporary design
Elegant relaxing feature
Easy cheats for a cheap water feature
Create a water reflection bowl with a bargain container:
Best bargain birdbath
Description
This beautiful and affordable water bowl and small birdbath will leave puddles of light and
Pros
Made from recycled material
Perfect for birds and small mammals
Best shallow trug for a water bowl
Description
Why not get creative? Surround this 35L shallow trug with plants, and you won't notice it's made
Savvy garden water feature accessories
Description
Scoop out fallen leaves with the Befaith Skimmer Oval Fine Mesh Stainless Steel Strainer.
Description
Geranium 'Rozanne' is the perfect no-fuss bloom to grow around your water bowl.
Description
This algae treatment will keep the water clear and algae-free.
FAQs
What size garden water bowl should I buy?
Water bowls come in many different widths from 60cm diameter up to a whopping 180cm, while custom-made designs can be made even larger. Don't fall into the trap of thinking that you need to match the size of the bowl to the size of your garden. A generous one will make a big impact in a compact space and the reflections will make the area feel bigger and more open.
In a larger garden, you can use the surprise factor of a smaller design, tucking one into a border or hiding it around a corner, waiting to be discovered. Nestled into low-growing plants such as hardy geraniums or bugles, they take on a different dimension where the foliage hides the container's sides and only a still, perfect circle of water is revealed.
While a single bowl has the wow factor, there's nothing to stop you from going for a trio placed in a row or a more relaxed, triangle arrangement.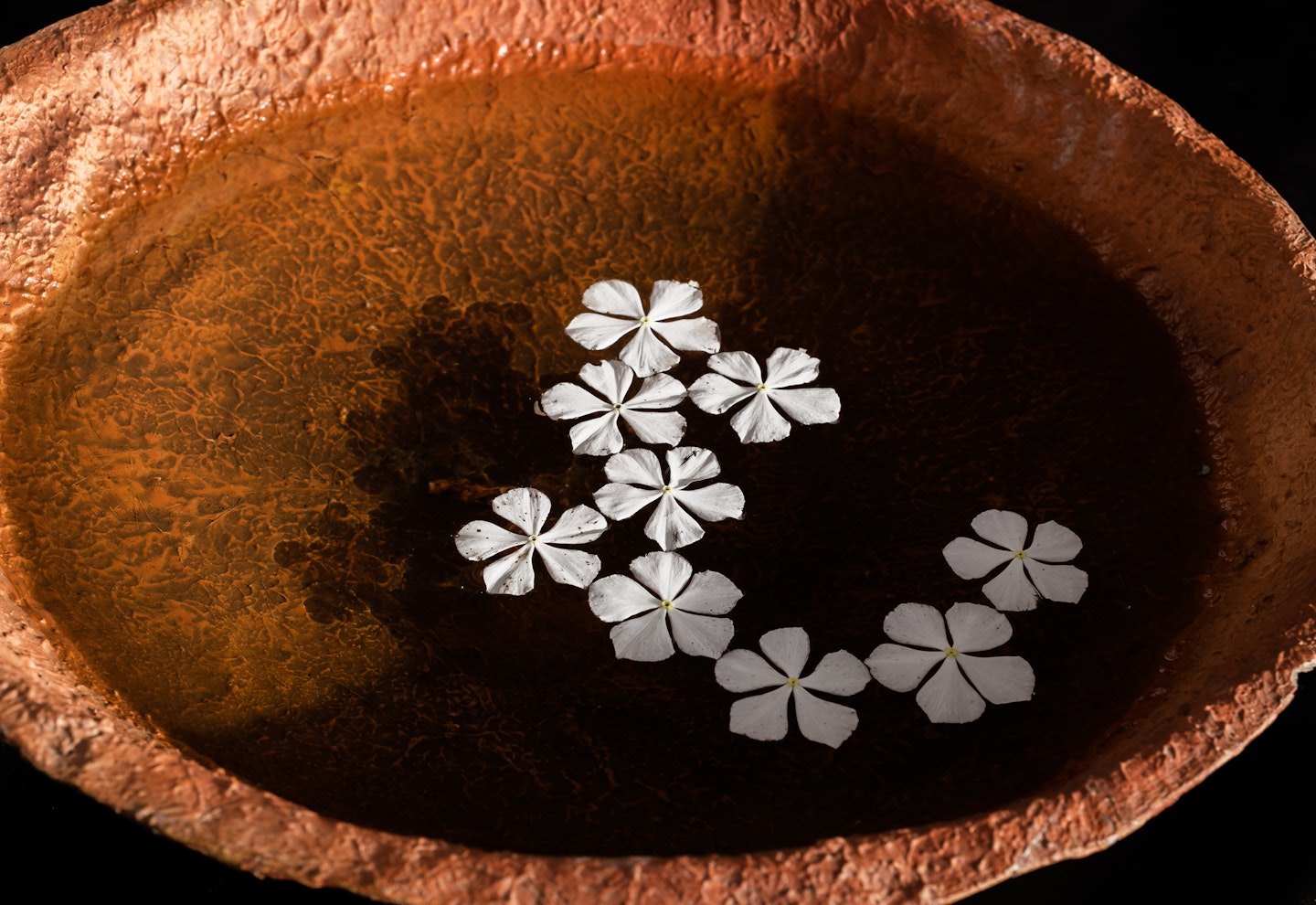 How to install a garden water bowl
Regardless of material or size, these simple water features are easy to install. Most bowls have a flat central base and are designed to sit straight on a level surface. Those with a curved back can be bedded into a layer of soft sand and levelled up. The key is to remember that water will always level itself so it may be necessary to tweak the bowl once it's part-filled to avoid an irritating tilt and a sloping waterline.
There's much debate about whether it's best to fill a water bowl using a garden hose or with rainwater. In some hard-water areas, the excess lime can leave a white, chalky tideline on dark containers, but it's seldom noticeable.
Algae can be a problem but there are a few simple steps to avoid it. Keep the water topped up to the brim – we get enough rain to ensure this happens naturally for most of the year but you'll need to give it a helping hand in summer. Don't position your water bowl under trees or shrubs, as fallen leaves and debris will soon build up and can cause water to become stagnant. Regularly skimming the water's surface with a net is also a good idea and, at least once a year, empty the bowl out, wiping away any mould and algae, and rinsing it clean.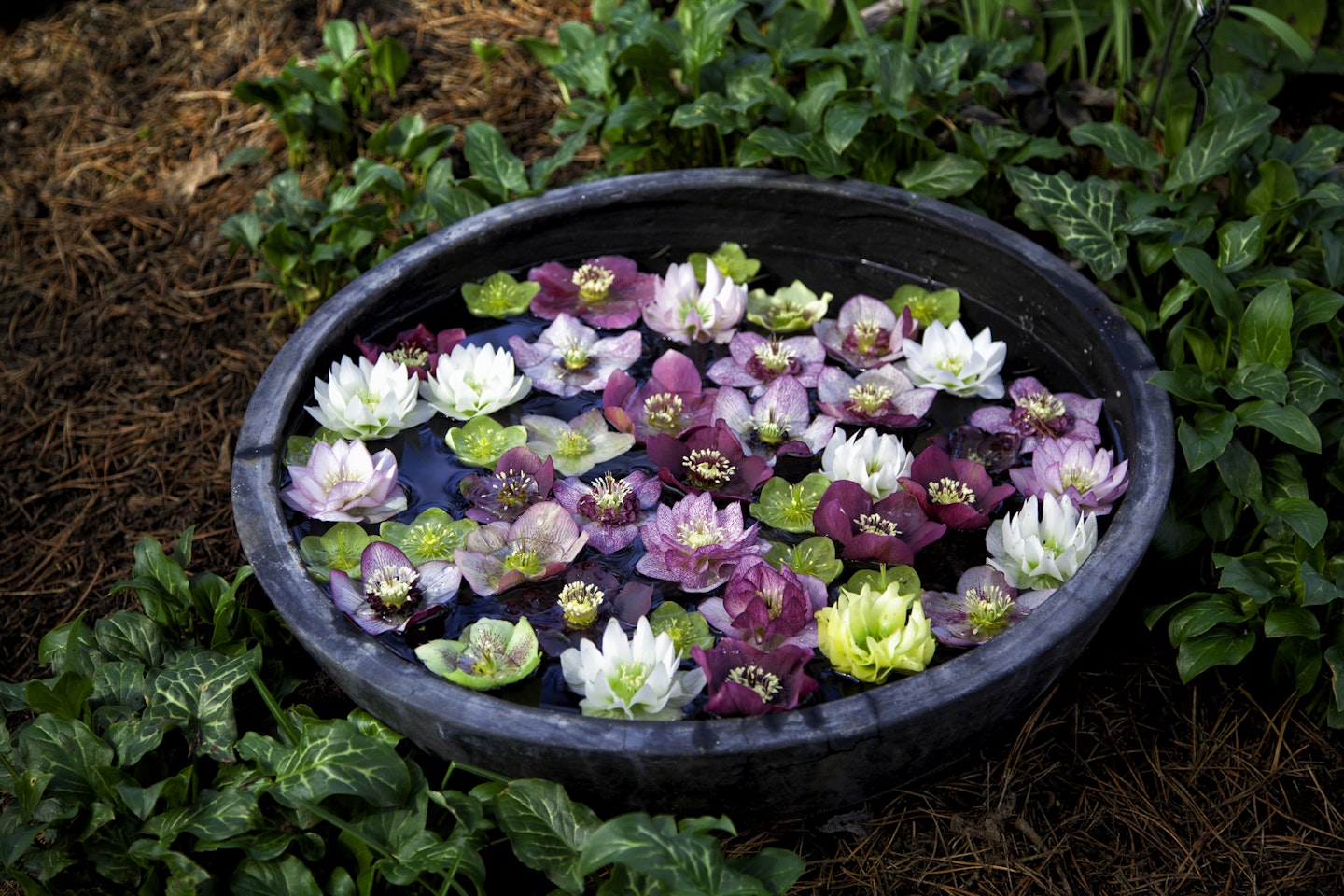 If you do still find algae is a problem, then adding a wildlife-friendly anti-algae solution can help keep the water clear and stop bacteria from building up, while non-toxic pond dyes can reduce photosynthesis and algae and weed growth.
What to read next:
Description
Discover everything you need to know to make your outside space look fantastic, quickly and
Jill Morgan writes regularly for Modern Gardens, and loves everything to do with gardens, plants and outdoor living. Her long thin, town garden is the setting for many family and creative projects from bird feeding and veggie growing to den building and mini-pond dipping.