Of all the barbecue innovations I've tested for Modern Gardens, the one responsible for the biggest improvement in quality and consistency of my food is learning how to cook to temperature, using thermometers like the Thermapen One and Smoke barbecue monitor.
If you're like me and can't think of anything worse than serving up underdone food that makes everyone ill, it's quite likely you end up leaving it on the heat for too long just to be safe. Except then it has the consistency of a wetsuit boot instead. The solution is to pull it off the grill at the exact moment the internal temperature has reached a safe level. But how do you know when this is?
A leave-in probe allows you to monitor the internal temperature of your food as it cooks without lifting the lid on the barbecue. This feature is increasingly seen built into "smart" barbecues, like the Weber Genesis and SmokeFire I've reviewed. An instant read thermometer allows you to check different spots of the same item to make sure it's all at the right temp. Used together you'll get perfect results, every time.
Verdict (4/5): With any barbecue gadget you have to consider how much use you're going to get from it versus the financial outlay. These two products from Thermapen are not cheap (although they are currently available as a cost-saving bundle), but I have used them both every single time I've cooked outdoors since they arrived. And I've also started using them when I cook indoors too.
The Smoke is limited to two probes and has no WiFi/Bluetooth function like some of the more expensive options in the Thermapen range, but otherwise it's an easy recommendation.
Pros
30% cheaper than buying individually
Super accurate temperature readings
Monitor your barbecue temperature too
Cons
Only two probes
No WiFi/Bluetooth
What's good?
Let's start by looking at the Thermapen One instant read thermometer, which is a flexible tool anyone serious about food should have in their drawer. You stick the pointy end into whatever you're cooking and after one second it gives you an accurate reading between -49.9 degrees and 299 degrees Celsius.
It's waterproof, has a five-year guarantee, and the AAA battery lasts a reported 2,000 hours before needing to be changed. It's also super intuitive to use – turning on when you fold out the probe, which rotates through 180 degrees, while the numbers on the backlit screen self-level depending on which way up it's held.
There are two features I value the most – the speed at which it reads the temperature means you can insert it and get a result without having to stand around for ages while all the heat disappears out of the open barbecue. And the narrowness of the pointy end allows the probe to be inserted easily even at the early stages of a cook, when the meat is often tough and hard to penetrate.
I've started using the Thermapen One when cooking indoors too, especially when baking. I've realised how inaccurate my previous method of assessing whether a cake is cooked or not is, and probably why they always come out so dry. Baking them to temperature has revealed I previously left them in the oven for up about ten minutes too long. Game changing.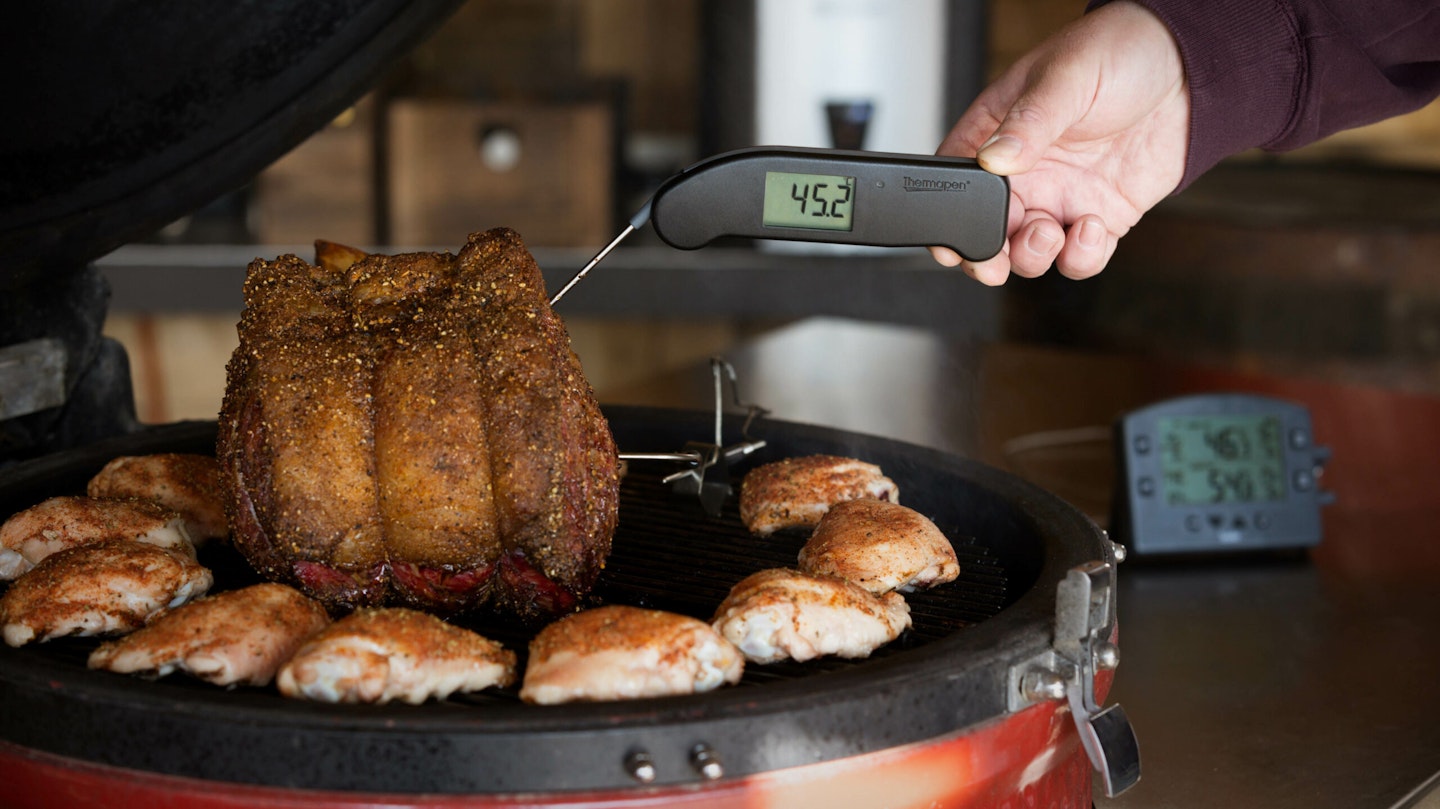 Moving onto the Smoke barbecue monitor, and I've been testing this alongside the build-in feature on my Weber barbecues. In practice it's pretty similar, you stick a probe in whatever you're cooking, close the lid, and then wait for an alarm when the magic number has been reached.
You can set high and temperature alerts on both probes and the Smoke will announce when these have been reached via a very loud alarm (the receiver also vibrates) and this is easily adjusted using the unit's chunky buttons. Having a cold temperature warning is super useful on a charcoal barbecue as an early indication that you need to add fuel.
The Smoke system also comes with an air probe to measure the temperature of the cooking area itself – again, you might find one of these built into your barbecue already. The benefit of the Thermapen's probe is that you can move it to different spots on the grill depending on where and what you're cooking.
The thermometer on my charcoal grill for example is built into the lid and located opposite the vent. So when using an indirect cooking method the thermometer sits over the hot coals, rather than near the meat itself, which makes for an inaccurate reading.
In terms of functionality the Smoke screen is much easier to read from a distance than the system built into my barbecue, and comes with a pre-paired receiver, which is basically a smaller version of the main unit that you can carry around with you, up to 90 metres away.
I am able to pair my phone to my barbecue for the same sort of function, but checking on how things are cooking requires unlocking it, opening the app, and then finding the right screen. The Smoke monitor gives you the same information at a glance and means you don't have to start getting your phone out with guests round.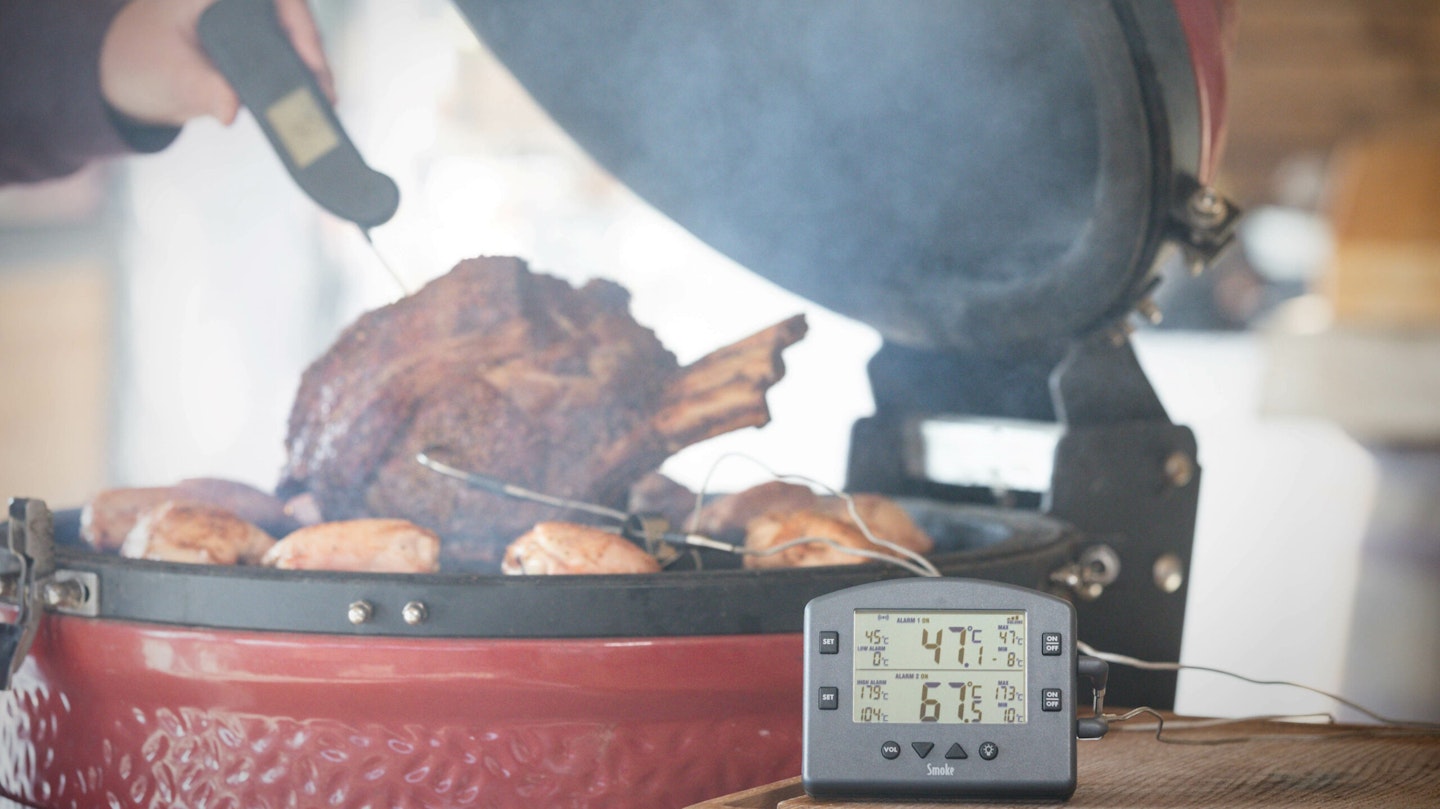 The other big advantage of the Smoke unit is that you can use it indoors too. Often I will cook a pork shoulder or brisket on my smoker until it hits the stall, wrap it in butcher's paper, and then bring it indoors to finish cooking in the oven. The probe keeps an eye on the meat's internal temp, while the air probe is much more reliable than my oven's temperature gauge.
What's okay?
Changing the temperature from degrees C to F on the Thermapen One requires taking the back off, which is a bit annoying, as most of the low and slow recipes I follow use Fahrenheit, but everything else is in Celcius. I could convert all of the temperatures in F I've memorised, but that would mean relearning them. A minor gripe really.
The Smoke unit doesn't come with anything to store it in, or a spool to wrap the probe wires back around when you're finished with it like the ones that came with my barbecue do. You can purchase these things separately of course, or just stick them in a old takeaway container like I've done.
Any negatives?
I've honestly got nothing major to pick the Thermapen One up on, it's a properly well thought out bit of kit that has clearly been designed and engineered by people who know what functions are important. I suspect the C/F switch has been hidden in the battery compartment to ensure the unit stays waterproof, which seems like a fair trade.
The Smoke system is also brilliant in operation but slightly limited in some of its functions – but as with everything this depends entirely on how you plan to use it. The first thing to point out is that it only supports two probes, which is fine if you are cooking one item (or two if you sacrifice the air probe) but restricting if you plan to smoke several things all at once.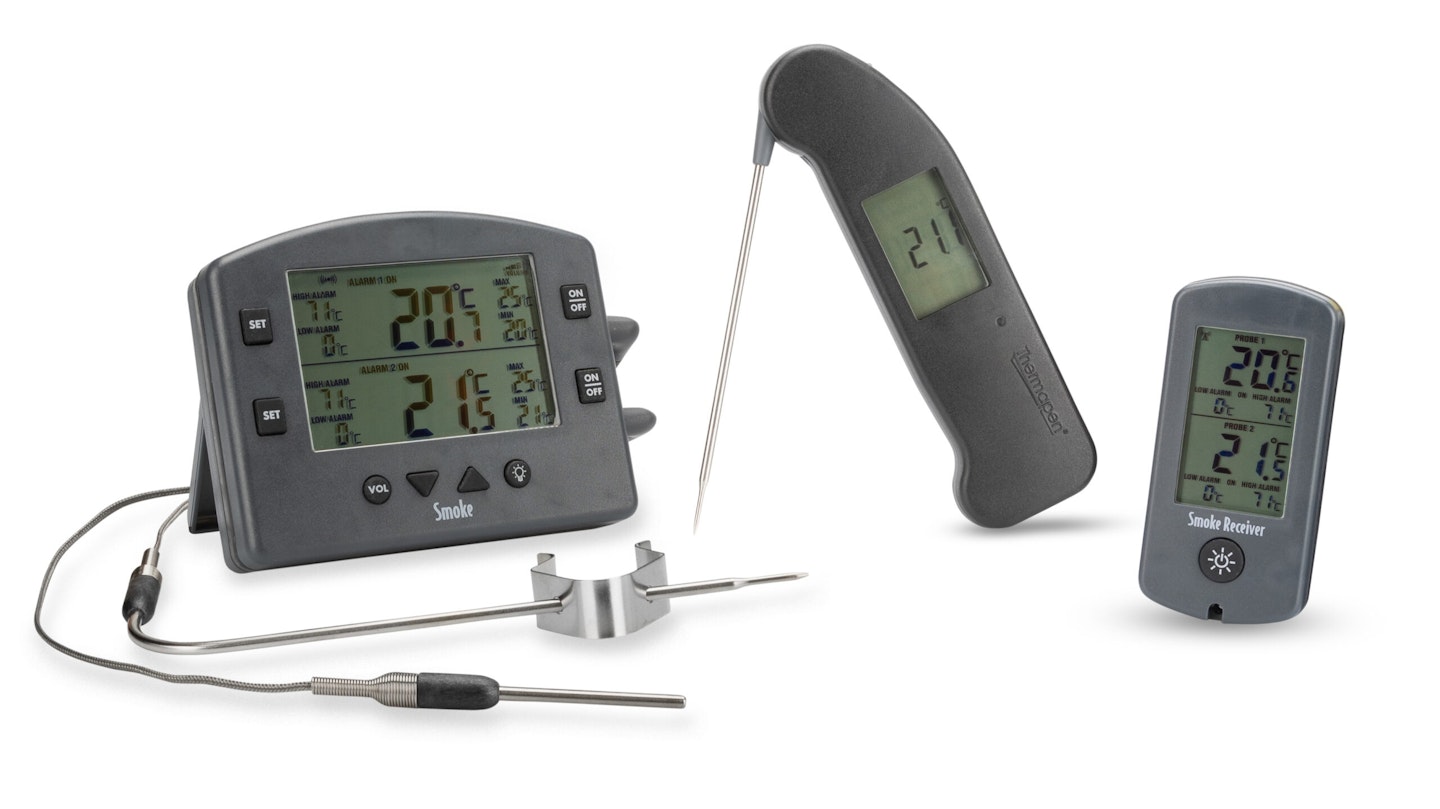 The second is the connectivity options, which are confined to the radio-controlled monitor. The Weber smart probes are Bluetooth and WiFi enabled, so you can hook them up to an app on your phone that can show all sorts of useful information, including a graph view of the entire cook time, which is genuinely really useful.
Thing is, you might not want either of these features, in which case the Smoke is superb. If they are essential for you then the Thermapen Signals barbecue monitor offers four channels for more probes and Bluetooth/WiFi connectivity, but is also £100 more expensive. Equally, if all you want is a simple wired probe and alarm, the Thermapen ChefAlarm is half the price of the Smoke.
How the product was tested
I've used the Smoke system on my Weber Genesis and SmokeFire grills so far, plus in my home oven. Mostly for low and slow joints of meat but also for quicker items like roast chicken and pork chops. The Thermapen One has barely left my apron pocket since it arrived, so I've used it for all of the above, plus chicken and fish recipes in my kitchen and of course for baking too.
Who tested it?
Adam Binnie is a backyard cooking fanatic who is forever experimenting with new recipes or fettling old ones. He's always enjoyed barbecuing but found a new obsession in American-style low-and-slow smoking after a trip to the famous Franklin Barbecue in Austin, Texas (which involved queuing up for four hours before eating).
He's tried and tested all sorts of al fresco equipment from charcoal to gas and pellet and knows exactly what features can make or break a barbecue.