I'm a lifelong charcoal barbecue enthusiast - for me, unless you're cooking over hot briquettes, you might as well just stick the oven on. However, even I can see that there are disadvantages to this method; the heat is hard to control, and if you're only cooking a few burgers and sausages, the fact the coals stay hot for ages after you've finished cooking seems wasteful. I've got hold of one of Weber's heaviest-hitting gas grills, the Genesis EPX-335, to see if it can convert me to propane.
Verdict: The Weber Genesis is a mightily impressive bit of kit – from the substantial build quality and 12-year warranty to the consistent heat it provides across the huge cooking surface. It's also much more convenient than charcoal and easier to keep clean, meaning I use it way more often than my old Kettle grill, so midweek barbecues are a reality. I still think a charcoal BBQ does some things better than gas, but the Genesis is such a satisfying thing to use, these instances are now in the minority.
Score: 4.5/5
The quick version
The Weber Genesis even in three-burner form is a big old barbecue, with a huge cooking area and plenty of power when it comes to delivering searing, consistent heat. Building it takes about two hours and you'll need somewhere to store the huge box it comes in until you're finished, but the solid construction feels built to last.
It's super simple to use and a clever grease management system means it's easy to keep clean too, while in-built smart features allow you to monitor the internal temperature of whatever you're cooking via your phone. It's flexible enough to cater for just a couple of people or even a dozen thanks to its array of burners and cooking surfaces.
Finally, the cabinet and exterior shelves offer a huge amount of storage and preparation space, with hooks to hang tools and a separate locker for any Weber Crafted accessories you might own. It's the boss of backyard barbecues, in short, but that comes at a cost.
Jump to
Build
• Solid, heavy construction
• Takes about two hours to build
• 12-year warranty
The Genesis EPX-335 (more on what this means later) arrived in an enormous box that was too big and heavy for one person to lift. I stored it in my garage until I had time to construct it, which took two hours in total. So get yours delivered on a day when you can build it if you don't have a large storage space free.
Constructing the barbecue was actually a lot of fun and all the tools you need are in the box - the insight gained from knowing how it all goes together makes cleaning and maintenance easier, too.
When built the barbecue sits on a large cabinet with a shelf on either side and rolls around on smooth castors. The front two can be locked in place to stop it from moving around. Ground clearance is ok but if you build yours on the lawn and then need to roll it down some steps onto the patio like me, you will need to lift it. This should probably have been obvious.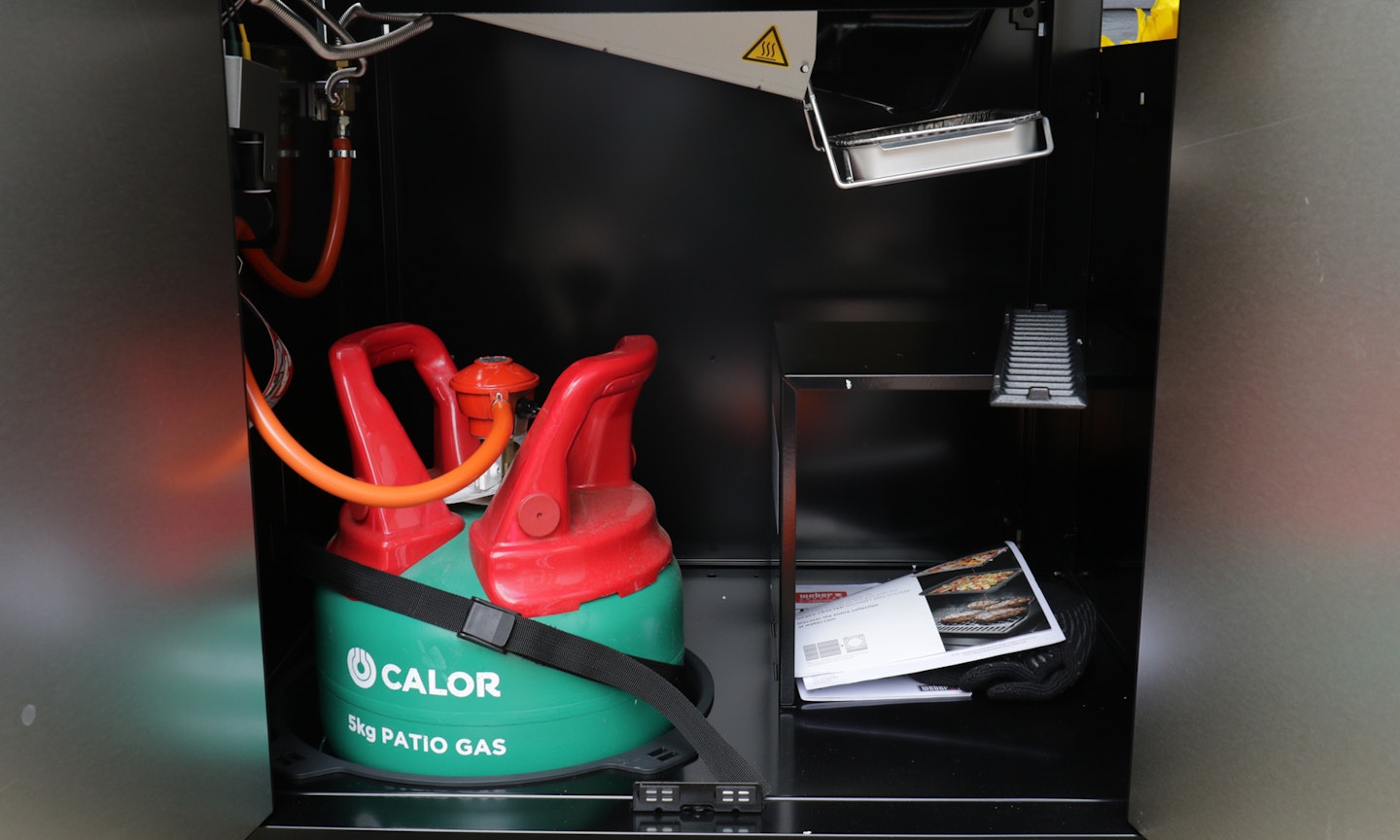 In terms of build quality, the Genesis barbecue is an absolute unit. Not only does it feel built to last, but it's backed up by a 12-year warranty. It's important to note that not every part is covered for 12 years, but the lid and "cook box" are, while the burners and related stainless-steel parts are covered for ten years. Still quite a long time.
You can give the Genesis the best chance of lasting longer by investing in a decent waterproof cover, like the official Weber one, which obviously fits like a glove. It also features Velcro straps to help tie it down in windy weather. It's more expensive than my waterproof coat, but then again, it uses a lot more material, so that kind of makes sense.
I'd not really considered barbecue aesthetics before (that said, I did pick an attractive red when I bought my Weber Kettle BBQ) but the Genesis looks really good. Unlike a flimsy gas grill that gets rolled out once a year and then hidden in the shed, this is a proper visual centrepiece of my garden, and that's important as I love having people around and cooking for them.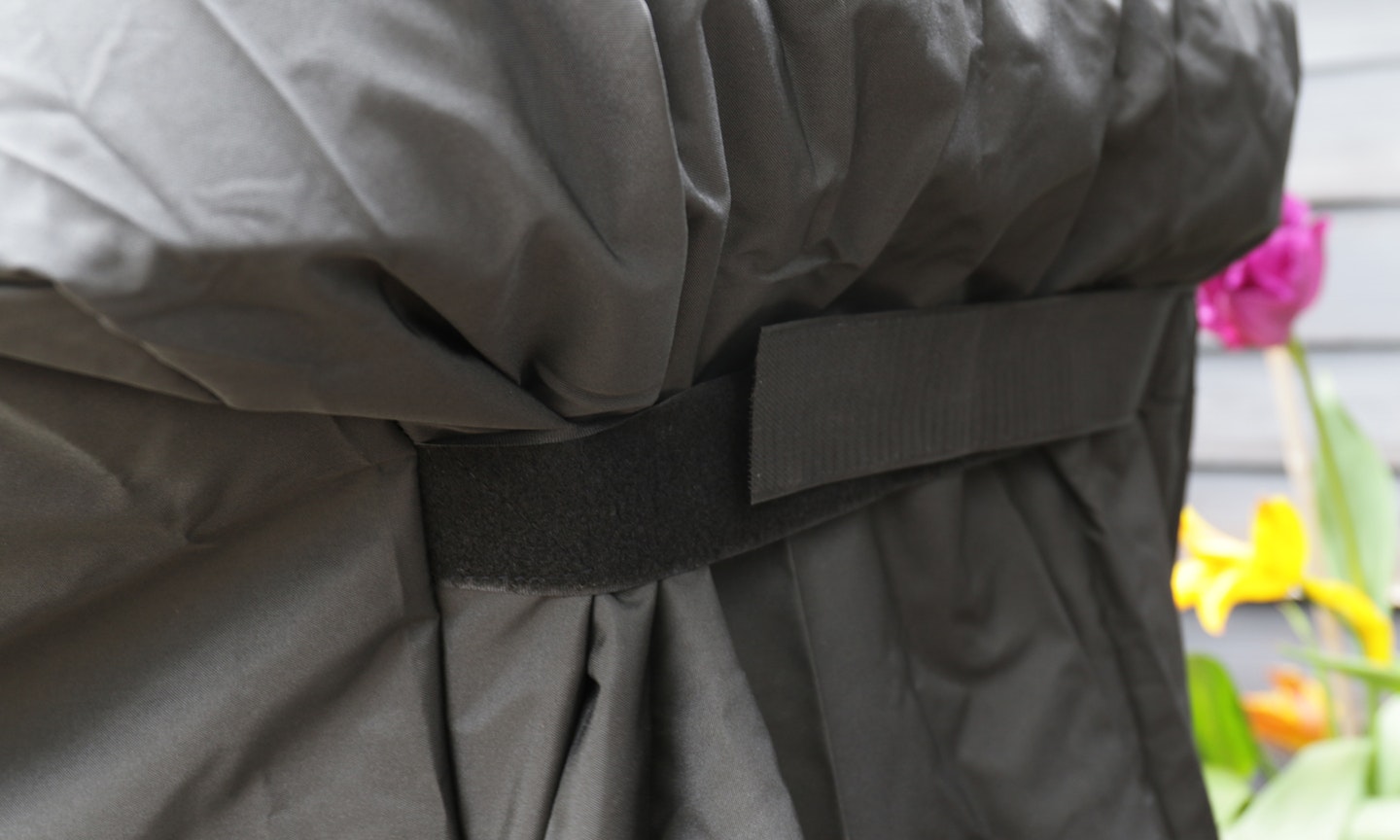 The construction is heavy and solid (particularly the lid) with a large handle and similarly chunky dials, while the cabinet is a shiny black metal with doors that stay closed magnetically. I can't tell you how nice it is to have a place to store things, including a cleaning brush, heatproof gloves and a set of tools, knowing they'll be there next time I come to cook. When I used to store these things in the shed, they'd somehow disappear off the face of the earth between uses.
Moving up, the shelves and dial-front are brushed aluminium, and while this looks very attractive, it can mark easily, so be careful not to drag anything across the surface or use abrasive cleaners. No such issue with the cook box itself, as it's made of much heavier metal.
The lid needs a bit of heft to open, but the handle is big enough to get two hands on and feels solidly attached. Inside are two porcelain-enamelled cast iron cooking grates that need to be handled with care – you really don't want to drop one on your foot. Beneath these sit the burners, shielded by Weber's clever Flavorizer bars (again, more later) and a grease management system that directs any fat or bits of food into a disposable tray.
The shelf on the left houses a hob-style burner and the one on the right contains the smart barbecue controls, and both have three hooks for hanging tools. There are various storage spots inside the main cabinet and then a smaller locker for Weber Crafted add-ons on the left.
Usability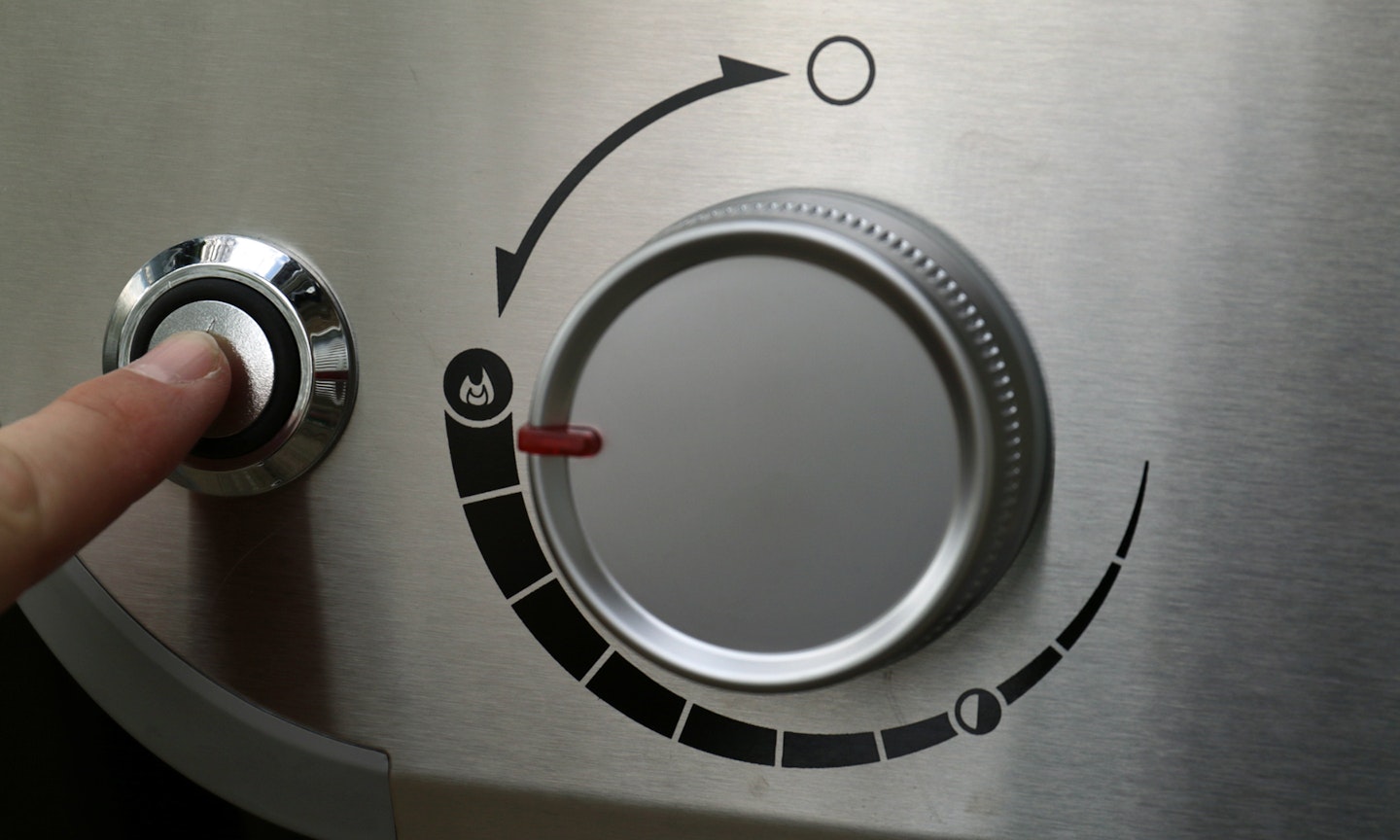 • Couldn't be easier to use
• Burners ignite reliably
• Clever grease management system
Lighting the Genesis is as easy as turning the knobs to full and then pressing the spark button. There's space in the cabinet for a 13kg propane bottle (although I've been using a 5kg one and it's been fine) and the gas regulator has a green or red logo on it depending on whether it's on or off.
The first thing I noticed was how much higher off the ground the cooking surface is compared to my Weber Kettle, which I generally use while sitting down because leaning over it gives me backache. The cooking surface is also a lot larger, and its rectangular shape seems a lot more space-efficient than my old round one.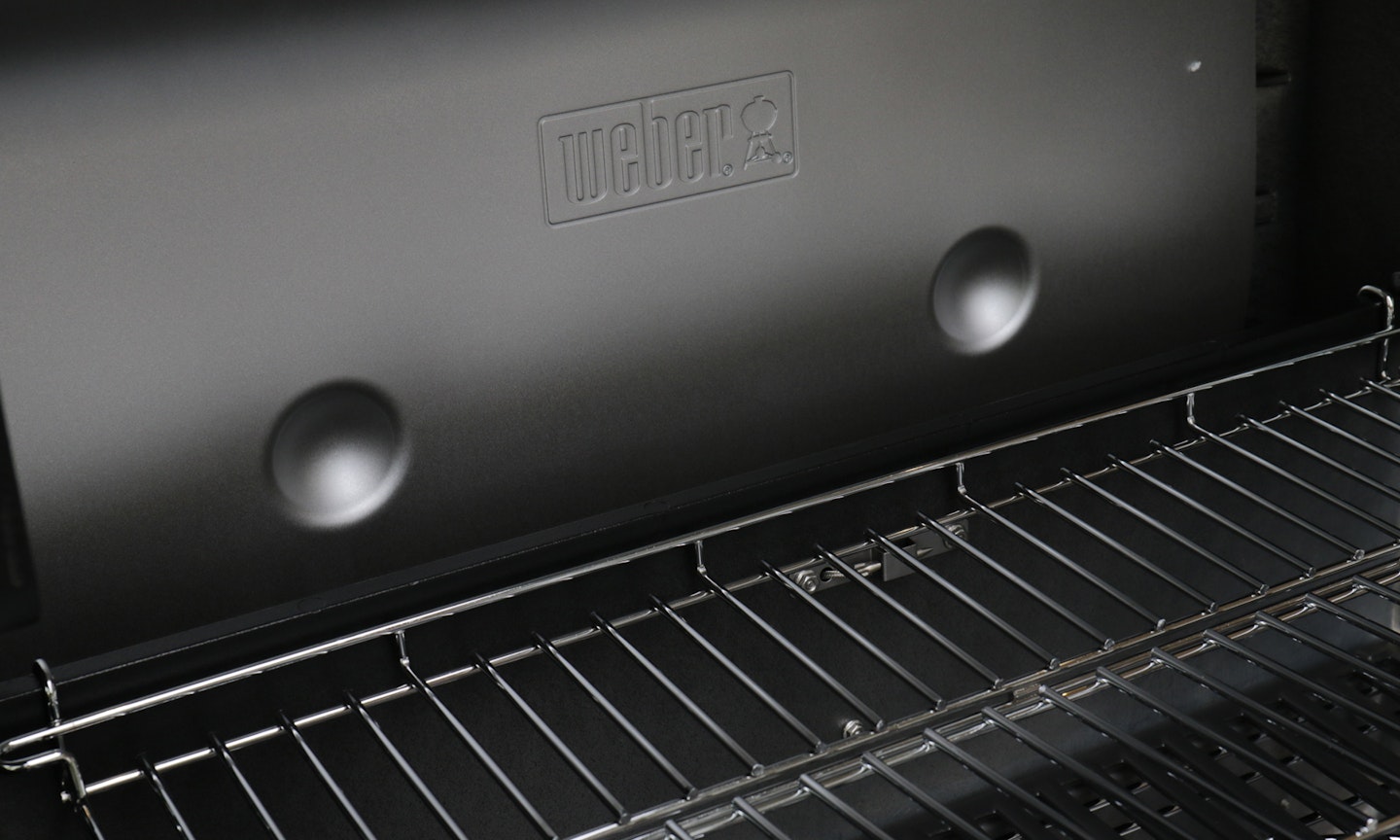 There's a huge amount of vertical space inside the cook box, enough to fit an optional rotisserie attachment without modification, and there's a second-tier rack that folds out, boosting the number of sausages you can cram inside it enormously. Bumpers damp the lid so it doesn't crash down when you close it, but I think I'd like some sort of soft-close mechanism at this price. Maybe it's difficult to make one of those heatproof.
While the version I'm testing is technically a three-burner, that doesn't take into account the hob on the left or the additional Sear Zone' burner. This is activated by turning the smaller red knob situated in the middle of the pair on the right and turns the larger cooking grate into an ideal hot zone for caramelising griddle lines into burgers or steak.
A closer look: What smart features does the Weber Genesis have?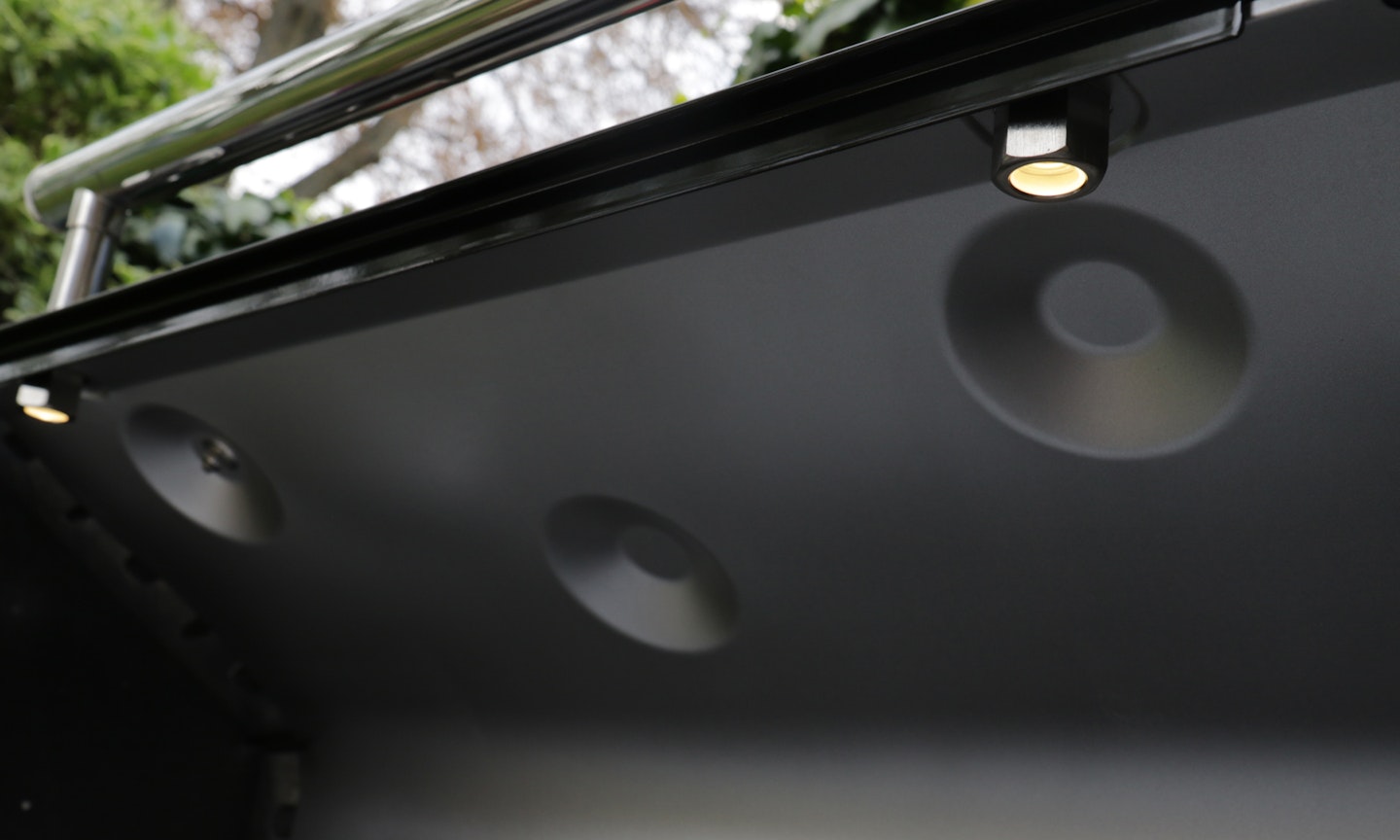 So far so good, but where things start to get interesting are the smart features the Genesis comes with. Ultimately this means two additional complications – this barbecue requires an app, and also needs to be plugged into the wall.
Actually, you don't have to do either, but doing so unlocks some really clever features. First off, lighting – the knobs are backlit for better visibility at night, and the cook box itself has two bright spotlights inside (Weber calls this Nightvision, which is quite fun) so you can see what you're doing without resorting to a headtorch. Curiously though the latter is powered by a battery pack in the handle, rather than from the mains plug like the knob lights.
The panel on the right-hand side displays the ambient temperature in the barbecue itself, but also has two inputs for temperature probes (you get one with the BBQ) so you can monitor the internal temperature of food. From the panel, you can set an alarm to go off when it reaches the perfect point, or you can configure all of this from the app. This allows you to select what you're cooking and then informs you via a push notification when you need to flip or serve it. Clever stuff.
These features can be powered via a normal domestic plug or with a portable power pack using a USB-C input. I've been doing the latter as I don't have outside power, but do have a solar-powered battery pack, and it works just fine.
Performance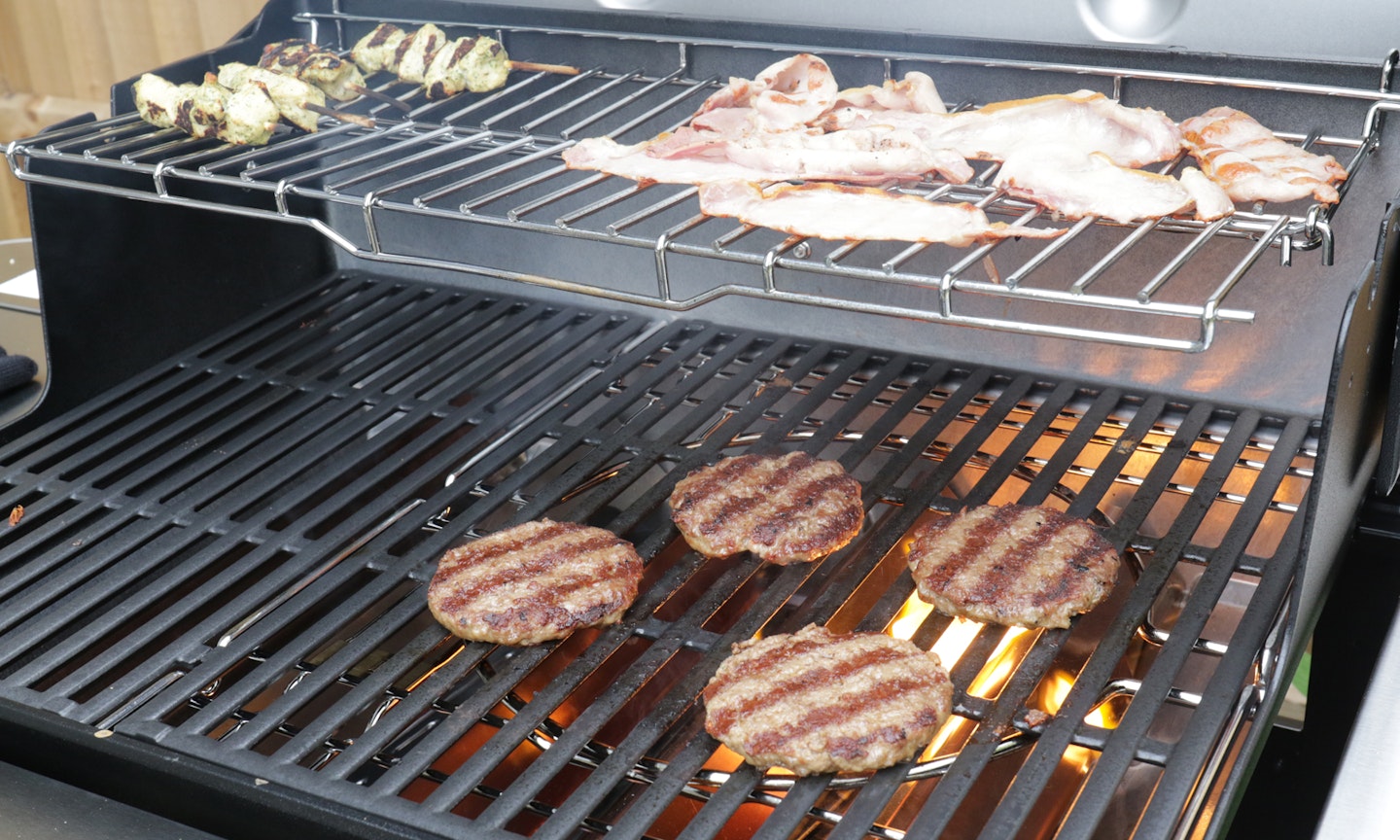 • Gets really hot really fast
• Three burners means lots of adjustment
• Large Sear Zone perfect for burgers and steak
Presumably, this is the bit you're really interested in – how well the Weber Genesis actually cooks food. One thing I've always found lacking in a gas barbecue compared to my charcoal grill is the ability to get it outrageously hot. Filling a chimney starter up with briquettes usually bent the temperature needle on the lid somewhere above 300 degrees, which was perfect for searing steaks and getting gnarly grill lines on burgers.
Weber recommends turning on all the burners and then closing the lid for 20 minutes to get the Genesis up to temperature (roughly the time it takes me to light a chimney of briquettes) before you even contemplate cooking, in which time the digital thermometer reads north of 250 degrees.
With the searing knob turned to full, the larger right-hand grate gets more than hot enough to accomplish those trademark griddle lines and in fact is far too hot to leave anything on for more than ten seconds or so. The first test passed.
The really good thing then is the fact you can turn the burners down a bit and continue to cook on the same surface without incinerating everything. The grill bars are wide and store loads of heat and provided you don't try to move things too early, they seem to be very non-stick. The heat is also very consistent across the cooking surface, with few hot and cold spots to contend with.
A closer look: How many people can the Weber Genesis cook for?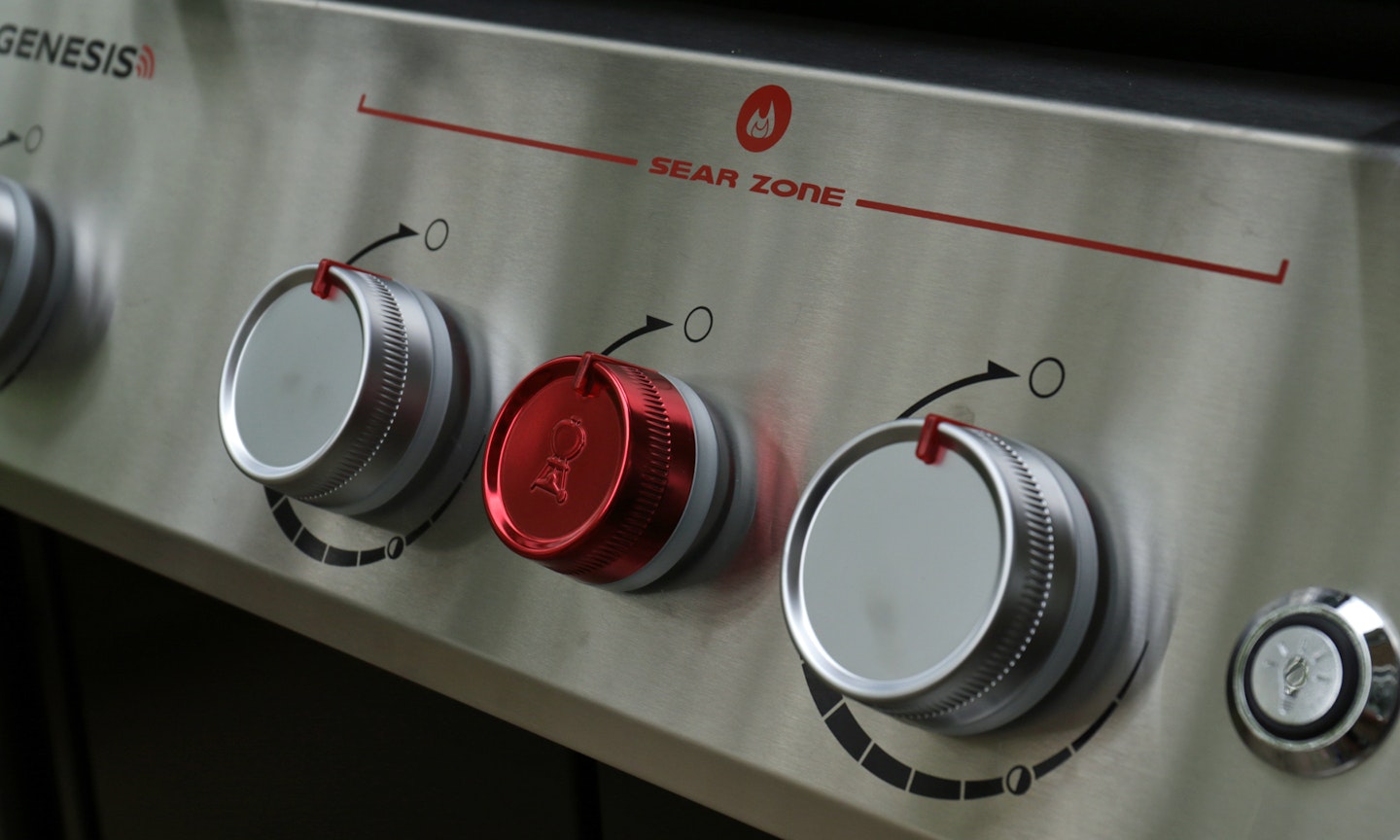 I've catered for a dozen adults with ease, there's just so much space on the grill and very adjustable heat levels. There's also a lot of space on the two shelves to keep things before you cook them, or to serve them when they're done. I used to have to wheel a fold-up table out when I used my charcoal barbecue, so this is already better.
I like to cook with a hot and cold side on my charcoal barbecue (I stack all the briquettes up on one end) and I can recreate this by putting the left-hand burner on fairly low, so I can sear everything on the hot side and then continue cooking it on the left. You can also move things up onto the top rack and let them cook by convection (like an oven) and this folds out for extra capacity.
In terms of flavour, I haven't noticed as big a difference between gas and charcoal as I thought I would – the Genesis uses Weber's "Flavorizer" bars, which it says impart a smoky flavour. These sit above the burners and get roasting hot, and any fat that drips on them gets vapourised and turns into a sort of charcoal-like smoke.
I tend to do a lot of indirect cooking on my Kettle (as described above) which means things that take longer to cook (sausages, spatchcock chicken) spend ages sitting in a very smoky grill. I don't think the Genesis achieves quite the same depth of flavour for this sort of thing, but for food that you cook quickly over direct heat, I reckon you'd struggle to tell the difference.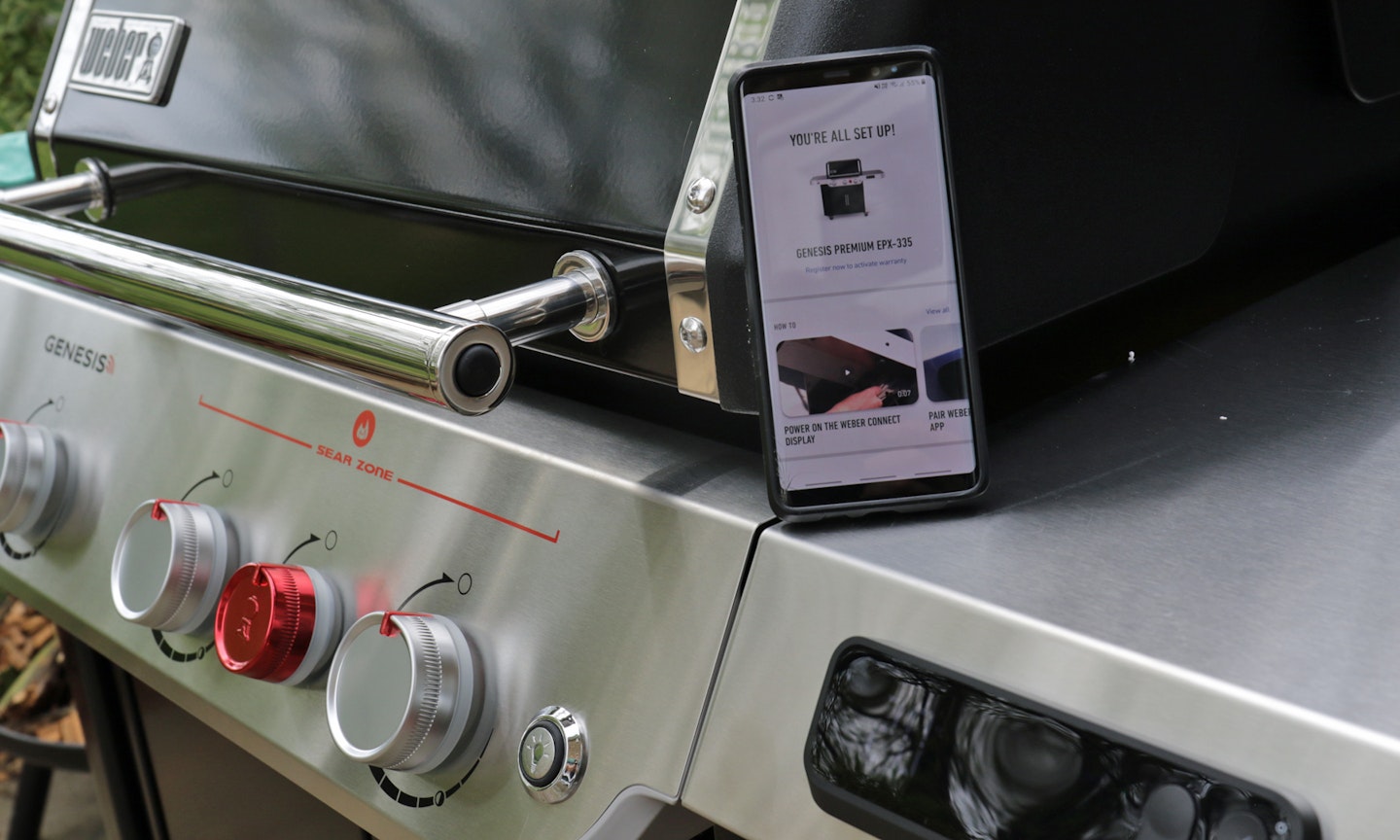 I've used the smart features a handful of times and have been very impressed. Once I even hooked the food probe up to a chicken I was smoking in my Kettle while I cooked burgers and lamb kebabs on the Genesis. The alarm went off at 75 degrees and the chicken was perfectly cooked, without having to lift the lid and check even once. If you get nervous about serving people underdone food, this is a great feature.
It's handy that you can get a notification on your phone rather than having to stand right next to the barbecue too. I'm planning on trying pulled pork, which can take up to nine hours, and previously meant being in constant contact with my Kettle grill. Now I can be out of the house and still be able to check on how it's doing.
All of that said though, you can't control the barbecue through the app, only see what the temperature is, so if you're miles from home when you realise it's way too hot you're still going to have to call your neighbour to help (and then pay them off in pulled pork).
A closer look: What's the Weber Genesis like to clean?
Here the gas grill really pulls back some ground over charcoal. Weber says all you need to do is scrape the grates with a bristly brush, then preheat for 20 minutes next time you want to use it to burn off anything left over, and you're good to go.
A more thorough cleaning is recommended every now and again. This involves taking the grates off and using the supplied plastic spatula to scrape any solidified fat or food bits down the grease trap and into the disposable tray underneath.
Initially, I had my doubts but it really is that easy, and much simpler to keep on top of that a charcoal grill, where the fat and ash mix to form cement that has to be periodically pressure-washed off. Charcoal grilling is more time-consuming at every stage.
Weber Genesis range explained
Essentially the range is broken down into three or four-burner barbecues, with or without smart functions. This means a starting price of £1,349 for a non-smart three-burner, and £1,649 if you add Weber Connect. Jump up to four burners and things start at £1,649, while the Weber Connect version is £2,149.
Price and competition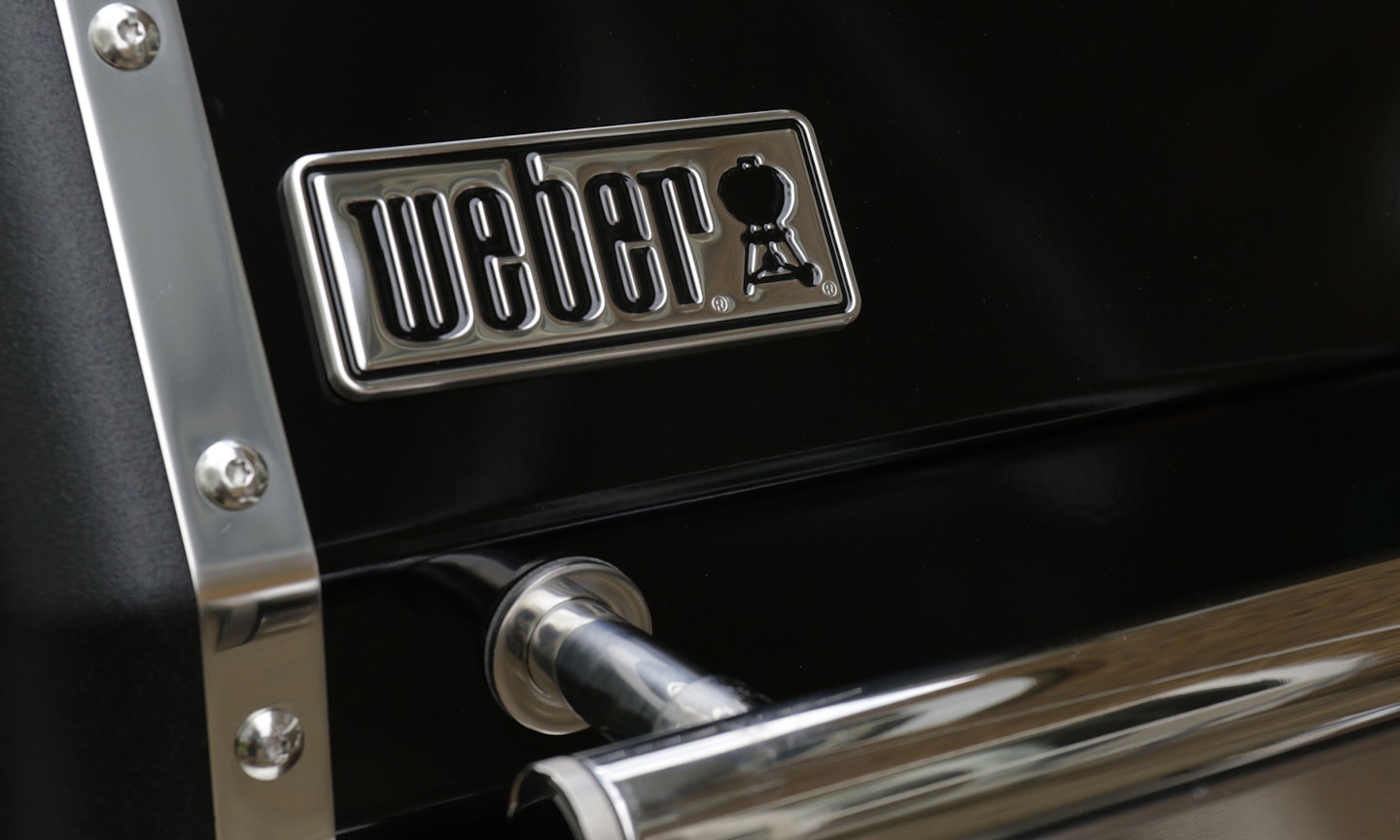 Our top of the range three-burner comes at a bit of a price – £2,099 in fact - but there are several things to consider. First of all, the design and build are incredibly well-thought-out, and this means it is not only simple and consistent to use, but also genuinely enjoyable. The fact it isn't a total pain to keep clean means you'll find lots of excuses to use it, too.
Secondly, the fact it has that 12-year warranty means that while like most Weber stuff, it's a bit of an investment, it's one that you don't have to worry about replacing for a long time. Barbecues also don't suffer from obsolescence; they don't have any software that is likely to go out of date or tech that won't be supported in five years' time. We've been cooking on an open flame in largely the same way for two million years.
The Genesis does have some modern tech including temperature probes and an app, but you're not tied to using these if you don't want to, and the barbecue functions in essentially the same way if you don't.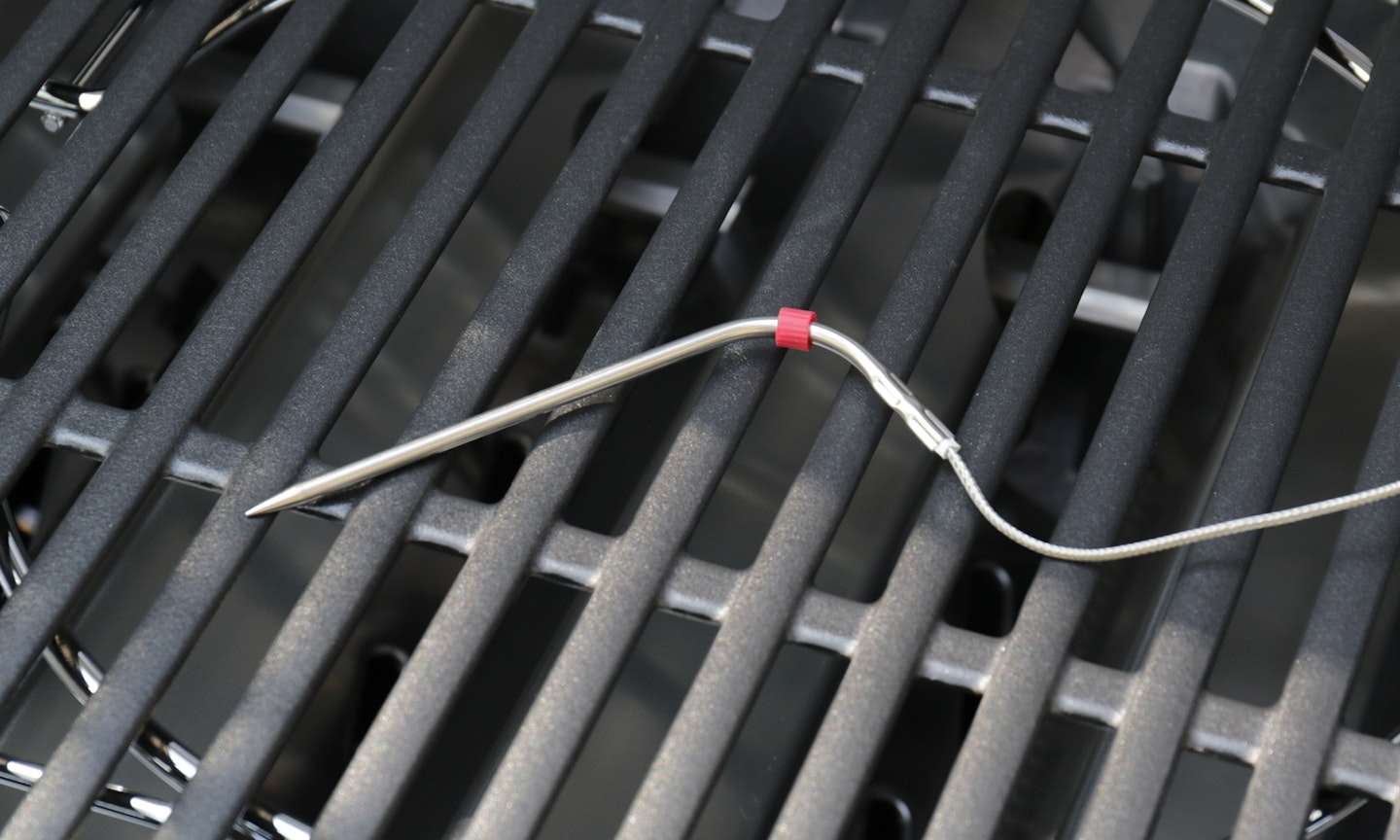 Finally, it's worth noting that this model is the flagship in the Genesis range, and you can get a barbecue with most of the core features here for about half the price, so it's worth having a look and seeing what's available and what suits you.
Verdict
If you've got this far, I suspect you want to know whether I've binned my charcoal grill, and the answer is no. I don't think it's a case of having one or the other – I'll continue to wheel the Kettle out for special occasions like when I want to smoke a joint of meat, or frankly just because I enjoy using it, but for the vast majority of barbecue jobs, I'll be using the Genesis.
Why? It's easier to cook on, to keep clean, and seems far cheaper to run. I'm amazed at how long a 5kg gas bottle has lasted – especially in comparison to the amount of charcoal I'd get for the same money, and how few barbecues I'd get from it. It also feels much less wasteful. I don't empty £5 worth of briquettes into it, cook for 20 minutes and then get annoyed at the fact the Kettle is still hot nearly three hours later.
I also don't feel like I've even scratched the surface of what the Genesis is capable of - the Weber Crafted range of accessories opens up all sorts of steaming, roasting and stir-frying opportunities. I've tried a few of the in this Weber Crafted Accessories review.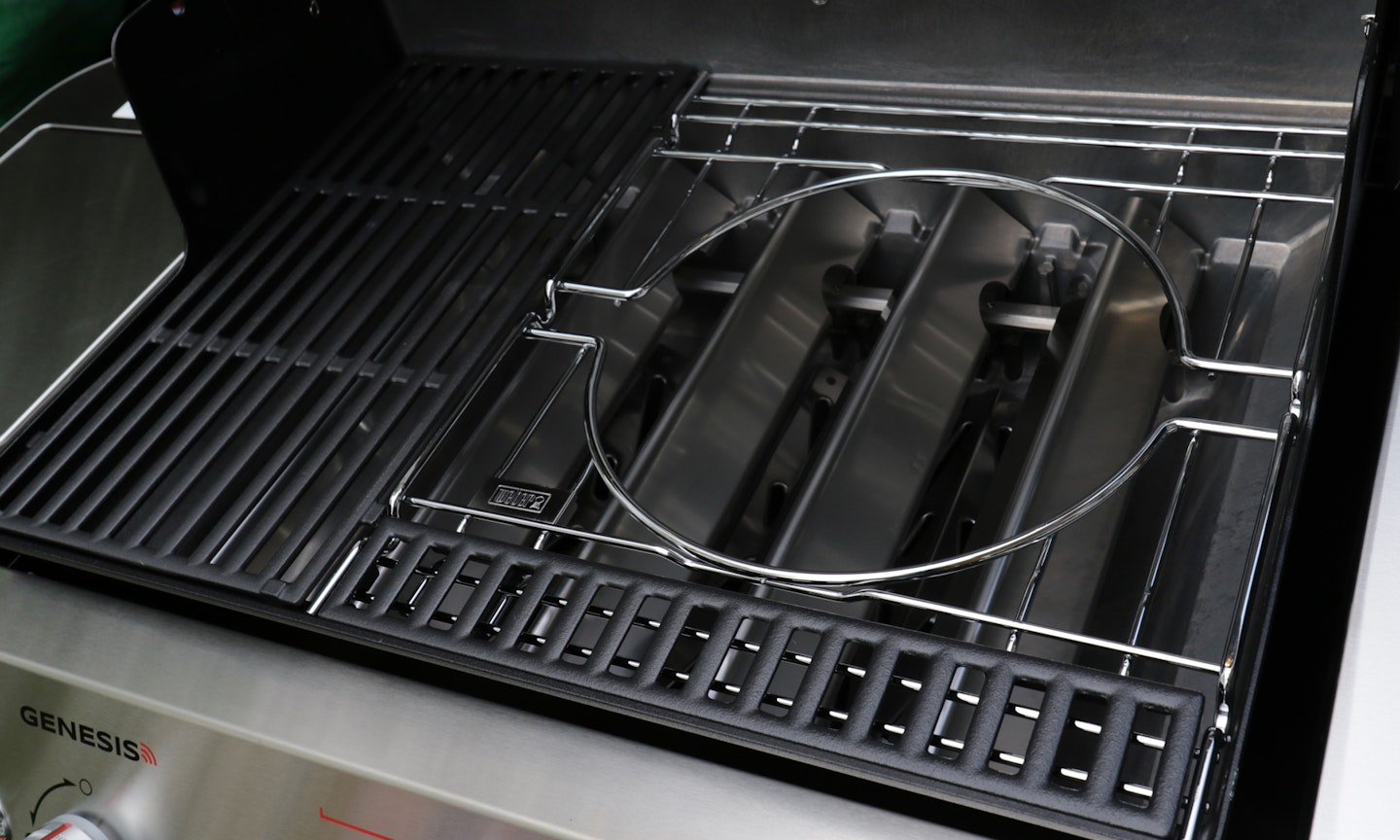 This bells-and-whistles-model is perhaps a bit aspirational, especially considering it doesn't offer the additional functions of a hybrid barbecue, and like I said before, you can get 90% of the same experience from a much cheaper Weber Genesis, so that's probably where the sensible money goes. If, however, you've got some savings for a garden investment and want to buy a barbecue that will in all likelihood move house with you several times, look no further.
Specifications
Dimensions
123x157x68cm
Cooking area
5,077cm
Burners
3x11.4kW
Sear zone burner
3.8kW
Side burner
3.5kW
Ignition
Electric
Grates
Porcelain enamelled cast-iron
| Pros | Cons |
| --- | --- |
| • Huge cooking surface | • Not cheap |
| • Loads of storage space | • Large and heavy to move |
| • Clever cleaning system | • Easy to mark brushed aluminium |
More items to consider
How we tested it
I hooked the Weber Genesis up to a 5kg Calor propane bottle and have cooked a variety of ingredients and recipes ranging from simple burgers and sausages to more fussy things like marinated chicken and salmon. I've used it to make kebabs in a rush for my small family, and also catered for a dozen adults at a birthday party.
What to read next:
Best BBQ fuel to use: Guide for hybrid, electric, gas and charcoal barbecues
Description
Discover everything you need to know to make your outside space look fantastic, quickly and
Adam Binnie is the Affiliate Operations Editor and reviewer for WhatsTheBest, specialising in bikes, fitness, cars, parenting and cooking.