Nothing beats the pull of a charcoal BBQ where you can dine al fresco and enjoy the sight, sound, and scent of the barbecue crackling away. And, of course, who doesn't love catching up with family and friends around the warmth of an outdoor grill, come rain or shine?
No matter the food on the barbie, a charcoal BBQ can handle it, and some may even go as far as saying meat tastes far better on a charcoal BBQ. Whether you prefer meaty burgers, roasted vegetables, veggie burgers, or tasty kebab skewers, this piece of kit will take your grill experience to the next level with smokey flavours and smells that scream summer with delicious authentic char.
Best charcoal BBQ at a glance
It's the ultimate garden cooking appliance. Whether you're looking to buy your first charcoal barbecue or replace a gas grill or hybrid BBQ that's seen better days, we've rounded up the very best to bring the holiday experience to your garden. We've made sure to include some great BBQ deals - at all price points.
We've also included buying advice and the must-have tools and accessories to help make your BBQ a breeze.
Best charcoal BBQ to buy in the UK
Best overall
Description
Pros
Durable and weather-proof
Heat it easy to control
Easy to buy accessories
Cons
The height of the grate isn't adjustable
Best for large families
Description
If you consider yourself King of the BBQ and enjoy cooking a lot of food (or have plenty of mouths
Pros
Easy to clean
Bottle opener is a nice touch
Best budget-friendly BBQ
Description
A household name for grilling, the George Foreman Charcoal BBQ is no exception and is a great
Pros
Simple to use
Great value
Compact, so easy to store
Cons
Doesn't have a lot of features
Best for durability
Description
This Dancook Kettle Charcoal BBQ is simple yet sturdy in design with stainless steel and strong,
Pros
Extra grid is great for cooking
Strong
Easy to clean
Cons
The charcoal hearth could be bigger
Best for large gatherings
Description
With an iconic look, this oil drum BBQ from Argos is a great size, boasting enough room for
Pros
Side table is really handy
Great for large families and gatherings
Best BBQ design
Description
This charcoal BBQ has been designed with convenience in mind, with everything you need to make for
Pros
Easy to move
Heat control
Charcoal BBQ FAQs
Got a burning, or BBQ sizzling, question? Hopefully, we've answered them below...
What else do I need for my charcoal BBQ set-up?
As well as the BBQ itself, you're going to need some must-have essentials to make sure BBQ season gets going without a hitch. These accessories will help keep your BBQ in its best condition and help you get your grilling underway.
Best chimney starter
Description
Don't wait forever for your coal to light! Simply fill your charcoal Weber Chimney Starter with
Pros
Lights a charcoal BBQ faster
Extremely well reviewed
Easy to use
Sturdy
Best charcoal offer
Description
This top-rated bumper pack of Topline Supagrill instant light charcoal will see you through the
Pros
Lights fast
Consistent burn
Retains heat
Cons
Some customers comment that the coals are small and can fall through the grate
Best BBQ cover
Description
Keep your BBQ in great quality by covering it up once the summer is over. This Velway Waterproof
Pros
Durable material
Water-resistant
Cons
The cords that secure this cover can come loose in rough weather
Best BBQ tool set
Description
Every BBQ needs its own set of tools, and this popular set of 10 has everything you need. The GQC
Pros
Value for money
Comes with a storage bag
A complete set of BBQ tools
Cons
Some customers have commented that the metal is thin
Best BBQ cleaner
Description
Once you're done, give the grill a once over with this handy cleaning product from HG to keep it
Cons
Can cause skin burns and eye damage if mishandled
What size charcoal BBQ do I need?
The size of the BBQ you need depends on the storage space you have available to store your grill. Plus, you should consider the number of people you intend to cook for. It'll also be worth considering the types of food you'll be cooking, as bigger grills suit long skewers or larger meats.
According to Argos, these are the general size guidelines:
Two - four people: 1800cm2 cooking area
Six people: 2000cm2 cooking area
Eight people: 2500cm2 cooking area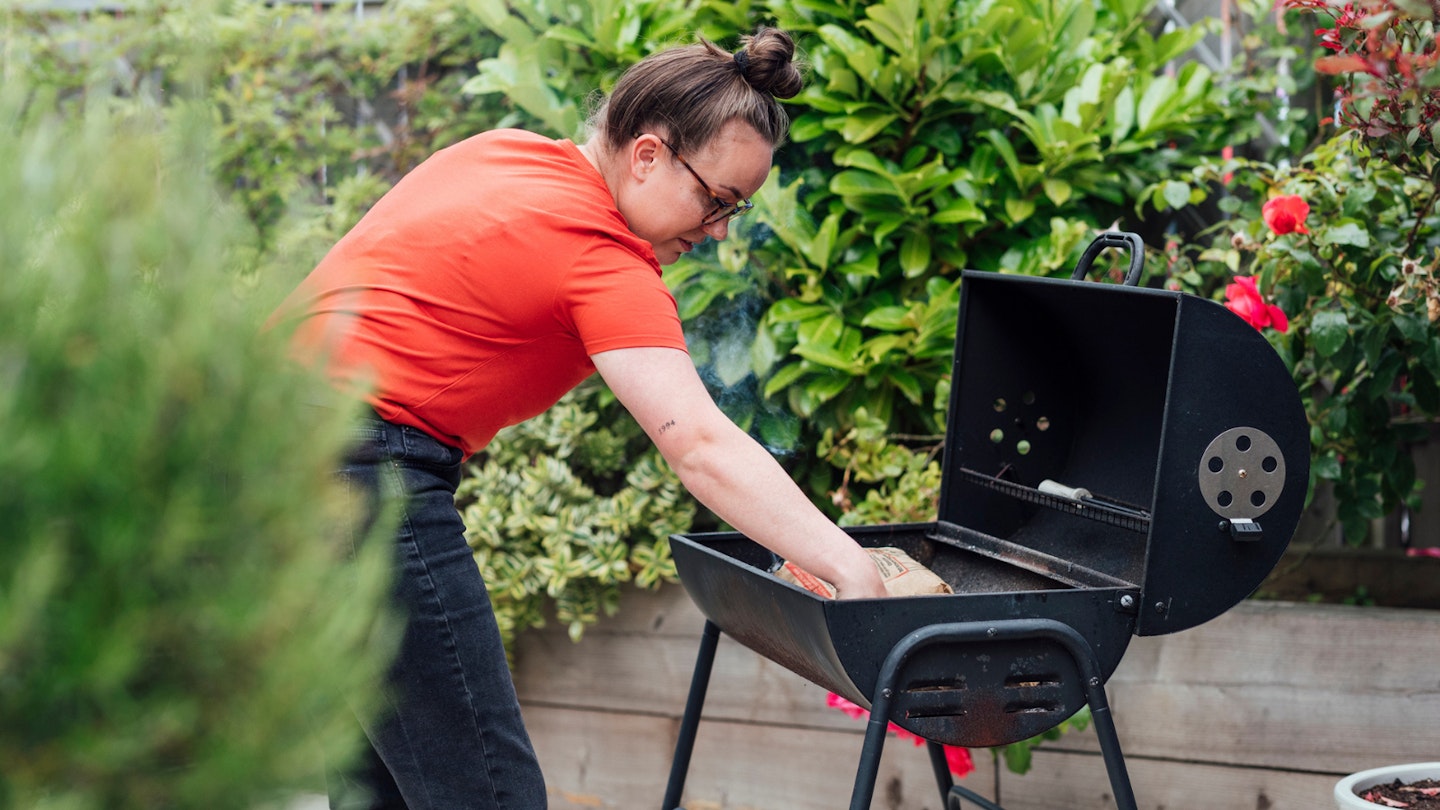 Which is better, charcoal or gas BBQ?
Ultimately the choice is yours, but for a more traditional BBQ experience and unique smokey flavour, we'd have to recommend charcoal for an amazingly authentic taste, whether you're a meat eater or a veggie.
Charcoal is a more affordable way to grill compared to gas BBQs. But it's worth considering that a gas grill can offer more convenience. The heat can be controlled more easily, and the food will be cooked more evenly.
It may give you more confidence in cooking, as a charcoal BBQ will take longer to reach the correct temperature, but many prefer cooking on charcoal regardless and prefer to not use a gas canister.
How to clean your charcoal BBQ?
Postal Barbecue has shared their top guide to cleaning your charcoal grill, cleaning a Weber Kettle Charcoal BBQ similar to those on our list! That'll help you deep-clean your BBQ when the time comes to remove that ash, burnt food bits, and caked-on, burnt-in grease.
What to read next:
Description
Discover everything you need to know to make your outside space look fantastic quickly and easily,
Eleanor Weaver is the Deputy Homes & Garden Product Editor for Modern Gardens, specialising in outdoor furniture, décor, and tools. She's always looking out for inspiration online for stylish and affordable designs, and enjoys spending time in nature.