So what's the big deal about kamado grills? These hooded outdoor grills take all the stress out of al fresco cooking, allowing you to grill smoky, succulent dishes on charcoal very easily.
Extremely versatile, the close-sealed hood and insulated outer means you can cook food as quickly or slowly as you like, so all you need to do is sit back, crack open a drink and wait until your meal is barbecued to perfection. And the design also means that it's much easier to use all year round. With its distinctive good looks and range of finishes, it's easy to find a design that will suit your plot, needs and budget. There's no denying that this is an investment buy, but there are now budget options on the market, and your purchase will be life-changing. Maybe you'll find a deal, too.
Best Kamado grills at a glance:
• Best lightweight: Kamado Joe KJ13RH Portable Smoker - Buy now on Amazon UK
• Best overall: Weber Summit Kamado E6 Charcoal Grill - Buy now on Weber
• Best for foodies: Big Green Egg MiniMax BBQ with ConvEGGtor - Buy now on John Lewis
Most people pronounce Kamado as "k-MAH-doh", but the syllables are equally weighted in Japanese pronunciation, so we should really say "ka-ma-doh". Kamado grills are different to hybrid BBQs or gas BBQs, not only in shape but how they work too. Originally from Japan, these egg-shaped ceramic vessels have evolved from simple wood- or charcoal-fired clay cooking pots called kamados, the Japanese word translating to 'stove' or 'place for the cauldron'.
Impressed by the cooking methods they saw in WWII, American troops took their first-hand knowledge of these grills back home, and 1974 saw the launch of the Big Green Egg company. The company used a ceramic material based on NASA technology and teamed it with a dual-layered, highly durable glaze to create the iconic product that's so recognisable today. Since then, other companies have launched product lines, and the market has widened to include lots of variations.
Best Kamado grills
Best lightweight
Description
Small and portable but still a joy to use, this ceramic Kamado with a 34cm grill offers all the
Pros
Little assembly needed
Sturdy and well made
Best Overall
Description
Love to vary your cooking technique and location? Then this generous but portable grill with
Pros
Efficient on amount of charcoal needed
Holds heat well
Great investment piece
Best for foodies
Description
Besides its undeniable good looks and robust nature, this compact Kamado grill can go from 0°C to
Pros
Not just a BBQ
Well made and an investment piece
Best luxury
Description
The digital control system and glass touch screen make this a grill for culinary perfectionists.
Pros
Complete control over the cooking
Heston Blumenthal approved
Looks amazing
Best small Kamado grill
Description
Weighing in at just 43kg and sitting in a nifty grab-and-go cradle, this 33cm grill is perfect for
Pros
No leaking
Affordable option
Best multipurpose
Description
Neat and exquisitely formed, this 33cm grill teams a classic ceramic shell with fish-scale texture
Best high-quality
Description
A grill with all the frills, this classic egg-style grill is set on a heavy-duty rolling cart on
Pros
Versatile and well built
Fun to use
Dishwasher proof accessories
Cons
No basic cooking instructions
Kamado grill accessories
Best cold smoker
Description
This Cold Smoker Generator uses real wood to produce cool smoke for up to 12 hours. Perfect gadget
Pros
Effective
Well reviewed
Smoke a wide range of foods
Cons
It's not a heavy-duty smoker
Best Kamado grill accessory
Description
Cook ribs, whole roasts, vegetables, steaks, pizzas, and more all at once with this cooking
Pros
Compatible with major Kamado BBQ brands
Expands the possibilities of Kamado cooking
Versatile
Cons
Some customers find it a bit small
Best Kamado BBQ griddle accessory
Description
This griddle gives you maximum surface contact while you're searing. The Dual-Sided Cast Iron
Pros
Cast iron cooking results in flavoursome food
Lasts a lifetime
Versatile griddle cooking
Cons
Cannot view the customer review
Best BBQ drip pan
Description
Heavy duty and reusable, this heavy-duty drip pan help create moisture and flavour. Plus, it won't
Pros
Durable
Heavy-duty
Easy to clean
Available in a range of sizes
Cons
The embossed logo might be hard to clean
Best enamelled deep pan for a BBQ
Description
Whether you're cooking up an aromatic curry or egg-fried rice on the grill, this deep-sided
Pros
Adds deep pan cooking versatility to your Kamado grill
Durable
Easy to clean
Cons
Some customers find food sticks to the pan
Best verticle chicken roaster
Description
This Stainless Steel Vertical Chicken Roaster allows you to roast six chickens in a larger Kamado
Pros
Crisp chicken skin
Easier than a rotisserie
Clever use of the cooking space
Cons
Cannot read the customer reviews
What to consider when buying a Kamado grill
When it comes to cooking grates, there are three main options:
Stainless steel looks uber-smart and is easy to keep clean, but it doesn't give quite the same cooking results as cast iron.
Cast-iron plates are fantastic at conducting heat and will leave impressive sear marks on food, but their slightly pitted surfaces make them tricky to keep scrupulously clean.
Porcelain enamelled cast iron (or PECI) combines fast-to-heat qualities with an easy-clean surface, and while it's more expensive, it is exceptionally durable. You'll need to resist the temptation to scrape the plates, as this can damage the surface and lead to rusting. Instead, use a stainless-steel brush to remove any dirt, then soak in warm water with a mild non-citrus washing-up liquid and dry thoroughly with absorbent paper towels.
Consider what size is suitable for you and, as with any investment buy, how you'll use it in the future. Kamado grill grate sizes range from 28cm-61cm. Smaller ones are perfect for two, or if you're looking for a nifty grill to move around the garden, there are also more sizeable designs that create a brilliant focal point for larger parties.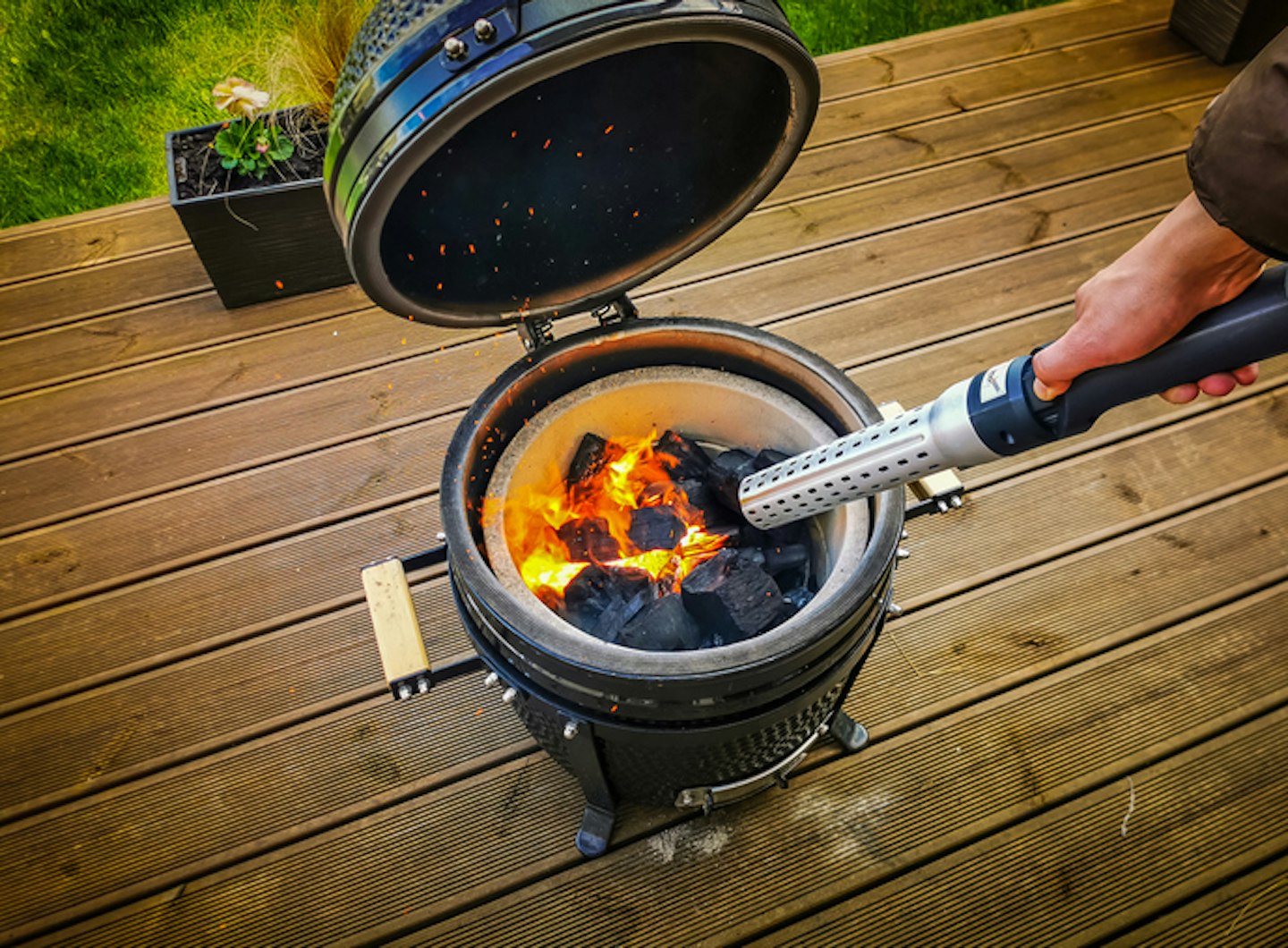 What features to look for
Most new grill designs come with handy innovations designed to make your cooking experience all the more enjoyable.
Side loading ports: Simple but a real game-changer, these hatches enable you to add smoke wood chips or extra coals without any heat loss.
Digital controls: Some of the latest models come with handy apps via Bluetooth connectivity to help monitor cooking temperatures and guide times. Some, such as the Everdure, feature touch-screen controls if you feel the need for precision.
Dimpled or fish-scale glaze: Besides looking good and oozing quality, the textured surface is said to prevent the glaze from cracking during thermal expansion.
Airlift hinges: The hoods of larger ceramic Kamado grills can be hefty to handle and can slam suddenly as a result. An airlift hinge lessens the load.
Prep and storage areas: Grills with built-in work and prep areas make cooking easier. Look out for designs with single or twin side shelves, utensil hooks and rails, storage racks, drawers or even roomy cupboards for storing coals.
Kamado grill FAQs
How do Kamado grills work?
Made from ceramic, shaped like an egg and encased in a highly weatherproof glaze, Kamado grills provide constant heat using minimal BBQ fuel. Charcoal is held safely in a firebox and, with air vents positioned above and below it, is repeatedly fanned by air being drawn through the lower opening before passing out via the upper. The result is constant glowing coals and an evenly heated cooking chamber that's easily regulated by the amount of air allowed through the adjustable vents. Thanks to the highly insulating ceramic body and hard glaze, these grills are also quick to heat up.
Why should I invest in a Kamado grill?
A Kamado is so much more versatile than a standard barbecue. You can use it to grill, bake, smoke, stew, steam and fry, as well as enjoy succulent low-and-slow dishes, all with minimal fuss and monitoring. Choose where to position your grate, pizza stone or Dutch oven within the grill and its proximity to the coals, adjust the vents to regulate the airflow, decide on the cooking time, and away you go. Your food will be cooked to perfection without having to constantly check it, and thanks to the sealed cooking chamber, it'll be moist and imbued with delicious smoky flavours.
These distinctive grills are also highly fuel efficient, making them cheaper to run and kinder to the environment too. Small amounts of charcoal will burn evenly and for much longer than with an open metal barbecue, plus little ash will be left behind, making the cleanup quicker and easier too.
What are Kamado grills made of?
Most of today's products have a robust ceramic body encased in a high-gloss finish. Chosen for its insulating qualities, the actual material composition of the ceramic varies slightly depending on the manufacturer and can include lava rock grit, Portland cement and terracotta, all of which can influence the weight, size and overall cost of the grill.
Fired to extremely high temperatures, the ceramic body is sealed with either several coats of coloured glaze or a baked-on enamel covering to create a super-durable finish. Designed to withstand huge fluctuations of both internal and external temperatures without cracking, these ceramic grills are extremely long lasting, but they can be heavy and cumbersome to move around, with extra large models weighing up to 113kg.
Many leading brands are now designing Kamado grills with dual- or triple-walled stainless-steel bodies instead of ceramic. While still brilliant at retaining heat, these models tend to be more affordable, lighter to move around and come with no risk of cracking. The downside is that they can have a much shorter lifespan than ceramic designs, no matter how well they're looked after, but they are a great option if you want to try out this style of al fresco cooking.
On many grills, details such as handles and trims are made from steel. If this is an investment buy and you want them to last as long as the grill, look for rust-resistant type 304 stainless steel rather than cheaper
powder-coated steel.
What to read next:
Get grilling with a gas BBQ to show off your alfresco cooking skills
Description
Discover everything you need to know to make your outside space look fantastic quickly and easily,
Jill Morgan writes regularly for Modern Gardens, and loves everything to do with gardens, plants and outdoor living.