BBQ season is here - and you've found the perfect opportunity to try out your BBQ. A summer heatwave is on its way and lovely long Bank Holiday weekends. This means we've got plenty of time to light the barbecue and get tasty BBQ food to feast on. Luckily, we've written this ultimate guide to the best BBQ fuel to use for your cookout.
But before you whip out your chef apron and tools to get cooking, sourcing the best BBQ fuel is a necessity because it can be the difference between a perfectly cooked sausage with a crispy outer layer and moist centre, or a burnt piece of dry tasteless steak.  Of course, choosing the right type of BBQ fuel depends on what type of barbecue you have in your garden, so, whether that's charcoal, gas or a hybrid BBQ, we've covered all fuel for your outdoor kitchen in detail.
Best BBQ Fuel Shortlist
Gas for small BBQs - Coleman Value C500 Gas Cartridge
Best gas for large BBQs - Flogas Butane
Firelighters for convenience - Weber Lighter Cube
Best BBQ briquettes - Weber
Charcoal for flavour - Weber Lumpwood Charcoal
Best for ignition - Big K Instant Light Charcoal
Perhaps, you're wondering: what is the best BBQ fuel? Well, there are several different types of BBQ fuel you can choose from to grill food. Picking the best fuel is determined by what kind of BBQ you have, what food you are cooking and the taste you want to achieve, as well as how much time you are going to spend grilling. To find out more information on each type, scroll down to the FAQs. Here, you'll find the best fuel for your Kamado grill and beyond.
But, the question is: where to buy gas for BBQ fuel? It's worth noting that the initial cost of buying a gas bottle may be higher, but once you have a bottle you can buy gas refills. For small gas BBQs, a small gas bottle will suffice, for a gas BBQ with three burners you will need a gas bottle at around 5kg and for anything with four burners and above, a 13kg bottle is most suitable. It does depend on how often you use your BBQ, and how much food you are grilling so take that into consideration. Calor Gas is highly recommended and is currently available at most online stockists.
With that, we have the best BBQ fuel for your outdoor kitchen.
Best BBQ Fuel
Best gas for small BBQs
Description
The Coleman Value C500 Gas Cartridge, Six Pack provides a steady consistent burn across a wide
Pros
Great value for money
Will fit the majority of portable gas appliances
Cons
Can only recycled at the council recycling centre
Small capacity
Best gas for large BBQs
Description
Ideal for patio heaters and large BBQs with four burners or more. The Flogas Butane Gas Cylinder,
Cons
Burn time may vary depending on your heater or BBQ
Best domestic use butane gas
Description
This Calor Gas Butane 7kg Gas Bottle is compatible with many different outdoor appliances and can
Pros
Versatile usage
Experts in butane gas
Cons
Can be expensive
Some customers have experienced difficulties with the delivery of their order
Electricity
Electric grills are pretty energy efficient due to the power source. You will still need to preheat your grill for around 10-15 minutes so your meat cooks evenly, but you won't have a lot of tidying up afterwards. It goes without saying, that rainy-day BBQs are an absolute no-no with an electric grill.
What fuel is used in hybrid BBQs?
You can use any cooking charcoal or gas on a hybrid BBQ, although it's worth checking the manufacturer's instruction manual in case they have any requirements or recommendations. The BBQ brand Outback, for example, recommends that you use its Hybrid Coconut Briquettes for its charcoal BBQ, and John Lewis recommends propane or patio gas cylinder bottles ranging in sizes from 3kg to 13kg for its gas BBQ.
How do I start a BBQ?
There are a couple of options when starting a BBQ and which option you choose depends on which BBQ you have, if you have a hybrid BBQ then the choice is all yours.
How to start a gas BBQ: For beginners selecting the right gas like butane gas or methane gas is the best starting point, advises Robert Dyas. After following the manufacturer's instructions to connect it correctly, keep the lid open and light it. Gas canisters can last for up to four hours on low heat but it's wise to have a backup just in case. Never leave your gas BBQ unattended and set it up away from flammable products.
How to start a charcoal BBQ: To make things easier when lighting a charcoal BBQ, you'll also need firelighters. This can be liquid lighter fluid, natural eco-friendly firelighters, or firelighter blocks. Pack them in between your charcoal and light them to get your fire going using lump charcoal or briquettes. Robert Dyas recommends using the 1:1 ratio for your coal – for every kilogram of meat, add a kilogram of charcoal.
Best lighters for convenience
Description
Use a Weber 17670 Lighter Cube with charcoal barbecues and smokers. They're a non-toxic and
Pros
Less smell than other firelighters
Effective
Easy to use
Cons
Take care - highly flammable product
Handle with gloves as the product can irritate skin
Love Weber? We do, too. Check out our review of the Weber Genesis EPX 335 Smart BBQ.
Best natural firelighters
Description
FIRE UP Natural Sustainable Firelighters are made from sustainably sourced (FSC Certified)
Pros
All-natural, carbon-neutral emission
Some reviews have commented that the smell chocolatey when they burn
Great value and versatile use
Cons
A little tricky to ignite - need to engage the rough edge
Best firelighters for versatility
Description
Eco-friendly odourless firelighters made from wood, wool and wax. Say goodbye to chemical-laden,
Pros
All-natural
Value for money
Easy to use
Cons
None that we can think of!
How do I know when BBQ coals are ready?
After waiting at least 15-20 minutes, you'll also know when your charcoals are ready because they will no longer be solid black but white-hot and covered with grey ash. Make sure all the coals are of the same appearance and evenly heated before you start cooking.
What is the best coal to use for a charcoal BBQ?
Firstly, you'll need to decide whether you are using lump charcoal or briquettes for your charcoal BBQ.
Brands to look for when choosing your coal that will deliver the best results: Weber, Outback, Rockwood, Komodo Joe, Jealous Devil, or Royal Oak.
Best BBQ briquettes
Description
If you want consistent results briquettes are hard to beat. They light evenly and burn at the same
Pros
Perfect for grilling, roasting or baking on a BBQ
Eco-conscious, made from waste wood
Easy to light and emit heat for a long time
Best fuel for hybrid BBQ
Description
These Outback Hybrid Coconut Briquettes are for use with all Outback® Hybrid gas BBQs. Simply add
Pros
Slow burning
100 per cent natural
Best long lasting charcoal
Description
Made from real trees, the Kamado Joe XL Natural Reusable Lump Charcoal for BBQ burns clean and
Pros
Creates a distinctive charcoal flavour
Achieve high temperatures for searing
Burns cleaner, hotter and longer than standard charcoal
Cons
Carbon Monoxide hazard - use outdoors only
Best charcoal for flavour
Description
This Weber 1782580 Lumpwood Charcoal, 5kg is made from beech, hornbeam, birch, and oak woods,
Pros
Easy to light
Ideal for grilling and searing
Imparts a unique flavour
Cons
A bit messy
Some customers received bags containing small pieces of charcoal
The charcoal falls between the grill
Description
Another popular charcoal with Amazon shoppers, this Marienburg Organic Restaurant Grade Lumpwood
Pros
Organic lumpwood charcoal
Odourless
Clean and convenient
Best charcoal for ignition
Description
A best-seller on Amazon this four-pack of instant light lump wood charcoal bags has been rated
Cons
Lack of information about the provenance of the wood
impregnated with chemical
FAQs
What is the best BBQ fuel to use?
Charcoals and lump charcoals – Perhaps the most well-known type of BBQ fuel, charcoal takes the longest to cook food with on a stylish charcoal BBQ. However, once heated charcoal is the easiest to cook with and the most versatile when it comes to the type of food you wish to cook with. Lump charcoal comes in larger forms and looks most like its original form, it is the best for achieving a smoked flavour.
Briquettes – These are compressed blocks of wood by-products like coal dust or wood, along with cleaner-burning ingredients. They are cheaper than coal and as they are uniform in shape when lit. They provide a consistent and controllable level of heat, longer than lump charcoal.
Wood - For the advanced fire cooker, using wood on a BBQ can add another level of smoky flavour to your meat due to the choices available. Match your wood to your meat and you'll have your guests talking for weeks to come. Sweet chestnut, silver birch, applewood and English oak are all solid options. You'll need to support the BBQ with coal still but make sure your wood is dry and cooked down to embers before you start cooking your food, otherwise, it will taste quite literally like a fire.
Butane/Propane gas – This is a natural highly flammable hydrocarbon gas available in canisters that fit in your gas BBQ. Propane stores all year round, so if you don't use your whole canister during BBQ season it will be usable when the next season arrives. Gas is a great option for beginners because you don't have to wait around for coals to heat, once lit the heat is instant. Make sure to follow the manufacturer's instructions when connecting any tank.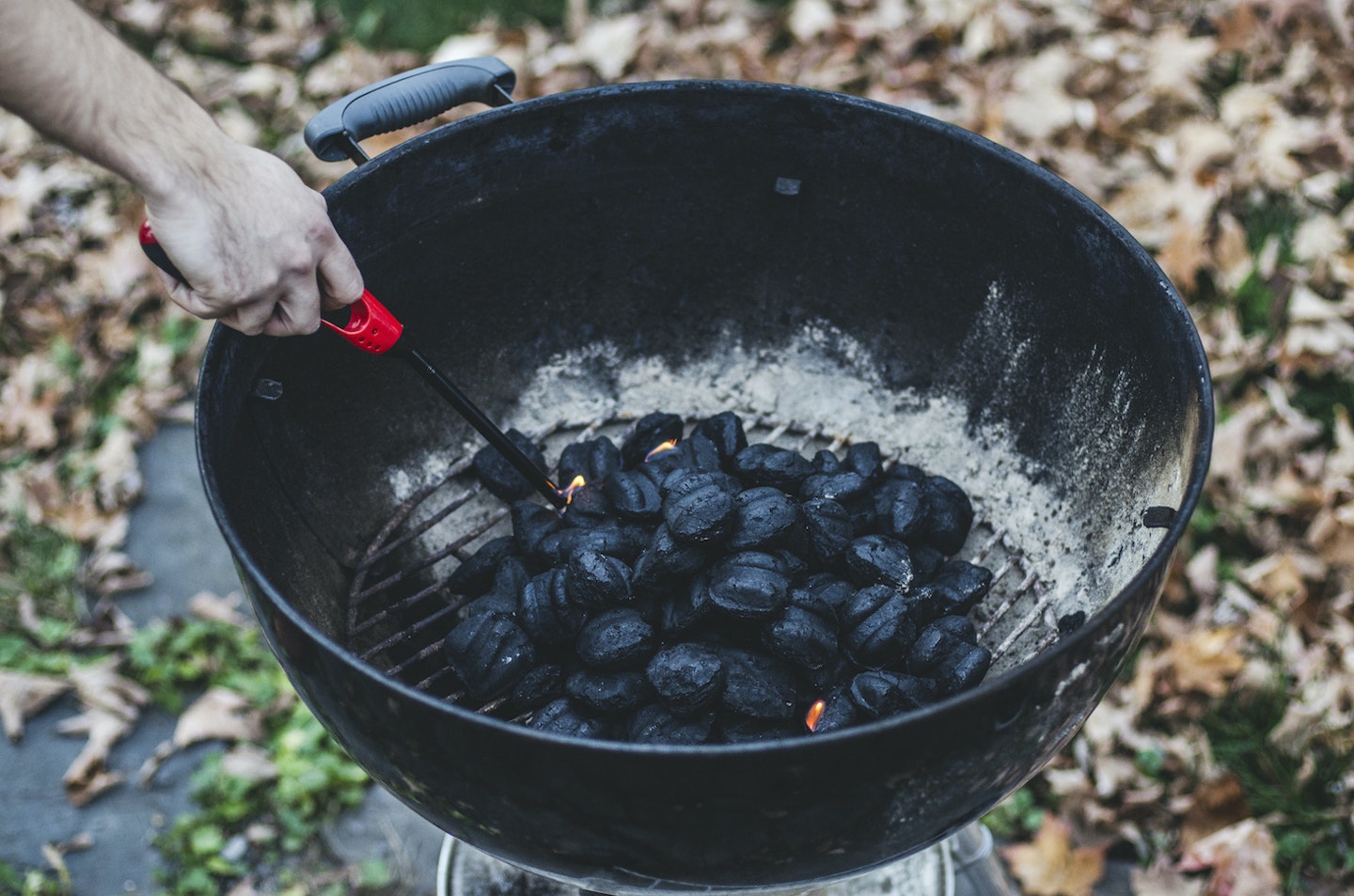 How long does it take for charcoal to get hot enough?
It takes roughly 15-20 minutes for the charcoal to get hot enough to cook with. You should keep the lid of your charcoal BBQ closed for maximum heat efficiency.
Does lump charcoal burn longer than briquettes?
Lump charcoal lights faster and burns hotter, however, it tends to burn down faster so can be better for cooking meats like steak or burgers. Briquettes don't get as hot as lump charcoal, but they hold a steady temperature so are good for long and even burning.
What to read next:
Description
Discover everything you need to know to make your outside space look fantastic, quickly and
Natalie Corner is the Commercial Content Editor across the Specialist Portfolio for Bauer Media and is slowly learning how to care for her plant babies. When she's not soaking up the three days of sunshine in the great British outdoors, she's testing out the latest BBQ products.