Soil cultivators are an essential tool for any gardener, as they help to prepare the soil for planting and maintain the health of the crops. These vital tools are used to prepare the soil for planting or to remove weeds or other undesirable plants from your plot of land. They come in various shapes and sizes and can be hand-held or mounted on tractors or other heavy machinery. In this guide, we round up the best soil cultivator tools, from long-handled cultivators to hand tools.
These tools generally have a series of curved or straight tines or blades designed to loosen the soil, break up clumps, and eliminate weeds as it is pulled or pushed over the ground. Whereas some cultivators are intended for use in small gardens and are hand-held or used by one person, others can be larger and mounted on tractors or other heavy machinery for use in larger fields or commercial operations.
Soil cultivators can be an effective way to prepare the soil for planting, as they help improve the structure and fertility of the ground and make it easier to plant and care for crops so; if you are looking to optimise your plant growth, here are some things to consider.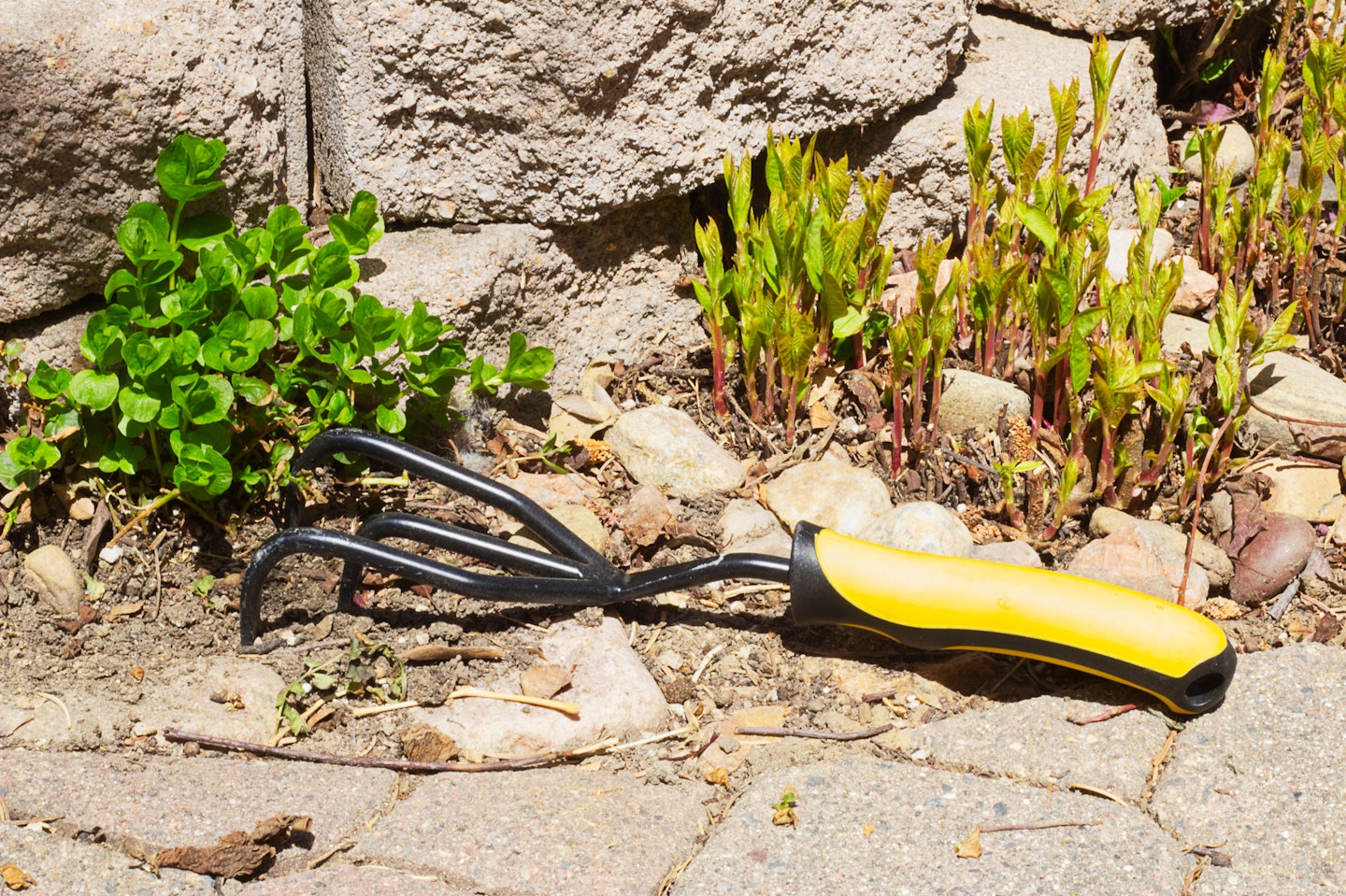 What is the difference between a garden tiller and a cultivator tool?
An electric tiller breaks up hard and compact soil, whereas a garden cultivator mixes up dirt that is already loose. Cultivators are used for mixing soil that has been broken up. Such as when compost or fertiliser is added after tilling and before planting. Additionally, cultivators can also be used after planting to control weeds.
How to use a soil cultivator tool?
Modern Gardens Magazine writer Geoff Hodge guides us through the tools that break down soils into a lovely crumbly tilth. "Soil cultivating tools not only break down the soil into finer particles, but the process also aerates the soil and allows for better absorption of water and nutrients."
"They are also used to break up soil pans, dense layers of soil below the uppermost topsoil layer, and soil capping. This is the hard surface crust in the top 1-10mm of bare soil, usually caused by heavy rainfall pounding on the soil surface. This is then hardened by the sun and drying winds to produce a crusty surface that sometimes cracks."
"Long-handled cultivators are the best choice when dealing with larger areas of soil, whereas hand-held versions are better in small areas or when working close to and around plants. Hand-held 'midi' tools with longer handles provide a bit more reach."
"The majority feature three, sometimes four, prongs. Those with pointed and even sharpened tips will cut through heavy soils better than those with blunt ends. And those with prongs that curve back towards you, rather than downwards, tend to be easier to use and control."
"Cultivators with prongs will be perfect for the vast majority of soils. But where the soil is very heavy or hasn't been cultivated for many years, cultivators with blades are more powerful and will cut through the soil more quickly and easily. The Wolf-Garten Multi-Change Soil Miller, for instance, is often referred to as the 'soil buster'! Using these first and then following up with a pronged cultivator usually produces excellent results."
What to consider when choosing a soil cultivator tool?
Before purchasing a soil cultivator tool, there are a few things to consider to ensure you pick the right one for you.
Material
When selecting a cultivator, your main choices are between carbon steel or stainless steel prongs and shafts made of traditional wood or lighter-weight aluminium or even FiberComp, which is a fibre-reinforced plastic composite resin.
Carbon steel is slightly heavier than stainless steel and can rust if you don't take care of your tools and oil them regularly.
Stainless steel is lighter than carbon steel and tends not to corrode or rust. It is easier to keep clean and generally easier to work through heavy soils.
Specifications
Handles: Wooden handles, usually made from ash, can rot if not maintained and kept dry. They can also be quite rough and produce blisters, especially on cheap models that use poor-quality wood and even splinters. If you decide on a wooden handle, choose one that has been varnished or check the quality and smoothness first. Where available, make sure it's comfortable.
Length: Ensure it's the correct length for your height to use upright without bending
Shaft: Make sure it's smooth, and that wooden shafts don't have imperfections that could result in cracking, breaking or splinters
Prongs: Width, length and material will affect weight, balance and how deeply they cultivate
There are many different types of cultivators on the market, and choosing the right one will depend on the size and type of your garden or plot of land, as well as your personal preferences and needs.
For small gardens, hand-held cultivators or those that one person draws are a great choice as these are often lighter, easier to manoeuvre and can be used to cultivate small areas of land quickly and efficiently.
So without further ado, here are the best soil cultivator tools picked by gardening expert Geoff Hodge to ensure your garden soil is of excellent standard.
Best soil cultivator tools
Best long-handled tools
Best long-handled cultivator with star shaped blades
Description
The Coopers of Stortford Long-Handled Cultivator is a versatile and convenient tool that is
Pros
Stainless steel blades
Lightweight metal shaft
Cons
Blades may require more maintenance and upkeep than other cultivators
Best premium long-handled cultivator
Description
This long-handled cultivator is made from a durable stainless steel material that is resistant to
Pros
Made of durable stainless steel
Stylish design
Timber sourced from sustainable and responsibly managed forests
Cons
Pricier than other models
Description
This award-winning brand has designed tools you can rely on, and this three-prong cultivator is
Pros
Well-made material
Longest length on this list
Weatherproofed
Best long-handled cultivator for length
Description
Another excellent tool from Spear & Jackson is this Neverbend cultivator. Hammer-finished and
Pros
Made to last
Comfortable handles
Award-winning product
Cons
Pricier than other options
Best adaptable soil miller
Description
This versatile multi-change cultivator incorporates all the tools needed to keep borders in good
Pros
Versatile tool
High-quality materials
Multi-change heads for multiple tasks
Best hand cultivators
Description
The Burgon & Ball GTH/SCCRHS RHS Stainless Claw Cultivator is a high-quality and long-lasting tool
Pros
Suitable for small tasks and weeding on your knees
High quality
RHS approved
Description
This nifty Twist Cultivator is constructed from a strong, high-quality stainless steel material
Pros
Good for smaller hands
Handy twist design
Gift boxed
Description
Pricing at just over £5, this hand cultivator from Draper is great value. Designed with
Pros
Good price
Has a leather wrist strap
Description
The Easi-Grip PETA Garden Tool is a hand-held cultivator designed for use in small gardens and
Pros
Ergonomic and comfortable handle
Durable stainless steel tines that are resistant to rust and wear
Lightweight
Cons
Not as effective as larger cultivators in breaking up heavily compacted soils
Soil cultivator tools FAQs
How to maintain garden cultivator tools?
Regardless of the type of cultivator you choose, it is necessary to follow proper care and maintenance procedures to ensure it is working at its best. This may include cleaning the tines or blades, lubricating the moving parts, and checking for any signs of wear or damage. You may also want to occasionally oil the metal parts too. By taking good care of your cultivator, you can ensure that it will last for many seasons and help to keep your soil healthy and productive.
How do I use a garden cultivator?
You can use a garden cultivator by simply holding the tool in your hand and using the tines or prongs to loosen and aerate the soil in your garden bed or planting area. You can move the cultivator back and forth in a sweeping motion to cover a larger area or use a more precise digging motion to target exact areas of soil.
Can a garden cultivator be used to remove weeds?
Yes, the prongs can remove weeds. To do this, use the cultivator to slice through the weed at the base of the plant, being careful not to harm the surrounding soil or plants.
What to read next
Garden shears that help you regain control of your outdoor space
Description
Get inspired each month with Modern Gardens magazine. In every issue, you will find the latest