From walls and fences to pots and pebbles, there's not much in your garden that can't be improved with a quick coat of paint. And you'll find everything you need to know to get a great result right here.
The key to success is preparation so aim to spend just as much time prepping the surface as you do painting it. Check the weather forecast too, as for big makeovers such as walls and structures, you need a couple of dry and sunny, but not too hot, days to get it done. Stock up on the right tools as one brush doesn't fit all and make sure you buy the appropriate paint for the surface. After that, it's time to let your imagination run free!
Masonry and brickwork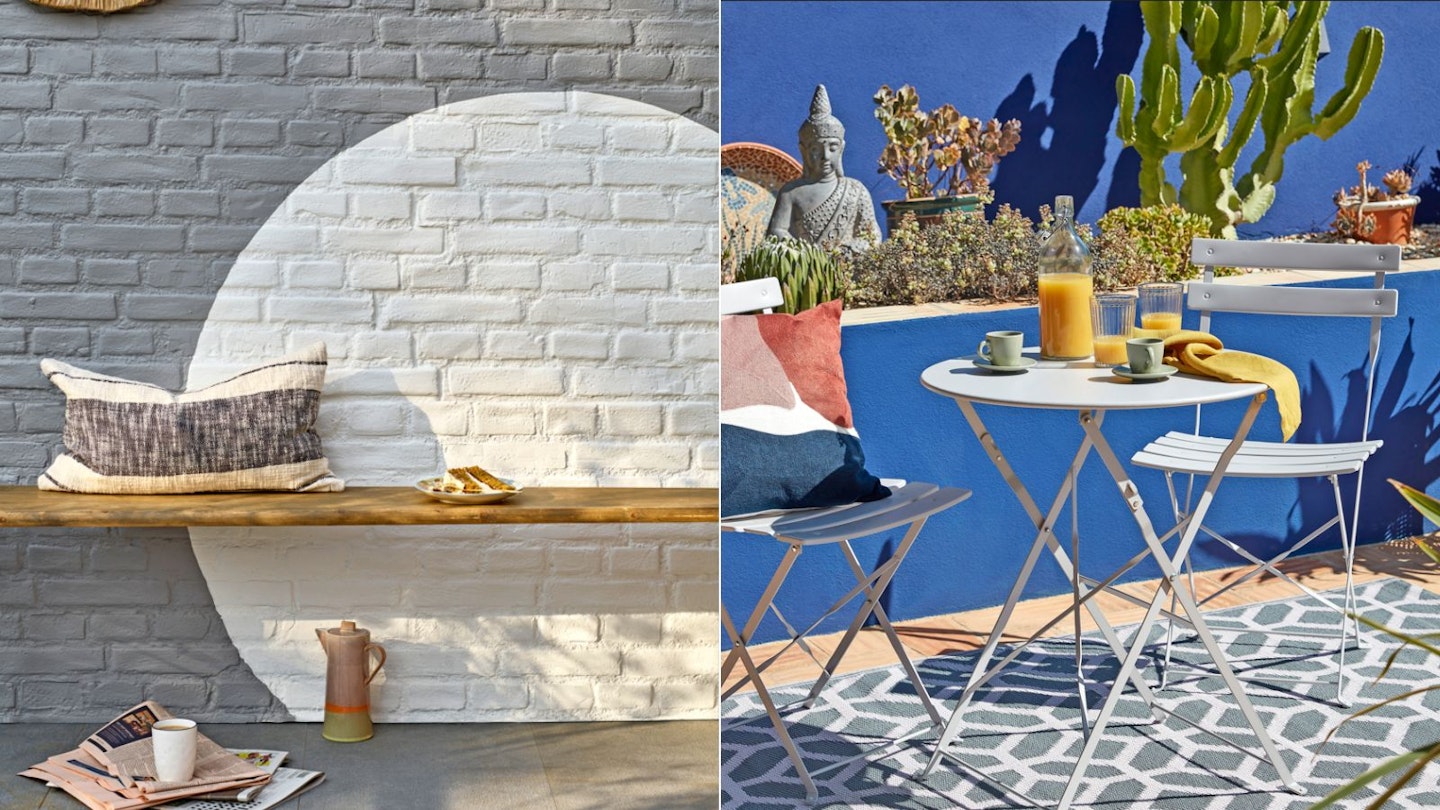 Paint ideas
Colour clash: Who says walls have to be just one colour! Mark out and mask off each section of your design, making sure each colour is dry before doing the next.
Simple style: A circle painted in a contrasting colour on brickwork brings a wall to life.
Try this: Paint background walls and raised beds in contrasting colours for a designer look. Try Intelligent Masonry Paint in Knightsbridge and Carmine, each £75/5L, littlegreene.com.
How to prep and paint
Grubby, ugly, or boring walls are easily improved with paint, and turning an eyesore into an eye-catching feature can transform the look of your whole garden. It's important to remove dust, grease, algae and general grime so the paint can adhere. First, remove loose or flaking paint with a wire brush, then use a pump spray to wash down with a multipurpose masonry cleaner. Leave to dry before filling any holes or cracks with a masonry filler. You may need to sand down the filler to ensure the surface is perfectly smooth for an even finish, then use a dusting brush with long soft bristles to ensure the wall surfaces are perfectly clean.
Cover windowsills, doors, and taps or electric sockets with plastic sheeting or masking tape, then lay heavy-duty dust sheets around the base of the walls. If your walls have never been painted or are chalky or powdery like brickwork then you should apply a stabilising solution as a base. If the walls are rendered, apply a watered-down coat of the masonry paint, approximately 10 parts paint to one part water, as a primer.
Once fully dry you can get painting! You should paint from top to bottom and work from right to left or left to right. Start by painting around the edges of the walls and frames using a masonry brush. Then for speedy results, use a long pile roller with an extension pole. Buy two sleeves, one for the primer and one for the paint. The Purdy Colossus Sleeve 12in and adjustable frame holds loads of paint, making application easier and quicker.
Good to know: Want to paint a concrete patio or path? Use a specialist product such as Rust-Oleum 7200 Floorcoat PU as masonry paint won't withstand the footfall and pools of water.
Best exterior paint for masonry and brickwork
Stone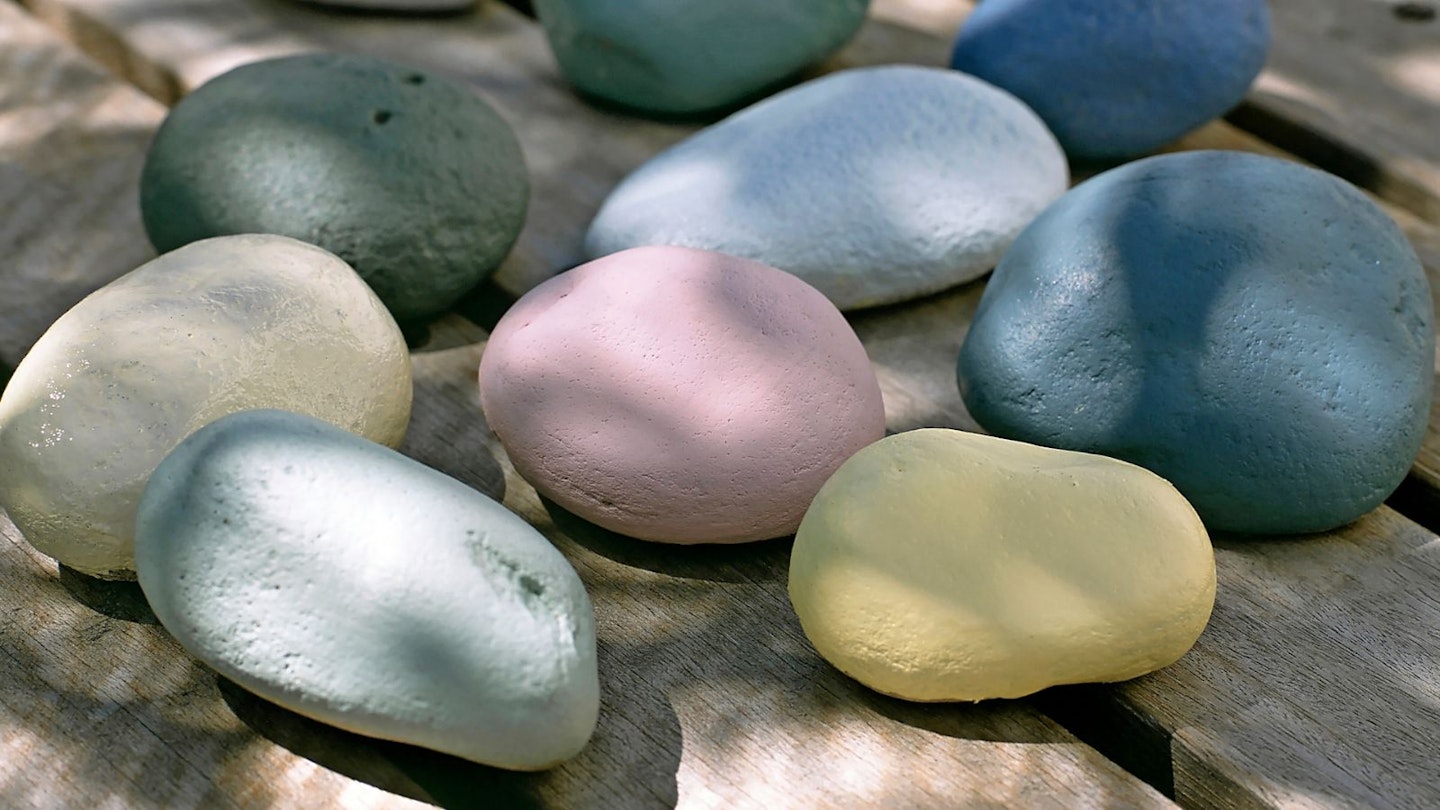 Paint idea
Pastel pebbles: These pretty stones only take a few minutes to make and bring a calming vibe to a corner of your plot. Use a mix of pebble sizes and chalky shades.
How to prep and paint
Add a decorative touch to your patio or decking or liven up the tops of large planters or flowerbeds with some painted pebbles. They're super-easy to do and if you don't have any already lying around, buy the Tarmac River Pebbles Midi Bag. Give them a quick wash with soapy water, rinse and let them air dry completely. First, apply a coat of acrylic primer to help the paint adhere. Acrylic paint is the best option to use as it's waterproof and durable, and use a synthetic brush.
When the paint is dry, apply a sealer for extra protection.
Best exterior paint for stone
Metal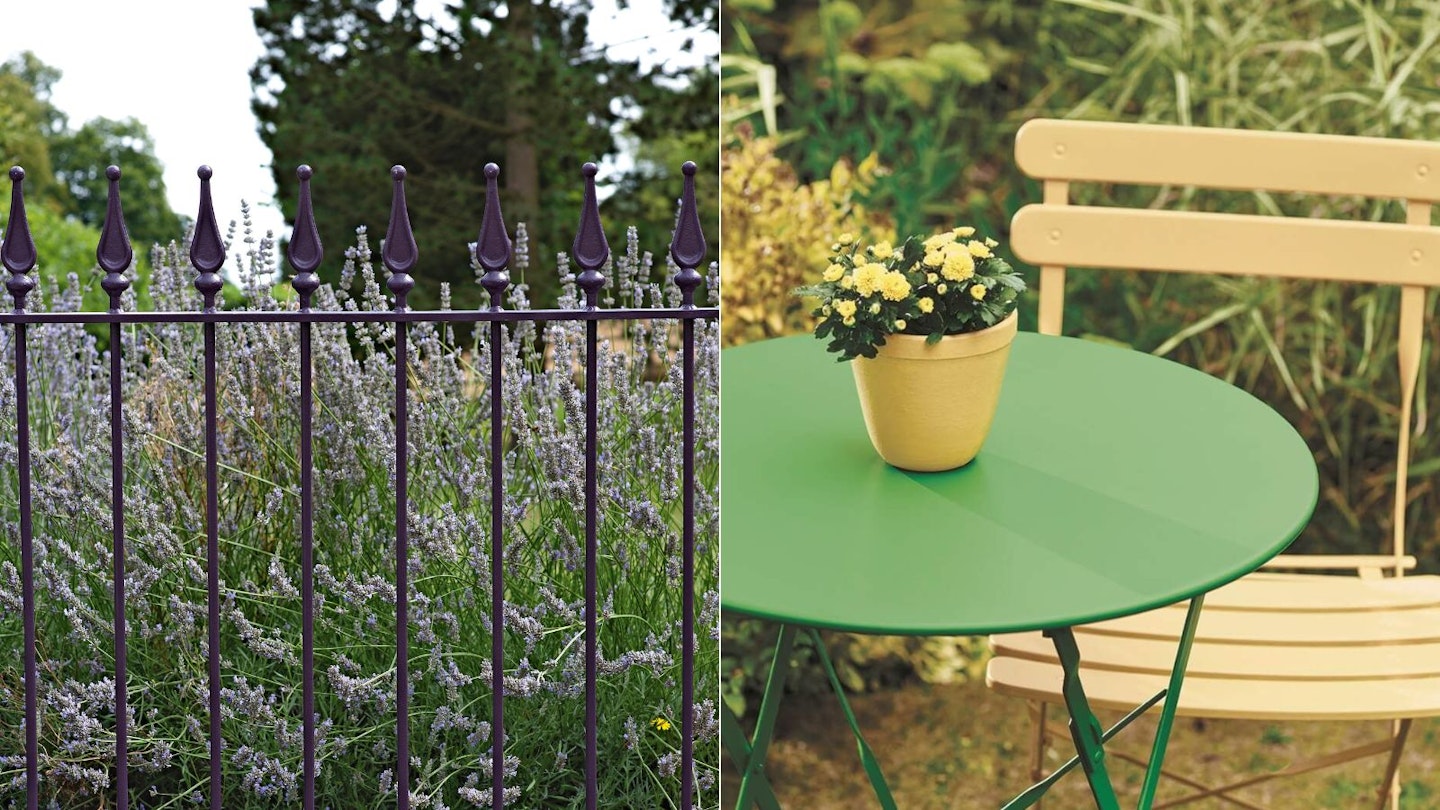 Paint ideas
Fancy railings: Choose a bold shade – because you can see through the railings, the colour won't overpower.
Sitting pretty: Give an old metal bistro set a refresh for summer.
How to prep and paint
Rusty or peeling metal furniture and railings aren't beyond help! First, remove any paint flakes with a wire brush, then clean with a fungicidal wash. If your metal object is ferrous (made from steel, cast iron or stainless steel) you need to apply one or two coats of a specialist metal primer. A natural bristle brush is best for painting with an oil-based for-metal paint as it minimises the amount of brushstrokes left behind and creates a smoother finish. If you're going for the spray-paint option, choose a still day and protect the area under and around the object you're painting. Whichever method you choose, apply two coats, allowing time to dry in-between.
If the metal is beyond-hope rusty, then don't despair – Hammerite's Smooth Direct To Rust Metal Paint (see below) will cover the uneven surface.
Best exterior paint for metal
Terracotta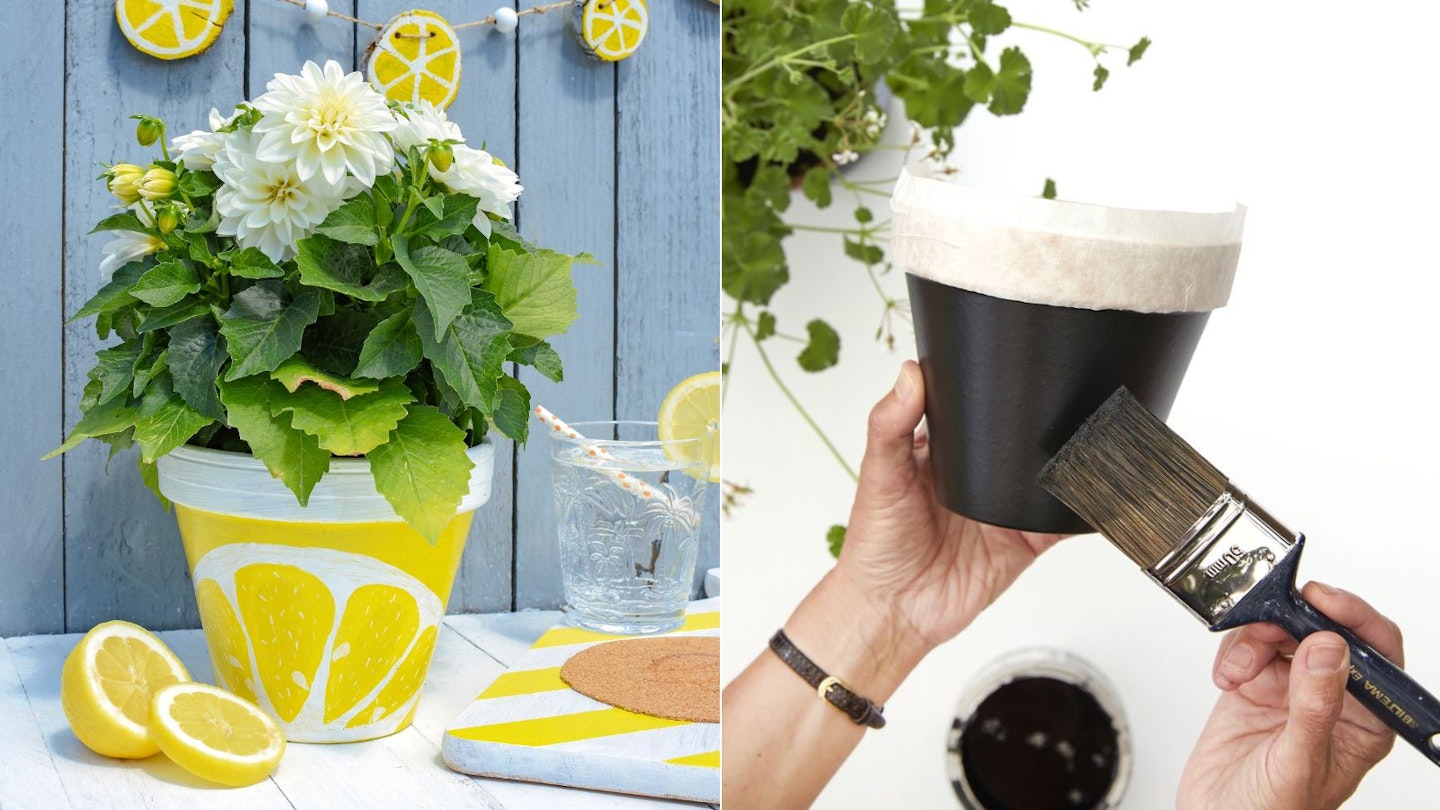 Paint ideas
Pots of loveliness: Paint your design on a terracotta pot using acrylic paint and fill in the details with an acrylic paint marker pen in a matching tone.
Try this: Use a stencil to create a bespoke pattern. The perfect base coat is Sandtex Ultra Smooth Masonry Paint in Pure Brilliant White.
How to prep and paint
Turn a trad pot into an on-trend head-turner or match up that motley collection lurking behind the shed so they can have pride of place on the patio. Terracotta is a breathable material, allowing water and moisture to escape, and the type of paint you use will affect its porosity and so how much you need to water the plants in them. Masonry paint used without any primer or sealant allows the terracotta to breathe still, but won't be so durable, whereas acrylic paint lasts longer and seals the pot.
To clean the pot thoroughly inside and out, brush down then wash in a soapy water mix and leave to thoroughly dry. Use a synthetic/nylon brush and apply the paint according to the manufacturer's instructions, being sure to paint inside the rim. If you want to, seal the paint (and the pot) to increase durability with a coat of acrylic varnish.
Best exterior paint for terracotta
Wood
Paint ideas:
Make it pop: A brightly painted gate looks so stylish. We'd recommend Intelligent Exterior Eggshell in Orange Aurora from littlegreene.com.
Freshen up: Make a slatted fence a standout part of your garden design with candy-coloured panels.
How to prep and paint
Giving wooden fences and structures a lick of paint helps protect them from the weather – rain and shine – as well as switching up the look of your plot. Before you start, protect plants and give yourself room to work by tying them back,
trimming or covering with plastic sheeting.
If you want to, fill small holes or cracks with exterior wood-filler and sand smooth. Also sand down any splinters, then use a pressure washer or hose with a power spray nozzle to remove dust, dirt and debris. Leave to dry thoroughly.
Read next: Get your garden in tip-top condition with the best pressure washers
Most wood paints work as a primer, so you can paint directly onto bare wood. But remember that wood is porous so the first coat on bare wood will take up a lot of paint. Otherwise seal with an exterior primer or wood stain prior to painting – or you can do this anyway as it'll save money if you're using an expensive paint. If you're just repainting you'll probably only need one coat unless it's a drastic change of tone in which case two is better to give a solid colour coating.
You can use an exterior brush, roller or sprayer, or a combination of all three – but check the paint you've chosen is compatible. Prefer the perfect paint brush look? Try the Harris Seriously Good Shed & Fence 5in Paint Brush. If you want to do a bit of brush work and rollering for a quicker finish go for the Harris 10601 9-Inch Transform Shed/Fence and Decking Roller Kit. Start from the top and work your way down so you can catch any drips.
Top tip: Keep paint bristles beautifully straight after cleaning by wrapping them in newspaper, while still slightly damp.
Best exterior paint for wood
Plastic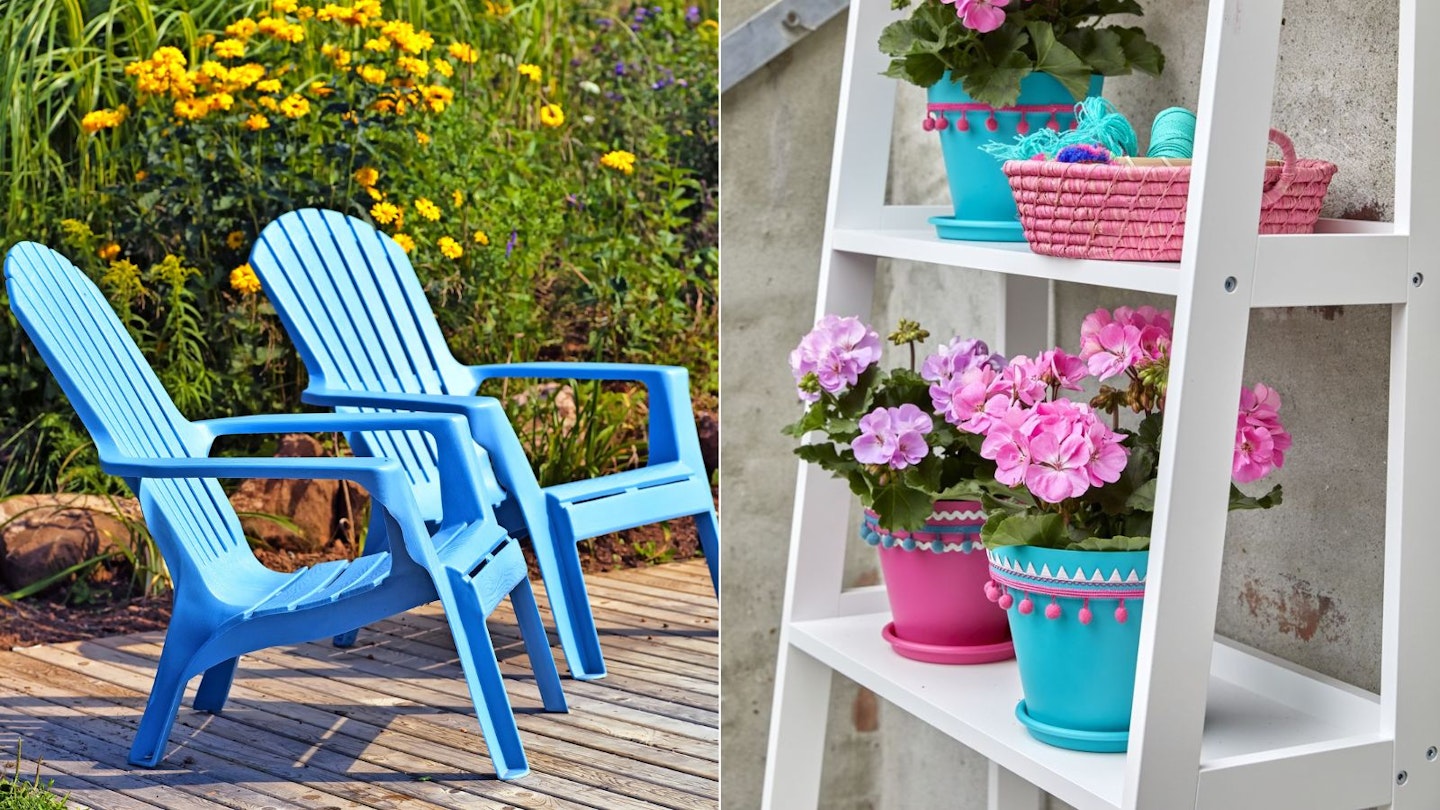 Paint ideas:
Go graphic: Turn cheap plastic pots into on-trend geometric planters with masking tape and spray paint in complementary colours.
From cheap to chic: Transform cheap plastic chairs with a spray-paint makeover. Try Colour It Spray Paint in Sky Blue, £3.09/400ml, sprayster.com.
How to prep and paint
From downpipes and gutters to planters and UPVC window frames, plastic isn't the most attractive material to have in your garden but it can be easily transformed so it looks much more appealing. First, clean the plastic with warm soapy
water, using a scrubbing brush for any particularly dirty or mildewy areas, then rinse and allow to dry. Painting glossy plastic is much easier if you lightly sand it with 180-220 grit sandpaper beforehand, then wipe over with white spirit. Or, instead, coat with a plastic-specific primer.
You can choose between a spray or brush-on paint. For brush-on paint, use a synthetic brush and paint carefully up and down to avoid brushstrokes, just as if you were using gloss paint. If you opt for a spray, hold the can 20-30cm away from the surface with the can tilted at a 45° angle. Spray lightly across the surface, going back and forth. It's better to do a light spray then go over it again until you've got the required finish.
Best exterior paint for plastic
What to read next:
Garden pergola ideas to get your outdoor space ready for entertaining
Description
Get inspired each month with Modern Gardens magazine. In every issue you will find the latest