If your garden fence is looking a bit green for the wrong reasons, the best cordless pressure washer can give it a fresh lease of life. What's more, it frees you from the constraints of electric points, cables and a mains water supply. Jet wash hard-to-reach weeds and get into the inaccessible edges of your patio with a portable pressure washer model that's lightweight and convenient.
Pressure washers vary in strength, from light to heavy-duty models - more on that in the FAQs below. Cordless pressure washers tend to be light-duty. So before you buy, consider the types of cleaning jobs that you want to be able to do. Corded light-duty pressure washers are around 100 bar, whilst a cordless model like the Worx is just 25 bar. If you're looking for something to make cleaning furniture or bikes more convenient, then a cordless pressure washer is ideal. But it's not going to be able to strip paint or deep clean your patio like a Kärcher pressure washer.
Last chance Black Friday deals on cordless pressure washers
We interrupt the regularly scheduled content to let you know that although Black Friday is over, there's still time to grab some last chance Black Friday deals on pressure washers These are the retailers that still have deals available, or keep scrolling to continue reading our buyer's guide.
Shop the best Black Friday cordless pressure washer deals: Amazon UK | Argos | B&Q | FFX | Homebase | Ryobi
24% off: WORX WG620E.2 18V Cordless Hydroshot Portable Pressure Cleaner WAS £169.99, NOW £130
26% off: Ryobi RY18PW22A-0 18V ONE Cordless 22bar Power Washer WAS £134.99, NOW £99.95
37% off: Yard Force 22Bar 20V Aquajet Cordless Pressure Washer WAS £149.99, NOW £94.97
Save £48: Ryobi 18V ONE+™ HP Cordless Brushless 41Bar Power Washer WAS £159.99, NOW £111.99
Do look at the product specification - in particular, the pressure and the water flow rate - which determines how quickly it will clean. Also, consider the range of accessories, such as hoses, detergent bottles and nozzles, that come with the model. Some nozzles offer a range of spraying angles, from zero degrees to a wide-angle spray tip.
Take into account hose length and battery life too - if you have a super long fence to clean, a cordless pressure washer may not be fit for purpose.
Best cordless pressure washer at a glance
• Best lightweight cordless pressure washer: WORX Cordless Hydroshot - view on Amazon UK
• Best for reliability: Ryobi RY18PW22A-0 18V ONE Cordless Power Washer  - view on Amazon UK
• Best for power: Aguri Power Clean P40 Max Cordless Pressure Washer - view on B&Q
Best cordless pressure washer
Best lightweight cordless pressure washer
Description
The WORX Hydroshot is for people who have small areas to clean. The full kit includes a brush,
Cons
Not overly powerful - it can't clean patios, for example
Best for reliability
Description
Ideal for cleaning your garden tools, this Ryobi is a powerful alternative to a garden hose with a
Pros
Effective
Lightweight and portable
Cons
Not many accessories included
Best ergonomic cordless pressure washer
Description
Turn drab to fab - with a maximum flow rate of 270l/h, 22 bar, and 20V battery, this is one of the
Cons
Not suitable for heavy-duty jobs
Best small but powerful cordless pressure washer
Description
The DayPlus Cordless Power Washer packs significantly more punch, with a maximum flow rate of
Pros
Range of spray settings
Built-in foaming device
Cons
Has received mixed reviews
Best battery compatibility with other tools
Description
If you already own Black and Decker cordless tools with a compatible battery, you'll be pleased to
Pros
Solid battery and charger
Easy to use
Best for power
Description
The spec on the Aguri Power Clean is impressive - with 45 bar pressure and a 40V battery - it's
Cons
Might be too powerful for some
Best cordless pressure washer for battery life
Description
Unlike other cordless pressure washers, this model from Sealey comes with its own 25-litre
Pros
Long battery life
Long hose
Convenient container
Cons
Not great at shifting muck as other pressure washers
Best for ease of use
Description
Whether you're cleaning Venetian blinds in your conservatory or washing the mud off your bike,
Pros
Convenient for light cleaning tasks
2-year warranty
Connect to garden hose
Best budget cordless pressure washer
Description
If the garage door needs cleaning, you can say goodbye to the sponge. This is by far the cheapest
Our verdict: Best cordless pressure washer
Get the job done quicker with the WORX WG620E.2 Cordless Hydroshot. You have the flexibility to use the draw hose in a water butt, pond, or bucket or hook it up to a garden tap. Also, you benefit from a trusted brand that proves its worth with a quality battery, charger, accessories and connectors. Compact and easy to use, the Hydroshot has received thousands of positive reviews and a 4.4 rating on Amazon.
FAQs
What are the benefits of going cordless?
The main benefit of going cordless is the unrestricted access it brings. Save time unravelling the hose pipe and extension cables and opt to clean better under pressure.
A pressure washer makes quick work of cleaning: From swimming pools, hot tubs, awnings, and railings to the crust on your BBQ, a high-pressure water cannon with the right spray tip eliminates grime in a jiffy. When you start to think about it, there are 101 ways to utilise a pressure washer in the garden. And no one can deny there's something satisfying about seeing stubborn dirt rocketed off paving slabs. There are many Youtube videos to account for this.
Cordless models don't need a garden tap in order to use them. A cordless pressure washer has a syphon that allows it to draw water from almost any source. Syphon from a bucket, container, or rain barrel, for example, but equally, a pond or river can be a water source. So, from blasting your balcony to eliminating pigeon poo - take your compact cleaning powerhouse out and about for a spot of spring cleaning.
What can I clean with a pressure washer?
From shoe scuffs to removing graffiti, the range of outdoor surfaces and items a pressure washer can clean is exhaustive. You can clean:
Bicycles, outdoor shoes, garden tools, garden furniture, fences, motorbikes, cars, steps, SUVs, brickwork, caravans, swimming pools and exterior brickwork.
Hard surfaces: Stone terraces, paving stones, washed concrete, asphalt, metal, garden tools
Medium surfaces: Cars, motorbikes, brick surfaces, plastered walls, plastic garden furniture
Soft surfaces: Wood, bicycles, sandstone surfaces, rattan furniture
Before you buy, ask yourself, "How are you going to use the pressure washer?" Is it for just cleaning the patio, freeing the car of mud and grime, or cleaning garden furniture? Or are you needing to blast all the brickwork of your entire house before painting? This will help narrow down the options and determine the power level that you need.
What type of pressure washer should I buy?
There are many options for pressure washers, including models from big-name brands like Kärcher, Stihl, Yard Force and Spear and Jackson. If you shop around, remember the important factors: Build quality, suitable accessories, and power/pressure/flow ratios.
You won't need to spend more than £200 for a top-quality, light to medium-duty pressure washer. For light-duty pressure washers, you'll want to focus on quality and the right accessories to suit you.
With portability in mind, a cordless pressure washer is a much better option. However, they are not as powerful as corded models - so do bear this in mind and consider the scale of the job you're going to be using it for. In addition, their finite battery life makes them unfit for larger cleaning jobs.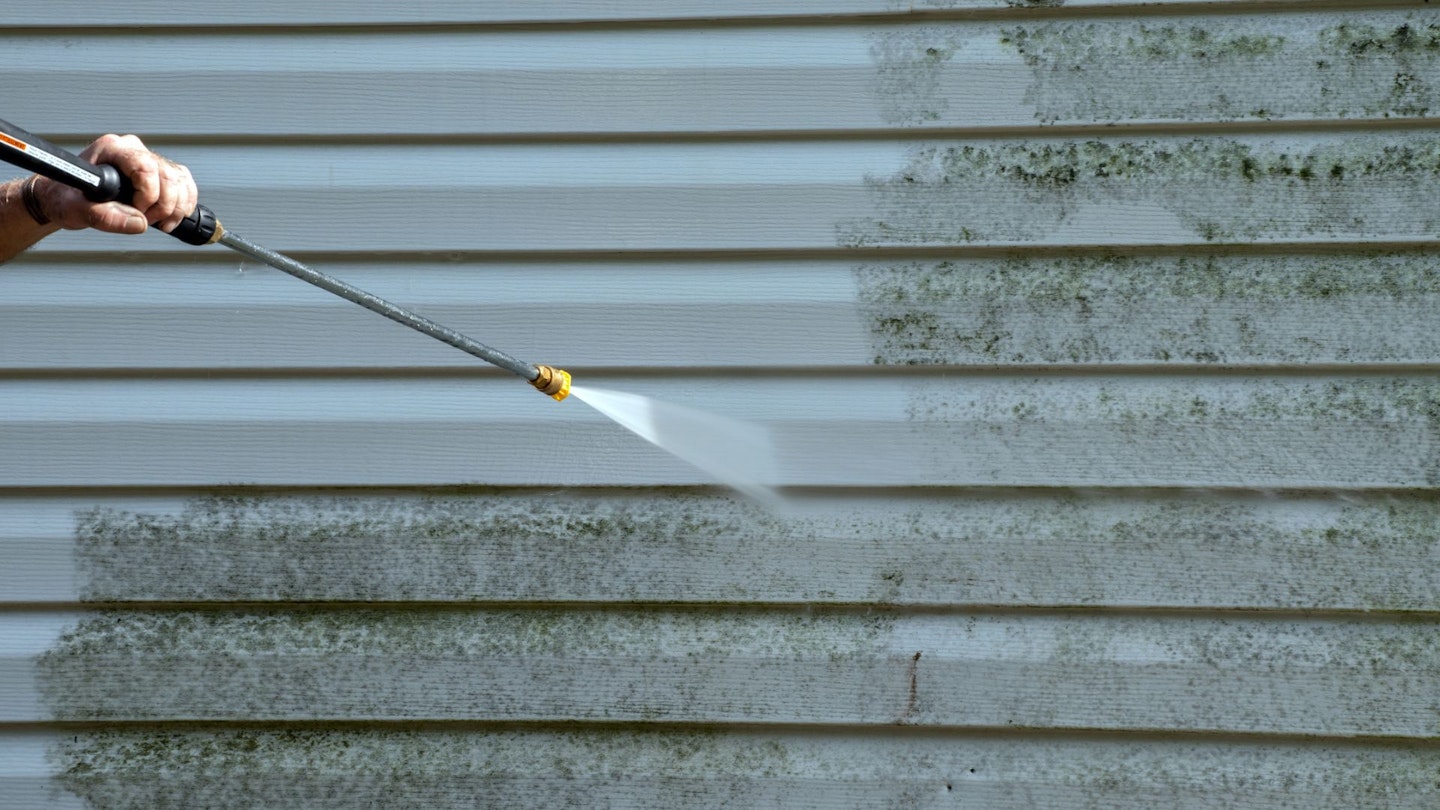 If you need a washer for both big and small jobs around your property, then an electric pressure washer for medium-heavy duty use is the better option. However, full-size pressure washers take time to set up, and then you have to factor in where you're going to plug it in. Plus, the hose will need to be thoroughly unravelled otherwise, water will not be expelled at full force.
Finally, it's unlikely that you're going to need a heavy-duty pressure washer. But for the top-end for, powerful domestic machines, take a look at the Kärcher K 7 Premium Smart Control Home. This beast can clean outside walls with its telescopic lance. The 180 bar pressure is strong enough to blast fences and flagstones and give them a new lease of life.
What is the difference between a pressure washer and a jet washer?
The main difference between power washing vs pressure washing is the heat. The jet wash in a power washing machine uses heated water, whereas the water in a pressure washer is not heated. Some may say jet washers are more effective on really stubborn stains as the heat can add another layer to breaking the stain down.
What to read next:
Description
Discover everything you need to know to make your outside space look fantastic, quickly and
Natalie Knowles is a Homes & Garden Product Writer for Modern Gardens, specialising in garden trends. When she's not flexing her mow-how, Natalie is a successful artist and illustrator.