There's nothing more satisfying than blasting your patio and garden furniture with the best pressure washer. Seeing all the grime and dirt wash away is definitely one way to have a productive morning, and there's no better time to do it than in the spring as we prepare to spend much more time outside in our beloved outdoor spaces. We've had a dig through the market to find the best options for you. From Bosch to Kärcher pressure washers, check out our choice of the best below.
Black Friday deals on pressure washers
We interrupt the regularly scheduled content to let you know that although Black Friday is over, there's still time to grab some last chance Black Friday deals on pressure washers. These are the retailers that still have deals available or keep scrolling to continue reading our buyer's guide.
Shop the best Black Friday pressure washer deals: Amazon UK | Argos | B&Q | FFX | Very | Appliances Direct | Ryobi | Machine Mart
Save £105: Karcher K7 Premium Smart Pressure Washer with Patio Cleaner + Detergent WAS £650, NOW £545
Save £55: Gardenjack 3 in 1 Pressure Washer WAS £139, NOW £84
Save £50: Karcher K4 Power Control Car & Home Pressure Washer WAS £319.98, NOW £269.98
Save £48: Ryobi 18V ONE+™ HP Cordless Brushless 41Bar Power Washer WAS £159.99, NOW £111.99
22% off: Bosch EasyAquatak 110 High-Pressure Washer, WAS £89, NOW £69
Pressure washers help to clean large spaces of areas really quickly and efficiently. So, there are lots of outdoor materials and spaces that you can clean off easily with a pressure washer. The most common things you'll find to pressure wash in your garden are wooden decks, patios, concrete surfaces, fences, walkways, and driveways. Not to mention, you can also use your washer to tackle those gritty, tough parts of the garden, like rubbish bins and outdoor furniture when they've got especially grimy.
But with so many different pressure washers on the market, which one is right for you? For starters, decide if you want a corded or cordless model. Cordless pressure washers tend to be light-duty so aren't the best for deep cleaning the patio, however, they give you the freedom of not needing to be tethered to a power supply. Corded electric pressure washers give you more power to tackle those bigger cleaning jobs but do tend to be heavier as a result. Consider what you plan to clean and how often to determine what best fits your needs. There are petrol-powered pressure washers too but these are designed for us typical home users.
We've brought together a list of the best, user-friendly pressure washers to buy so you can enjoy the satisfaction of cleaning your garden through the power of water.
Best pressure washer shortlist:
• Best high-end pressure washer: Kärcher K7 Premium Smart Control Home Pressure Washer
• Best lightweight pressure washer: Spear and Jackson Pressure Washer 1400W
• Best value: Ryobi Pressure Washer
Best pressure washers 2023
Best corded pressure washers
Best lightweight pressure washer
Description
This compact and lightweight Spear & Jackson 1400W Pressure Washer is perfect for most medium-duty
Pros
Lightweight
Adjustable pressure
Best value pressure washer for garden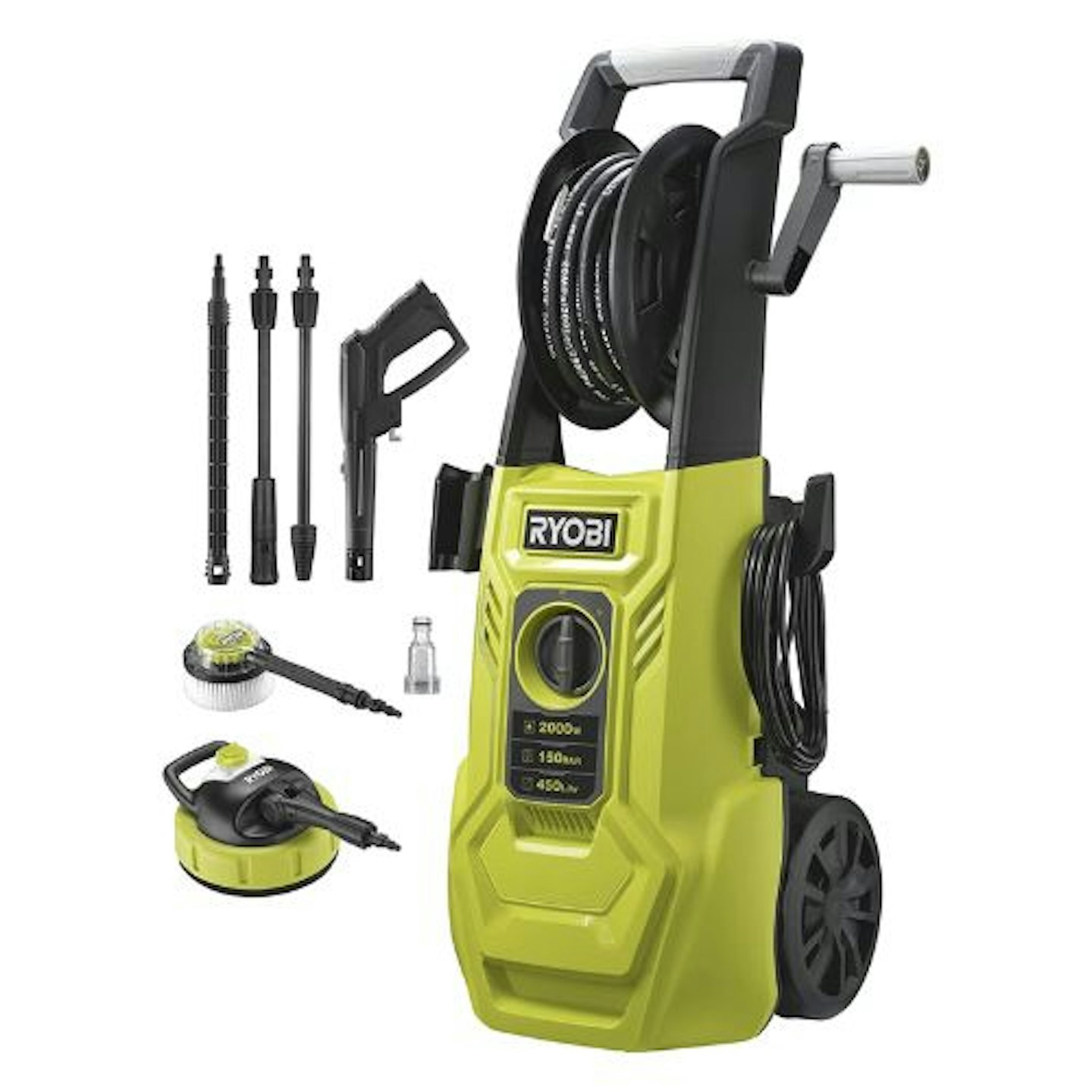 Amazon
Description
Want more bang for your buck? Check out this new Ryobi pressure washer which delivers a 1400W
Pros
High power and pressure
Long hose length
Cons
Instructions are confusing
Best compact pressure washer for your garden
Description
Need a pressure washer but don't want to be lugging a massive one around the garden? This Bosch
Best pressure washer for style and substance
On Sale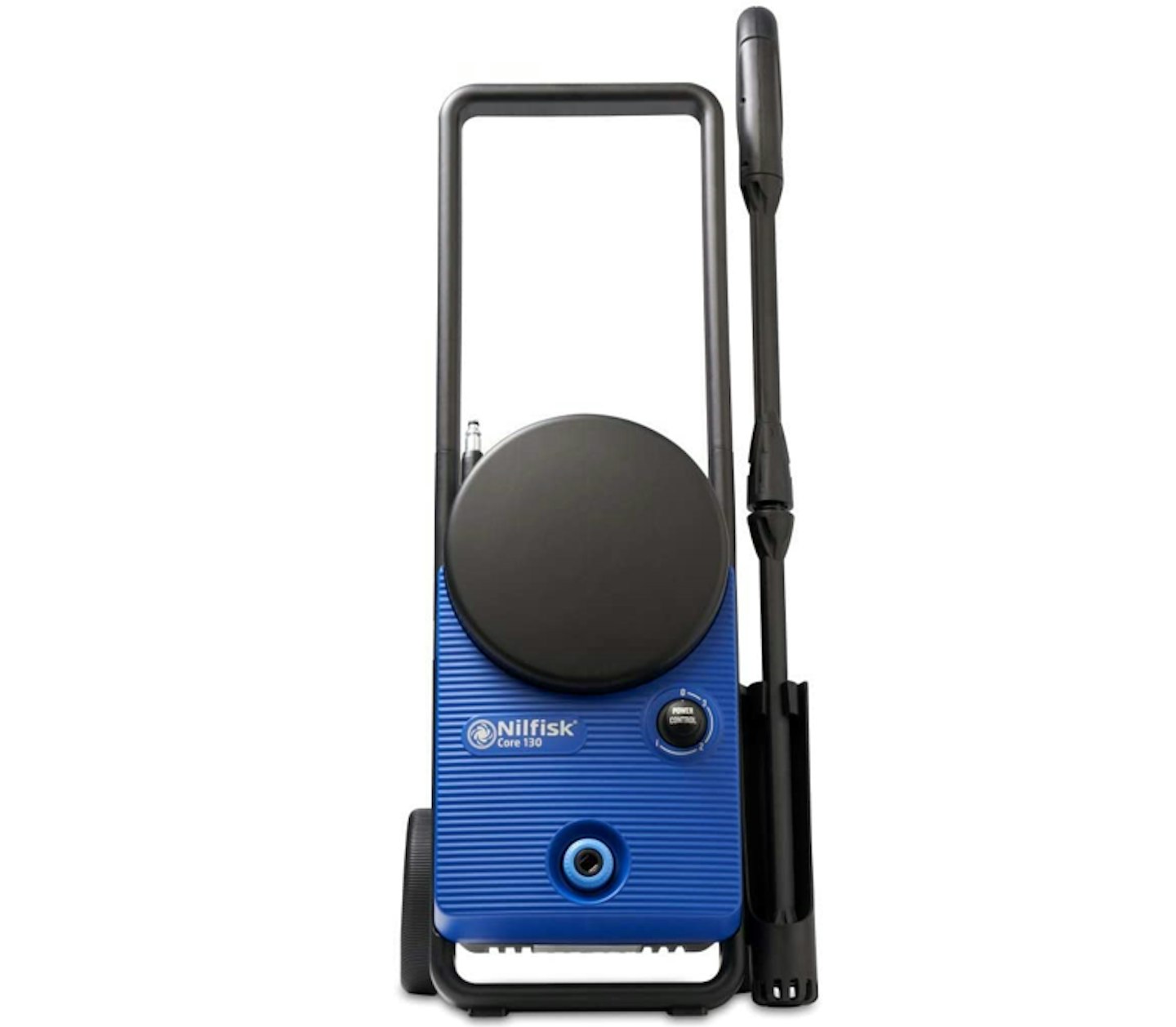 Amazon
Description
If you're looking for efficiency, this Nilfisk pressure washer allows ease of cleaning whilst
Pros
Long hose
High power and pressure
Cons
Nozzle's a bit fiddly to change
Best heavy-duty pressure washer for garden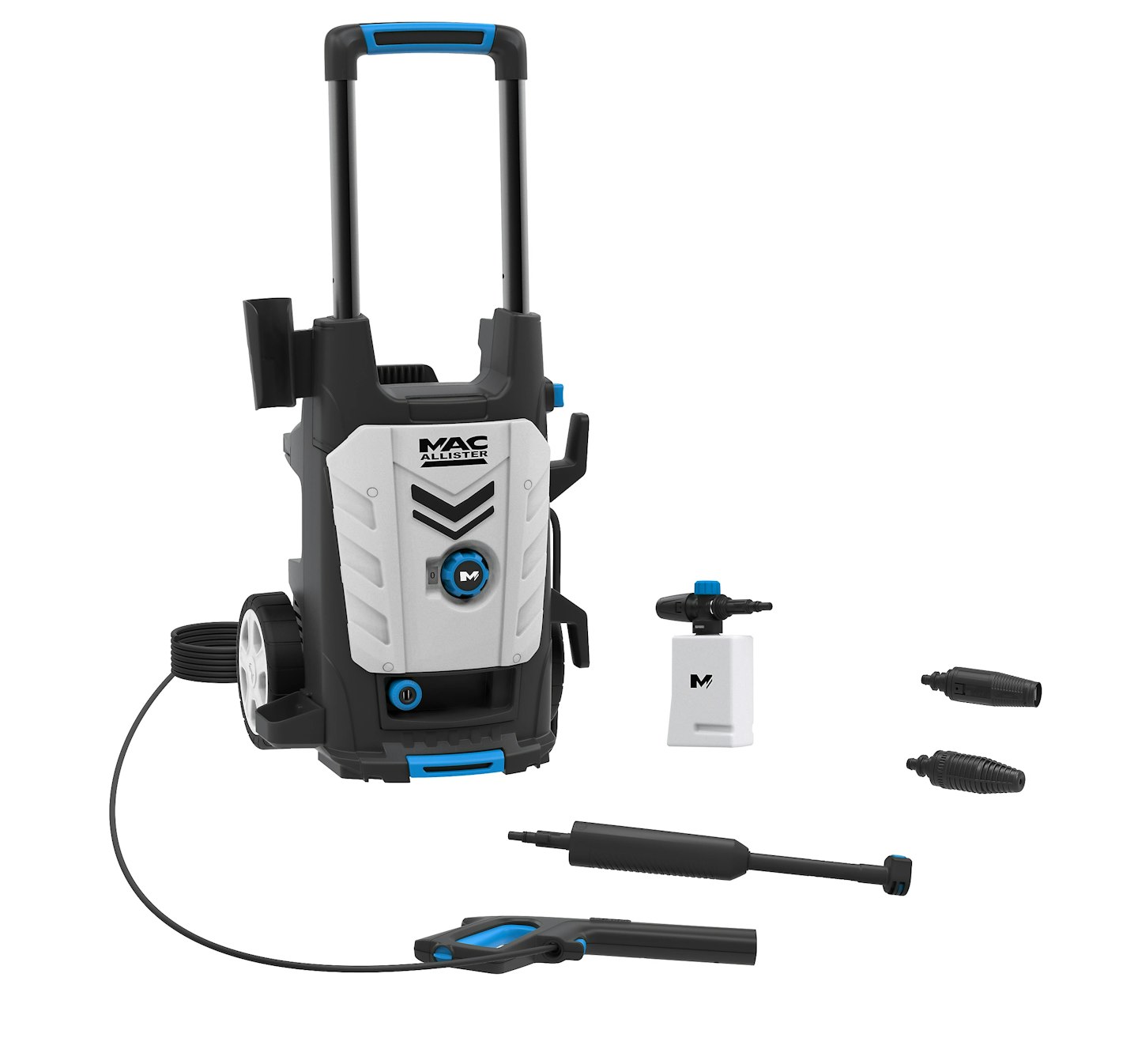 B&Q
Description
This Mac Allister pressure washer has more pressure and power for that heavy-duty washing you may
Pros
Great value and performance
Easy to use
Cons
Some found it to be on the noisy side
Best cordless pressure washer
Best for reliability
Description
Ideal for cleaning your garden tools, this Ryobi is a powerful alternative to a garden hose with a
Pros
Effective
Can be used from a hose or a bucket
Best cordless pressure washer for garden
On Sale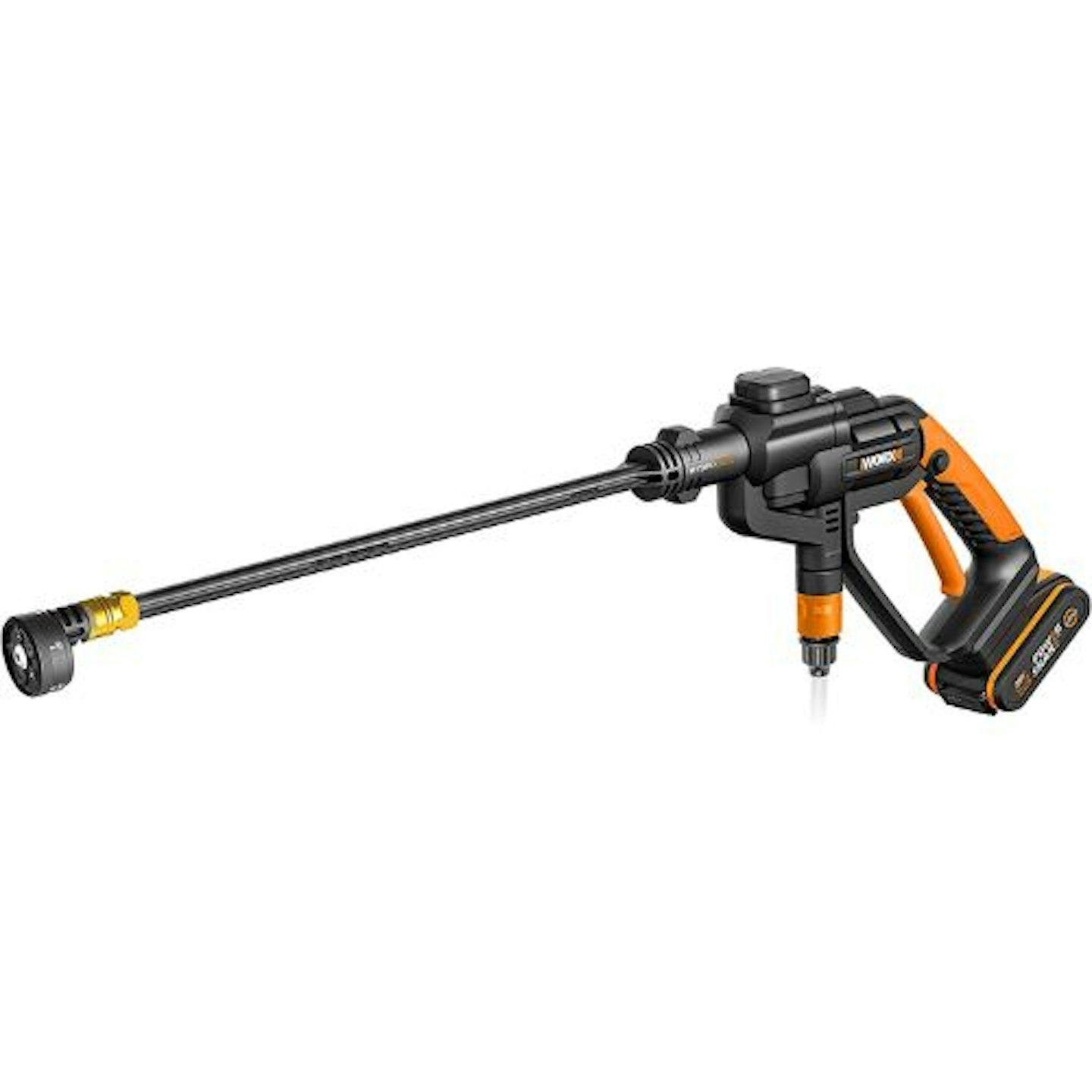 Amazon
Description
One of the top choices on Amazon, this WORX cordless Hydroshot washer is perfect if you don't have
Best handheld pressure washer
Description
This Titan cordless handheld pressure washer makes hard-to-reach tasks easier, including cleaning
Pros
Great for small and quick jobs
Attachments available
Best powerful cordless pressure washer
Description
If you're after a washer that packs a punch, the DEWALT has been rated one of the most powerful on
Pros
Powerful
Small
No need to connect to water source
Cons
Plastic fittings may crack over time
What to consider in your pressure washer
There are lots of things to consider when buying a pressure washer for your garden and outdoor areas.
Weight and size: Firstly, you'll want to think about the type of pressure washer you'll want to invest in. Do you want something big and chunky that will have a high power and pressure rating for heavy-duty jobs? Or would you prefer a lightweight model that allows you to carry your pressure washer around the garden?
Power and pressure rates: With each pressure washer, there will be certain power wattage and pressures that it can go up to. If you'd rather blast all the dirt away as efficiently as possible, you'll want to go up higher, but this may also mean going up in price and size.
Components: Pressure washers can come with all sorts of accessories and additions. Think about what you might need depending on the materials you're hosing down. Do you need various nozzles, brushes and bottles, or do you want to keep it simple?
Hose and cable lengths: Most pressure washers will come with a cable if they're corded and electric, and all will come with a hose attached to the machine. If you have a huge garden with lots to wash down, you may need a longer hose length to reach through your garden.
Pressure washer FAQs
Can you use detergent in your pressure washer?
Yes, though it's worth checking the manufacturer's guidelines first and foremost. They may recommend a detergent in particular or advise against it for their particular machine. You can buy universal detergents and patio cleaner solutions to oust dirt, mould, moss, and more.
What is the difference between a pressure washer and a jet washer?
The main difference between power washing and pressure washing is the heat. The jet wash in a power washing machine uses heated water, whereas the water in a pressure washer is typically not heated. Some may say jet washers are more effective on really stubborn stains as the heat can add another layer to breaking the stain down.
What water pressure do I need?
The water pressure is measured in bars or PSI (pounds per square inch) - the higher the bar, the more powerful the pressure washer is. For a light clean, up to 100 bars will do the trick, whilst a medium clean such as cleaning the car or lifting grime from the patio will do well with 110 to 130 bars. However, if you're working on more intense jobs, need to clean large areas or are looking to clean stone, 130 bars and up would be your best choice.
What aftercare should I do to preserve my decking?
Regardless of whether you've used a pressure washer or a scrubbing brush to clean your decking, one of the cons is that wood absorbs moisture, causing the fibres to expand, warp and worsen splintering. Using a sealant to preserve wood is a good idea, however the wood must be absolutely bone dry before you seal it. Quite simply, sealing in moisture leads to rot.
It's important to seal wood with a decking oil, such as Barrettine All In One Decking Oil Treatment. Look for a decking oil that is water-repellent, UV-resistant and prevents wood from splitting. Additionally, Barrettine's product protects decking from mould growth.
Alternatively, you may prefer a water-based sealant, such as Ronseal Ultimate Protection Decking Oil, which is more eco-friendly than a solvent-based product.
Seal wooden decking to keep it looking like new and protect it from the elements. Additionally, it makes the wood more resilient for those occasions when you need to clean dirt or lichen off your patio or decking. The good news is that by applying a good quality sealant you'll keep your decking looking cleaner for longer.
What to read next:
Description
Discover everything you need to know to make your outside space look fantastic, quickly and
Caitlin Casey is a Senior Writer for Modern Gardens, heat, Closer, and Grazia. She covers shopping, women's lifestyle, popular culture as well as all things trending.