If you're in the market to replace your old lawn mower, you will probably be considering a number of options before deciding which is the best lawn mower for you. It has to be said the size and choice of options in the market can be a little bit bewildering, but we have a number of articles here at Modern Gardens that can help you narrow your choices.
Petrol mowers have really been the reserve of those with larger lawns to tend, with corded electric mowers generally being favoured for most lawn-cutting tasks. One of the growing sectors in the domestic market is the cordless lawn mower. There's the attraction of no power cords to worry about, but some people have concerns about battery life although advances in technology mean that battery power is much more efficient than it used to be.
Rather than a road test, we were given the opportunity to grass-test the Ryobi 18V ONE+ HP Cordless Brushless 40cm Lawn Mower, so we called on our resident amateur gardener, Alex Boyd, to take charge of it for a few months to put it through its paces. Alex is your typical amateur weekend gardener who is happy pottering about whose main objective is to enjoy his garden.
Ryobi 18V ONE+ HP Cordless Brushless 40cm Lawn Mower overview
Pros
Good cutting width and manoeuvrability
No power leads to worry about
Testing the Ryobi 18V ONE+ HP Cordless Brushless 40cm Lawn Mower
For quite some time, I've resisted the lure of a cordless lawn mower. For ages, I've been happily digging out my trusty hover mower every couple of weeks, along with its mains lead, then finding the extension reel and hooking up to the mains socket inside the hallway before finally starting to cut the grass. I don't have the best of lawns, but it's not the worst either, so I don't have any desire to have bowling-green-type stripes or to make sure it's 'just so'. Despite this, I always had several reservations about cordless lawn mowers, including being concerned about battery life and whether the motor would be strong enough to give a decent cut.
So, when the Ryobi 18V ONE+ HP Cordless Brushless 40cm Lawn Mower came along, I thought I might as well give it a go – and I'm glad I did.
Build
This lawn mower has been designed for medium lawns, and the 40cm cutting width gives a good balance between cutting area and manoeuvrability.
On the technical side, it uses brushless technology to improve power and runtime and to extend the motor life. The power is supplied by two 5.0Ah batteries, which aren't included as part of the package, and this may be something that might influence your decision. If you already have or you intend to buy more Ryobi battery-powered tools, then it's not such a dilemma as the batteries can be quite an expensive investment.
When you first take it out of the box, the first thing you'll notice is that there's no assembly required; you just lift the handle and click it into place. You can then adjust the telescopic arms to the most comfortable length, height and angle.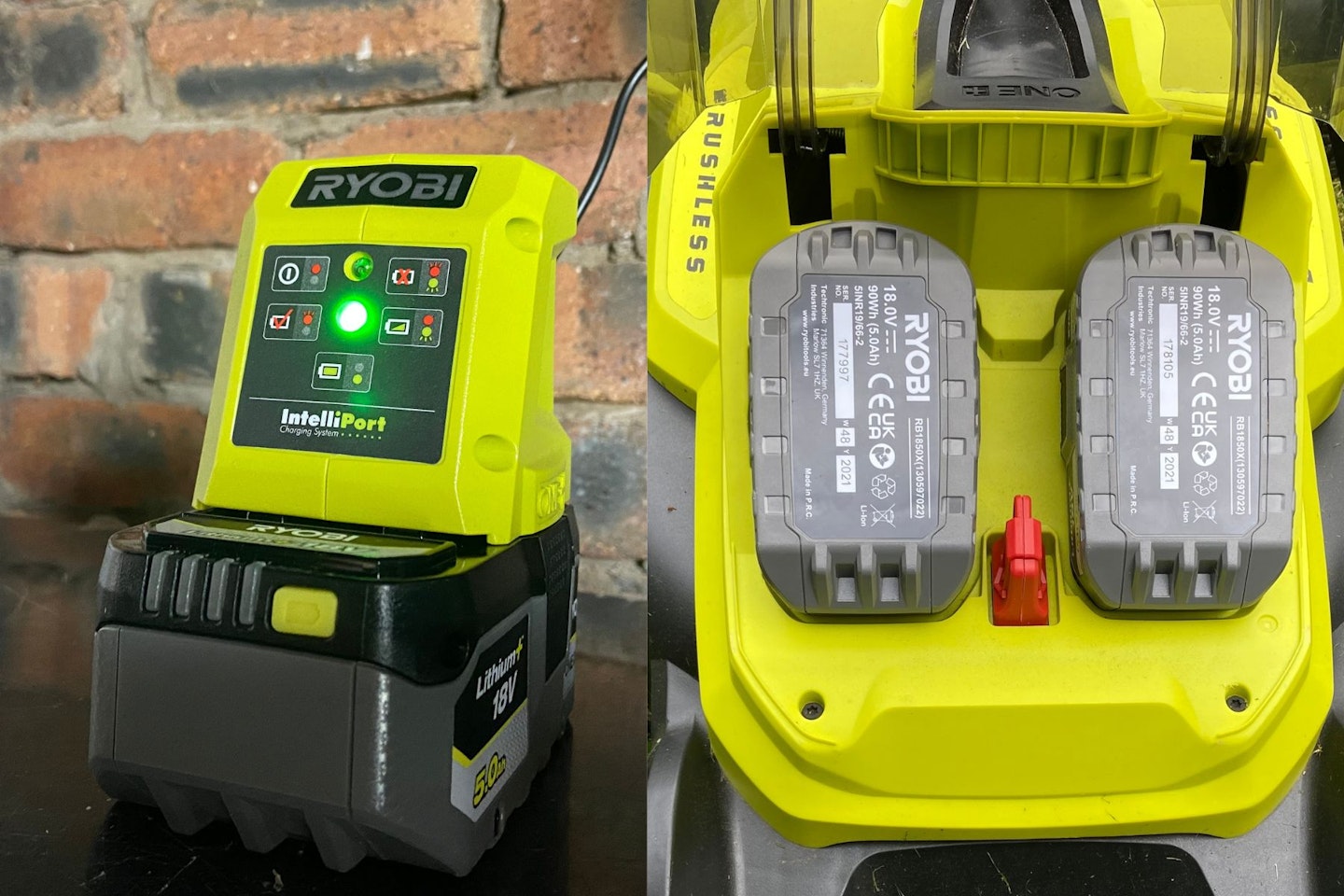 The battery compartment has space for two batteries, although the Ryobi will run on just one, but the addition of a second battery will give a power boost and extend the run time. With two fully charged batteries, you should be good to tackle lawns of up to 690m². There is also a safety/security key to prevent anyone from using the machine in your absence.
There's also a huge 50L grass catcher bag which is collapsible for easy and compact storage, but if you don't want to use the grass collector, the mulching function will deposit cut grass back onto your lawn.
Before you start, you'll notice the control panel in the centre of the handle. This is where you'll see the battery status, there are warning lights to alert you to the condition of the blades or the motor, and you have the power level button, which toggles from eco to automatic to full.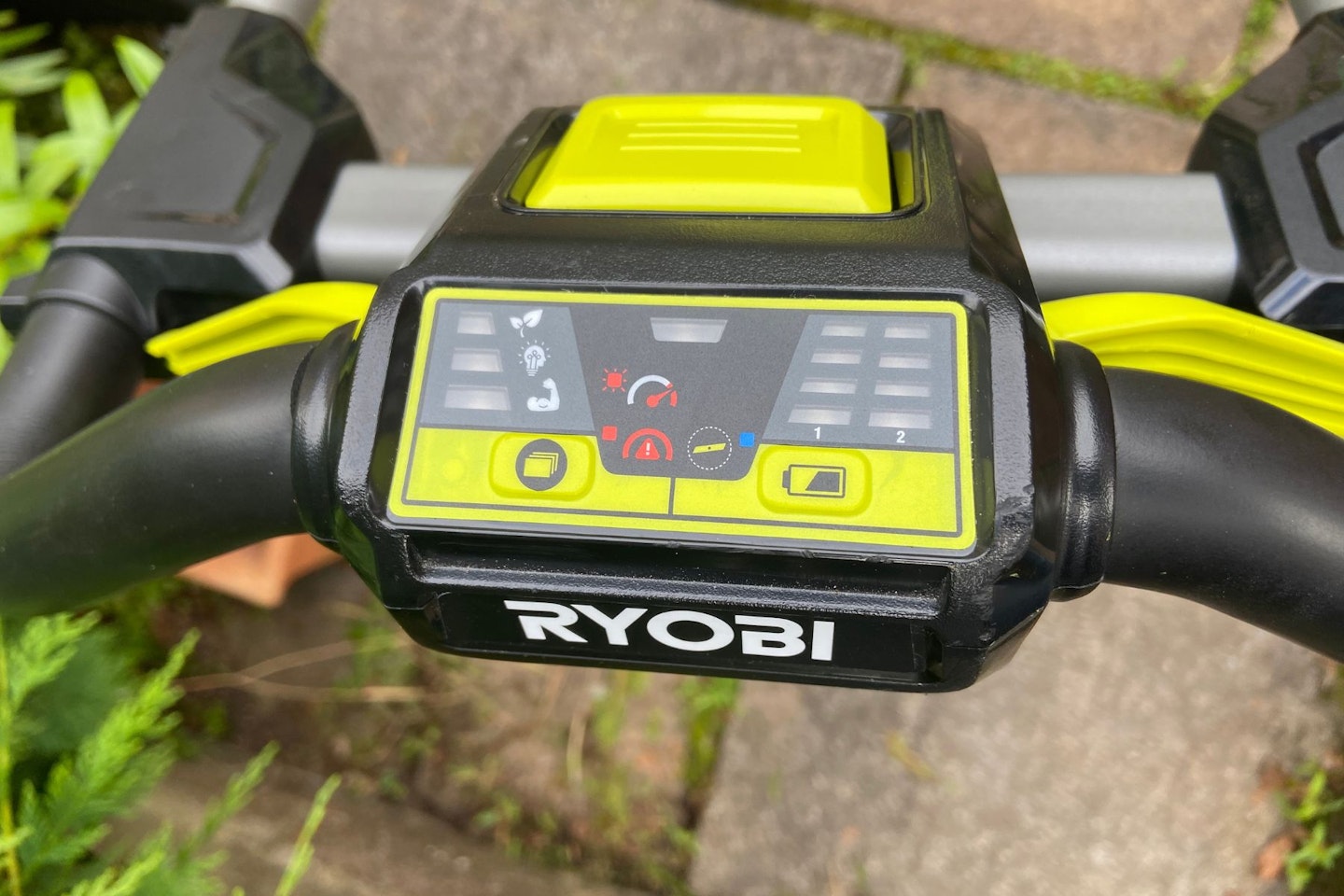 So far, everything has gone swimmingly, but the first bugbear is about to raise its head. The grass collector. Now it's far from being a major negative, but it is a niggle. The grass collector is a bit fiddly to connect. You have to get both sides just right, or it won't sit properly and quickly falls off. The second niggle is that it sits at a forward-facing angle, and there is no lip on the edge. This means that when it is full, and you try to remove it from the machine for emptying, grass falls forward from the grass collector onto the ground. As I mentioned, the grass collector is fiddly, and that goes for removal as well, so you sometimes find a fair amount of grass escapes.
Usability
So, you're set up and ready to go. One thing I did notice is that it is quite heavy. According to the specifications, it weighs in at 18.6kg. It's worth bearing in mind if you have to do any carrying to get to your lawn – like I do!
Once you get going, it's a breeze. The 40cm cutting width will be fine for most domestic lawns as it gives you a decent cutting path but still maintains easy manoeuvrability to get around those tricky, awkward-shaped sections. It also features Easy Edge, which allows you to mow right up against the very edge of your lawn. The cutting height is easy to adjust. There is one lever on the right-hand side, which allows you to adjust the cutting length from 75mm down to 25mm.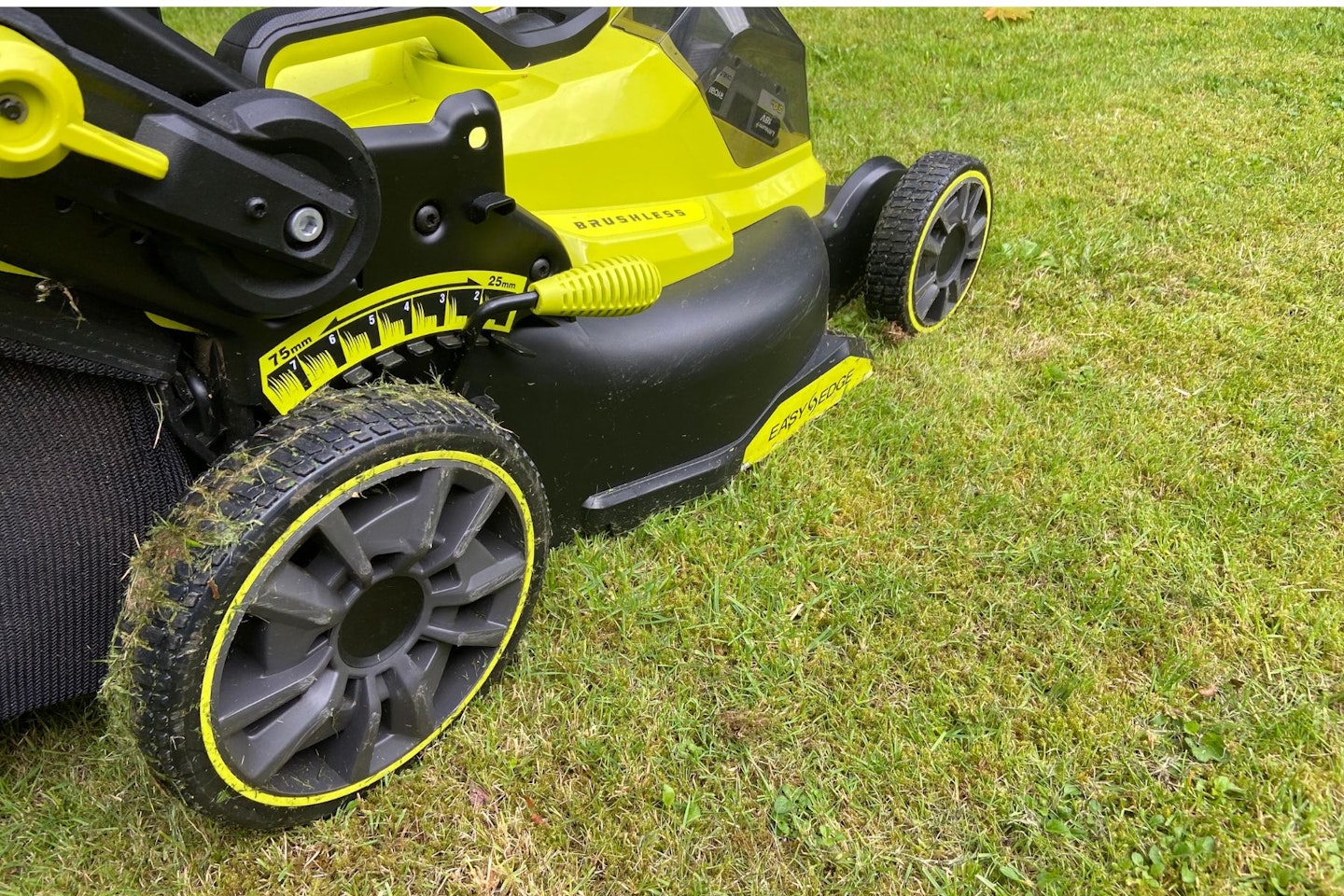 The Ryobi 40cm Cordless Brushless Lawn Mower is a rather heavy but practical machine with a clever handle design but with a slightly annoying grass box.
If you have other Ryobi products on the same One+ battery system, it's definitely worth considering as the Ryobi 18V ONE+ 40cm Cordless Brushless Lawn Mower is one of over 150 tools in Ryobi's power share range. This means the mower, along with a wide selection of drills, sanders, strimmers and other power tools, can all be powered from the same battery.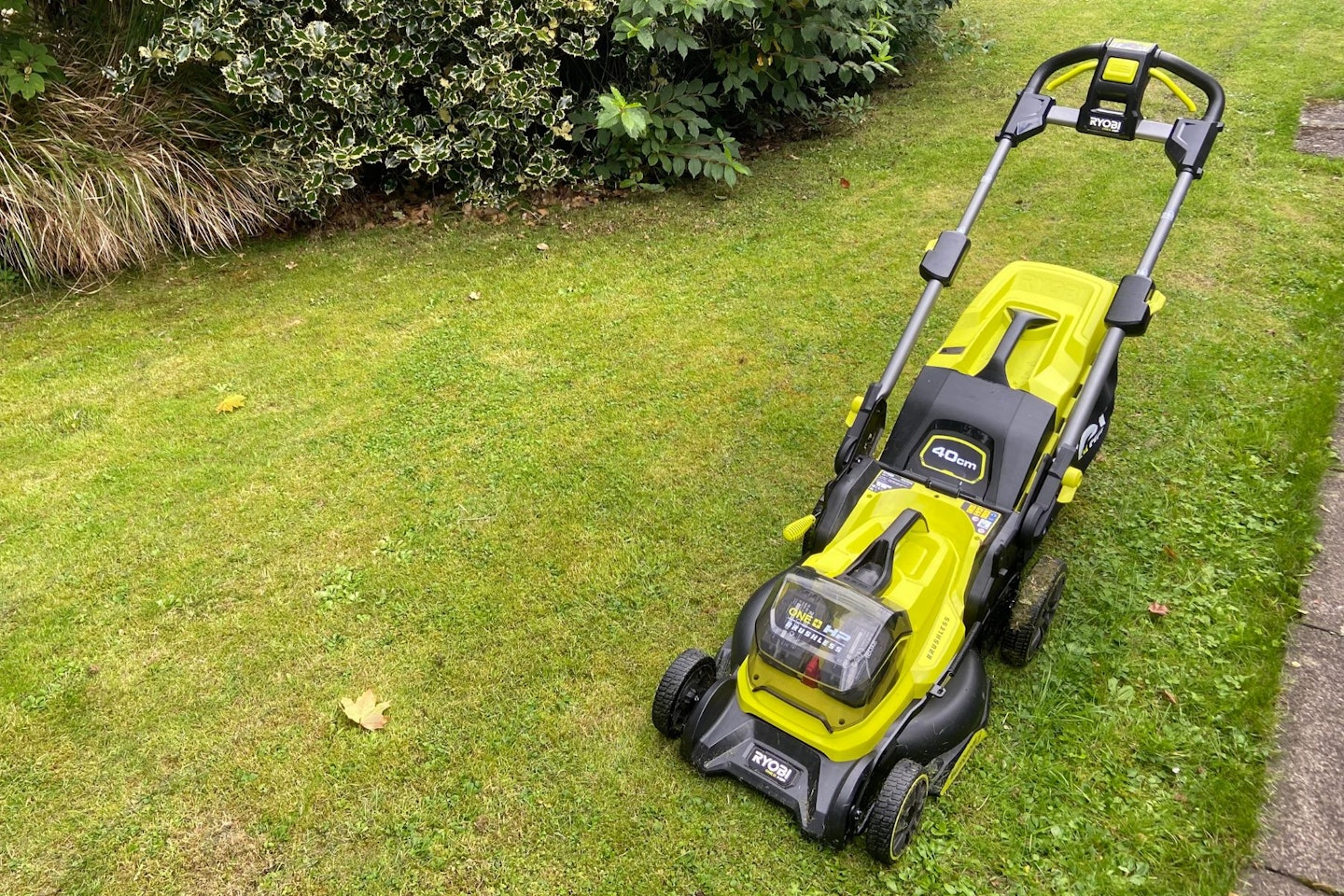 My charges take about two hours to give each 5Ah battery a full charge (there are more efficient chargers available), so a spur-of-the-moment quick cut can be knocked on the head by a lack of battery charge, but just a little forward planning has solved this, and the entire grass cutting task now takes about half the time the did with my old hover mower, with pretty good results. And no cables to get tangled or almost cut in half!
Overall verdict: Is it worth it?
Having used the Ryobi for quite a few cuts, I've become accustomed to it. The awkward grass collector remains an annoyance, and there's no denying it is quite heavy if you need to move it around. Also, the pricing seems to be at the upper end of the spectrum for similarly performing machines. Having said that, once you get going, it tackles cutting with relative ease, allows good control over cutting power and isn't too demanding to manoeuvre around the lawn.
Score: 3.5 out of 5
How we tested
The Ryobi was tested over a number of weeks on my own, somewhat typical domestic lawn, which is not without its flaws! It was used to cut longer grass and to maintain a smarter, shorter appearance, which it did with reasonable ease.
Having been used to a corded electric lawn mower, I was keen to see just how convenient and easy it was to use, if the battery power was sufficient and if it made the task of mowing the lawn any less of a hassle.
More items to consider
Description
This is part of the new Husqvarna Aspire range, which uses an interchangeable battery. It has a
Pros
Quiet
Folding handle for compact storage
Cons
Only four cutting heights
Description
The 40cm wide cutting width helps tackle larger lawns, and the new Intellicut Technology gives
Pros
Wide cutting deck
Longer runtime
What to read next:
Robot lawn mowers worth investing in to make grass cutting easy
Description
Discover everything you need to know to make your outside space look fantastic, quickly and
Alex Boyd is a Commercial Content Writer for Modern Gardens specialising in Power tools and pressure washers. In his spare time, he enjoys DIY, Travel, Gardening, and music.