Manually cleaning up your garden with a rake can be quite the job - but thankfully that's where the best garden vacuums come in. Collecting lawn debris with a rake is useful for those odd jobs, but for a big garden clean it can be both tiring and very time-consuming. Plus, if you let it build up for too long, the wet leaves can leave an unpleasant odour in your garden. Free yourself from the hassle by using this essential outdoor cleaning power tool. Garden vacuums are just like your home equivalent; easy to use and quick to suck leaves and debris up while compressing or mulching the waste for effortless removal and clean-up - leaving your garden ready for the lawn mower.
Last chance Black Friday deals on garden vacuums
We interrupt the regularly scheduled content to let you know that although Black Friday is over, there's still time to grab some last chance Black Friday deals on garden vacuums. These are the retailers that still have deals available, or keep scrolling to continue reading our buyer's guide.
Shop the best garden vacuum deals: Amazon UK | B&Q | Appliances Direct
Top deal: Bosch UniversalGardenTidy Garden Blower & Vacuum, WAS £89, NOW £59
18% off: Einhell GC-EL 3024 E Electric Leaf Blower And Vacuum, WAS £59.95 NOW £49
14% off: Hyundai Leaf Blower, Garden Vacuum & Mulcher WAS £49.99, NOW £42.99
Modern Gardens pick: VonHaus 3-in-1 Leaf Blower, WAS £54.99 NOW £44.99
Save £110: Stihl SH 86 Petrol Vacuum Shredder Blower RRP £449, NOW £339
Garden vacuums are great for clearing fallen leaves and garden debris that builds up in the garden. It's particularly useful in autumn when the leaves fall or in the spring when you're getting ready for your garden spring clean. You can use it to clear porches, patios, driveways, and more. Some models will combine blow and vacuum functions so it's a vacuum and leaf blower in one! However, most garden vacuums have a mode to shred leaves and small twigs for composting.
On a surface level, garden vacuums and leaf blowers seem to have a similar purpose. However, there are slight variations in modes and features. A leaf blower would be more fitting if you have a larger garden as it can cover an area much quicker than a vacuum; It blows all the leaves to one area to clear up afterwards. It won't risk getting blocked or damaged from sucking up stones and debris and is usually easier to use than a vacuum.
If your primary goal instead is to remove leaves in an average-sized garden, then a garden vacuum would be more suitable. It is a multi-purpose tool that acts as a leaf blower, garden vacuum, and shredder all in one. It is less time-consuming as you won't need to pick up the leaves manually and it's simple to switch between settings and modes. It will store the leaves in a bag, making it a more straightforward job overall. If this is what you need, check out our list of the best garden vacuums on the market to make the garden clean-up much less energy-consuming.
Best garden vacuum at a glance:
• Best overall: VonHaus Leaf Blower 3000W, Garden Vacuum -View on Amazon UK
• Best tried and tested: WORX WG583E 36V (40V MAX) Dual Battery Vacuum - View on Amazon UK
• Best lightweight: Terratek Leaf blower Garden Vacuum and Shredder Collection Bag - View on Amazon UK
• Best quiet garden vacuum: Bosch Home and Garden 06008B1070 - View on Amazon UK
The best garden vacuums
Best multipurpose garden vacuum
Description
This powerful, easy-to-use, multi-purpose garden tool works as a vacuum, blower or mulcher for
Pros
Very powerful
Simple to use
Cons
Be careful as it tends to clog up
Best overall
Description
This highly-rated garden vacuum from VonHaus is lightweight, affordable and powerful. With a 3000W
Pros
Good quality especially for the price
Powerful blower
Lightweight
Cons
Some reviews say the bag is flimsy
Best tried and tested
Description
With the instructions, you can configure the WG583E to be either a blower with a long oblong
Pros
Incredibly powerful
Heavy, need to use two hands to use
Does the job of a garden vacuum
Cons
Best suited to large outdoor spaces
Read our full Worx twin-test: Leafjet blower vs WG583E blower/vacuum review to see how they compare.
Best lightweight garden vacuum
Description
The Terratek is a powerful tool that will make tidying your garden as easy as possible, and leaves
Pros
Great value
Not only a leaf blower
Cons
Doesn't perform well with wet leaves
Best quiet garden vacuum
Description
This powerful yet quiet garden vacuum from Bosch will leave your garden or lawn looking neat and
Pros
One of the quietest on the market
Simple to use
Cons
A bit fiddly to change over from suction to blower
Best cordless garden vacuum
Description
If you are looking for a portable, cordless garden vacuum, then this 40V battery-powered tool is
Pros
Shoulder strap makes things much easier
Portable, no leads
Simple to change between modes
Cons
Battery doesn't last long
Helpful accessory
Got a larger garden or your plug doesn't quite reach?
Description
A Masterplug outdoor extension lead will ensure that your cord will reach the mains if you are
Garden vacuum FAQs
We heard from the gardening expert Geoff Hodge to find out what exactly you should be looking for in a garden vacuum.
What to look for in a garden vacuum
Adjustable tube length: Adjust this to suit your height. This avoids losing suction power when the device is held too far off the ground.
Nozzle shape: Round nozzles are good for moving bulky leaves quickly; flatter ones suit harder-to-move items, such as stuck-on leaves.
Variable airflow/ speed control: Multiple speeds allow you to increase the force for moving stubborn leaves or decrease it around fragile plants. Some machines refer to this as a turbo or power boost.
Shredding ratio: This measures how much the original leaf volume is reduced when it passes through the internal shredding impellors.
Vac collection bag: Larger bags need emptying less but become heavier on the shoulder as they fill up. Zipped bags are easier to empty.
Vac tube support wheel: Reduces carrying weight and holds the nozzle at the right height for maximum suction.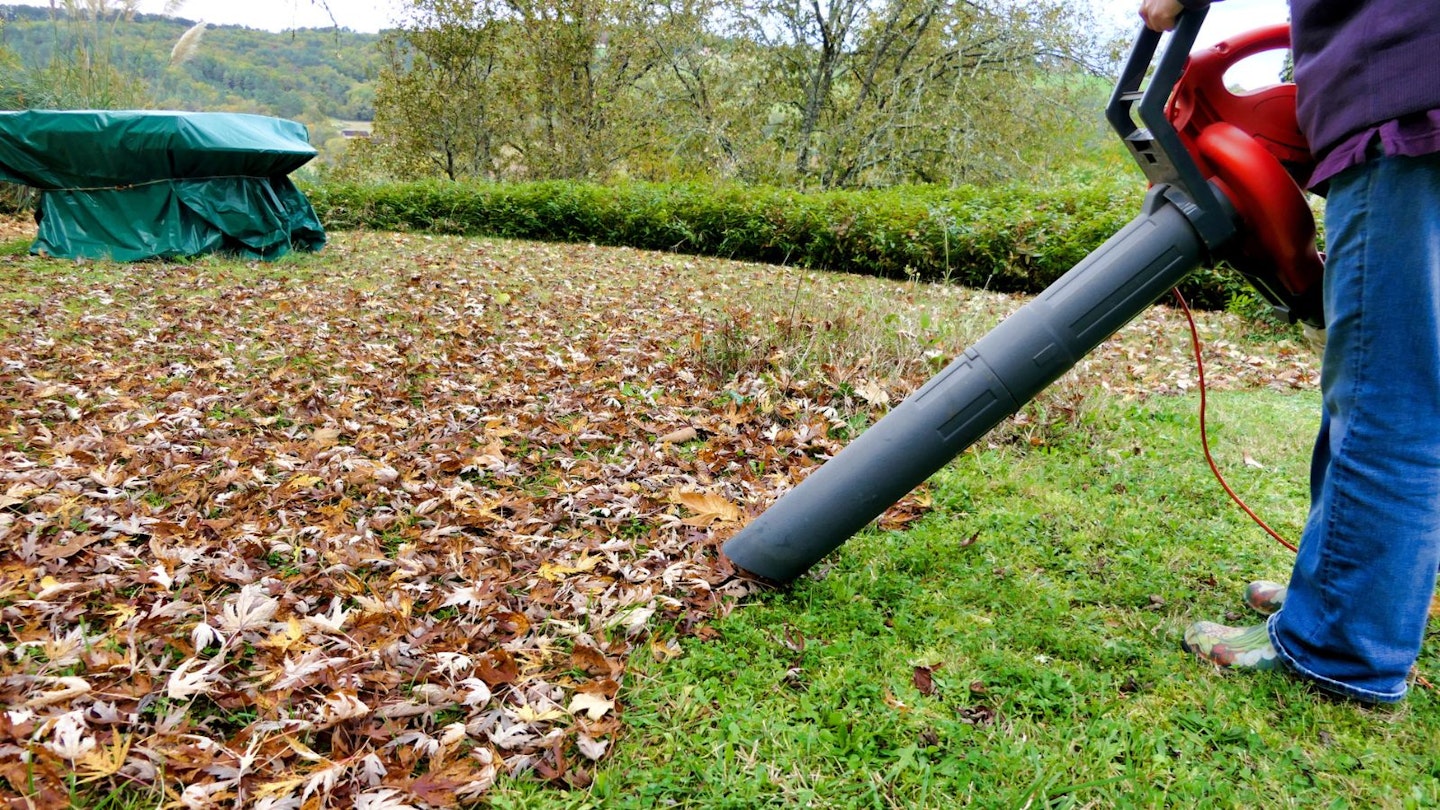 Garden vacuum: Petrol or battery-powered?
Petrol garden vacuums
Petrol-driven machines are generally the most powerful and allow you to roam free, unrestricted by power cables, but they're not necessary for a small garden. They can be noisy, create polluting emissions and the engine needs regular maintenance.
Those powered by mains electricity don't offer the same walk-around freedom but are more economical to buy and run, don't produce emissions, tend to be quieter, need less maintenance and are lighter to carry.
Battery-powered vacuums
Battery-powered machines are similar in many respects, without the trailing cable trip hazard. Lithium-ion batteries provide great performance, which doesn't diminish and suffer as the battery loses its charge.
Remember that a battery may need frequent recharging if you use the machine a lot, or you could buy a second battery to swap with while recharging. The Ah (ampere/hour) rating shows how much energy it stores – the larger the number, the longer it runs.
Many manufacturers make batteries that can be interchanged with other powered tools in their range, so you may be able to buy the machine on its own or as a kit that includes the battery and charger. The former cuts the cost, as you only need one battery and one charger to power different tools.
What is the best motor output for a garden vacuum?
The larger the motor's output the higher its number and the better able it is to suck. Electric motors are measured in kilowatts (kW) and battery power in volts (V).
Two other numbers are quoted for power output: volume flow rate (measured in cubic metres/hour) and airflow speed (measured in kilometres/hour or kph). Volume flow rate measures the volume of air that exits the tube. The higher the figure, the more air moves through the machine, which means more leaves moved. But the volume of air is meaningless if it isn't moving fast enough, which is why airflow speed is also important.
The higher the rating, the better the machine is equipped to remove wet leaves, heavier debris and twigs or leaves stuck to a surface.
What to read next:
Description
Discover everything you need to know to make your outside space look fantastic, quickly and
Ellen Kinsey is a senior health and wellness product writer for Modern Gardens, specialising in sustainable living and health. She lives and breathes all things natural health, cooking and nature.