Is a cheap blower the answer to your leaf clearing woes, or should you spend the extra on something that can suck them up and mulch them too?
To find out, we've lined up a couple of cordless Worx tools, the sub-£200 WG543E Leafjet 20v Max Blower, and the two-in-one WG583E 40v Max Blower/Vacuum at over £250, both including batteries and chargers.
We put both to the test in a garden with a mix of grass and patio, with large trees that cover both in an annual deluge of leaves. There are also a couple of flower beds and a rockery to negotiate, too. The ideal proving ground.
What is the battery power like?
Both use the same 20v Powershare batteries that are also found in a wide variety of other Worx garden and construction tools. The Leafjet uses a single battery, while the chunkier WG583E has a pair to boost power. If you already have a useful selection of Worx tools with these batteries you can opt to buy both the Leafjet and WG583E without a battery or charger, knocking a useful slice off the price.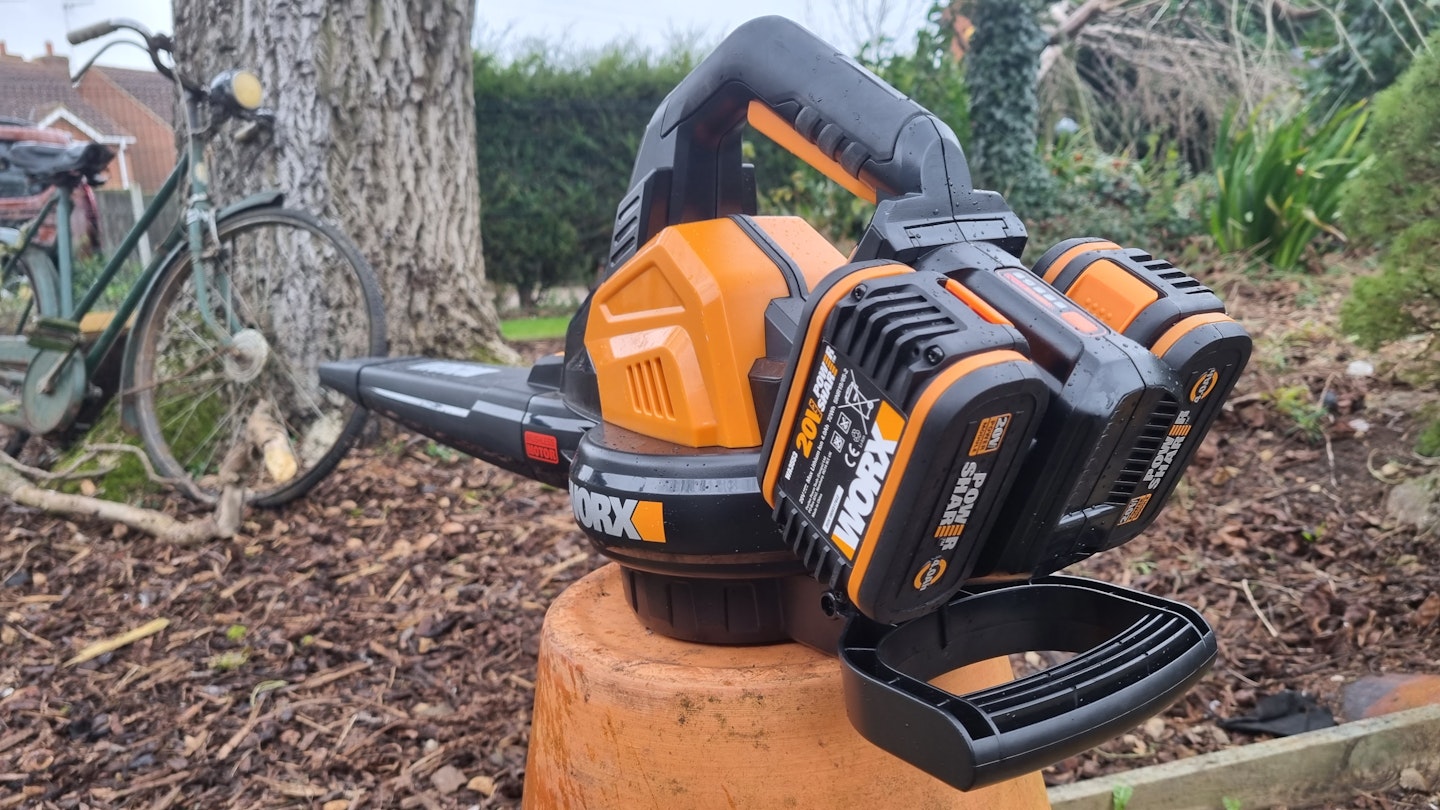 Filling the batteries from empty takes around two hours, with the WG583E coming with a useful dual-port charger that'll revitalise two packs at the same time. It takes a fraction of that time to unpack the rest of the boxes, with the Leafjet virtually ready to go and the WG583E arriving with easy-to-follow instructions.
How were the usage and performance?
Let's start by comparing how well both blow before we see just how much the WG583E sucks. The Leafjet proves light and easy to handle, with a conveniently placed switch to dial up one of two power levels. The lower setting can still shift lighter leaves on the lawn very effectively, although you'll want to flick it into the top setting to clear more stubborn leaves stuck in flower beds.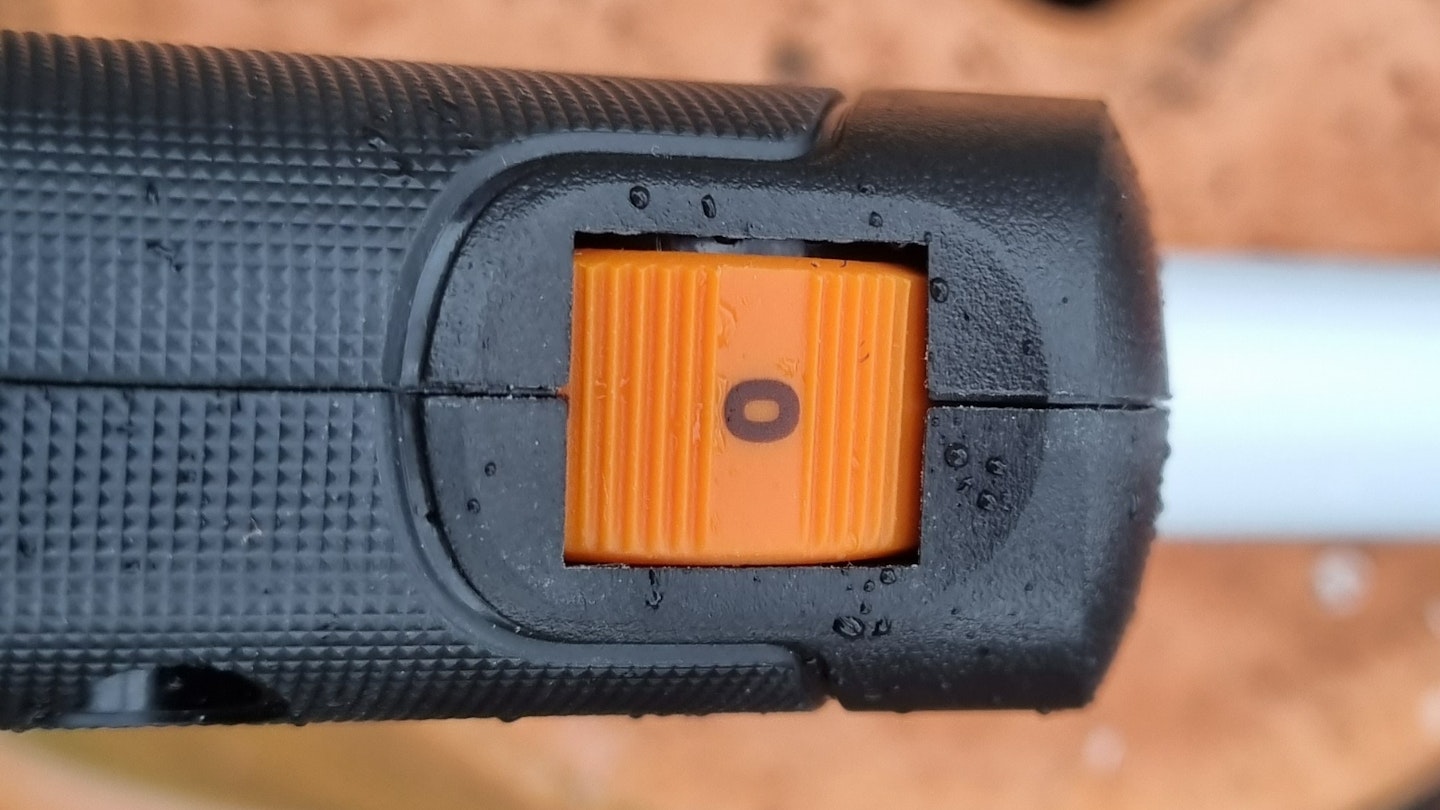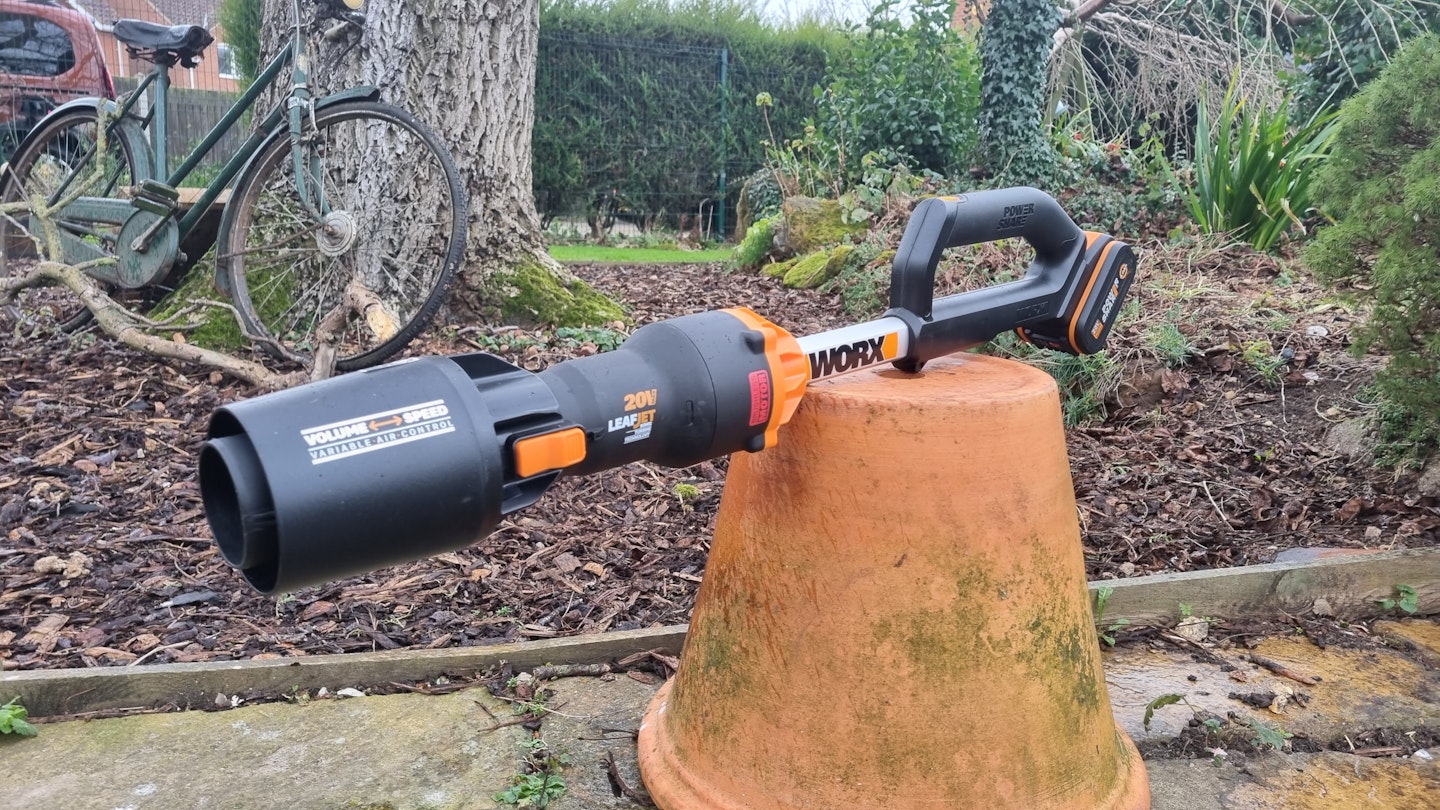 The 130mph gust certainly clears most leaves but it doesn't disturb stones too badly, not something that can be said of the 208mph hurricane the WG583E produces. The lower setting helps a little in tighter corners, but this is a blower best suited to large open spaces. You'd best have eaten your Weetabix before you start though, the twin batteries and larger body mean it's a two-handed job to handle.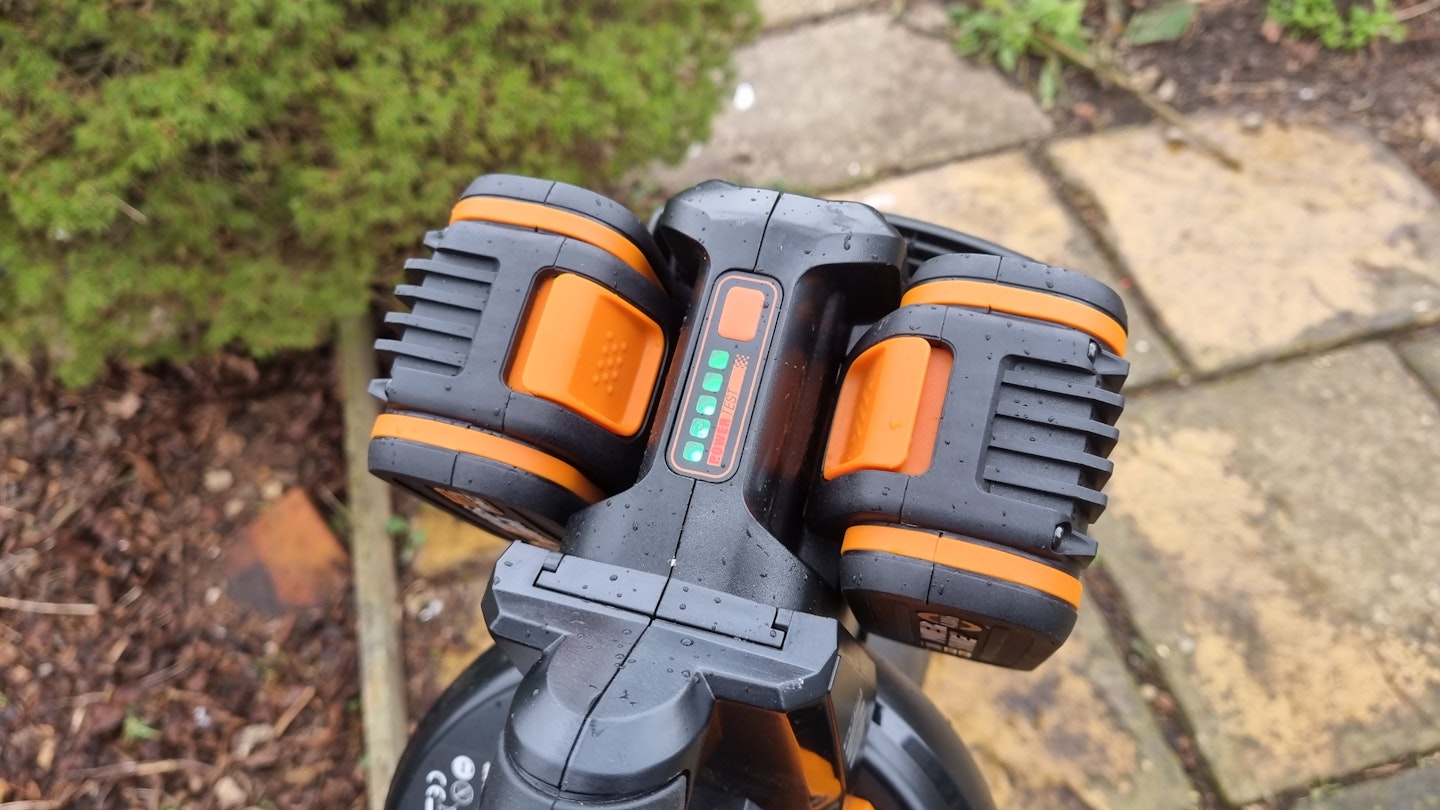 With the instructions you can configure the WG583E to be either a blower with a long oblong snout, or a vacuum that replaces that with a collection bag and sticks a large cylindrical pipe into the intake underneath. Switching between the two modes requires no tools and takes no time at all, handy if you want to blow them all into a pile before sucking them up.
Thankfully you do get some support in vacuum mode thanks to a couple of wheels on the end of the sucker and a strap attached to the collection bag. It took some time to get the strap into a position that was comfortable, but once sorted you can easily carry it for the duration of a charge.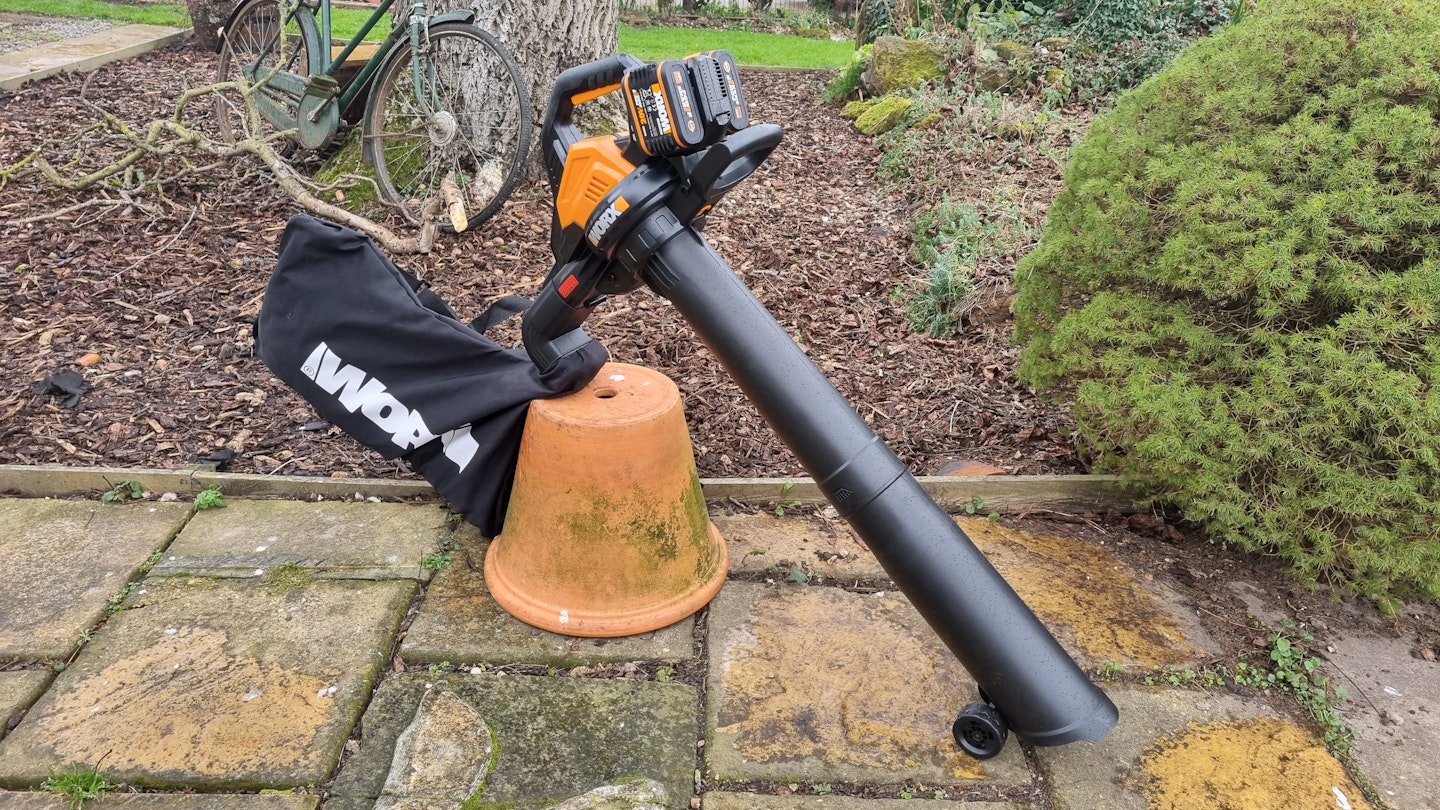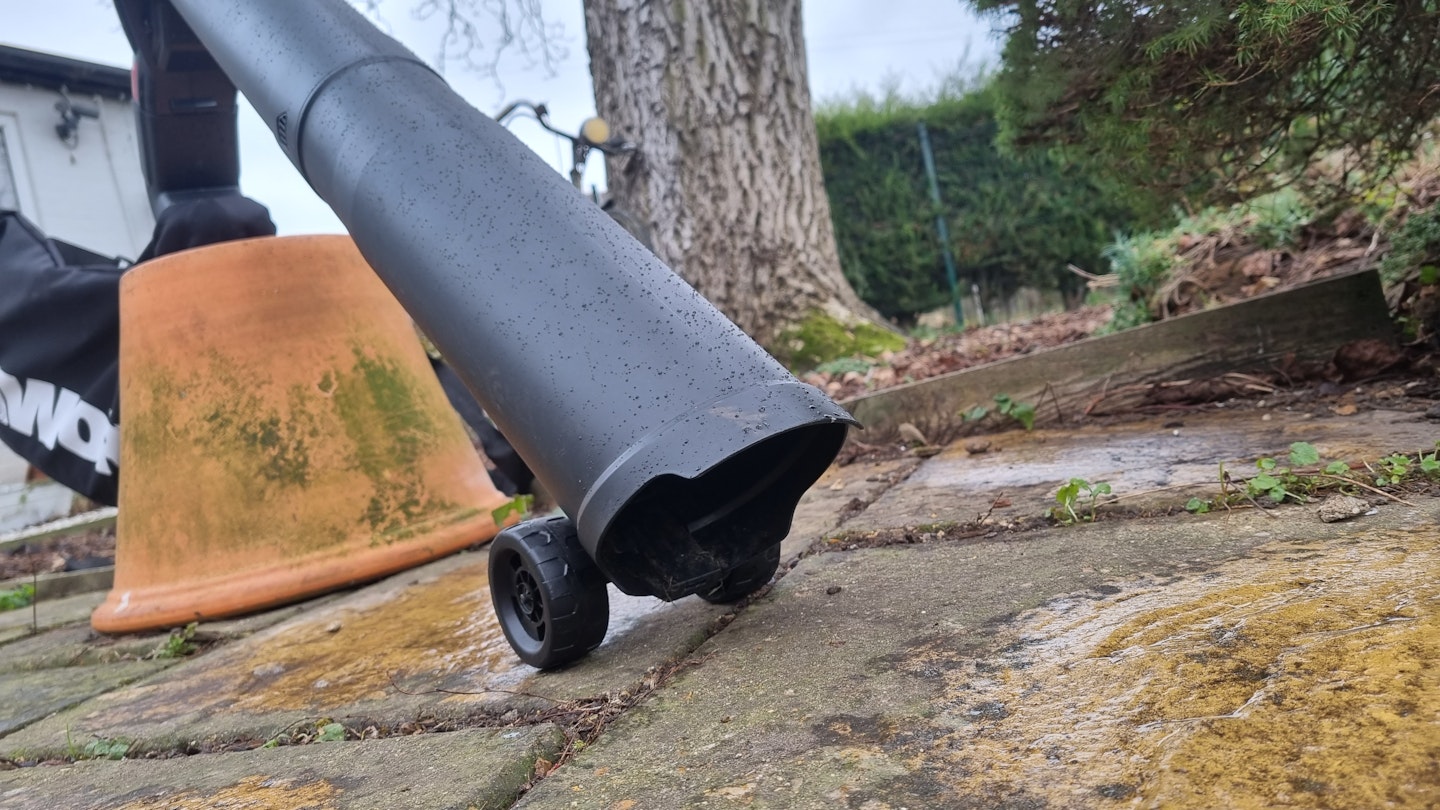 In action, it performs much like an outdoor vacuum cleaner, funnily enough. You'll need to wheel the nozzle over or very close to a leaf to collect it, so it's pretty easy to avoid sucking up something harmful like a stone. Even when the odd one does make its way up the chute, the hardy impeller blade stood up to the abuse well.
That's no surprise as this vacuum mulches leaves as it eats them up. It means you'll squeeze plenty into the easy to empty collection bag and maximise the space in your brown bin. Nice.
Any downsides?
Although there's no doubting the power of these tools, their ease of use, and the convenience of them being cordless, we would have liked a bit more runtime from their batteries. The Leafjet was all done in 16 minutes and the WG583E just over 20, so those with larger gardens might want to stock up on extra batteries.
Verdict: Worx Leafjet blower or Worx WG583E blower/vacuum
Score: Both 4/5
So, which should you pick? If you've just interested in blowing leaves off your path, patio, or property, we'd stick with the Leafjet. Its lighter weight and lower price more than make up for its surprisingly modest power deficit, and the money you save can be spent on a couple of batteries to help make up for the meagre run time.
Those who just want rid of their tree's old coat or have plenty of fenced-in areas really should consider spending the extra on the WG583E, though. It is bulkier and significantly pricier, yet it removes the leaves and compacts ready for your bin or compost heap. Besides, those extra five minutes of run time might be just enough to get the job done on your first sweep.
What is the difference between a leaf blower and a garden vacuum?
On a surface level, both gardening power tools seem to have a similar purpose. However, there are slight variations in modes and features - such as if your primary goal is to remove leaves in an average-sized garden, then a garden vacuum would be more suitable. However, a leaf blower would be more fitting if you have a larger garden as it can cover an area much quicker than a vacuum.
A vacuum will store the leaves in a bag, making it a more straightforward job overall; however, a leaf blower is better to 'blow' all the leaves to one area, making it easier to clear up afterwards.
Leaf blower
Pros: It will not get blocked or damaged from sucking up stones and debris and is usually easier to use than a vacuum.
Cons: It cannot pick up leaves, only blow them into a pile.
Garden vacuum
Pros: It is a multi-purpose tool that acts as a leaf blower, garden vacuum, shredder all-in-one. It is less time-consuming, and you will not need to pick up leaves manually with a rake. It is also simple to switch between settings and modes.
Cons: Debris and pebbles can get stuck and damage the vacuum.
What to read next: