Chances are, you, or someone you live with, have had to adapt to working from home or hybrid working. And while working from home has its perks, we've found it can be difficult to separate home and work life. Especially if your working-from-home setup isn't ideal. You might be working up to the dining room table, from a desk in clear view from the sofa, or struggling with the distractions of home life. We've got a solution: a garden office.
If you want to create an idyllic working-from-home environment and have the space to do so, a garden office can help restore balance to your work and home life. Plus, it can give you the privacy you need, and increase your home value.
We've provided a complete guide to building your own garden office with everything you need to know in one place.
How do I begin to build my own garden office?
First comes the hardest and most expensive task, building an office in your garden.
Some of you may know someone who works in the building trade. If so, why not shop local? Shopping local for construction businesses can help support local businesses. Plus, it might save you money, too.
As for the basic materials that are needed at this stage, such as concrete plates, bricks, and other materials for the frame of the structure, make sure to have a look around for the most cost-effective suppliers. The likes of Gumtree and Facebook marketplace are a good place to start!
However, if you're looking for a simpler solution, you can choose a pre-made garden room from one of the following. Just make sure to measure your allocated garden space before buying and have the foundations ready, whether that's a level paved patio or an area of concrete for a sturdy base. When buying your garden office building, the manufacturer will often list the required foundations needed.
What is a garden pod?
Chic and perfect for blending into your garden, a garden pod creates an extra living space in your garden. Rounded and mostly made from tinted but transparent polycarbonate, these striking beauties are happy to take centre stage. Here, you can work 'inside', sheltered from the elements, while enjoying a 360-degree view of your gorgeous garden.
They come fully equipped with heating, lighting, and an optional USB point. So, they make a useful garden office from the get-go. Their versatile circular shape is easy to position and with a range of sizes available, they can sit comfortably in the smallest of plots. The base for your garden pod will need to be around 30cm deep and roughly 60cm wider on all sides than the base. But, make sure to check the manufacturer's product specification as measurements may vary.
Due to the glazed, transparent exterior and built-in furnishings, you'll be limited in your options for decoration. However, you can still personalise the stylish sphere with cushions, throws, and table centrepieces.
Here's a selection of garden pods to buy.
But, you can check out these and more by reading our garden pod buyers guide.
The best garden pods for a garden office - UK 2022
Description
This pod gives you everything you'll need from a garden office; 360-degree panoramic views of your
Description
If you're after a pod with a little more space that's not just dedicated to seating, the Farmer's
Description
Looking for a larger office space for multiple people to work? With space for up to 14 guests, the
Description
For a seriously chic garden office, look no further than the Ornate Garden Grande Deluxe Chic
What is a garden room?
For something a little more traditional, you can buy prefabricated garden offices with a choice of sizes, shapes, and specs available to meet your budget and needs.
The top-quality garden rooms are often built with modern pressure-treated wooden slates. Plus, they're designed to withstand the elements and reduce the likelihood of rot. Additionally, they can also have fixtures and fittings, double glazing, uPVC windows and doors, full insulation, and locking systems. Not only that, but they come with lengthy guarantees - that make sure you're getting your money's worth.
The only downside of a ready-made garden office is the expense, especially if you don't want to build it yourself. If an assembly option is available, and you don't trust yourself with the DIY, this can add quite a bit extra to the overall cost. But, it will give you the peace of mind that it's definitely been built properly!
The best garden rooms for a garden office - UK 2022
Description
This garden room can be used year-round thanks to the full insulation of the double-skin insulated
Description
If you want to fit your office neatly in a corner of your garden, this studio will make sure you
Description
Create a garden office with the Forest Garden Xtend 4 Plus Insulated Garden Building for a
Description
If you're looking for a cheaper alternative, the BillyOh Kent Garden Office provides a secure and
Can a summerhouse make a good garden office?
If you are looking for a cheaper alternative and don't mind putting in the extra work, go for a summerhouse. You can buy or convert a summerhouse you may already have in your garden. However, you'll need to consider the extra costs involved to renovate it into a truly manageable office space if you want to use it all year long.
Depending on what it has, you may need to add extra insulation, heating, electricity, security, and a WiFi extender. This is so you can connect to your network in the office – an absolute must!
Description
Much like the BillyOh Kent Garden Office, this summerhouse is quite basic with plenty of options
Description
How beautiful is this summerhouse? A quintessential addition to an English country garden, this
Description
Designed primarily for a corner location, this 7x7ft summerhouse will sit snugly in your garden
Garden Office Interiors
Now's the time to let your imagination run wild. Just because your office isn't connected to the main house, doesn't mean you can't style up your home office to make it functional and inviting. Since it's your own personal space, you can decorate it how you like, or stick to a specific theme. If you're looking for a little inspiration, according to the commercial property experts at SavoyStewart.co.uk, the biggest office design trends on Pinterest for 2022 are:
Minimalist: With no clutter, a minimalist office provides an airy environment, perfect for focusing.
Classic: Whilst some might find it outdated, classic offices with solid wooden furniture are making a comeback in 2022.
Scandinavian: Similar to the minimalist style, a Scandinavian-styled office provides a clean-looking environment with touches of nature.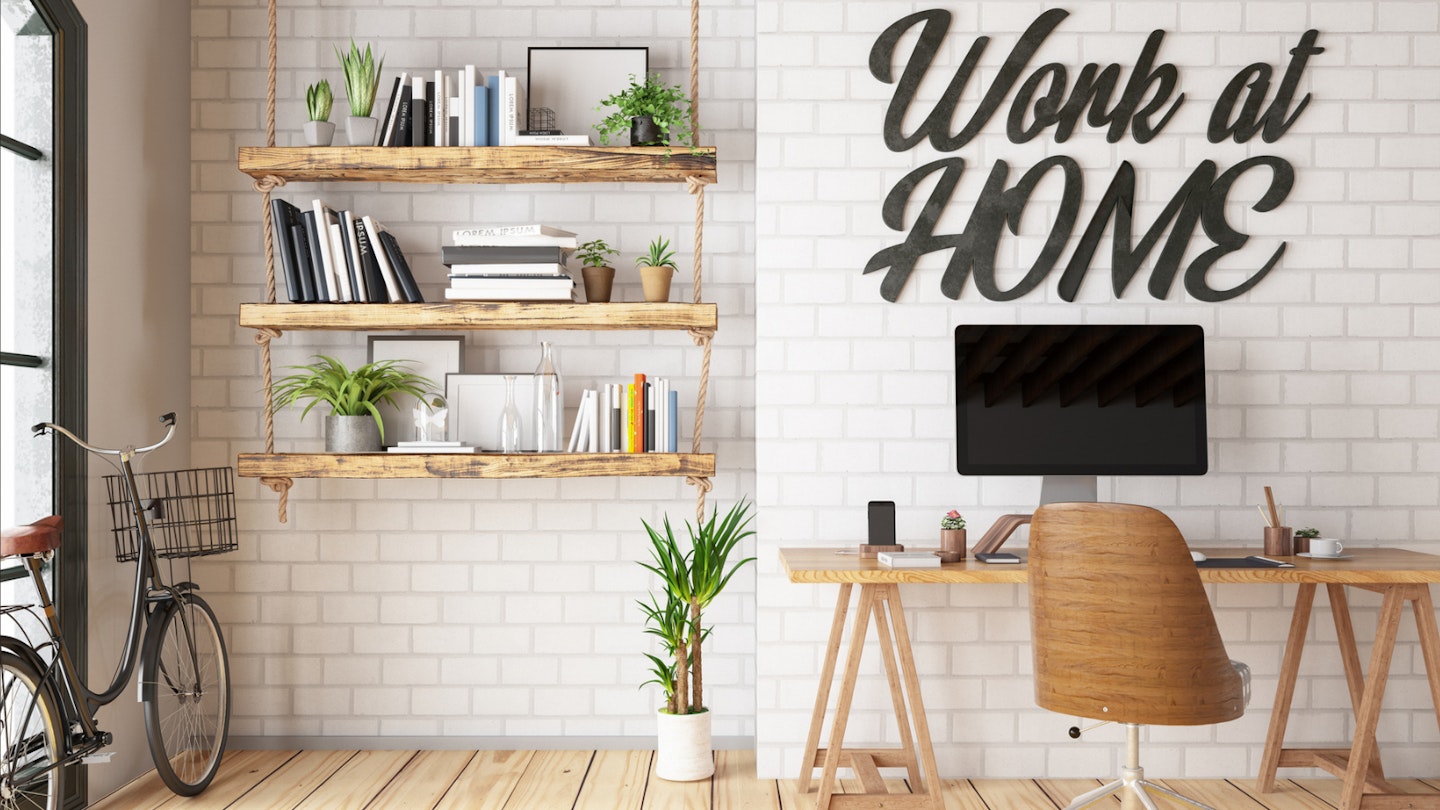 • Modern: Usually achieved by choosing cool colours, simple designs, and smooth textures.
• Smart office: perfect for tech-savvy employees who prefer letting technology simplify their lives.
Colourful: With vibrant pops of colour, you can create a bright, energising office space that adds some fun to your working day.
Art deco: Using the mid-century accents that resurged in popularity last year, the modern art deco-styled office incorporates these timeless features with rich colours, geometric patterns, and luxe fabrics.
• Eco: Created with organic, natural elements and a touch of greenery, an eco-friendly office is exactly what the planet
Loft office: This doesn't just mean an attic office. It is a modern urban style, characterized by an abundance of open space and industrial elements in décor.
When decorating the interior, here are some pieces you'll want to consider:
Lighting
Alongside the natural light, you'll be able to enjoy your garden room, you'll want to get some interior lights. This will help open up your space and brighten it in the darker months. This is our top pick from Not on the High Street.
Furniture
It goes without saying, but a desk and an ergonomic office chair are a must for your garden office. But, depending on the size of the garden room, you don't need to be limited to just that. Add some handy shelving and storage, or even a lovely armchair or small sofa so you can use the office on your down-days to relax.
If you want to really make the most of the natural light in your garden office, leading interior designers Whinnie Williams and Kierra Campbell of Poodle & Blonde recommend: choosing light-coloured walls and furniture to help reflect the natural light from your windows. This creates a lighter, brighter space to work in.
We like this rocking armchair from Aldi:
Curtains or blinds
Opting for curtains or blinds across your garden office windows isn't a must, but we'd definitely recommend it. They can add some privacy for that important meeting, keep you from being distracted by the family waving from the kitchen window come deadline day, or just help block out the greyer, less inspiring weather.
We love these bamboo blinds from Dunelm:
Décor
Whether it's a small trinket on the desk, a vase on a side table, a beautiful cushion, or your own hand-knitted throw, little decorative touches like this are a great way to inject personality into the space and bring it to life. If you do choose to style surfaces with décor pieces, Poodle & Blonde recommends styling surfaces always in odd numbers. A trio of products is a great start and feels exciting on the eye. Why not get an indoor houseplant?
Display your trinkets on this beautiful hanging shelf unit from Etsy:
Prints
If you have the space and aren't using a garden pod as your office, prints on the wall are an easy way to add personality and stylistic flair to your office - without spending a fortune. You can buy prints online, or choose to frame wallpaper, a poster, or even your own artwork. Plus, if you get bored, you can easily swap these out.
If you want to cut costs during the interior design stage, you could always search for second-hand pieces. Or, try your hand at DIY. Platforms such as YouTube and Pinterest are full of easy-to-follow guides. They have guides on how to DIY everything from building a desk to making an entirely new room. Of course, some work might require the help of a professional depending on what it is. But, assessing what could be done yourself will help to save money.
We love this plant-themed lino print from Etsy:
Finishing touches
After the main interior work is done, the exteriors of your garden office can also be enhanced with some creative flair to help prevent it from sticking out like a sore thumb.
Framing your garden room with an array of vibrant flowers and plants can help bring your space to life. Moreover, you could also purchase a variety of solar-powered lights suitable for outdoor use and create a cute and cosy nighttime setting to relax in after work. This can be a relatively inexpensive task too. All you need is a few garden tools and some seeds for your chosen flowers and shrubs.
Compost Direct has a handy soil calculator, which can help you figure out just how much soil you'll need for the borders around your garden room.
FAQs
Are garden offices a good investment?
The average cost to create a garden office can vary between £5,000 and £25,000 and while that might seem pretty hefty, it comes with some incredible benefits:
In the long run, a garden office can add huge value to your home - between five and seven per cent to be exact
It'll provide you with a dedicated space to work at home, saving you time, money, and effort from having to commute to the office every day, and save you from working in less than ideal 'work stations' in the home.
Working in a garden office creates a better space to concentrate away from distractions, whether that's loud gossip at work or the noises of home life.
It also helps to create better work and home balance with separate spaces for each. Sometimes when working from home, it can feel like 'living at work' with the constant view of office equipment making it difficult to detach and relax. Having to exit your home and walk to your garden office helps to separate the two.
Nothing will aid productivity more than having natural light and being stationed in the garden, you'll be surrounded by it.
Do you need planning permission for a garden office?
It's really important to check this before investing in your new garden office. If you don't, you could risk spending a lot of money on it just to be taken down.
According to the Planning Portal website, outbuildings are considered to be permitted developments (i.e. they don't require planning permission), provided certain conditions are met.
These include:
• Your office can't be built beyond the front wall of your house – not an issue for a back garden
• Your garden office must be single-storey with a maximum eaves height of 2.5 metres. Plus, it should have a maximum overall height of four meters with a dual-pitched roof.
• If you want to place your garden office within two metres of your garden boundary, the maximum overall height must be no taller than 2.5 metres.
• You can't have verandas, balconies, or raised platforms. Decking is allowed assuming it is no more than 30cm above the ground and together with the garden office, covers no more than 50 per cent of the garden.
Similar conditions apply to building regulations too: "If you want to put up small-detached buildings such as a garden shed or summerhouse in your garden, building regulations will not normally apply if the floor area of the building is less than 15 square metres and contains NO sleeping accommodation.
"If the floor area of the building is between 15 square metres and 30 square metres, you will not normally be required to apply for building regulations approval providing that the building contains NO sleeping accommodation and is either at least one metre from any boundary or it is constructed substantially of non-combustible materials."
You will need to get planning permission and building regulations if your garden office plans exceed these conditions, or if you live in a Listed Building, within a National Park, an Area of Outstanding Beauty, The Broads, or a World Heritage site. However, outside of these areas, you're always recommended to check with your local planning authority to check in case there are local restrictions in place.
What to read next:
Garden sheds to store all your outdoor essentials in one place
Garden lights: the perfect way to illuminate your outdoor space
Description
Get inspired each month with Modern Gardens magazine. In every issue you will find the latest