Bursting with colour, Vicki Greenslade's garden is so much more than a practical outdoor space. "It's my sanctuary, my saviour and my solace," she says. "It's somewhere I can be creative and mindful, and feel totally free."
As an NHS nurse, Vicki encounters more than her fair share of stress. At the end of a long shift, her garden's vibrant hues, lush plants and abundance of wildlife provide a much-needed mood boost. It's been a decade-long project for her and husband Nigel, one that started with a decidedly uncolourful space.
When the couple moved to their semi in Cheltenham in 2011 they inherited a bare and neglected outdoor plot that had previously been occupied by renters. "It was literally a lawn and some overgrown shrubs," Vicki recalls. "But I saw the potential straight away."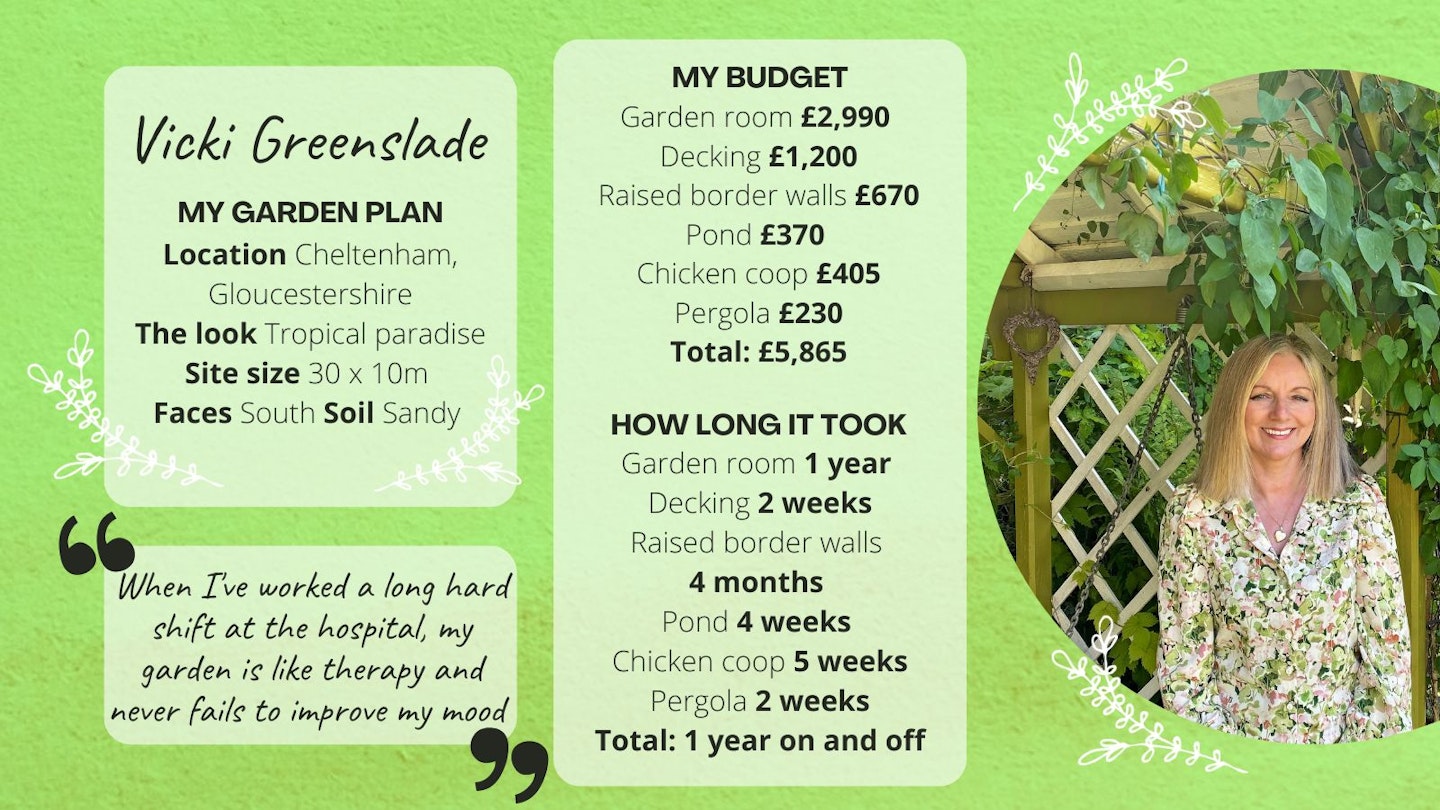 Ambitious plans for a garden room
Back then the couple prioritised cutting back the overgrowth to reveal a blank canvas. Before long, they embarked on their first substantial project, and it was an ambitious one.
Vicki knew an empty space at the end of the garden was crying out for a garden room. She visualised a warm, watertight building that could play host to party guests plus accommodate overnight visitors. Working with her vision but entirely without formal plans, Nigel built the structure over an eight-month period, including insulation, plastering, double glazing and mains power. "It was quite a feat, especially since he had no previous experience," says Vicki. "He ran with my ideas, which I got from Pinterest. We now have the most incredible room, which is great for celebrations like my 50th birthday. It doubles up as a tropical plant house in winter."
With a nod to tiki huts, the cedar-clad glass-fronted structure set the scene for Vicki's garden theme. "We've always loved travel, and once lived abroad for five years," she explains. "I'm drawn to tropical oasis-like gardens, like the ones we saw abroad. I love how the wooden exterior of our room makes it blend into the natural surroundings, like a jungle hideaway."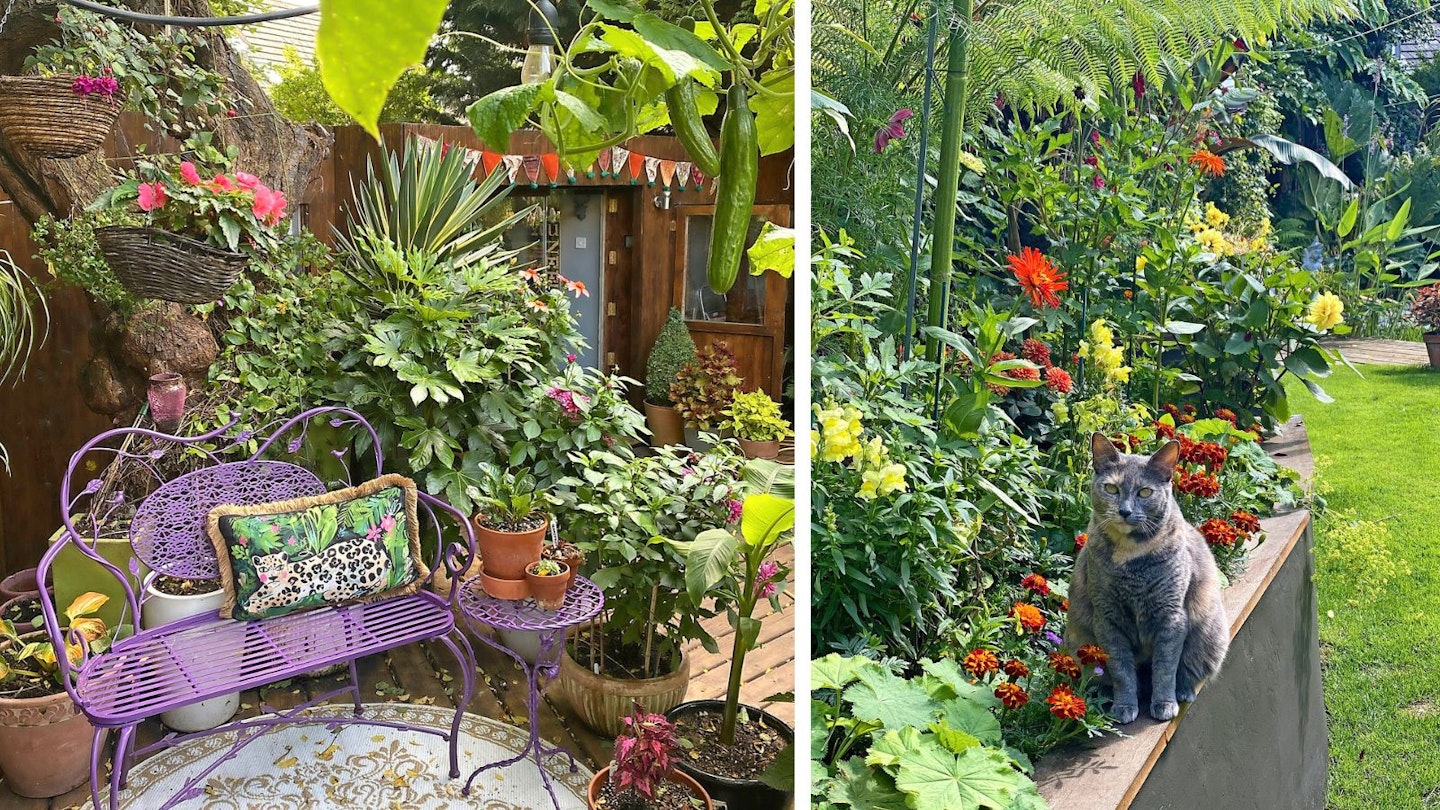 LEFT: A lush ensemble partitions the summerhouse and a secluded seating area.
RIGHT: Queen of the urban jungle, Sylvia
Bright tones
The structure wouldn't be complete without Vicki's signature colourful style, in the form of bright materials picked up on her travels and crafted into eye-catching bunting by a friend. It's a theme that abounds in this outdoor space, as vivid blooms and flamboyant textiles saturate the garden. "I adore bright colours," enthuses Vicki. "Those traditional Indian orange, red and pink textile shades are wonderful. They give such a happy vibe."
Vicki's newly cleared garden paved the way for a border rethink. Old Cotswold stone she inherited from the previous owners made for adequate flowerbeds in the early years, but she craved a modern replacement. Nigel stepped in again, building metre-high breezeblock beds, which he painted a striking charcoal shade to contrast with the greenery. American mahogany edging on top made an effective finishing touch, as well as offering practical bench seating in a perfect sunbathing spot.
To fill them, Vicki chose country garden classics foxgloves and hydrangeas, with dahlias to add a pop of primary colour. "Foxgloves are my favourites; they make me feel joyful," she smiles. "I also love showy dahlias, which grow to the size of dinner plates. I've kept to a palette of oranges, reds and yellows in the beds but the planting's never stagnant. It evolves every year as I add new flowers to inject even more colour."
Shapely blooms for a jungle garden
Vicki's preference for classic flowers might seem at odds with her choice of foliage, which is more in-keeping with her tropical theme. But Vicki has deliberately chosen boldly shaped blooms that complement the dramatic leaves of Fatsia japonica, Gunnera manicata and Tetrapanax papyrifer 'Rex' to create a lush jungle look. "I was inspired by The Lost Gardens of Heligan in Cornwall, which has spectacular giant plants," she says. "My continuing obsession is banana plants, which are really striking."
Such bold choices don't come without commitment. Vicki's winter routine involves moving plants susceptible to frost, and storing them in the summer room, complete with heating and dehumidifier. Others, including tree ferns, she's able to insulate by wrapping the trunks in situ, while her beloved banana plants come indoors. "There's a bit of maintenance needed to help them survive the cold months, but it's worth it," she says. "And on the plus side, I've saved money by buying small plants from garden centres, and growing them over the years. My red Abyssinian banana is now over 4.5m tall, but I bought it for £1 nine years ago!"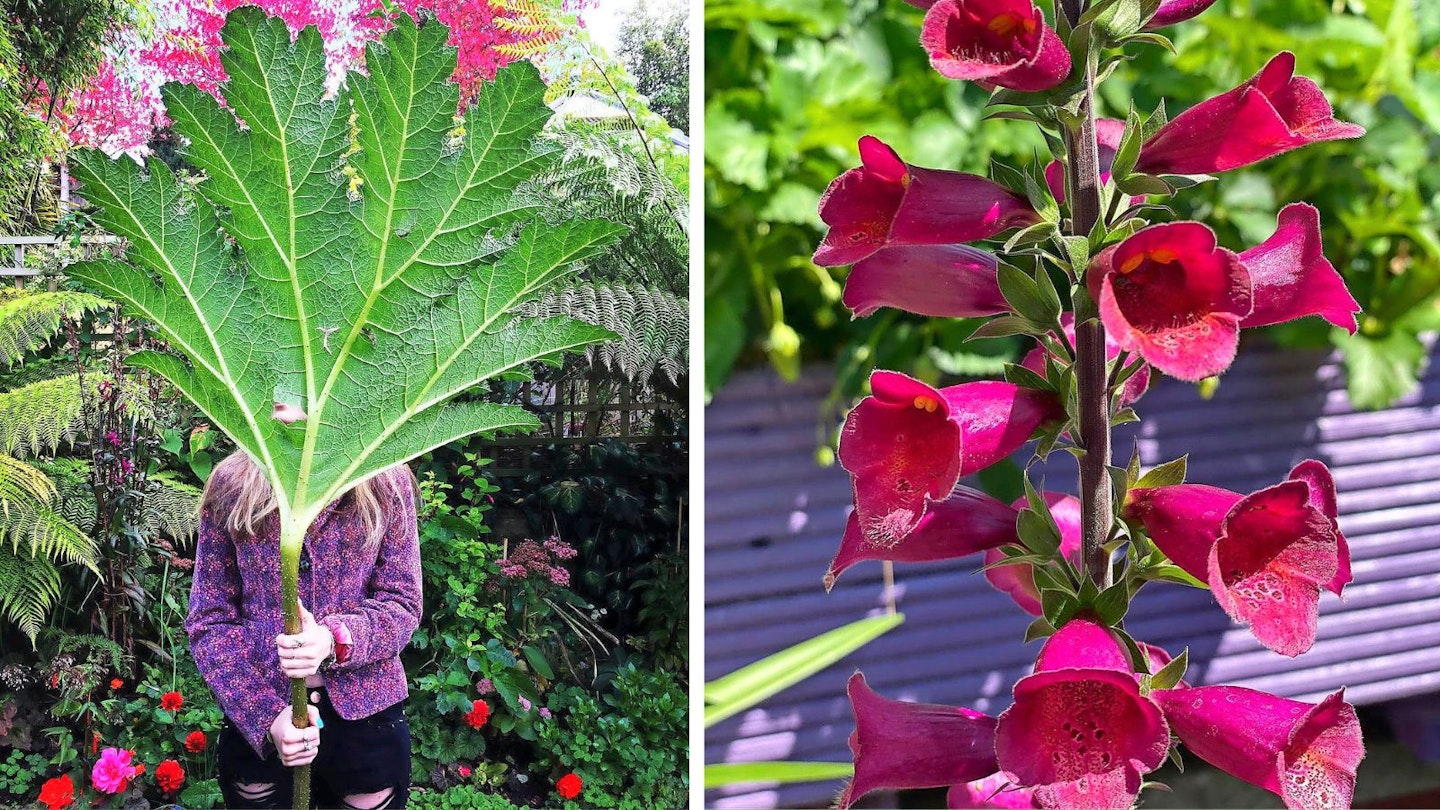 LEFT: Unbeleafable! This Gunnera manicata is a beauty.
RIGHT: Showy spires of foxglove 'Foxlight Plum Gold' pop up in summer
Garden wildlife
There was never a shortage of wildlife in this leafy paradise but Vicki wanted to welcome more with a sunken pond and surrounding bog garden. After digging a hole and sealing with a liner, the couple added oxygenating plants to create a focal point in which indigenous pond life thrives. "Toads, frogs, newts, pond skaters and beetles are prolific in summer," says Vicki. "There's nothing better than sitting on the deck, listening to the ripples and croaks, and feeling the stress of work and everyday life evaporate."
Other welcome distractions come in the form of numerous companions, including two chihuahuas, three cats and three chickens. To ward off foxes, Nigel built a wooden elevated coop, and under Vicki's watchful eye, two Silkies and one Polish Frizzle chickens can roam freely. "They each have their own personalities; they're so entertaining!" she says.
The newest addition to the garden is the pergola, which Nigel built to create a suntrap seating area, as well as a structure, which climbers including grapevines, nasturtiums and clematis can grow up. It's a contender for Vicki's favourite spot, although the zone beside the pond pips it to the post. "When I've worked a long hard shift at the hospital I love nothing more than to sit by the water," she says. "It's so secluded, an idyllic area where I can really unwind. I'll sip a glass of wine, watch the chickens at my feet, and take in the life and vibrant colour of the garden. It's like therapy, and it never fails to improve my mood."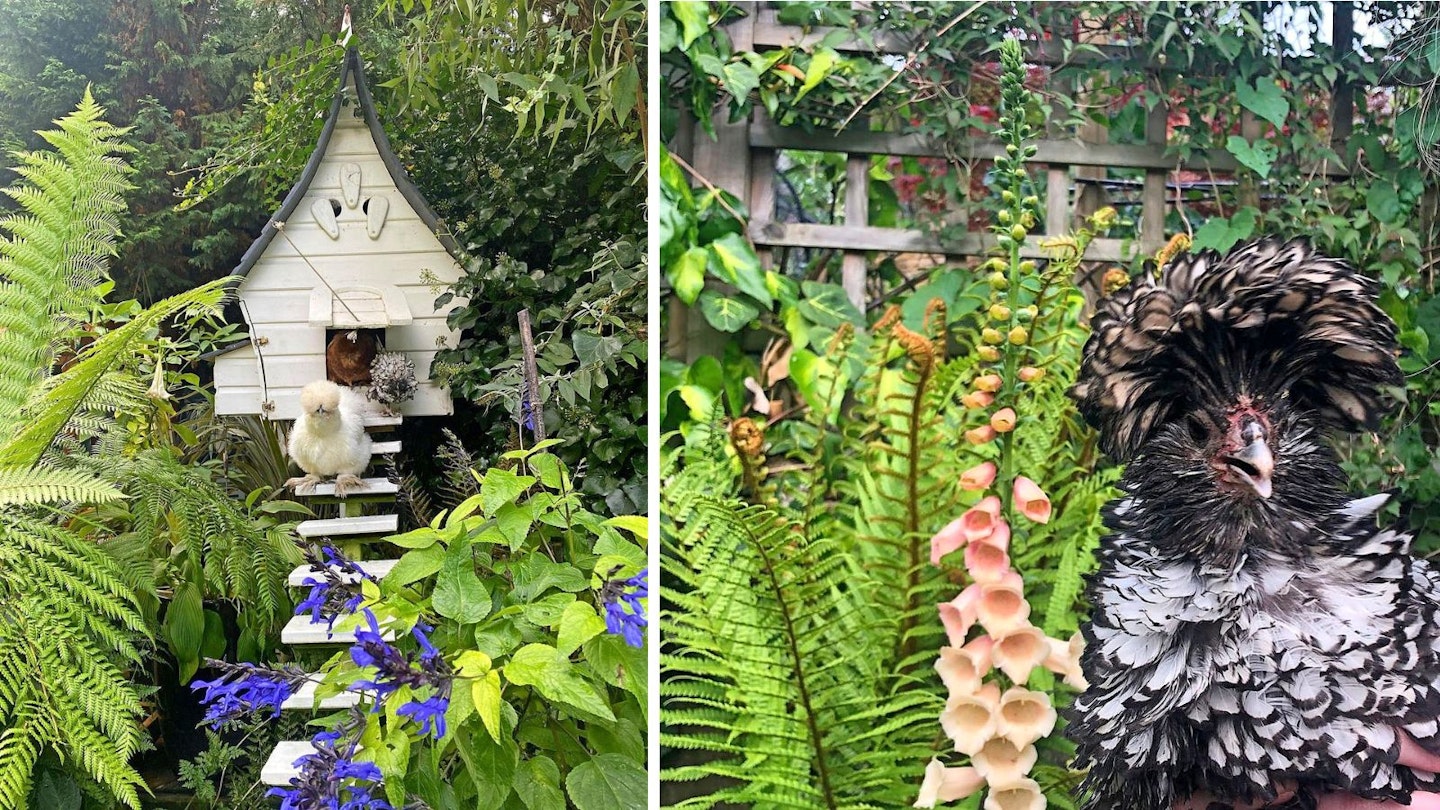 LEFT: The great eggsplorers, Gwennie leads the way.
RIGHT: Photobomb pro Rasputia the Polish frizzle
What to read next
Description
Get inspired each month with Modern Gardens magazine. In every issue you will find the latest