If you're getting your green fingers stuck into growing new plants, herbs, and produce in your summer planters, the likelihood is that a greenhouse may have crossed your mind at some point.
These houses - typically made of glass and wood or steel - are like a warm cosy blanket for your greenery, giving them enough light and warmth to grow without facing the tough UV rays or unpredictable British weather. Especially when it comes to those frosty winter months, these greenhouses can be a saviour to all us gardeners.
The thing is though, there are so many choices of greenhouses out there. You can get one that is huge and barn-like or one tiny enough to fit a few plants. Which one's the best for you? Well, we've covered everything in our greenhouse guide below - including the best greenhouses you can buy right now.
Best greenhouses UK 2023
Best hexagonal cover greenhouse
On Sale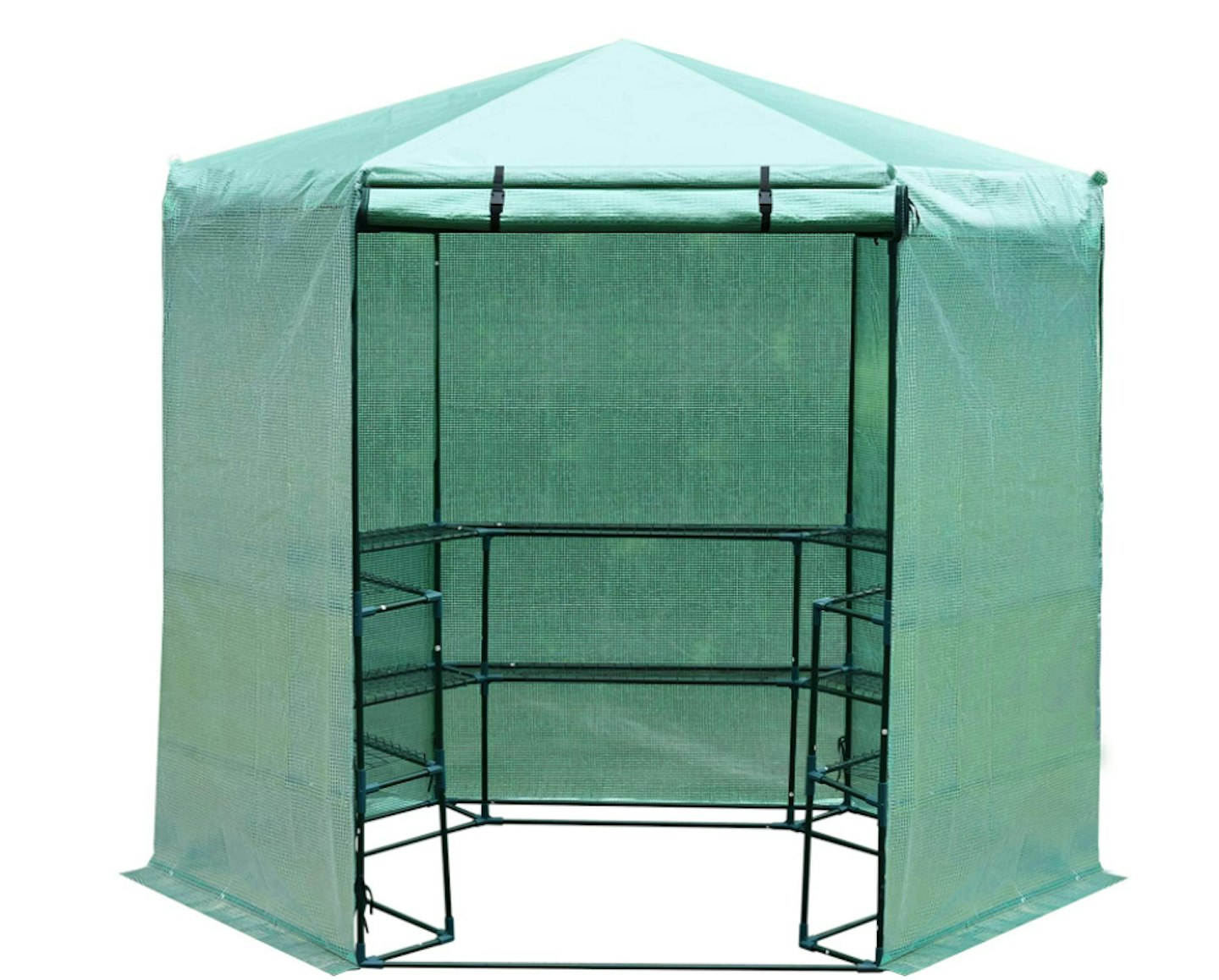 Amazon
Description
This hexagonal greenhouse makes it even easier to look after your plant family with spacious
Pros
Portable
Large capacity and great storage
Shape gives easier access to your plants
Cons
Take care to position it where the wind won't catch it
Best entry-level greenhouse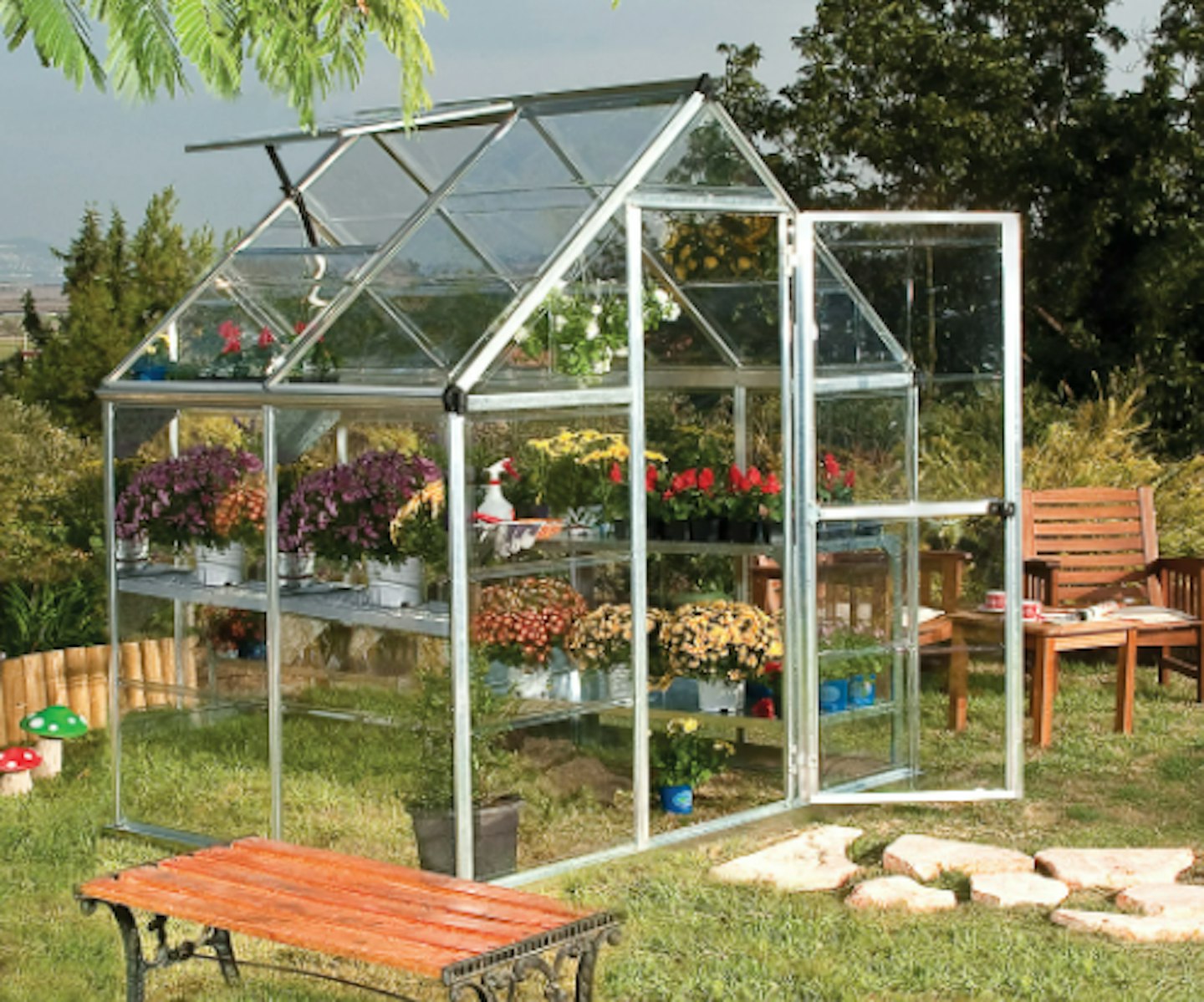 B&Q
Description
Looking for more for your money? This B&Q Palram greenhouse is a good all-around option if you
Pros
Easy to follow instructions for assembly
Fairly sturdy
A great entry-level all-rounder
Cons
A little difficult to assemble single-handed
Best barn greenhouse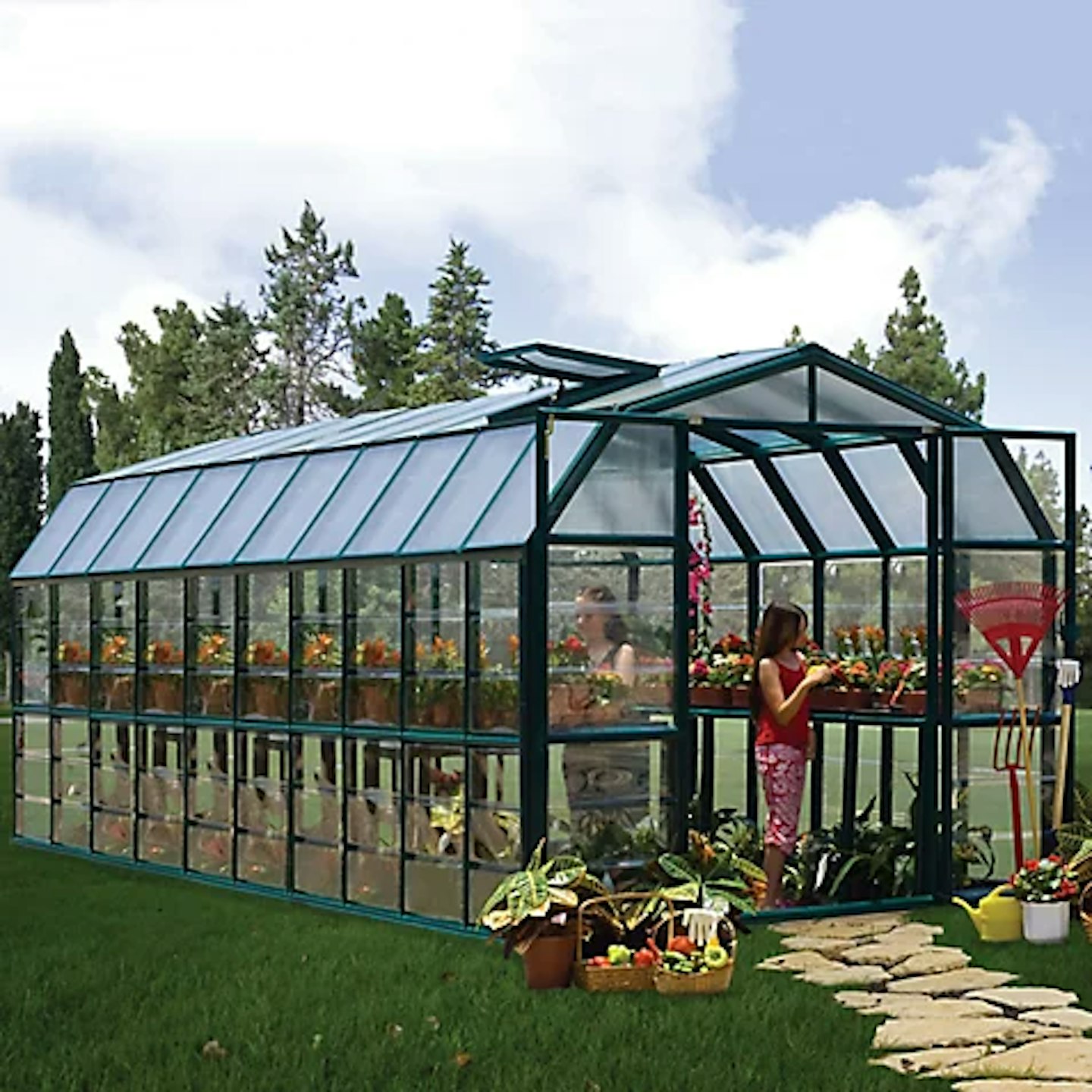 B&Q
Description
Planning to use a lot of space in a greenhouse? This Rion Grand acrylic greenhouse is barn-shaped
Pros
Enormous capacity
Well-ventilated
Best cathedral greenhouse
B&Q
Description
If you don't want something as large as the barn greenhouse, but still want a big greenhouse with
Pros
Attractive shape
Large capacity
Good for medium sized gardens
Cons
Position in a sheltered spot to avoid damage from high winds
Best greenhouse for beginners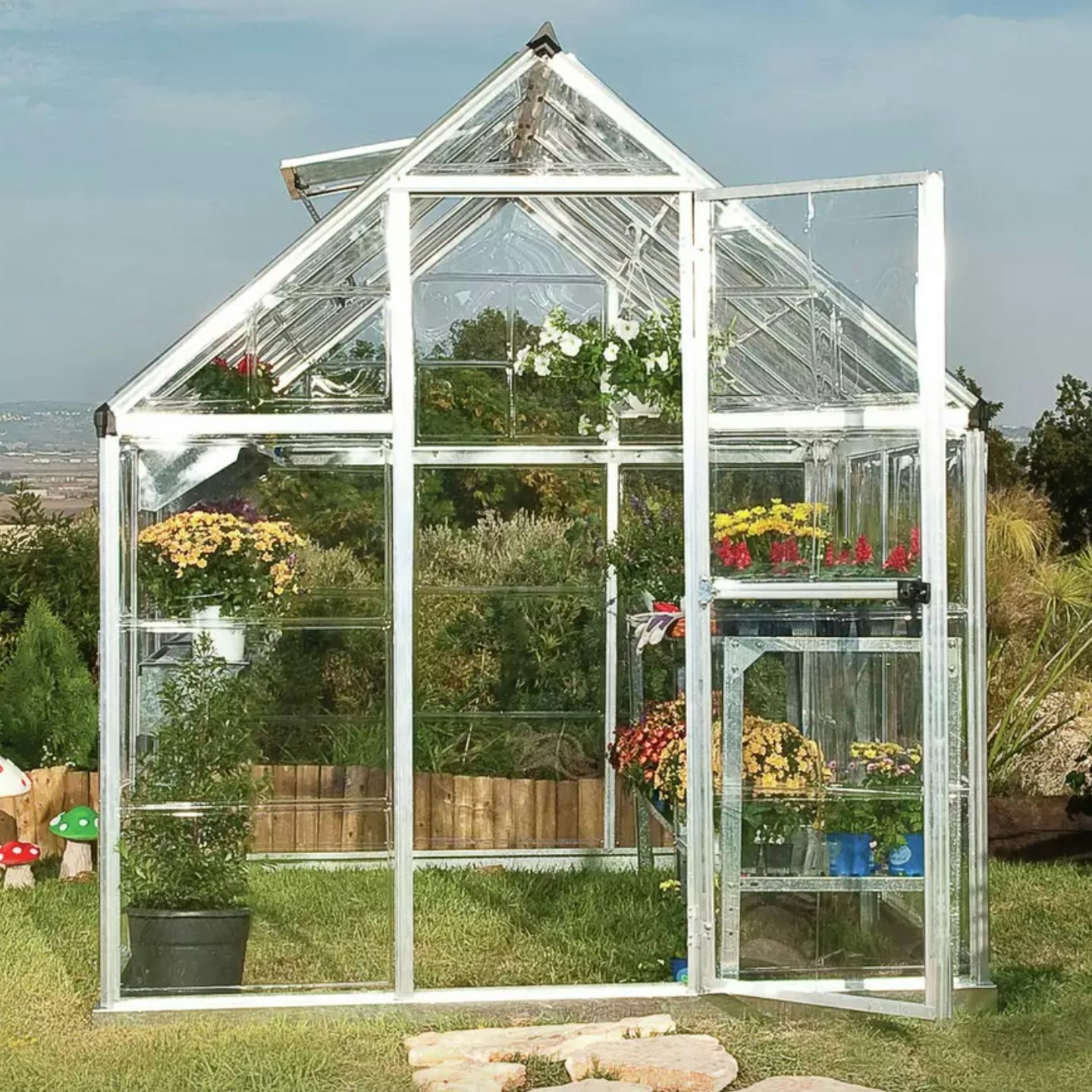 Argos
Description
This compact greenhouse is big enough to fit all of your gardening plans but is small enough to
Pros
Polycarbonate glazing is a good alternative to glass
Competitively priced
Classic, adjustable and virtually unbreakable
Cons
Some reviews commented they had difficulty assembling the greenhouse
Our Verdict
We choose the Palram Canopia Harmony Silver Greenhouse as it ticks all the boxes in terms of being sturdy, spacious and well priced. We're particularly impressed with the polycarbonate glazing which blocks harmful UV rays whilst allowing 90 per cent light transmission. The panels offer insulation in winter and are a more durable alternative to glass.
FAQs
What type of greenhouse should I get?
There are lots of elements to factor in when you want to start looking for a greenhouse. What size can you fit in your garden? How much can you afford? Do you want a static greenhouse or one that's easily covered and uncovered?
With all of this in mind, there are a few different types of greenhouses you should look towards.
Wooden or steel bases: Whereas steel bases are much easier to put together, wooden frames for greenhouses can look more traditional and maybe a more stylish choice - this will make them more expensive, though.
Plastic-covered: Want ease and a cheaper choice? Plastic-covered greenhouses are a great option that often has zippers and is easily removed for a lower price.
Shape: You'll have to think about the shape and size of your greenhouse. You can get traditional gable greenhouses easily, but lean-to options are often smaller and just as effective if you have a smaller garden. Then you have arching, cathedral, and barn greenhouses too, just to name a few. This all depends on what you're looking for in your greenhouse.
How much to spend on a greenhouse?
This all depends on what materials you want, how many features you want and the choice of size for your greenhouse.
Greenhouses can start anywhere from £30 to over £10,000 depending on what you buy and design, so there's a lot to think about.
For instance, plastic, steel, and wooden frames can be cheaper if they're smaller in size, but they may not be as sturdy if you buy them so cheaply. On the other hand, you can spend lots of money on a specially-designed greenhouse with doors and windows, but you may find this isn't necessary for your budget.
We're all about the value you get for your money, so you'll want to do full research into what you're buying before you get it.
Where can I buy a greenhouse?
Lots of garden centres and outdoor shops will have a great range of greenhouses. Of course, you can also get a great selection easily on Amazon.
If you're looking for your greenhouse we recommend choosing a classic trusted shop like B&Q or Wickes. John Lewis also comes in handy for more expensive greenhouses that can be built for you and Aldi has some more affordable options as part of their garden special buys. We've hunted down the best choices from all these sites below.
Where should I position my greenhouse?
When choosing where to site your greenhouse, you need to consider various factors to make sure it's in the optimal place for plant growth and you.
You might have an ideal space in mind but it's worth considering the below:
• Position your greenhouse in the sunniest part of your garden. This is paramount for getting the most out of your greenhouse. The best position for this would be to have your greenhouse south-facing where possible or, failing that, east side to maximise light during the winter
• Putting your greenhouse in a space that will be sheltered from high winds or storms. This is great for the long-term maintenance and structural integrity of your greenhouse
• Position your greenhouse near a source of water or electricity. This is ideal for easy watering and providing additional heat in the cooler seasons if your sun exposure is limited
• Make sure to build on level ground with good foundations. Building on a slope will create complications with pots potentially rolling off the inside staging!
• Leave space around your greenhouse. This will make for an easier installation and make it easier to replace any broken panes later down the line.
What to read next:
Description
Discover everything you need to know to make your outside space look fantastic, quickly and
Caitlin Casey is a Senior Writer for Modern Gardens, heat, Closer, and Grazia. She covers shopping, women's lifestyle, popular culture as well as all things trending.