If your beloved indoor houseplant is growing a bit big and is due for repotting – or you want to introduce some beautiful foliage into your indoor space - then you'll need to size up to a large indoor plant pot. Luckily, we're here to help your houseplant to get a new lease of life or to help settle a mighty newcomer into your home. We've listed our favourite large indoor plant pots. Alongside this, we've answered your burning questions about which design is best, how to decorate your pot and more.
Whether your plants need an upgraded pot or you're adding a new plant to your (growing) collection, you'll need to know the basics of what makes a decent pot. From drainage to material porosity, we've got all the details for you. First up, drainage. Adequate drainage ensures your soil doesn't get too wet as the soil can escape out of the bottom of the container. Plus, these holes will provide a nice supply of oxygen for the roots. If you like a pot without drainage holes, don't worry. Keep your plant in its plastic container and use the nicer pot as a cover.
Black Friday deals on large indoor plant pots
We interrupt the regularly scheduled content to let you know that although Black Friday is over, there's still time to grab some last chance Black Friday deals on indoor plant pots. These are the retailers that still have deals available or keep scrolling to continue reading our buyer's guide.
Shop the best Black Friday large indoor plant pot deals: Amazon UK | Etsy | Not On The High Street
19% off: Paget Metal Indoor Plant Pot, WAS £58.99, NOW £47.99
19% off: Tamura Metal Indoor Plant Pot, WAS £104.99, NOW £87.99
30% off: Moroccan Vintage Tamegroute Planter WAS £15+, NOW £10.50+
£30 off: Malu 32cm Diameter Round Rattan Flowerpot with Stand, WAS £75, NOW £45
When perusing for a new plant pot for your mighty foliage or sizeable succulent, increase pot size by two inches in diameter for your smaller plants that don't grow wider than 10 inches. In the case of a larger houseplant, you'll need to increase the pot size by two to three inches. But, make sure to resist oversizing. After all, houseplants generally grow quite slowly and pots too large can cause dry soil - which can cause health issues.
We've included plenty of ceramic plant pots, as they're the most popular kind you'll find in houses. They come in all kinds of styles, colours and sizes to suit any preference. You'll find clay pots, which are heavy, porous and ideal for larger plants - perfect for ferns, cacti and succulents. Not forgetting plastic and fibreglass, which are lightweight and generally inexpensive. Others include basketry, glazed pottery and metal.
Best large indoor plant pot at a glance
• Editor's choice: Glossy Ceramic Glazed Large Pots - View on Etsy
• Eco-friendly: Muddy Hands Eco-Friendly Plant Pot - View on Amazon UK
• Best plant pot and stand: M&S Large Ceramic Planter with Stand - View on M&S
Best large indoor plant pots
Editor's favourite
Description
Available in four sizes, you can grab this pot with a mammoth width of 30cm. Though this comes
Pros
Stylish and handmade
Different sizes available
Suits all plant types
Take a stand
Description
Stylish and rather chic, we like this pick from Marks and Spencer. Made from ceramic with an
Pros
Indoor and outdoor use
Stands on wooden legs
Boho, rattan planter
Description
Patterned and woven from water hyacinth, this planter has an unusual and appealing design. It
Pros
Waterproof liner
Attractive planter
Natural materials
Complete with a saucer
Description
We love this pick from Crocus, where you can keep this planter upright or at a jaunty angle with
Pros
Comes with a plant saucer
Tilt it towards the sun
Handcrafted, rustic
Cons
No customer reviews
Pricey investment
Great for large succulents
Description
Or, why not consider this ceramic pot from Dunelm? It's large, stylish and will fit a nice,
Pros
Stylish and contemporary
Good for most plants
Great quality and value
Eco-friendly buy
Description
Manufactured from recycled plastic and wood, this plant pot comes equipped with an inner liner
Pros
Outdoor or indoor
Recycled materials
Good value pot
Large metal buy
Description
Create a fabulous feature in your home with this stylish pot. Made from metal - but not appearing
Pros
Stylish and contemporary
Raised to avoid animals
Rustic, shabby pick
Description
Handcrafted, happy and handmade, this plant pot is perfect for those of us who love a scruffy vibe
Pros
Warm, handcrafted pot
Comes with a liner
Different sizes available
Cons
Indoor use only
Invest in a saucer
Self-draining pick
Description
Size up to the 19cm option for a large, eco-friendly pot. These recycled tubs are available in two
Pros
Self-draining system

Made from recycled materials
Lightweight and weather-resistant
Perfect for a yucca
Description
Stylish and perfect for a budding Yucca, why not add a decorative touch to your home with this
Pros
Stylish and contemporary
Raised base - it stands out
Cons
No customer reviews
Likely no drainage
FAQs
What is the difference between indoor and outdoor plant pots?
There aren't many differences between an indoor and outdoor plant pot. However, there are a few things to consider if you're thinking of moving your houseplant outdoors for a little sun. First, you need to consider how durable the material is. We're seeing a rise in non-traditional materials becoming planters – like fibreglass. Large outdoor pots will likely be frost and waterproof, so make sure to check before you buy.
Not all pots for suitable for the outdoors, especially if they're not equipped with adequate drainage. After all, drainage holes in pots allow excess water to drain out, therefore preventing sogginess and root rot. Our easy-to-care-for houseplants will take care of themselves indoors by only drawing up the water they need. However, if outside, and inundated with rain, better drainage is required.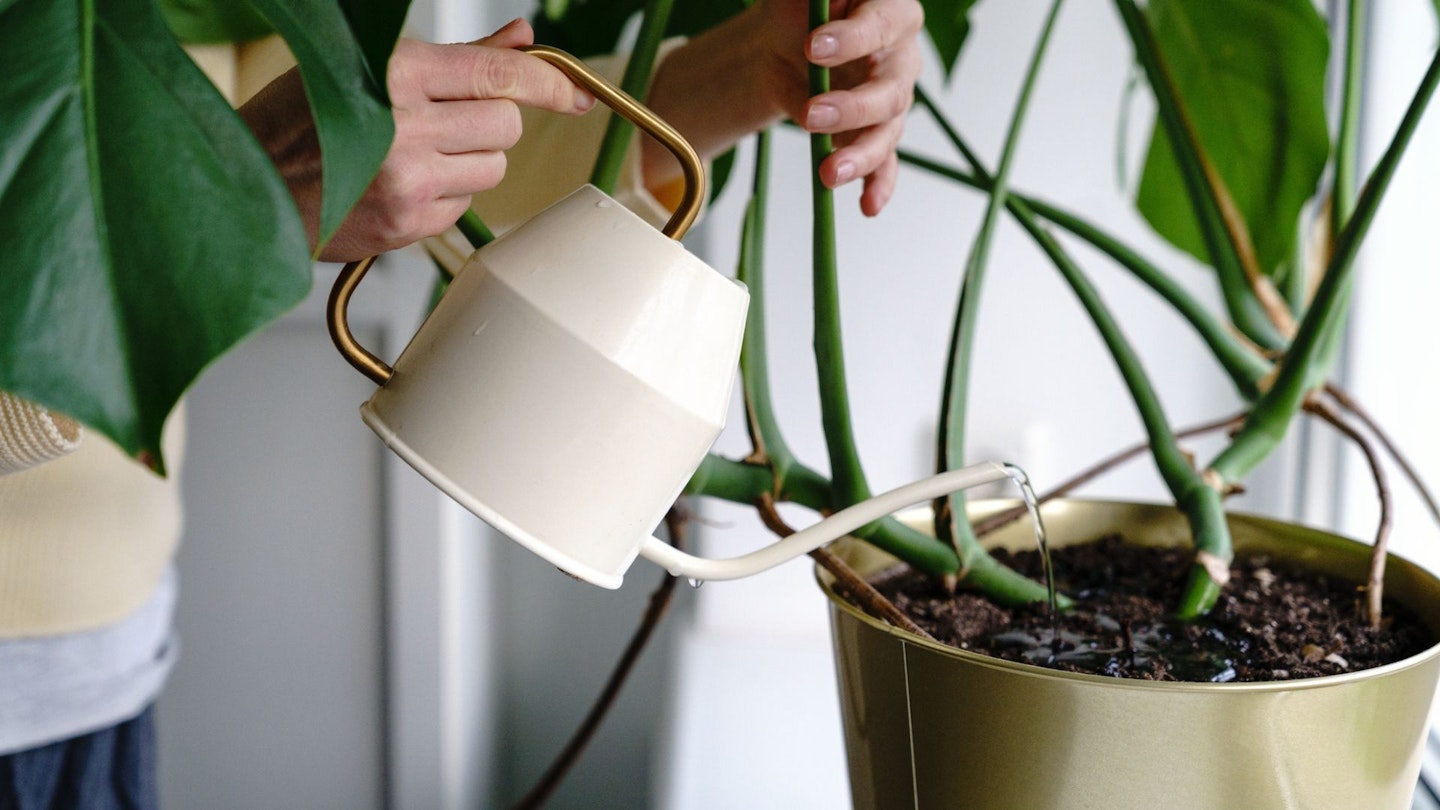 Will indoor plants die outside?
No – if you're careful, your houseplants will be fine. During the summer, it can be beneficial for your plants to be moved outside into the sun, coming with the possibility of improving their health and overall appearance. In fact, many indoor plants will thrive in the sun, and outdoors.
Here, they get some good fresh air, which can't be provided in your bedroom. Plus, it may save you from investing in a pricey plant heat lamp or grow light. They'll be kept in the light and will get some rain – so you may not need to water your plants - with your trusty watering can - if the UK weather lives up to its reputation.
However, it's not all plain sailing. Don't rush and shove your precious, houseplants outside to fend for themselves. Actually, it's best to introduce them gradually to the garden. However, tender tropical plants such as moth orchids need to be kept safely inside. So, think June or August for letting your bedroom plants out to play – and bring them in before the September frost begins.
Do indoor plant pots need a hole in the bottom?
Yes, ideally - but there are workarounds for this. You can use our suggestions as covers for those unsightly plastic containers plants can come in. Failing that, you can drill holes in the bottom of some pots and invest in a saucer to take the excess water. Some of our suggestions come with a built-in waterproof liner and some are even self-draining.
What to put under plant pots indoors?
If you've chosen to make a few amendments to your pot, you'll need a plant saucer. Using a makeshift excess water catcher from a household receptacle can be done, but it's unsightly. Luckily, there are some plant saucers around to help.
How to plant houseplants in pots
When it's time to pot or repot your little plant friends, there are several things you're going to be clued up on. This could be what you'll need in your tool kit or which potting soil you require, it can be confusing to get the right information. After all, there is a risk of causing your plant stress - and even death - when you transfer it to a new home.
There are several ways to acclimate your houseplant to a new pot. But, you may wonder how to plant indoor plants in pots without a hole. If you want the easy route, take advantage of the unsightly brown, plastic pot and use your new pot as a cover for that. There may even be built-in liners to help out, too. No fuss or hassle. If you're repotting, experts advise doing so during the spring and summer when plants are at their strongest.
However, if you're thinking of fully potting your new houseplant, you need to "pot up", says Modern Gardens contributor, Martin Fish. "Hopefully, with this, the larger planter gives your potted friend "enough room to trickle fresh compost around the existing root ball." So, give your plant some room. We recommend potting compost for this, as it's a plant-based material that contains control-released fertiliser and plenty of organic materials for growth.
Need some step-by-step guidance?
1. Add a little compost to the base.
2. Position the plant in the centre and gradually add the compost.
3. Give the pot a tap to settle the compost.
What to read next:
Description
Discover everything you need to know to make your outside space look fantastic, quickly and
Piper Huxley is a Homes, Garden and Wellness Product Writer for Modern Gardens Magazine, an all-rounder. When she's not writing about houseplants, she's tending to her own growing collection…