Super chic and perfect for lounging, dining, and cosying up, garden pods are a near-instant way to gain invaluable extra living space and enjoy time in your garden too. Rounded and mostly made from tinted but transparent polycarbonate, these striking beauties are happy to take centre stage so you can relax inside. If you want to uplevel your best garden furniture, these pods will help you to stay sheltered from the elements while enjoying a 360-degree view of your gorgeous garden.
From snug dens to more generous oval designs to fit a party of 12, garden pods come in many sizes. The average pod takes up no more room than a typical circular patio table and chairs set. Also, being largely transparent, they can sit comfortably in the smallest of plots.
Black Friday deals on garden pods
We interrupt the regularly scheduled content to let you know that although Black Friday is over, there's still time to grab some last chance Black Friday deals on garden pods. These are the retailers that still have deals available or keep scrolling to continue reading our buyer's guide.
Shop the best Black Friday garden pod deals: Cuckooland | Lime Lace | Amazon UK
Save £1,104: Garden Pod - The Rotating Lounger WAS £10,599, NOW £9,495
£2,000 off: Summerhouse Garden Pod - Medium WAS £20,995, NOW £18,995
Save £2,000: Summerhouse Garden Pod WAS £18,995, NOW £16,995
£500 off: The Wheel Bench Garden Shelter WAS £3,999, NOW £3,499
Because they don't need to be put in a corner like your best outdoor sofa or banished to the end of your garden, there's much more versatility when it comes to positioning it. They're quicker, cheaper, and less hassle than building an extension, offering an easy solution to gain extra living space.
So without further ado, let's take a look at the best garden pods to uplevel your garden and create the ultimate hosting space for your guests.
Best garden pods at a glance
• Best garden pod for flexible living space: Farmer's Cottage Oval Garden Pod - view offer on John Lewis
• Best garden pod for rotating design: Luxury Rotating Lounger Garden Pod - view offer on Cuckoo Land
• Best garden pod for extra living space: Large Oval House - view offer on Lime Lace
• Best garden pod for safe and secure: The Grande Deluxe Chic - view offer on John Lewis
Best garden pods for your outdoor space
Best garden pod for: Futuristic feature
Description
Curvy walls in stainless steel and acrylic, enclosed by sleek timber ribs, make this compact
Pros
360-degree views of your garden
Get the full benefit of the sun or the shade - rotates up to 180 degrees
Weather-resistant stainless steel exterior
Best garden pod for: Flexible living space
Description
This Farmer's Cottage Oval Garden Pod is not only a striking architectural feature but will give
Pros
Dining table for up to eight people
360 degree views
700W heater and interior lighting
Fully weather-resistant
Best garden pod for: Rotating design
Description
This gorgeous Ornate Garden Rotating Lounger Garden Pod seats up to seven people. The central
Pros
Rotates 360 degrees
Small area footprint
Best garden pod for: Minimal footprint
Description
This outdoor sanctuary seats eight people and can fit into the smallest of garden plots. The
Pros
360 degree rotation
Designed with the UK climate in mind
Best garden pod for: Office space
Description
This stylish and innovative Summerhouse Garden Pod is the perfect place to soak up some evening
Pros
Available in eight colours
Heat, Wi-Fi and lighting
Delivered and assembled for you
Best garden pod for: Relaxing vibes
Description
A great alternative to summer houses, this high-spec pod boasts two comfy sofas, heating,
Pros
Available in eight colours
Heat, Wi-Fi and lighting
Delivered and assembled for you
Best garden pod for: Extra living space
Description
Need extra living space? This elongated Large Oval House has two seating areas, wide double doors
Pros
Like adding another room to your property
Heat, Wi-Fi and lighting
Delivered and assembled for you
Spacious
Best garden pod for: Safe and secure
Description
With locking French doors and two sliding windows, The Grande Deluxe Chic doubles as the perfect
Pros
Adjustable table makes space dynamic
Create your own interior
Electrical and heating features
Lighting and Bluetooth audio
Best garden pod for: Holiday vibes
Description
Whatever your style of garden, this elegant and timeless Zapp Rotating Seater will look right at
Cons
Price only available on request
Best garden pod for: Alternative open design
Description
Providing shade from the sun or shelter from the rain - this The Wheel Bench Garden Shelter will
Pros
Contemporary design
Reasonably priced option
Cons
A little exposed to the elements
Best garden pod for: Conservatory alternative
Description
If you are looking for something completely transparent this UV-protected, frameless yet robust
Pros
Striking design
Reasonable price
Budget alternatives to garden pods: summer houses
Ideal for one or two people
Description
If you are looking to create a peaceful spot in the garden then this Waltons 7 x 5 Bournemouth
Space-saving summerhouse
Description
Ideal for smaller gardens, this compact space-saving design will fit neatly in the corner of your
Cons
The fit may not work fore every garden
Contemporary summerhouse
Description
This contemporary and clean summerhouse will transform your garden into a country escape. The
Pros
Sleek design
Glazed windows
Garden escape
Description
If you are looking for a DIY project, you can assemble your summer house, workshop or storage
Practical and sturdy
Description
Make the most of your outdoor space with a functional and stylish garden building. With glazed
What are garden pods?
The distinct, rounded shape of garden pods makes them a stunning feature in any outside space. Also, with their pronounced timber ribs and futuristic covering of stainless steel and curved acrylic, they are impossible to ignore. Inside they provide a cosy and intimate spot where you can sit and, thanks to the glazed walls, enjoy an uninterrupted view.
These alfresco escapes come fully equipped with heating, lighting, and optional USB points, so they make a useful garden office as well as a quiet area to chill. Far more stylish than the average shed or garden studio, these gems also make the perfect place to gather with friends. Finally, most feature curved built-in seating with a central table that can be removed or lowered to create a flat lounging area.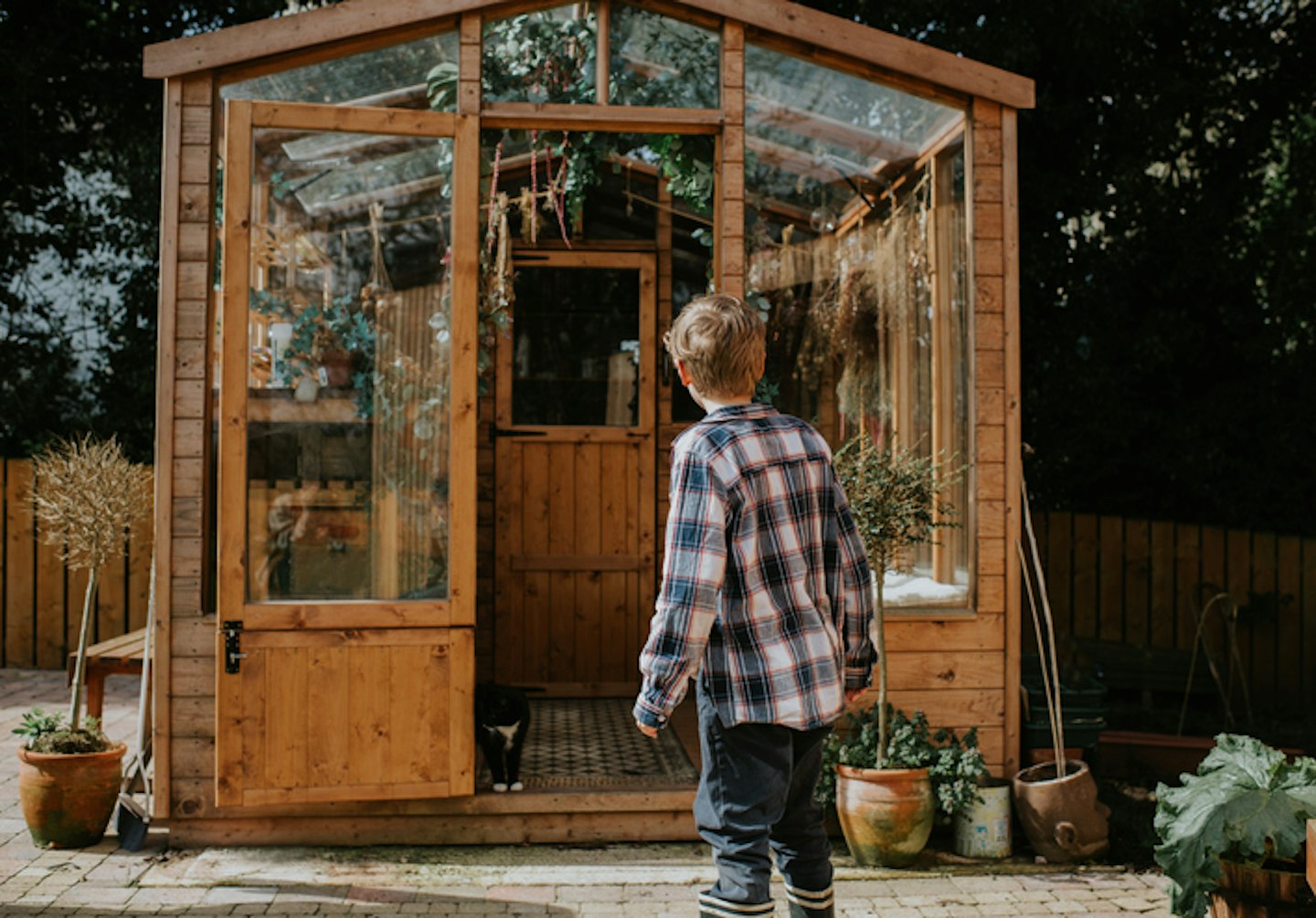 Things to consider when choosing garden pods
Perfectly formed garden structures
Garden pods come either as neat spheres or roomier oval designs. Smaller, round models will seat up to six or seven people around a central table and start at around £7,000. They have an enclosed but transparent polycarbonate and stainless-steel shell, usually with a 60- to 90-degree opening for easy access.
Some of the compact models have no closing door. Instead, they often have a small overhanging canopy that sits above the door and provides some protection from the occasional shower. To enclose them, an outer canopy cover clips over the front and features a full-length zip for access.
Rotating garden rooms
Some spherical designs sit on a rotating base, which is great when you fancy a change of scene, wish to escape the sun or a chilly breeze or just want to wow your garden guests. Rotating pods tend to seat around seven to eight people. Manually operated, they're designed to turn 360 degrees by simply pushing on the external timber ribs.
Room for more
The larger pods are oval in shape and, due to their extra weight, are static. With enough space for up to 12 people, they feel super luxurious and add a real sense of occasion to any get-together. They also command more attention in the garden too. In addition, they are available with closing doors. You can choose from conventional bifold, French-style doors or curved panels that slide neatly up and over the pod's outer shell.
No-fuss features
As a large proportion of the pod's shell is designed to be seen through, but also beautifully curved, high quality UV-protected polycarbonate or acrylic sheets. Tough and fully waterproof, the windows seamlessly flow around the curvy shape without the need for unnecessary joins.
Choose either clear or bronze-tinted glazing, which will reduce the glare from the sun and add to the futuristic vibe. A stainless-steel roof helps to control the temperature by reflecting heat, while stainless-steel louvres above and below each window offer cooling ventilation. The temperature can be further controlled by warm air heaters and side-opening windows, available as upgrades on some models.
Simple installation
A level paved patio or area of concrete is the perfect base for a garden pod. It will need to be around 30cm deep and roughly 60cm wider on all sides than the base of the pod. Finally, do read the small print on the manufacturer's product specifications as the base measurements of each design vary.
Then with all the groundwork in place, installing your garden pod is speedy, usually taking around four to five hours to complete, depending on its size and spec.
What to read next:
Description
Discover everything you need to know to make your outside space look fantastic, quickly and
Jill Morgan writes regularly for Modern Gardens, and loves everything to do with gardens, plants and outdoor living. Her long thin, town garden is the setting for many family and creative projects from bird feeding and veggie growing to den building and mini-pond dipping.