Want to make the most of life outdoors this summer with the best cantilever parasol? Garden furniture is the best way to entice you to spend more time outdoors. Make it as comfortable as possible with a cantilever parasol - easy to move so you can shelter from UV rays and stunning too. Choose from curving sidearms, and contemporary square shades to ones with lights included.
Also known as an overhang or banana parasol, these versatile sunshades provide fantastic coverage and a generous amount of uninterrupted shade. So whether you're dining al fresco, kicking back on a sun lounger, laying in a hammock or enjoying a chat, or a lovely summery gin cocktail, there's plenty of space for you and your guests to relax and spread out. Available in a range of colours and prices, there's bound to be a design here that's perfect for your patio.
Best cantilever parasols at a glance
• Best value cantilever parasol: Charles Bentley 3m Cantilever Parasol – View on Amazon UK
• Best overall: 3m Cantilever Hanging Parasol – View on Very
• Best cantilever parasol for entertaining: KETTLER 3.5m Freestanding Arm LED Light & Wireless Speaker Parasol – View on John Lewis
The key difference between a cantilever parasol and any other sort of parasol is that the pole stands at the side and not directly in the middle. This means you get even more space beneath to shade or place your garden furniture. You don't need to worry about a pesky pole ruining your view of the garden, find furniture with a pole hole equipped, or have to peer around to chat with family and friends.
Not only that, but cantilever parasols offer the most adjustable sun protection and stability for all weather conditions. Most can rotate between 270 to 360 degrees, be tilted to shield from UV at any angle and be easily height-adjusted with the crank-lift handle. The beauty of this is that you can leave the base in its original spot, saving on the back-breaking lugging required with a traditional garden umbrella. Most cantilever parasols come up larger in size, too, typically measuring between 2.5-4m, great for large gardens or if you're looking to shade a larger area for outdoor dining.
Best cantilever parasols
Best value cantilever parasol
Description
Ideal to put over a BBQ or a table and chairs set to protect from the sun or rain, this Charles
Pros
Easy to use
Durable material
Best square cantilever parasol
Description
This Challenger Dual Tilt Easy Adjustable Cantilever Parasol from So'Home definitely has a luxe
Pros
It can rotate 360 degrees
Aluminium crank
Best parasol for customisation
Description
If you're after just the right parasol to suit your outdoor space, VOUNOT on Amazon gives you
Pros
3m canopy span
Five colour variations
Best cantilever parasol for style
Description
Get minimalist vibes with this stylish 3m Cantilever Hanging Parasol from Very. With a black steel
Pros
Good value
Robust steel frame
Easy to assemble
Cons
A little top heavy, so needs weighting at the base
Best cantilever parasol for entertaining
Description
Keep your garden or patio party going from day to night with the KETTLER 3.5m Freestanding LED
Pros
Bluetooth connection
Wireless speaker
LED lights fitted
UV50+ sun protection
Best 2.5m cantilever parasol
Description
For a slightly smaller canopy, look no further than the Argos Home 2.5m Overhanging Garden
Pros
Good value
Good canopy span
Top pick
Description
This cantilever parasol is much like the 2.5m Overhanging Garden Parasol in the Argos Home range,
Pros
Larger 3m canopy
360 rotation
Best grey cantilever parasol
Description
Keep yourself shaded from the sun with this Airwave 3m Banana Hanging Parasol from Robert Dyas. In
Pros
Easy to operate with a crank
3m canopy
Best parasol base
FAQs
How do I choose a garden parasol?
Location
The benefit of a cantilever parasol's pole is that it can be positioned pretty much anywhere in your garden. However, you'll need to be wary that the space can accommodate the full span of the opened canopy. If it's a tight space, you may need to consider a freestanding parasol instead that comes available in smaller sizes.
Size
You may want to choose a size that accommodates your outside dining table. 2.5-3m cantilever parasols can fit six-seater dining sets beneath, while those larger can fit up to eight-seater dining sets.
Design
The design of your parasol is completely up to you and your garden aesthetic. You can find cantilever parasols in a range of colours and some with integrated lights and speakers. Perfect for outdoor entertaining or dining out on warm summer evenings.
Material
As well as looking good, your parasol canopy needs to be functional too. Besides being showerproof, all umbrella fabrics have a UPF Rating (Ultraviolet Protection Factor). This indicates how effective they are at blocking the sun's UV rays. A rating of UPF50+ equates to 98% of UV rays being blocked, while UPF30 indicates a success rating of 96.7%.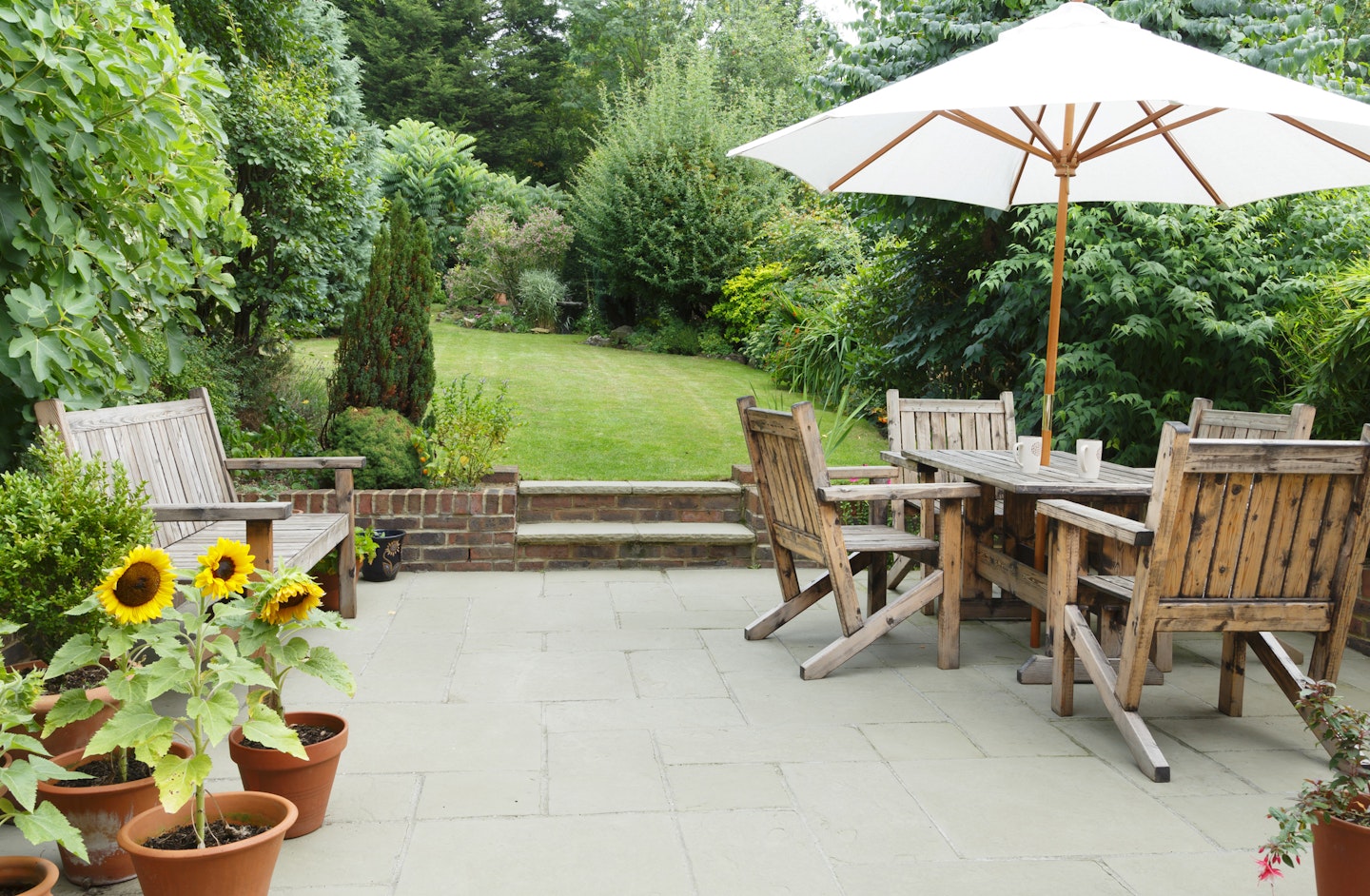 Cantilever parasol FAQs
Are cantilever parasols safe?
Yes, cantilever parasols are perfectly safe. However, you need a well-weighted base in place to keep the side support system stable. Compared to standard parasols, cantilever parasols are more wind sensitive and require a heavier base to counterbalance the canopy when open.
How heavy should a cantilever parasol base be?
Compared to standard parasols, cantilever parasols require a heavier base to counterbalance the canopy when open. Generally, a 3m cantilever parasol canopy requires a 70-80kg base, and a 3.5m canopy requires a 100kg base.
Fortunately, most garden parasols will fit any parasol base. However, the base will need to be large enough to keep the parasol secure and provide the correct weight for stability. Not all cantilever parasols come with a base, so we've included some suitable options right here.
What to read next:
Description
Discover everything you need to know to make your outside space look fantastic, quickly and
Eleanor Weaver is the Deputy Homes & Garden Product Editor for A Modern Kitchen, specialising in kitchen accessories and appliances, including washing machines and microwaves. Having been a renter for a decade now, she loves looking for home inspiration in her spare time and is a master of DIY.