Get up the learning curve of the latest technology so you can splurge on stylish Christmas lights, but save on energy costs; already strung up your Christmas garden lights? Us too! But now's a great time to think about upgrading your festive illuminations, and not just to achieve a more stylish or spectacular display – investing in the latest products can save on energy costs too.
Once you know what you're looking for, you'll be ready to pounce on the very best energy-efficient Christmas lights as soon as the festive sales start, and bag yourself a future-proof bargain.
Best energy-efficient Christmas lights at a glance
•
•
•
Thanks to the latest tech, today's lights are clearer and brighter than previous products and come in a wider choice of colour and effects. With ultra-fine wiring and tiny LEDs, light strings can be wrapped and woven through foliage and garden features with ease, built into finely detailed 3D figures and enclosed in vibrant tubing for modern retro neon motifs. And connectable strings, smart controls and multi-function modes help take the faff out of creating your dream light show.
Best Christmas lights
Best animal Christmas lights
Description
Lit by 140 (doe) and 50 (fawn) warm white LEDs, these faux rattan framed figures from lights4fun
Pros
Easy to arrange
Six hour timer
Matching animals available
Cons
Need electric outside or close to where you want to put them
Best path lights
Description
Chic and bright, let these star-topped LED spiral trees lead guests to your front door.
Pros
Nice and bright
Easy to set up and put away
Cons
They are on the small side
3. Festive 58cm Light Up Multicolour Twinkling Soft Acrylic Christmas Star 
Best twinkly lights
Description
A dazzling spectacle with multiple light settings and effects, this Twinkling Soft Acrylic
Pros
Classic and traditional style
Long cable length
Suitable for indoor and outdoor use
Best statement lighting
Description
Looking for a statement lighting feature that will be the envy of your neighbours? This
Pros
Different and unique
Easy to set up and use
Cons
No option to change the settings
Best neon light
Description
Neons are super popular and we love this penguin one from John Lewis. Made from moulded PVC and
Pros
Eye catching
Great for kids
Looks better in person
Cons
Blue version not available anymore
Best contemporary light
Description
Giving off a soft white light, these Christmassy cones made from soft spun cotton are a
Pros
Stunning look
Great price for all three
Battery powered
Cons
Only suitable for indoors or porches
Best string lights
Description
Why settle for one row of lights when you can dazzle with masses? At over 6m long, this string of
Pros
Eight different functions
Stylish and effective
Best small light
Description
If you're after a light that is small yet adorable, this LED Star Light has a handmade silver
Pros
Lovely and bright
Lots of settings to choose from
Cons
More cool lighting that warm
Best fun light
Description
We love the kitsch charm of this moulded acrylic gonk, and with 60 internal lights, he'll shine
Pros
Suitable for indoors and outdoors
Great for kids
Cons
May not suit some decor choices
Best subtle lights
Description
These wicker reindeer will turn your patio or pergola into an enchanting winter feature that's
Pros
Includes spikes to make it sturdy
Metal frame with grey wicker
Need an outdoor plug socket?
When plugging in any kind of mains-powered outdoor light, it's vital that the socket is kept dry and protected from the elements. While you can use an indoor socket and trail power leads through open windows, a neater and safer option is to have an outdoor socket professionally installed. Costing around £145, it's a quick and easy job for a registered electrician. Designed to take one, two or three plugs, these units have weatherproof and dust-tight covers. Many also come with a built-in residual current device (RCD), which is a safety mechanism designed to automatically shut off power if any part of the power supply or item is damaged.
Here are some handy extras to make life easier
Best extension lead
Description
The Weatherproof Box provides a safe and convenient wall-mounted housing for power supplies for
Pros
Well-thought-out design
Safe, sturdy and compact
Cons
Some said they wished it was bigger for the price
Best battery charger
Description
This Compact universal charger is suitable for all sizes of rechargeable batteries.
Pros
Charges AA, AAA, C, D & 9V Batteries
Safety timer
Best gutter hooks
Description
These giant white gutter hooks are the perfect complement for hanging your outdoor Christmas
Cons
A couple of reviews commented on the quality
What if the cable isn't long enough to reach?
Most plug-in outdoor lights come with a generous cable length – usually between  
5-10m – but sometimes this isn't enough. Many of the latest light strings are connectable and are designed to link together simply and safely. The number of strings that can be daisy-chained in this way and run from a single socket can vary depending on product type so always double-check that the total wattage of the lights doesn't exceed the wattage of your socket to avoid overloading the circuit. Some systems offer sections of blank cabling so you can tailor lighting to suit your garden layout, but it's key to stick to the same lighting system to ensure that all the products are compatible.
Using an extension lead is another option but it must be suitable for outdoor use. Look for an IP rating of IP54 or higher and don't plug multiple extension cords into one another as this can lead to overheating and overloading – buy one cord that's the right length instead.
How can I reduce running costs over Christmas?
Thanks to new technical advances and the greater need for energy efficiency, the latest Christmas lights are much more economical to run. Practically all contemporary lights feature LEDs (Light Emitting Diodes) which are low voltage, give out a crisp bright light and last way longer than a traditional incandescent filament bulb. Featuring an electrical circuit that passes across a microchip, these lights use 80-90% less power than a filament lamp.
Made from tiny components, they can be used to form intricate designs that look far more elegant than those on offer just a few years ago. They also remain cool to the touch so are safer to use around children and animals, and the plastic cases are more durable than trad glass.
Timer switches and smart plugs also reduce the amount of energy your lights use, plus they save on hassle and win approval of neighbours and local wildlife too. Plug into the socket before adding any outdoor lights and either set the hour dial to the duration you wish your display to be lit or pre-set or control remotely using the app.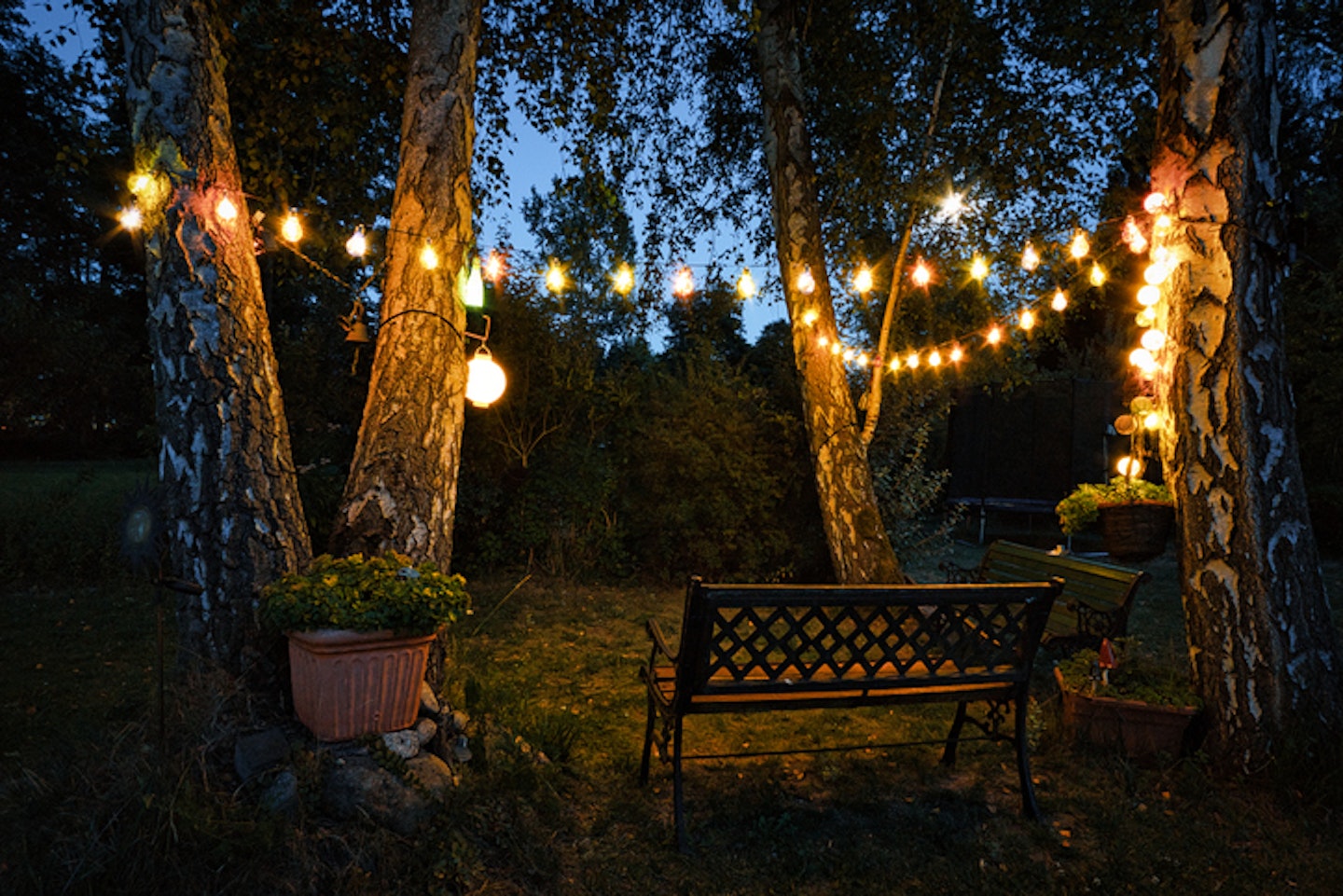 What if I don't want lights that have to be plugged in?
If you don't have an outdoor socket or want to light hard-to-reach areas of your garden, battery or solar-powered lights are handy. The length of time these lights stay lit for depends on the type and size of bulb (LEDs will last at least 10 times more than traditional incandescent bulbs), the number of lights per string, and the size, quality and age of the batteries used. Rechargeable batteries are the most environmentally responsible solution, just check they offer the same power your product recommends.
Some products offer the dual option of mains or battery power, but most battery lights will appear dimmer than mains.
Which Christmas lights can I use outside?
All mains-powered electrical items have an IP rating (this stands for Ingress Protection), which notes how well protected the electrical components are from moisture and dust seeping in. For outdoor lights, you need a rating of IP44, IP65 or above and you'll find this info on the packaging or in the online description.
Even if the lights are designed for outdoor use, do check that the plug and transformer are too – some product descriptions state these are for indoor use only. Even if you have an outdoor plug socket, you'll likely need to use an indoor socket as the plug will be too big to fit within the socket's weatherproof shield.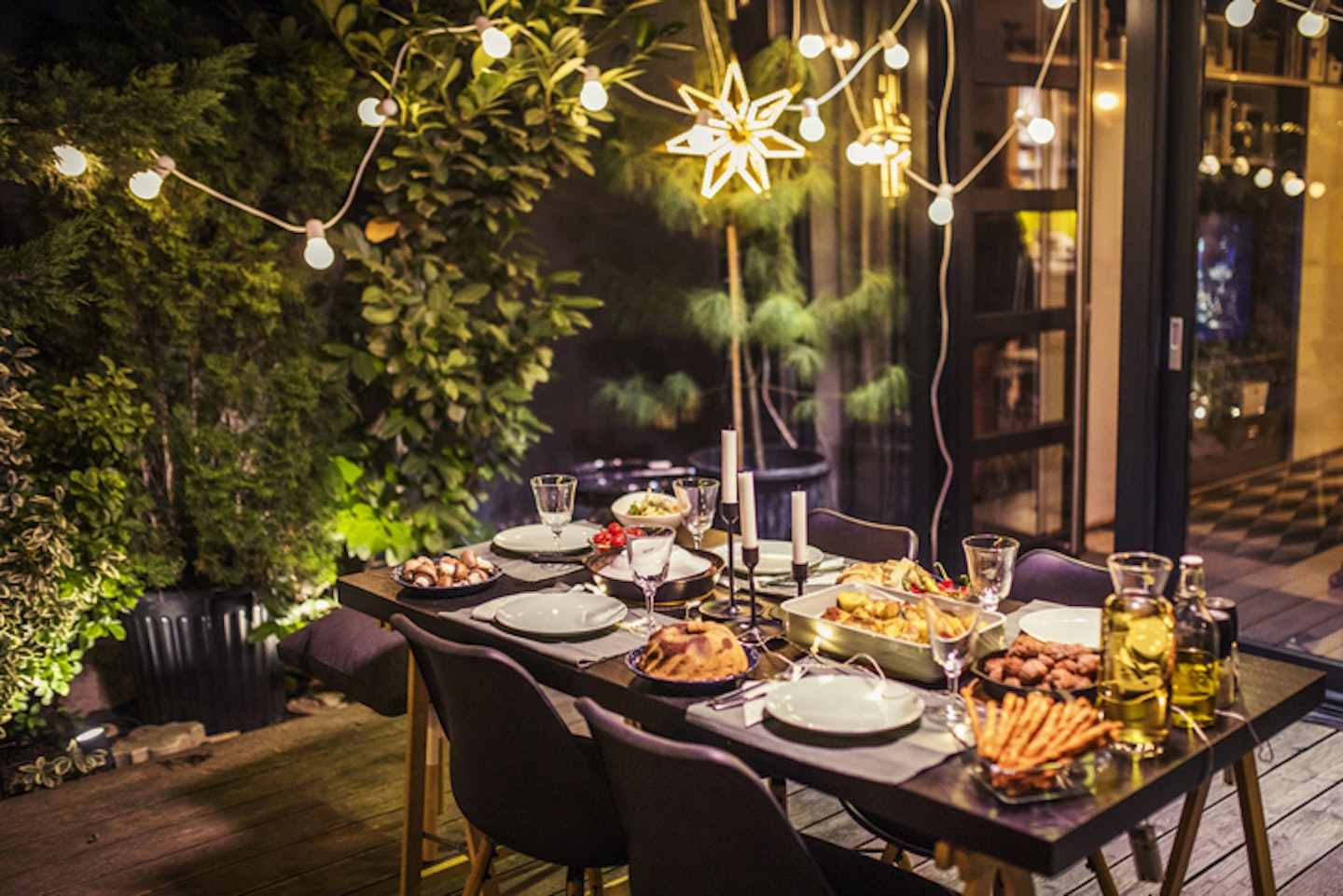 What's the best material for a lit figure?
Festive lit figures are a fun way to inject personality as well as light into your outside space. There's a huge range of winter wonderland characters to choose from but before you settle on a style, have a think about which material is best for you.
Moulded acrylic characters have a hard outer casing, often with a frosted finish, that's lit from within. They're lightweight to move but this also means they'll easily blow over so make sure yours comes with cable ties and stakes if your garden is at all exposed. Fairly expensive for their size, they will last as long as you store them indoors and treat them with care as some finer features such as antlers can become brittle with age.
Acrylic mesh has an open weave, constructed from a lightweight wire or fibreglass frame covered in spun acrylic with integrated LED lights. These are more affordable and more forgiving too. It's worth reading the product spec to see if a figure is made from hard or soft spun acrylic: soft tends to yield slightly to the touch, making it less brittle and easier to transport and store; hard can break when knocked, and any damage is hard to disguise when lit.
Wicker or rattan figures have all the tactile beauty of a natural material but while they're fine outside during the festive season, they're not designed for long-term outside use. Some are pretty huge so do consider where you'll store them for the other 11 months of the year before you buy!
Faux or resin rattan is similar to soft spun acrylic but has a neutral colouring and more uniform strands with a flatter rather than rounded profile. Mimicking the look of real rattan, these figures are far more durable.
What to read next:
Garden lights: The perfect way to illuminate your outdoor space
Description
Discover everything you need to know to make your outside space look fantastic, quickly and
Angela Kenny is production editor of Modern Gardens magazine. She loves spending time in her garden with her husband Alan and their three cats Rupert, Darcy and Frankie.