More "ho, ho ho," than "faux, faux, faux", an artificial Christmas tree for your garden is a wonderful way to kindle some festival cheer. The countdown to Christmas is on and it's time to decide on your festive theme and decor outdoors and indoors. There are some wonderful outdoor Christmas decorations and festive wreaths, but the centrepiece of it all is the Christmas tree. If you want your outdoor Christmas tree to be outstanding in its field, there are some points to consider.
Firstly, you've potentially been swayed into considering an artificial Christmas tree because of the great British winter weather. Blustery winds, frost, snow and darkness are the norm this time of year. We look to the twinkle of fairy lights to stoke warm feelings, and this is where an outdoor artificial Christmas tree is a winner.
Black Friday 2023 artificial Christmas tree deals
We interrupt the regularly scheduled content to let you know that although Black Friday is over, there are still plenty of discounts to take advantage of throughout the Cyber weekend, including a whole host of Black Friday deals on artificial Christmas trees. Want to grab a bargain? These are the best deals still available or keep scrolling to continue reading our buyer's guide.
Shop Black Friday Christmas tree deals here: John Lewis | Wayfair | Argos | Amazon | Dunelm | Christmas Tree World
Amazon bestseller: SHATCHI 6FT Alaskan Pine Black/Green WAS £39.39, NOW £29.44
36% off: The Seasonal Aisle Artificial Inflatable Christmas Tree, 210cm WAS £55.99, NOW £35.99
33% off: The Season Aisle Lighted Artificial Pine Tree, WAS £74.99, NOW £49.99
£20 off and selling fast: Habitat 6ft Mixed Cashmere Christmas Tree, WAS £60, NOW £40
They are made to be weather resistant and waterproof - of course, common sense does apply and they're not going to withstand a Beast from the East - but generally, an artificial tree is a tree for all seasons. Most importantly, the vast majority of faux outdoor Christmas trees have lights integrated into them. In the darker months, that evocation of magic, enchantment and whimsy is wholly down to illumination when it comes to outdoor Christmas decorations.
Surprisingly, artificial Christmas trees have been around longer than you'd think. More than 140 years ago in Germany, having a real tree at Christmas was so popular it was causing deforestation. So, goose feather trees were invented. While not as messy as a real tree - they were also not as sturdy and could not be decorated with ornaments. Without further ado, here are the best artificial trees available right now...
Best Christmas trees at a glance
• Best alternative outdoor Christmas tree: The Seasonal Aisle Lighted Artificial Pine Christmas Tree 150cm - View now on Wayfair
• Best budget artificial Christmas tree: Habitat Snow-Covered Christmas Tree - View now on Argos
The best outdoor artificial Christmas trees
Best outdoor snow effect Christmas tree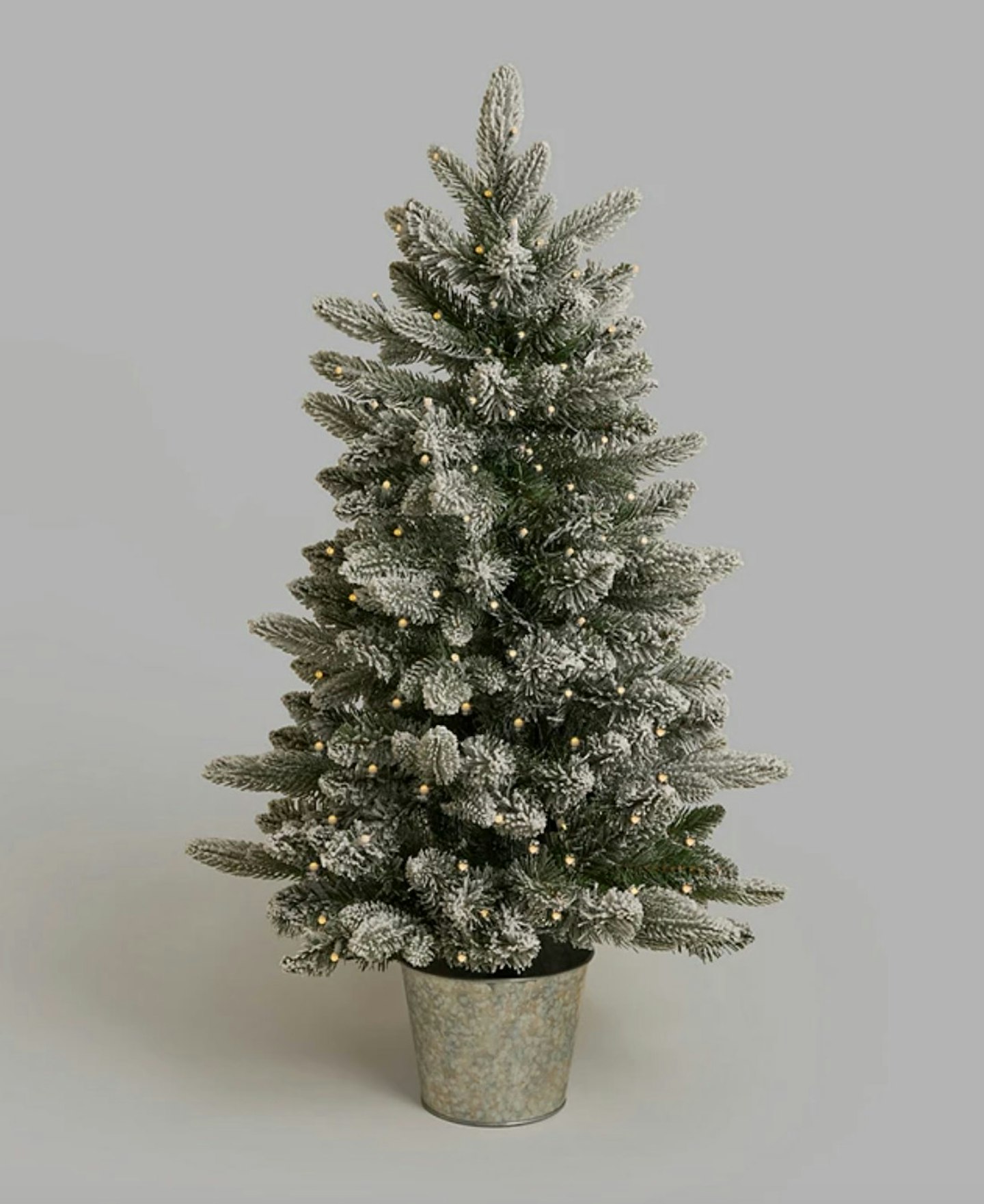 John Lewis
Description
This John Lewis small and versatile Christmas tree is easy to position as it's lit by batteries.
Pros
Realistic snow effect
Small but effective
Lovely pot
Best alternative outdoor Christmas tree
Description
A subtle yet magical alternative to a traditional Christmas tree. Lit with LED lights this faux
Pros
Stylish alternative to a traditional Christmas tree
Cons
Some reviews have commented that it was too sparse
Best inflatable outdoor Christmas tree
Description
Bring some joy to young hearts with this cheery inflatable outdoor Christmas tree. Standing
Pros
Tough material
Fun, novelty alternative
Cons
Not suitable for very rough weather
Best twig tree for outdoors
Description
A subtle white twig tree that makes an ethereal alternative to a traditional Christmas tree. It's
Pros
Reasonably priced
Suits any decor and theme
Stylish
Cons
Not made for weighty decorations
Some reviews commented there were fewer lights and branches than expected
Best small outdoor artificial trees
Description
Four merry pre-lit faux Christmas trees that are 60cm tall and ideal for positioning in the ground
Pros
Great value for money
Can be used to illuminate a pathway
Withstand lots of harsh weather
Best value outdoor artificial tree
Description
An elegant alternative to the classic Christmas tree, this whimsical LED weeping willow will add a
Pros
Good value for money
Wonderfully different
Lots of lights
Best outdoor Christmas string tree light
Description
Standing 7ft tall, over 500 LED lights form the shape of a Christmas tree. With eight light
Pros
Stunningly effective
Easy to assemble
Striking colours
Cons
Has to be secured down as it can blow over in the wind
Best pre-lit outdoor Christmas tree
ON SALE
Description
Sparkling as if it was encrusted with crystals, this pre-lit outdoor Christmas tree is
Pros
Energy efficient
Contemporary look
Best slim outdoor Christmas tree
Description
This 6ft slim tree is ideal for a porch or smaller garden and is one of the very few realistic
Pros
Realistic
Pre-lit
Sturdy
Fits in smaller spaces
Best realistic outdoor artificial Christmas tree
Description
A 6ft full and realistic woodland pine faux Christmas tree that's been specially designed for
Pros
Ultimate luxury faux realistic Christmas tree
The best indoor artificial Christmas trees
You can spruce up your conservatory with an artificial Christmas tree for your home too. With a long lifespan, it's a good investment, as it's brought down from the loft year after year for its month to shine. If your trusty tree has been looking a bit tired the last few years, it could be time to invest in a new one. Alternatively, you may be in the happy position of buying your first tree for a new home. It's a good idea to measure the space that you have available first. Otherwise, there will be no room for presents!
Best realistic looking Christmas tree
Description
This ultra-realistic-looking Grand Spruce Christmas tree has high-quality faux foliage and comes
Pros
Very true to life and has magical lights
An investment piece
Magical lights
Best budget artificial Christmas tree
Description
Make your home a wonderland, this festive season, with a snow-flocked tree from Habitat. Boasting
Pros
Snow flocking
Great value
Not too tall or wide
Cons
Some reviews have commented that the snow came off the branches
Best pink Christmas tree
Description
Banish the winter blues with this super pink tree, boasting 1600 tips of cherry blossom fun.
Pros
Fun colour
Good price
Sturdy
Bushy
Best for traditional style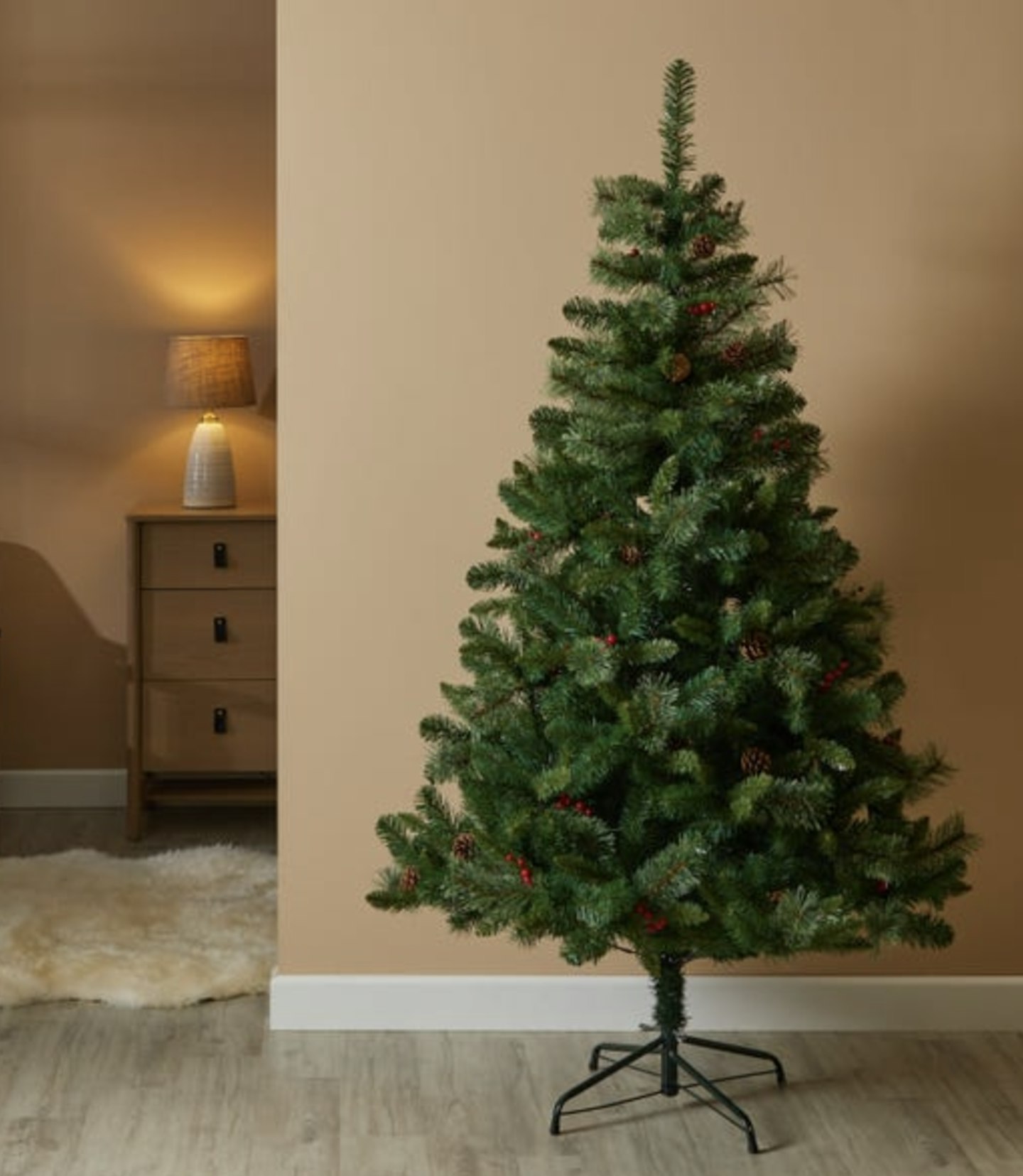 Dunelm
Description
Traditional and subtly decorated with berries and pine cones, this 6ft Christmas tree from Dunelm
Pros
Super value for the quality details
Cons
Base is tricky to put the tree in
Best eco-friendly artificial tree
Description
DWA create trees that are available in an enormous range of styles, including Canadian Pine,
Pros
Eco-friendly products
Enchanting details
Lots of different versions available
Best slim artificial Christmas tree
Description
Ideal for a flat, this slim tree has 820 branch tips that can be fluffed and shaped to create a
Pros
Fits in narrow spaces and corners
Cons
Some reviewers commented this tree is not sturdy enough for heavy decorations
FAQs
What makes artificial trees stand out?
Modern artificial trees can look realistic - more like actually having a tree from Norway than a fake armature of green bristles. The needles themselves come in different shapes: from flat and fine, to 3D for a bushy effect. And you can push the fantasy further with snow-covered and pre-lit trees. There are some enchanting alternatives too, including illuminated weeping willows and twig trees. For novelty, there are fun inflatable trees that will make everyone feel jolly. Budget, space and style are key factors to consider.
Can I recycle my artificial Christmas tree?
Most artificial Christmas trees cannot be recycled because of the combination of metal and plastics. However, an artificial tree should last 10 years. You need to weigh up whether you want to buy a real tree every year (that can be recycled as green waste) or buy one artificial tree.
How is an artificial Christmas tree made?
Making an artificial Christmas tree is a surprisingly hands-on process. Here's a video that has some mesmerising moments, such as the plastic being turned into needles and snow being applied to the branches.
Can I use an artificial Christmas tree outside?
Yes, you can use a tree that is designed specifically for outdoor use. The product description will specify if a tree is for indoor or outdoor use. Never put a tree that has integrated LED lights outside. And winter weather outside can be frightful... so remember to properly secure your outdoor decorations.
What to read next:
Description
Discover everything you need to know to make your outside space look fantastic, quickly and
Natalie Knowles is a Homes & Garden Product Writer for Modern Gardens, specialising in garden trends. When she's not flexing her mow-how, Natalie is a successful artist and illustrator.