The best garden wind spinners spark new ideas and encourage upbeat feelings. This form of garden décor has its origins in Chinese culture and mid-century modern art. Kinetic art is epitomised by Alexander Calder's mobiles and like so many design ideas of the 20th-Century, has found its way into our everyday lives and our gardens. Taking the tubular steel furniture of the Bauhaus movement as a case-in-point, it may be almost 100 years old but would look en pointe in any modern garden.
Three-dimensional sculpture can be inexpensive and yet provide dramatic op art against the backdrop of your garden. Pair a mesmerising mandala with morphing movement in front of a garden mirror for a focus to meditate on. Or get your zenergy back with a lawn full of colourful windmills. Essentially a wind spinner has multiple spinning parts that create an optical illusion and reflect undulating colours. Similarly, there are mobiles, windmills and weathervanes that are transformed into pleasing, dynamic forms by the wind.
Black Friday deals on wind spinners
Black Friday is in full swing, and with it, a whole host of Black Friday deals on garden wind spinners. Want to grab a bargain? These are the best deals or keep scrolling to continue reading our buyer's guide.
Shop the best Black Friday garden wind spinner deals: Amazon UK | Mano Mano | B&Q
33% off: Magical Outdoor Metal Windmill Kinetic Wind Sculptures WAS £37.48, NOW £24.99
26% off: Heart Shape Hanging Wind Spinner, WAS £19.99, NOW £14.79
20% off: Flamboya Ray Wind spinner NOW £15
17% off: SZHTSWU 4 Pcs Sunflower Wind Spinners WAS £11.49, NOW £8.99
10% off: Burghley bronze Wind garden, WAS £119.99, N0W £107.99
Amongst the blousy peonies, abounding wisteria and lolling heads of plump roses, why not turn your garden into a mini sculpture park? Create new shadows, reflections and movement with sunflower, rainbow and bicycle wind spinners. Imagine a rippling metallic heart shape popping against copper garden décor; sensory enjoyment is so good for unblocking emotional stress. Additionally, your outdoor art gallery can extend into the evening with light-up kinetic sculptures that are charged by the sun during the day.
Catch a gleam on a dull day, and even keep pesky pigeons at bay, garden wind spinners are an inexpensive garden accessory that adds colour and year-round interest. Also, a cute whirligig makes an excellent gift for a loved one who spends a lot of time in the garden. As much as possible, we try to recommend products that are made from sustainable materials and produced ethically. If we've peaked your creativity and you want to get hands-on with your garden décor, scroll to the FAQs at the end of this article. Otherwise, prepare to be blown away. Once you begin your moving sculpture collection it's difficult not to become that person whose front garden is full of windmills and pinwheels.
Best garden wind spinners at a glance
• Best overall garden wind spinner: Wind Spinner Emerald - View offer on Amazon UK
• Best handmade wind spinner: Pemberley Bronze Garden Wind Sculpture - View offer on Etsy
• Best windmill: Seaweed XL Windmill, Multi - View offer on John Lewis
• Best sunflower wind spinner: SZHTSWU 4 Pcs Sunflower Wind Spinners - View offer on Amazon UK
Best garden wind spinners
Best sunflower wind spinner
Description
Manifest happiness for yourself and those around you with the SZHTSWU 4 Pcs Sunflower Wind
Pros
Colourful design
Good value for money
Easy to assemble
Ideal for summer garden parties
Cons
Some customers commented that they don't spin very well
Best overall garden wind spinner
Description
It's a little bit arty with a touch of spiritual steampunk - and the Wind Spinner Emerald is
Pros
Arty
Charming design
Robust in all weather
Cons
Some reviews comment on problems with the fitting nut
Best handmade wind spinner
Description
Transform a drab lawn with this Bronze Garden Wind Sculpture for a striking centrepiece to your
Pros
Premium
Creates a focal point
Handmade
Cons
Note the dimensions, it's large
Best wind spinner for a range of colours
Description
Like a Magic Eye picture this rainbow red wind spinner pairs colour therapy with a pulsing effect
Pros
Rust-proof and weather resistant
Highly popular on Amazon
Wonderful range of colours and designs available
Cons
Note the dimensions as some customers thought it was going to be larger than it actually was
Best light-up wind spinner
Description
A must-have for lovers of steampunk. This Solar Wind Spinner Jewel Cup is coated with bronze
Pros
Colour-changing
Solar-powered
Best novelty wind spinner
Description
Fly like the wind and feel as free as a bird with the MIC CIM Wind Spinner. This can be hung as a
Pros
Can be hung or freestanding
Other creatures available
Cons
Not as sturdy as some other wind spinners
Best vintage-style wind spinner
Description
Standing the same height as a person, this impressive Blenheim Verdigris Garden Wind Sculpture
Pros
Sturdy
Elegant
Looks expensive
Cons
Note the product dimensions - this is best suited to large gardens
FAQs
What should I consider when buying a garden wind spinner?
First, there are all sorts of reasons why you might be buying a wind spinner. For some, it's purely a decorative device to brighten up the garden. It might be a gift for a loved one who has a particular passion for motorbikes or sunflowers. Also, a wind spinner might be for a memorial and therefore has a poignancy about the style you choose.
Consider the size of the wind spinner and bear in mind its scale in relation to your garden. Like a garden statue, an oversize ornament will make a small space feel cluttered.
Style is the essential factor, for example, you may be looking for a tasteful and traditional garden accessory rather than a bright and bold spinner.
Finally, if you want to display your wind spinner outside all year round, opt for a product that's made from a weatherproof material, such as powder-coated steel. Also, where you position the wind spinner is important too, a more fragile piece is best in a sheltered spot. You could hang it from a tree, balcony, lamp or wall. Additionally, there are some freestanding wind spinners stakes so you can position them in a planter or on the lawn.
How do I create my own garden accessories?
At Modern Gardens we're passionate about sustainability. We can all do better and reduce, reuse and recycle. It can be fun too. We all get through a lot of glass bottles each month, be it wine, beer, soft drinks or condiments. Instead of tossing them into the recycling, make something unique with them to style up your outside living space. Clare Howcutt-Kelly explains how to upcycle empty glass bottles into fabulous bottle lights for the garden that'll gently sway in the wind.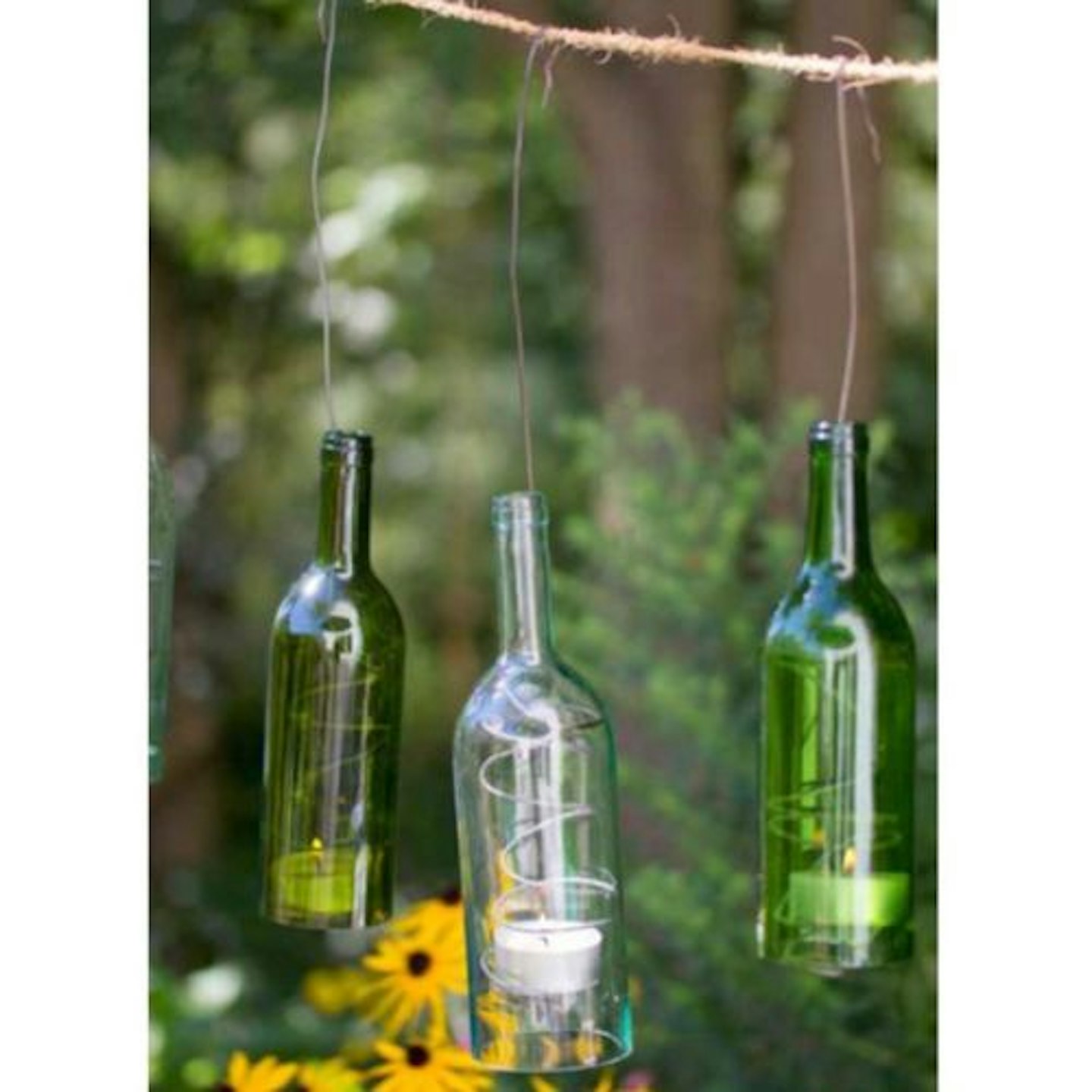 Bottle Lights
You will need:
Selection of wine bottles
Safety goggles and gloves
Bottle cutter
Sandpaper
Galvanised wire
Tea lights
What to do:
1 Make a mark on each bottle where you want to cut off the base.
2 Put the gloves and safety goggles on to protect from any stray shards of glass.
3 Position each bottle in the cutter and follow the instructions carefully. Sand off any rough edges after cutting.
4 Set the bottles aside and measure out three lengths of wire roughly twice the length of your bottles. Curl the wire into spirals by winding around the bottle neck.
5 Slightly stretch out the spirals and slide up into each of the bottles and feed through the bottle neck. Pop the tea lights on the bottom spiral inside each bottle.
6 Attach the lengths of wire to a piece of suspended string or sturdy tree branch.
What to read next:
Description
Discover everything you need to know to make your outside space look fantastic, quickly and
Natalie Knowles is a Homes & Garden Product Writer for Modern Gardens, specialising in garden trends. When she's not flexing her mow-how, Natalie is a successful artist and illustrator.