Imagine the peaceful sound of trickling water and a mirror image of the sky, framed by soothing ferns and bamboo; the addition of a small water feature in your garden or a limited outdoor space can make it an environment that's tranquil and a space for solitude.
You can create a sense of wellbeing and a sanctuary in whatever outdoor space you have available. Budget and space constraints do not limit your ability to have a small water feature in your garden. From garden water bowls to plug-in-and-go fountains, there are affordable options for your patio, balcony, lawn or even wall. In this guide we'll take a look at some of the best small water features for attracting wildlife, including some solar-powered options.
The best small water features at a glance:
• Best freestanding water feature: Serenity Cascade water feature - view on Thompson & Morgan
• Best fixed wall water feature: Tiled Water Feature - view on Cox & Cox
• Best soothing water feature: Smart Garden Solar Pagoda - view on Amazon UK
• Best decorative small water feature: Blumfedt Spiro Garden Fountain - view on Amazon UK
Building a water feature - such as a wildlife pond - can stimulate your creativity and create a habitat for wildlife. It could be as simple as a reclaimed sink that's collected rainwater and attracted a resident frog. Conversely, you might have grand designs such as a pond with an overhanging deck.
There was never a shortage of wildlife in this leafy paradise when, Modern Gardens Magazine writer Vicki Greenslade, built a therapeutic garden from scratch. She wanted to welcome more with a sunken pond and surrounding bog garden. After digging a hole and sealing it with a liner, she added oxygenating plants to create a focal point in which indigenous pond life thrives. "Toads, frogs, newts, pond skaters and beetles are prolific in summer," said Vicki. "There's nothing better than sitting on the deck, listening to the ripples and croaks, and feeling the stress of work and everyday life evaporate."
Best small water feature
Best freestanding water feature
Description
This self-contained cascading water feature and planter is a great option if you're limited for
Pros
Planter and water feature
Space-saving
Best small water feature for attracting birdlife
Description
This oriental-style cascading bowls water feature is a lovely way to attract birdlife and enjoy
Pros
No installation required
Will attract birdlife
Cons
Not suitable for winter use
Reliant on direct sun to work
Best fixed wall water feature
Description
Curves and a gentle flow of water will promote a soothing tranquillity. This easy-to-install water
Pros
Space-saving
Reuses the water in its compartment once filled
Best soothing small water feature
Description
Bring tranquillity to your garden with this double-drop birdbath water feature. The fountain
Pros
Looks great
No installation required
Cons
Only works in bright weather
Best Zen garden small water feature
Description
This sculpted Buddha radiates peace and tranquillity. If you're looking for a calming addition to
Pros
Perfect for meditating
Simple to set up
Bronze finish
Durable for outdoor use
Best steel garden water bowl
Description
Corten steel weathers to develop a rusty patina over time through oxidisation. This is a
Pros
Long-lasting
Quality Corton steel
Most striking water feature
Description
This fully self-contained water feature brings gentle movement and sound to a patio or quiet
Pros
Easy to set up
Striking centrepiece
A feature by day and at night
Cons
Not suitable for use in winter
Some customers have commented on the sphere arriving broken
Best decorative small water feature
Description
The Blumfeldt Spiro garden fountain has a natural stone look and is shaped like an ammonite. The
Pros
Quiet pump
Water has a soothing sound
Cons
Light cannot be turned off
Best affordable small pond
Description
Nestled among low-growing plants, such as hardy geraniums or bugle (Ajuga reptans) a mini pond
Cons
You will need to buy a pump and liner separately
Best complete small fish pond
Description
A complete pond solution, that's a much easier option than installing a fish pond. It's a
Pros
Complete patio pond kit
Comes in a variety of shapes
Plug and play
Cons
Requires upkeep
Some models do not come with a UV clarifier that keeps the water clear
Which small water feature is best?
For an affordable water feature that's picturesque and peaceful, we love the Serenity Cascade Water Feature With Planters. This self-contained small water feature and planter can be endlessly reinvented throughout the seasons. Plant it with anything from ornamental grasses to spring flowers and herbs. Liven up a quiet corner by introducing light and the movement of water with this freestanding feature. Equally, it could be a patio centrepiece. In summary, the Serenity Cascade water feature is convenient, has good value and brings the joy of waterside flowers to space.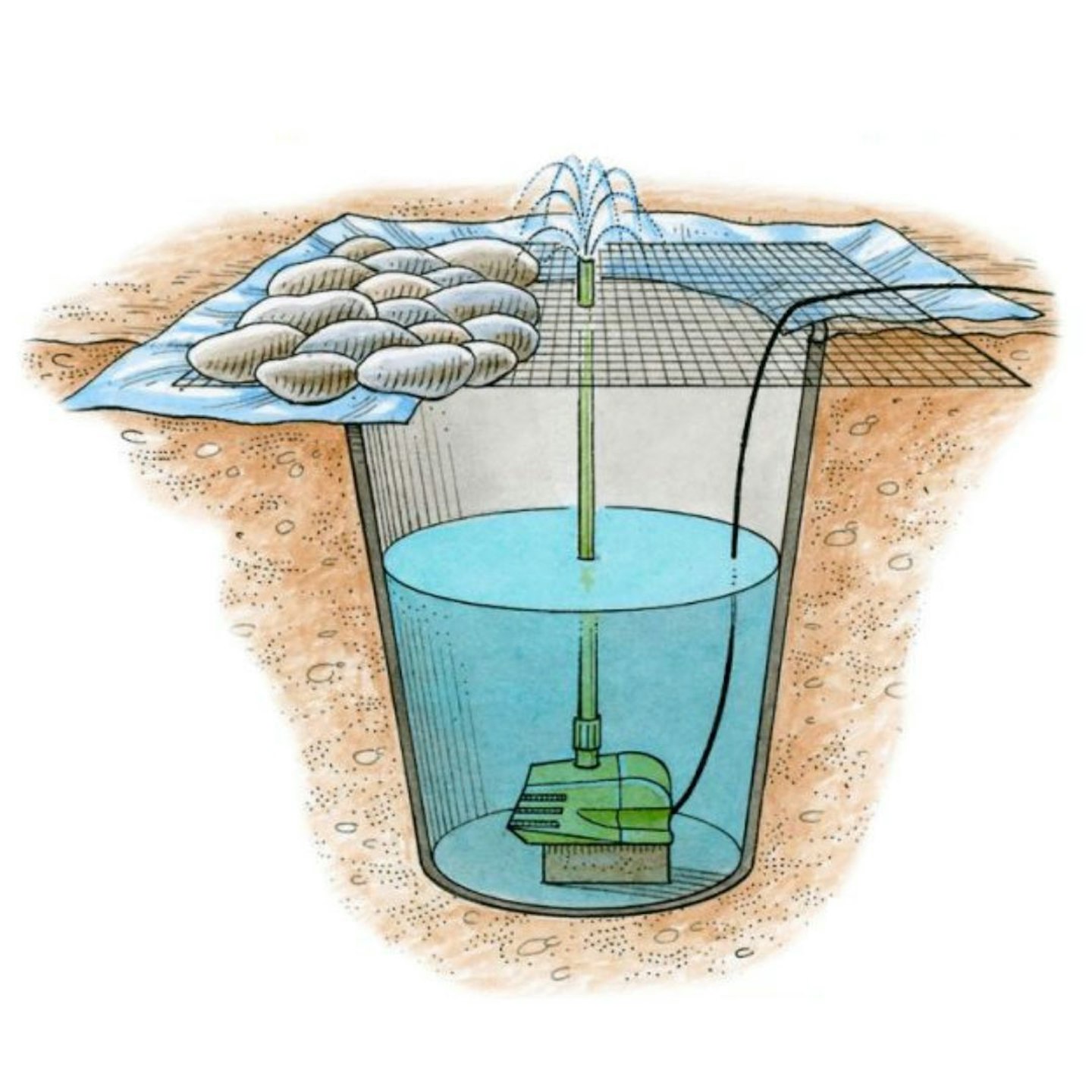 How do I maintain a water feature?
Modern Gardens Magazine writer Jules Barton-Breck offers some advice on keeping your water feature looking its best and in good working order.
The golden rule is to make sure that the water level is always above the pump. If it's low, top it up so the pump is submersed.
Clean the water every couple of weeks by adding a specialist refresher such as Fountain Fresh. This will prevent algae growth, surface staining and the water from going green.
Some manufacturers recommend emptying the feature completely of water and storing it in the garage or shed in freezing conditions, to ensure the pump isn't damaged. If yours is too big to move, simply drain the reservoir below ground or empty any bowls that are above ground. Next, remove the pump and store indoors, and protect the feature with a waterproof cover. The next-best step is to add Frost Stop, which is wildlife friendly and will help to protect the water from freezing and prevent the feature cracking.
Small garden ponds
Perhaps you want to attract more wildlife to your garden; even a small pond can be an ecosystem and a source of water for insects, aquatic animals, birds and creatures. The RHS advises that a pond should have at least one side with a shallow slope to create a damp area for certain insects and allow easy access for wildlife.
Steep-sided ponds should have large stones, a wooden ramp or a large log to allow wildlife access. Even a layer of gravel on a sloping side provides a habitat for insects. Also, it gives a grip for creatures such as hedgehogs and birds to drink without slipping into the pond.
Keep water circulating to prevent the build-up of algae by installing a pump. And scoop out fallen leaves with a fine mesh strainer. Also, if slime is persistently building up. there are water treatments available, such as Blagdon Algae Control.
Finally, water levels will naturally fluctuate so be sure to top up in hot weather when evaporation occurs the most.
Description
Get inspired each month with Modern Gardens magazine. In every issue, you will find the latest