If you always dreamed of having an outdoor kitchen, now is the time to turn that dream into reality! When staying in became the new going out over the past few years, lots of us started cooking more in our gardens. This sparked a move toward seriously stylish outdoor kitchens where once a squeezed-in BBQ sufficed. Al fresco cooking spaces are now show-off garden features that set the tone for relaxed outdoor living.
Black Friday deals on outdoor kitchens
We interrupt the regularly scheduled content to let you know that Black Friday is currently in full swing, and with it, a whole host of Black Friday deals on outdoor kitchens. Want a bargain? Below are the best retailers with outdoor cooking deals Or, keep scrolling to continue reading our buyer's guide.
Shop Black Friday BBQ deals on: B&Q | Appliances Direct
Save £908: BeefEater Signature 3000E Cabinex Outdoor Kitchen, WAS 9075.50, NOW £7510.50
Save £425: Char-Broil Ultimate 3200 Full Outdoor Kitchen, WAS £3024, NOW £2599
Save £200: Monster Grill Ultimate Outdoor Kitchen, WAS £3499.97, NOW £2999.97
Save £1124: BeefEater ProLine Signature Roaster - Cabinex Outdoor Kitchen WAS £10111.50, NOW £9310
So if you're tempted to add one to your plot this year, take advantage of these innovative outdoor kitchen ideas. Create your own outdoor kitchen area using a hybrid, gas or charcoal BBQ and table station or fork out on a purpose-built outdoor kitchen. A stylish al fresco kitchen gives you a practical outdoor living space and is a great investment that'll add value to your home.
Best outdoor kitchen shortlist:
• Best all-in-one BBQ for families: Texas Outdoor 4 Burner Gas BBQ Kitchen
• Best healthy all-in-one BBQ: John Lewis Grillstream 6 Burner Hybrid Gas and Charcoal BBQ
• Best for work surfaces: Vonhaus Gas BBQ and Modular Kitchen
• Best pizza oven: Morso Forno Outdoor Oven Deluxe Package
• Best premium BBQ kitchen: Cirencester 6 Burner Gas Grill and BBQ
We'll guide you through the best all-in-one BBQ units, plus how to create an outdoor kitchen from scratch. Using tables, screening and modular units you have the freedom to design the outdoor kitchen of your dreams. Also, we'll share some of our tops picks on-trend outdoor kitchen accessories.
We've worked with Jules Barton-Breck, Modern Gardens writer, to create an edit of ideas. These showcase the big garden trends right now that will work whatever your budget, size, and style. Hungry for more? Scroll to the FAQs at the end of this article.
Outdoor kitchen ideas UK
Use an all-in-one barbecue unit
One of the cheapest ways to create a smart outdoor kitchen yourself is to buy an all-in-one unit that features a BBQ plus storage space and surfaces to prep food. Position it against a wall and fix shelves and hooks in matching materials to create that full kitchen vibe.
You can even cheat the idea with a storage/serving unit lined up next to your barbecue for extra preparation space or by building a surrounding service area.
Many of these BBQ kitchen units are on wheels too which means you can easily move them. Want to grill breakfast in the sunshine? Shelter from a chilly east wind? Let garden guests barbecue their own skewers to break the ice at a party? Just wheel your kitchen to wherever you want it and you're good to go!
Best all-in-one BBQ for families
Description
The Texas Outdoor 4 Burner Gas BBQ Kitchen includes a cast-iron cooking grid, side burner, sink,
Pros
Packed with features
Feels more expensive than it is
Generous cooking area
Best healthy all-in-one BBQ
Description
Hybrid barbecuing is the way to go, for the juiciest chicken drumsticks and tender grilled lamb
Pros
Cater for large groups
Secondary cooking area or warming rack
Plenty of storage
Create an outdoor kitchen from scratch
If your barbecue doesn't have wheels, pick a tabletop oven or grill to put on a wheeled shelving unit instead.
What's great about this option is that you can also easily store it in your shed or garage throughout the winter and wheel it out on a dry, sunny day. Plus, it gives you more versatility - use your wheeled shelving as a mobile kitchen or take off the tabletop grill and use it as a drink or entertainment trolley instead.
Alternatively, you could create your own integrated kitchen diner by using an extra-large table and placing a tabletop barbecue or pizza oven at one end.
Rather than trying to fit in an outdoor kitchen and a separate dining area, combining the two with a built-in island creates a multifunctional entertaining zone.
Best pizza oven
Description
This stylish, Morso Forno Outdoor Oven Deluxe Package includes the Morso Garden Table, which gives
Pros
Stylish
Effective flue pipe
Premium quality
Lots of accessories included
Best outdoor kitchen table for food prep
Description
The Ooni Large Modular Table creates the perfect space for popping your table-top grill or pizza
Pros
High quality
Easy to move
Sturdy
Portable
Best small outdoor pizza oven
Description
A pizza oven in your outdoor kitchen will offer up a crispy cheese and tomato in a minute or two
Pros
Small, lightweight and portable
High quality
Multi-fuel
Temperature control with gas
Best portable grill
Description
Perfectly designed to be moved around your outdoor space, this compact George Foreman GFSBBQ1
Pros
Portable
Compact
Easy to use
Non-stick grill is easy to clean
Cons
No cooler 'safe zones' for indirect cooking
Have freedom with freestanding modular units
Freestanding kitchen and shelving units with backs can be placed anywhere in your garden on a hard surface and are great for creating the all-in-one kitchen station of your dreams. Installation is super-speedy and it can be moved should you decide to switch around your garden. Look for outdoor kitchen ideas and designs made with low-maintenance materials so you won't need to waste precious hours keeping it looking good.
As well as having good space for meal prep and a tabletop grill, you can make sure there's room for gas storage and even a fridge if you'd like to store food and chill drinks for guests - it's a great way to customise your kitchen. Just make sure your electricity provisions are met.
Best premium BBQ
Description
This stainless steel BBQ is the perfect option for an outdoor entertainment area and is designed
Pros
Premium quality
Perfect for large garden parties
Robust stainless steel
Best outdoor fridge
Description
This accompanying Cirencester Double Door Outdoor Fridge has a capacity of 228L with low noise
Pros
Premium quality
No assembly required
Matching outdoor kitchen products in the Cirencester range
Best outdoor storage cabinet
Description
Don't forget about storage! There are a number of storage cabinets in the Cirencester Modular
Pros
Premium materials
Matches other outdoor kitchen products in the Cirencester range
Best modular outdoor kitchen
Description
It may not look like it, but Draco Grills Avalon Stainless Steel Outdoor Kitchen has a modular
Pros
Premium product
Built to last
Complete outdoor kitchen
Splash the cash on a bespoke outdoor kitchen
If you're looking for the best of the best and have the budget, why not buy a complete, bespoke outdoor kitchen for your garden? With space for cooking, prepping, and storage, they are made from low-maintenance materials meaning they'll look good all year round and won't need covering up. If you need any further incentive, then statistics show that you could recoup the costs of building an outdoor kitchen by up to 200% when the time comes to sell your house.
Think your garden is too small for an outdoor kitchen? Think again, because you can still enjoy the outdoor cooking experience by going for a compact shelf design that will fit along just one side of your patio, turning the entire area into an outdoor kitchen/diner.
Best stainless steel outdoor kitchen
Description
The Draco Grills Outdoor Kitchen is an ideal choice for smaller spaces and will look fantastic in
Pros
Premium materials and design
Complete outdoor kitchen
Optional add-ons
Best black outdoor kitchen
Description
We love this stylish and functional Beefeater Signature 3000E Cabinex Outdoor Kitchen with its
Pros
Complete outdoor kitchen solution
Weatherproof
Perfect for large outdoor gatherings
Outdoor kitchen accessories
Add some fun outdoor kitchen accessories, such as an outdoor clock, outdoor radio, pendant lights, or a wall-mounted planter grid behind the cooking area so you've got fresh herbs to hand.
It'll be just like a proper kitchen.
Description
Add a little green to your garden wall with this wall-mounted, handmade Herb Planter that'll add
Pros
Handmade
Size and finishing options
Good customer service
Cons
Wall fixings not included
Best outdoor clock
Description
We love the minimalist, modern design of this Habitat Garden Wall Clock - a must if you want to
Pros
Very well reviewed
Simple and stylish
Value for money
Water resistant
Best outdoor light
Description
Designed with frosted glass to create an ambient glow, the Eva Solo SunLight Pendant lamp provides
Pros
Energy-efficient
Cable free
Long illumination time
Best utensil holder for outdoors
Description
Keep your outdoor kitchen counter organised with the John Lewis Dipped Stoneware Utensil Holder,
Pros
Minimalist
Easy to clean
Dishwasher safe
Durable
Best outdoor rug
Description
Using a rug is a great way to customise your outdoor space. This easy-to-care-for Iswik Star Tile
Pros
Resistant to moisture and stains
Durable
Fade resistant
Create the illusion of an outdoor kitchen room
Perhaps you want to squirrel yourself away in your garden to try out some new al fresco-cooked recipes? Putting your outdoor kitchen in a corner of your plot and screening it off with a short wall will create a defined cooking zone.
The beauty of this outdoor kitchen idea is that the wall doesn't have to be huge – you can use a low screen, create a wall of plants or use a doorway to accentuate the sense of entering a room. You could even create a tiled wall of your own against the garden fence!
Another idea is to make a feature of your outdoor kitchen and create a separate room by setting it up on a large raised deck or by putting different flooring beneath your kitchen space for a stylish indoor-outdoor look.
Or you could place your kitchen beneath a pergola to recreate a beautiful galley kitchen effect. The options are endless!
Top tip: If you use a screen or trellis, you can use the gaps and hooks as a savvy storage solution for your outdoor kitchen utensils!
Best outdoor screen
Description
Available in a range of design, colours, and sizes, Screen with Envy has a beautiful collection of
Pros
Weatherproof
No need to be treated
Low maintenance
Best outdoor decking tile
Description
Super easy to add to your garden, you can use this Harting Grey Glazed Outdoor Porcelain Paving
Pros
Robust and durable
Easy to clean
Good slip resistance
Best slatted panels
Description
These Forest Garden 6x6 Double Slatted Panels feature slats mounted alternately on the front and
Pros
Contemporary fencing style
Treat wood that's low maintenance
Lets air flow through
Best garden pergola
Description
Using a pergola is a fantastic way of framing your outdoor open cooking and dining space whilst
Pros
Well reviewed
Quality product
Best living wall
Description
To make your outdoor kitchen fit in more seamlessly with the rest of your garden, incorporate a
Pros
All plants and compost included
Easy to maintain
Great customer service
Outdoor kitchen inspiration
If you're not sure which direction to go, there is loads of inspiration online. Check out some of our favourite outdoor kitchen ideas: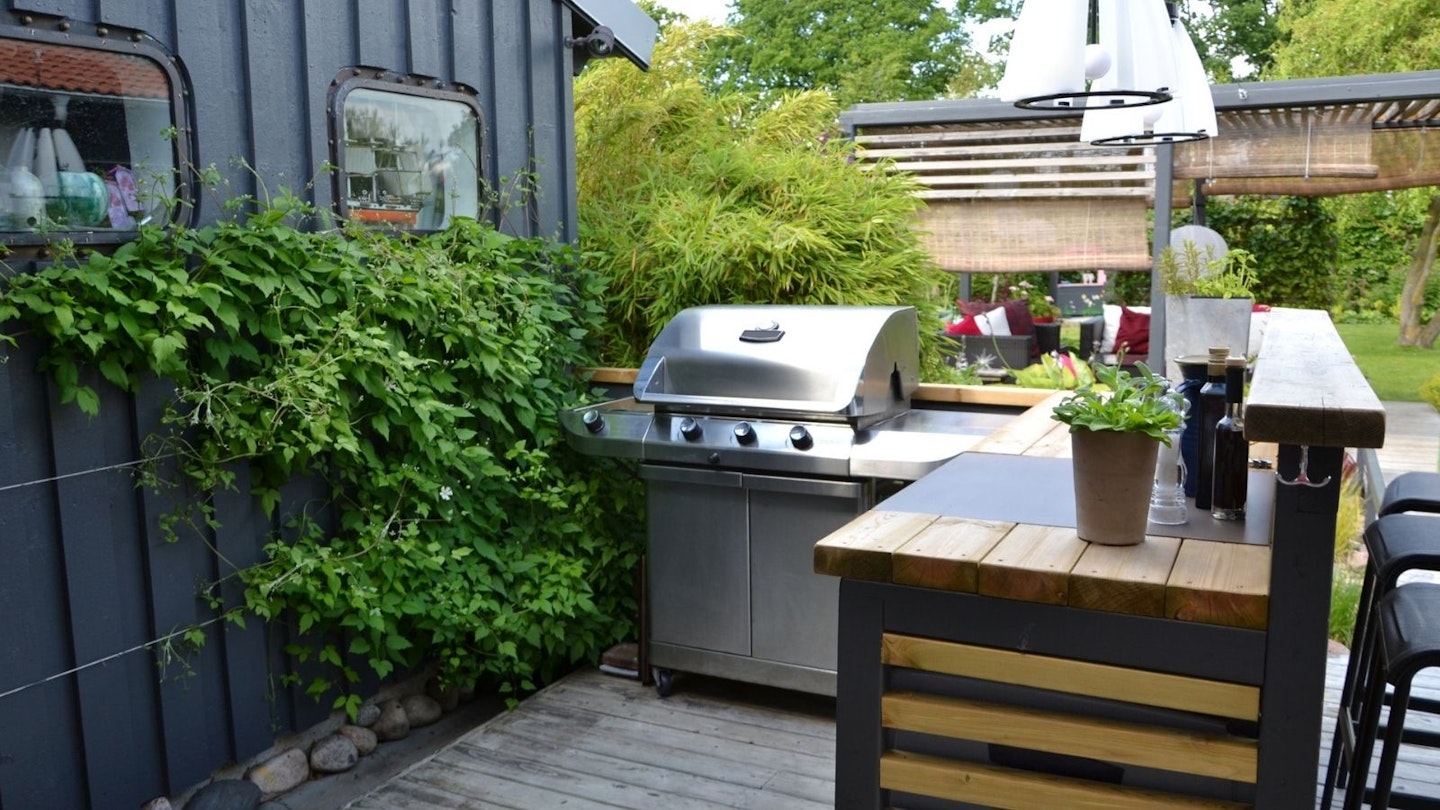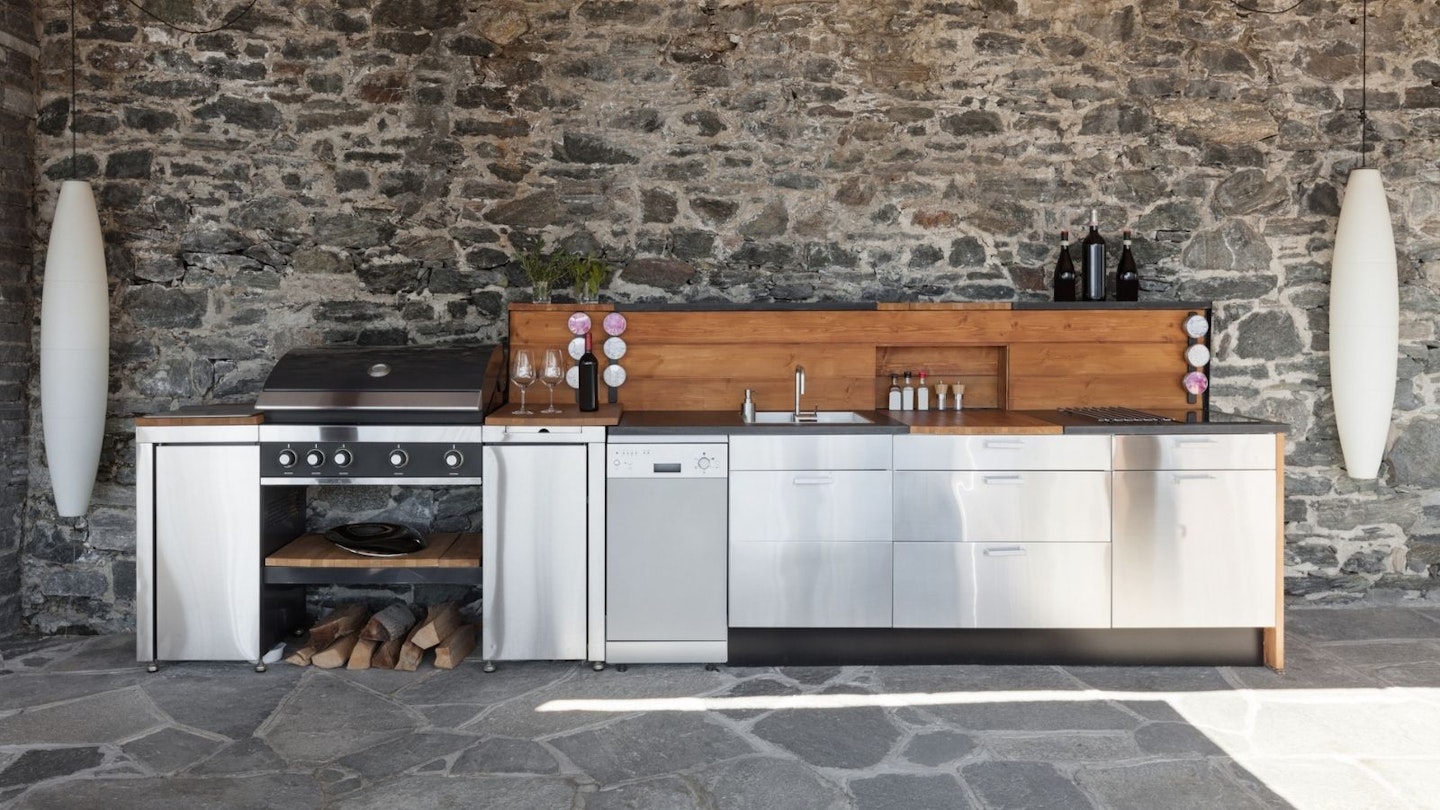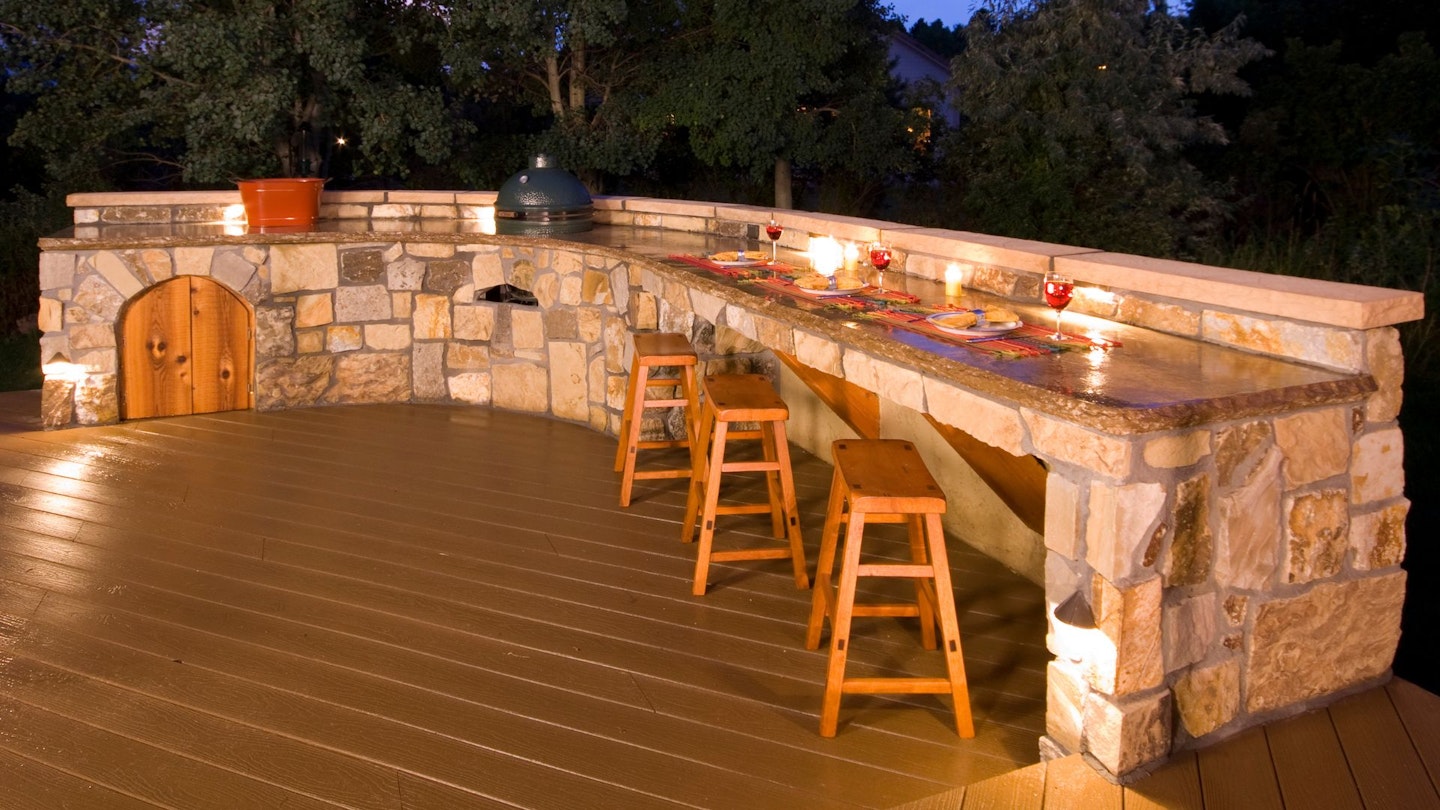 FAQs
What to consider in your outdoor kitchen
Before you set a budget or decide what you want in your outdoor kitchen, throw your mind open to the many possibilities your garden presents.
Placement
Your outdoor kitchen should be a designated area with enough room close by for a dining table and chairs, where you can prep, wash and cook a variety of foods on different appliances, and include storage units and work surfaces. But it doesn't have to be huge. Have a walk around your plot and consider what options might work where.
Use
Think too about how you'll use your new kitchen. Will you be a fair-weather chef? Then moveable units on wheels that can easily be stored in a shed or garage over the winter might suit. Or do you want to use your outdoor kitchen all year round? Then a permanent covering such as a pergola or canopy to protect it from bad weather is a must-have.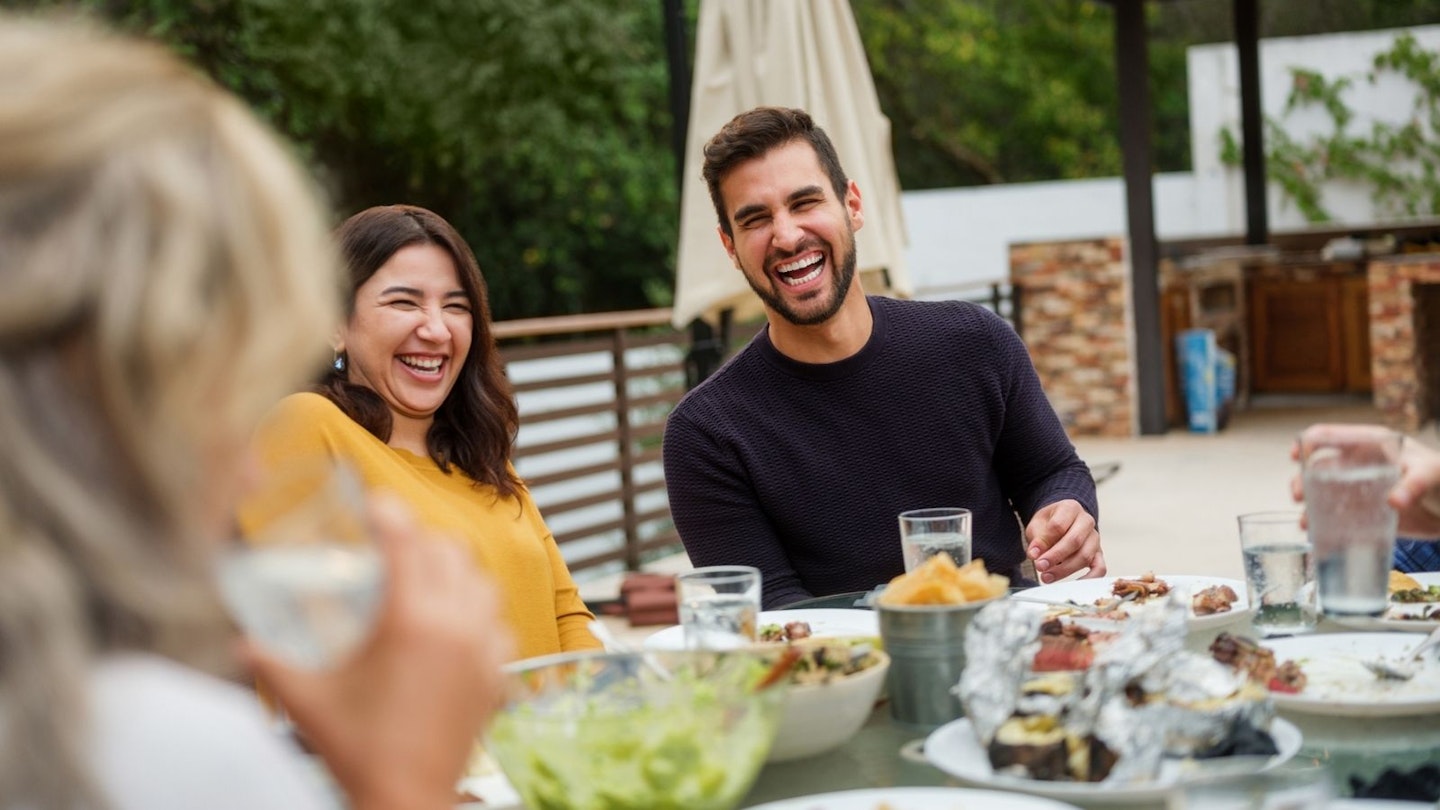 Catering needs
How many people will you be catering for? If you like entertaining regularly in your garden then buying small appliances could be a false money-saver as you'll have to constantly cook in small batches, using more power, rather than being able to sit down and enjoy the party. The clean-up afterwards will take some work, though.
Power
Consider whether you'll need a power source for lighting and appliances, as the cost of installation will need to be included in your budget if you don't already have an existing outdoor electric supply.
Dreaming done? Now's the time to be realistic about what you want and what your budget will allow, along with the space you have available. Decide how much money you want to spend, and start making a detailed plan of what you want, and where. It's well worth drawing up plans for two or three kitchen options in different configurations and/or parts of your garden. You may find one delivers far more with your budget than the other.
What to read next:
The best hybrid BBQs back in stock for spring and summer cookouts
Description
Discover everything you need to know to make your outside space look fantastic, quickly and
Eleanor Weaver is the Deputy Homes & Garden Product Editor for A Modern Kitchen, specialising in kitchen accessories and appliances, including washing machines and microwaves. Having been a renter for a decade now, she loves looking for home inspiration in her spare time and is a master of DIY.