BBQs are the perfect excuse to gather friends and family for a flavourful and wholesome meal - and the best BBQ books can really help you to up your grilling game. Whether you're a seasoned grillmaster or a novice alfresco cook, there's always something new to learn in how to master your BBQ grill. From selecting the right cut of meat to perfecting your smoking techniques, mastering the grill takes time and practice. Luckily, there are plenty of books out there that can help you to level up your cooking skills. If you want to perfect the art of grilling, we round up the best BBQ books so you can level up and take your guests to flavour town.
We've scoured the web to bring you the most informative, inspiring and mouthwatering books on the market. Whether you're interested in a classic Texas-style spread or an all-vegan BBQ, there's a book out there for you.
Best BBQ books at a glance:
• Best for any skill level:  Weber's Complete BBQ Book - Buy now on Amazon
• Best for grilling meat: Seared: The Ultimate Guide to Barbecuing Meat - Buy now on Amazon
• Best for seasonal eating: Outside Recipes for a Wilder Way of Eating - Buy now on Amazon
• Best celebrity BBQ book: Rodney Scott's World of BBQ - Buy now on Amazon
In addition to finding the best BBQ books, every outdoor cooking enthusiast needs the right tools to elevate their grilling game. From BBQ grills and tabletop BBQs to whipe up a feast. Through to hybrid BBQs and Kamado grills, there are plenty of options to choose from.
Hungry yet? Let's tuck into this round up the best BBQ cookbooks so you can get grilling some tasty food - from juicy burgers and fall-off-the-bone ribs to grilled vegetables and sweet treats, these days there is something for everyone at a BBQ, even if you are vegan or gluten-free.
Best BBQ books
So, fire up your grill and prepare to take your BBQ skills to new heights, whatever the season.
Best BBQ book for any skill levels
Description
This cookbook by Jamie Purviance is a fool-proof guide if you want new and exciting ways to cook
Best BBQ book for grilling meat
Description
Seared by BBQ guru Genevieve Taylor is the ultimate guide to barbecuing meat. This comprehensive
Best BBQ book with creative recipes
Description
Get ready for a BBQ experience like no other with DJ BBQ's cookbook, Fire Food. Learn how to make
Best BBQ book for seasonal eating
Description
Nothing beats spending quality time outdoors cooking a meal for those you love. If you are ready
Best BBQ book for drinks and deserts
Description
Fire + Smoke offers the ultimate guide to BBQ feasts, complete with drinks and dessert. With 120
Best BBQ book for Indian-British fusion
Description
Spice lovers will love this cookbook. If you want something spicy and flavourful to shake up your
Best BBQ book for burgers
Description
Here is another DJ BBQ perfect for barbecue enthusiasts. The bestselling author's _The Burger
Best BBQ book for vegan cooking
Description
If you live a vegan lifestyle, BBQ season can be challenging. But fear not, as this cookbook
Best BBQ book for traditions and stories
Description
Food writer Helen Graves celebrates the art of live fire cooking in her cookbook Live Fire -
Best celebrity BBQ book
Description
From the legendary pitmaster himself, Rodney Scott's cookbook features delicious recipes from
Best BBQ book for vegeterian cooking
Description
If you're a vegetarian who loves barbecue but always ends up with a plate of potatoes and corn on
Best BBQ book for advanced grillers
Description
Aaron Franklin is the owner of the wildly popular Austin restaurant Franklin Barbecue. His
Modern Garden Magazine's tips on smokers and BBQs
How does a smoker grill work?
Jill Morgan says that there are two ways to smoke food with a smoker: Hot smoking and cold smoking.
Hot Smoking: Considered the easier option, it's perfect for experimenting with flavours and different wood types at home. Although it's called 'hot' smoking, Jill points out that "cooking temperatures tend to be lower than those used for barbecuing." With this method, your grub is cooked slowly as this allows those mouth-watering flavours to be absorbed.
Cold Smoking: This involves "soaking and drying food before it's cured in the smoker," says Jill. Therefore, this method requires "careful preparation overnight or over the course of a few days". With this method, you can create culinary feats of cured and smoked favourites, such as smoked salmon and chorizo which are eaten raw. Or, you can cook after smoking and have bacon, too.
What is a hybrid BBQ?
Having grown in popularity in recent years, hybrid BBQs are great for offering that perfect mix between gas and charcoal cooking, reaping the benefits of both.
Jill Morgan says, "You can also use the gas burners to quickly get charcoal or briquettes lit and up to temperature, before cutting the gas to savour the delicious aroma and smoky flavours only given by traditional coals. Having these two fuel types within one unit also enables you to be really flexible with your outdoor cooking and adapt your methods depending on how much time you have available.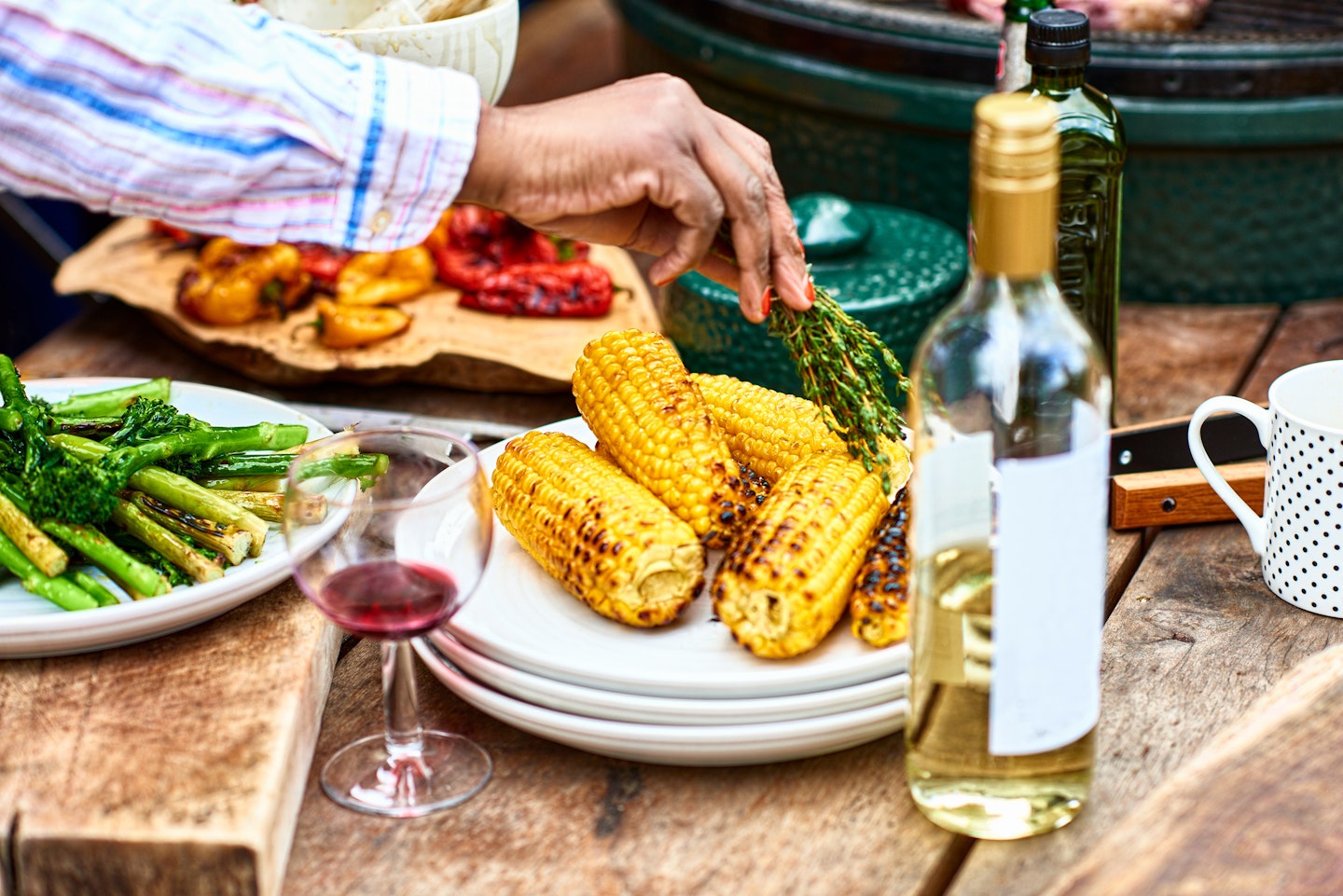 FAQs
What is the easiest BBQ to use?
If you're not a frequent BBQ user and are just after a small tabletop BBQ for the summer, charcoal grills tend to be the most simple to use. Not only do they give a gorgeous smokey flavour to your cookout, but they're also more affordable and just require charcoal to get cooking. It may take longer to reach the correct temperature but that's all part of the experience.
However, if you have the budget, you may find a gas BBQ more convenient. The heat can be controlled more easily for an even cook which might instil you with a bit more confidence too. However, you will need a gas canister.
Are there any BBQ books specifically for vegetarians or vegans?
Yes, Charred by Genevieve Taylor and Vegan BBQ: 70 Delicious Plant-Based Recipes to Cook Outdoors by Katy Beskow are great options for vegetarians and vegans looking to expand their BBQ repertoire. They offer unique and flavourful recipes that are sure to impress.
What to read next:
Description
Discover everything you need to know to make your outside space look fantastic, quickly and
Ellen Kinsey is a senior health and wellness product writer for A Modern Gardens, specialising in sustainable living and health. She lives and breathes all things natural health, cooking and nature.