Rather than making multiple visits to the tip, one of the best ways to eliminate the waste is by investing in one of the best garden shredders, this means woody branches leftover can be recycled into a valuable garden resource for composting or mulching the soil. Nowadays, there's a whole host of garden gadgets to help you tidy up, from lawn mowers to trimmers. We've written the essential guide to garden shredders - with plenty of FAQs, too.
When it comes to pruning and tidying up your garden, you will inevitably be left with a big pile of twigs and branches that will take away from the serenity of your pristine garden. Once, you've gotten a leaf blower to keep the falling leaves at bay, you'll need to consider a shredder. So, to avoid an unsightly pile of twigs, we've found the best garden shredders on the market with some expert advice and product selections from gardening and horticultural expert and Gardening Editor of Garden Answers and Garden News, Geoff Hodge.
Black Friday deals on garden shredders
We interrupt the regularly scheduled content to let you know that although Black Friday is over, there are still plenty of discounts to take advantage of throughout Cyber Week, including a whole host of Black Friday deals on garden shredders. Want to grab a bargain? These are the retailers that still have the best deals live. Or, keep scrolling to continue reading our buyer's guide.
Shop the best Black Friday deals on garden shredders: FFX | Toolstation | Machine Mart | Amazon UK | B&Q
Save £300: Eliet Minor 4S Chipper Shredder WAS £2,769, NOW £2,469
Save £90: Bosch AXT 25 TC Electric Garden Shredder WAS £519, NOW £429
15% off: Bosch Garden Shredder AXT 25 D WAS £396.23, NOW £337.99
20% off: Bosch Garden Shredder AXT Rapid 2200 WAS £261, NOW £210
Black Friday Event: Einhell Electric Garden Shredder NOW £89
Electric shredders can be divided into two different types – drum or quiet garden shredders, and the usually cheaper, impact garden shredder. Need some lawn care tips? Below our top picks sits the ultimate buyer's guide, thanks to Geoff's advice. He says: "Unless your garden is enormous (half an acre or more), or you have a lot of big trees, an electric garden shredder will be the perfect choice. These are lightweight compared to petrol models; easier to use, move and store away; need less maintenance; produce no exhaust emissions and are much quieter..."
However, Geoff does list the limitations of using an electric shredder - an issue which can be found with an electric gardening tool, such as an edging tool: "Obviously, they have the drawback of a trailing electricity cable, which may limit where you can take them and set them up in the garden." Unfortunately, some garden shredders "come with ridiculously short cables and will need an extension lead, even for short distances from the electricity socket." If a tricky cord will become an issue for you when mowing the lawn, have you considered a cordless lawn mower?
Best garden shredders at a glance
• Best value drum shredder: Bosch Garden Shredder AXT 25 TC
• Best drum shredder for smaller logs: Bosch Garden Shredder AXT 25 D
• Best lightweight drum shredder: Draper 97974 Quiet Garden Shredder
• Best impact shredder for leaves and wood: Draper 97973 Rapid Garden Shredder
Best electric garden shredders
Best value drum shredder
Description
The Bosch Garden Shredder AXT 25 TC works for both soft and hard materials. The shredder
Pros
It doesn't often block
Quiet use
Cons
Not the fastest on this list
Best drum shredder for smaller logs
Description
This low-noise Bosch Garden Shredder AXT 25 D has a powerful cutting performance, a removable
Pros
Powerful and quiet
Ideal for smaller logs
Cons
Only handles woody materials and is prone to blocks
Best affordable drum shredder
Description
The Cobra QS2500 Garden Shredder is a quiet drum shredder, powered by a 2500W motor; it's ideal
Pros
Affordable and effective
Supplied with plunger
Cons
Best for many small branches but not for much bigger
Best lightweight drum shredder
Description
The Draper 97974 Quiet Garden Shredder is designed to shred hedge trimmings, leaves and twigs
Pros
Large collection box
Lightweight and quiet
Best impact garden shredder
Description
The Bosch Garden Shredder AXT Rapid 2200 is a powerful shredder powered by a high-speed 2200-watt
Pros
Affordable and lightweight
Material output of 90kg per hour
Cons
Cuts up to 4cm, but is not advised to go above this
Best impact shredder for leaves and wood
Description
Just like it says in the name, Draper 97973 Rapid Garden Shredder is powerful and fast. Though it
Pros
Quick results and good safety features
Large collection box of 50 litres
Best petrol garden shredders
Best mid-range petrol shredder
Description
If you have never used a petrol-powered garden shredder, then you're in for a surprise with the
Pros
Lightweight machine with twin reversible blades
Small enough for easy storage
Cons
The metal brace across the bottom could really benefit from extending as the platform is small
Best powerful petrol shredder
Description
Intended for heavy home use or commercial gardening, and just as the name of the brand suggests,
Pros
Exceptional performance
Chipping capacity of 100mm and commercial grade
Garden shredder FAQs
What to consider when buying a garden shredder
When determining which shredder to buy, you first want to look at how big your garden is and how much material you'll produce each year. You will also want to consider what material you'll be shredding - such as thin, woody twigs or much larger tree branches. Buy one as large as possible to avoid overloading the motor or engine and the hopper or chute, which could significantly reduce the product's longevity.
Another aspect to look at when choosing a shredder is the power output of the machine's motor – the more powerful it is, the larger the material it can cope with easily. There are two types of appliances - electric or petrol-powered shredders and chippers. Electric motors are measured in kilowatts (kW); the larger the number, the more powerful it is. Petrol engine size is measured in cc and horsepower output (hp). You can get petrol lawn mowers, also.
Electric shredders can be divided into two different types – drum or quiet garden shredders, and the usually cheaper, impact garden shredder. Read on for Geoff's expert advice when it comes to choosing between an electric drum or impact shredder and a petrol shredder.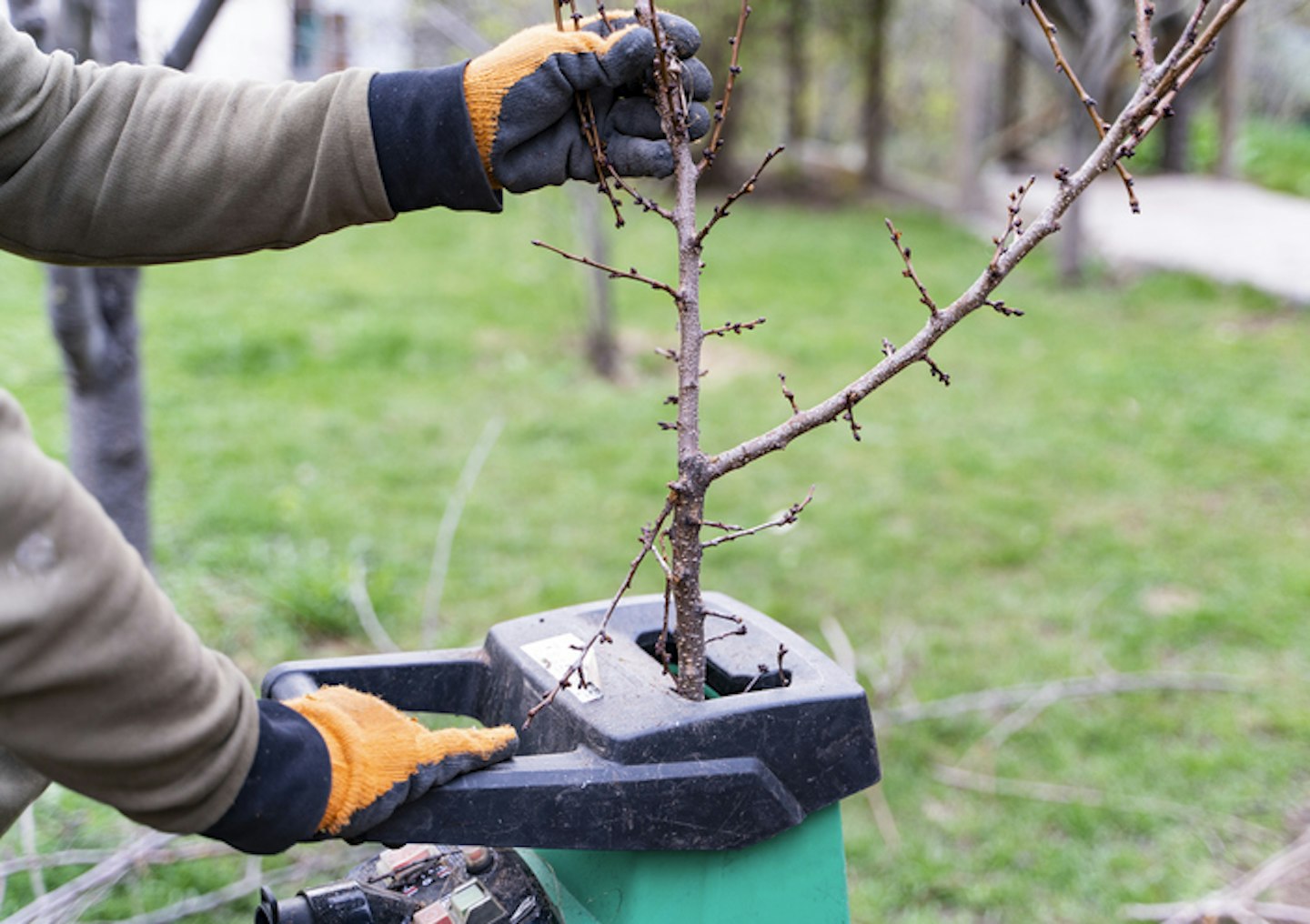 Types of electric garden shredders
Drum shredders
These work on a crushing principle, with a rotating metal wheel or drum that has hardened raised ridges working against a flat plate or roller. The wheel or drum grips the material and pulls it into the chute, crushing it against the plate, and the raised edges chop it into small pieces.
Drum shredders are not so well suited to processing loose or green waste, mainly because the crush and cut mechanism has virtually no effect on something that is already flat or has a high moisture content. But they're perfect when you need to dispose of lots of fibrous, woody material.
Impact shredders
These work more aggressively with a disc or cassette that contains two or more sharp blades, spinning at very high speed, literally using brute force to chop up the material. This makes them noisier than drum shredders. They have the advantage that they can also be used for leaves and other smaller, green growth, as well as thicker branches and more woody waste, and don't tend to get blocked up as often.
Petrol shredders and chippers
Gardeners with a larger plot will occasionally need to move their shredder further away from the nearest electrical power point. A petrol-driven shredder provides this flexibility; they're also more powerful, with greater throughput rates and durability.
Powerful four-stroke engines and clever blade designs ensure these machines cope with a mixed array of vegetation. This means significant savings in both time and effort that would otherwise be spent sorting your garden waste into suitable materials.
The downside of this extra power and flexibility is the heavier weight and generally greater size that comes with a petrol engine, not to mention the maintenance of the engine and its emissions – both noise and pollutants. As with electric shredders, greater power output will ensure better shredding of large and tough materials. As mentioned above, a petrol engine size is measured in ccs and the power output in horsepower (hp).
If you have a petrol machine, make sure you clean around the cap after a re-fill. With dirt, chips and so on flying around, it can get grimy, and any dirt or debris in your fuel will cause problems.
So with that in mind, let's take a look at the best electric and petrol garden shredders to make light work of shredding for an outdoor space free of twigs and branches.
What can you shred in a garden shredder?
Shredders, also known as wood chippers, can handle small branches, larger tree limbs, yard debris, hedge trimmings, and leaves. However, if you want to process green waste, choosing a chipper with a shredder feature is best.
Can you use a garden shredder in the rain?
You can use them in the rain, but they are best used in dry weather conditions; however, there are ways to use them in wet weather situations. During rainy days place wet material inside plastic containers before loading them onto your chipper. This will ensure that your chipper is not obstructed by leaves or other debris, which could cause harm to the machine. However, a garden shredder or chipper will not operate well when left outside permanently, so it is best stored indoors.
Is it worth getting a garden shredder?
If you want your garden to look pristine, you get out what you put in, and a garden shredder will help you achieve those results. If you want a tidy, nutrient-rich, cost-effective garden, a garden shredder does just that.
What to read next:
Description
Discover everything you need to know to make your outside space look fantastic, quickly and
Ellen Kinsey is a senior health and wellness product writer for Modern Gardens, specialising in sustainable living and health. She lives and breathes all things natural health, cooking and nature.