If you're looking for inspiration to create your own slice of the Med in your back garden, you've come to the right place! This transformation is huge but there are plenty of small-scale ideas you can pinch depending on the size of your outside space and your budget!
The phrase 'blank canvas' is often applied to bare unloved gardens but when it came to this garden, there couldn't have been a more apt description. "It was basically a sea of mud!" Victoria smiles, recalling two years ago when their self-build house was finally finished.
"Back then, it was best not to look outside! There were so many different levels and slopes that it was hard to decide what on earth we were going to do with the space."
And with 186m2 of garden, along with sometimes-tricky clay soil, the last thing the couple wanted was a high-maintenance plot that left them with little time to sit and enjoy it.
The house sits fairly centrally in the space, with the U-shaped garden split into two rectangular shapes at each side, plus an oblong at the back. "We had no idea how to connect the three different areas," Victoria admits.
But this concern turned out to be the garden's greatest strength. Now the three areas offer distinct functions, yet they're cleverly connected by a style that flows throughout. With each side accessible from different parts of the house, and with visibility mostly contained, it's almost like there are three gardens. "There's a different atmosphere on each side, and we use each one differently," Victoria explains. "It's actually really nice not being able to see every part of the garden at once."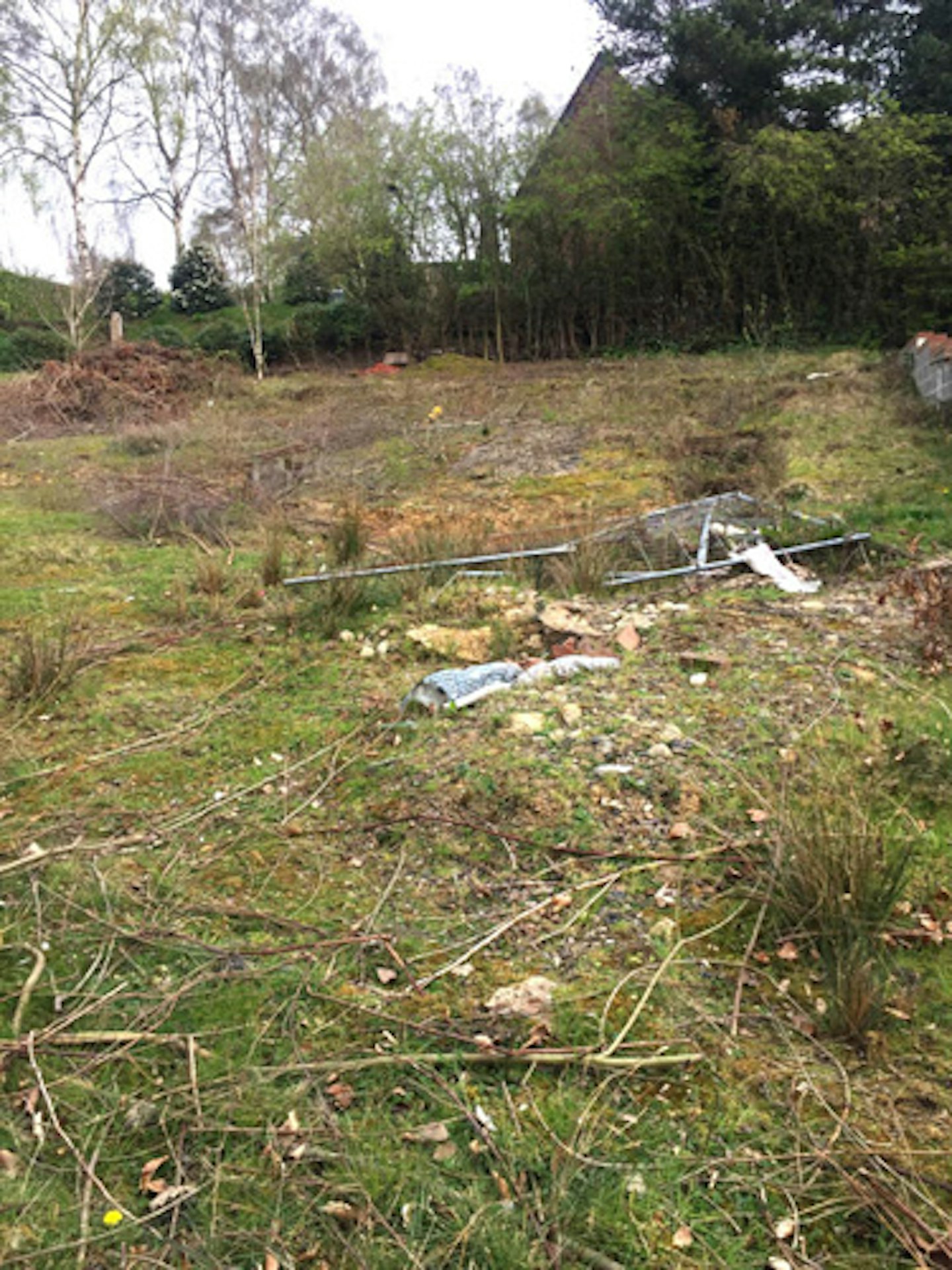 Yikes! This wasteland can't possibly be the same space...
Victoria & Andrew's Mediterranean garden plan
LOCATION West Yorkshire
THE LOOK Modern Mediterranean
SITE Faces North, south & east! Soil Clay
Size 186m2 (south side 72m2, east side 64m2, north side 50m2)
OUR BUDGET
Fencing £1,500
Machinery hire £1,000
Concrete (including pump hire) £1,400
Pavers £1,927
Gabion baskets plus stone £1,200
Electrics £250 Lighting £650
Steel arch frames £883
Topsoil £400 Turf £680
Plants, compost, gravel & bark £3,700
Pots £500 Barbecue £745
Sail shade £103
Sun loungers, mattresses, cushions & parasol £1,196
Bistro table set £152 Neon light £442
Sofas & soft furnishings £1,690
Dining table & bench materials £241
Dining chairs £205 Cushions £258
Table settings £400 Candelabra £142
TOTAL: £19,664
HOW LONG IT TOOK
Installing fencing 4 days
Levelling areas of sloping land 2 weeks
Constructing gabion baskets 2 weeks
Constructing retaining walls 2 weeks
Laying concrete for patio 4 days
Tiling patio 2 weeks
Installing arches 1 day
Making tables & benches 5 days
Improving soil & planting 1 week
Laying turf 2 days
Installing electrics 2 days
TOTAL: Approx 9 weeks, spread over 5 months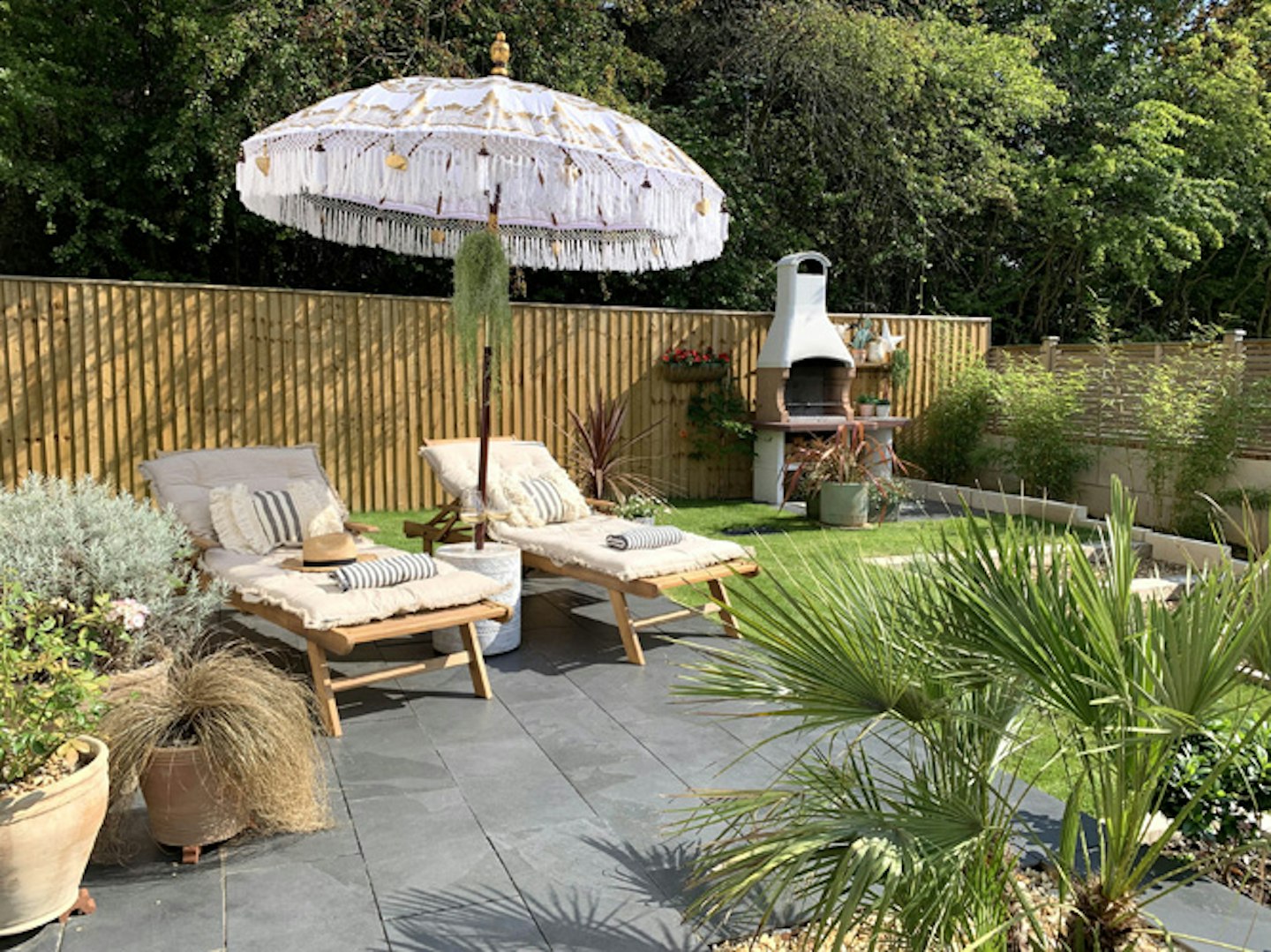 The sunny south patio delivers outdoor living joy in spades.
What makes a Mediterranean garden?
Low-maintenance multi-functional zones were key for this plot! But transforming those mud-strewn sides to what they are today was a labour of love for Victoria and her construction boss husband Anthony. Having already completed one self-build, they took ownership of their new land in 2019, then completed the build and moved in a year later.
House ready, Victoria embarked on the garden design, a process that involved sketching a basic layout on three sheets of paper, each representing a plot section. "We knew we wanted an area for sunbathing and barbecuing, one for dining, and another for relaxing on sofas," she says. "The different levels and the way the sun fell determined each side's purpose, so those were fairly easy decisions. And the modern look of the house set the tone."
Sleek, streamlined and whitewashed, the newbuild lent itself to a simple Mediterranean-style garden. It was a look Victoria was naturally drawn to, having spent summers admiring continental plots. "We rented a property in France that had a beautiful pared-back garden with lots of easy-upkeep gravel, and minimal plants," she says. "It was my inspiration."
Impressively, Anthony undertook all manual work over a series of weekends, with a friend lending a hand. "It was hard physical work," says Victoria. "We made a good team – I came up with design ideas, and Anthony was the construction expert."
The south-facing side of the house was a good spot to start with and, having the brightest aspect, was the natural choice for the sunbathing and barbecuing zone. With contemporary natural timber fencing already in place throughout, Victoria and Anthony's first task was to add extra privacy by planting a row of bamboo on this side. The sloping gradient of the land here led to some creative workarounds, including an ingenious 9m row of shallow steps made from gravel and leftover sleepers saved from Anthony's work, plus a striking rectangular bed, which makes a feature of a retaining wall.
What plants look Mediterranean?
When it came to greenery, Victoria's coveted holiday mood was achieved with tropical palm trees and Mediterranean olive trees, all planted in a simple linear layout. "We'd owned a pretty cottage-style garden previously and while I love that look, it would have clashed with the house," explains Victoria. "The streamlined planting we chose blends beautifully."
Matching the contemporary vibe, charcoal porcelain patio tiles offer the perfect material underfoot, softened by pots of rose bush, Japanese sago palm and various grasses, which sit beside a lush lawn. A traditional terracotta barbecue and sun loungers add al fresco comforts, inviting Victoria and Anthony outside to soak up the sun. "From 10am, we get light all day on this side," she says. "We'll open the bifold doors and lie back and read. We also love having family and friends round for barbecues."
A bistro table corner in this zone is the perfect spot for both daytime coffees and sundown cocktails. Nestled behind a retaining wall, which the couple made from rock-filled gabion baskets, it adds texture and cosiness, especially when illuminated with fairylights.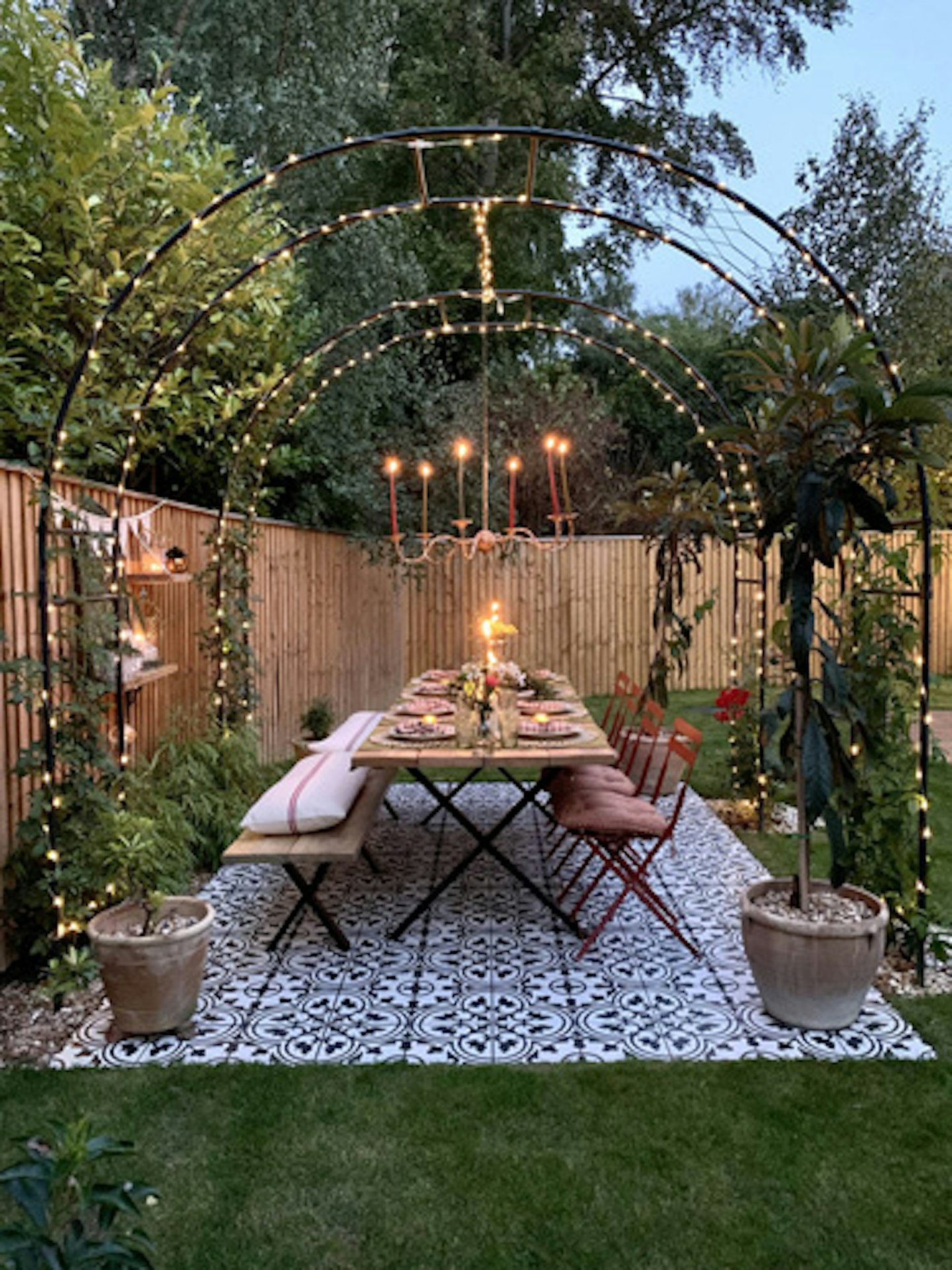 A frame (agriframes.co.uk) of fairylights transforms the north shady dining area.
How do I make my garden look Mediterranean?
Take inspiration from the east-facing zone at the side of the house, which boasts the biggest comfort factor. Plush sofas, a relaxed low-level drinks table Anthony made from scaffold boards, and twinkly lighting offer the ultimate snug seating. It's Victoria's favourite of the three sides. "It's so cosy, " she smiles. "We can step straight out there from the kitchen and it's where we spend the most time. It's perfect for chilling out with a cup of tea or glass of wine in the evening."
Upping the Ibizan vibes here is a handwritten-style neon sign while festoon lights attached to an overhead triangular shade sail add to the wine-bar ambience. Mirroring the dividing wall on the south side is a pair of rock-filled gabion basket planters, to which Victoria added stress-free evergreen grasses. They sit either side of a tiled bench that offers extra seating as well as a handy surface for lanterns and pot plants.
Those patterned monochrome tiles delineate the zone while complementing the grey porcelain that runs throughout the garden and provides clever consistency.
Clever styling adds an intimate warm feel to the east sofa patio when daylight has gone.
Last but not least is the north side, reserved for more formal dining. Victoria wisely chose the same tile design here, but with a balancing reverse pattern. This zone's centrepiece is a pair of spectacular steel arches that frame a rustic dining table and bench Anthony made from spare scaffold boards. Embellished with a dramatic candelabra and atmospheric fairylights, the set up makes for memorable al fresco meals. "We love entertaining out there," says Victoria. "It feels like a real restaurant experience."
As for guests' reaction to the garden, it couldn't be more positive. "Friends can't quite believe how we've transformed the space," Victoria smiles. "There are always lots of gasps and compliments when they see it, and they don't quite know which side to look at first! That makes me feel quite proud. It's only when I think back to the muddy state it was in before we started that I remember how much we've achieved. I love how we can mix and match with our garden. It's like we've gained three spaces for the price of one!"
Can I have a Mediterranean garden in the UK?
You bet you can. Here's how the Mitchells did it...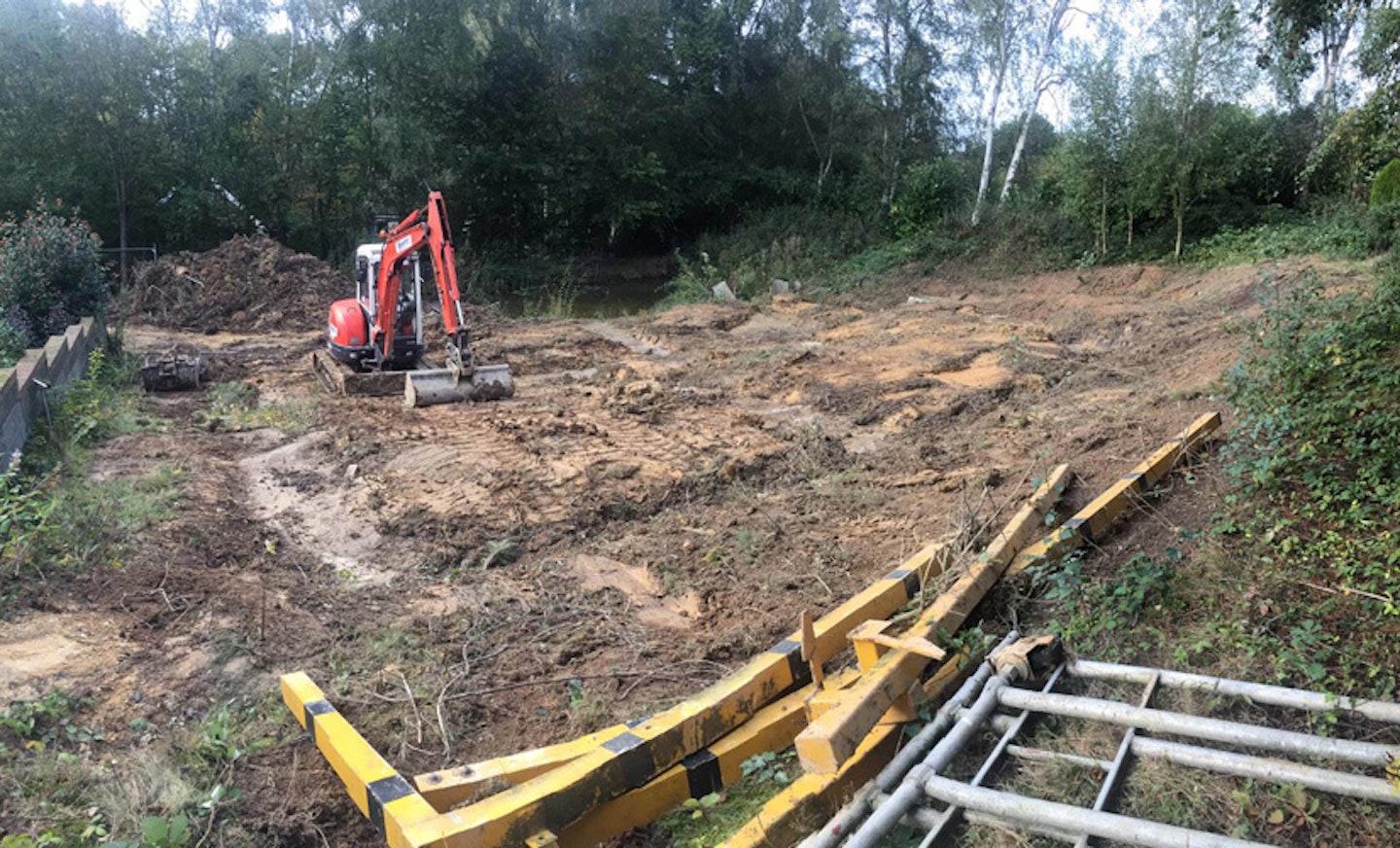 1 of 4
During the house build, the plot turns into a vast mud bath!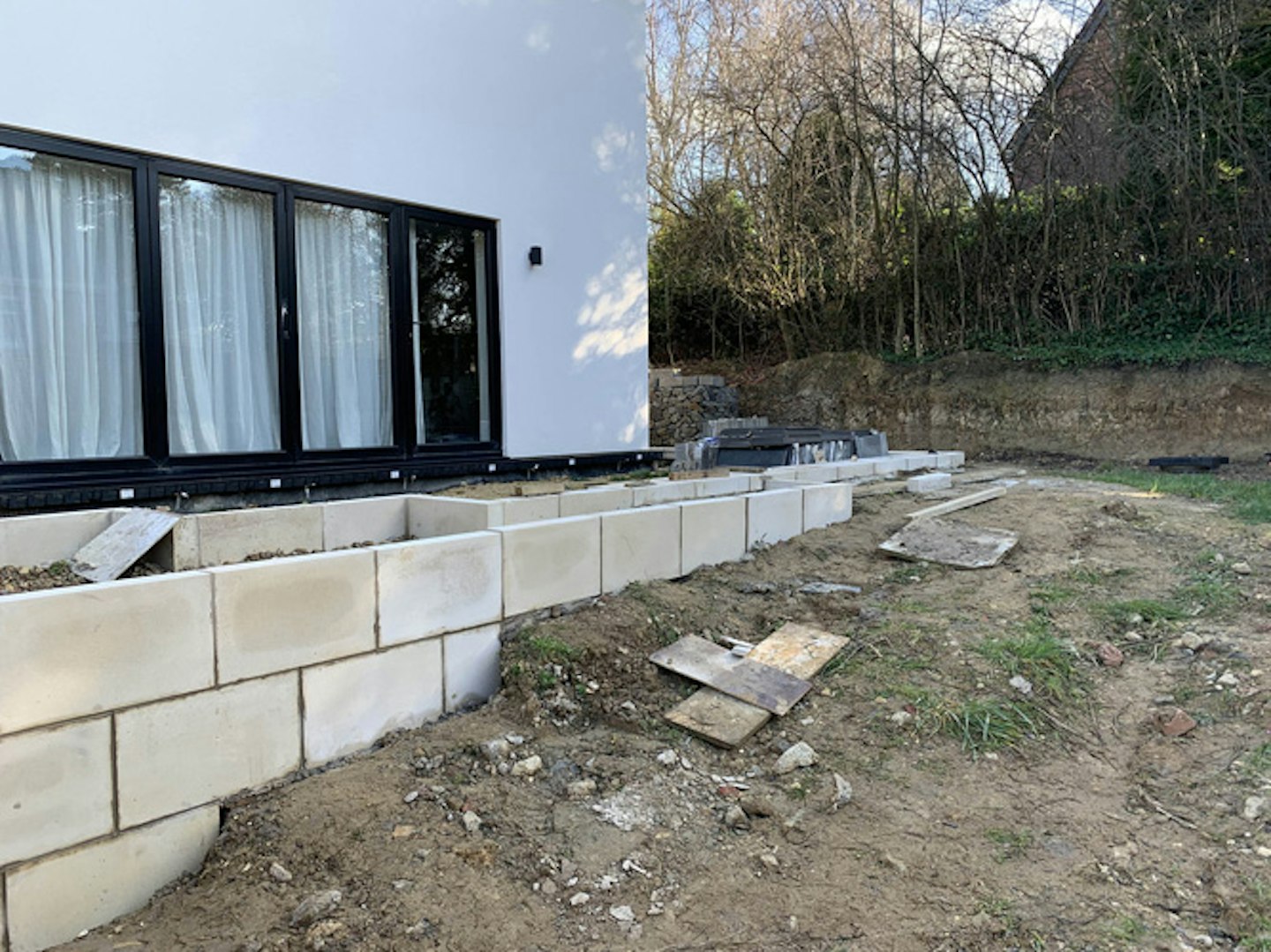 2 of 4
House built, retaining walls are constructed from breeze blocks.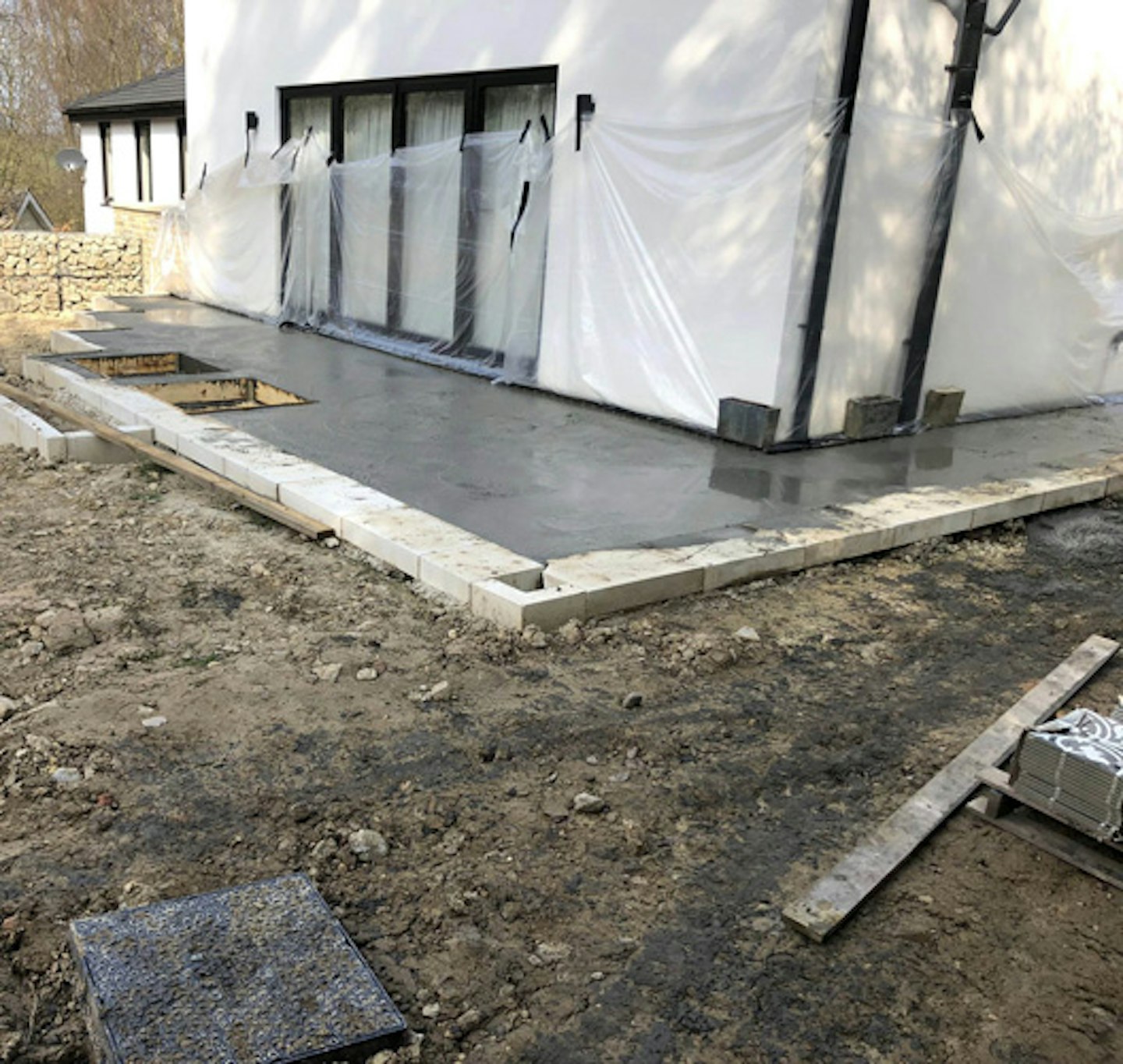 3 of 4
Plot levelled and paving laid, those bifold doors can now be safely opened!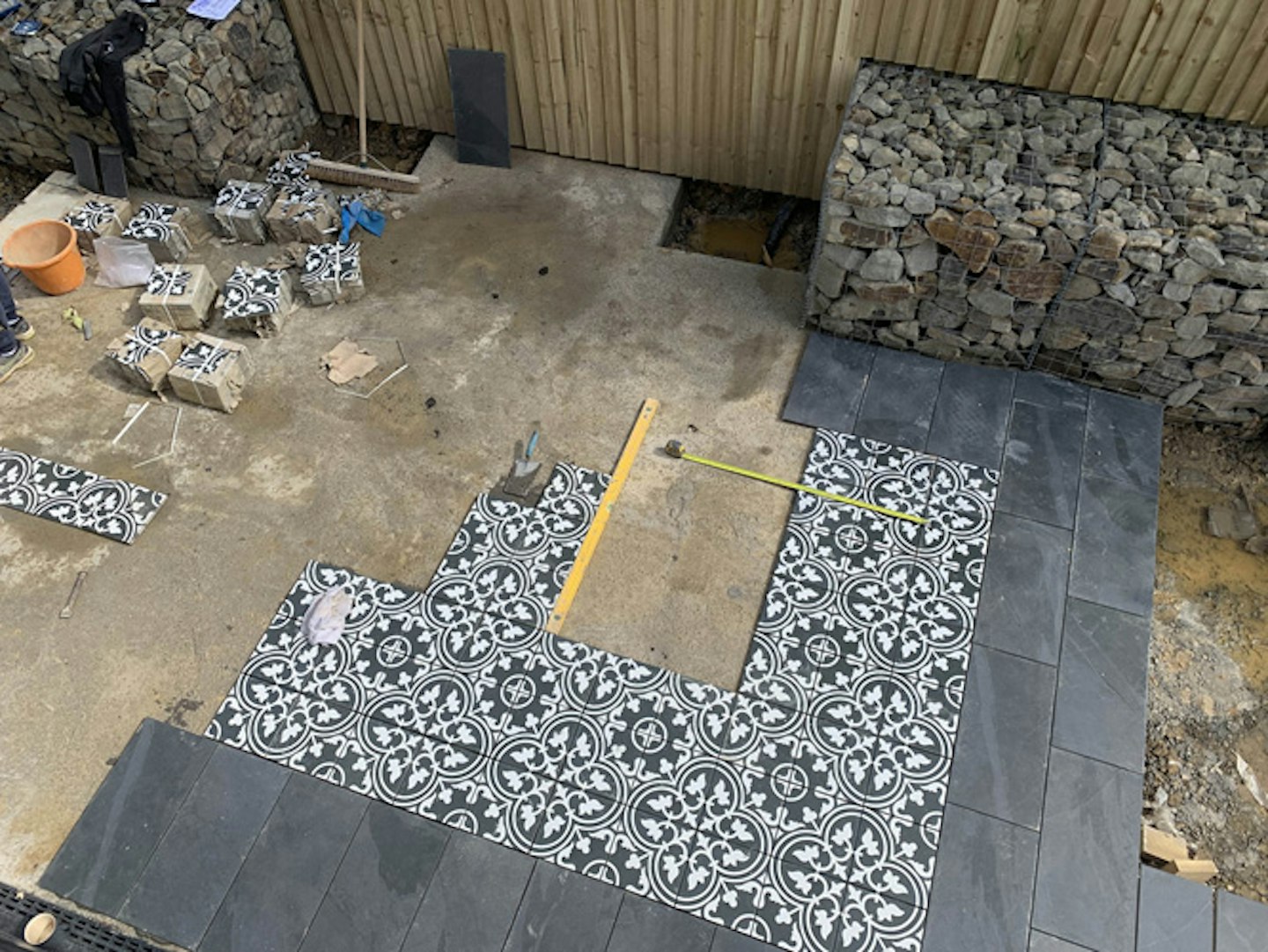 4 of 4
The other two patios are created with tiles atop a concrete base.
Victoria's tips for designing a Mediterranean-style garden
✽ There are software systems and apps that let you digitally plan a layout but the old-fashioned way worked for me. Sketch out your scaled plot on a piece of paper then pencil in your design ideas for a bird's-eye view plan of how the layout will work.
✽ Use a can of spray paint to mark out on the ground where patio and plant beds will be positioned. That way you can physically walk around the intended layout and see whether the space will work.
✽ Identify your soil type with a kit before you start choosing plants. It'll stop you wasting time and cash on plants that don't have much chance of survival.
✽ A few mature plants in pots will help you to be patient and not rush decisions, as they'll stop your garden looking bare in the early days.
This wraparound space offers oodles of inviting areas for relaxed outdoor living and plenty of Mediterranean garden ideas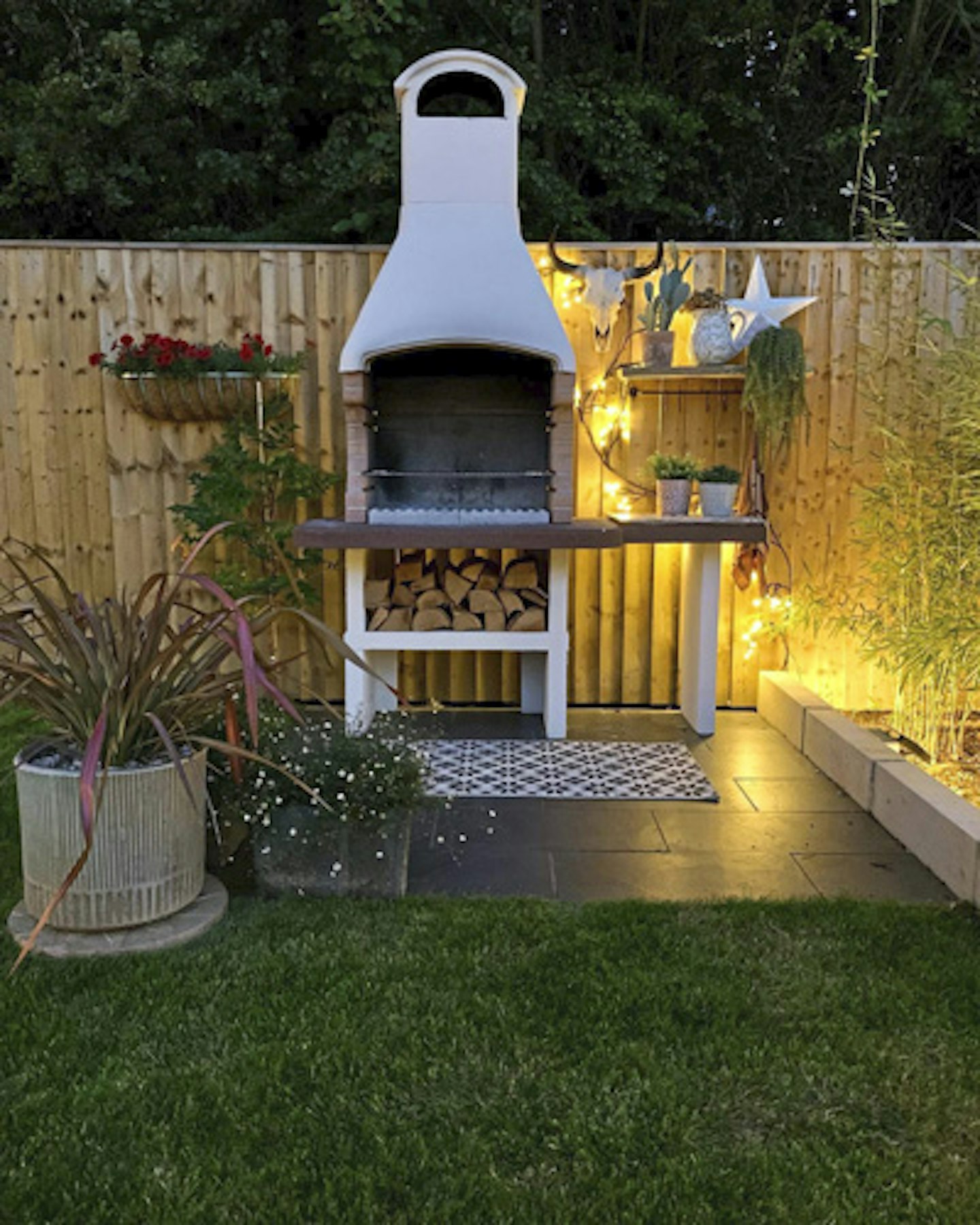 1 of 10
WHITE AND BRIGHT, the barbecue area adds to the Mediterranean flavour.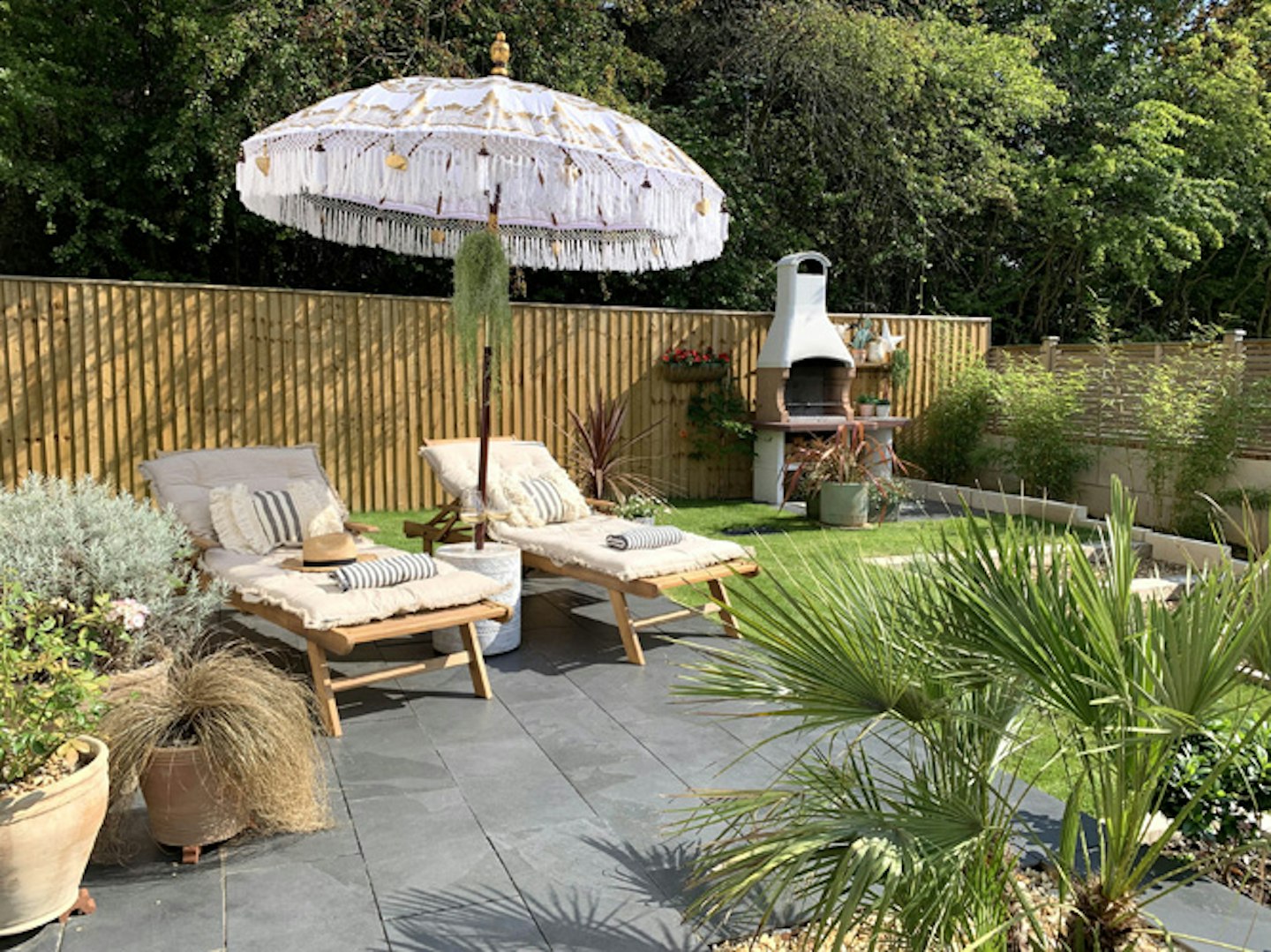 2 of 10
HOLIDAY VIBES aplenty on the patio, where it's hot, hot, hot!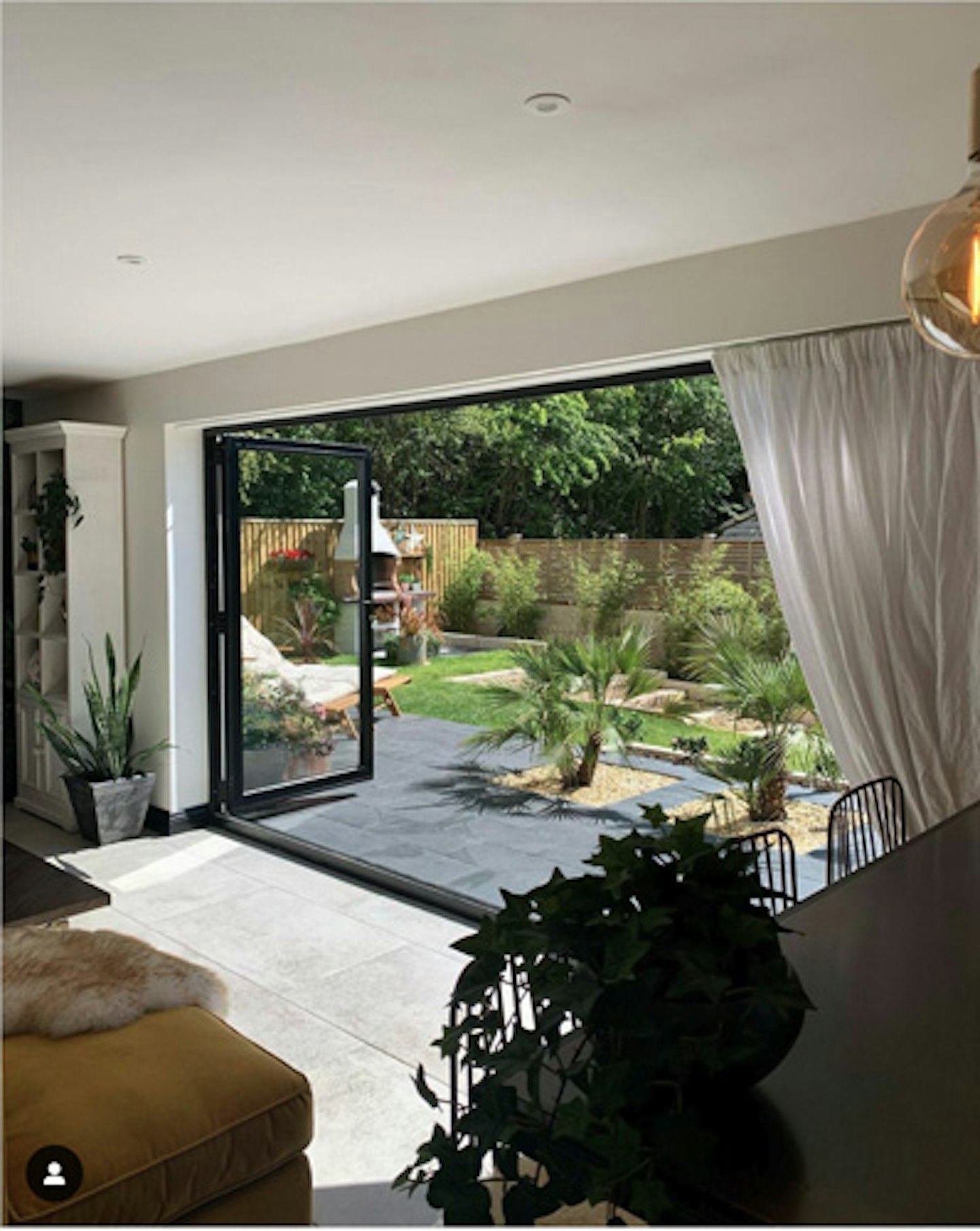 3 of 10
THE VIEW of the sun terrace from the indoor bar.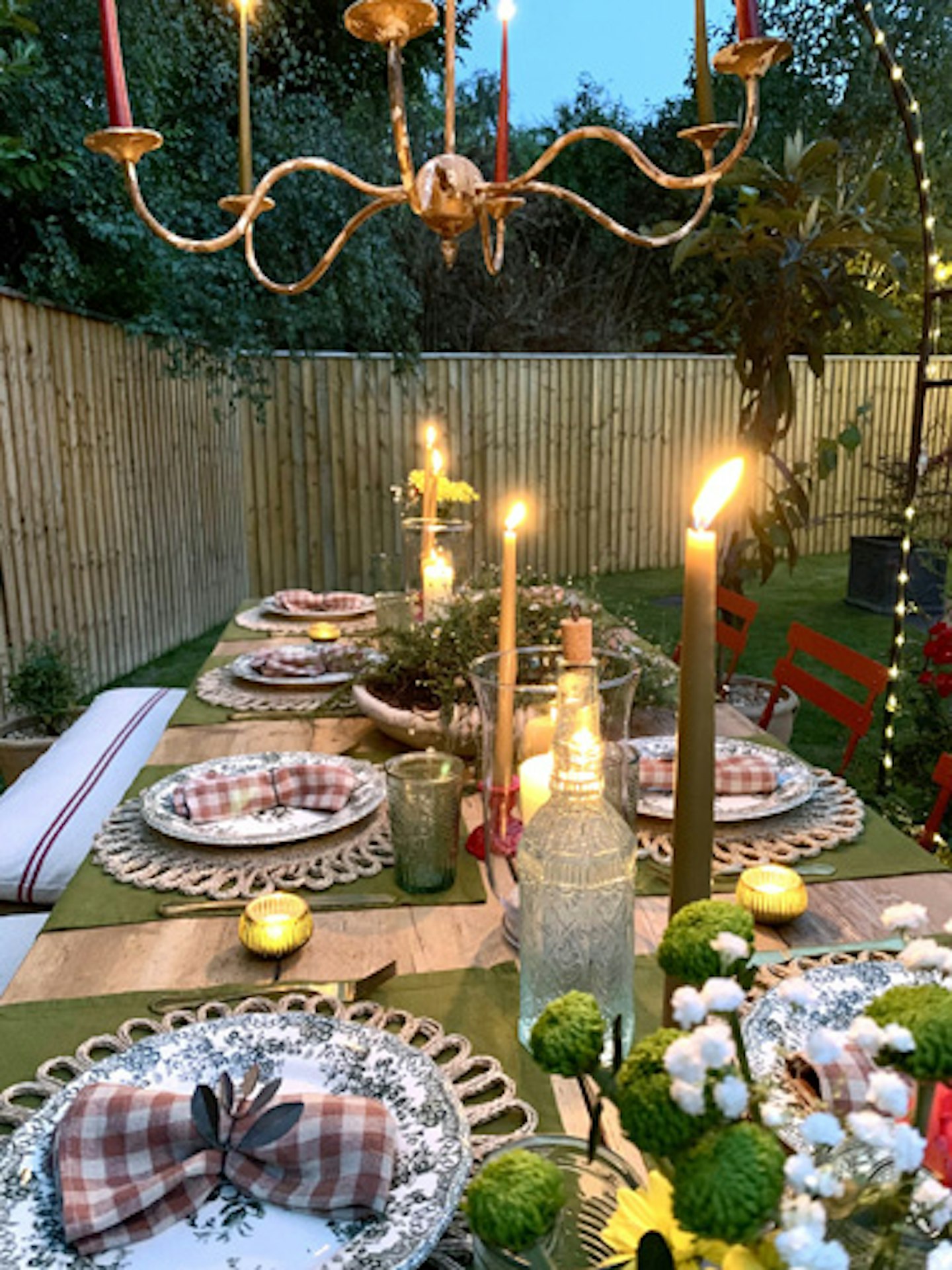 4 of 10
ANYONE ELSE got serious tablescape envy?!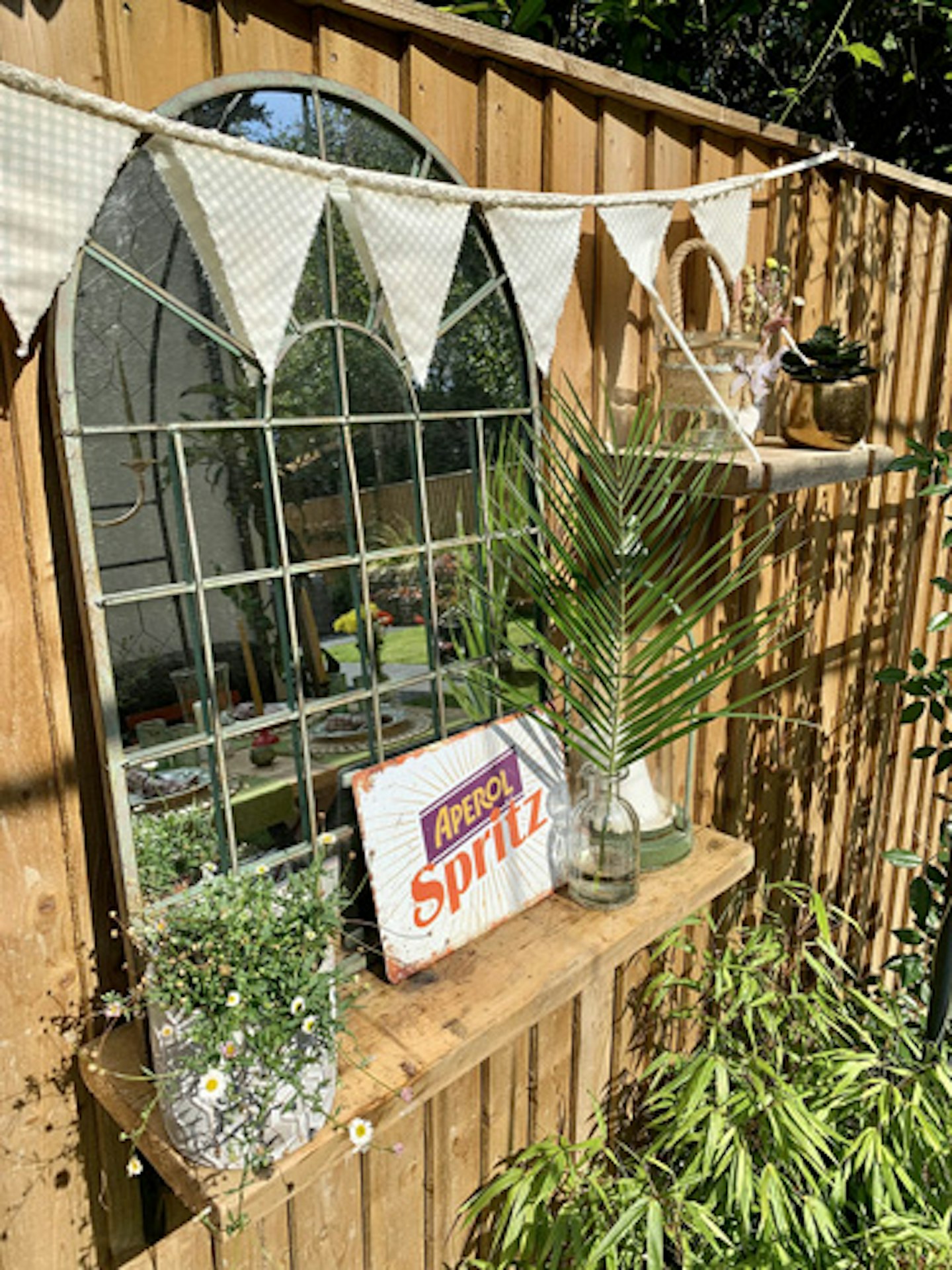 5 of 10
MIRROR, MIRROR on the fence, this has to be the fairest garden of them all!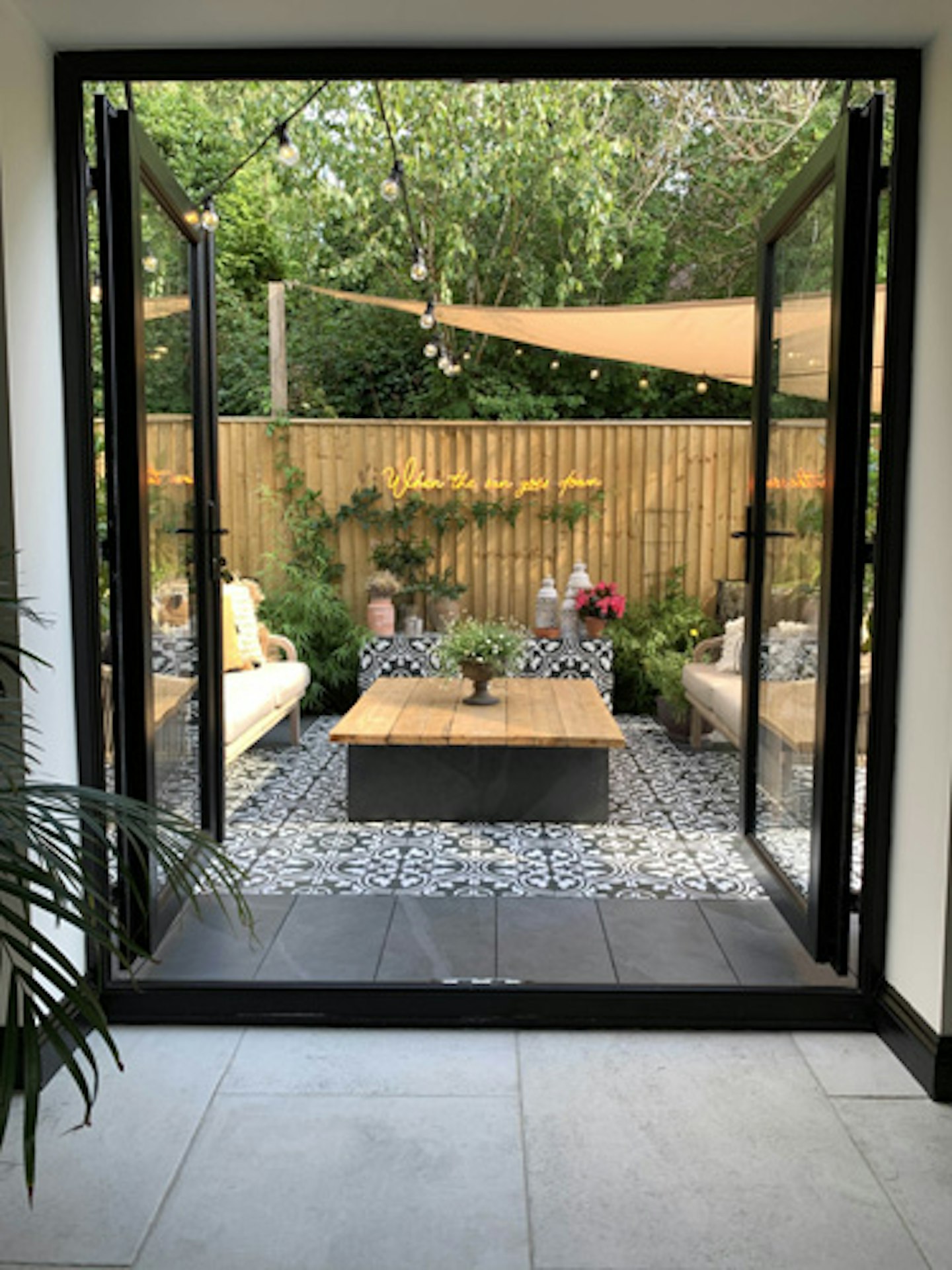 6 of 10
THE HOMEMADE drinks table with breeze-block base and scaffold-board top.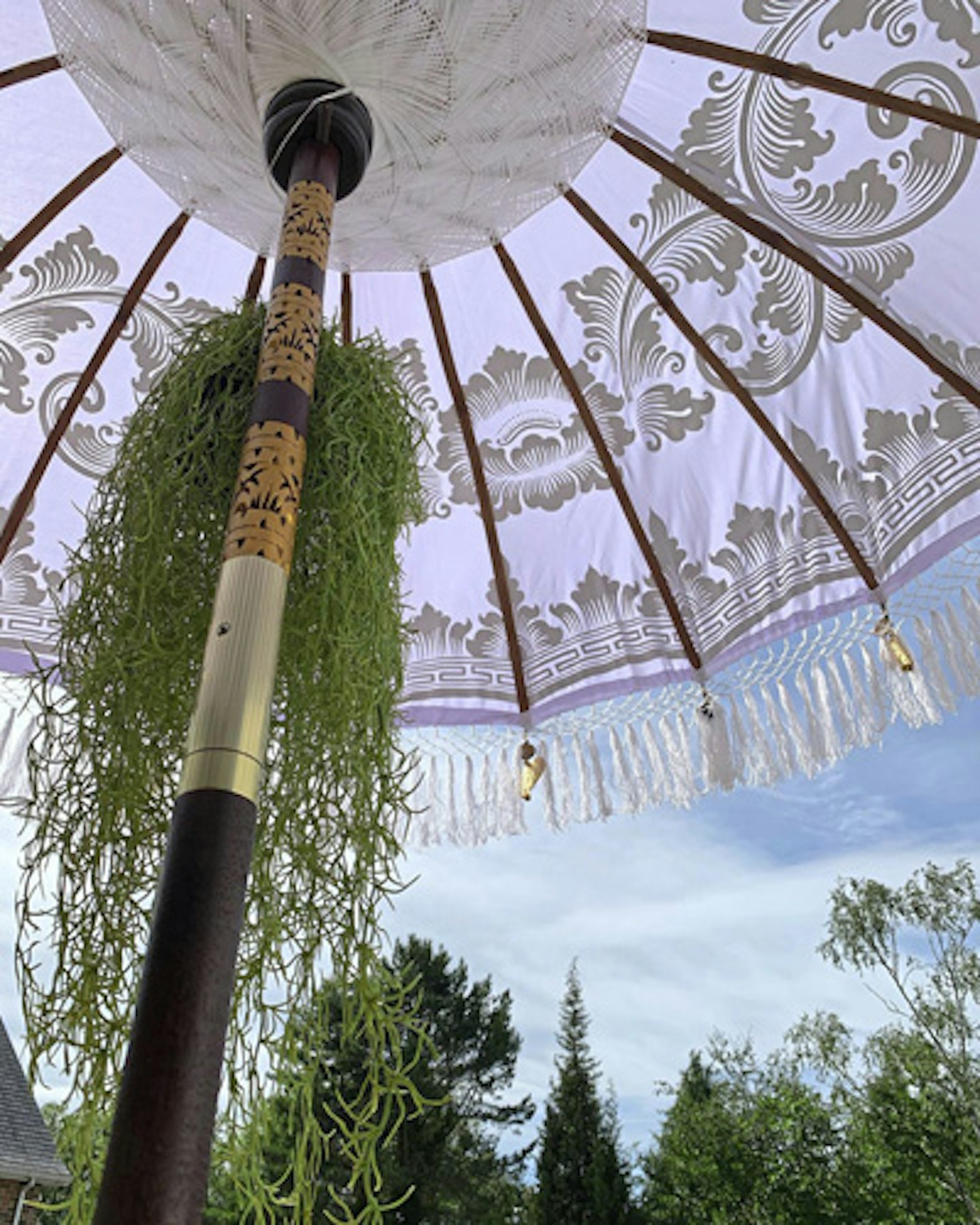 7 of 10
KEEPING COOL with a pretty parasol, £265 angelareed.co.uk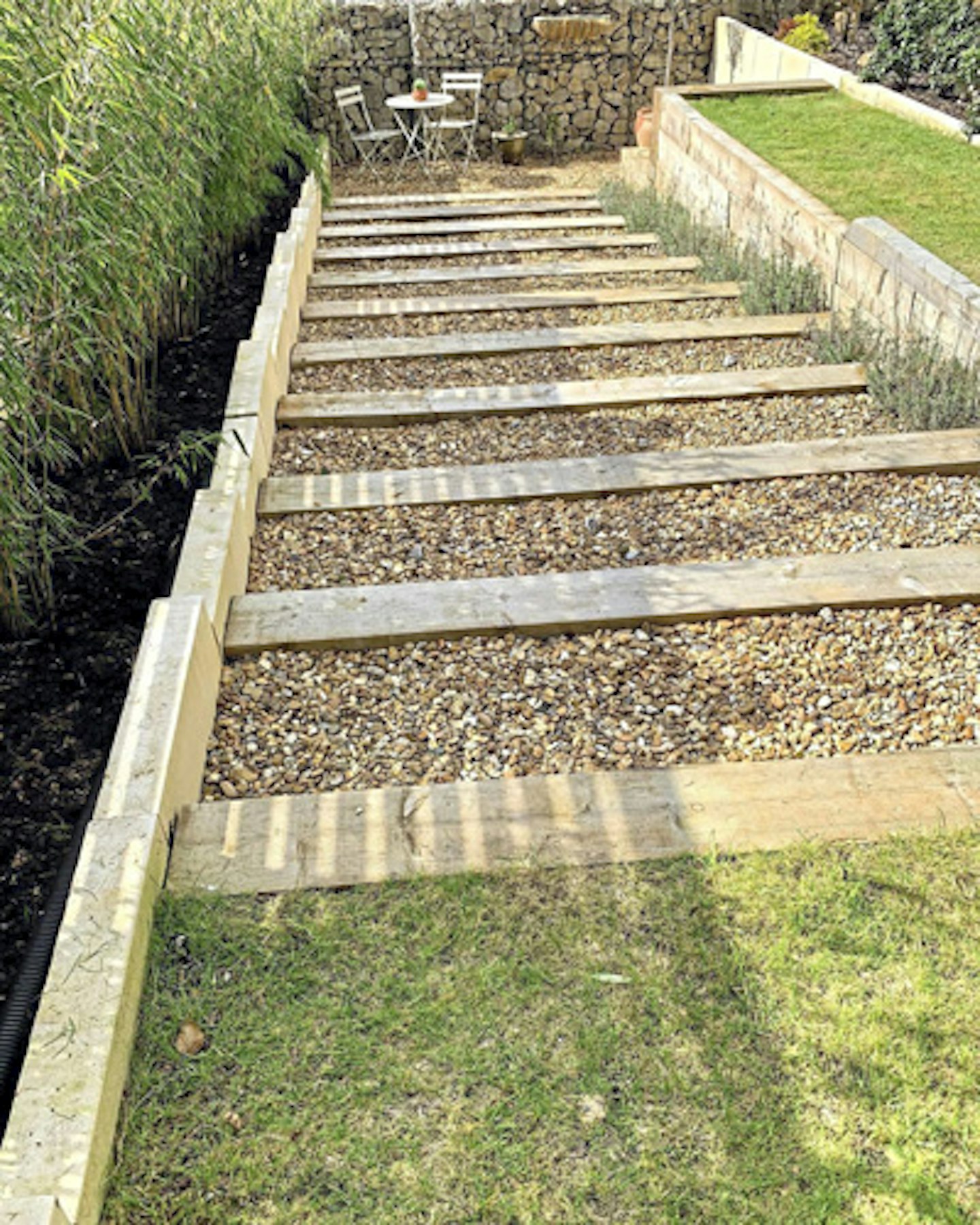 8 of 10
SLEEPER STEPS edged with bamboo and lavender.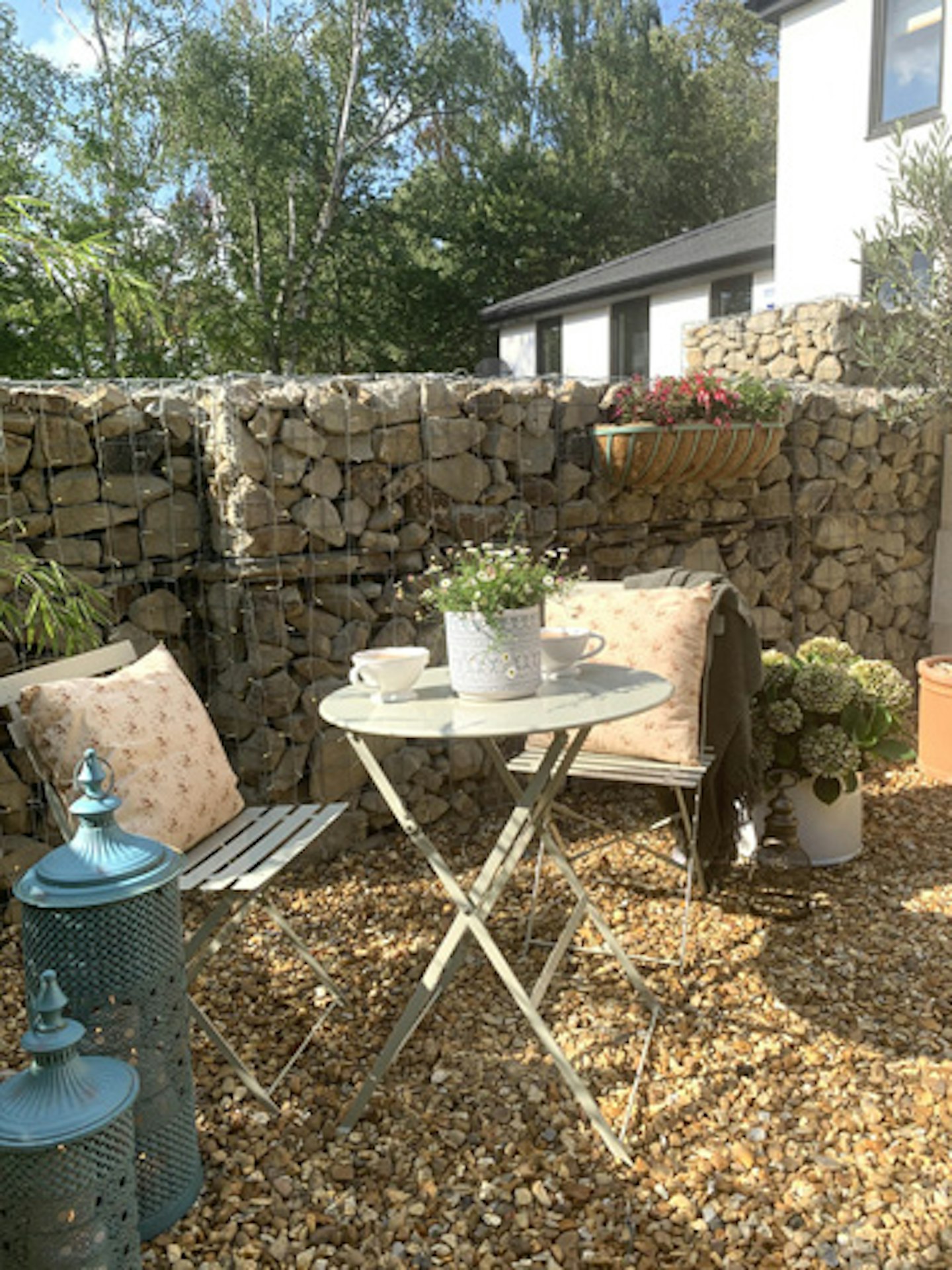 9 of 10
FROM MORNING CUPPA spot by day…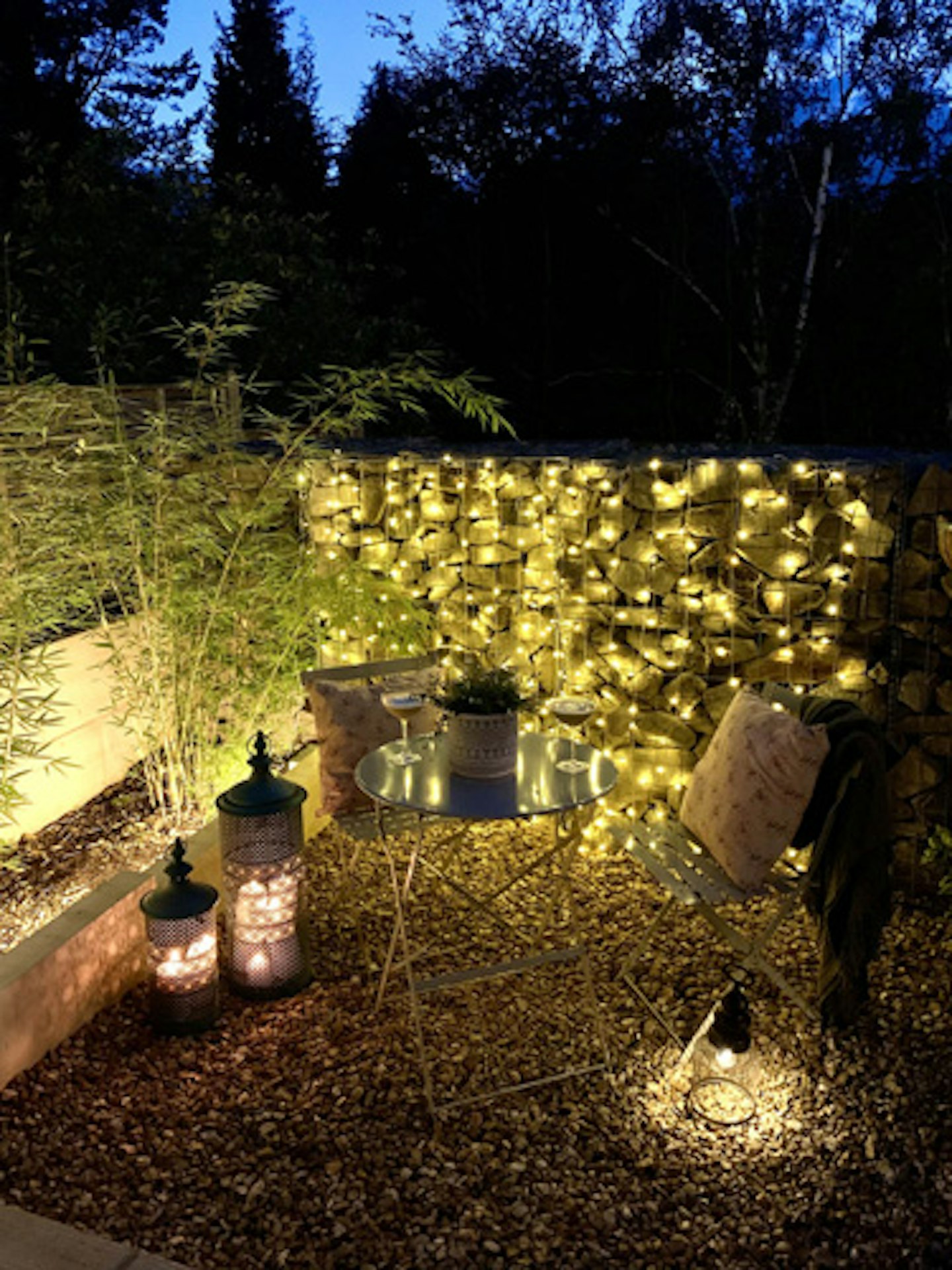 10 of 10
…TO COCKTAIL CORNER by night.
Smart ideas to steal for a Mediterranean garden
✽ Add chunky shelves to fencing.
✽ Cloak a wall with a fairylight mesh net.
✽ Treat yourself to a neon sign
Join Victoria for more luxe vibes and understated glam @home_with_victoria
What to read next
Discover everything you need to know to make your outside space look fantastic, quickly and easily, with hundreds of simple ideas, designer tricks, affordable products and expert advice with a Modern Gardens Subscription. Find out more about the benefits of being a Member now.